We use affiliate links. If you buy something through the links on this page, we may earn a commission at no cost to you. Learn more.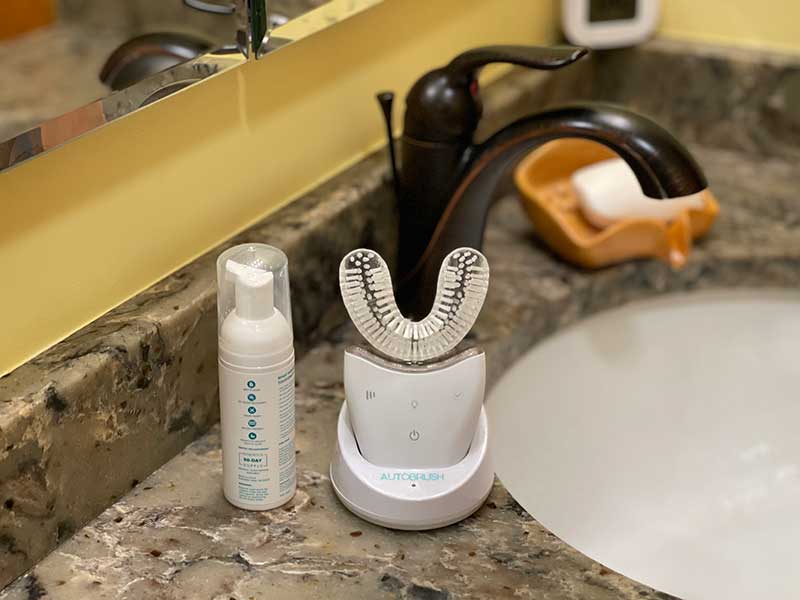 REVIEW – Your oral health is extremely important. Brushing and flossing your teeth is a habit that you should do at least twice a day. But it can be a habit that is easily skipped. What if there was a gadget that could brush your teeth for you? That's what the AutoBrush Pro claims to do. Let's see if this product left me smiling or frowning.
What is it?
The AutoBrush Pro is a handheld gadget that you insert in your mouth and it uses sonic vibrations and a wrap-around nylon-bristled tray to automatically brush your teeth
What's in the box?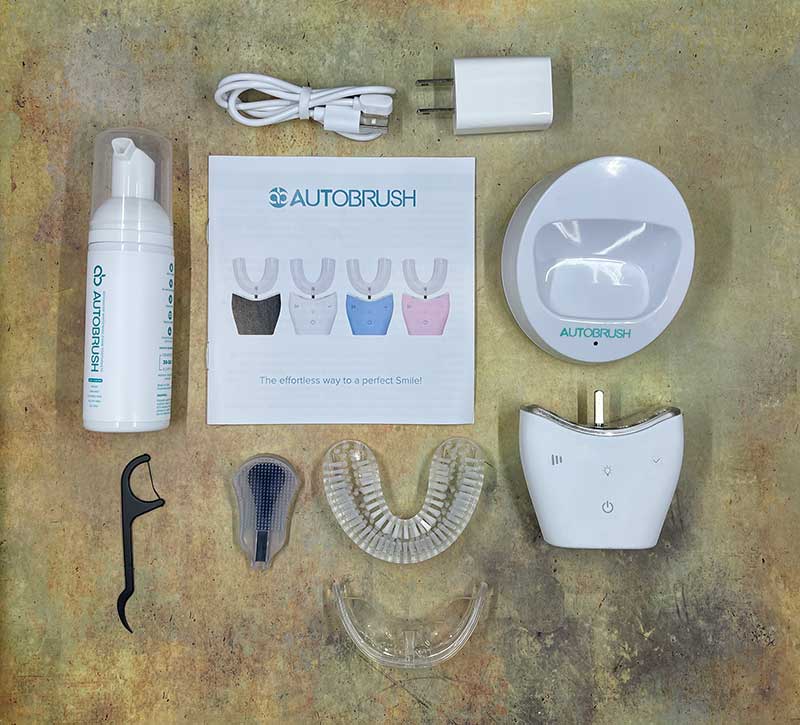 I was sent their AutoBrush Pro Total Package which includes:
AutoBrush 4 Brush Body
AutoBrush Nylon Brush Head
AutoBrush Whitening (or Advanced) Foam Toothpaste
AutoBrush Automatic Tongue Scraper
Pack of fifty Dental Flossers with Charcoal Infused Tread
Three AutoBrush Teeth Whitening Pens
AutoBrush Whitening Tray
AutoBrush Charging Base
USB Charging Cable
Charging Block
Design and features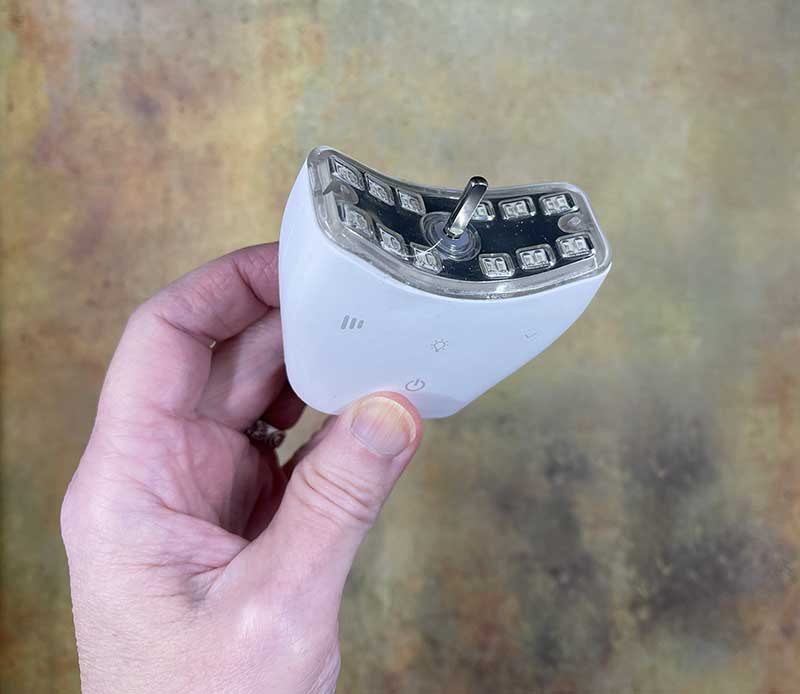 The AutoBrush consists of 3 main parts. There's the AutoBrush body which I am holding in the image above. The body has a soft white rubbery covering with a metal post sticking out of the top. The post is surrounded by red and blue LEDs.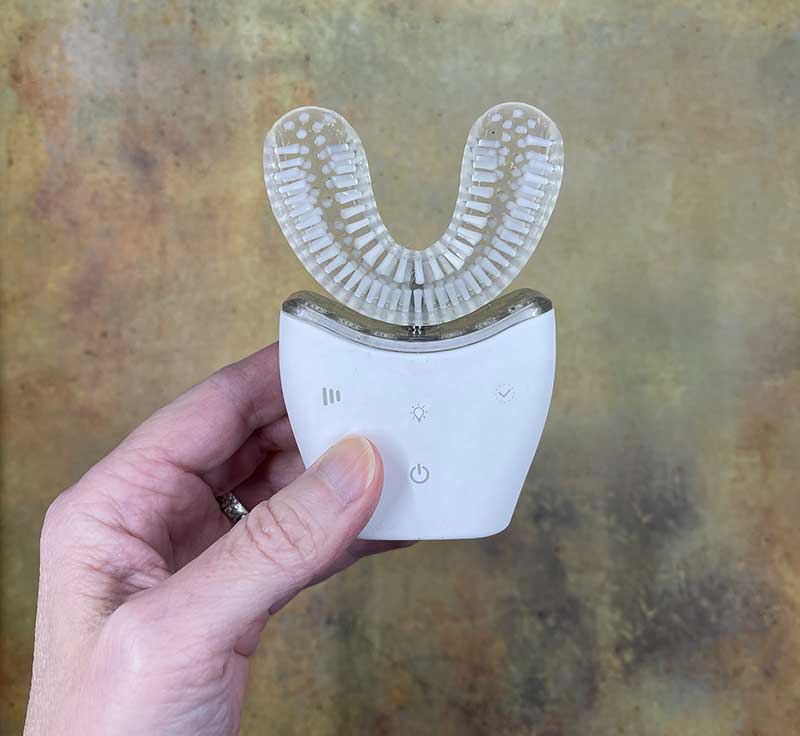 The brush head (whitening tray or tongue cleaner) slides over the metal post on the body. You can also see that the AutoBrush body has 4 buttons. There's a cleaning mode button that switches between care, cleaning, and massage modes. There's a light mode button that switches between whitening, therapeutic, and dual modes. There's also a timer button that allows you to switch between 30 second, 60 second, and 90 second intervals.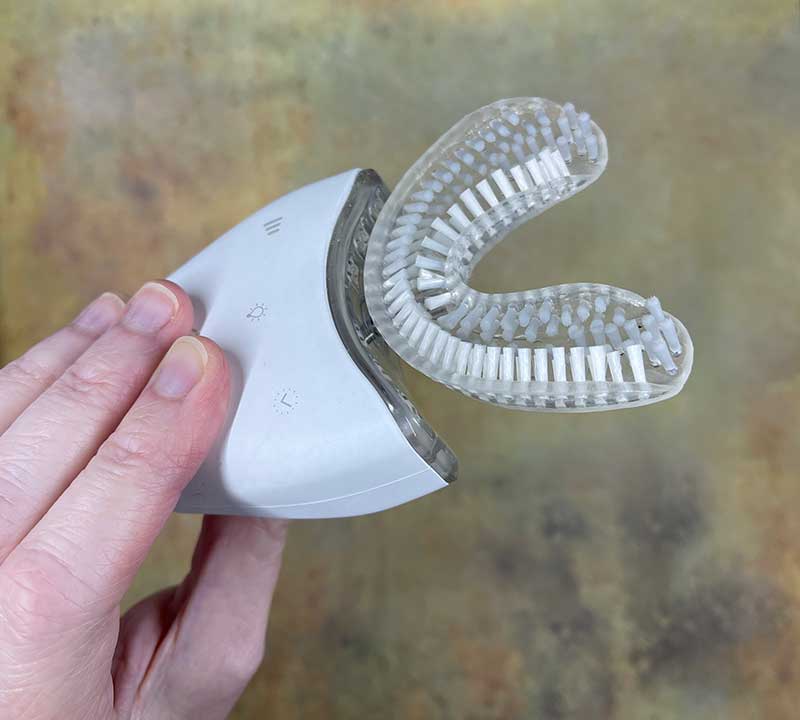 The brush head is a flexible silicone tray with soft nylon bristles similar to those on a traditional toothbrush.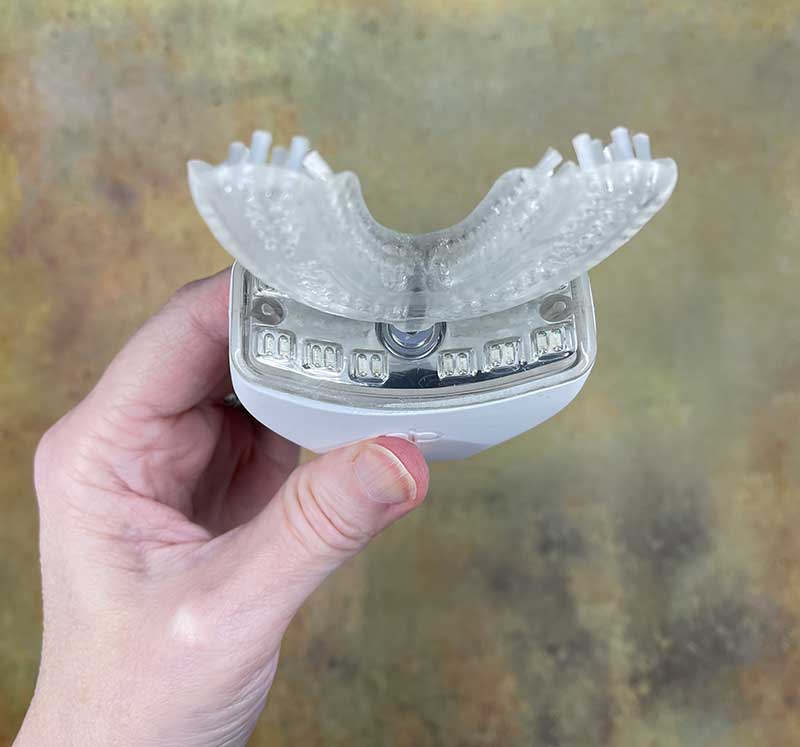 You will note that there are only bristles on one side of the head. As you would guess, you can only brush one level of your teeth at a time. Top or bottom.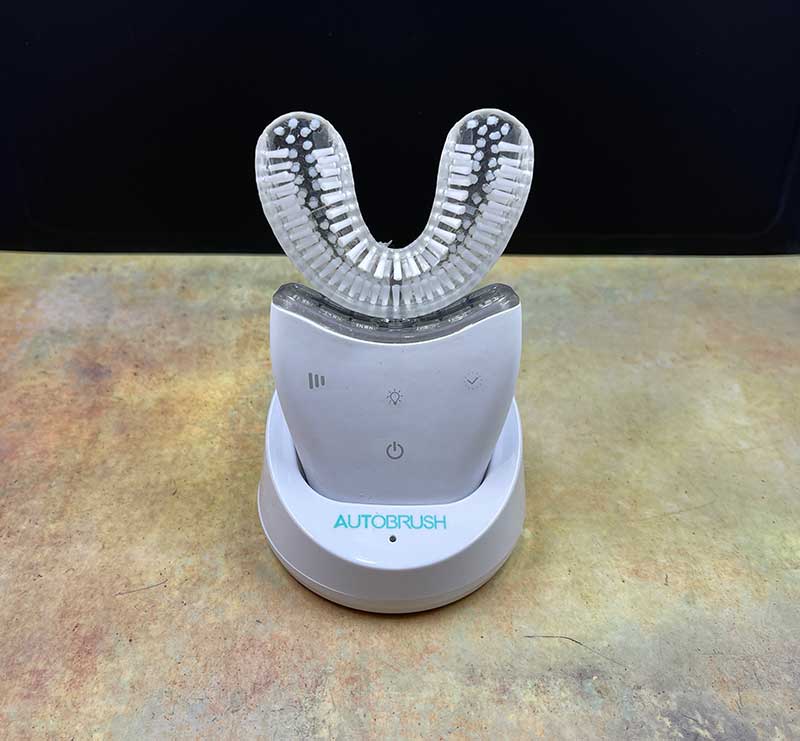 The third part of the AutoBrush Pro is the charging base. This base will wirelessly charge the AutoBrush and can be used as a stand to hold the AutoBrush when it's not being charged. There's a magnetic USB cable that attaches to the bottom of the base when the AutoBrush needs to be charged which is typically once a week.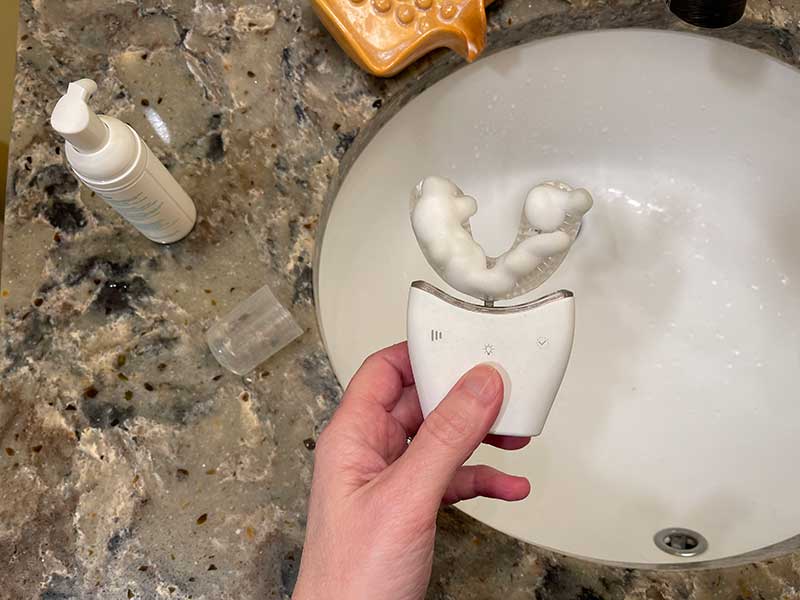 To use the AutoBrush Pro, you squirt a few dabs of the special foaming toothpaste on the brush head.
See the AutoBrush Pro in action
Note that I did not test the AutoBrush Pro's teeth whitening feature because I did not want to use the special whitening fluid on my teeth as I've read that such products cause gum irritation and even leave uneven "stains" on your teeth. No thanks.
I did try the tongue cleaner and as expected, I found that it was too small and the handle too short to get very far back on my tongue compared to a good old standard toothbrush.
What I like
Might be good for people with dexterity issues
What I don't like
Does not "auto" brush your teeth. You have to move it around manually
You have to flip it over to do the other set of teeth
Needs longer battery life
Price – too expensive
Final thoughts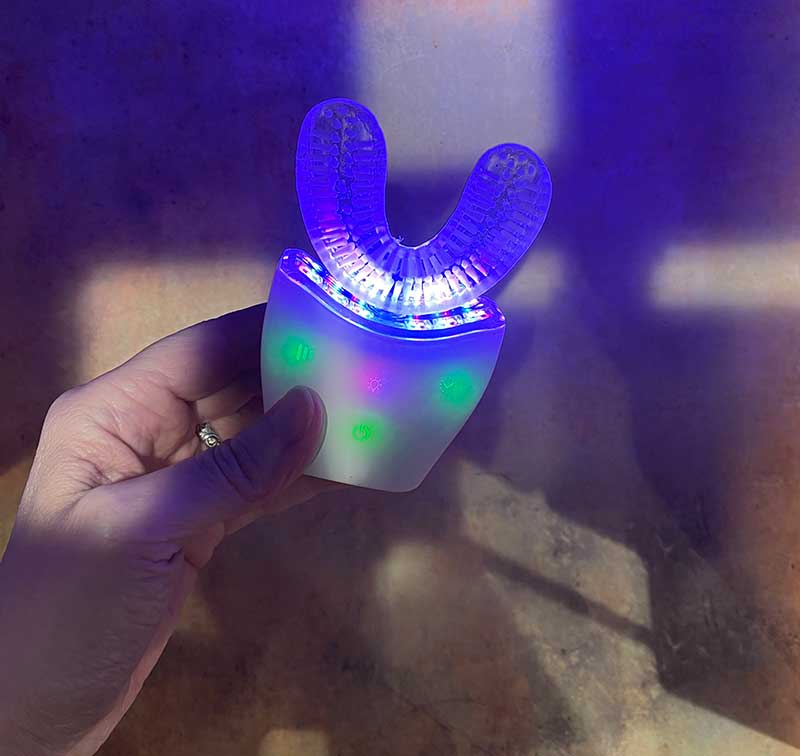 The first time I saw an advertisement for the AutoBrush Pro, I thought it looked awesome because I don't really enjoy brushing my teeth and am always up for something that makes life more efficient. Unfortunately, the AutoBrush Pro doesn't do that for me. It actually makes brushing your teeth more complicated and messier not to mention costlier when you consider the price. At over $200, you can buy several electric toothbrushes, several extra toothbrush heads, toothpaste, and even a water flosser and STILL have money left over. While it may be helpful for people who have hand dexterity issues, I can't recommend this product for everyone else.
Price: $217.00 for the total package
Where to buy: AutoBrush and Amazon
Source: The sample for this review was provided by AutoBrush.