We use affiliate links. If you buy something through the links on this page, we may earn a commission at no cost to you. Learn more.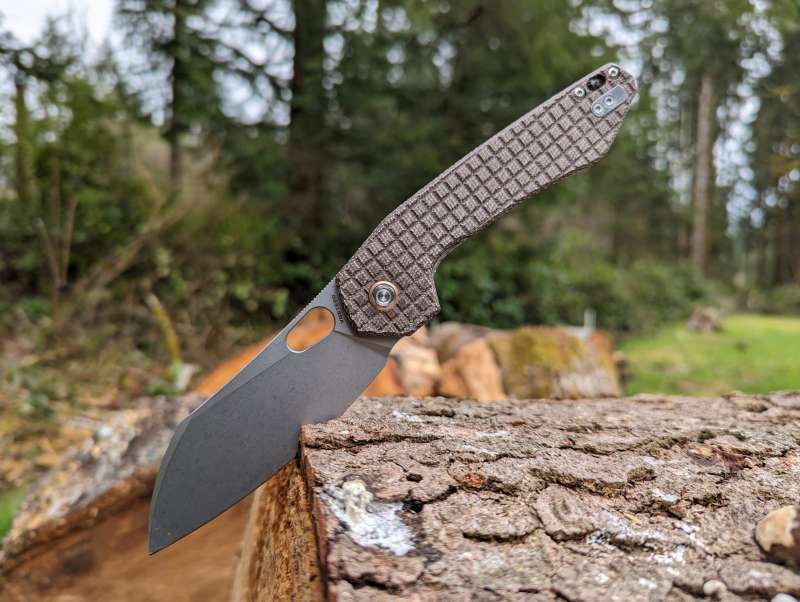 REVIEW – I've reviewed a few Vosteed knives so far including one of my favorite knives, the Vosteed Raccoon pocket knife, and have been impressed with each knife. I was hoping they would come out with a larger blade as most of their offerings are around the 3.25 inch length. Enter the Vosteed Gator folding knife with its largest blade to date at 3.98 inches. Let's see if the Vosteed Gator has a bite to match its beastly looks.
What is it?
The Vosteed Gator is a 3.98" sheepsfoot blade folding knife with a micarta handle. It is overbuilt with heavy duty use in mind. It is available with a satin finish blade with a black or blue handle. A stonewashed finish is available with a green or brown handle.
What's in the box?
Vosteed Gator stonewashed blade with brown micarta handle
Tin and soft case
Support card, sticker, spec sheet, cleaning cloth, velcro patch
I love the Corgi and am wrapping up my review on it but until its published check out the 2.99″ bladed Corgi on the Vosteed website
Hardware specs
Blade Material: Sandvik 14C28N
Handle Material: Micarta in black, blue, brown, or green
Blade Shape: Sheepsfoot
Blade Grind: Flat
Finish: Black/ blue in Satin; Green/ brown in Stonewashed
Hardness: HRC 60 +/- 2
Lock Mechanism: Liner lock
Opener: Standard flipper, front flipper, or thumb hole
Overall Length: 9.33" or 236.98mm
Blade Length: 3.98" or 101.09mm
Blade Width: 1.47" or 37.31mm
Blade Thickness: 0.138" or 3.5mm
Handle Length: 5.35" or 135.89mm
Handle Width: 1.43" or 36.31mm
Weight: 6.29 oz or 178.5 g
Pocket Clip: Stainless, reversible, tip up
Design and features
My first impression when opening the soft case for the first time and seeing the Vosteed Gator is that this is a beast of a knife. The Vosteed Gator has a massive 3.98" sheepsfoot blade in 14C28N steel which is a good mid-range budget steel made by Sandvik in Sweden known for good toughness, corrosion resistance, and ease of sharpening.
Despite its size and weight (my sample weighed in at 6.29 oz on my scale) the Vosteed Gator feels nimble and comfortable in the hand.
If I was going camping or out to the wilderness and couldn't take a fixed blade I would take the Vosteed Gator.
The Vosteed Gator sports a thick liner lock which although not my preferred lock since your thumb is in the blade's plane of travel when closing was the best choice for this knife and a liner lock's inherent strength gives you the confidence to use this knife as hard as you need.
The sheepsfoot blade flips open with authority and an oh so very satisfying thunk when the liner lock engages. The thumbhole is another open option and really reminds me of a gator's eye just above the surface. This knife is very aptly named. The ball bearings on the pivot are larger than other models to account for the larger blade but still buttery smooth and have zero play in them. Another nice touch is the steel liners have cutouts to save some weight.
Although this knife is hefty you don't really notice it in the pocket. The pocket clip is wider so it clips securely and doesn't shift around in the pocket.
The handle is made of micarta with a more aggressive frag pattern that I like. It's very grippy even when wet and is comfortable in the hand. There is jimping on the spine and flippers to ensure good contact there as well. There is a lanyard loop and the pocket clip is reversible.
When closed the blade nestles nicely in the handle and has a sleek profile just like a gator drifting right below the water's surface, ready for action. The bronze inset in the pivot is a nice additional touch.
What I like
Overbuilt to withstand most anything
Well balanced
What I'd change
Final thoughts
The Vosteed Gator is a beast and doesn't make any apologies for it. Like a gator in the water though it is nimble when in action. The large blade means the cutting edge is lower than your index finger so your wrist is more in alignment which is a good thing when putting some force into cuts. At $69 this is a heck of a deal for what you get. If you are looking for a large folding knife that can withstand heavy duty use then grab a Vosteed Gator if you can because these will probably sell out quickly. Well done Vosteed!
Price: $69.00
Where to buy: Vosteed website and Amazon
Source: The sample for this review was provided by Vosteed.