We use affiliate links. If you buy something through the links on this page, we may earn a commission at no cost to you. Learn more.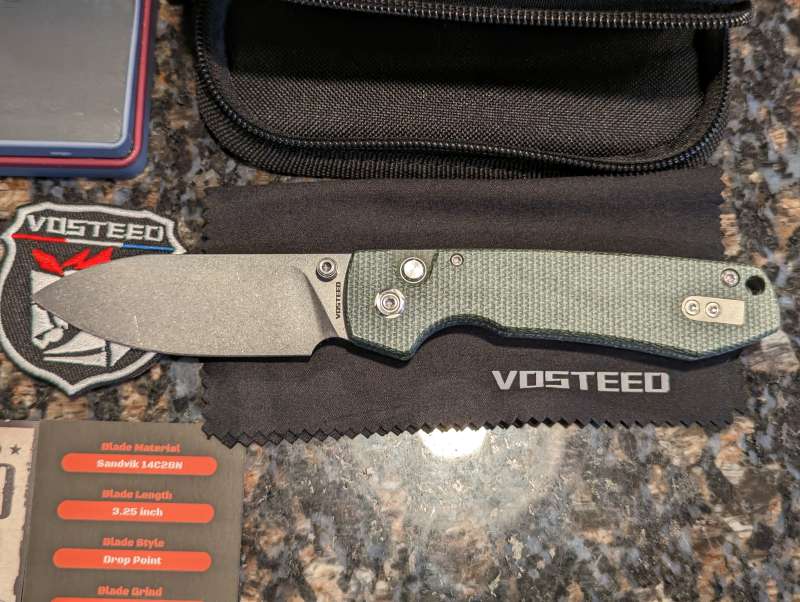 REVIEW – I've owned a lot of folding knives. It's something I'm passionate about so I was skeptical when a brand I'd never heard of wanted me to test their new $59 knife with a silly name. Let's see if the Vosteed Raccoon can earn the top spot in my pocket. 
What is it?
The Vosteed Raccoon is their newest everyday carry folding knife paying homage to Rocket Raccoon from the Guardians of the Galaxy fame. It features a button or plunge lock for one-handed opening and closing. It sports a plain-edged stonewashed blade in 14C28N steel with skeletonized steel liners covered in micarta scales.
What's in the box?
Vosteed Raccoon knife

Tin and soft case

Support card, Vosteed velcro patch, two wanted cards, spec sheet, cleaning cloth
Hardware Specs:
Blade Designer: Yue Dong

Blade Material: Sandvik 14C28N

Handle Material: Micarta in black, blue, or green

Blade Shape: Drop point (per Vosteed) but I think it's a straight back

Blade Grind: Flat

Finish: Green- Stonewashed, Blue/Black- Satin

Hardness: HRC 60 +/- 2

Lock Mechanism: Button lock

Opener: Thumb stud

Overall Length: 7.60" or 193.12mm

Blade Length: 3.25" or 82.55mm

Blade Width: 1.07" or 27.27mm

Blade Thickness: 0.118" or 3.1mm

Handle Length: 4.36" or 110.75mm

Handle Width: 1.10" or 27.95mm

Weight: 3.39 oz or 96g

Pocket Clip: Stainless, reversible, tip up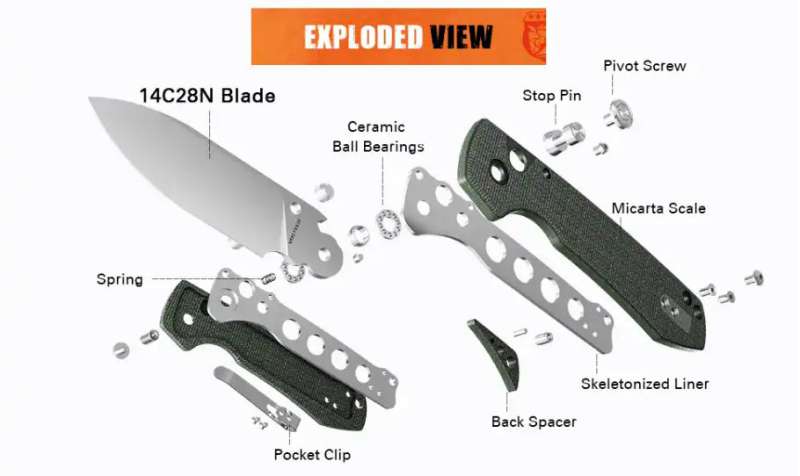 Design and Features:
The Vosteed Raccoon's 3.25" blade is advertised as a drop point but since it doesn't have a convex curve from the tip to spine I would classify it more as a straight back. Regardless it uses 14C28N steel which is a good mid range budget steel made by Sandvik in Sweden. It's known for good toughness, corrosion resistance, and ease of sharpening. Blade retention isn't the best but when it comes to those four characteristics you usually only get to pick three when selecting blade steel and those are the three I usually go for. 
To me, the perfect knife would have a 3.5" blade with a 4.5" handle and weigh under 4oz. I have found that most knives with a blade longer than 3.5" will naturally have a handle at or above 4.5" and weigh over 4 oz. The Raccoon's 3.25" blade doesn't look much smaller than my Hogue EX03's 3.5" blade. At only 3.39 oz the Raccoon weighs noticeably less than the EX03 which comes in at 4.13oz. The Raccoon's handle length is pretty close to my ideal 1" blade to handle length difference at 4.36". Not too heavy, not too light, not too big but not too small.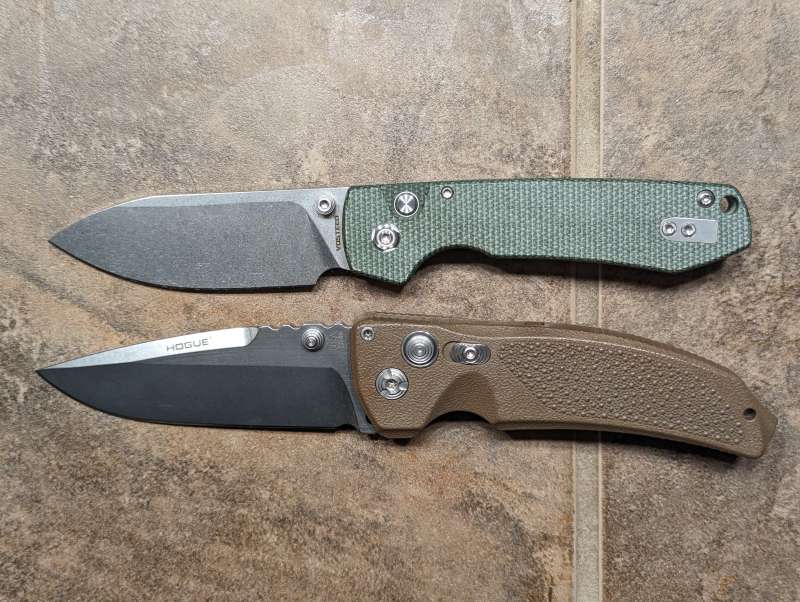 The handle choices are black, blue, and green micarta which I found very comfortable and with good grip even when wet or with gloves on.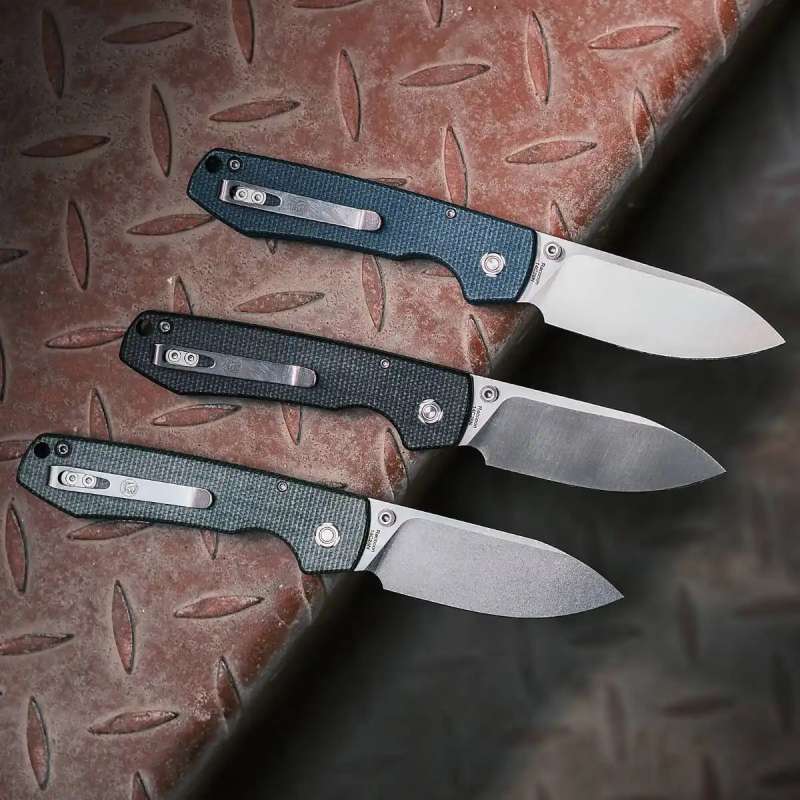 The plunge or button lock is very smooth and solid with great lock up and absolutely no play in the blade. It isn't too recessed or too prominent and is easy to activate with either hand. I did try to see if I could accidentally depress it using different grips and pressure and found it resisted all my attempts.
The handle fits my hand really nicely and conforms to finger placement quite well for a normal grip or if I choke up on it a little for more blade control. 
With the smooth ceramic bearings on the pivot, opening the knife with the thumb stud or plunge lock was quick and easy. I found a quick flip of the wrist will also open the blade without having to depress the lock or use the thumb stud. 
The Vosteed Raccoon knife doesn't have a deep carry clip but rides at I think a perfect height, not too high, not too low. There's just enough handle sticking out for your index finger to grip when extracting from the pocket. There is a lanyard hole if you want to add one. I keep my phone in my left front pocket and my thin wallet, car key, and knife in the right front pocket. When reaching into my pocket there were no hard edges or points to scrape on my hand or wallet. Some flippers and other knives I've owned would wear down a spot on my wallet or pocket or catch on my hand when reaching for things.
What I like
Great balance

Solid feeling and comfortable in the hand

Smooth bearings and strong lockup

One handed operation with left or right hand

Nice pointy blade tip with good belly sweep
What I'd change
This is completely nitpicking but an extra 2 mms of height on the clip would accommodate thicker pant pockets

Final Thoughts:
Although skeptical at first I am now totally impressed with the Vosteed Raccoon knife and is my new everyday carry. Vosteed could have named this knife the Goldilocks instead of the Raccoon since everything about it is just right. It's the closest knife I have found so far to being perfect for me. With the excellent fit, finish, ceramic bearings, micarta handles, smooth plunge lock, and extras like the nice little soft case inside a tin can I would have expected this knife to cost at least $100 more than its $59 price tag (like my Hogue EX03 did.) I have been so impressed with the Vosteed Raccoon that I'm buying a few for friends and family for the Holidays. Well done Vosteed and I will watch your future knife offerings with great interest.
If you are interested in learning even more about Vosteed, check out their Facebook group – Vosteed Knife Group~ https://www.facebook.com/groups/vosteed where they have a lot of fantastic giveaways and product news every month.
Price: $59.00
Where to buy: Vosteed or Amazon
Source: The sample for this review was provided by Vosteed.