We use affiliate links. If you buy something through the links on this page, we may earn a commission at no cost to you. Learn more.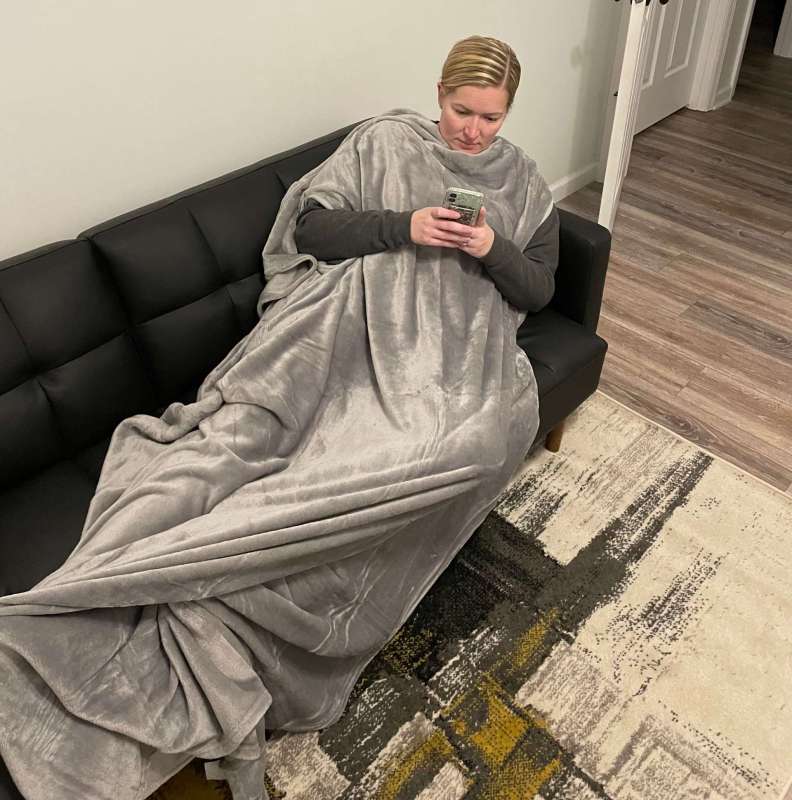 REVIEW –  Have you ever thought, I want to change the channel or play with my phone, but if I pull my arms out of this blanket, my shoulders and neck will be cold?  Elegear recognized this dilemma and came up with a solution.  The Wearable Hug Throw Blanket by Elegear fixes this issue by allowing you to have a blanket with arm holes, so your neck and shoulders are always covered.
What is it?
The Elegear wearable hug throw blanket is a blanket that allows you to put your hands through the small holes and easily play with your phone, read a book, etc., all while keeping your shoulders and neck warm.
Specifications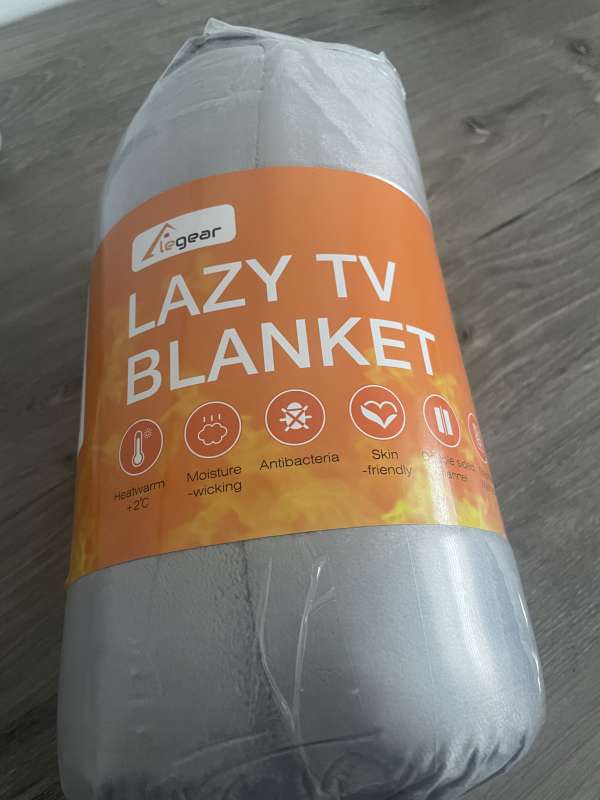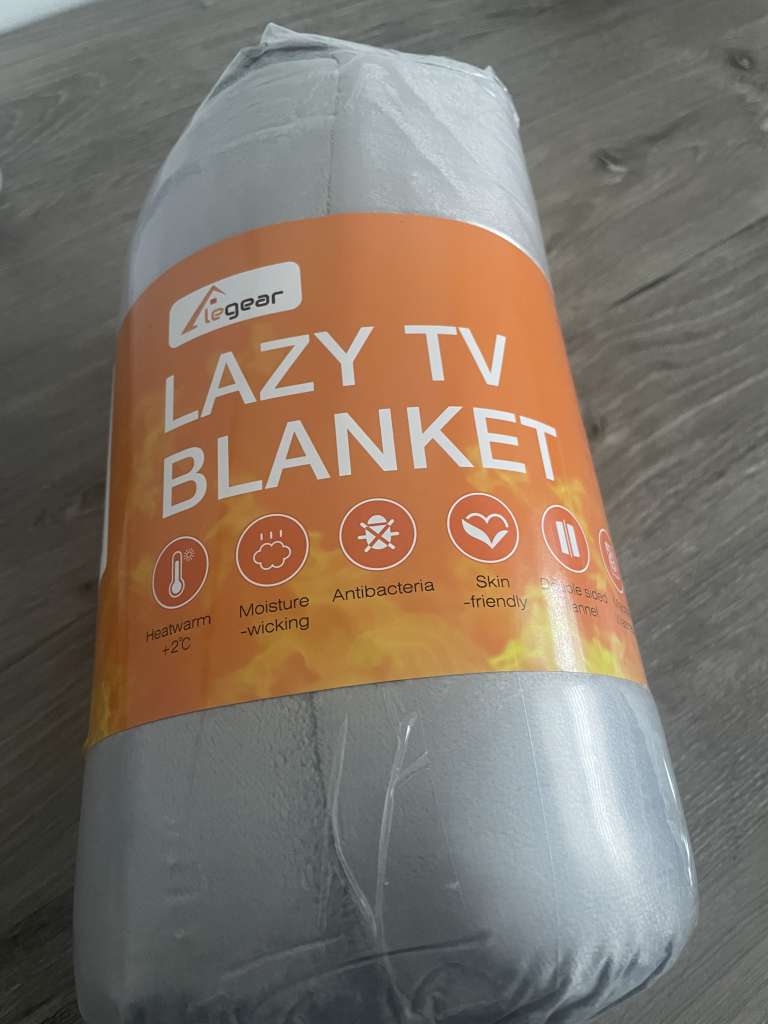 100% Polyester
Size: 60" x 80"
Available in light gray and navy blue
Features
The Elegear wearable hug throw blanket arrived without any instructions.  To the product defense, I guess what much is there to say about a blanket.  However, I will admit that I struggled to figure out how to "wear" it at first.  In reality, it doesn't matter how you use it, after all, it is a blanket.  However, the way it is intended to be worn is by sticking your arms thru the holes and keeping the top flap as warmth on your shoulders and neck.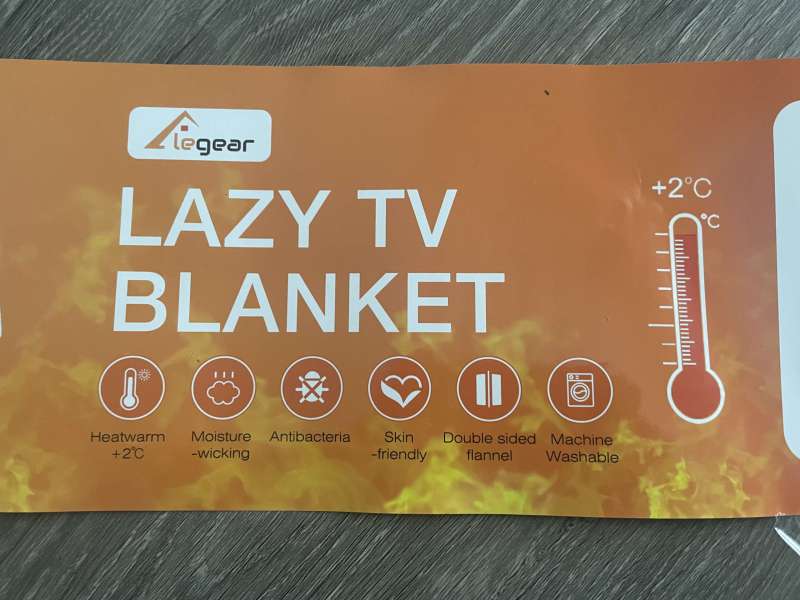 This Elegear blanket is labeled as the "Lazy TV Blanket" and that is truly a fitting name for it.  I do love being able to easily have access to using my arms and hands while still having the blanket draped over my shoulders and neck.
The Elegear Wearable Hug Throw Blanket is described as being made with 100% Japanese flannel material and uses moisture-absorbing and heating yarn, which can quickly heat up 2~5℃, which is said to be warmer than other similar blankets.
This selected high-quality flannel fiber passed the OEKO-TEX certification, which makes it safe for your daily use.  Because of its double-strand warp knitting process, the Elegear blanket is advertised as keeping its shape and color even after multiple washes. Along with that it has no lint, no pilling, and is anti-static.  So far, these claims have held up using the Elegear Wearable Throw Blanket.  The color and condition seem to be holding up from daily usage and trips in the washing machine and dryer.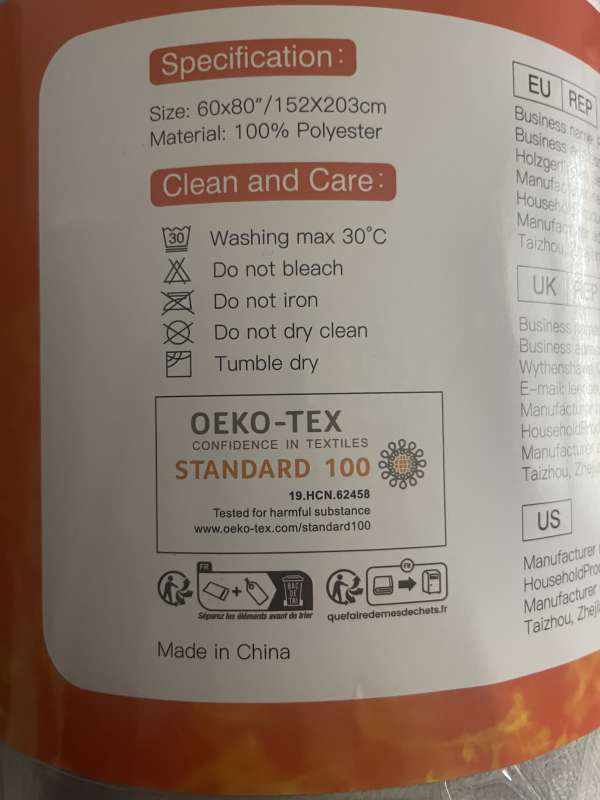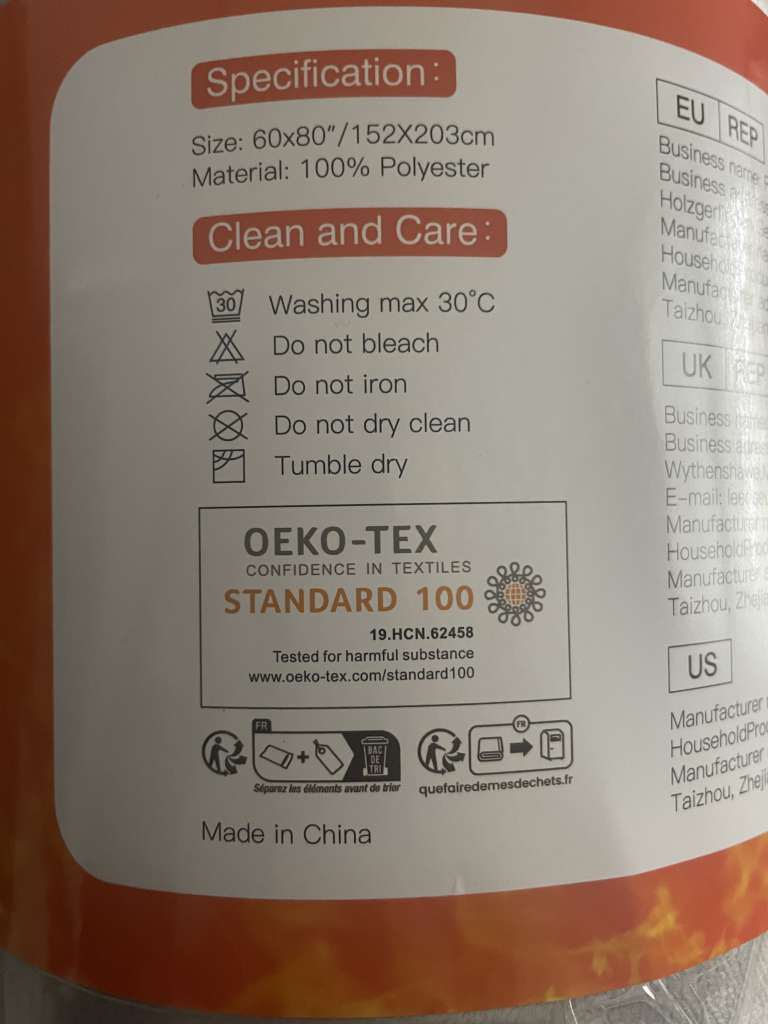 I couldn't finish without going over the cleaning and care instructions for the Elegear Wearable Throw Blanket.  You can wash your blanket in the washing machine up to 30℃.  Do not bleach, iron or dry clean your blanket.  As far as drying goes, tumble try on low is the recommended way.
Want to find out a little bit about another Elegear blanket options?  Check out what my fellow Gadgeteer had to say about the Elegear cooling blanket.
What I like
Soft and cuddly
Large size
Price
What I'd change
Final Thoughts
When it comes to blankets, I must admit, my household is not really picky and we always each have a blanket out in the evenings as we wind down watching our favorite shows or playing games.  The Elegear Wearable Hug Throw Blanket however is quickly becoming one of our family favorites due to not only being soft, but we love how large it is and of course, the bonus of being able to use the arm holes to stay warm doesn't hurt either.  If you are looking for a nice new blanket option, I do recommend giving Elegear a try.
Price:  $19.99 – $25.99
Where to buy:  Amazon (Save 20% with instant coupon on the grey color only and use the code F6SL3ALW       for an extra 10% off expiry date: 12-31-2028)
Source:  The sample for this review was provided by Elegear.