We use affiliate links. If you buy something through the links on this page, we may earn a commission at no cost to you. Learn more.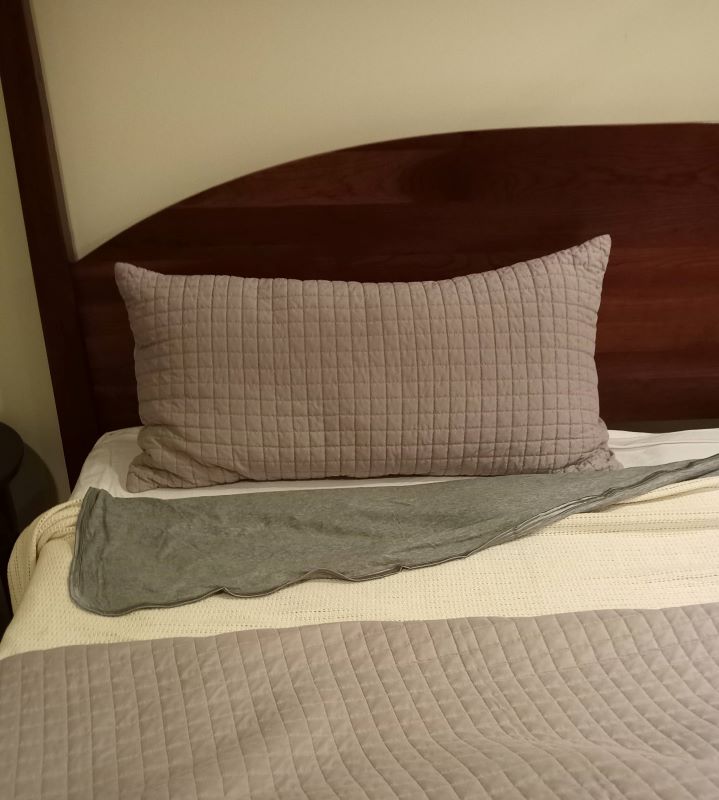 REVIEW – A cooling blanket may seem like an oxymoron, but could a blanket make you cold?  It's a fascinating idea.  The Elegear cooling blanket webpage is full of pictures of people wearing this blanket and drinking hot beverages, which only made me more curious as I waited for it in the mail.  Once the blanket arrived I was pretty surprised by the difference it made for me.
What is it?
The Elegear cooling blanket is a blanket with a performance fabric side and a cotton side designed to give you the sensation of being cooler.
Specifications
80% mica nylon, 20% polyethylene knit on one side
100% cotton knit on the other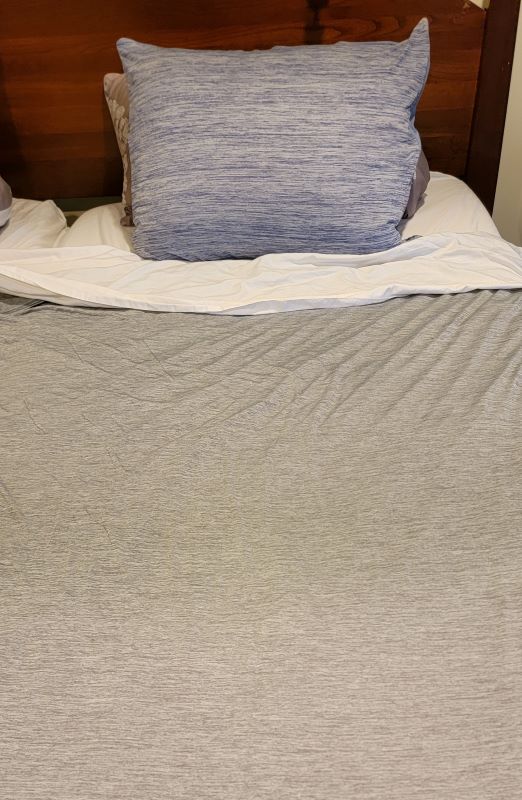 Features
The Elegear cooling blanket arrived without a lot of instructions, which I guess isn't unusual for a blanket, but I would have liked to know whether I was supposed to put the cotton side down or up.  On the product page, it said the cotton side should be down, so that's how I put it on my bed.  It didn't really say if you should use a sheet because you'd think that would impact how the blanket works.  I mean, I have cotton sheets, but would microfiber be different?  I wasn't sure.  I decided to just put it on my bed like any other blanket and hope I felt chilly soon.
Like the pillowcases I reviewed (with mixed results), this blanket is made out of "jade nano particles" in the form of "mica nylon" and polyethylene.  I have no idea what these things mean and a Google search only served to confuse me more, but what I can tell you is that both sides of the blanket are silky and luxe feeling.  They don't look particularly luxurious, however.  They look like a knit cotton T-shirt on one side and a performance T-shirt on the other.  Out of the box, it looks a smidge wrinkly mostly because of the satiny binding.  It relaxed over time but out of the bag, it makes the edges appear uneven.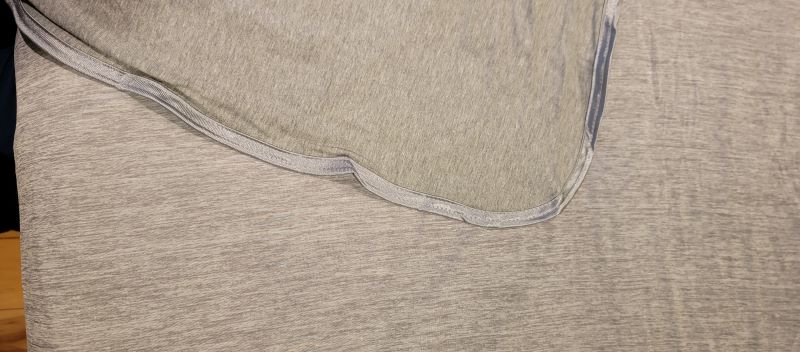 The first night I slept under the Elegear cooling blanket I could really tell a difference in how cool I felt.  I normally sleep under a sheet, a thin cotton blanket and if I feel cool, I pull up a microfiber quilt.  I subbed out the cotton blanket for the Elegear and had to pull up the microfiber quilt and still felt too cold!  The following night I had to add the cotton blanket to reach an equilibrium.  Over the following nights, I began to wonder if I could buy a great big one just like it that fits my California king bed (I can't, and I'll come back to that frustration in a minute).
Eventually, I decided my son should try it because his room is usually a lot warmer than mine, so I took it off my bed.  All night long the first night I kept waking up because I was too hot.  I'd grown used to the balance I'd gotten from the Elegear blanket and I couldn't go back.
I am completely surprised by what a difference the Elegear cooling blanket made and if you are a hot sleeper, I recommend giving this thing a try.  I know it's going to be one of those things that I have at home that I miss when I travel, although it's marketed as a travel blanket so maybe it should go with me.  It's not very bulky, so I might try it on a trip.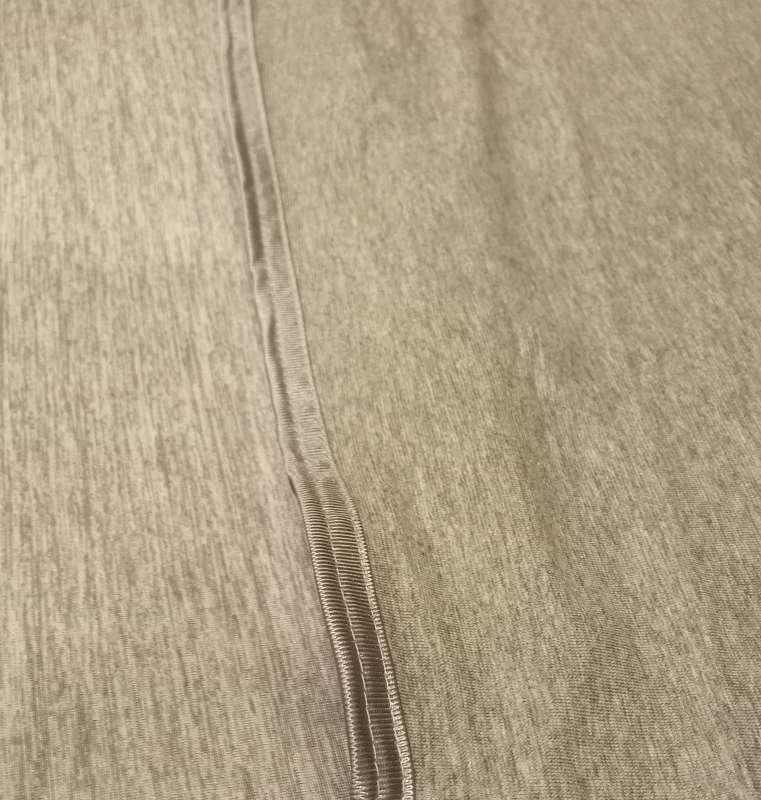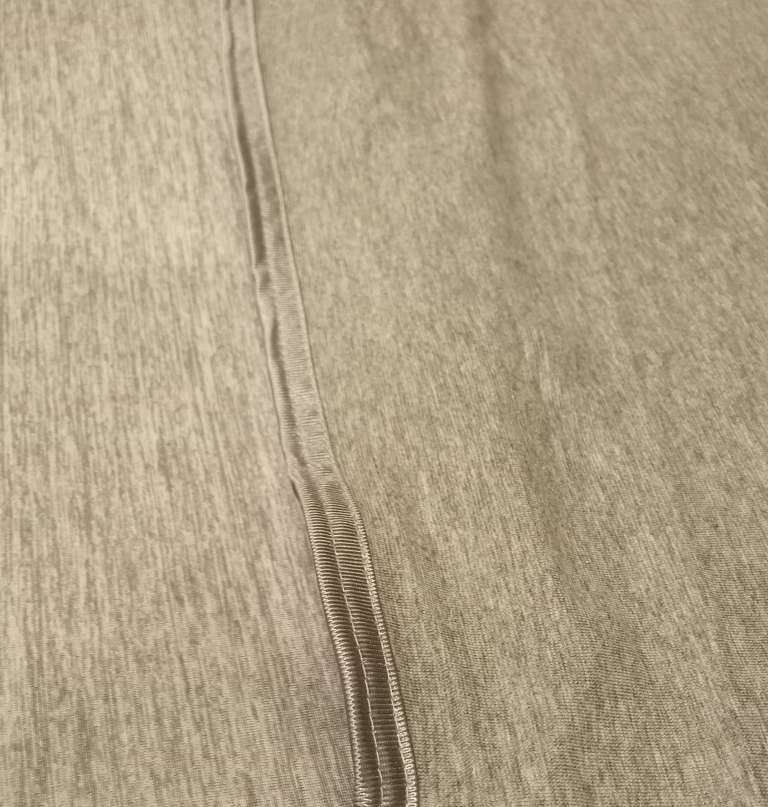 One last thing I should mention is that this company makes all kinds of bedding that is designed to make you cool, like comforters and pillowcases.  None of the blankets or comforters are available in "standard" sizes.  For example, a standard twin blanket is around 66×90 inches, but in this line of bedding, you can either get a blanket that is 59×79 inches or 79×86 inches.    Their largest blanket approaches a standard queen size (which is around 90×100 inches) at 90×108 inches.  I wish Elegear would align their sizes closer to standard bed sizes so it wouldn't be a challenge to figure out which size to get.
What I like
Makes me feel much cooler
Not bulky
What I'd change
Perhaps some direction on how to arrange this bed for the best result.
I'd start producing these blankets in standard sizes

Final Thoughts
I now have a great gift idea for the hot people in my life.  Elegear, I might need to talk to you about some bulk pricing.
Price:  $36.99 for the 51"x67" size
Where to buy:  Amazon (Save 10% using the code: 4NBRAN8W expires: 07-20-2032)
Source:  The sample for this review was provided by Elegear.