We use affiliate links. If you buy something through the links on this page, we may earn a commission at no cost to you. Learn more.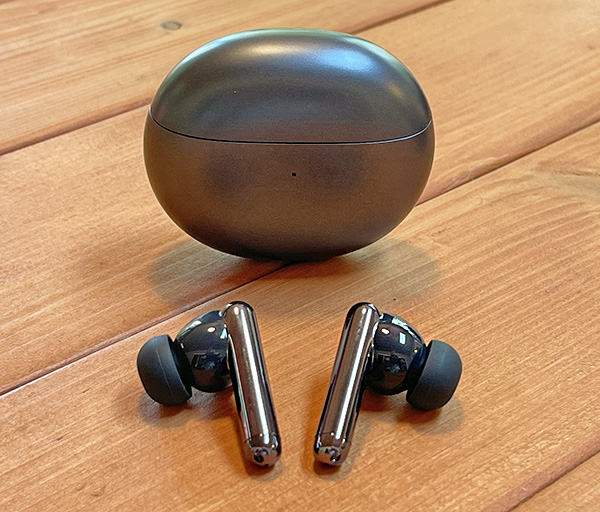 REVIEW – You might think that when choosing totally wireless earphones, the sound quality would be the deciding factor. Maybe not. There's also comfort, call quality, ease of use, brand cachet, and of course—price to consider. Generally, you can have any five of the six listed. For instance, if you opt for sound, comfort, call quality, ease of use, and a famous brand, it'll cost you (Hello, Apple AirPods Pro). Lower the price and you will have to lose one of the other factors. Now, if you're willing to forego that overpriced fruity logo, there may be a near-perfect pair of earbuds for you—the TCL MOVEAUDIO S600 True Wireless Earbuds.

What is it?
The TCL MOVEAUDIO S600 True Wireless Earbuds are a value-priced equivalent to Apple's AirPods Pro earphones, even though they look more similar to Apple's regular AirPods. That long stem is now an accepted look that no one pokes fun at anymore. 
The S600 earbuds come in two colors only: Pearl white or ultra-matte black—which is more gray than black.
A downloadable Android/iOS app is available for customizing the earbud's left/right capacitive touch settings, checking battery life, and wear detection. Currently, there is no graphic equalizer function available.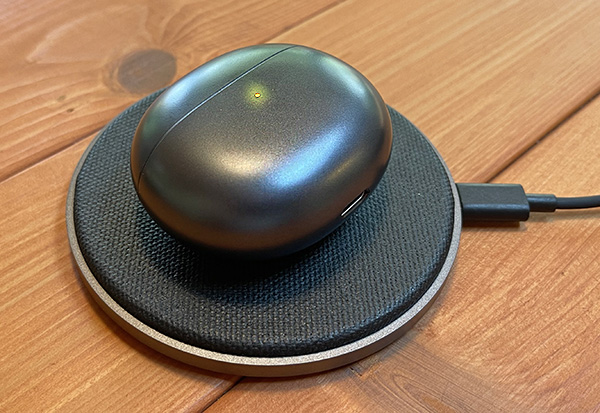 The S600 earbuds feature active noise canceling (ANC), 8 hours of playtime before charging, transparency mode, IP54 sweat and splash-proof, touch controls, 3 microphones per earbud (for calls and transparency mode), and wireless charging. Not bad for a hundred bucks!

What's in the box
S600 earbuds
Case
5 pairs of ear tips: S, M, L (2), and XL
USB-C to USB A charging cord

Specs
Weight: 2 oz.
Bluetooth: 5.0
Waterproof rating: IP54 (sweat and splash-proof)
Speaker: 10mm dynamic
Active noise canceling
Battery: 6-8 hours earbuds audio play (ANC on/off); Case and earbuds, 24-32 hours (ANC on/off)

Design and features
You might recognize TCL as a maker of affordable TVs known for excellent picture quality. For the record, TCL also makes air quality appliances, vacuum cleaners, smartphones … and audio gear.
A lot of tech companies "do audio", but more often than not, they don't do audio all that well. TCL is an exception—sort of. I wouldn't call them audiophile, but then I wouldn't call Apple audio audiophile either. Yet, I love Apple's AirPods Pro earphones. Why? Convenience. Apple's earphones are, by far, the easiest-to-use earphones I have ever owned. When I pop them in, they come on. When I get a call, they are instantly connected. They just work. 
However, I am a full-fledged member of the Apple Borg. All of my Apple tech is connected and works seamlessly. Most people aren't in my camp, so I get that many will not always have a seamless experience with AirPods Pro earphones or other Apple products. Also, not everyone is willing to pay the Apple tax—that premium price required to join the Borg.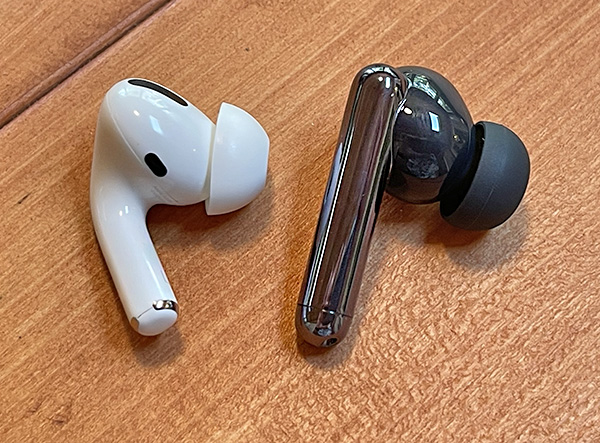 For the non-Apple (and some Apple) folks, TCL has you covered. Not only do their MOVEAUDIO S600 True Wireless Earbuds perform and act like Apple's, but they also cost a lot less. Spoiler: The S600 earbuds are about 85% as good and convenient as Apple, at less than half the price.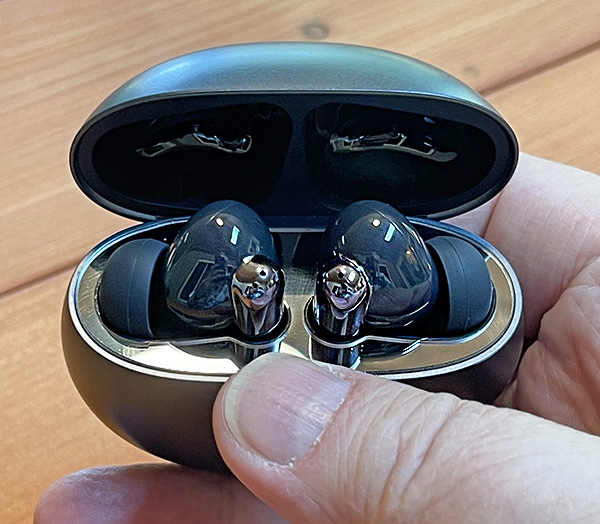 Let's start with the look. The S600s are shiny—as in shiny. In fact, when you open the bean-shaped case, you see two shiny earbuds surrounded by a mirrored base. It's bling without overdoing it. The lid opens and closes purposefully, but doing so requires two hands. It's a bit too large and slick to open one-handed—at least for me. While the case may be large, it still easily fits into a front pocket.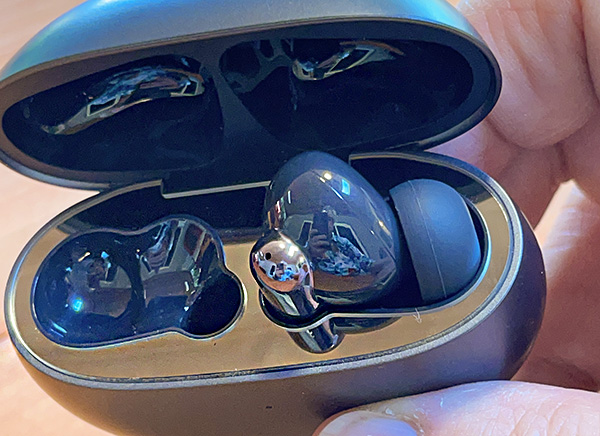 The earbuds magnetically snap into the case. They snap so well in fact, that I sometimes have difficulty extracting them because they're so slick. At least they don't pop out of the case if accidentally dropped—like my AirPods Pro earphones always do.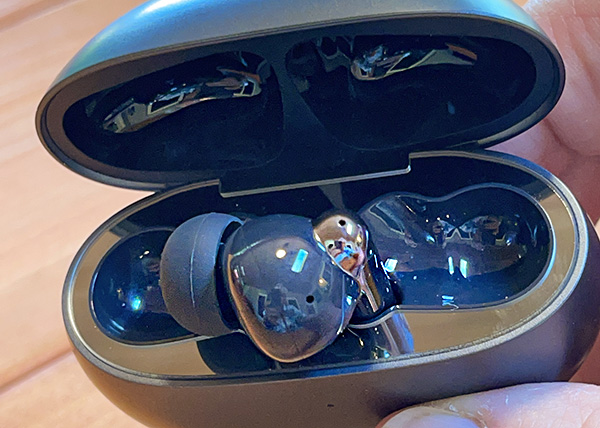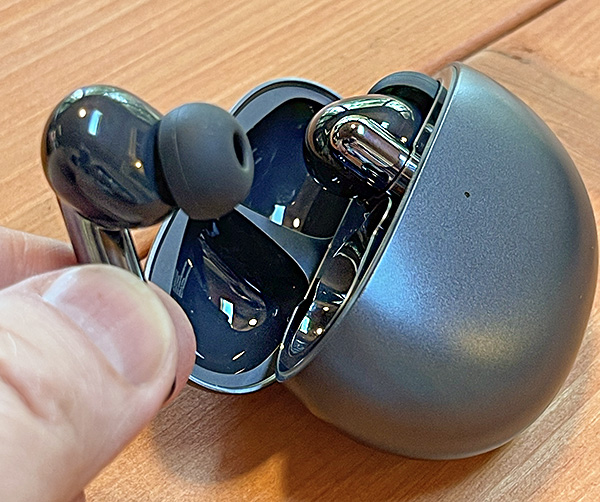 The S600 earbuds face outwards in the case, meaning that they look a bit reversed when seated in the case. When I pull them out or place them back into the case, I have to physically rotate them in my hand before inserting in the ear. I have dropped them countless times doing this—again because they are slick. However, once in my ear, they stay put.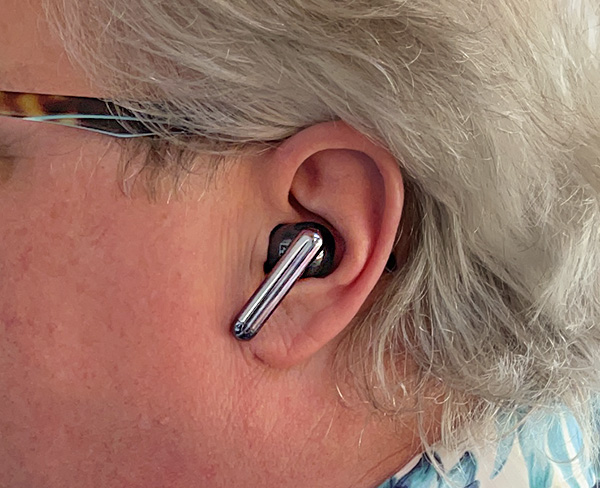 The S600s are extremely light and fit perfectly (with the large ear tips). I can wear them for the entire 8 hours of battery life with no discomfort—a rarity with earphones. Of course, each ear is different, so YMMV.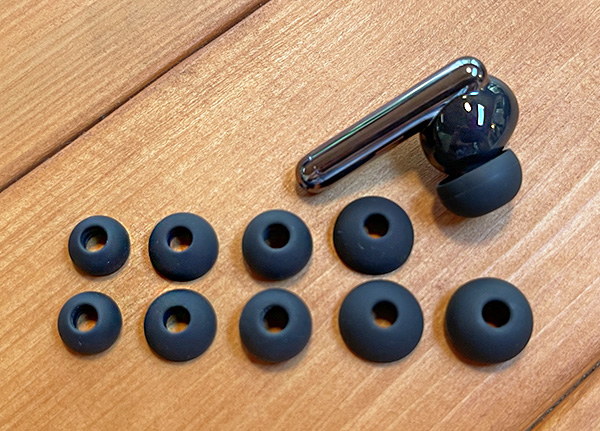 The S600 earbuds have many features that are normally seen on more expensive earphones. Let's go through them:
Google Fast Pair – Think of this like the H1 chip on AirPods Pro earphones. Initial Bluetooth pairing is instantaneous as well as the earbuds working right away when the case is opened. Unfortunately, I didn't get to test this feature because I have an iPhone.
Google Voice Assistant – Although I think an Android phone would handle this feature better, I did get it to work on my iPhone—as long as the Google Assistant app was open. Even then, I couldn't seem to time it right to get a response to spoken commands. As much as I dislike it, Apple's Siri works smoother on my iPhone than Google Assistant. However, it's a no-brainer if you have an Android phone. You can ask about the weather, traffic, make calls, and calendar reminders by holding the left earbud while talking.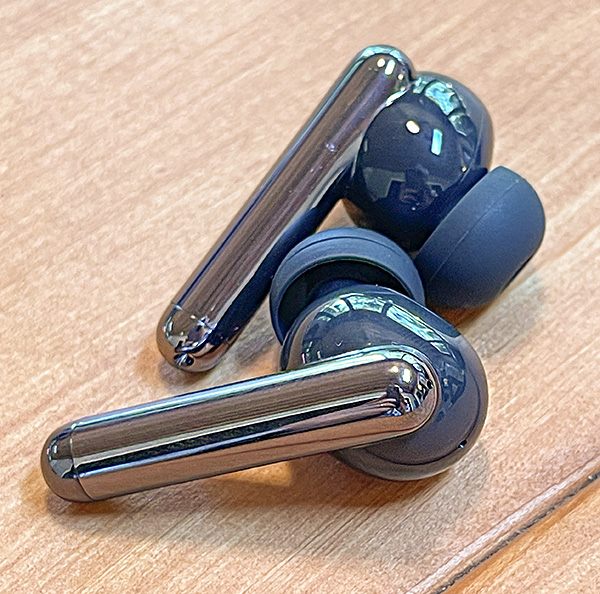 Now for iPhone (and Android) users—the good stuff:
Hybrid ANC with transparency – When using active noise canceling (ANC), the world and all of its noises disappear. The S600s have really good ANC—with little effect on audio quality. Note that ANC noticeably shortens battery life. Transparency mode is a feature that's becoming necessary as we try to stay safe in a noisy world. Its 6 microphones (3 per earbud) allow all outside noise to filter into the earbuds. With Transparency mode, you can be aware of your surroundings as well as carry on a conversation with someone without removing the earbuds—although I think talking to someone while wearing earphones looks a bit rude even if you can hear them clearly.
Battery life – The TCL MOVEAUDIO S600 True Wireless Earbuds' battery specs are 6-8 hours for the earbuds and 24-32 hours for the case. You can expect 3 complete charges from the case before it needs to be re-charged. I never did completely drain the battery case, but the earbuds themselves lasted as long as TCL claimed they would. The case also charges wirelessly—another feature usually found on more expensive earbuds. I mostly ignore wireless charging I've always preferred wired standard charging. Wired charging is also faster.
Echo noise cancelation – This lets you talk and hear callers more clearly using the 3 previously mentioned microphones inside each earbud. It cuts down on background noise while you're talking making both sides of the conversation easier to understand. People I spoke with could not tell that I was talking through earbuds and not directly into the phone. Every earphone should be able to sound this good on calls but sadly, most don't.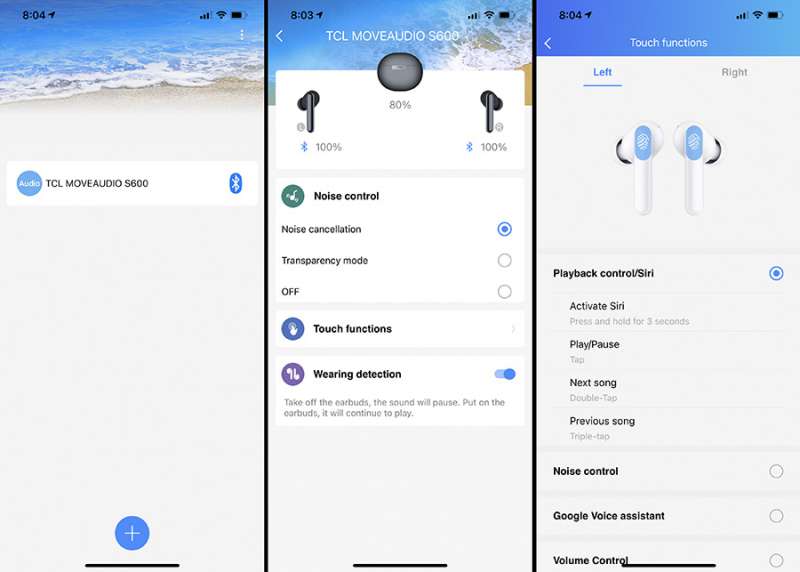 Touch sensors – Controlling the S600s is done by tapping and tapping/holding each earbud. These controls can be customized with the TCL Connect app (iOS and Android). I had the Google Assistant preference set on the left earbud but quickly changed it to an ANC/Transparency toggle setting. I'm not much of a voice-assistant user.
Sweat and splash-proof – The 600S earbuds are IP54 sweat, splash, and dustproof. You can exercise all you want or get rained on with no worries about moisture ruining them. I've used these earbuds while mowing the yard in the ungodly humid Florida summer heat. Sweat proofing and ANC make it safe for my hearing while using power tools.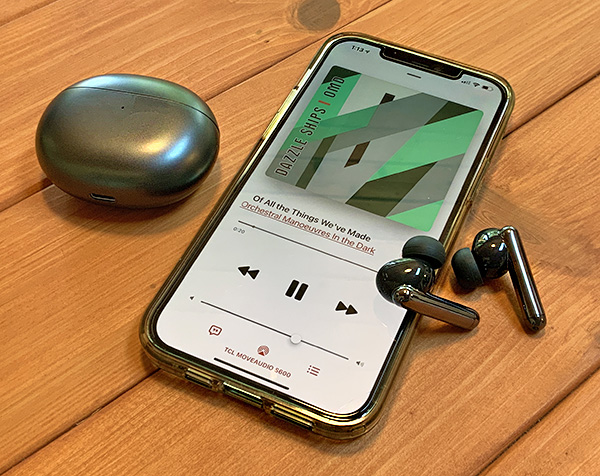 As I said earlier, the TCL S600 earbuds are not audiophile quality, but it's not a big deal. They sound plenty good with enough bass to make music sound rich and warm—though it lacks the clarity of more expensive earphones. Plus, there's no harshness at the higher frequencies—always a good thing. The bottom line is that audio quality is more than acceptable—especially in this price range. The one big advantage the AirPods Pro earphones have is Spatial Audio, a unique feature added through a firmware update. But remember, the AirPods Pros cost more than double what the S600s cost.

What I like
Comfortable
Affordable
Wireless charging
ANC is well implemented
Good for sweaty workouts
Transparency mode
Google Assistant

What I'd change
Earbuds are a bit too slick and difficult to hold securely
Don't have anything like Spatial Audio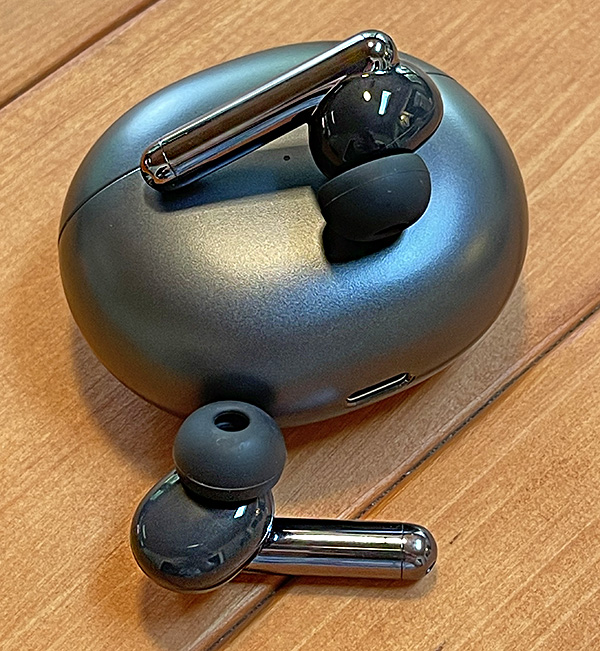 Final Thoughts
It's no secret to my friends that I love the AppleAirPods Pro earphones. I use them every day. However, It's also no secret how much they cost. TCL has done to audio what they did to the television market—they made a product that competes with the best at a price most can afford. When my AirPods Pro earphones need replacing, I will be hard-pressed to replace them with new Apple AirPods as long as the TCL MOVEAUDIO S600 True Wireless Earbuds exist.
Price: $99.99 US
Where to buy: Amazon
Source: The sample of this product was provided by TCL.