We use affiliate links. If you buy something through the links on this page, we may earn a commission at no cost to you. Learn more.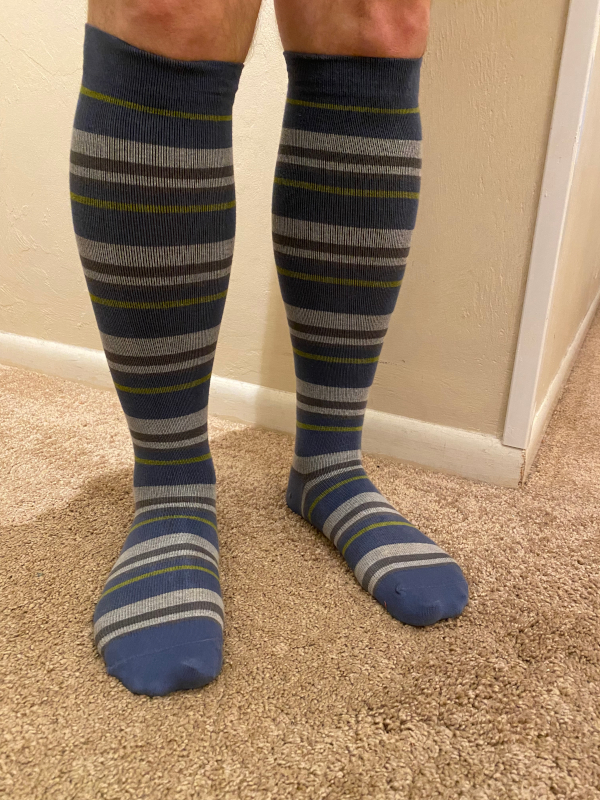 REVIEW – I am one of the many so-called knowledge workers who spend the vast majority of their days engaged in what the military used to call "polishing a chair with my ass." This often leaves me with sore, slightly swollen calves. As a partial solution to this, I have been wearing various types of compression socks for the past 10 years.  When VIM & VIGR offered up a few pair of their compression socks, I knew that I was the right person to evaluate them.
What is it?
VIM & VIGR make various types of compression leg wear including socks, sleeves, and tights in cotton, merino wool, nylon, or moisture wicking nylon. This review specifically covers their wool and cotton socks.
What's in the box?
My review samples came packed in a sturdy shipping box with VIM & VIGR branded decals.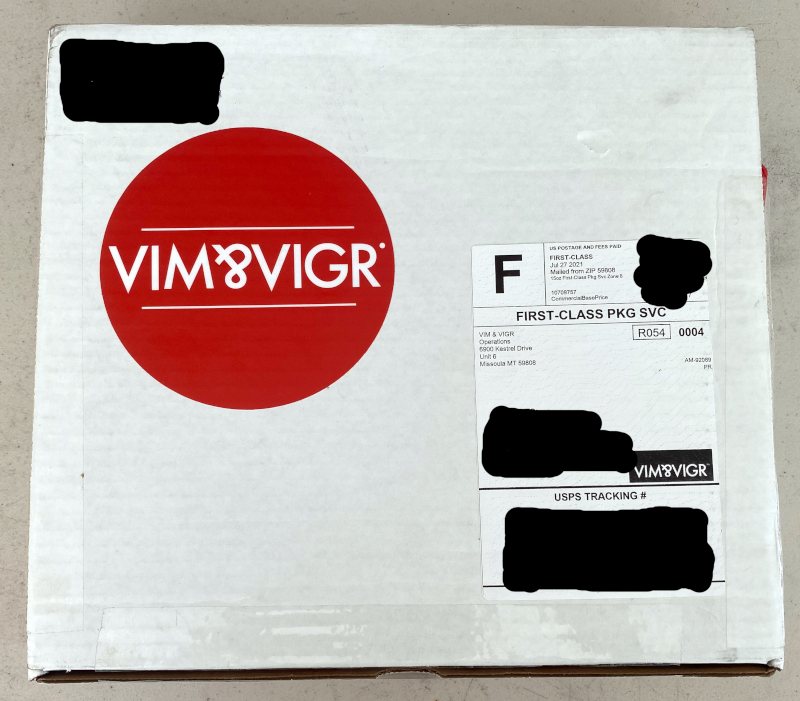 Inside the box were two pairs of socks wrapped neatly in tissue paper that was secured with a VIM & VIGR decal.  Also inside the tissue paper were several inserts about VIM & VIGR and their products.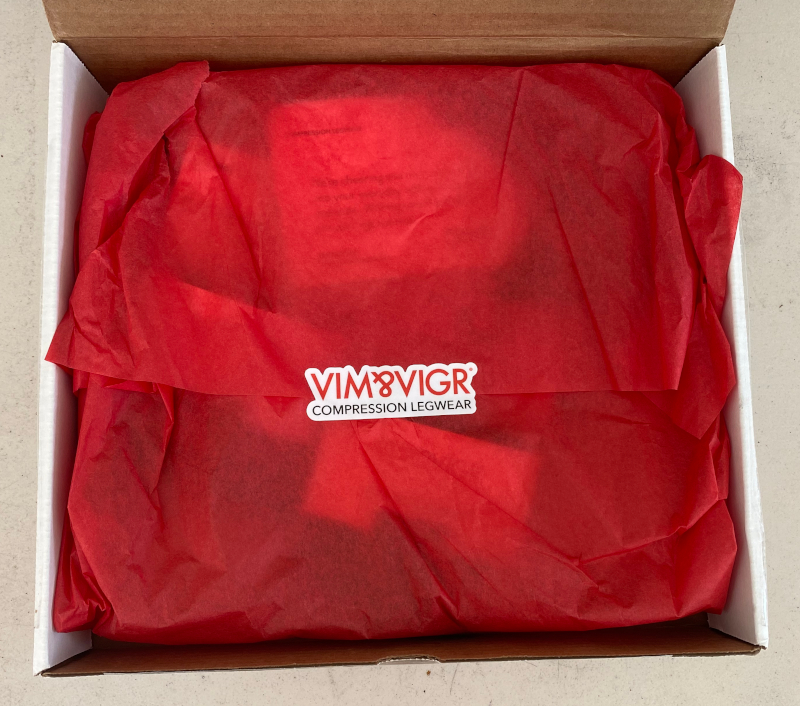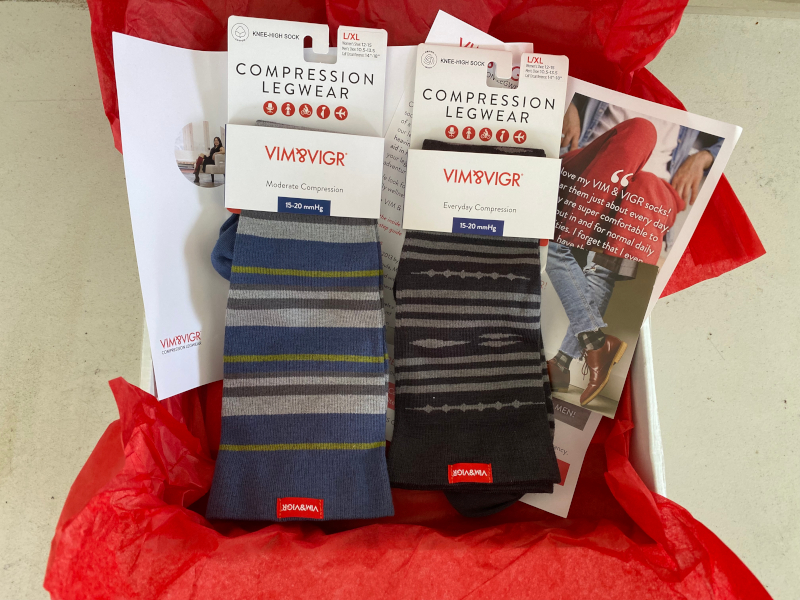 Each pair of socks is packaged in a well-designed hanger / information sleeve made from heavy paper.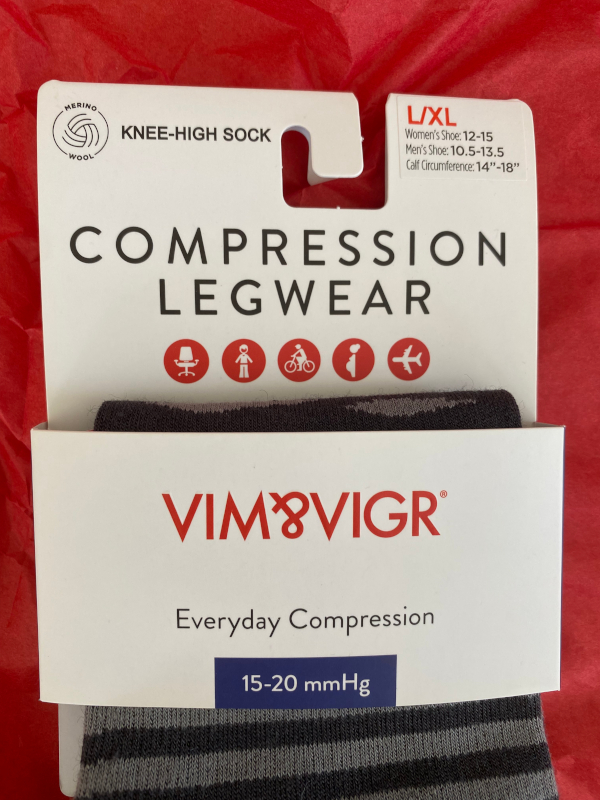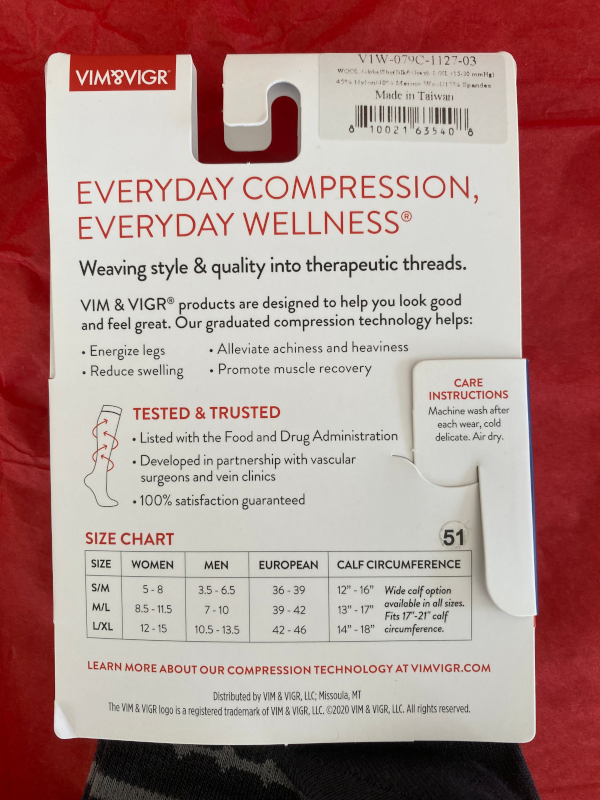 Hardware specs
VIM & VIGR compression legwear are designed in Missoula, Montana and manufactured abroad (the socks I reviewed were manufactured in Taiwan).  V&V legwear is sized by a combination of shoe size and calf circumference.
VIM & VIGR compression wear come in three different compressions (* higher compression ratings are normally reserved for use under the guidance of a clinician):
15 – 20 mmHg
20 – 30 mmHg *
30 – 40 mmHg *
I was sent two pair of the 15 – 20 mmHg compression socks in size L/XL (based on my US shoe size of 11.5 and my calf measurement):
Merino Wool (45% Nylon/40% Merino Wool/15% Spandex — latex-fee)
Global Stripe pattern (black / grey)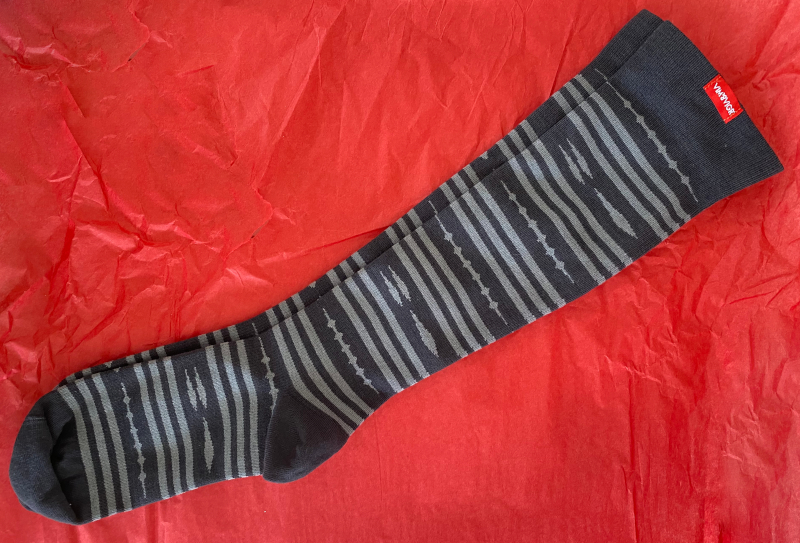 Cotton (48% Cotton, 42% Nylon, 10% Spandex — latex free)
Arizona Stripe pattern (steel blue / gray / green)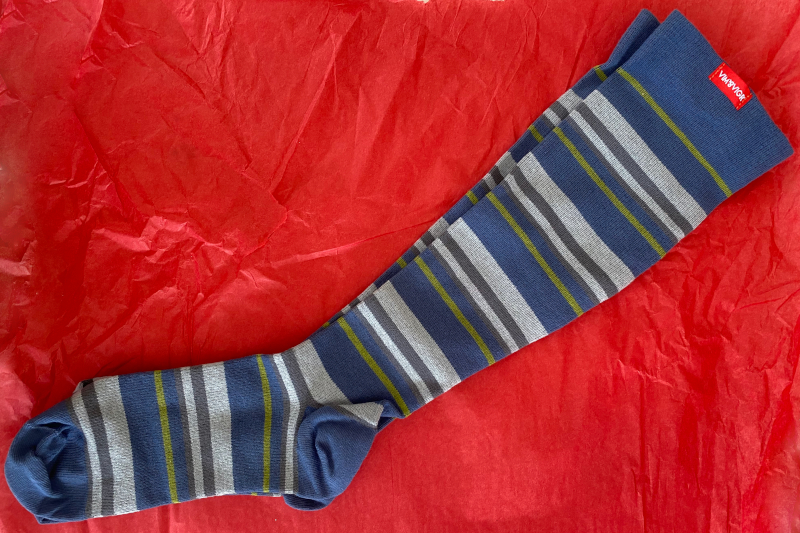 I neglected to measure the socks before wearing them, but the socks are designed to come up over the fullest part of the calf and stop below the knee. My femurs and tibia/fibula are shorter than would be expected for someone of my overall height, so the sock comes up a little further on my legs than specified (see the first picture).
Setup
The only preparations prior to wearing are a cold water wash followed by air drying (to maintain shape and level of compression). This is also routine maintenance for the socks.
The socks come with a visual reference (printed inside the hanger / information sleeve) illustrating the recommended way of putting the socks on to get the correct support with a minimal amount of fuss.  As I am a male and have worn compression socks for many years, I ignored the instructions and used the method that I normally use. However, if you are new to compression garments, these instructions are very handy.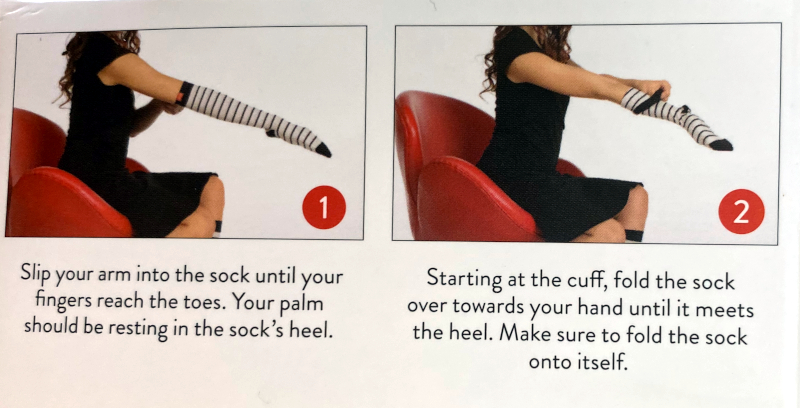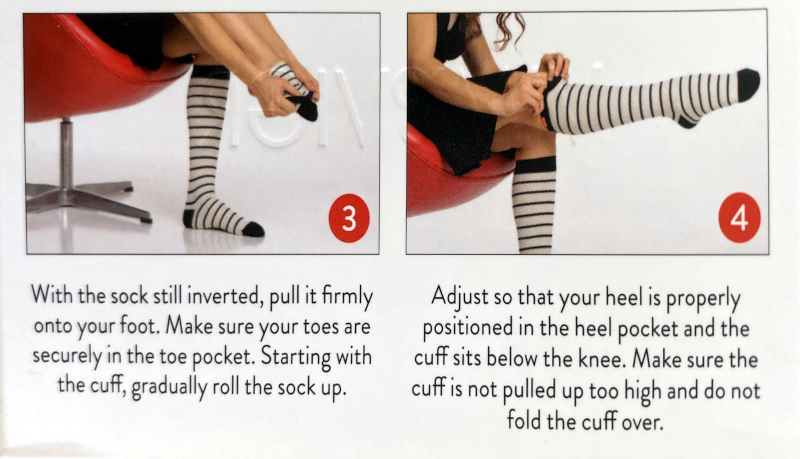 Performance
I wore each pair of socks on multiple occasions during my evaluation. The photos below show me wearing the cotton socks.
I apologize to those who are frightened by the appearance of my calve and knees. I was told my a Scottish friend that I have the right kind of calves for kilts / kilt hose (his oblique way of saying that I have large legs).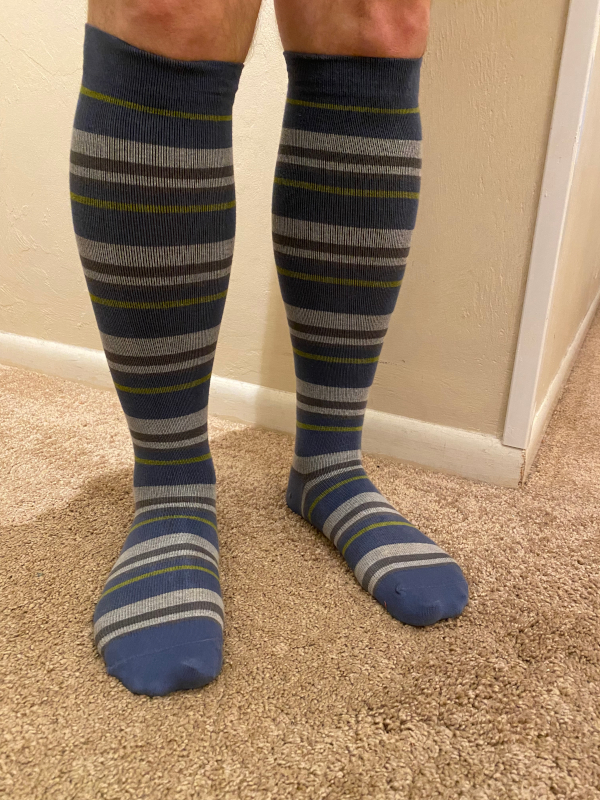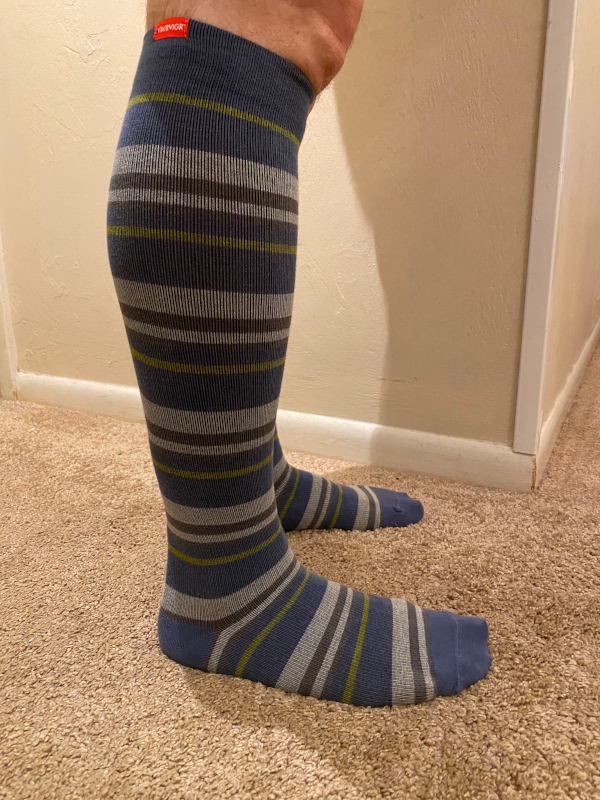 As you can see the socks are of a good length and cover my entire calves. In fact, they are long enough to pull up over my knees, but they won't stay there. If you have longer shins than I do, the socks should hit you just below the knee.
During my multi-day evaluation period, I found that I prefer the feel of the Merino wool socks to the cotton ones, but both pairs were very comfortable and provided good support for my calves without being overly constrictive.  I have suffered from leg cramps for most of my life due to a combination of factors including sciatica, musculoskeletal injuries to my legs and ankles, and increasing age.  The health professionals who have treated me over the years have recommended the use of compression socks as part of my preventative regimen, so I have a variety of other compression socks to compare the VIM&VIGR socks against.  Some of my other compression socks provide a bit too much compression which leaves my legs slightly sore at the end of the day, but I did not have that experience with either pair of VIM & VIGR compression socks.
As I mentioned above, I prefer the Merino wool socks to the cotton socks. This comes down to a personal preference for the natural wicking and drying properties of wool as compared to cotton and the skin feel of the wool versus cotton. The $2/pair price difference makes the wool socks an easy-sell upgrade to me.
What I like
Comfort + compression
Variety of compression levels, materials, sizes, and patterns
What could be better
Price, but the V&V prices are in line with other high-quality compression socks
Final thoughts
The VIM&VIGR socks that I reviewed were comfortable and supportive. I will be purchasing additional pairs myself as I retire some of my existing compression socks. The $40 per pair price point is a bit dear, even for Merino wool socks, but since they fit well, provide compression, and look good all at the same time, it is a price that I'm willing to pay, especially if I can catch them on sale.
Price: $36 – $38
Where to buy: VIM&VIGR and Amazon
Source: The sample of this product was provided by VIM&VIGR.