We use affiliate links. If you buy something through the links on this page, we may earn a commission at no cost to you. Learn more.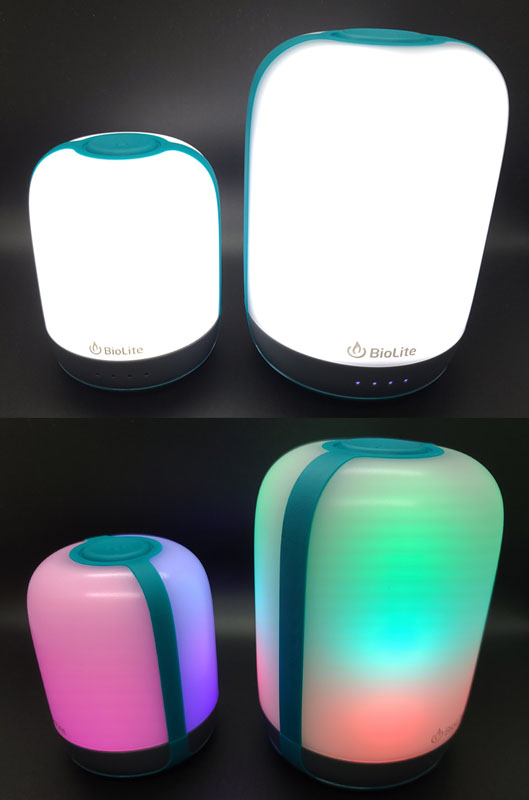 REVIEW – We all need a little light in our lives.  For your consideration, here are two little lights from BioLite, the AlpenGlow 250 & 500 rechargeable lanterns. These LED lights are designed to sit on a flat surface or hang from their built-in hook.  They also double as USB battery packs, providing on-the-go charging power. Will these light up your life or leave you dancing in the dark?
What is it?
The Biolite AlpenGlow lanterns are USB-rechargeable lights.  They can emit cool or warm white light as well as multiple colors, and other special lighting modes. The two models, 250 & 500, offer 250lm and 500lm output respectively.
What's in the box?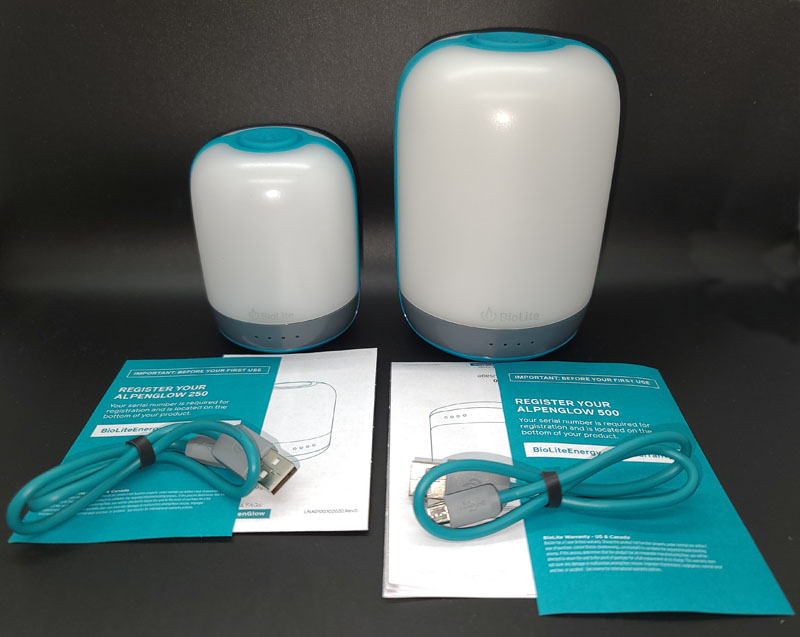 Biolite AlpenGlow
Instructions
Registration flyer
USB-A to micro-USB charging cable
Hardware specs
AlpenGlow 250
Dimensions: 3.7″ h x 3″ diameter
Weight: 7.4 oz
Lumens: 250 (high); 2.5 (low)
Runtime: 5 h (high); 200 h (low)
Battery capacity: 3200 mAh Li-ion
Charge time: 2.5 h
AlpenGlow 500
Dimensions: 5.4″ h x 3.8″ diameter
Weight: 13.4 oz
Lumens: 500 (high); 5 (low)
Runtime: 5 h (high); 200 h (low)
Battery capacity:6400 mAh Li-ion
Charge time: 3 h
Both 250 & 500
Light modes: cool white, warm white, multicolor, single color, multicolor party, color cycle, warm candle flicker, single-sided lighting, lock
Controls: button – on/off/dimmer; shake – color modes and single/double sided modes
Charge port: micro-USB
Output port: 1X USB-A 5v, 2.4A
Water resistance: IPx4 – resistant to water splashes from any direction
Design and features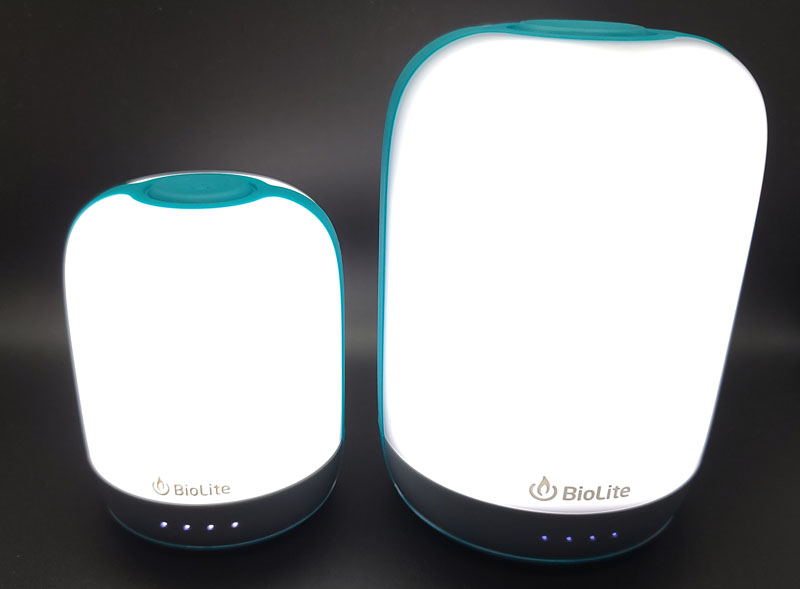 The Biolite AlpenGlow lanterns are dome-shaped with a white, plastic, translucent lens and a teal rubberized strip that splits the lens. The BioLite logo is screened on the lower front of the lantern, just above the LED indicators.

The LEDs light up when the button is pressed and when charging.  They use the familiar 25% per LED model from left to right to indicate the approximate battery charge.
On top of the lamp, we find a centered push button that controls most operations. Holding the button for eight seconds will lock the lamp to prevent accidental activations.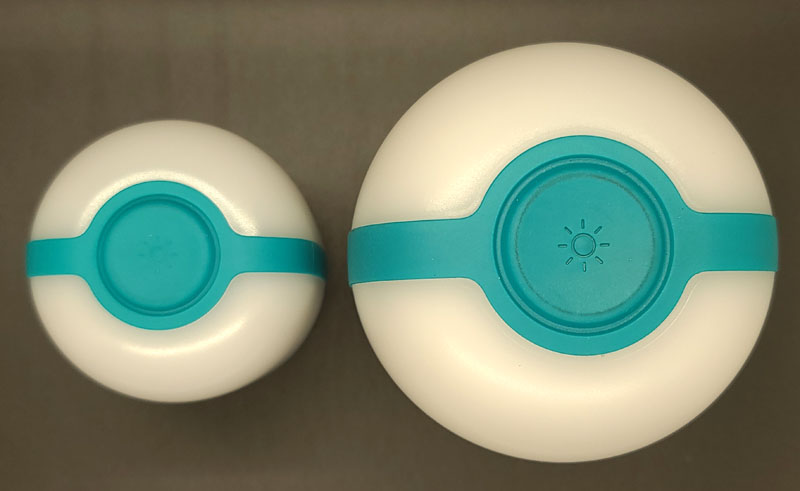 Some operations are controlled by the built-in accelerometer when you shake the lamp.
In the back, opposite the LEDs, we find the micro-USB input charging port and the USB-A output power port for charging your other USB devices.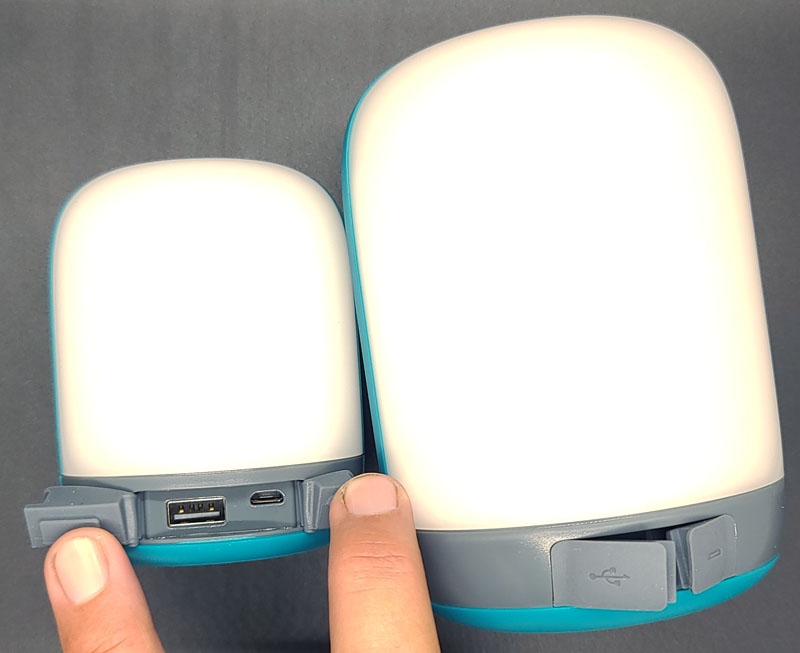 The Biolite AlpenGlow ports are protected by tight-fitting rubber doors that help the lamp achieve its IPX4 water resistance rating. With 32oo mAh and 6400 mAh of battery capacity in the 250 and 500, respectively, they can provide enough juice to keep your cell phone powered or power a speaker.  BioLite also offers a family of USB-powered lights called SiteLights.  The AlpenGlow lanterns can be used to power those.
Underneath the lamps, BioLite has cleverly hidden a hook for hanging the lamp upside down.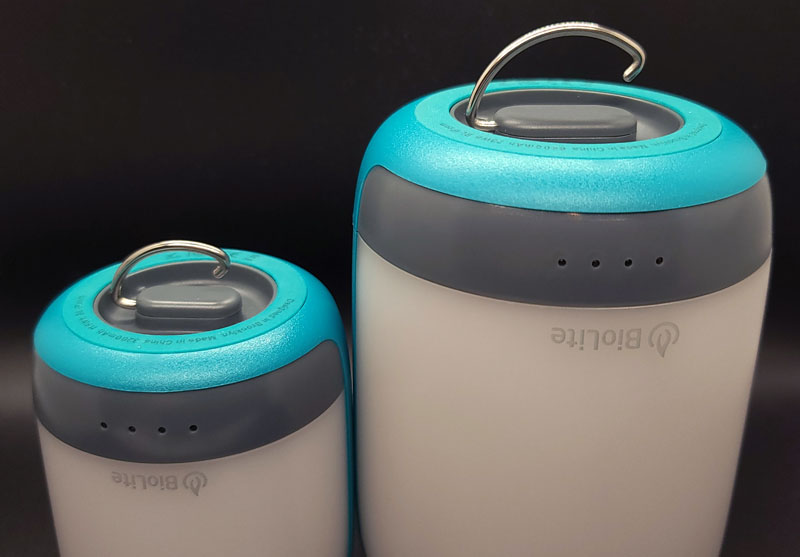 This is perfect for a camping scenario, where you could hang them in a tent or from a tree.
Setup
Setup involves charging the Biolite AlpenGlow lantern.  Each one has four charge status LEDs that light in sequence for each 25% of charge.  You can use the lights while they're charging, but can only turn on cool or warm modes. If you're using one of the other modes and plug in the lantern, that mode will remain on.
Performance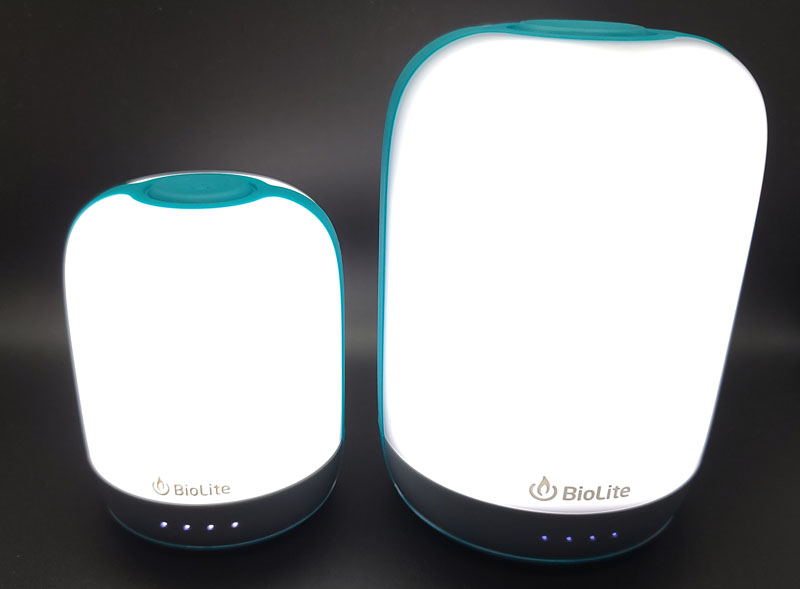 The lamps have several modes.  When first used, they start up in cool white mode.  Pressing the top button changes them into warm white mode.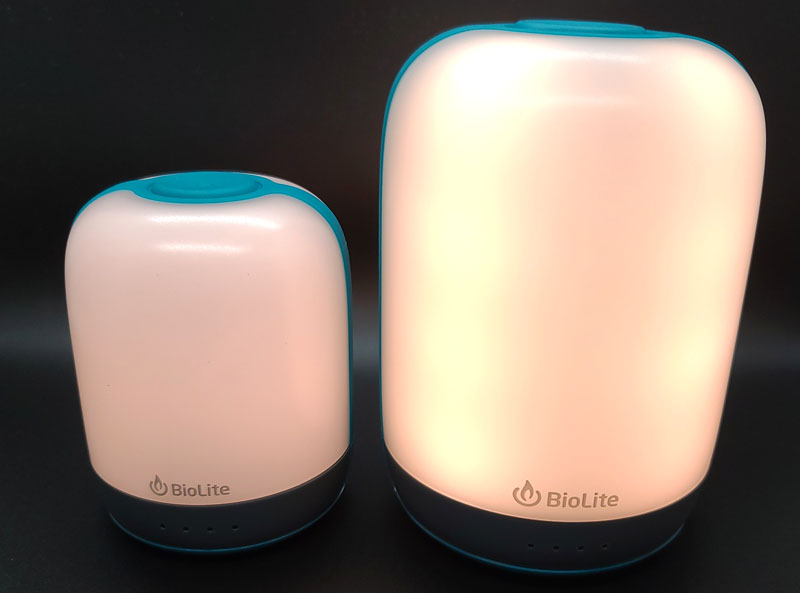 When you're in either of these modes, holding the button will dim or brighten the lamp.  When you hit the lower or upper limit, the lamp briefly flashes – a nice touch.
Pressing the button again flips into single-color mode. Holding the button cycles through the colors.  When you release the button, that color will remain on.
Another press jumps into multicolor mode. Holding the button cycles through the color combinations.  When you release the button, that combination will remain on.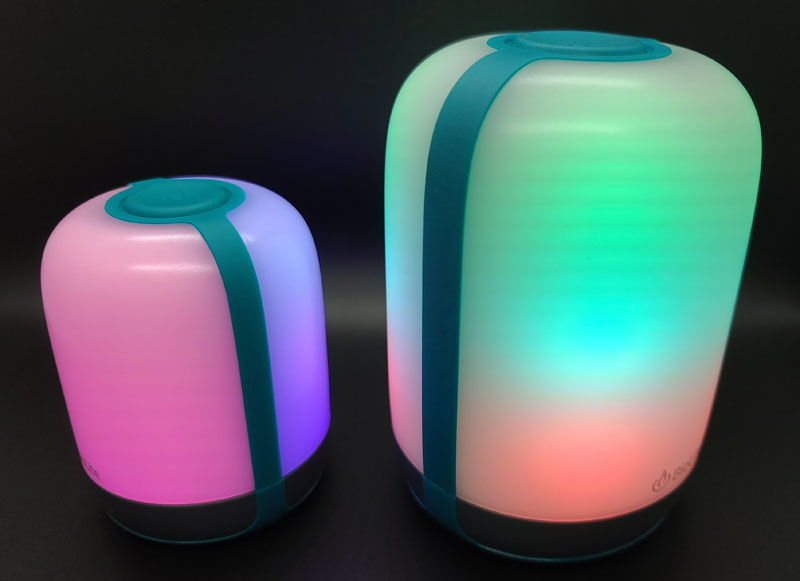 For everything other than max brightness, the Biolite AlpenGlow lanterns perform identically, in all modes other than multicolor mode.  The 250 displays two colors – one on each side of the divider strip.  The 500 displays them bottom to top.
In each mode, shaking the lamps invoke supplemental modes.  In cool white, shaking turns off one half of the lamp.  In warm white, shaking turns on candle flicker mode.  In single-color mode, shaking turns on color flow mode, where the lamp cycles through all possible colors continuously. In multicolor mode, shaking the lamp turns on another flow mode where the lamp cycles continuously through all its color combinations.  The 500 offers one more option.  Shaking it again when in multicolor flow mode turns on fireworks mode where the lamp displays several colors simultaneously, changing them all continuously.
Here's a video demonstration of all the modes.
After shooting all the photos and video for this review over about a 30-minute period, I turned the lights on cool white at full brightness and let them burn. Somewhere around 4.5 hours later, each one flashed and then dimmed.  To be clear, this didn't happen at the same time, but close enough to 4.5 hours to just call it that.  That fits with 30-minutes of shooting, so the five-hour life at full brightness is pretty honest for each lamp.  The cool thing is that the light isn't dead at that point.  It just will operate at a lower intensity in any of the lighting modes. If you're using this as a primary light source at full brightness, even when the battery gets low, it goes into low-power mode so you can still see, even with a lower-intensity light.  It won't strand you in the dark.
What I like
Nice selection of lighting modes
It is a bonus that the lamp can also charge or power other devices
Good battery life
What I'd change
Can we please all settle on USB-C and not micro-USB?
Candle-flicker mode does not look very realistic
Final thoughts
I'm pretty impressed with the Biolite AlpenGlow lanterns.  At 250lm and 500lm, they produce a respectable amount of light in a small package.  With their full-range dimming, they can serve as very long-lasting nightlights.  Adding in the colors makes for a pretty compelling package for a wide variety of lighting needs. These would be great for mood lighting at a party, on a table for evening conversation, or lighting a campsite and tent.
Price:  $59.95 (250); $79.95 (500)
Where to buy: BioLite – AlpenGlow 250; AlpenGlow 500
Source: The sample of this product was provided by BioLite.