We use affiliate links. If you buy something through the links on this page, we may earn a commission at no cost to you. Learn more.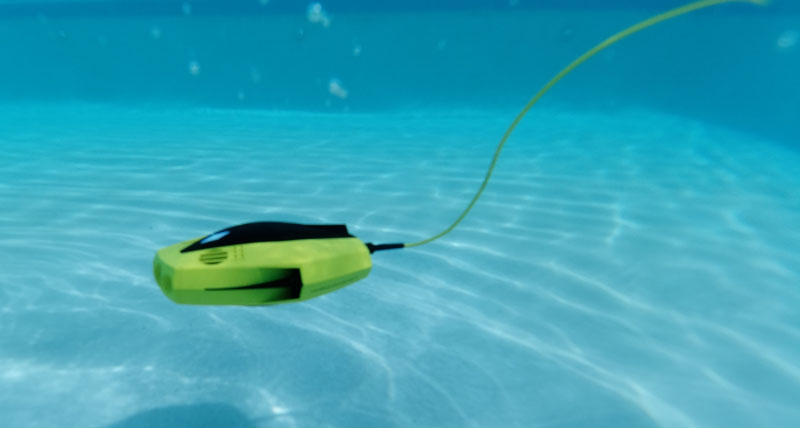 REVIEW – Drones are in the news a lot these days.  From new models to new rules and regulations, flying a drone is getting more complicated even as the devices get easier to use.  But drones aren't limited to the air.  Chasing, a leading manufacturer of underwater drones for research and exploration has released the Chasing Dory underwater drone – a consumer-grade drone.  Let's jump in and see if the idea holds water.
What is it?
The Chasing Dory underwater drone is a consumer-grade drone capable of diving to depths of up to 49 feet. It can take photos and full HD video and is controlled with your Android or iOS device.
What's in the box?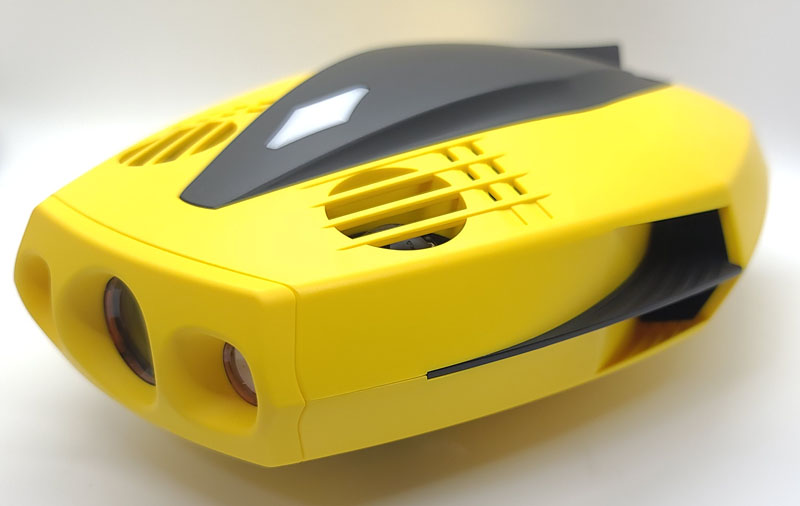 Chasing Dory underwater drone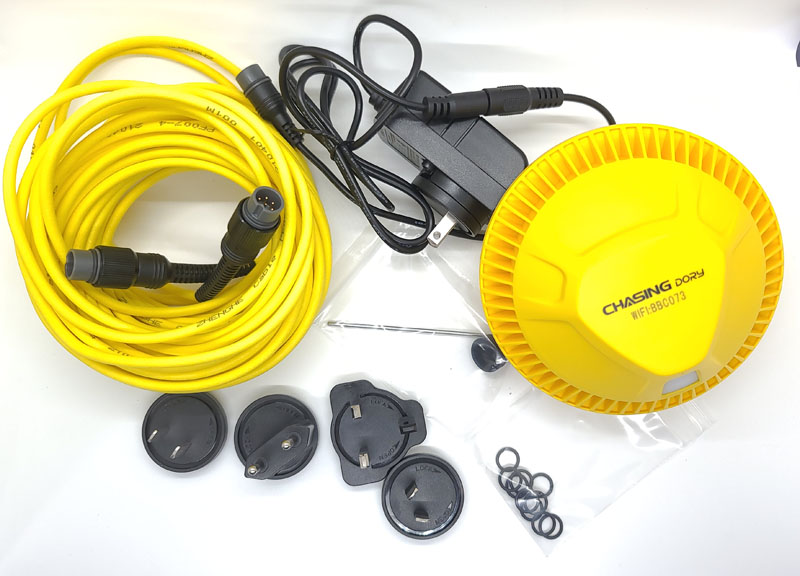 Power adapter plus multiple international plug adapters
Tether
WiFi buoy
Extra power socket cover
Replacement o-rings
Metal hook for removing worn o-rings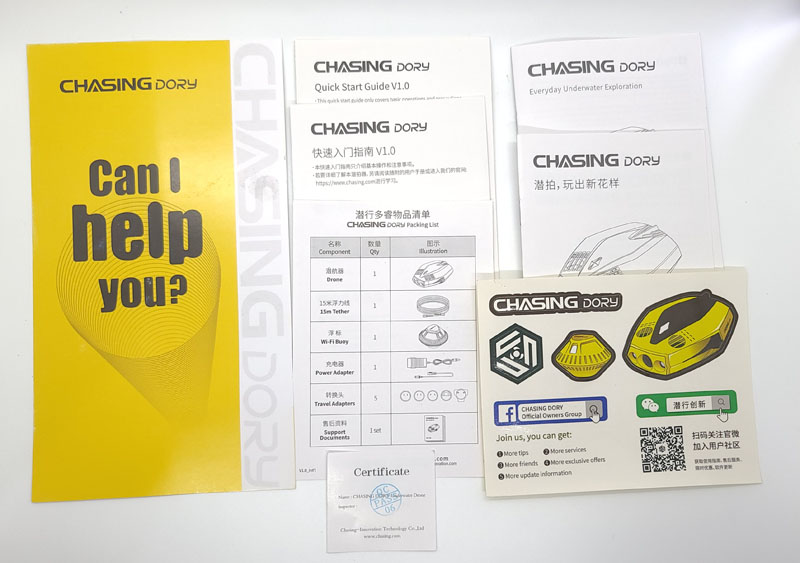 Help card
Instruction manual (English plus Chinese copy)
Quick start guide (English plus Chinese copy)
Packing list
Stickers
Inspection certification card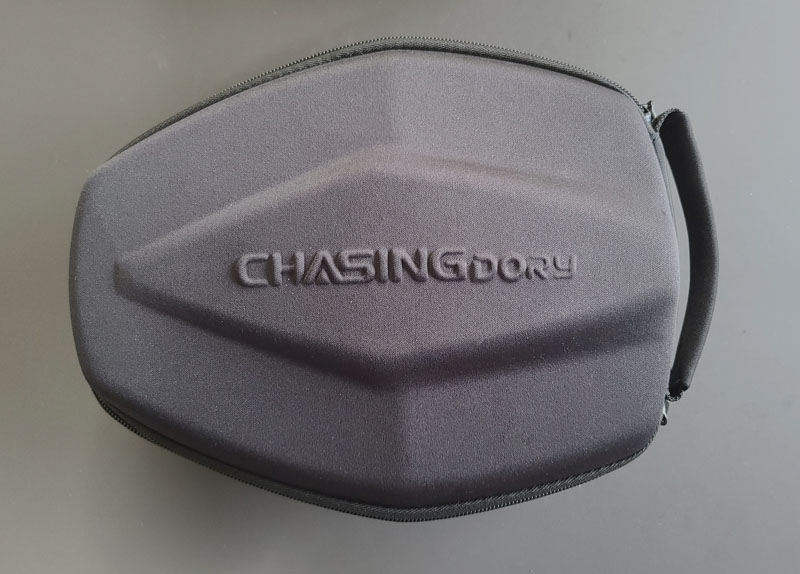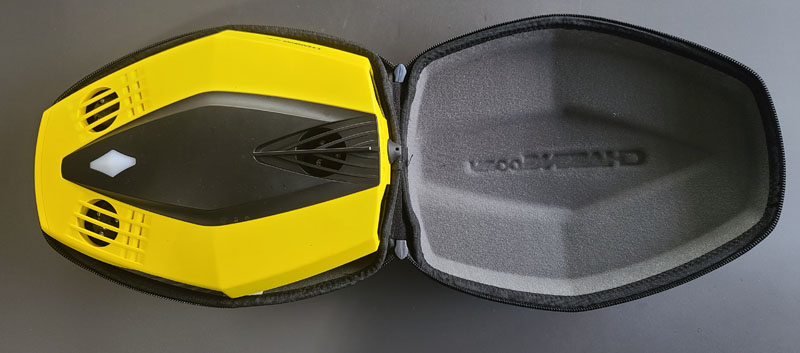 Hardware specs
Dimensions: 9.7″ x  7.4″ x 3.6″
Weight: 2.4 lbs
Connectivity: WiFi
Battery: 4800 mAh
Battery life: about 1 hour
Camera aperture: f1.6
Resolution: photo – 2M (1920×1080); video – FHD 1920×1080 30 fps
Field of view: 100 degrees
ISO range: 100-300
Focus distance: 4mm
Format: photo – jpg; video – mp4
Lights: twin 250 lm
View angle: +/- 45-degree full range
Max depth: 49 feet
Max speed: 1.5 knots / 1.73 mph
Buoy

Dimensions: 5.1″ x 5.1″ x 3.5″
Weight: 5.6 oz\
Onboard storage: 16GB
Max WiFi distance: 15 m / 49 ft
Design and features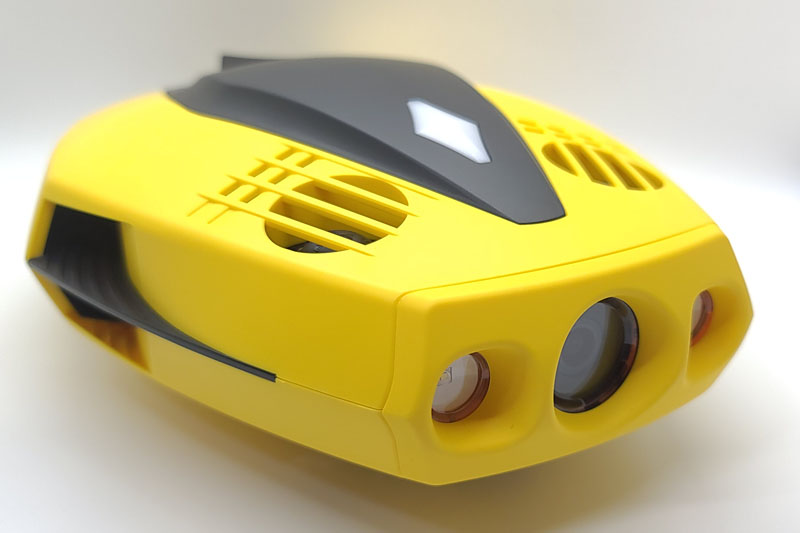 The Chasing Dory underwater drone itself is relatively small, and therefore portable.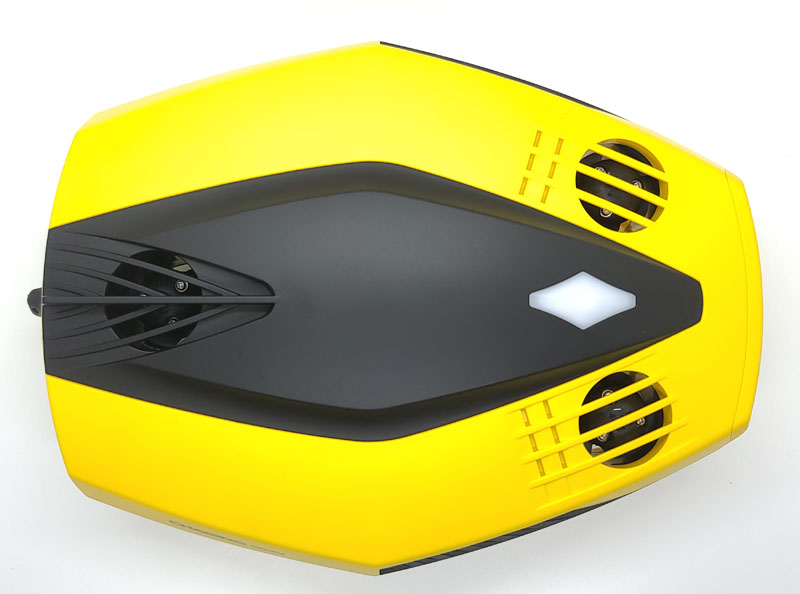 On top, we see the two front and one rear vertical thruster vents as well as the diamond-shaped power light.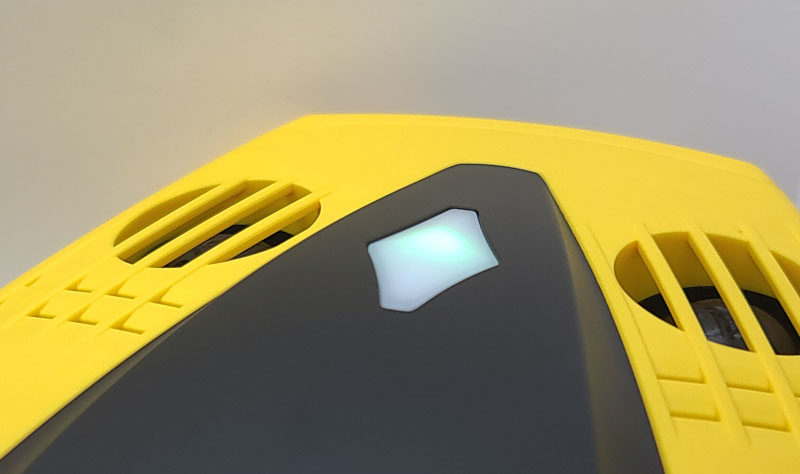 When Dory is powered up, the green LED under the lens pulses.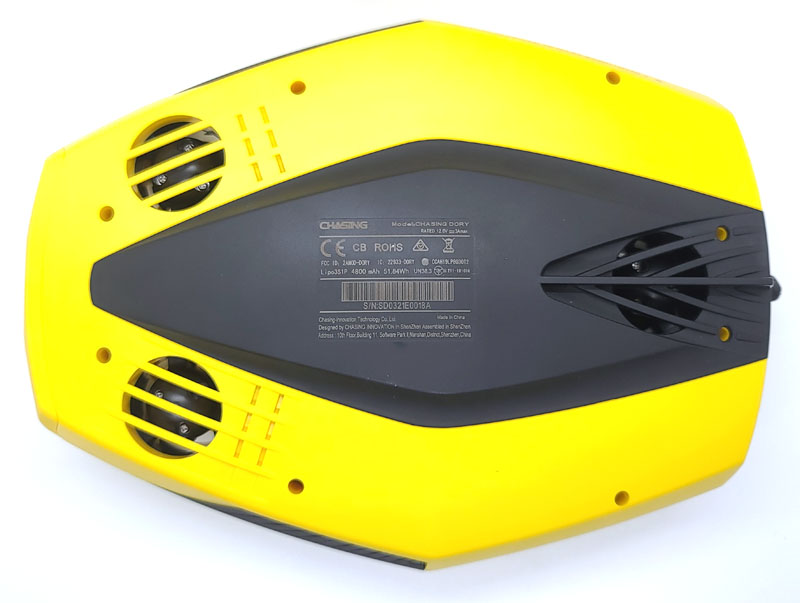 Underneath, we see the complementary vertical thruster vents and the requisite labeling.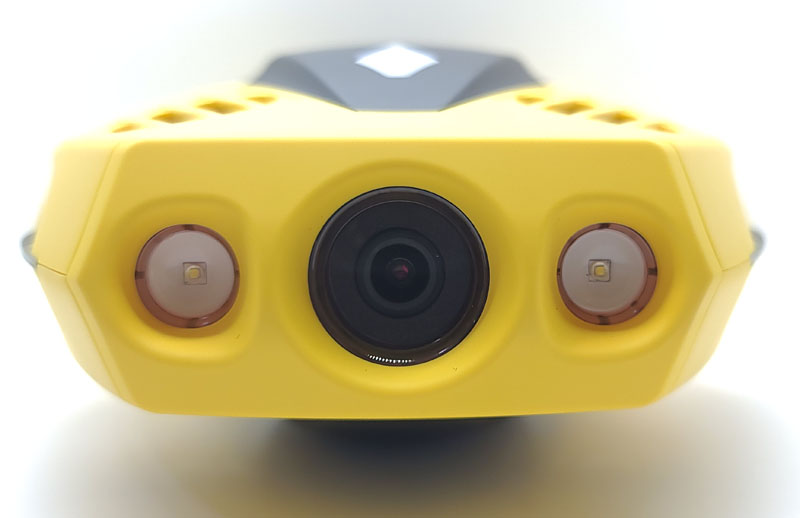 Upfront, we see the twin 250 lm headlights and the centered fast f1.6 lens.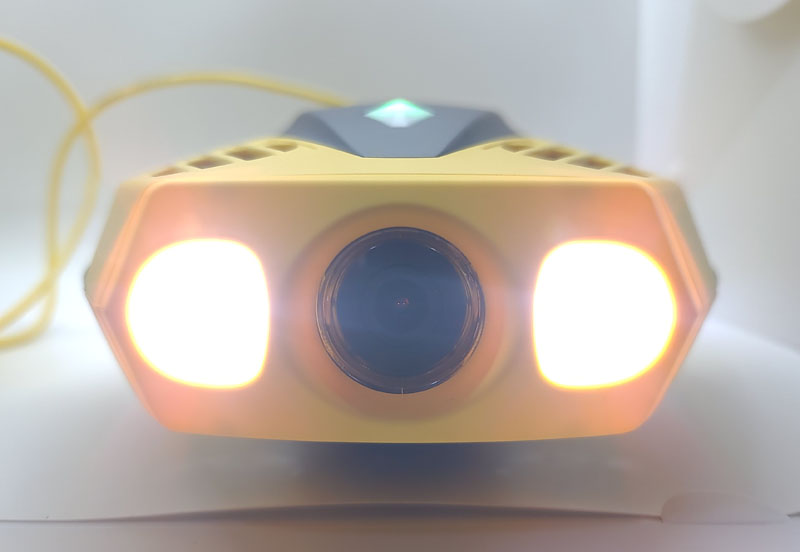 While they're certainly not going to light up the night, the twin 250-lumen lights will help illuminate objects in darker areas.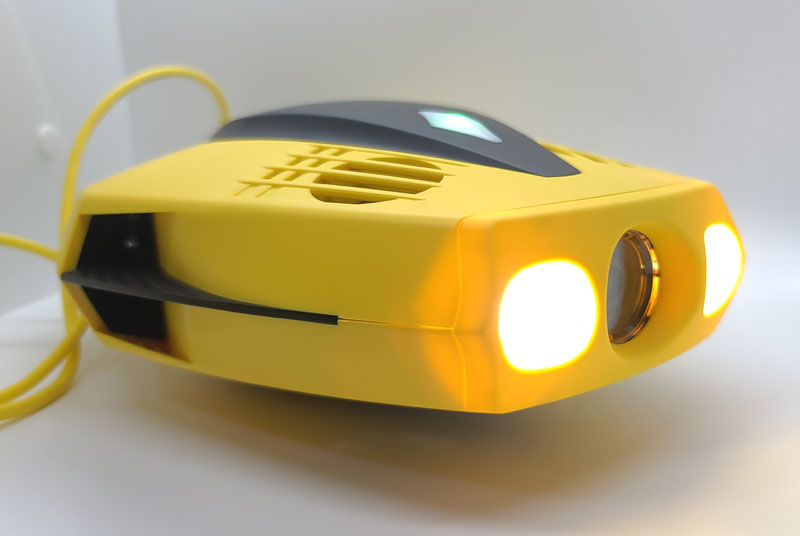 From the side, you can see the side stabilizers as well in the forward/reverse side thrusters.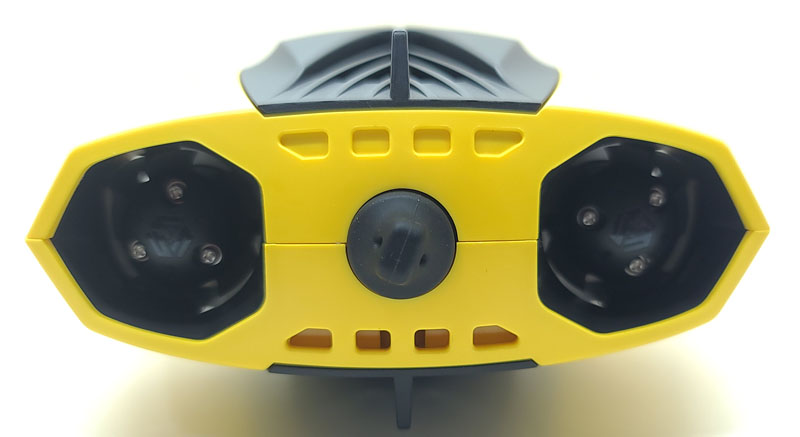 At the rear of the craft, we see the twin forward/reverse thrusters and the power connector covered with a protective cover.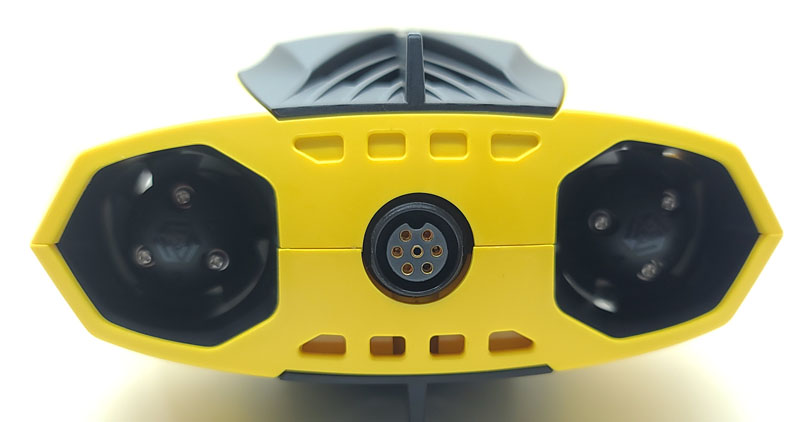 Removing the cover, we see the seven-pin connector for the buoy and charging.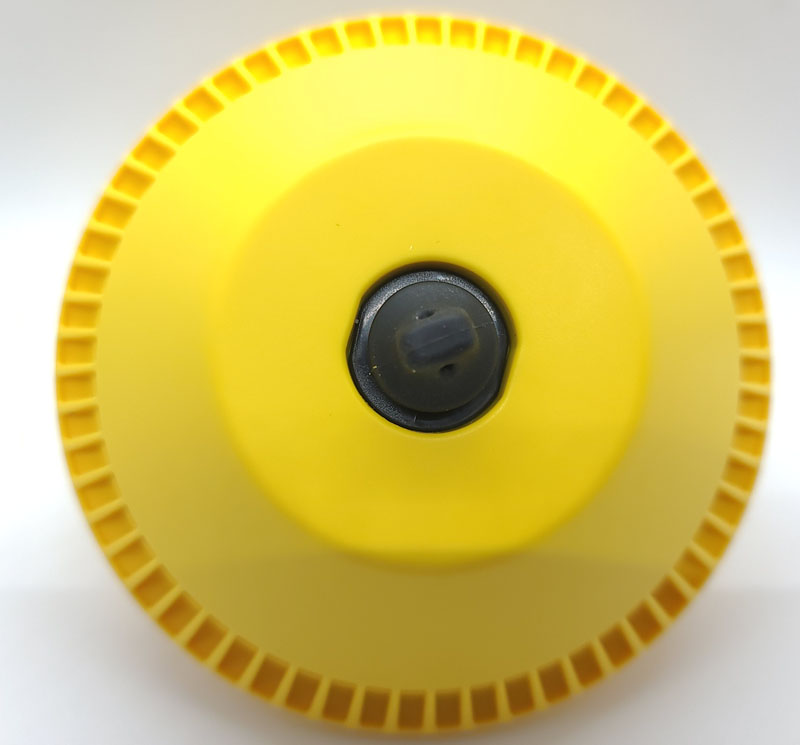 We see a similar cover on the bottom of the WiFI buoy.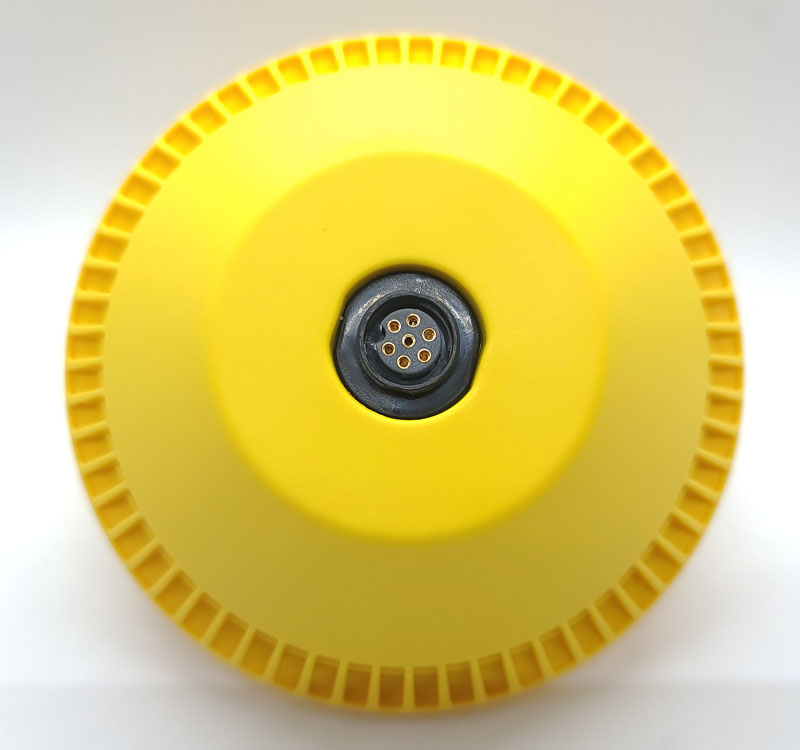 Removing the cover, we find the same seven-pin connector.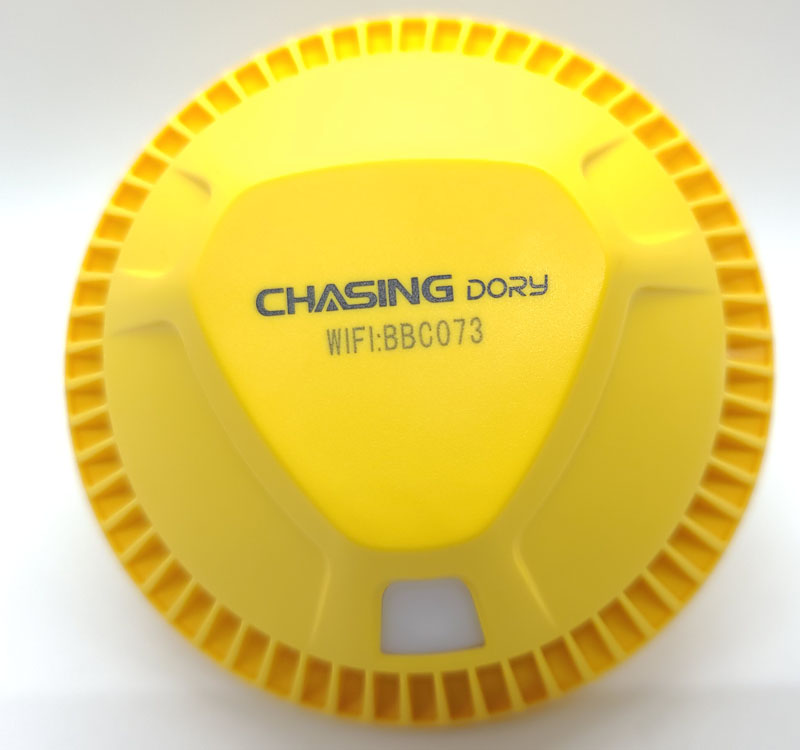 The top of the buoy holds the WiFi name.  When powered up, the buoy presents a WiFi network with the SSID: DORY_XXXXXX where "XXXXXX" is the name printed on the buoy.  At the bottom of the photo, you can see the lens for the power indicator LED.  Like the Dory, this LED pulses green when powered up.
Setup
To get started, install the Chasing Dory app on your Android or iOS device and set up an account.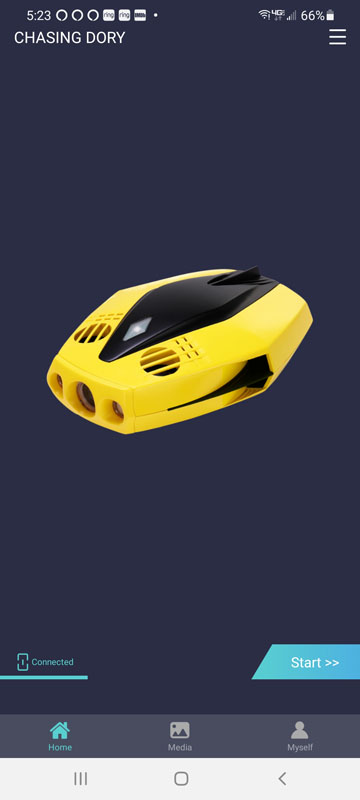 You charge the Chasing Dory underwater drone by plugging the power adapter's cord into the socket on the Dory.  There is a small LED on the wall-wart that flips from red while charging to green when the Dory is charged. You don't need to charge the buoy as it is powered by the Dory.
The only way to charge the Dory is with the included wall-wart power adapter and its power cable.  That means you need a wall socket to charge.  So, if you're in the field, and run through its one-hour battery life, you're done for the day, unless you're carrying something like a Zendure SuperBase 500 power station with you.
Connecting the tether to both the Dory and the buoy powers up the system. There is no power switch. I'd like to see a switch as it is a little awkward plugging in the cord and screwing it down onto the drone and buoy as the electrical connection is made.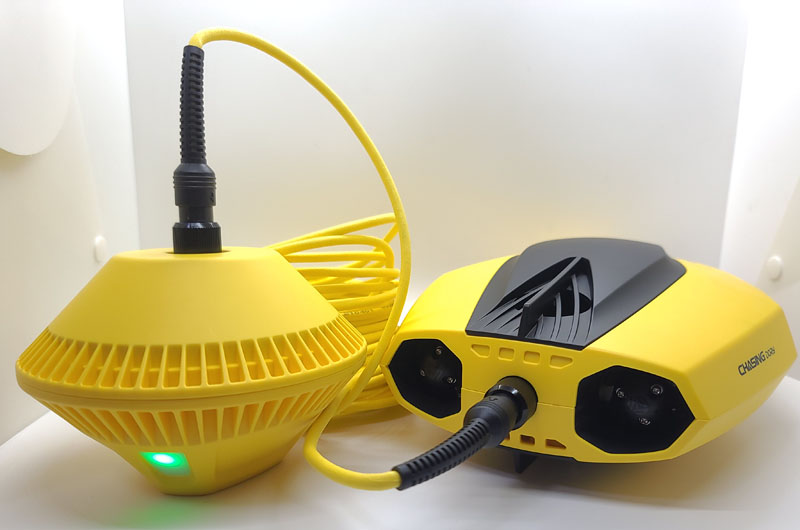 Once up and running, you connect your phone to the DORY_XXXXXX WiFi network, open the app and enter the drone.
Performance
To test out the Chasing Dory underwater drone, we headed to one of our local pools, powered it up, and tossed it in.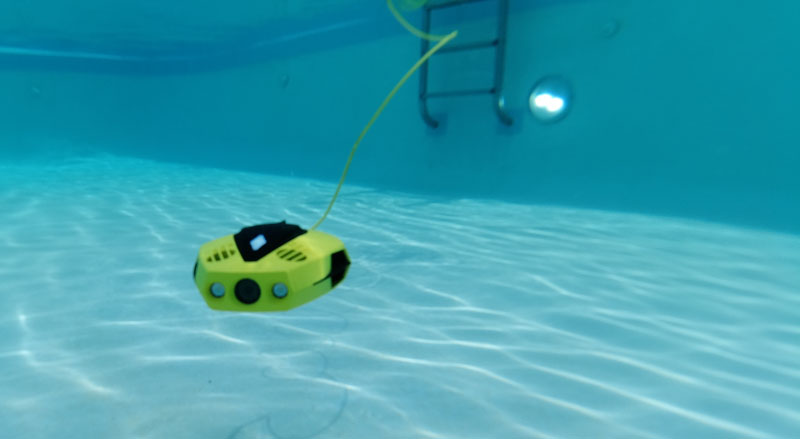 After connecting my phone to the Dory's WiFi network, here's a view of what I saw in the app.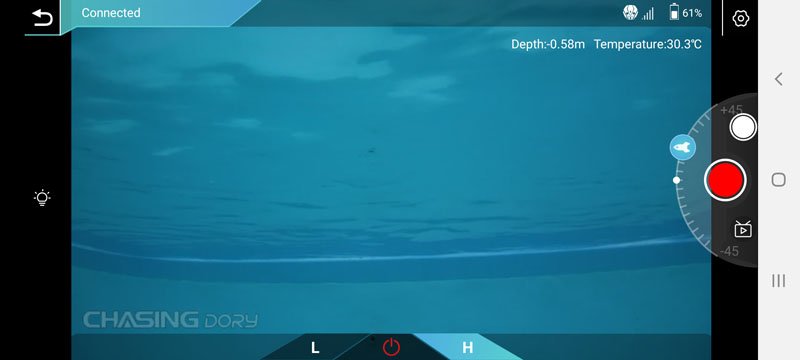 It shows me water temp and the drone's depth, WiFi strength, and battery power. The "joysticks" are virtual.  When you aren't touching the screen, they disappear.  When you touch the left side or right side of the screen, a joystick appears and allows you to control the drone.  Since I can't do a screen capture while I'm touching the screen, I'll rely on one of their marketing photos.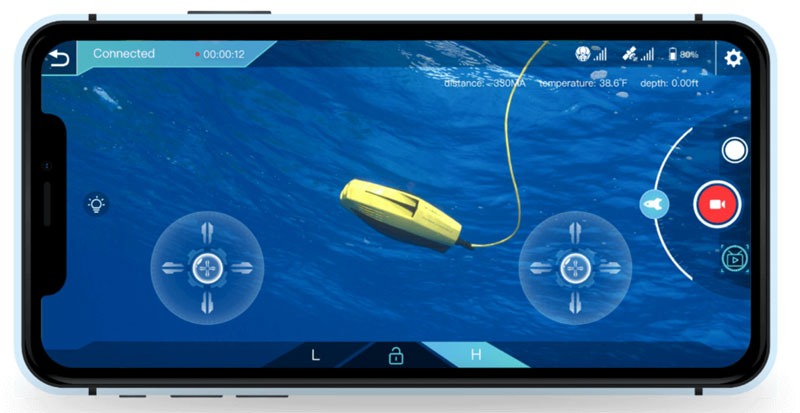 I think it's pretty silly, since it shows the drone, as seen by…the drone?  Ha!  Anyway, you can see the two virtual joysticks.  I'll get to those in a second.  At the bottom, you can see the power lock in the middle and the hi/low-speed selectors on either side.   On the left, you see the lightbulb icon that operator the headlights.  On the right, you see the up/down angle adjustment, photo button, video button, and live streaming button. Nore on that live streaming below.
The virtual joysticks operate much like aerial drone controls.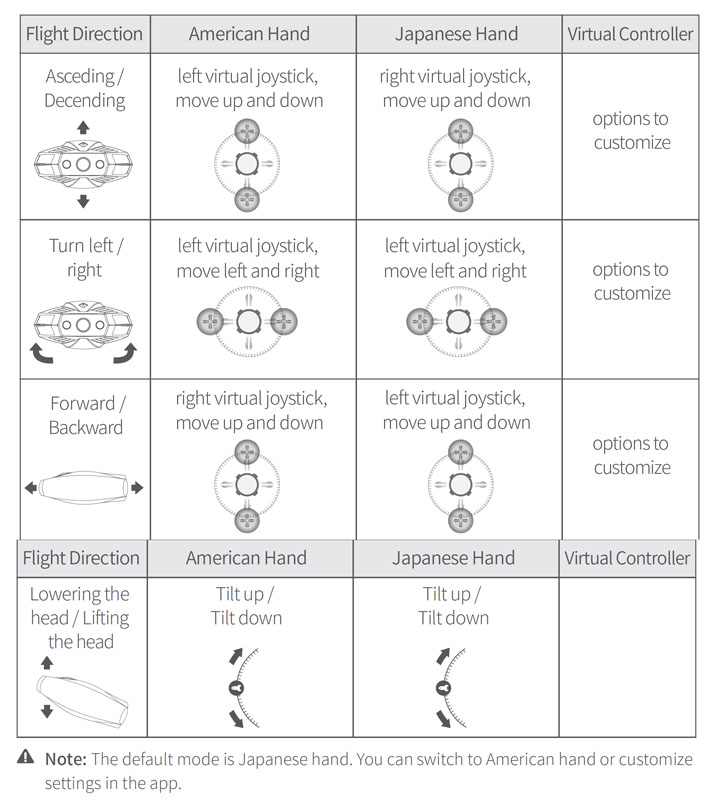 Because Japanese Hand follows my aerial drone's controls, I left it in that mode. The joysticks appear wherever you touch the screen.  I like that since you don't have to be super accurate other than hitting somewhere on the left or right side of the screen.  But, since they aren't real joysticks, there is no tactile feedback, so it isn't as easy to operate as a real joystick.  Also, I wasn't able to get the drone to move and turn simultaneously.  If I slide my finger forward, the drone went forward, backward/back, left or right, the drone would turn.  I could never find a spot where I could go forward while also turning left. That made it difficult to get smooth video footage.  Instead of a smooth turn, it was move, stop, turn, move a little more, stop, turn some more, move some more, etcetera, until I completed a turn.
I took a few photos and was pretty impressed with the overall quality.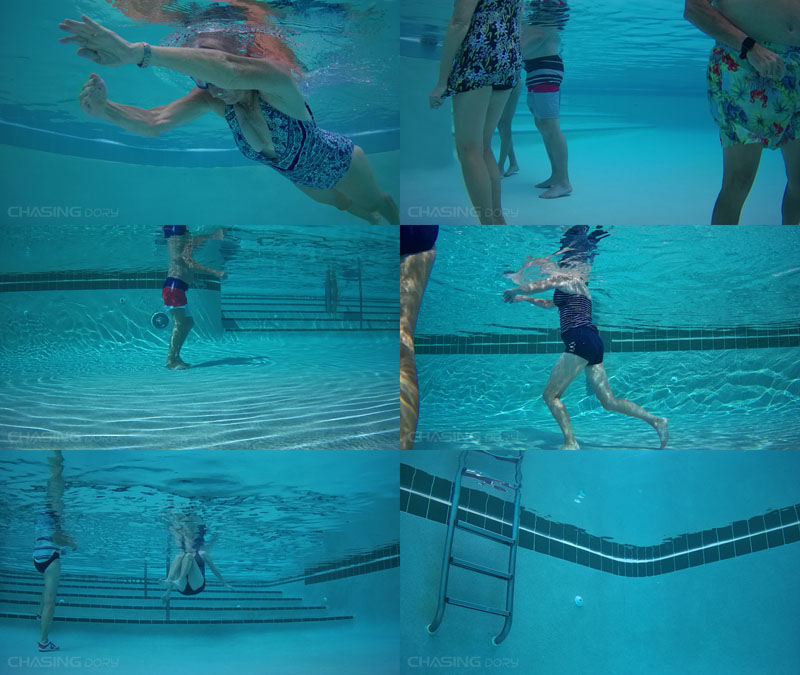 I don't like the watermark in the lower left of the photos.
Here's a quick video:
Here's a longer video as I'm cruising around the entire pool.
As you can see, they overlay a watermark on the video as well.
The app says that it supports live streaming, but there's a catch.  You can't easily set up to stream to YouTube or Facebook.  You have to use RTMP addresses to stream, and it can be a pain to configure.  The user guide offers exactly no instructions for live streaming, so I didn't bother with it.
I also took it out and scooted around in a couple of or local ponds.  What I hadn't allowed for was just how murky these ponds are.  I know that there are fish in there as well as turtles, and possibly an alligator or two, but I couldn't see anything.  I didn't include any photos or videos.  You can imagine that on your own by picturing a brown-green photo or video.  That's certainly not the fault of the drone.  But be aware, this needs to be used in clear water or you won't be able to see anything.  And, that water better be pretty still. With a top speed of just 1.7 MPH, any kind of current will put your Dory at risk of being swept away.
The Chasing Dory underwater drone holds its depth, even if you are pitched up or down.  That's neat if you are cruising along the bottom and want to film looking down while you zoom along.
If you're familiar with aerial drones, you are probably aware that most have a return-to-home feature.  That is typically automatically activated if you fly out of radio range, or if the battery is getting low.  The aircraft will return to the GPS coordinates where it launched.  That's not an option with an underwater drone.  GPS location is done by the buoy.  The Dory could be as much as 50 feet away from that since that's the length of the tether.  Plus, the drone drags the buoy along with it as it motors around, so there's no way for the drone to return to its launch point. If you run out of battery or cruise out of WiFi range, you're dead in the water and will be swimming to retrieve your Dory.
Speaking of WiFi range, that range is only 50 feet.  That's not much farther than Bluetooth. That means your max distance is 100 feet if you are running the Dory all the way out on the tether and it has pulled the buoy 50 feet away from you.  And again, if you keep going, you'll be swimming to retrieve your drone.
The Chasing Dory underwater drone does not use ballast to maintain depth.  All vertical movement is handled by thrusters.  That means that if the battery does die, the Dory will rise back up and float on the surface.  With its bright yellow shell on both the buoy and drone, even 100 feet away, it should be easy to spot.
When you're connected to the Dory, you can access and download the images and video to your device.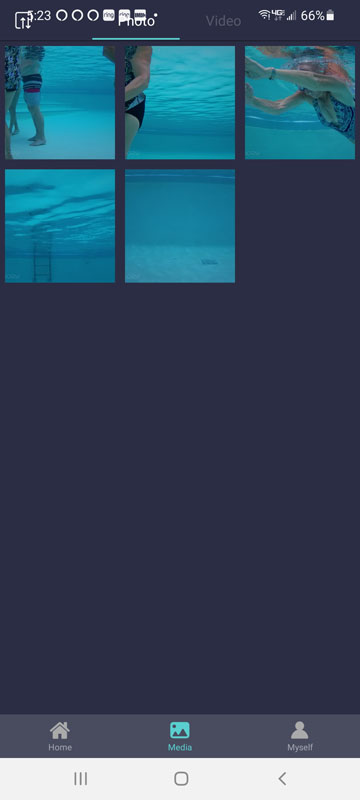 The Dory comes with a bunch of filters for both photos and video, but you can only use them when connected to the Dory via WiFi.  For me, I think I'll do my editing with other tools after the fact.
What I like
Easy operation
Good photo and video quality
Depth hold is a nice feature
What I'd change
Image editing is only available when connected to the drone
I'd like to see some sort of power switch
Proprietary charging means no easy charging in the field
Get rid of the watermark in the photos and videos
Allow for simultaneous propulsion and turning
WiFi range is very short
Live streaming seems more like an afterthought than a feature
Final thoughts
Don't let the long list of things that I'd improve mislead you. This is a neat little gizmo.  It is easy to use, can dive to a pretty good depth, and delivers terrific photos and video.  It doesn't go fast or far, and those really limit where and how you can use the Chasing Dory underwater drone.  To me, this is more of a toy than a real tool.  Don't get me wrong, it's a really, really cool toy. But, if you want to do any serious work with it, like inspecting anything underwater, you should consider some of Chasing's other drones.  They offer more resolution, more depth, more speed, physical remote controls, attachable tools, longer battery life, and so on, of course, for more cash. But we're talking depths of up to 490 feet, speeds over 4.6 MPH, 4K video, 2,000 lumens of lighting, and so on for $1,000 up to $5,000.
But, if you're looking for something you can zip around a pool, or in a nice clear lake or pond, the Chasing Dory underwater drone provides a lot of bang for your submersible buck.
Price: $499
Where to buy: Chasing; Amazon
Source: The sample of this product was provided by Chasing.