We use affiliate links. If you buy something through the links on this page, we may earn a commission at no cost to you. Learn more.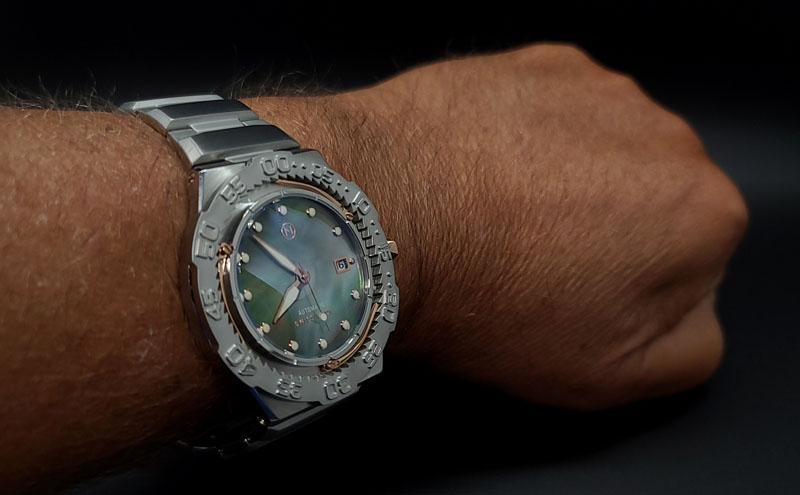 REVIEW – I'm a watch guy.  It's an addiction. I have Swiss, Japanese, and American watches. I have chronographs, plain-dial, skeleton, super-thin, and Mickey Mouse watches.  I have steel, gold, wood, ceramic, and titanium watches.  I have automatics, quartz battery-operated, solar-powered, and manual wind watches. But one thing I don't have in my collection is a dive watch.  Why?  Because, in my not-so-humble opinion, dive watches are ugly.  They're big, clunky, thick, and just not my personal style.  Well, that's about to change with the Nove Trident Automatic dive watch.
What is it?
Founded in 2015, Nove is a boutique manufacturer of Swiss-made watches. The Nove Trident Automatic dive watch is a Swiss-made watch with an automatic movement. It is also billed as the world's thinnest dive watch at 13.05mm. It comes with a stylish Tahitian mother of pearl dial.
What's in the box?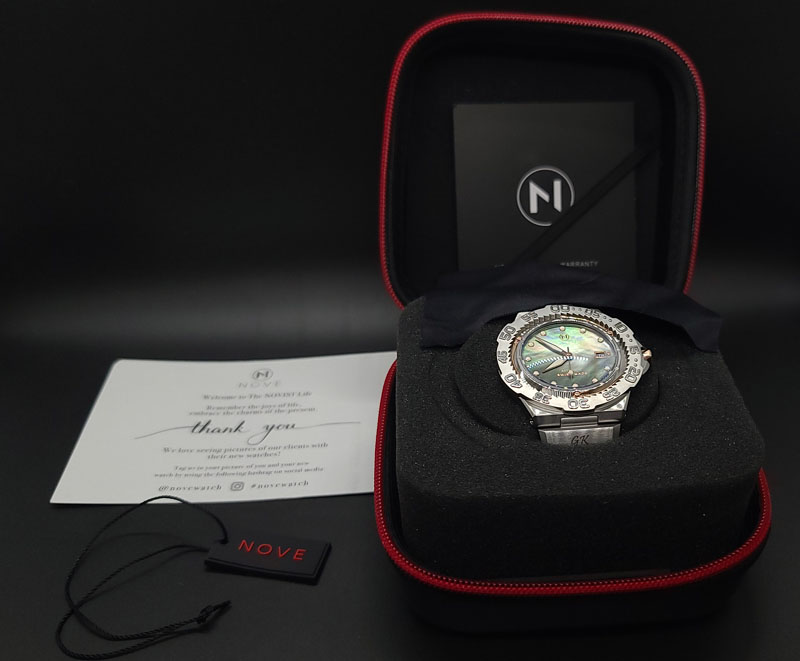 Nove Trident Automatic dive watch
Case – semi-rigid, zippered, with an integrated microfiber cleaning cloth
User manual
Warranty card
Contact / social media card
Model tag (was attached to the watch)
Hardware specs
Case size: 46mm w x 13.05mm
Weight: 6.3 ounces
Movement: Swiss Ronda Mecano caliber R150 bidirectional automatic winding, 25-jewel
Power reserve: 40 hours
Construction: Scratch‑resistant double-curved sapphire crystal, Super-LumiNova hour & minute hands, Tahitian mother of pearl dial, 316L stainless steel bezel, case, and band
Water resistance: 200m with screw-down crown
Features: Three hands (hour, minute, second), date window
Color finishes: Black, silver (tested), blue, rose gold
Design and features
You can't describe the Nove Trident Automatic dive watch without starting with how thin it is.  Dive watches are typically really thick. Not this watch.  At 13.05mm, it is as thin as other watches I own.  When you factor in the fact that it is an automatic movement, it gets even more impressive.
For comparison, here is the Trident next to a Hublot Titanium Fusion automatic chronograph.  While it's not a dive watch, so it's not an apples-to-apples comparison, you can still see how relatively thin the Trident Automatic is.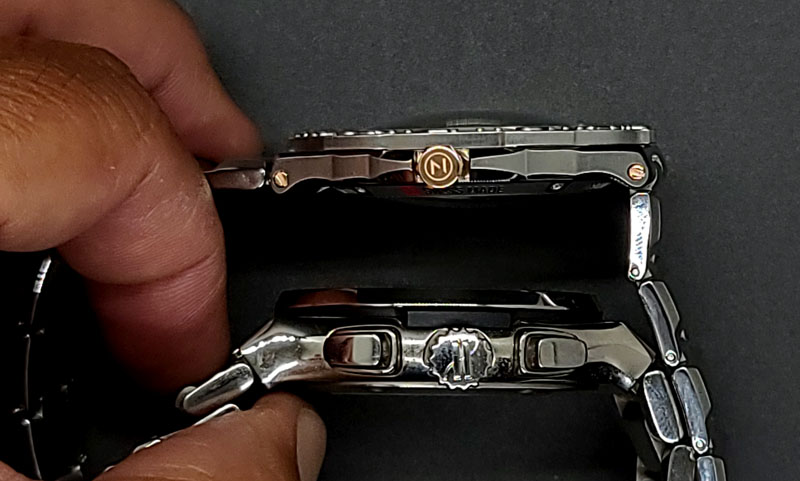 An automatic movement is a type of watch movement that gets its energy from the movement of your arm. Inside the open exhibition back window, we see the Nove-labeled weight.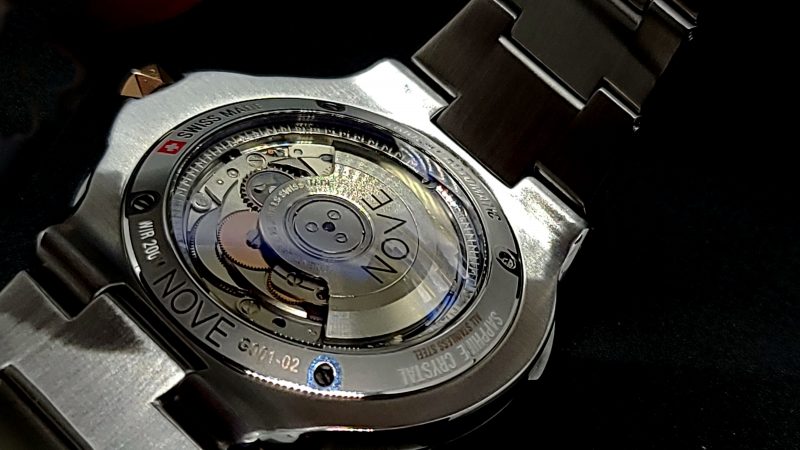 This weight rotates in either direction as you naturally move your arm throughout the day.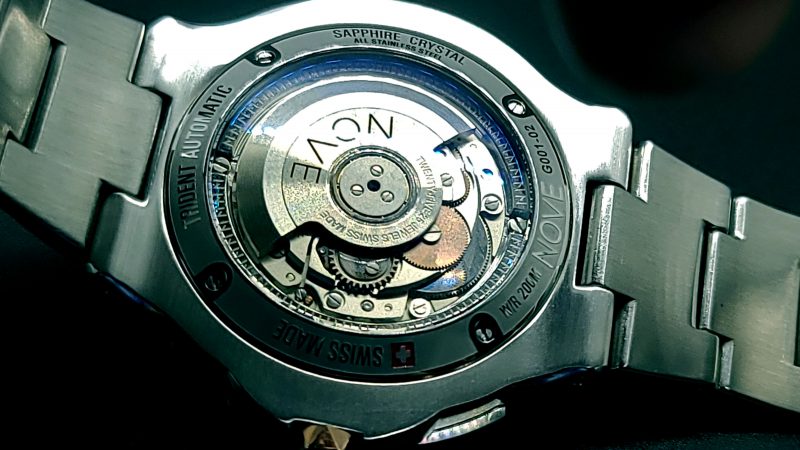 This movement of the weight winds the watch.  This means that if you wear the watch regularly, you will never have to wind it.  There are no batteries to replace, ever. When fully wound, the watch will run for 40 hours.
Speraking of movement, the movement that powers this watch is made by Ronda. Ronda produces mechanical automatic movements and quartz watch movements with Swiss precision for famous watch brands worldwide. This movement, the Ronda caliber R150, is a 25-jewel movement.  Synthetic jewels, typically rubies, are used in high-friction areas like bearings.  The jewels rescue friction, improving longevity and accuracy. Typically, anything over 17 jewels is considered "fully jeweled".  For reference, a $10,000 steel Rolex Submariner Date dive watch uses 31 jewels.

The sapphire crystals have a nice curve to them, both on the face and back.  Sapphire is extremely hard and scratch-resistant.
Here's another look at the top crystal's curve.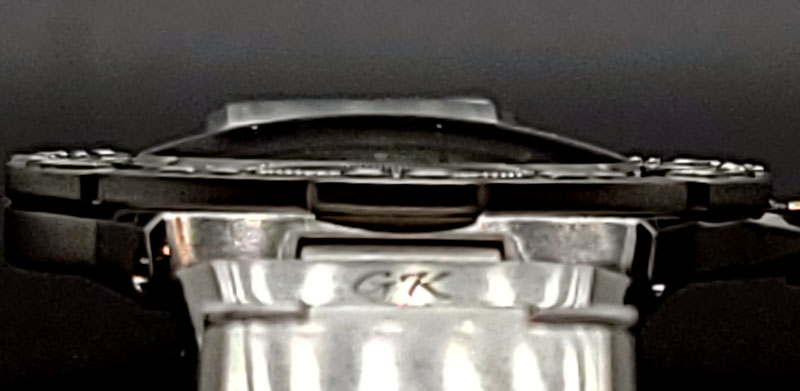 The crown (what you use to wind and set the watch) of the Nove Trident Automatic dive watch is a screw-down style.  What that means is that to use it, you have to unscrew it.  This design helps improve water resistance and factors into this watch's impressive 200m water resistance rating.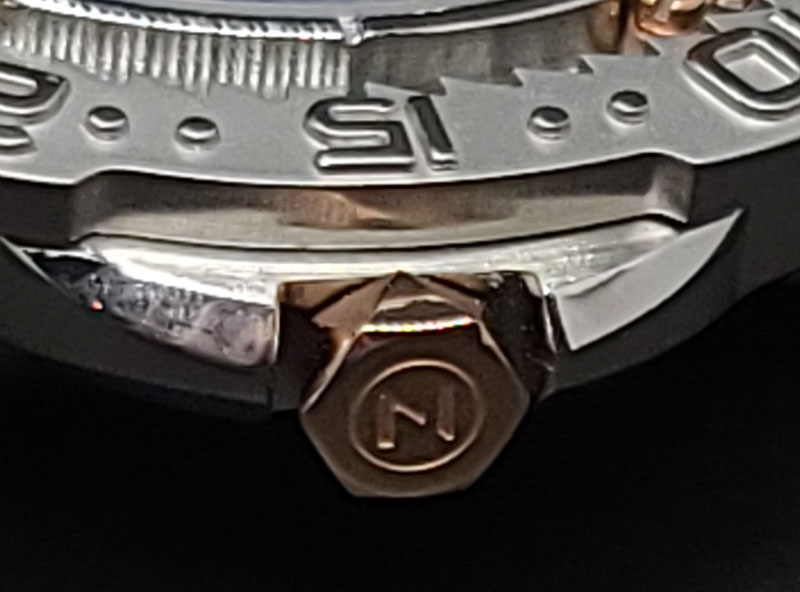 The all-steel bracelet is a fairly traditional design.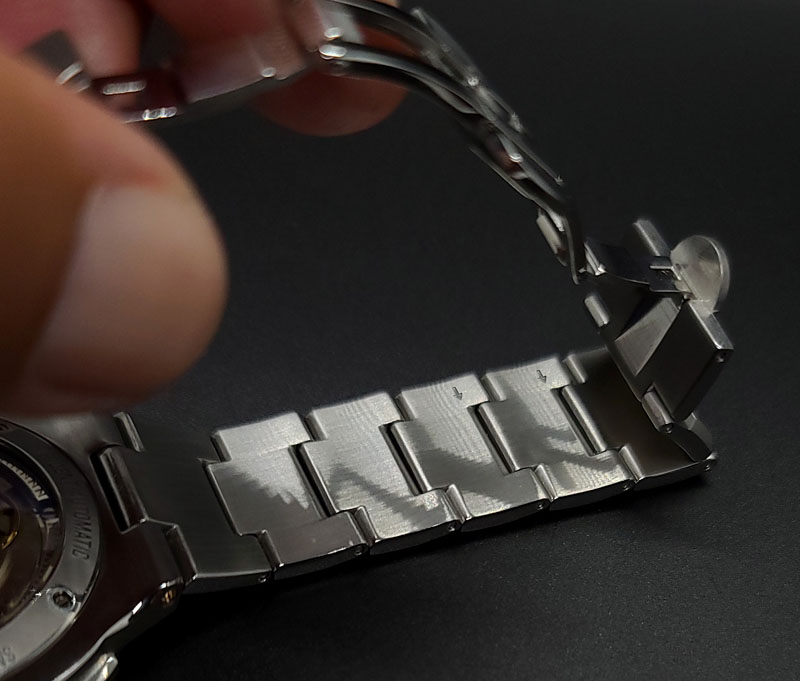 To size the band, you need a pin removal tool.  The links are engraved with an arrow to show you the direction to push the pin.
The band itself has a deployment-style clasp.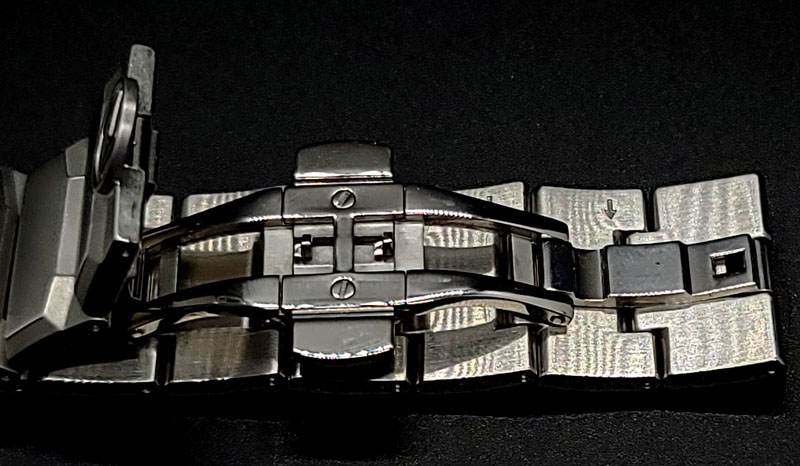 It opens easily with a simultaneous push of the two flat buttons on each site.  When the clasp is closed, the Nove logo adorns the closure.  You can see the release buttons slightly protruding from each side.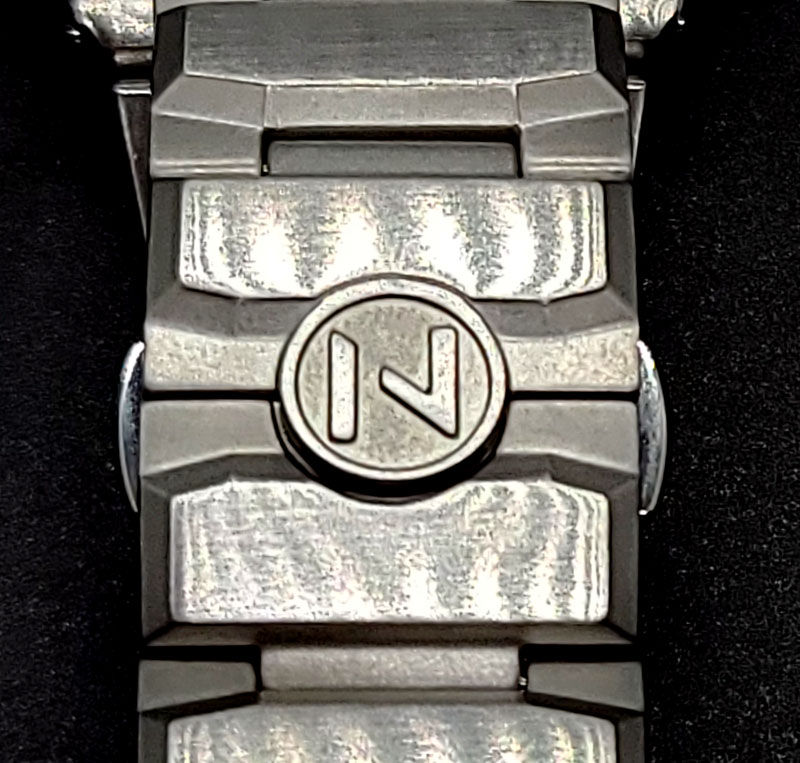 Let's talk about the Nove Trident Automatic dive watch's dial.  It is simply beautiful.  The mother of pearl face really gives this watch a unique look, especially for a dive watch. (Sorry about my reflection in the sapphire crystal!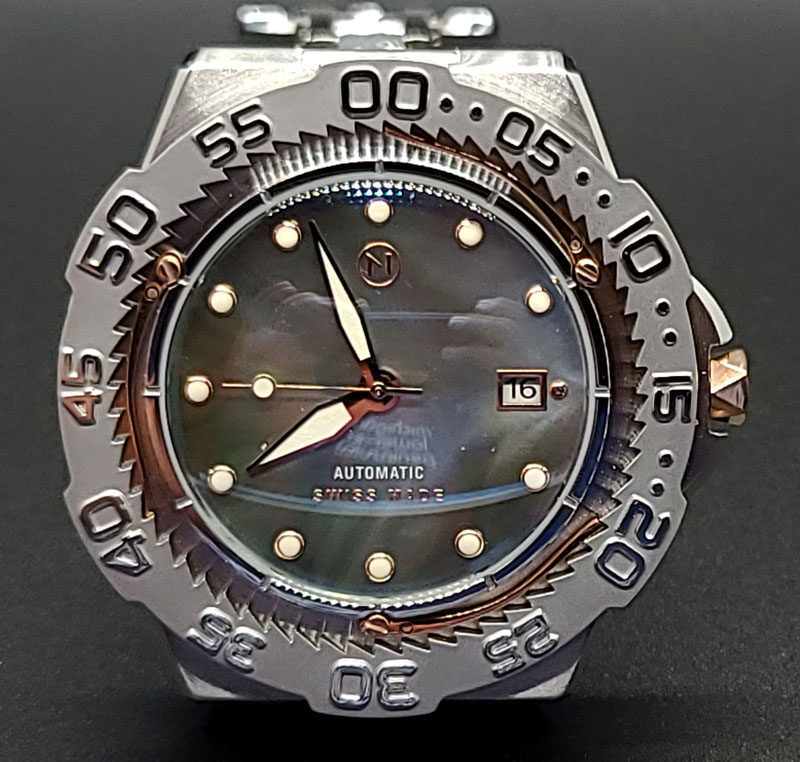 At the 3-o'clock position, we see the traditional date window. The bezel around the face rotates like typical dive watches and three arms lock it into place securely.  Those arms are between 6-4, 2-12, and 10-8 and their tips lock into the teeth on the inside of the bezel. The purpose of this rotating bezel is to help time dives under an hour.  When the diver submerges, they spin the bezel so "00" aligns with the current minute.  Then, they can easily see the duration of the current dive in munites by looking at where on the bezel the minute hand is pointing. This bezel took some effort to rotate.  I expect that it will loosen some with use.
Take another look at that gorgeous face. Since the face is all natural material, each watch will be unique.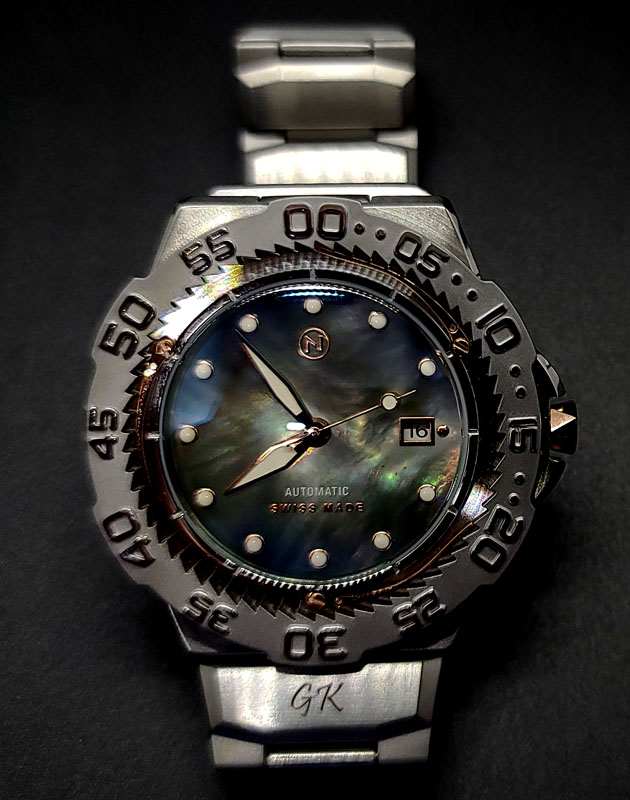 Check out the bracelet link just below the face.  Notice anything?  "GK"?  What could that stand for?  Gratuitous Kinetics? General Knee?  Of course not!  It stands for "Garry Kolb".  If you order your watch directly from Nove, they will engrave two letters of your choice on the watch absolutely free.  You have your choice of several fonts to meet your specific taste.  Nice! There is something special about having a timepiece customized specifically for you.
Notice the white-looking finish on the hands and the hour dots?  That is the ubiquitous Super-LumiNova coating that appears on a ton of different watches. This coating captures ambient light and then glows so you can see the watch in the dark. Please forgive the graininess of the photo.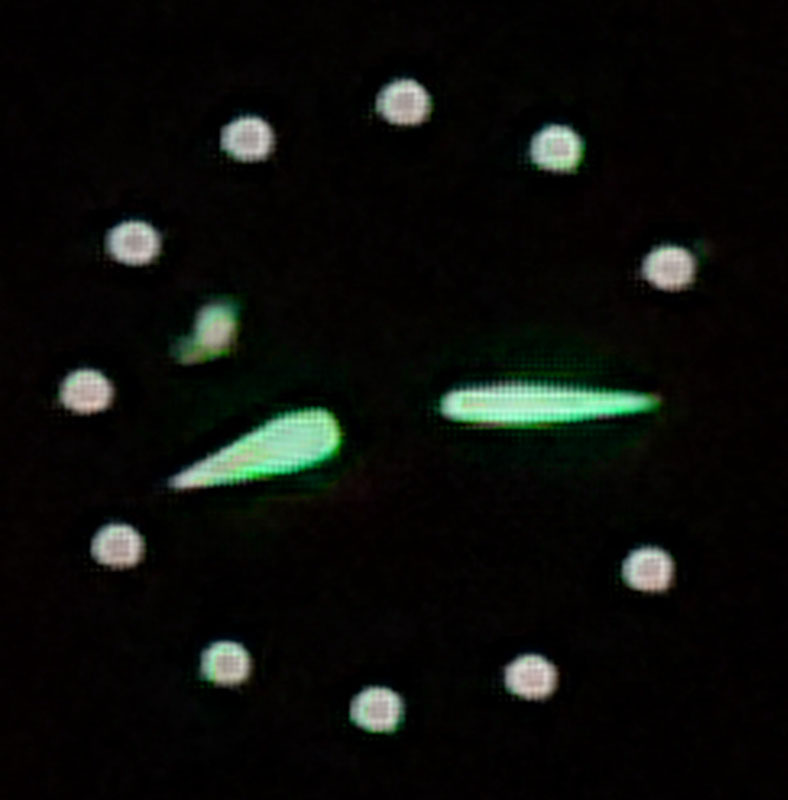 Setup
I mentioned the screw-down crown above. That is the key to setting up and setting the watch.
When you unscrew the crown of the Nove Trident Automatic dive watch, it pops out to the first position.  In this position, you can manually wind the watch to get it running.  About 30 full rotations will fully wind the watch and provide about 40 hours of use without wearing the watch or additional winding. Pulling it out slightly moves the crown to the second position.  In this position, spinning it will move the date ahead. Pulling the crown out a little more puts it in the third position.  Spinning it sets the hand of the watch.  It is important to spin the hands past 12 o-clock at least once and watch the date window.  If the date changes, you just passed midnight, if not, you just passed noon. It's important to set it correctly so your date flips at midnight, not noon.
After you have the time and date set and have the watch wound, you push the crown back in and screw it back down.
The other possible setup issue is sizing the watch.  As I mentioned, this requires a pin pusher.  If you don't have one, I'd recommend taking the watch to your local jeweler for sizing.
Performance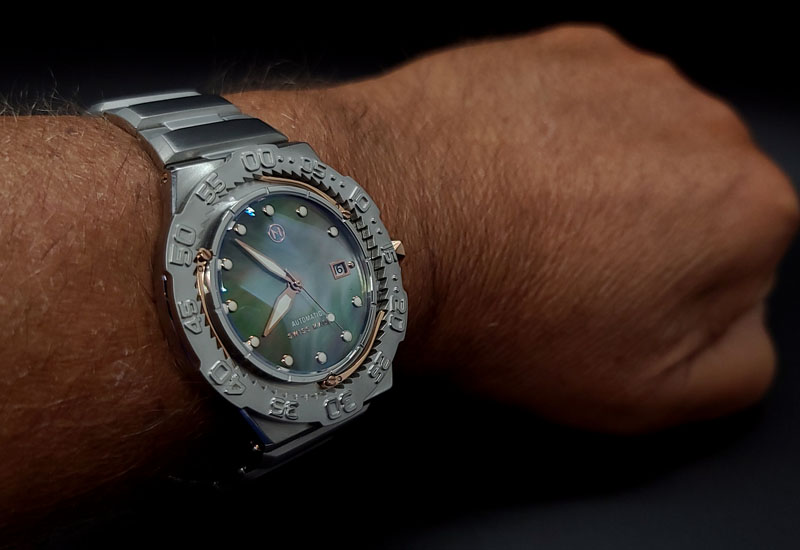 The Nove Trident Automatic dive watch works as expected.  It keeps time accurately, as you would expect with a Swiss-made quality timepiece.  At just over six ounces, it's not a lightweight watch, but it's not overly heavy. If you're sensitive to heavy watches, you might notice this. I found it comfortable to wear.
Having a water-resistant watch is nice since you can wear it swimming or during any water-related activity.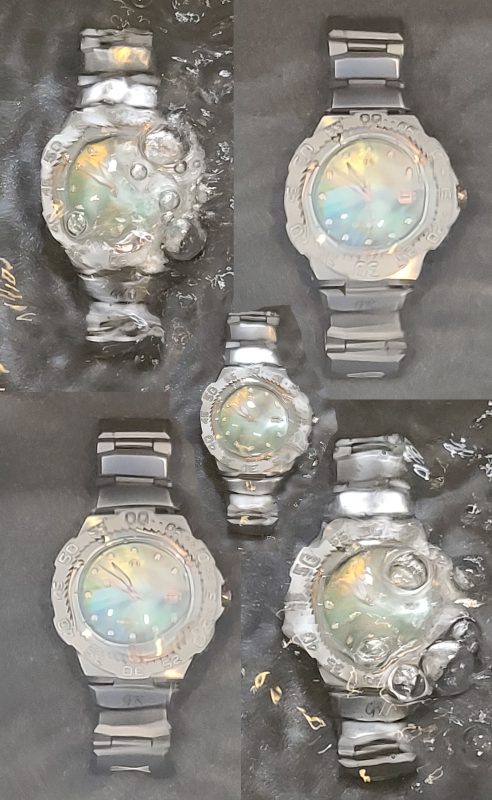 If you're a scuba diver, you can go as deep as you like with this watch.  If you give it a good dose of sunlight, the Super-LumiNova coating on the hands will let you see the time as it gets dark in the deep and the bezel can help you time your dive.  Best of all, after your activities, you can go out for the evening with a terrific-looking watch on your wrist.
What I like
Great looks – I mean really great looks
It's super-thin for a dive watch
Awesome having a personalized watch at no extra charge
Serious water resistance
What I'd change
Sizing requires special tools – a tool-free design would be nice
For being so thin, its steel construction makes it a bit heavy, but not overly so
Final thoughts
I wasn't a dive watch guy, but now I am.  I really like the Nove Trident Automatic dive watch.  The fact that it is a Swiss watch with an automatic movement is a bonus as well. I should note that this watch shipped from China as that's where Nove's marketing and distribution group is.  The watches are designed and made in Switzerland and the import paperwork confirmed that Switzerland was its country of origin.
Nove offers several different watch styles with quartz and automatic movements. On their website, they say that Nove stands for: New ‧ Fresh ‧ Young ‧ Unusual ‧ Extraordinary
I think that this watch definitely fits their mission! When I'm out doing anything on or in the water, this watch will be my new companion.
With four colors available, you have several choices to fit your personal aesthetic. At under $700 for a Swiss-made, 25-jewel, automatic movement dive watch with a 200-meter depth rating, this watch is a terrific bargain.  When you factor in the unique and in my opinion, beautiful design, this watch is an all-around winner.
Price: $670-$690 based on finish
Where to buy: Nove – free two-character engraving available;
Also available from Amazon
Source: The sample of this product was provided by Nove.