We use affiliate links. If you buy something through the links on this page, we may earn a commission at no cost to you. Learn more.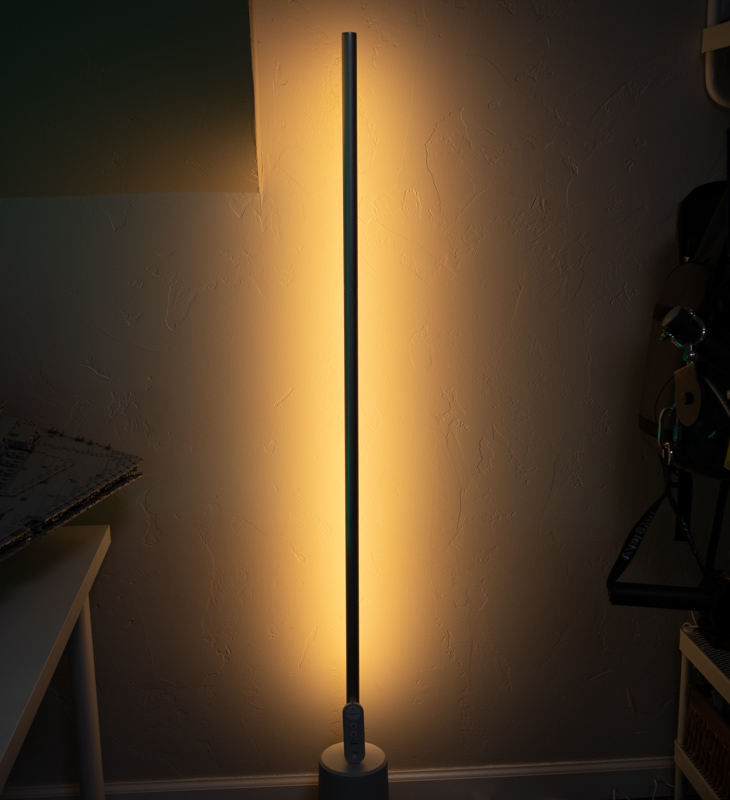 REVIEW – Govee already has a ton of smart RGB lighting options on the market, and now they've added the Govee Lyra floor lamp. This product casts a very customizable light pattern on a wall to add flair or ambiance to your room. It's a freestanding lamp with a long LED lightstrip encased in an aluminum frame, where every LED can be a different color, or even a different shade of white.  I'll take it through its paces and see if it can brighten up my dark basement office (and hopefully add some fun while it's at it!).
What is it?
The Govee Lyra floor lamp is a tall free-standing lamp with customizable lighting.    This customization can be done through the mobile app, or through voice controls like Alexa or Google Assistant.  This allows for a huge range of solid and gradient lighting options on a wall or corner, or animated "scenes" with changing light patterns, and a music mode that reacts to external sound with a rainbow lighting pattern. I show a few of these options in the video above. One small note – Youtube removed the original audio I recorded so the replacement song doesn't match the lighting during the "Music Mode" demo.  It sits a little under 4 feet tall once assembled, so it's a pretty large lamp.
What's in the box?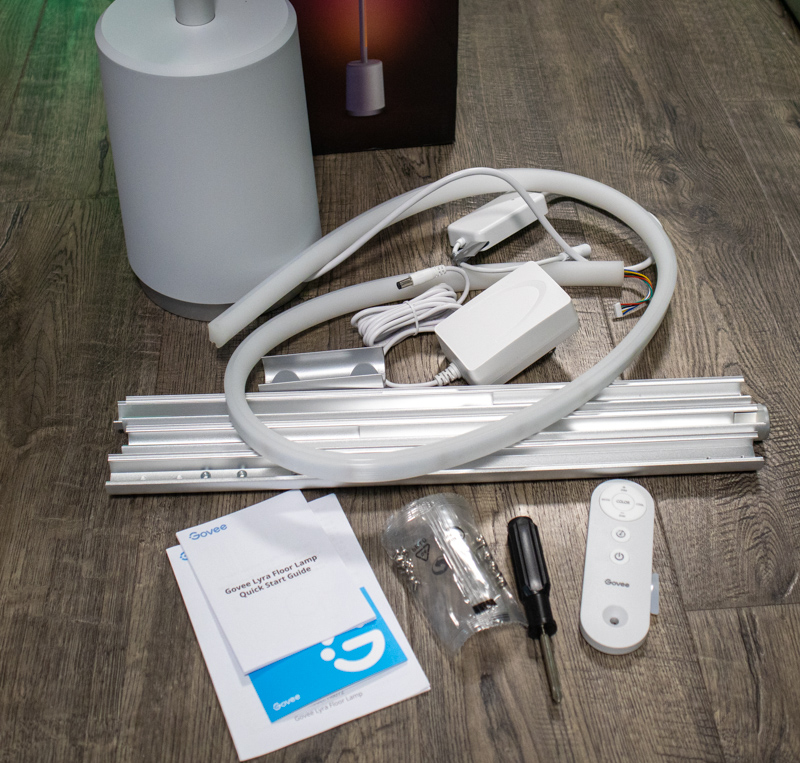 Included in the box are 3 x ~12″ metal frame pieces, the RGBICWW LED light strip with rubber diffusing housing, weighted base, installation screws, remote and magnetic remote holder, installation screwdriver, wall adaptor, and manuals/guides.
Hardware specs
Lighting technology: RGBICWW (individually controlled Red/Green/Blue LED lights + dedicated White LEDs)
Connection technologies: Wifi (2.4 Ghz AC) / Bluetooth
Control options: Smart app and Smart Assistant Integrations (voice control)
Colors supported: 16 million colors
Brightness: 1500 Lumens
Adjustable White balance: 2200k-6500k color temperature
Segmented color control
Timer control – on/off and wake up/sleep timers can be set on schedules
Modes: Scenes (built-in and user-submitted on community), DIY (create your own), solid colors / gradients, Music (responds to microphone on device or microphone on mobile device through the app)
App compatibility: iOS / Android
Voice control smart assistant integrations: Alexa and Google Assistant
Design and features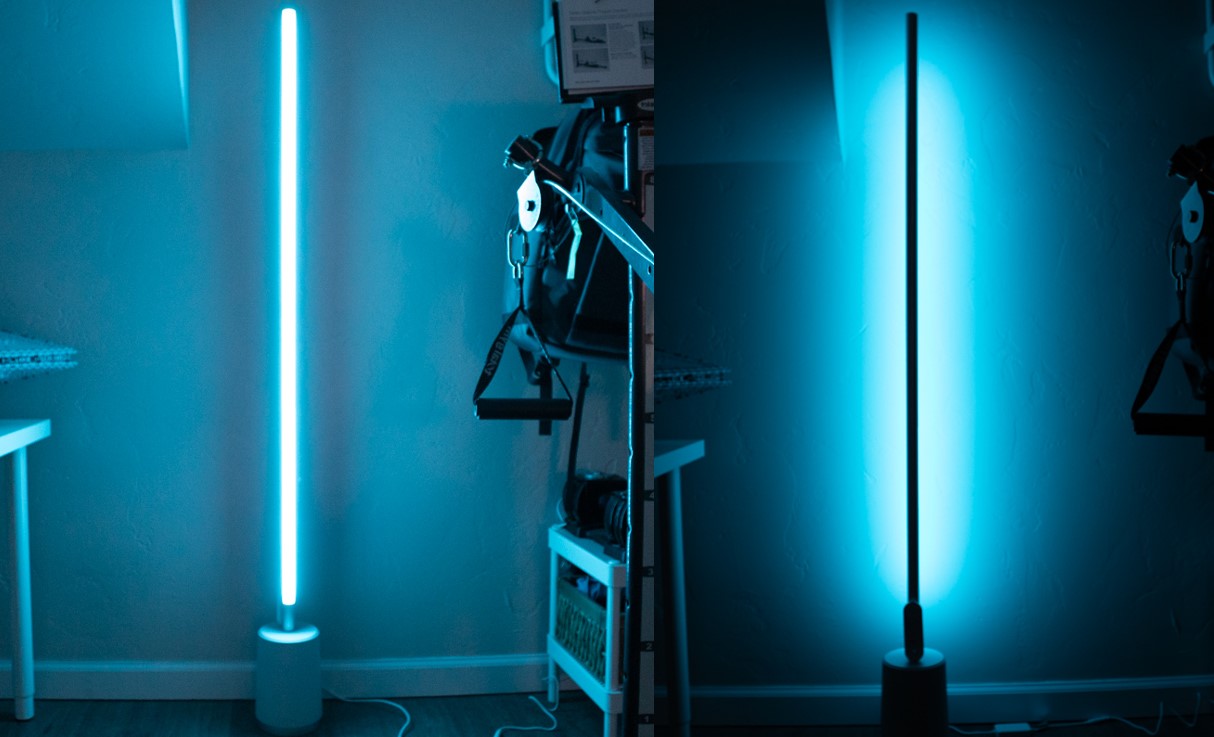 This floor lamp is designed to be an indirect light (where the light is being cast on a surface like a wall rather than directly at you).  In the picture above, you can see it's quite bright if facing the user, but when used as designed it cases a nice even glow on the wall behind the lamp.  Proximity to the wall changes the intensity and size of this "glow" pattern – the closer to the wall it is, the more narrow and intense it becomes.  Because the LED light strip is encased in a soft-glow diffusing rubber, you don't get bright spots next to individual LEDs, but rather a consistent glow pattern.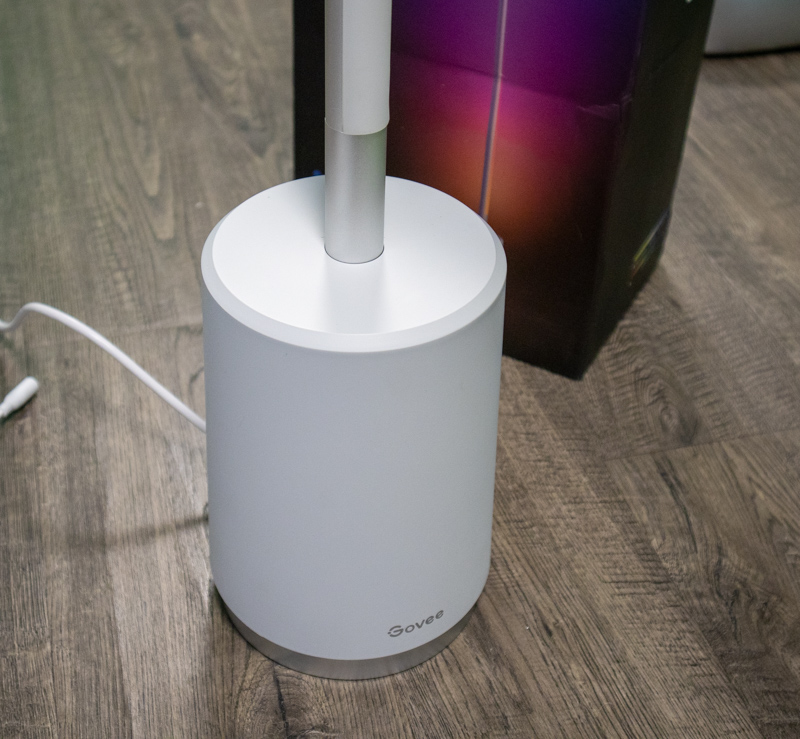 The weighted base of the Govee Lyra floor lamp is solid with rubber on the bottom to prevent slipping on hard floors.  It doesn't feel like it will tip over with gentle accidental knocks, because most of the weight is in the base you'd have to hit it pretty hard or intentionally to knock it over.  Even if you succeeded, there's no glass like in traditional lamps, just a soft rubber LED strip encased in an aluminum frame, so it's pretty solid.  The entire frame is either aluminum or high-quality plastic, and the only marking is the small Govee logo near the base.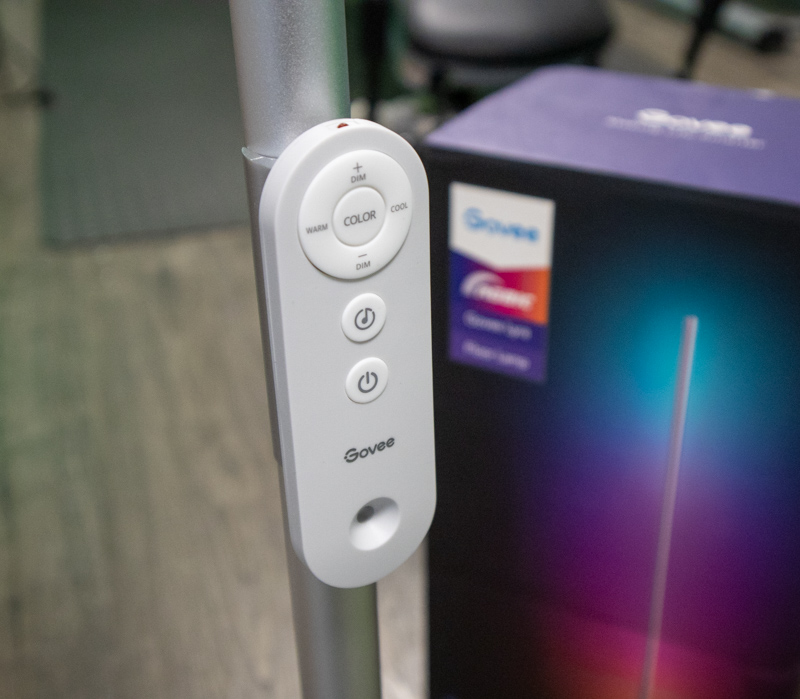 The included remote works as expected, and can even be stored on the included magnetic remote holder (which attaches by friction to the back of the lamp, anywhere you'd like it).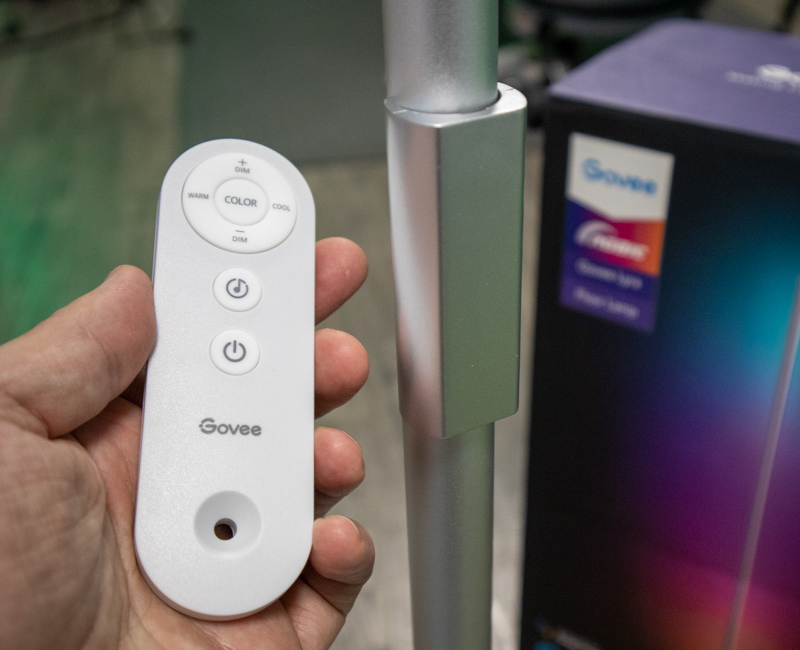 Here's the remote in hand, after testing it once I never touched it again, the app/voice controls are too good for me to want to mess with the remote.  However, it's easy to use and allows for app-less control for other users or in a pinch.
Installation and setup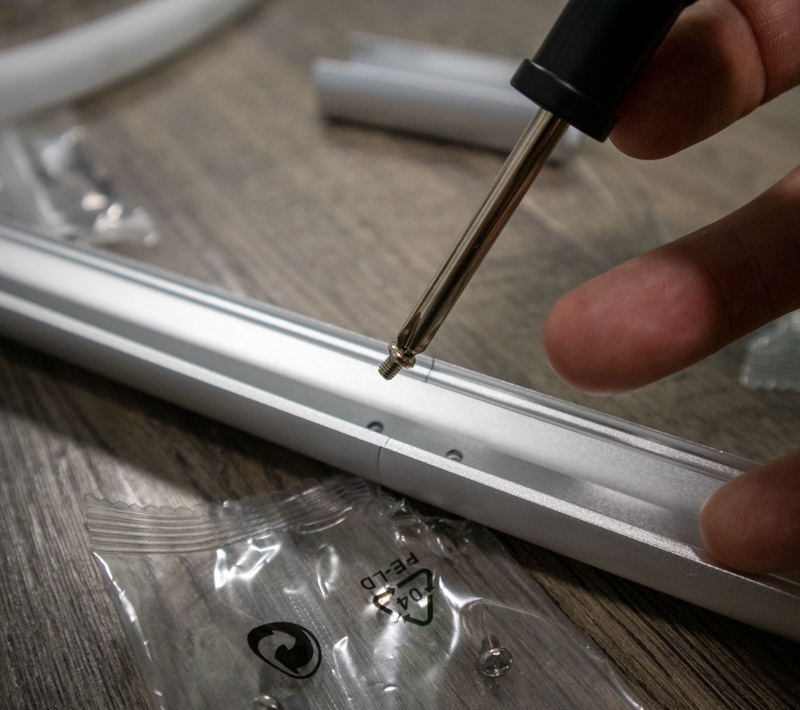 Installation on the Govee Lyra floor lamp was a bit more involved than most of the products I've reviewed recently.  The three frame pieces have to be attached together and held in place by small screws.  Govee used a clever sliding metal piece inside each frame piece that slides to be positioned between 2 frame pieces and is then held in place by two screws.  This results in a very sturdy frame once finished, as both the screws and these long internal-frame pieces keep things straight and solid. I was pleasantly surprised that the included screwdriver for installation was magnetic and seemed to work well – I usually don't touch included tools with products due to shoddy/cheap build quality.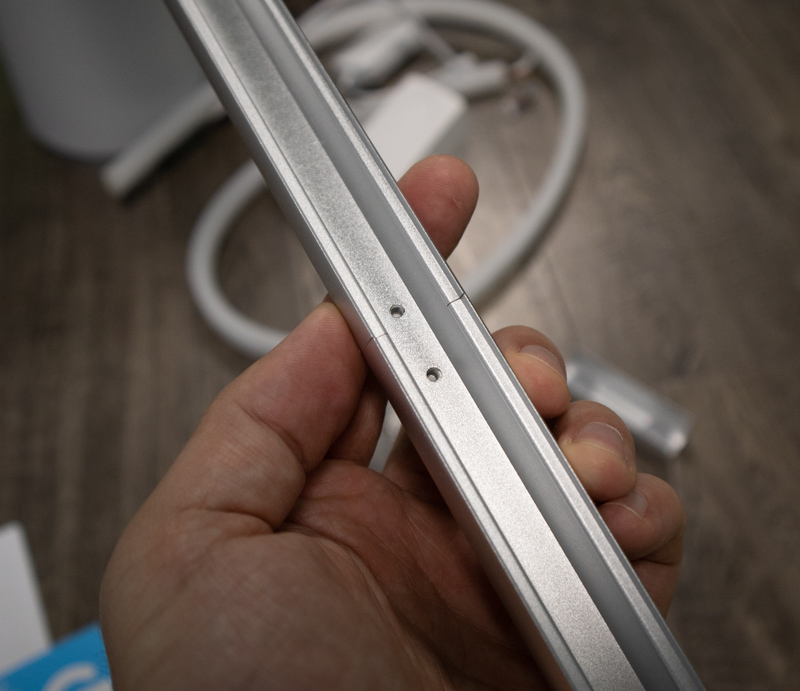 Here's another shot of the internal frame piece slid down to screw 2 frame pieces together.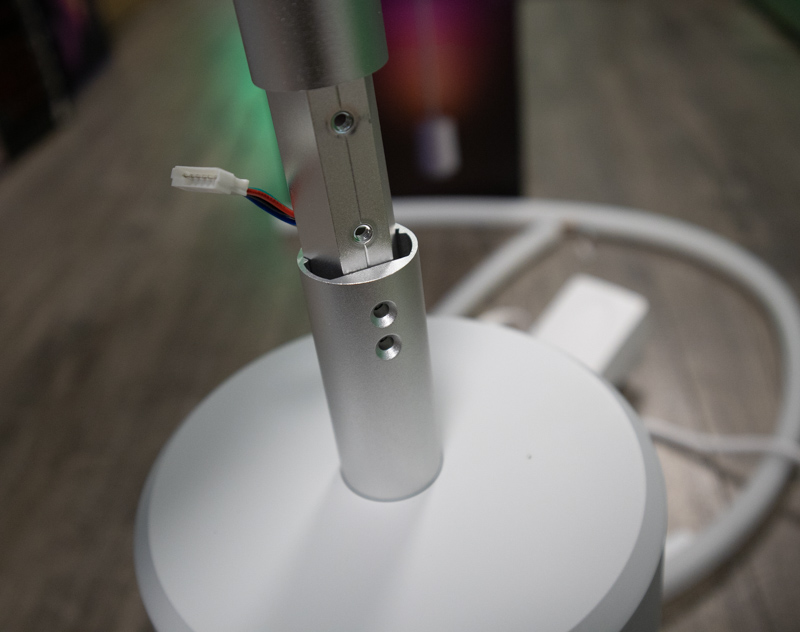 When attaching the lamp frame into the base, I ran into the first problem: notice how those screw holes definitely don't match the base cutouts?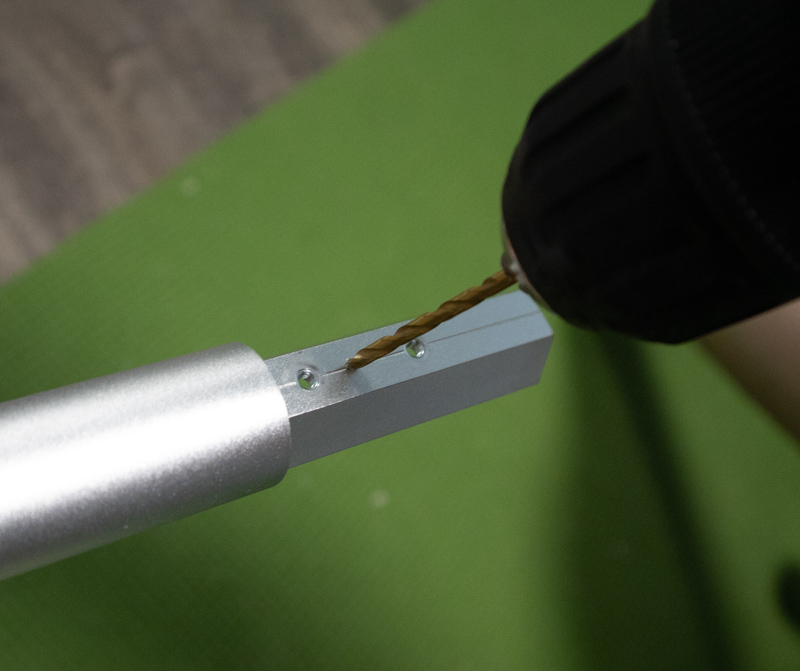 It was nothing that a quick drill and tap couldn't fix, but it was a disappointment in an otherwise good construction.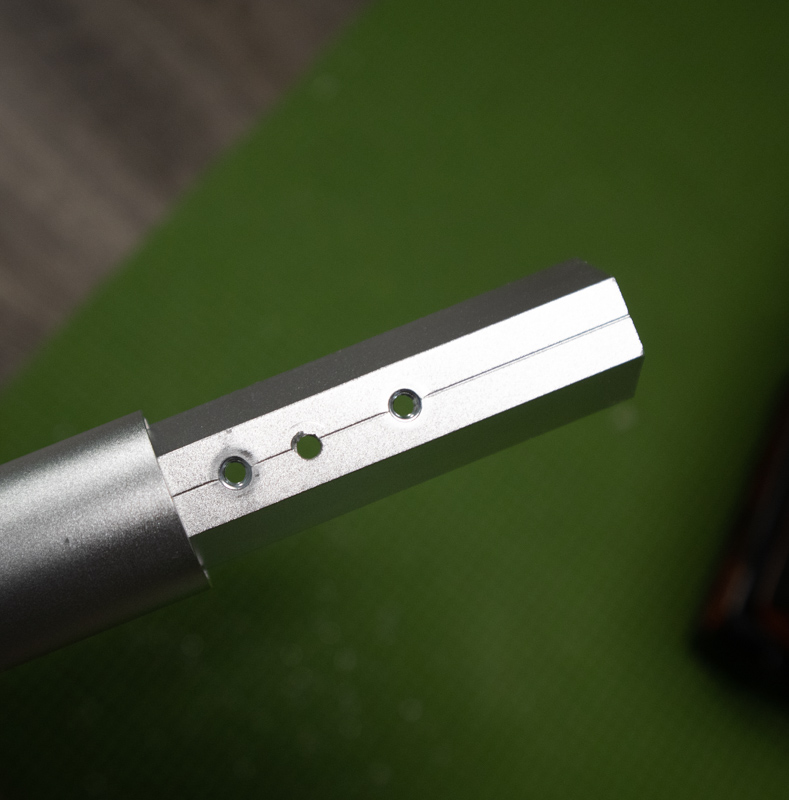 Hopefully, Govee fixes this for future models, but even if you didn't drill and tap your own second hole like I did, I think it would have been fine.  The frame piece inserts about 4 inches into the base, so even before I installed a single screw it felt pretty sturdy.  If you only used that top screw hole, it would likely be fine.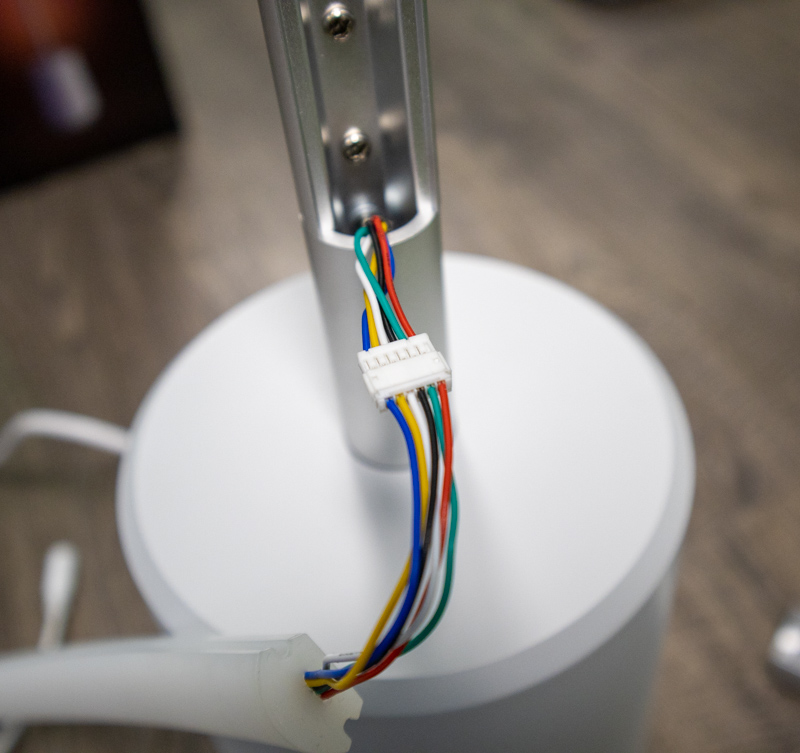 The next step is attaching the LED light strip to the connector coming out of the frame.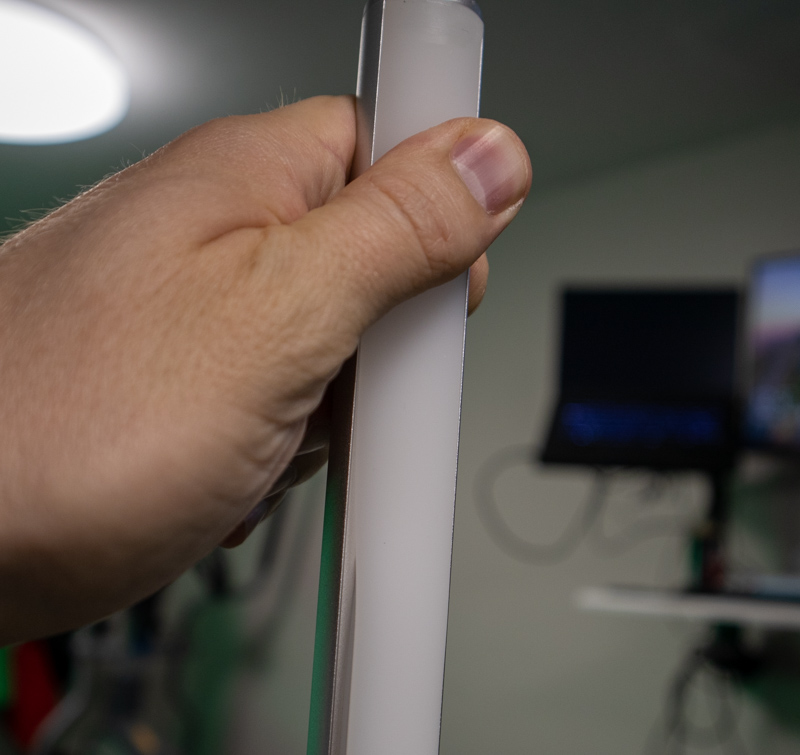 Then you press the light strip into the frame, starting at the top and bottom (to ensure they're lined up) and then going down towards the center.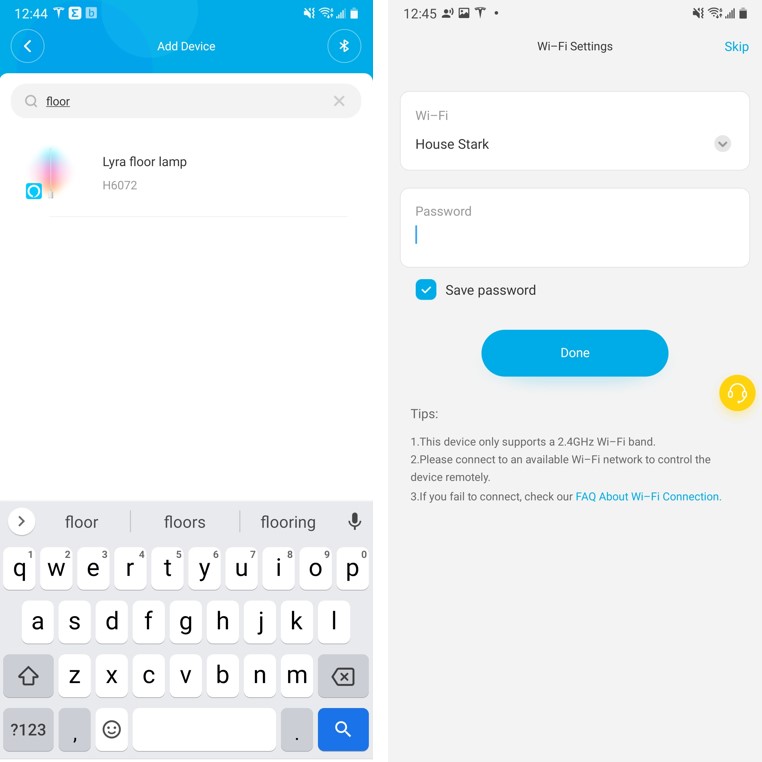 Next up is the app setup.  I already had the Govee home app installed from previous reviews, but finding and installing it is easy.  Govee includes QR codes in the manual or you can just search Govee on the iOS or Android app stores to find it.  Once in the app, I clicked Add a Device, searched for "floor" to find the Lyra floor lamp (there are so many Govee lighting products these days!), and then entered my 2.4 GHz wifi password.  The Govee Lyra Floor lamp only supports 2.4 GHz wifi connections, which I prefer for all my smart-home devices (I reserve the faster 5 GHz band for laptops/phones/TVs and use the older and more-compatible 2.4 GHz for everything else).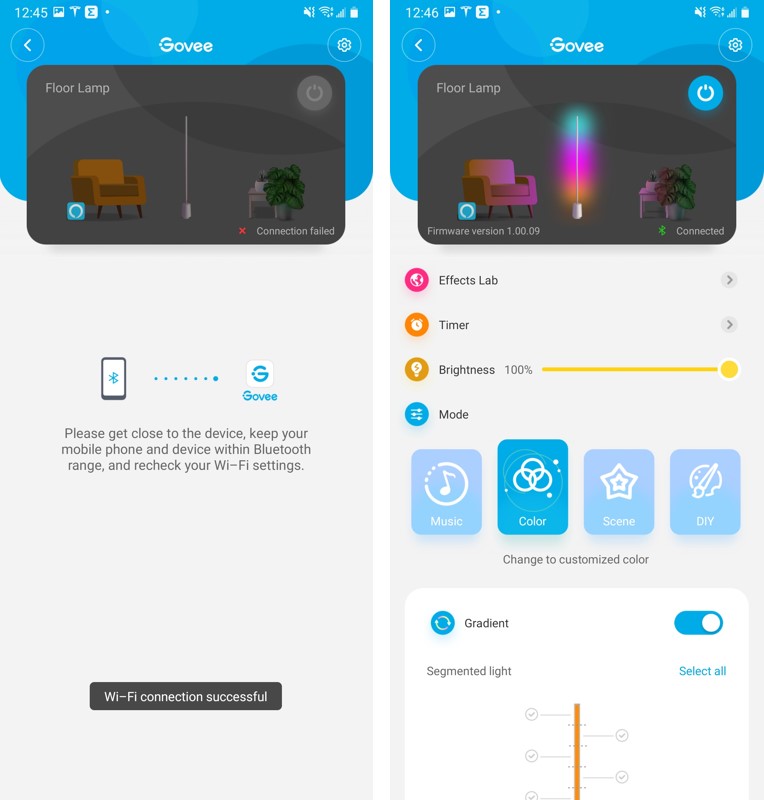 The Govee Lyra floor lamp then connects to WiFi and goes straight to the settings page.  Here you can select modes or create your own, as well as set up timers for on/off times (these can be done on a repeating basis for different days).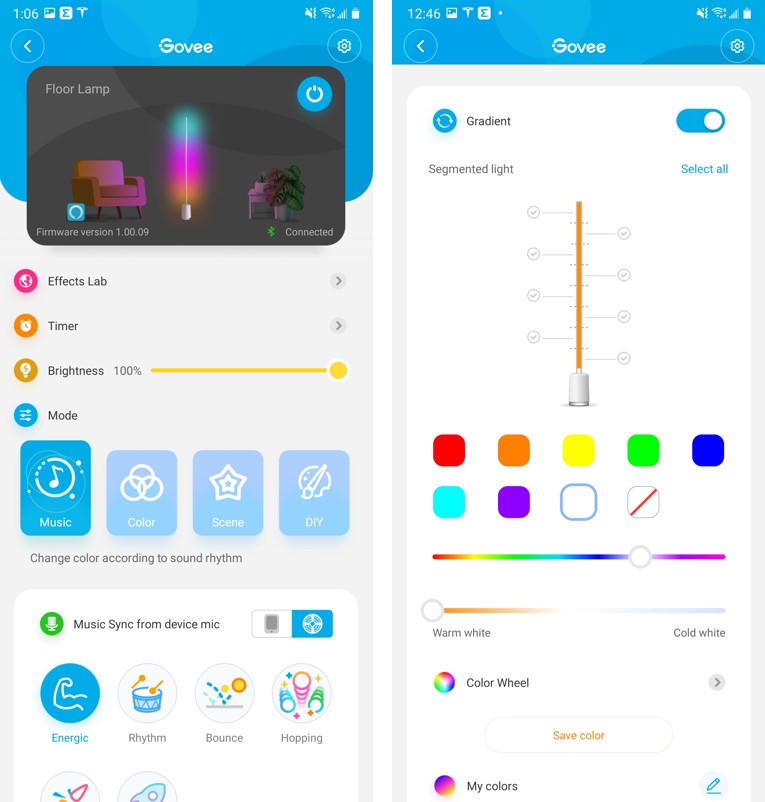 The modes include solid or gradient colors that you can define (or even grab from a digital image!).  There are 8 controllable segments, and the RGBICWW technology means that every LED cluster can have different red/green/blue/white settings.  In addition to all this customization, you can choose preset animated scenes as well, or even try out scenes created by and shared on the Govee Community.  Finally, there's a Music mode that reacts with animated rainbow lighting to sound in the room (and can even be set to use the built-in device microphone or to use a mobile phone's microphone).  All of this customization and mode selection was intuitive and easy to use for me, and my family will tell you that I sometimes struggle with user interfaces, so that's a point in Govee's favor!
What I like
Wide range of customization in lighting
Solid build quality, feels premium
Easy to use App and Voice Controls
Large and growing ecosystem of lighting products lets you mix and match different lights and control them all easily in one place
What I'd change
Screw-holes in base not matching frame
Final thoughts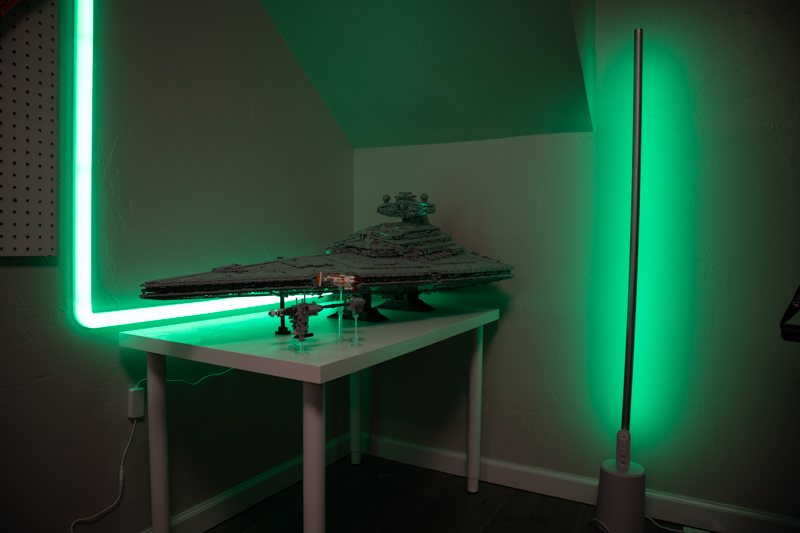 The Govee Lyra floor lamp makes a great addition to my custom Lego Star Destroyer (11,000+ pieces) that lives in the dark corner of my basement office.  Combined with the Govee Glide Wall Lights I previously reviewed, it makes for a great ambiance in my office. I love that I can set up schedules, or even turn them both on or off or change colors simply by saying something like "hey google, set the dungeon lights to lime green".  If you're looking for a stylish light to add some flair to a wall, then this is a great solution!
Price: $149.99
Where to buy: Amazon
Source: The sample for this review was provided by Govee