We use affiliate links. If you buy something through the links on this page, we may earn a commission at no cost to you. Learn more.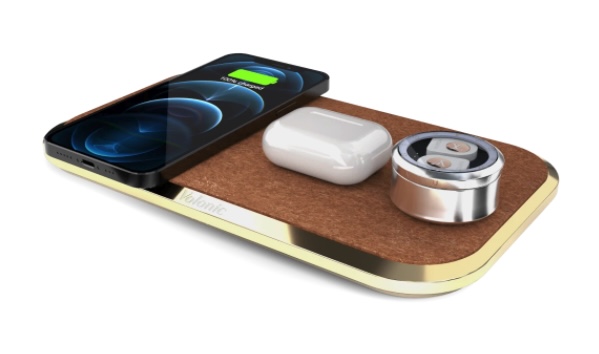 NEWS – Straight from the "who has money for this stuff" file, comes the Volonic Valet 3 wireless charger. Functionally, it can charge 3 different Qi capable devices at once. Be it smartphones like the iPhone or Samsung Galaxy phones, wireless earbuds like Apple Airpods, and more. The charging pad is made of wool which is trendy, and wait for it… the base is made of sold 18K gold. Spiffy right? But get a load of the price… It's $280,000! Yes, that number of zeros is correct.
If your name isn't Oprah or Jeff Bezos, you can get a MUCH lower-priced but still insanely expensive charger that is made of aluminum. You can customize the charging pad of the charger with your color choice of leather or Alcantara, which is a carbon-neutral material from Italy. Customized chargers start around $800. Still too spendy for you? You can choose from a selection of ready-made Volonic wireless chargers starting at $585. Ready to buy one or two? Head over to Volonic.com and make your wallet weep.