The Gadgeteer is supported by readers like you! If you buy something through links on our site, we may earn an affiliate commission. Thank you! Learn more.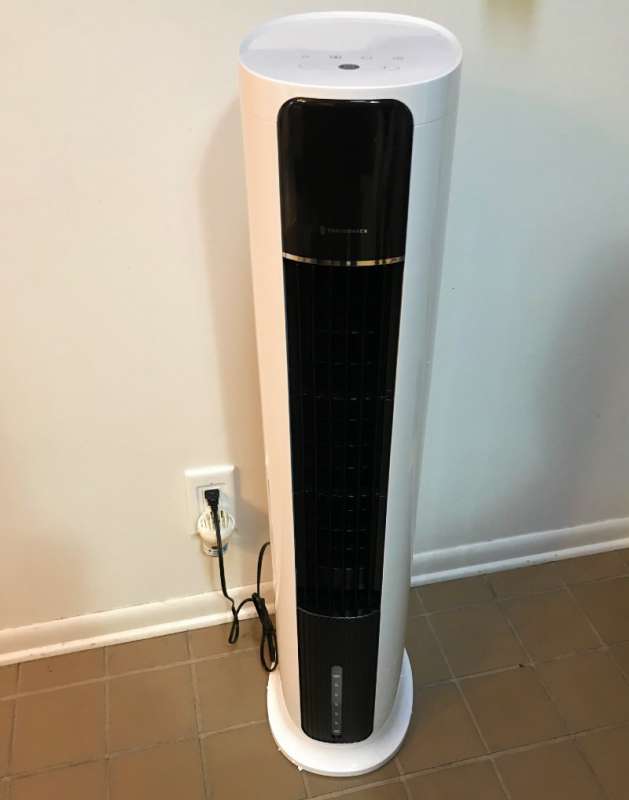 REVIEW – The TaoTronics air cooler is not a portable air conditioner. It's a fan, water circulation pump system and absorption panel that pulls warm air through it, evaporates moisture and then blows out cool, humid air.
What is it?
It's an evaporative air cooler for small areas, which can be used with or without air conditioning, or as a humidifier, or just as a large tower fan without the cooling/humidifying (if you choose).
What's in the box?
Air cooler

Remote control

Power cord

2 freezer packs

User guide

Hardware specs
Brand: TaoTronics

Color: White

Item Dimensions: 13 x 10 x 43 inches

Wattage: 80 watts

Controls type: Remote

Item weight: 25.35 pounds

Reservoir: 1.85 gal. 

Moisture output: 800ml/h 

Air flow: 500m³/h 

Oscillation: 60° 

ASIN: B08NPGDL5G

Item model number: TT-TF007

Warranty: Covered with TaoTronics product and labor warranty for 12 months from the date of its original purchase

Batteries required: No
Design and features
Setup
The first thing you'll notice is this air cooler is big! Yes, the product description warns you that it's 13 x 10 x 43 inches, but somehow I was expecting something more like a sleek tower fan. This is much bigger. However, even though it's a beast, it has wheels so you can easily roll it from room to room. 
It should be used with an open window or with your door ajar for circulation. It's intended for smaller areas or office cubicles. We use it in my husband's lofted office space, which gets extremely hot and humid in warmer months. In fact, we were talking about temporarily moving his office to a lower level of the house when we found this air cooler.
It can be used with or without your home air conditioner. We've used it without because our weather in Indiana hasn't been exceptionally hot so far this year. Plus, the other areas of my home have been sufficiently cool with fans and open windows, so this portable cooler has been ideal for the one very hot space in our home and has actually saved us from needing the whole-home air conditioner so far.
The setup is very simple. After unpacking all of the pieces, you just need to fill the water tank. You can unlock the tank, slide it out and pour in water with a pitcher; or remove the whole tank by reaching in and detaching the pump from the bottom of the tank and then you can fill it in the sink. Because of the size of the water tank, we prefer to detach it and fill it in the sink; however, it's awkward to detach it from the pump and the dripping water can make a mess, and then to reattach it when the tank is full, your arm gets wet. 
It comes with two ice packs that you add directly to the water tank, if you like. Just make sure not to go above the max fill line, especially if you're adding the ice pack, which naturally makes the water line go up.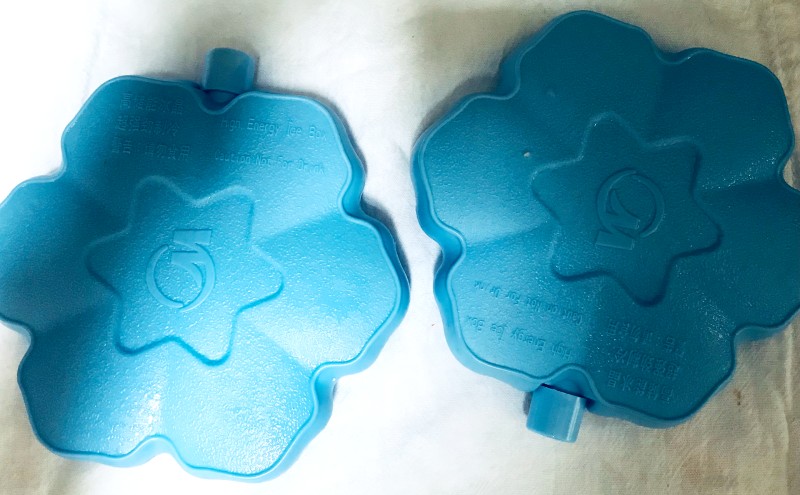 Performance
Because you can use this as a stand-alone fan, air cooler and/or humidifier, there are several controls to figure out. In addition to the standard power button, the button with a water drip is for turning on or off the cooling/humidifying (on the remote control, it's the center button with three dots).
The four-square button lets you adjust the fan mode from normal to sleep to natural mode. (We prefer normal mode.)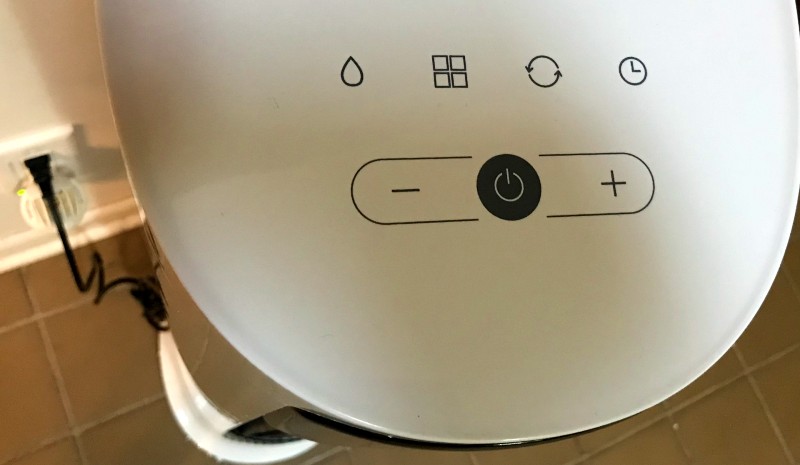 The circular arrows indicate oscillation. You can press it quickly to start/stop oscillating. If you hold it down longer, you can restore the device to factory settings.
The clock button lets you set a timer. Press it quickly to select from 0-10 hours and then press it a second time to confirm. A long press will cancel the timer. 
The plus and minus buttons let you increase or decrease the fan speed or timer. 
Overall, the controls are pretty intuitive. However, it takes some time to figure out which settings are best for your purposes.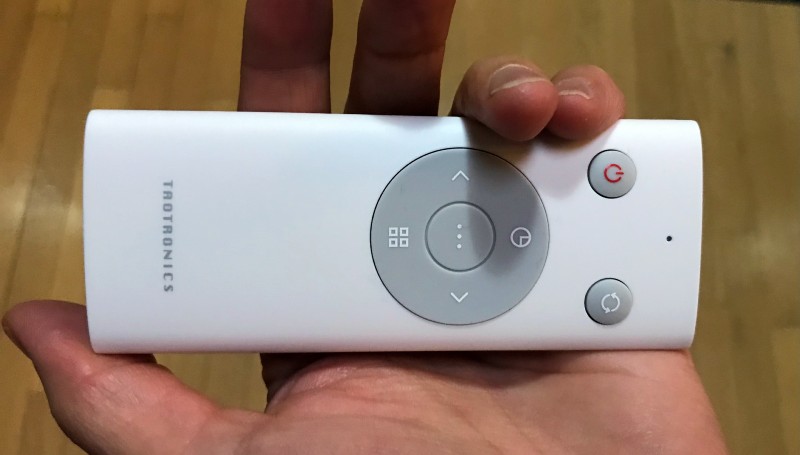 When my husband works, he keeps the remote on his desk within arm's reach. Today it was muggy, so he turned on the fan and cooling after our lunchtime walk. Immediately, he felt comfortable, and two hours later he was cool enough to turn it off. He likes the oscillation option because it helps him to adjust it even more precisely. Today, when he was just starting to cool off, he just adjusted the fan angle with the oscillation fins so it wasn't a constant blast on him but kept the room comfortable.
It's also relatively quiet. My husband is on video calls most of the workday, and he can have meetings without any disturbance if he keeps the fan at level 1. Anything higher than that is too loud for in-progress work meetings. However, if you were using it for sleeping or independently working or doing homework or schoolwork, it would just be like louder fan noise/white noise. 
We like the thoughtful design. For example, there's a little indicator window so you can check the water level from the front. And there are pop-out tabs so you can wrap up any extra length of power cord.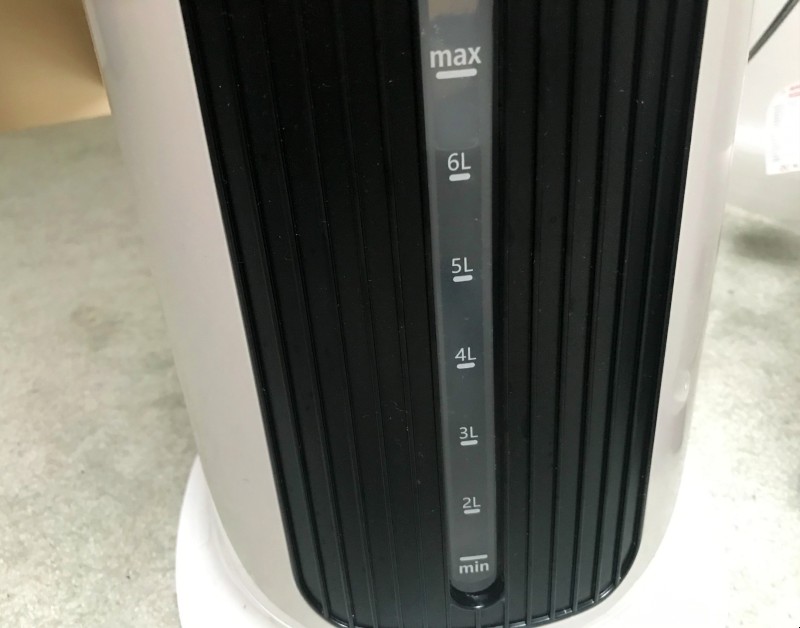 Other reviewers also seem to be enjoying their air cooler. Right now, on Amazon it has 4.8 out of 5 stars with 153 reviews.
Cleaning
Once a month, TaoTronics recommends cleaning the dust filter and cooling pad to prevent it from getting clogged with dust and other gunk. To do this, you pull out the dust filter. Unlock the bottom buckle to remove the cooling pad. Then rinse out the cooling pad, and brush and rinse the dust filter.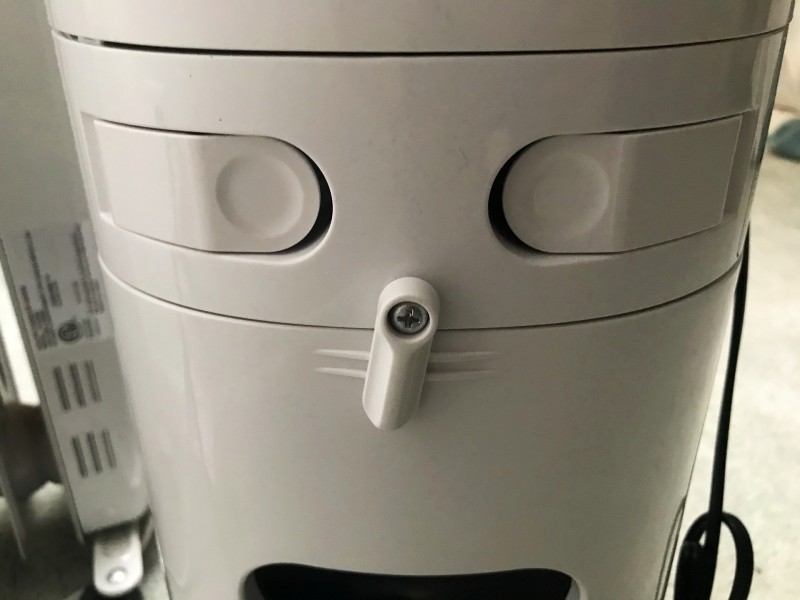 If you have hard water, it's recommended that you clean the water tank with a diluted vinegar solution on a regular basis. 
What I like
Fast, effect cooling

Several settings, including oscillation, to customize to your needs
What I'd change
An easier method for detaching the water tank 

More compact design, especially considering it's intended for use in small spaces
Final thoughts
The TaoTronics evaporative air cooler does its job and does it well. Though it's a bit pricey, it could save you money on air conditioning costs in the long run. Plus, all of the options and settings truly make it multipurpose (cooler, fan, humidifier).
Price: $199.99
Where to buy: Amazon
Source: The sample of this product was provided by TaoTronics.
Support The Gadgeteer
:
The Gadgeteer is supported by readers like you! If you buy something through the links on our site, we may earn a small affiliate commission. Thank you! Learn more.