The Gadgeteer is supported by readers like you! If you buy something through links on our site, we may earn an affiliate commission at no cost to you. Thank you! Learn more.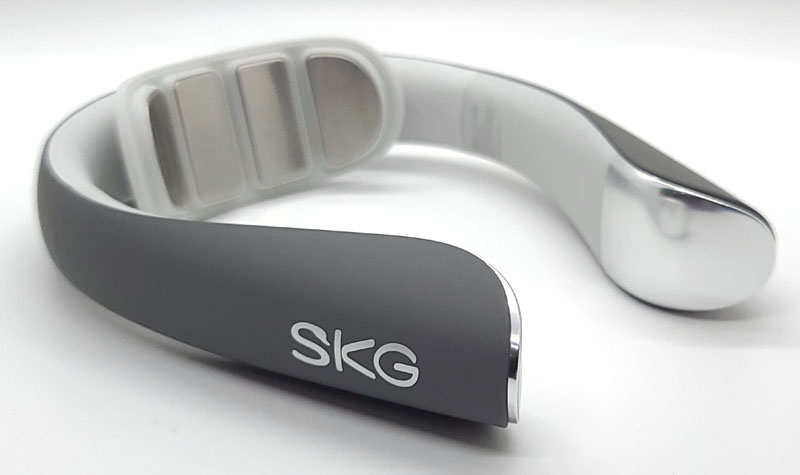 REVIEW – Once again, faithful readers, I find myself in the position to be forced to get neck massages for your benefit.  I hope you appreciate the lengths we go here for you at The Gadgeteer!
SKG recently released their K5 Pro neck TENS massager and I'm putting it through its paces.  Let's see if it will be like magic fingers, or if it is all thumbs.
What is it?
The K5 Pro is a TENS-based neck massager.  TENS massagers (transcutaneous electrical nerve stimulation) uses electrical pulses to relieve pain by interfering with the neural transmission of signals from underlying pain receptors. Along with the TENS-based massage, the K5 Pro offers three levels of soothing heat.
What's in the box?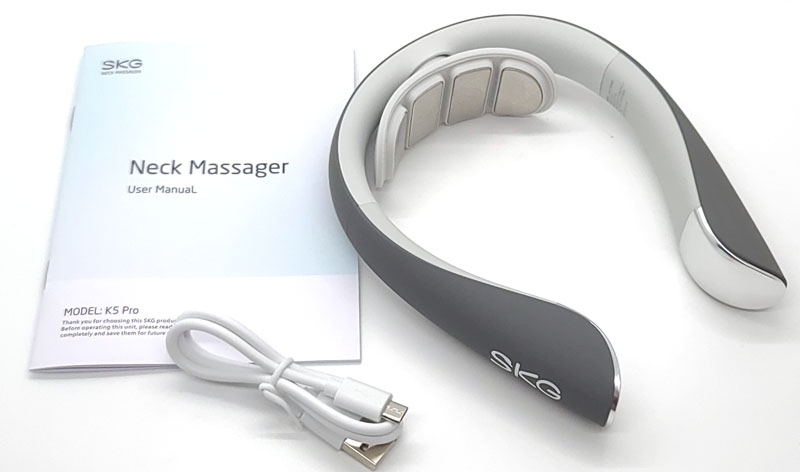 TENS Massager
USB-A to micro-USB charging cable
User manual
Hardware specs
Weight: 95g / 3.35oz
Battery: 1000 mAh Li-ion
Massage intensity: 9 levels
Heat: three levels, 100/104/107 degrees F
Massage method: Electronic pulse
Massage styles: 4 – pressing, kneading, beating, integrated
Massage time: 15 minutes – auto shut off
Charging: Micro-USB
Charge time: About 3 hours
Battery life: 6 days (assumes 15-minutes use, twice per day)
Controls: Intensity wheel with mode and power push, heat control button
Control feedback: Voice feedback
Design and features
The massager fits around your neck and is quite comfortable.
All the controls are along the front left end of the massager.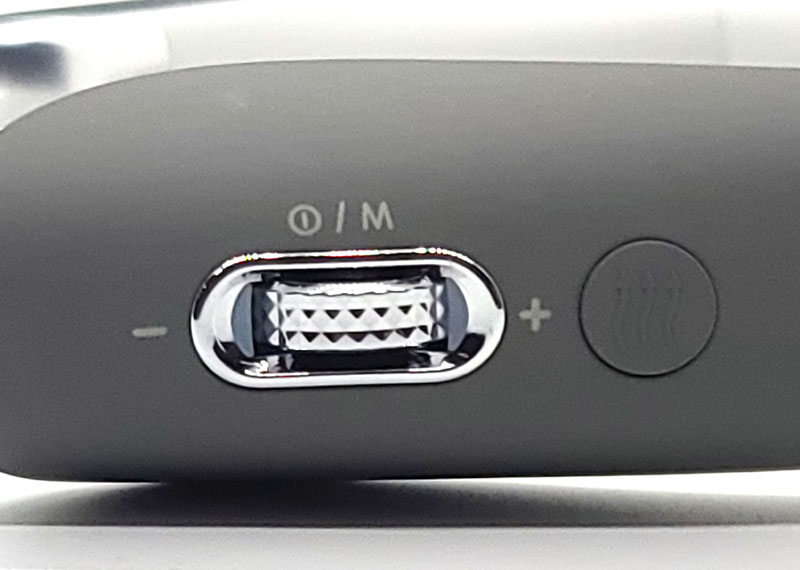 The wheel, when pressed and held, turns the power on or off. When on, a click of the wheel cycles through the four massage modes.  Scrolling the wheel moves through the nine massage intensity levels.  Pressing the circular button on the right in the photo cycles through the three heat levels. Long-pressing it turns the helpful voice prompts off/on.
The area immediately around the wheel is an LED indicator. When the unit is on, or when it is plugged in and fully charged, it glows blue.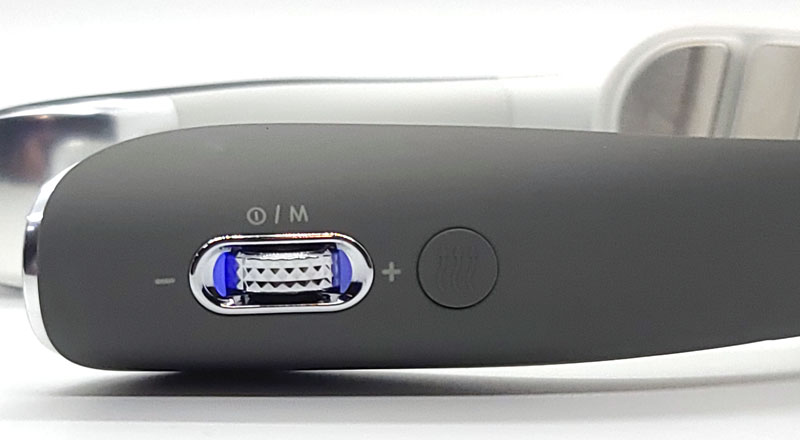 When charging, it glows orange.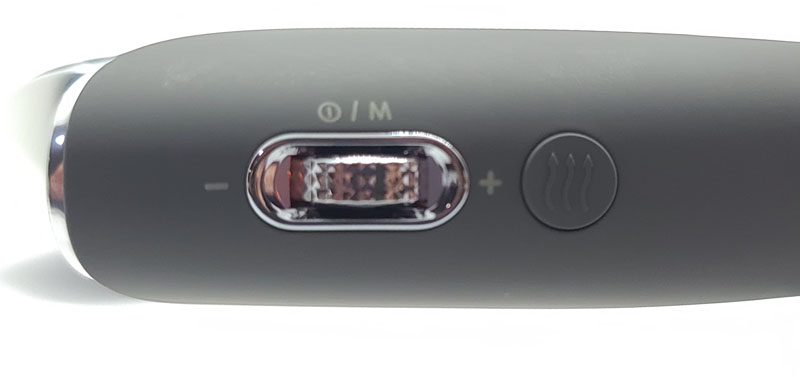 Speaking of charging, the charging port is located on the bottom, under the controls. Unfortunately, it's micro-USB, not USB-C.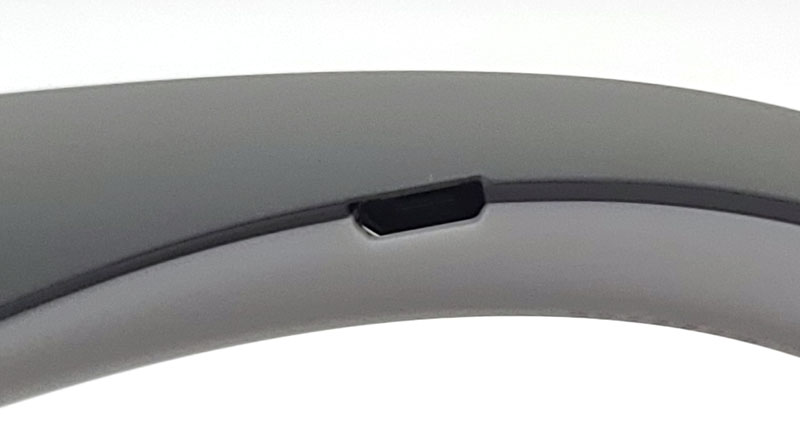 The business end of the massager is the four-electrode pad located toward the back of the device. Each smooth metal electrode is embossed with the SKG logo.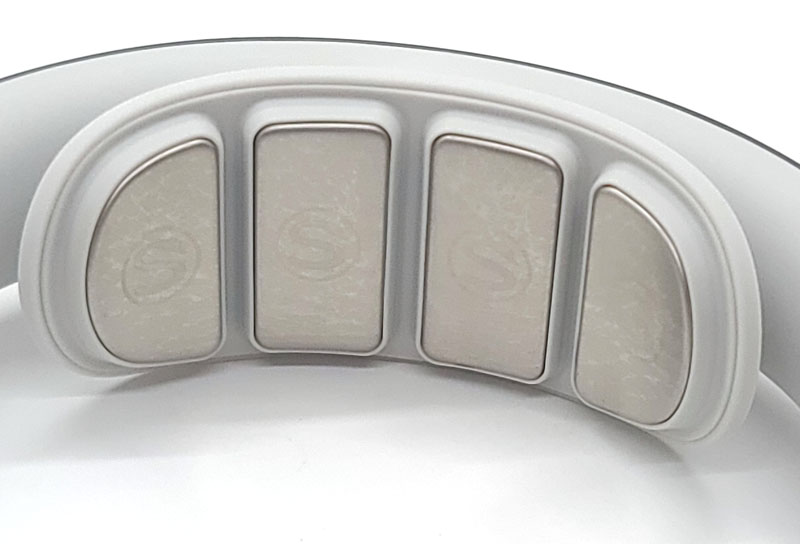 The pad itself is flexible and is attached to a flexible and floating mount.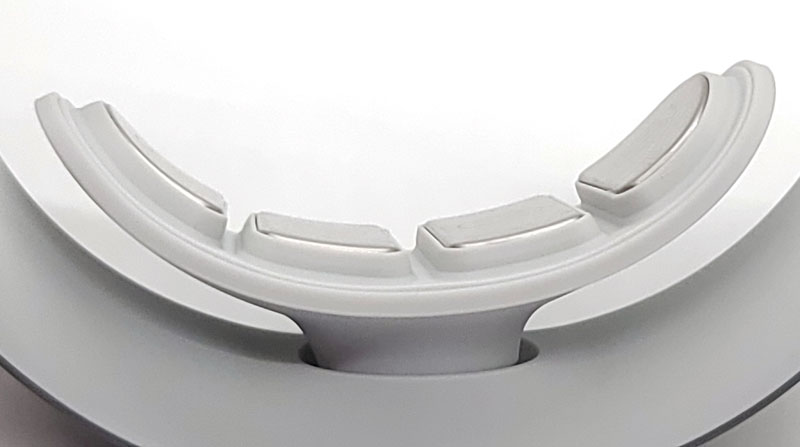 The result of this design is a very flexible electrode system that molds itself to your neck, ensuring good electrode contact.
Setup
The only required setup is giving the massager a full charge.  Once it's charged, you're ready for a neck massage.
Performance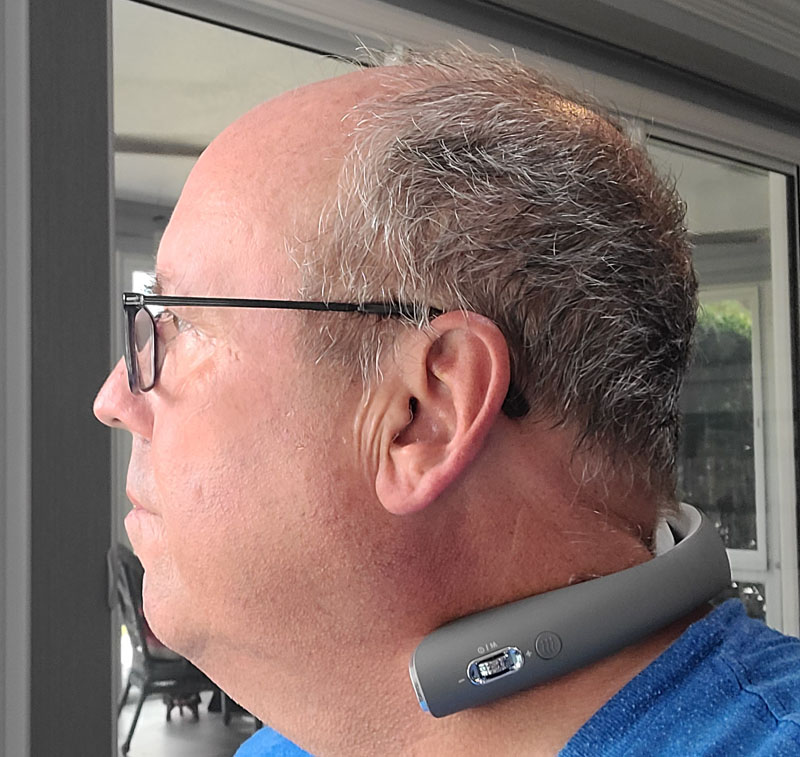 With a full charge, I followed the instructions and slightly dampened my neck to improve electrode contact, put on the massager, and got busy relaxing.
The four-electrode design surprised me. I could feel the massage moving – left to right, right to left, outside in, inside out, up and down.  It was pretty intriguing, and more importantly, felt pretty good.
I tried all the modes.  Personally, I'm not a fan of the beating mode.  I mean, it's not a beating per se, but it's just not a feeling I enjoy.  I really liked the kneading and pressing modes.  Since the integrated mode includes all the other modes, including beating, I stayed away from that one as well.
The nine intensity levels really let you fine-tune the massage to whatever your needs might be at the time.  Levels 5-9 are quite intense. I have settled on level 2 when my neck is a little stiff.
Turning on the heat provides instantaneous warmth across your neck.  That definitely adds to the massage experience. With three levels of heat, it's easy to find one that suits your taste.
Like all TENS massager devices, this comes with the requisite warnings about removing any neck jewelry, and not using it if you have implanted electronics or metal medical devices.  I will say that I have a titanium hip and can use it with no issues.
Here is the long list of dangers, warnings, nites, and suggestions.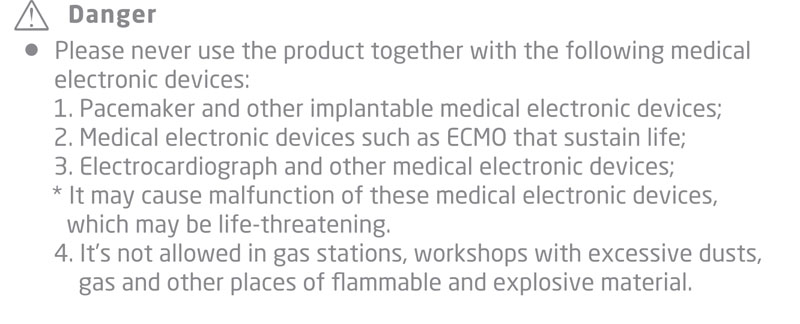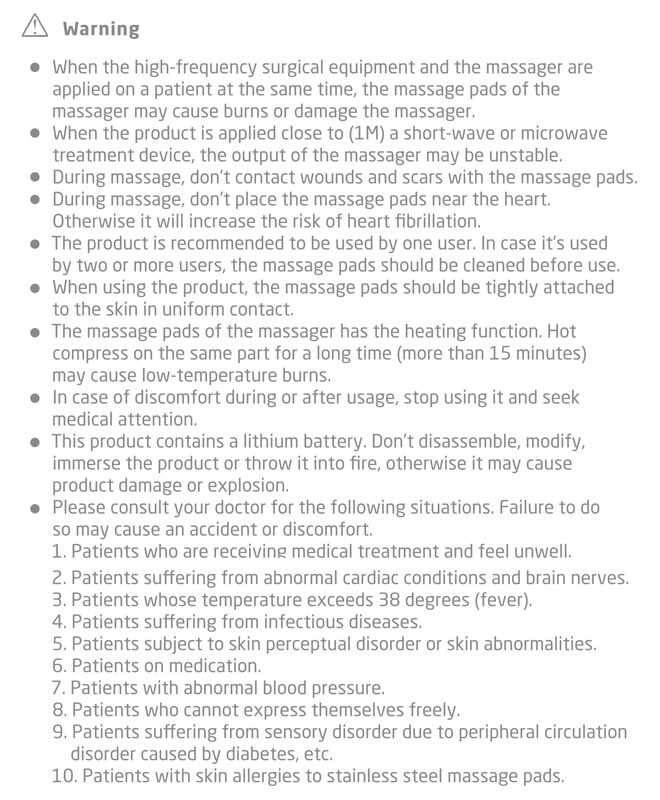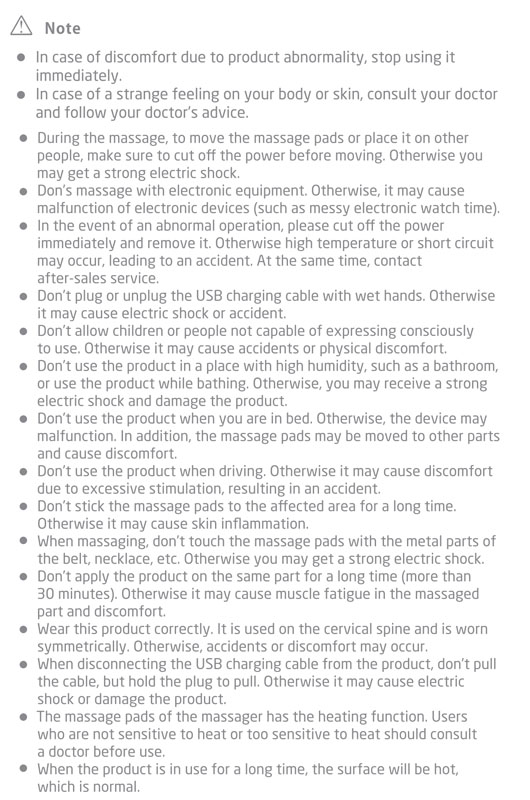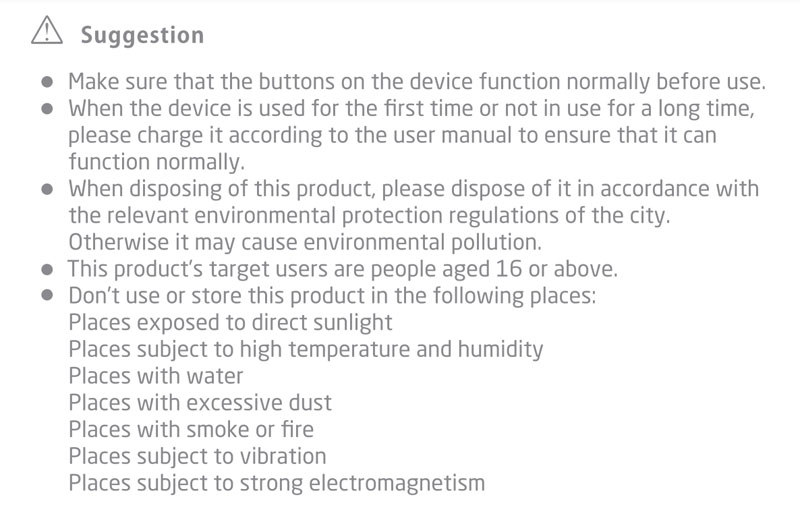 What I like
Nice massage mode selection
Voice prompts make selecting modes and heat levels simple
Comfortable design and great electrode contact
What I'd change
My old standby complaint – use USB-C!
Final thoughts
This is a nice massager. With multiple massage modes, intensity levels, and heat levels, just about anyone should be able to find a setting that works for them. After a long writing session for The Gadgeteer, putting this on, leaning back, and watching the tube (can we call flat-screen TVs "the tube"?) feels quite nice. If you deal with neck stiffness or pain, it's worth taking a look at the SKG K5 Pro neck massager.
Price: $134.99
Where to buy: Amazon Price is only $74.99 after using coupon code: SKGFORK5 (Expires 6/2/21)
Source: The sample of this product was provided by SKG.