The Gadgeteer is supported by readers like you! If you buy something through links on our site, we may earn an affiliate commission. Thank you! Learn more.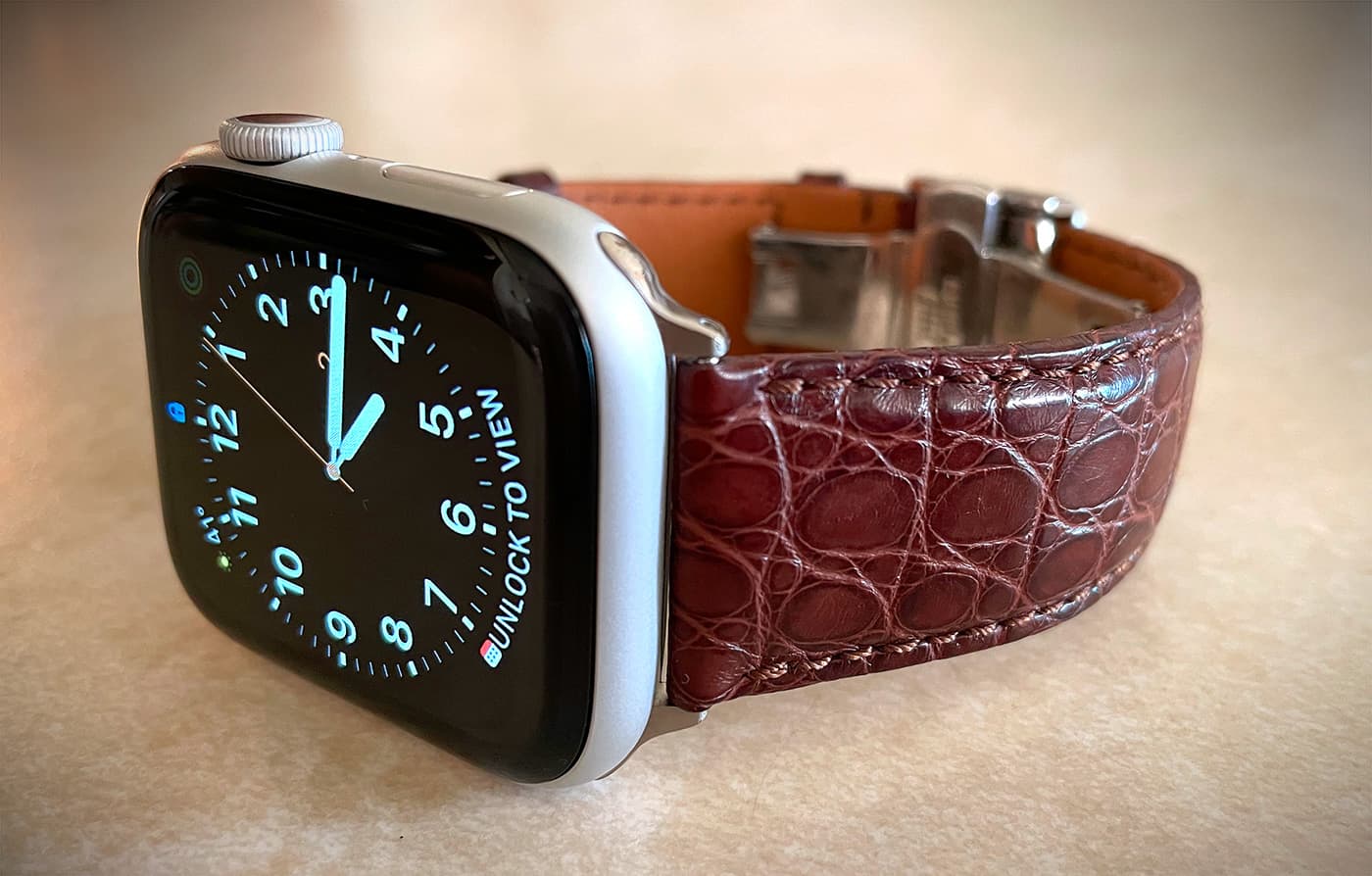 REVIEW – If you're looking for a sophisticated look for your Apple Watch, the Lululook Alligator Leather Band can add an exotic flair to your wrist.
What is it?
The Lululook Alligator Leather Band is an Apple Watch band made from real alligator leather and incorporated with color-matching stainless steel quick-release hardware.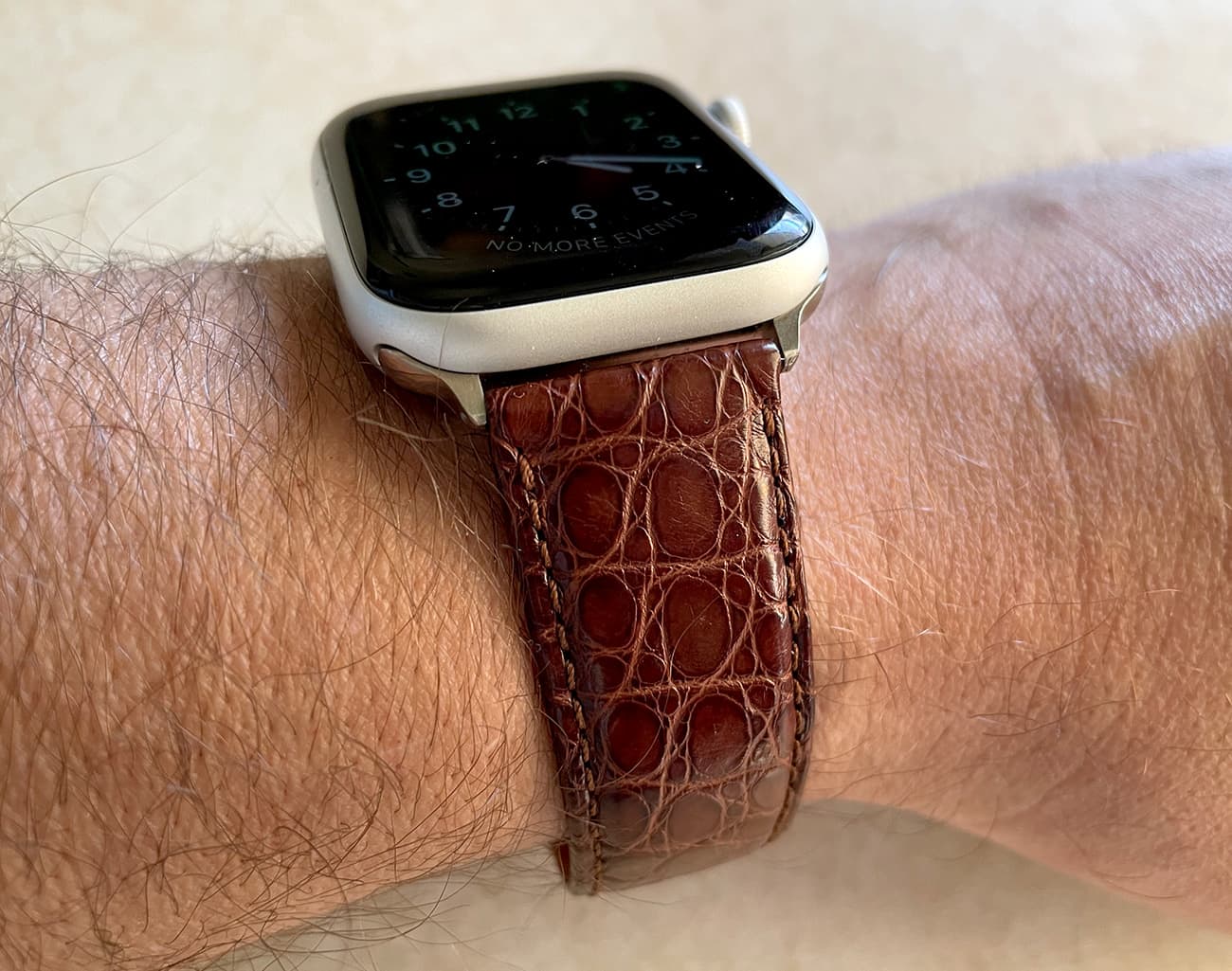 Hardware specs
Made of real alligator leather
Both ends come with stainless steel quick release, which locks onto the watch precisely. Easy to install and remove
38MM / 40MM fits wrists: 160-215mm
42MM / 44MM fits wrists: 165-200mm
Compatible with all versions of Apple Watch; 42mm band fits the 44mm size; 38mm band fits the 40mm size.
Colors: Black, Brown, matching metal hardware
Design and features
This Lululook Apple Watch Band is the first band (or anything I think!) made from genuine alligator leather. It has a feeling of supple, flexible leather with a unique reptilian texture.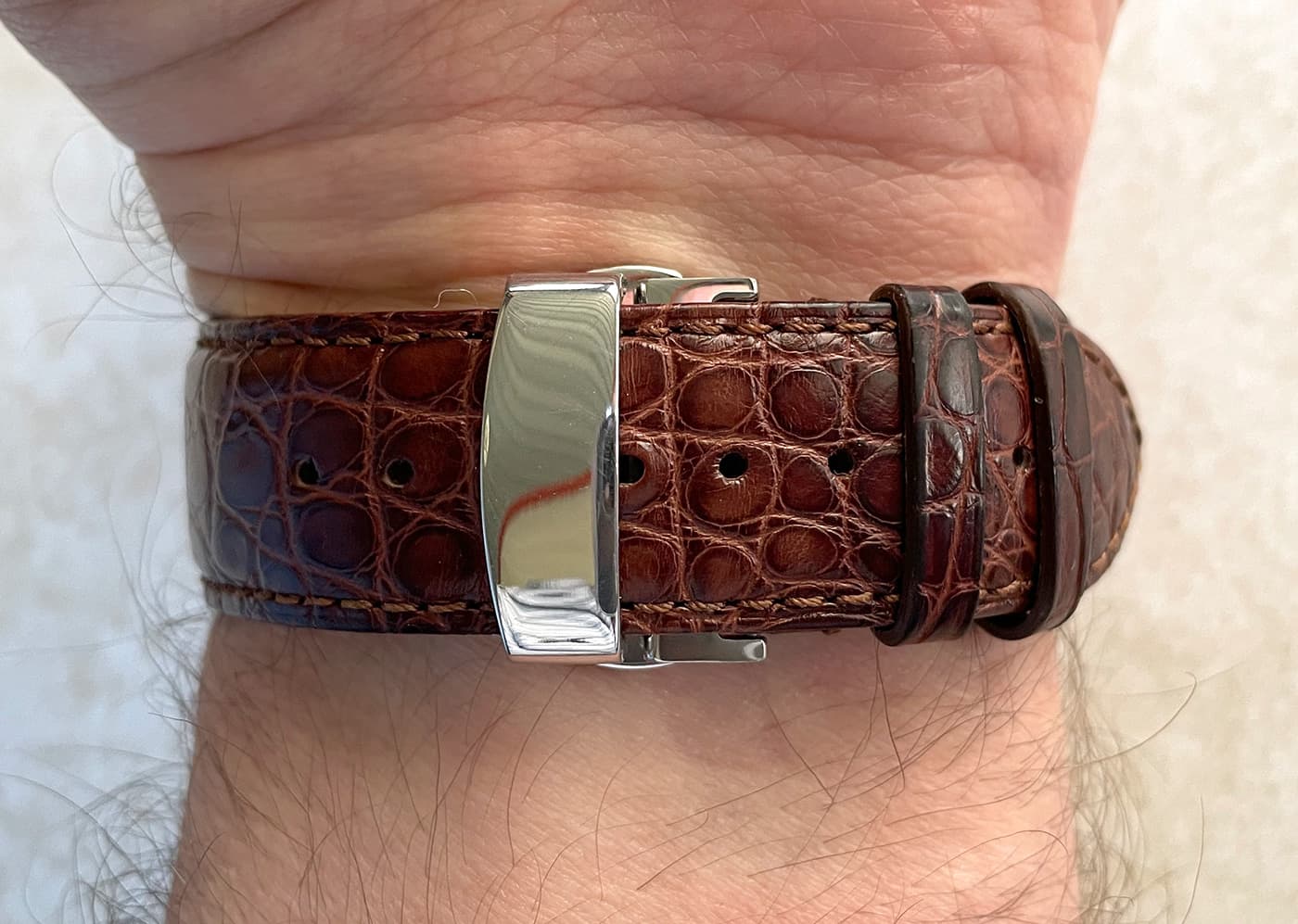 It offers an interesting and exotic look compared to a regular leather band, which often has a subtle texture or is altogether smooth.
The Lululook band incorporates a stainless steel "butterfly" clasp which, if you've never used one before, was tricky to figure out at first. There were no instructions in the box, so I had to play around with the belt-like clasp until I got it sized properly.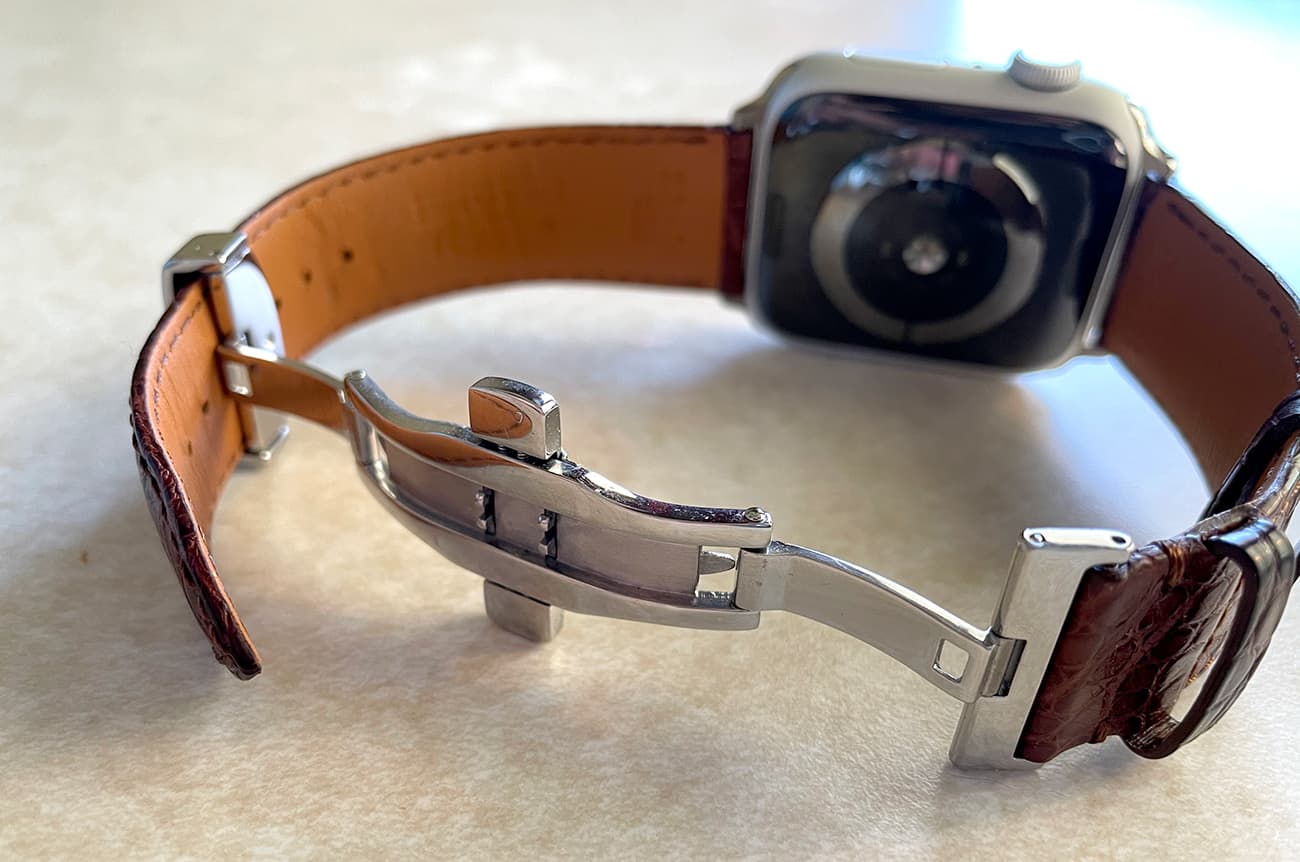 It's sort of a combination of a more traditional notched belt and a metal bracelet clasp, with a quick-release mechanism that is activated by pressing the sides of the clasp. I'm sure there are others out there who have something similar, but this was the first time I ran into a clasp like this.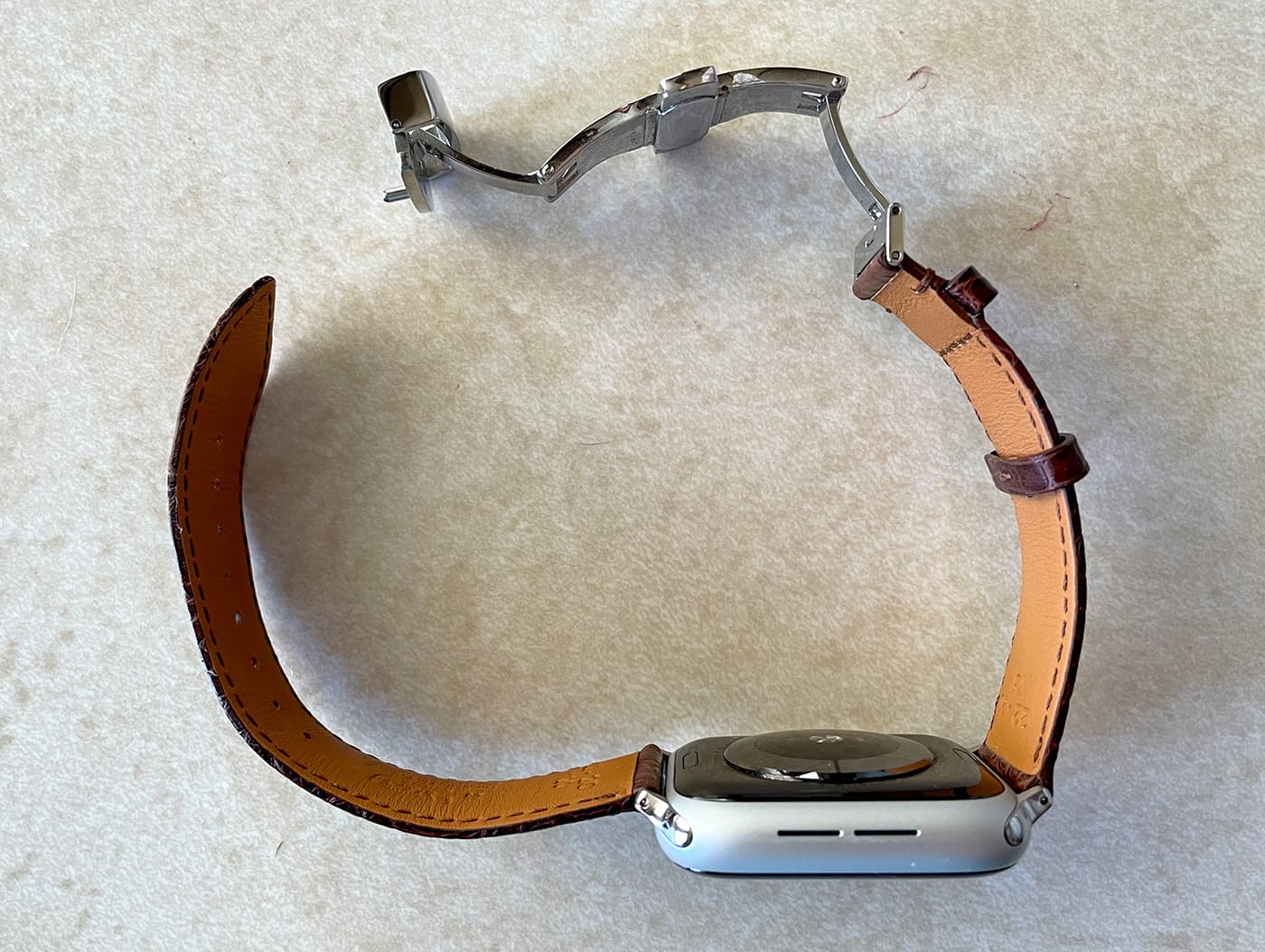 The stainless steel clasp and lugs can be matched to the color of your Apple Watch, in black, silver and rose gold.
Overall, the texture of the watch is smooth and supple, and very flexible right out of the box. There was a very short break-in period of 1-2 days. I imagine the leather will last for a few years with proper care1.
The first time I put it on, I had one of the "sillier" faces on the Apple Watch, the one with the big balloon looking numbers, and it didn't match up with the elegance of the leather band. I had to laugh. Fortunately, there are several "simple" faces available that pair with a sleek, leather band.
What I like
The texture and flexibility of the leather is great
I actually do like the butterfly clasp, once you figure it out
What needs to be improved
a quick "how to assemble" guide for the clasp would be useful
Final thoughts
The Lululook Alligator Leather Band gives the Apple Watch a distinct, refined look, and the price is inline for what I'd spend to achieve it. It's a comfortable band that when paired with a simple watch face, really transforms the Watch into an elegant piece.
Price: $54.99
Where to buy: This Alligator Leather Band can be purchased directly from Lululook in several colors and metal finishes.
Source: The sample of this product was provided by Lululook.
Support The Gadgeteer
:
The Gadgeteer is supported by readers like you! If you buy something through the links on our site, we may earn a small affiliate commission. Thank you! Learn more.