We use affiliate links. If you buy something through the links on this page, we may earn a commission at no cost to you. Learn more.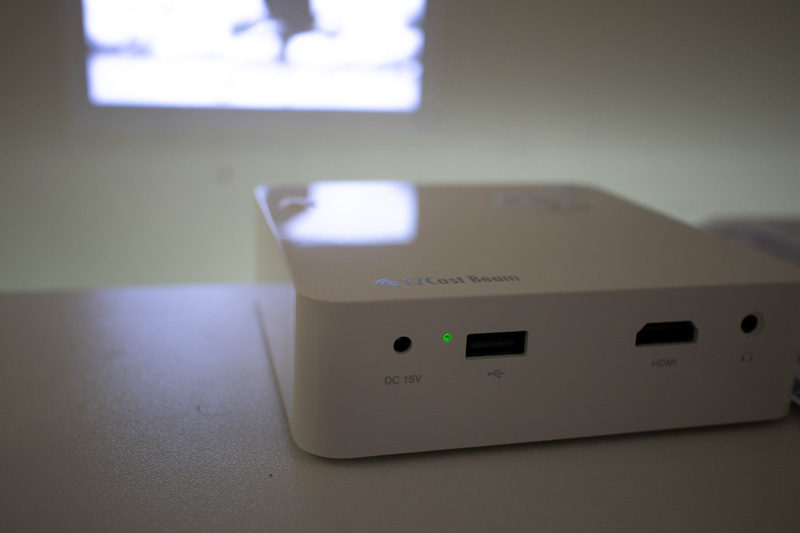 REVIEW – I've owned and reviewed a couple of projectors, but never a "portable projector".  This category of projectors tends to be smaller (for portability of course), and typically includes built-in batteries to allow for viewing away from a power source.  As a tradeoff, they have lower brightness levels and lower native resolutions than equivalently priced non-portable DLP projectors. An advanced degree is required to sift through the (often misleading) marketing terms plastered on most projectors these days, so I'll relay my experience from actual use.  I tested the EZCast Beam J2 DLP WiFi Projector with a wide variety of inputs and in different conditions over several weeks of use.
What is it?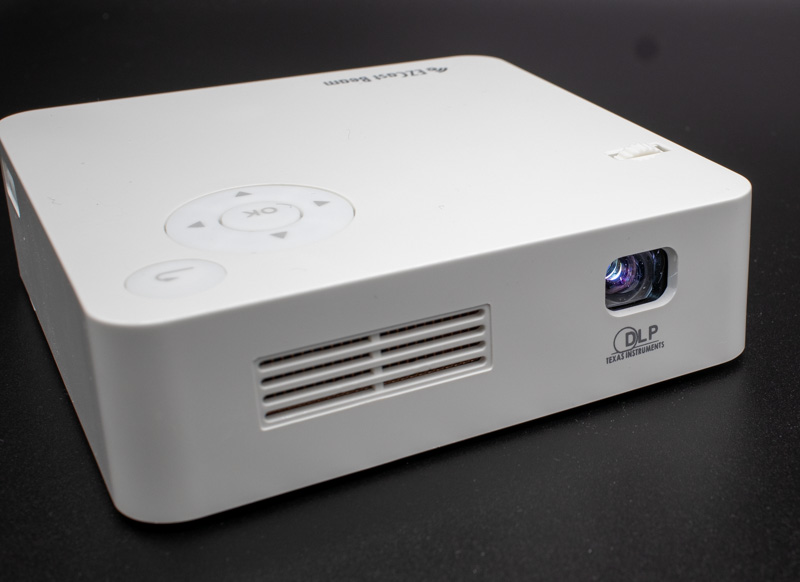 The EZCast Beam J2 DLP WiFi Projector is a DLP (Digital Light Processing) projector.  Accepting both HDMI and wireless source inputs allows it to connect to a wide variety of devices, including dongles and boxes like Apple TV, Roku, Chromecast, and Google TV devices.  Being roughly the same footprint as a CD case, it's quite portable.  The internal battery allows it to project content for 2-8 hours depending on brightness settings.  Projectors all over the market advertise "1080P capable" or "FULL HD INPUT" to mask their actual native resolution.  I wish they'd stop this marketing-lingo arms race and just post their native resolution upfront (many portable projectors like this one are 480P, standard definition).
What's in the box?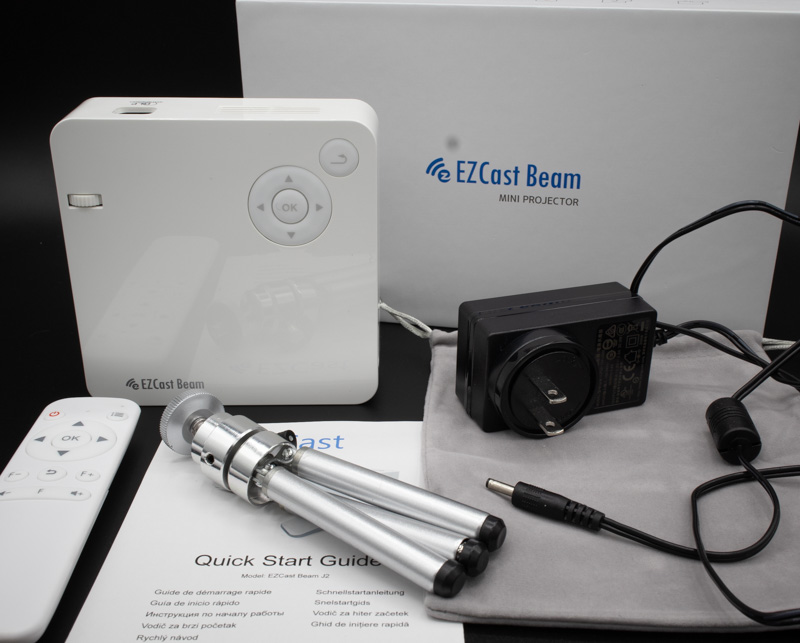 Included in the box is the EZCast Beam J2 DLP WiFi Projector itself, an RF remote control (AAA batteries not included), metal tripod stand, manual, AC Adaptor, and carry bag.
Hardware specs
Projection type: DLP (LED bulb with Digital Light Processing)
Brightness: 300 ANSI lumens
Contrast: 5000:1
Native Resolution: 480P
Supported Resolution:  1080P
LED Life: >20,000 hours
Throw Ratio: 1.3 to 1
Focus: Manual
Throw distance:  2.8 – 9.4 feet (0.86 – 2.88 meters)
Screen size: 30 – 100 inches
Aspect Ratio: 16:9
Portrait Mode: auto-portrait projection
Keystone: Auto vertical keystone and manual (digital) adjustments available
Battery: 9,000 mAh
Inputs: USB and HDMI
Audio Output: 3.5mm
Speaker: single 2 watt
Dimensions:  4.5 x 4.5 x 1.25 inches (115 x 115 x 32 mm)
Weight:  0.88 pounds (400 g)
Design and features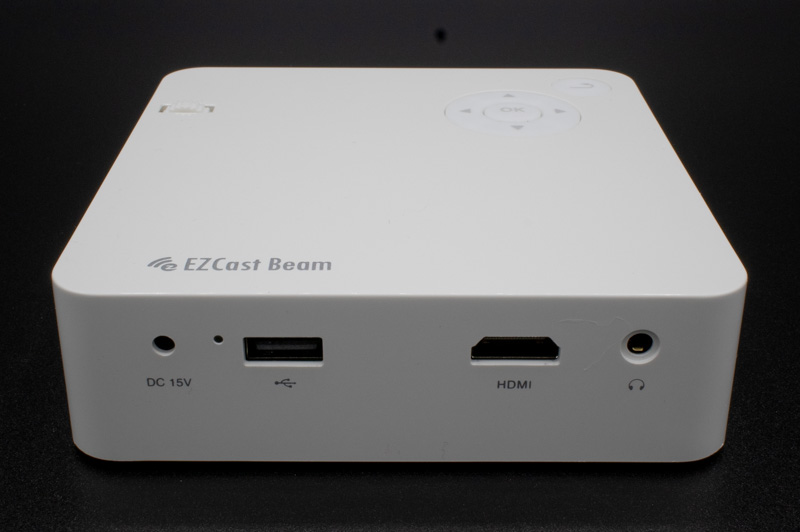 The EZCast Beam J2 DLP WiFi Projector is a clean white square plastic device with rounded corners.  It's smaller and lighter than I would have expected, making it very portable.  On the backside there is the HDMI input, USB input, audio 3.5mm output, and power input.  I have 2 gripes right away:  first, the power jack fits the audio hole perfectly so I plugged it into the wrong spot multiple times in dark rooms.  Luckily this doesn't seem to cause any damage, but obviously, it doesn't charge if you make that mistake.  Secondly,  they went with a proprietary barrel-plug power input instead of a more common USB-C input.  With a 2 hour runtime at normal brightness settings, you won't quite be able to finish longer movies, so a USB-C power input would have been hugely useful, I could have used one of the many USB-C portable chargers I have to extend that battery life.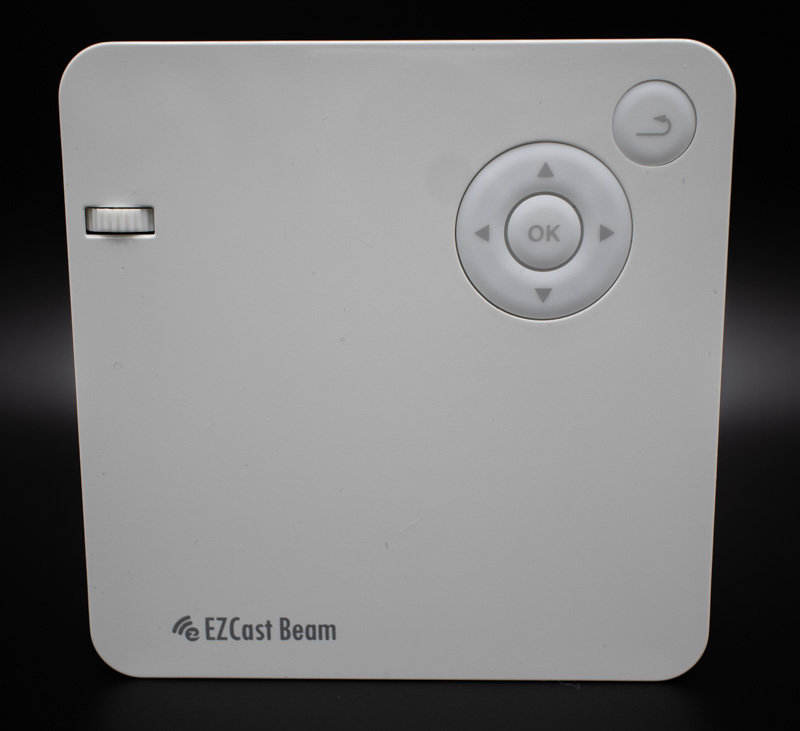 On top of the device are the manual focus adjustment and physical button controls.  These worked fine for navigating menus, but I definitely prefer the remote.  The focus adjustment was like most of the cheaper projectors I've tried out and owned: no matter how I positioned the projector in relation to the screen, I couldn't get the entire screen in perfect focus.  Focusing the left half of the screen leaves the right slightly fuzzy, and vice-versa.  I typically adjust focus for the center of the screen and just deal with the edges being slightly blurry, I guess maybe at this price point you might not be able to get good enough glass and quality control for consistent focus across the entire image?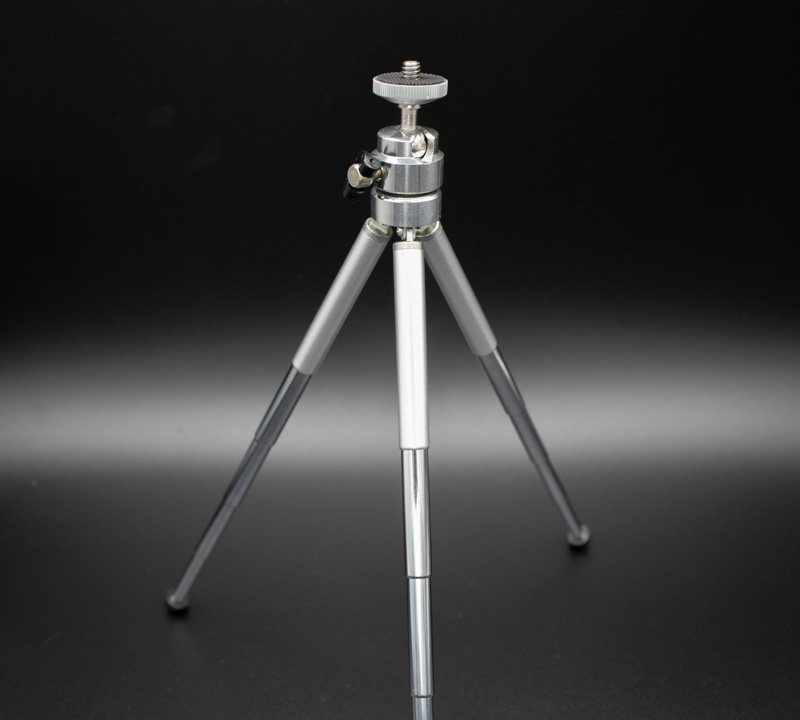 The tripod was better than the ones I've had included with other projectors.  It's a metal build, the swivel head locks securely when tightened, and the telescoping legs were solid and stable once set up.
On the bottom of the unit, we see the standard projector mount (this is the same size as a camera tripod mount, meaning you can also use camera tripods or grips if desired).  It also has rubber feet to sit flat, and a non-adjustable plastic kickstand to give it a slight upward angle (nice for a scenario like a conference room).
On one side is a rubberized power button and LED to indicate power status.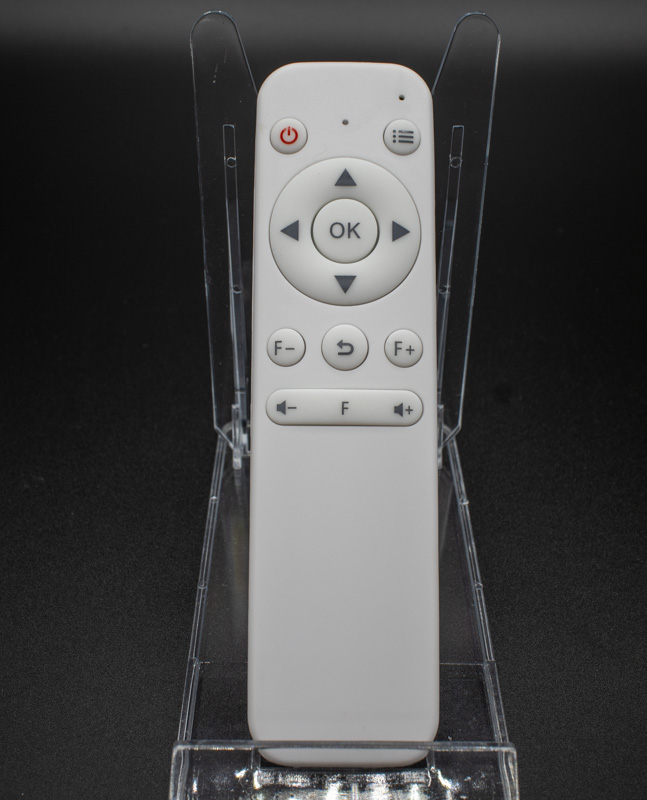 The remote is a fairly basic affair, but it worked well in testing and seems like it won't immediately fall apart.  All buttons worked easily and weren't difficult to press or hard to register.  There was a delay between button presses and on-screen response, which is fine for most situations but annoying when entering wi-fi passwords.  Not a huge deal, but it's definitely not snappy.
Installation and setup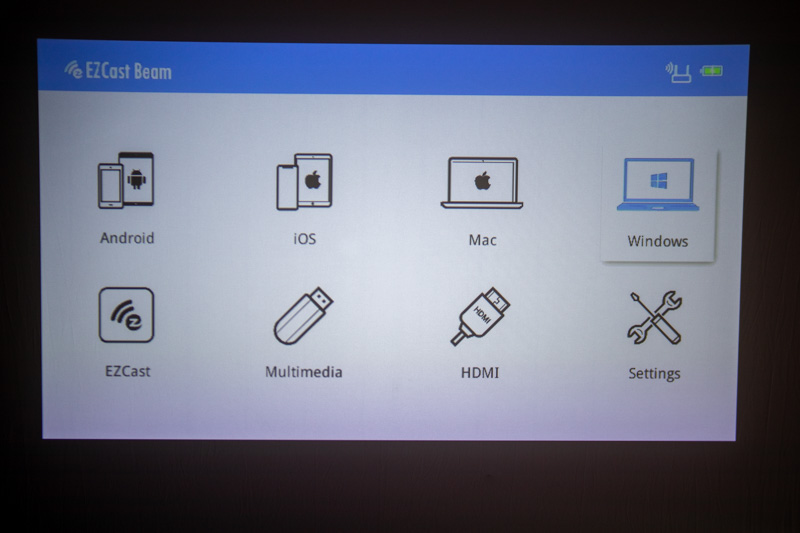 Installation and setup were fairly easy on my Android phone.  The EZCast software handles streaming from Android/iOS/Mac/Windows devices, and you can also plug in USB devices like flash drives, while the HDMI port allows for pretty much any other video-capable device or game console.
In a dark room and using 30-40 inches of screen real estate, the picture was bright and looked sharp with most media.  If you switch to mirroring a PC screen with an Excel spreadsheet or lots of text, you'll quickly notice the lower resolution, but while watching movies and TV shows I thought it looked pretty good.  Placing the projector farther away to achieve up to 100 inches is doable, but the picture becomes much dimmer and the low resolution much more apparent.  I think for most people this will be best used with a smaller screen (it's great for camping and simply projecting on a tent wall or white cooler).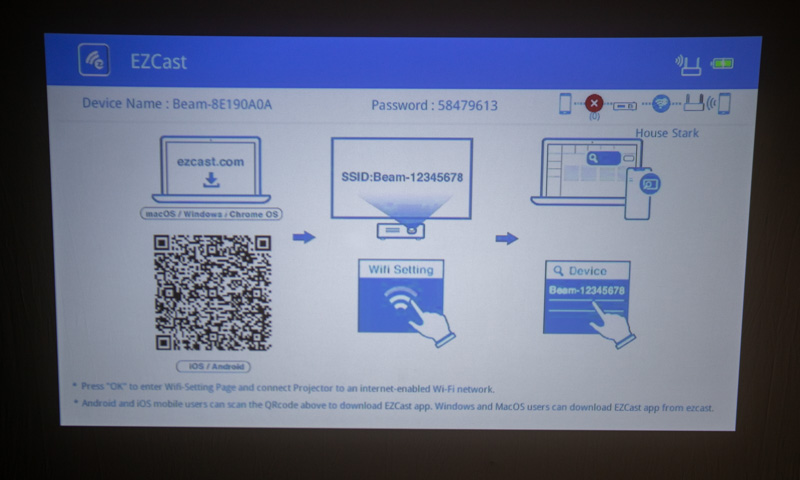 Casting media from a phone to the projector was easy enough with the onscreen guide, though it does require an app to be installed for some functions.  I was able to mirror my screen on my Samsung Galaxy Note 20 Ultra using the "EZCast" mode without any app install, though I did also test the app out as well.  According to their documentation, it looks like this mode is using the Miracast protocol (maybe?), so that should be an option for many devices.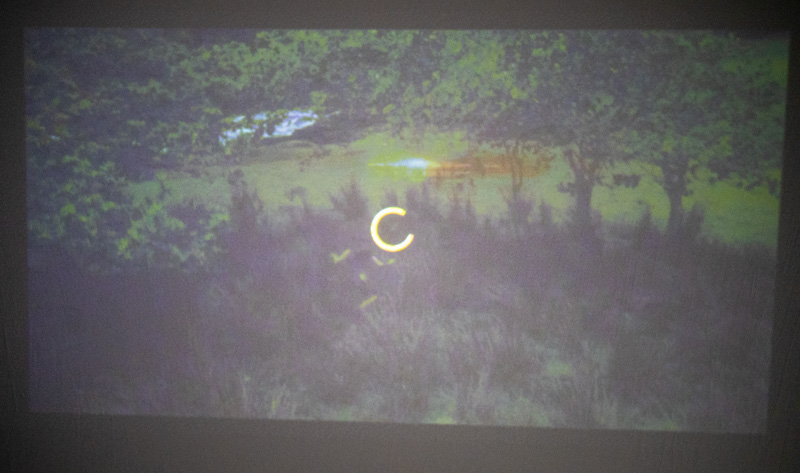 Using the native app and streaming media from my Plex server was a buffer-fest.  I tried multiple sources and files, and they all suffered from buffering and pausing.  Other devices on the same network have never had any issues at all with the same movies and settings.  Maybe they'll improve this in the future, but I had to switch to full-screen-mirroring to actually watch anything from a phone or PC over wifi.
I tried out a variety of media formats on a flash drive, and it recognized the AVI files, but not the h.264 MP4 files I had on hand.
The speaker was pretty quiet and lacked bass entirely.  I would recommend a portable speaker or headphones if you're taking this camping or using it in the backyard (you'll need to connect it with a 3.5mm standard audio cable).
Battery Life
The EZCast Beam J2 DLP WiFi Projector had confusing battery life claims in several spots on their website and Amazon page so I ran the projector through many tests with a variety of inputs and sources and settings.  After many tests, I was able to find a consistent pattern: about 2 hours of battery life on Standard brightness, and 8-10 hours of battery life on Eco mode.  I was worried that using the EZCast Beam J2 DLP WiFi Projector to process/receive video would impact battery life, but it seemed to have a negligible effect in my testing.  The projector automatically switches to Eco mode when the battery is low, but it seemed to do so right before the battery died, so it only gave me a few more minutes on a dim setting at the end of the 2 hour stretch.  It would have been nice to have this kick on at 20% battery (maybe with an override option) so you could get another hour or so if needed.
What I like
Very portable
Enough battery life to make it through most movies
Decent brightness for the size
What I'd change
USB charging port instead of barrel-plug
480P native resolution is noticeably low except on small screens
Finicky casting software needs improvement
Add a lens cap
Final thoughts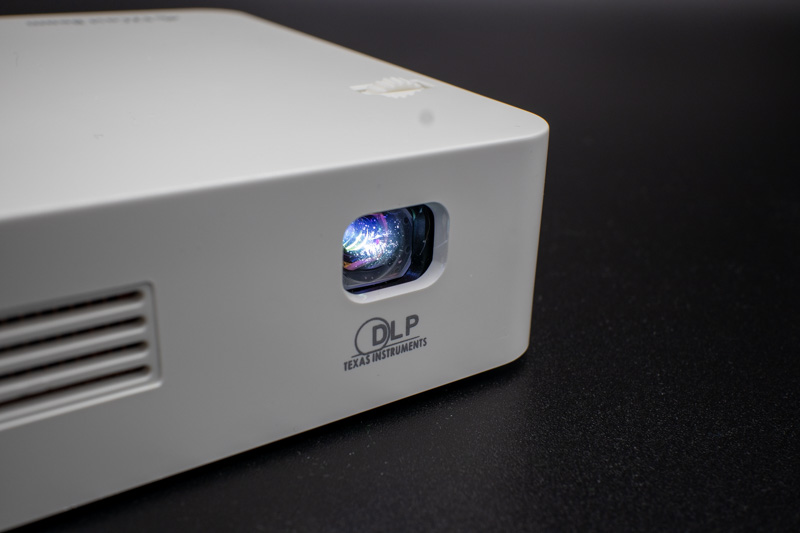 Overall, the EZCast Beam J2 DLP WiFi Projector seems like a pretty decent portable projector.  It would be fantastic for camping, I'll be bringing it and projecting it on the wall of our tent this summer (or on a screen suspended between trees).  It's competitively priced compared to the other 480P-native projectors on the market today, and in a dark room (or dark night) the eco mode will allow for multiple movies on battery, even if it's a bit dim.  For backyard movie nights I'll stick with the Vankyo Leaisure 410 I reviewed last year, it's definitely a better picture minus the portability.
Price: $199 on Amazon, $224.10 on EZCast at time of review
Where to buy: Amazon or EZCast
Source: The sample for this review was provided by EZCast