We use affiliate links. If you buy something through the links on this page, we may earn a commission at no cost to you. Learn more.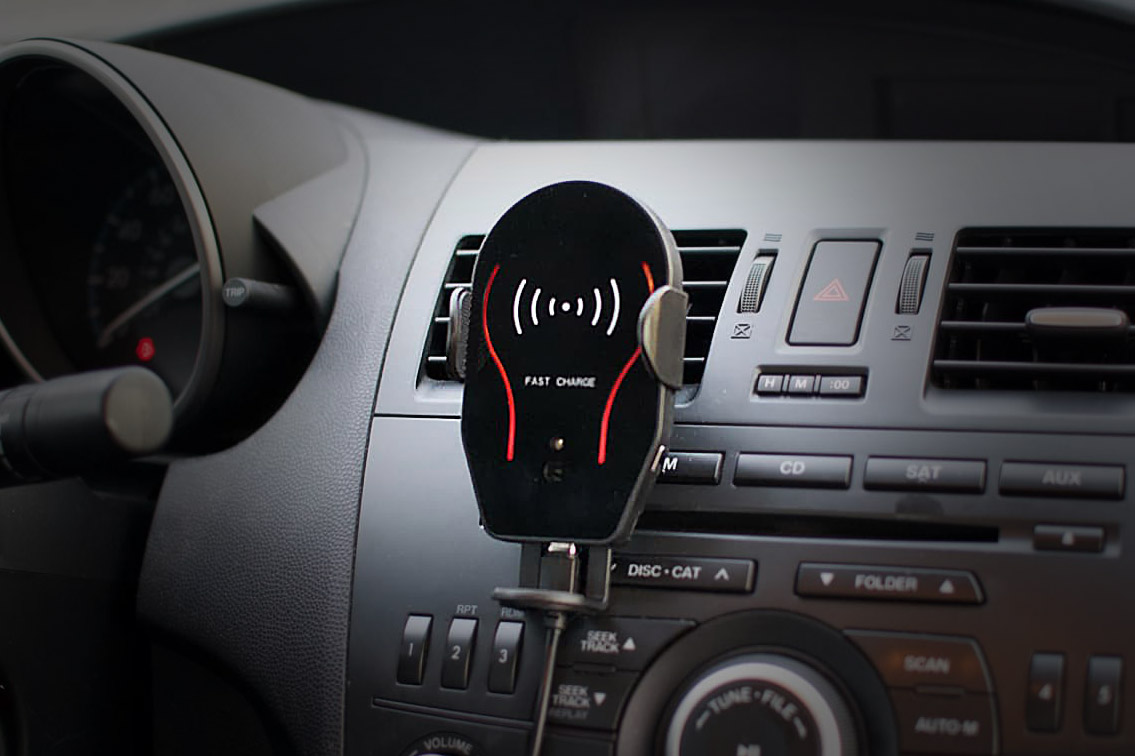 REVIEW – One of the joys of getting to review gadgets is being introduced to obscure brands. Sometimes, they really do surprise you — in a good way — like this little Qi Wireless Fast Charger Car Mount (which is the official product name I believe) from a heretofore unknown manufacturer, VicTsing.
What is it?
VicTsing's Wireless Charger Car Mount is a phone holder with an embedded Qi-enabled wireless charging pad. It can be easily mounted to any flat surface or securely clipped to a vent.
What's in the box?
wireless charging bracket
air vent clip
3M adhesive surface mount
user manual
USB-C cable and adapter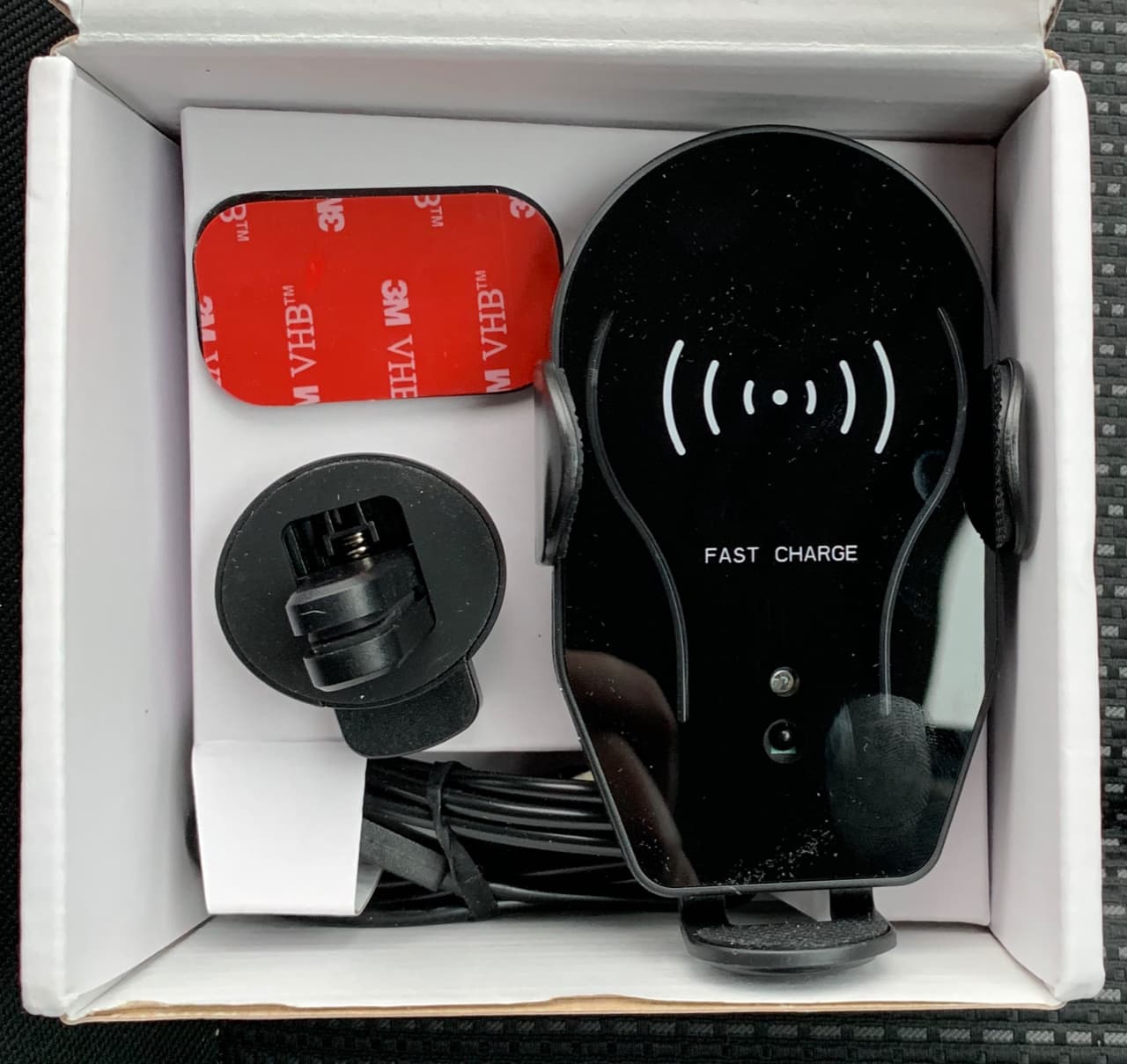 Hardware specs
Latest Qi Standard Tech
Material: ABS+PP mirror + silicone
Compatible with 7.5W and 5W
Input: 5V/2A 9V/1.67A
Compatible devices: iPhone Xs Max/Xs/XR/X/8P/8,Galaxy S9/S9 Plus/Note 8/9/S8+/S8/Note 5/S7 edge/S7 and other Qi enabled devices
Automatically adjusts to hold phones of size from 4.0"-6.0"
Charging distance: <= 8mm
Charging efficiency: >=82%
Product size: 11.3 x 6.8 x 4.5 mm
Color: Black
Design and features
VicTsing's iteration of the simple car mounted charger looks very much like many other phone mounts you may have seen. It's a basic side-arm mount with an adjustable support foot that the bottom of the phone rests on.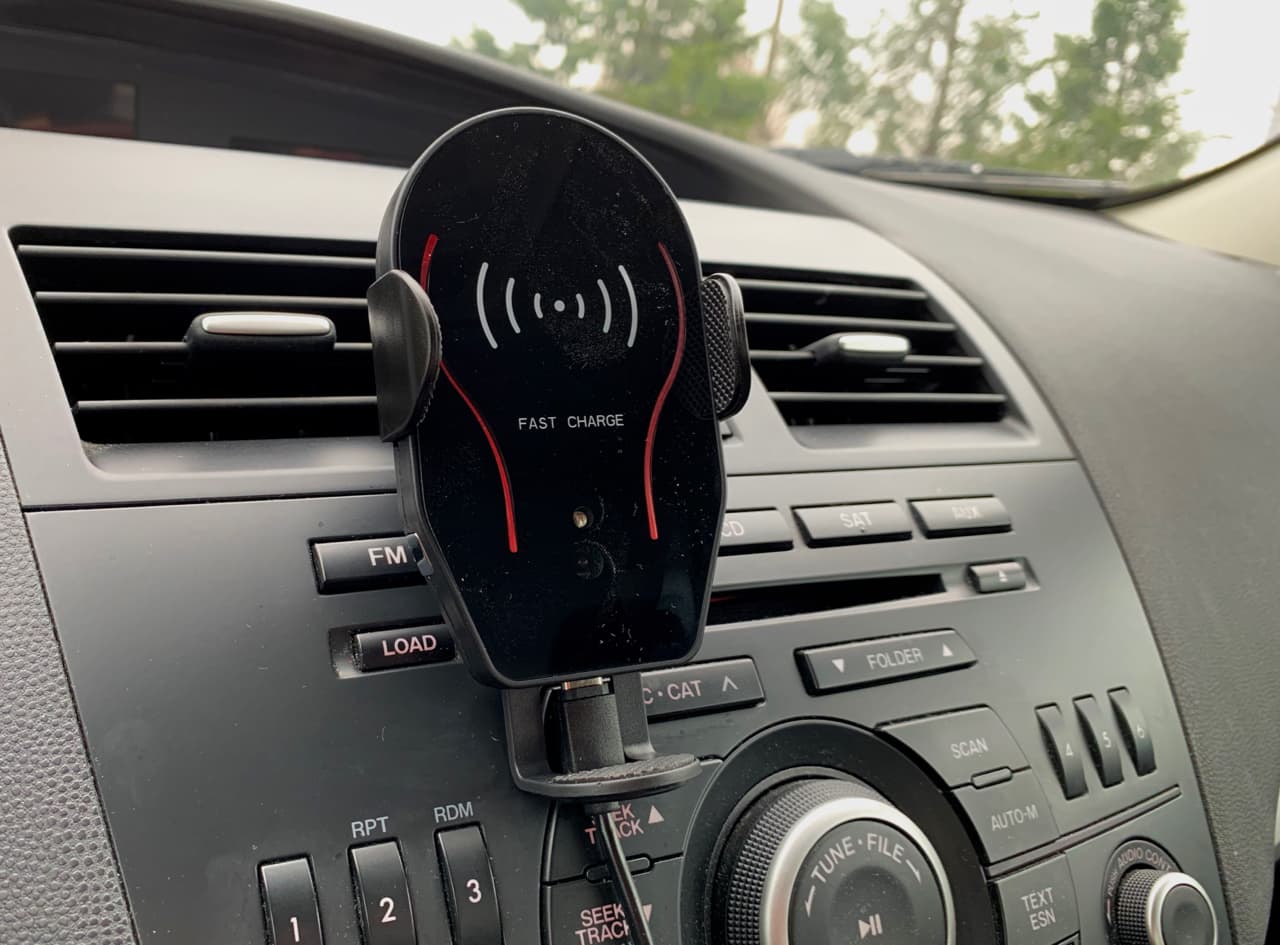 However, one unique feature of this phone mount is the IR-activated arms that extend out when an object is placed near the sensor, and automatically "hugs" the phone to form a solid grip. It's a cute feature that never fails to make me smile, seeing this small charging pad's arms extend out and grab on to the edges of my phone like a warm embrace.
Initial setup is easy, but your mileage will definitely vary on where the mount itself can be positioned. My car, thanks to Japanese efficiency, has no flat surface to spare, so I had to opt for a vent-clip mount approach.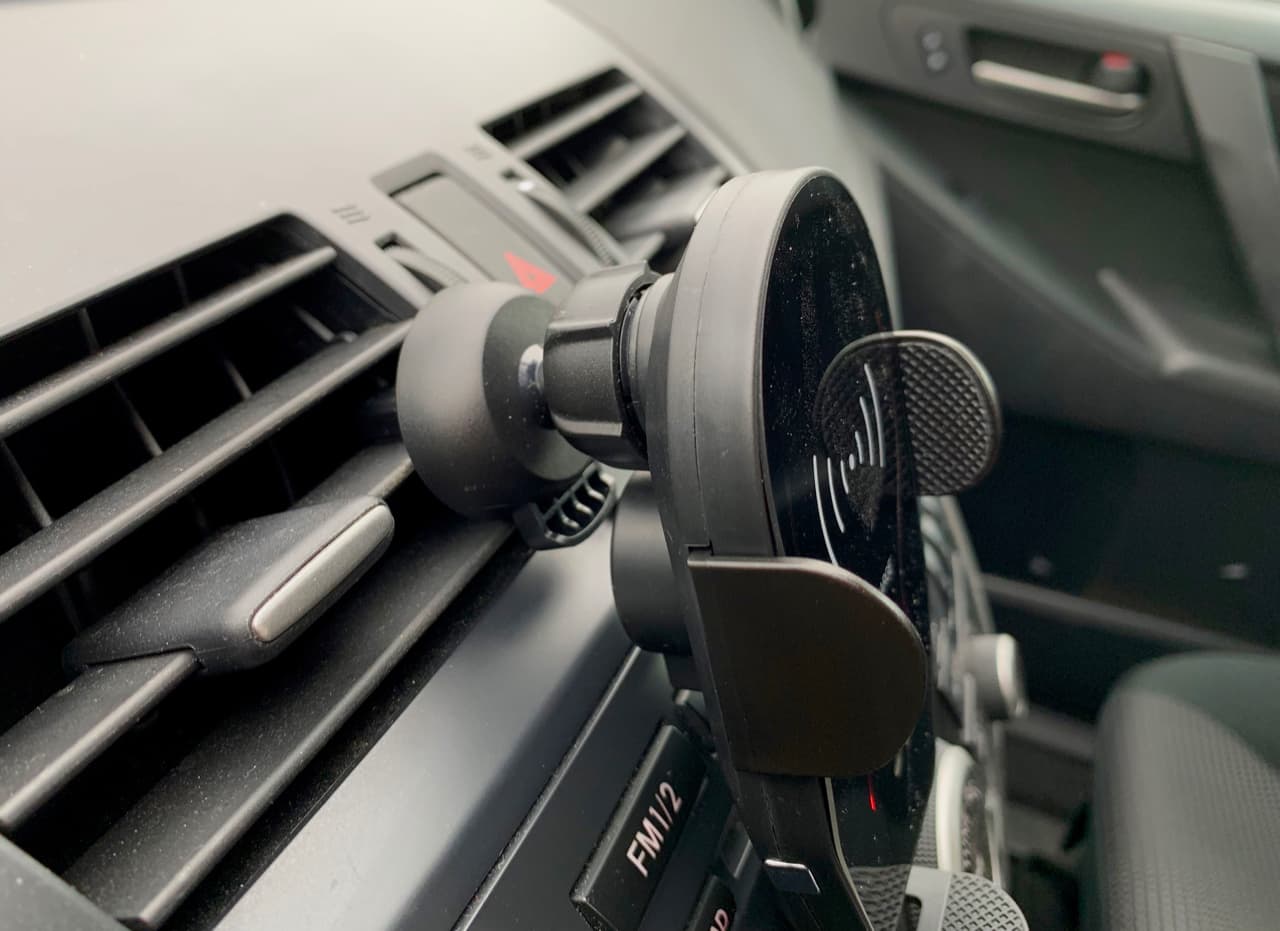 I can't say I'm a fan of having to block an entire vent, of which there are only four, effectively decreasing cabin air conditioning by 25%. I'm even less than a fan of the charging pad and USB cable covering up the stereo system buttons. The overall effect is ugly, as you can see.
I had tried mounting the charger a little to the left of the wide vent, but that resulted in activating the "hug" every time my hand veered too close to the sensor when my phone was undocked. After several times of hearing that sad little robotic embrace, I had to move the charger back to its original place over the stereo buttons.
I should mention that this isn't a knock against this mount in particular. I'd have the same issue with any vent-clip design. It's, unfortunately, the most universal approach to making a phone mount work with as many vehicles as possible.
However, the clip was quite secure. Once I got the 360º knob tightened and the clip positioned as deep as it would go into the vent, my phone didn't go anywhere, even around sharp corners.
The functionality of the charger is great. It's a standard 7.5W fast charger, so you can expect it to juice up your phone as quickly as one would expect, if your device supports it. I'd say it was a pretty consistent 4-5% per 10 minutes for my iPhone XR, but that would depend on the total capacity of your battery. No issues here.
It takes a little bit of practice to center your phone in the charger while placing it in the holder. Once your phone is about 3" away from the charger, the IR sensor triggers and the arms extend to their maximum width of about 6". Then, after a 2-second delay, they close. That's about the time you get to try to center the phone in the charger, place it flat against the charging pad, and make sure the bottom of your phone is nestled against the "foot" of the harness. Then the little arms hug that phone and sort of lock into place.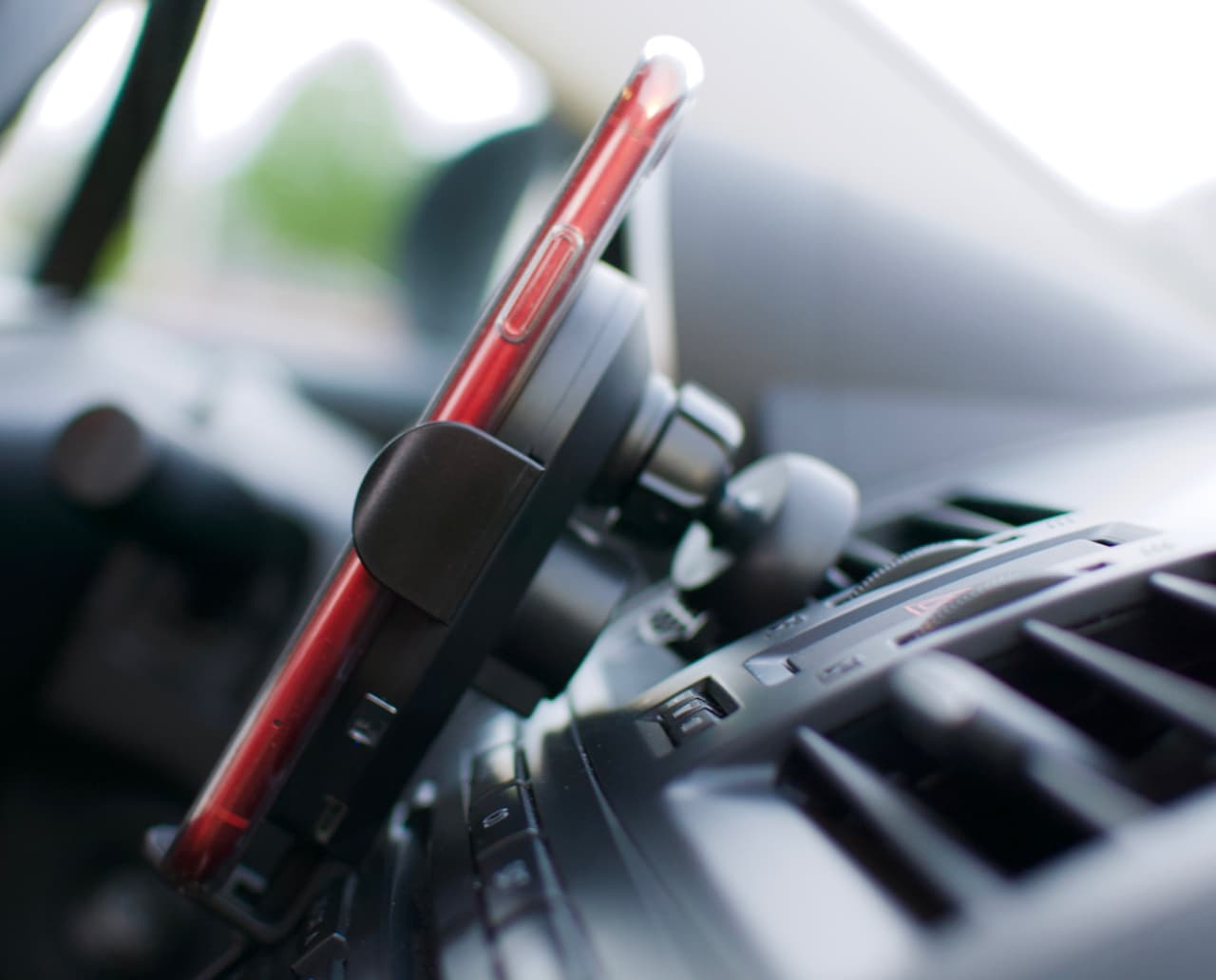 If you're a little bit too far to the right or left, it doesn't create as good of a grip, so you sort of have to give your phone a little wiggle to get it into place. It might have to do with the silicone case that I have on my phone, it might be gripping the rubber on the foot a little too much to allow it to easily center. But I've gotten used to it, and you really only have to mount it once before you start driving.
To detach your phone, there are two silver capacitive buttons near the bottom of the charging pad. Simply brushing one of them with your finger is enough to trigger the arms to open again, and you can lift your phone out. You could try to lift it out without engaging the opening action, but you'd probably pull the entire charging pad and vent clip out before removing just your phone. That happened to me at least twice before I got the hang of the whole operation.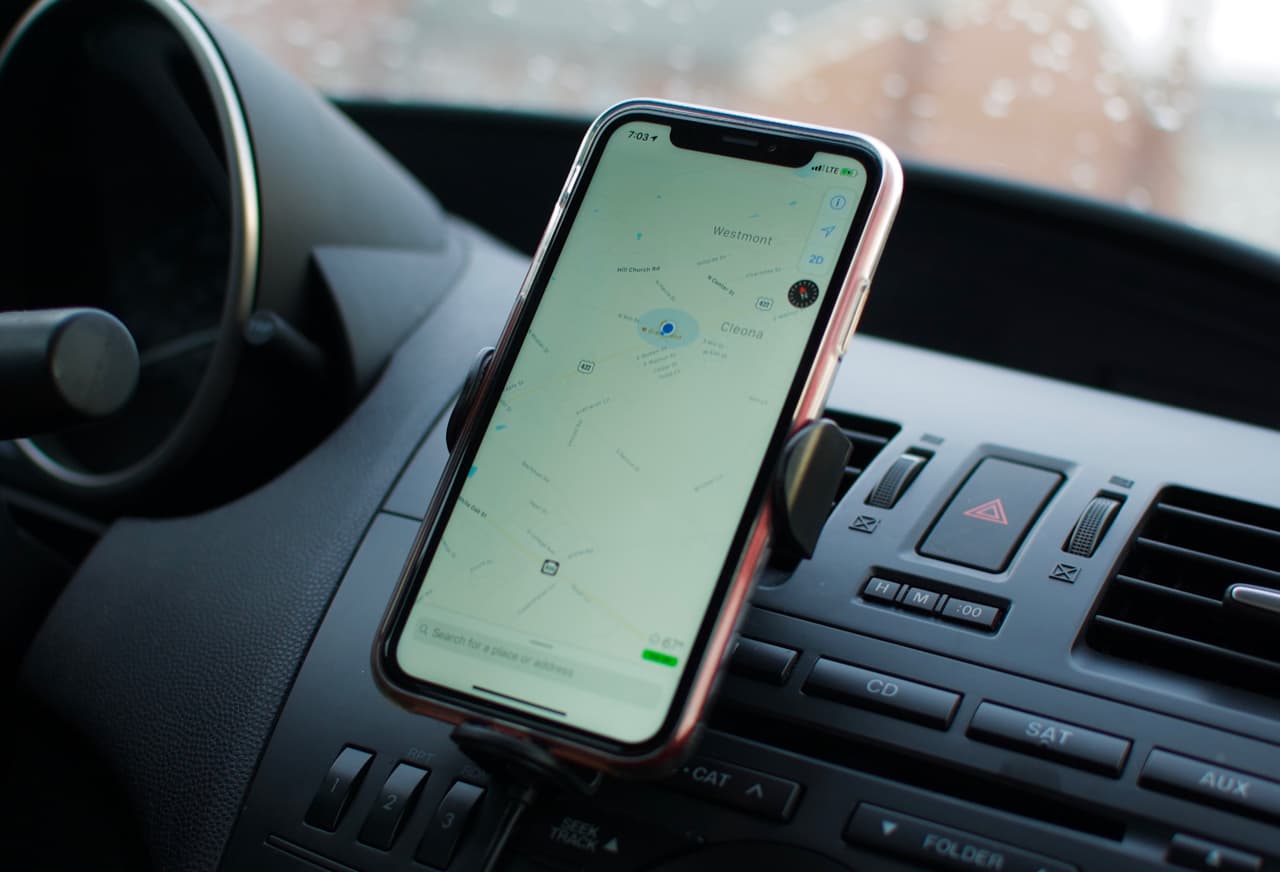 But once I figured out how to play nice with this little charger, I liked having my phone in a spot where I could fast-forward a podcast or check out a map without palming my phone.
I imagine anyone with a CarPlay system wouldn't have much use for a charging mount, however, or anyone with a newer car that have Qi wireless charging pads in the console somewhere.
For $22 (yes, just 22 bones) you get a no-fuss phone mount, wireless charger, and friendly little hug-bot all in one. That's pretty hard to beat.
What I like
IR sensor auto-opens to give your phone a little hug
Excellent value for the price
What needs to be "improved"
Blocks vent air flow
Potentially blocks other buttons due to cable
Final thoughts
I feel any of the negative thoughts I could have about this charger are more of an indictment of any vent clip or suction mounted holder, and aren't specific to this particular device. This is a great little charger mount, especially for the very low asking price of $22.
Price: $21.99
Where to buy: WalMart.com
Source: The sample of this product was provided by VicTsing.