We use affiliate links. If you buy something through the links on this page, we may earn a commission at no cost to you. Learn more.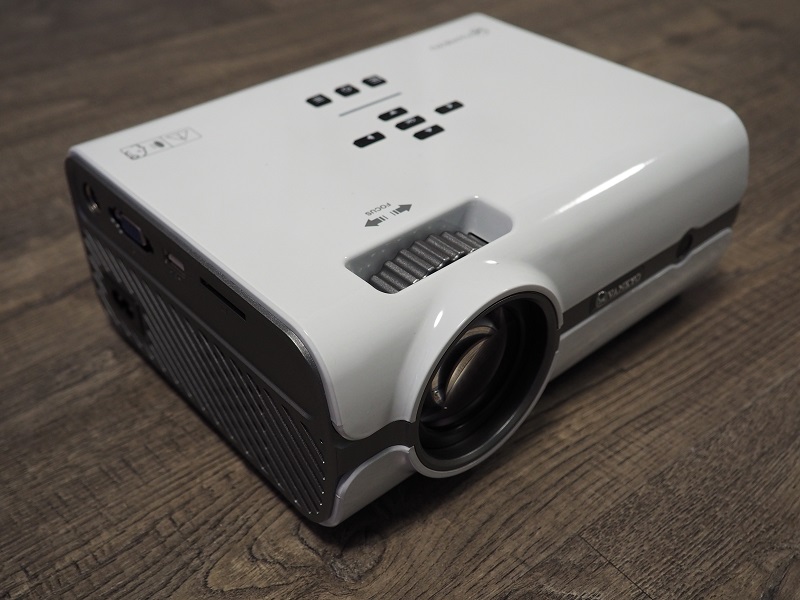 REVIEW – When I was younger I had a projector instead of a TV.  I loved the larger picture, but as a heavily used living room TV it was far from ideal: any light in the room detracts from the picture, the constant fan noise was annoying, and the unit broke after less than a year of use.  Even if it hadn't broken, I was on track to use the lamp's estimated lifespan by the end of year 2, making it an expensive proposition over time.  I think the VANKYO Leisure 410 [2020 Upgraded] Mini Projector might hit the perfect sweet spot for a lot of people who are looking for a projector as a secondary/occasional-use device.  VANKYO was nice enough to also send a 120″ screen to help with the review, and I look forward to many summer movie nights to come!
What is it?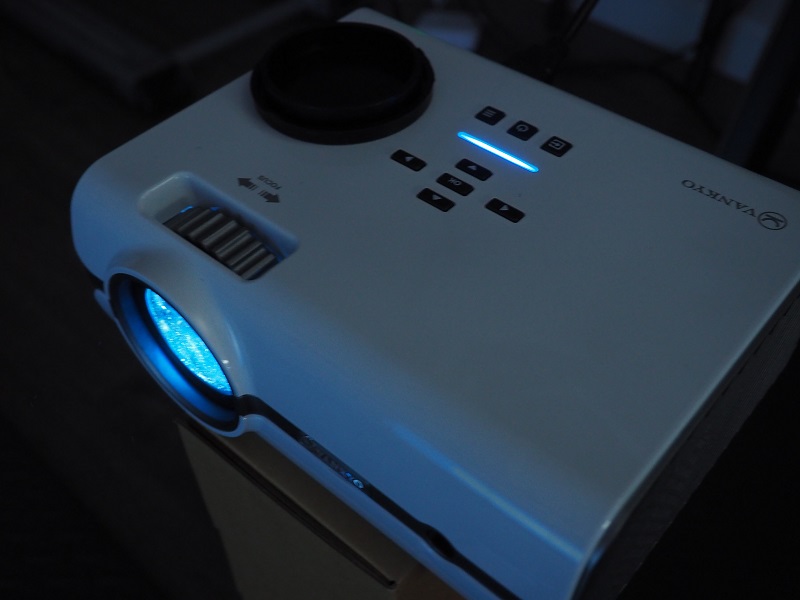 The VANKYO Leisure 410 [2020 Upgraded] Mini Projector is a high definition LED projector.  It is marketed as an entertainment device, suitable for watching movies, television shows, and playing games.  VANKYO specifically warns that it is not well-suited for text-based content like slide presentations, and I can confirm that text is fairly blurry.
What's in the box?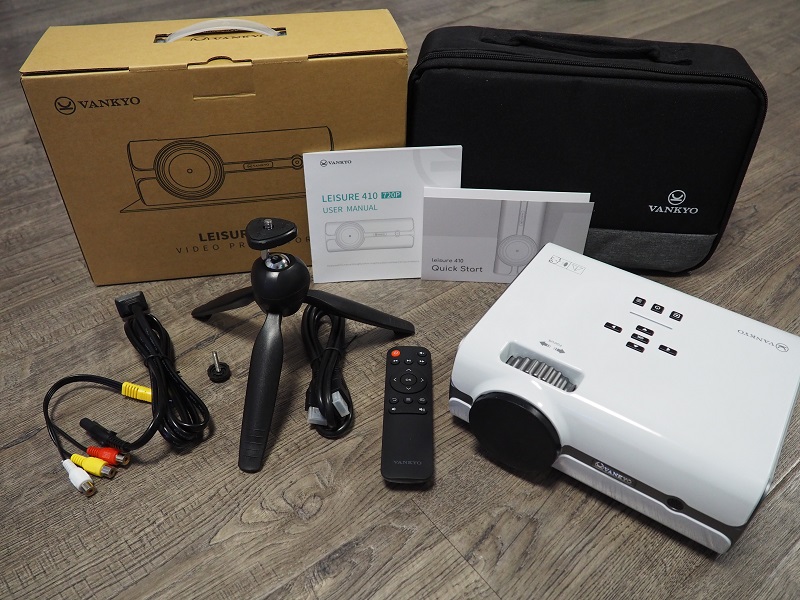 Included in the box is:
VANKYO Leisure 410 [2020 Upgraded] Mini Projector
Adjustable Tripod Stand
Power Cord (US 2-prong)
RCA Video Connector
HDMI cable
Remote
Manuals and quick start guide
Travel case
Adjustable "foot"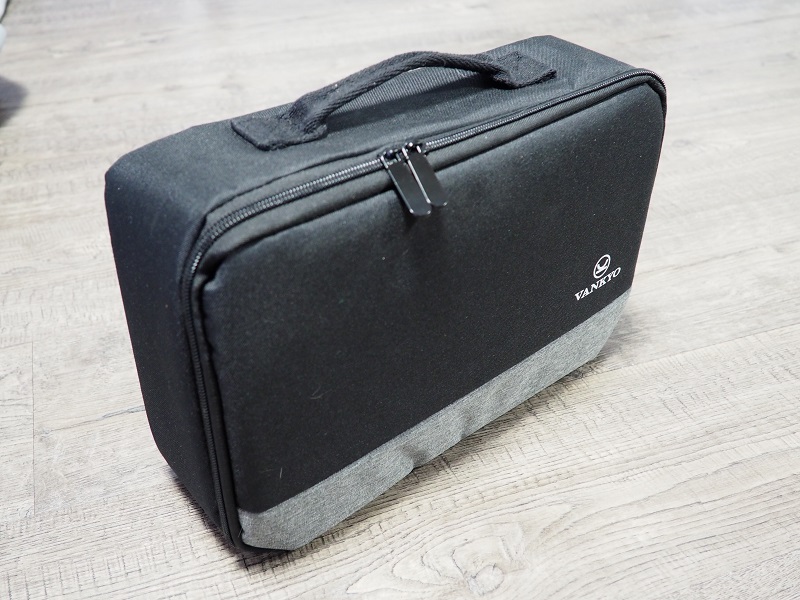 The travel case is nicer than I expected for a free extra, it securely packs all the included items with a bit of room to spare (perfect space to add a small streaming device like a Chromecast or Roku)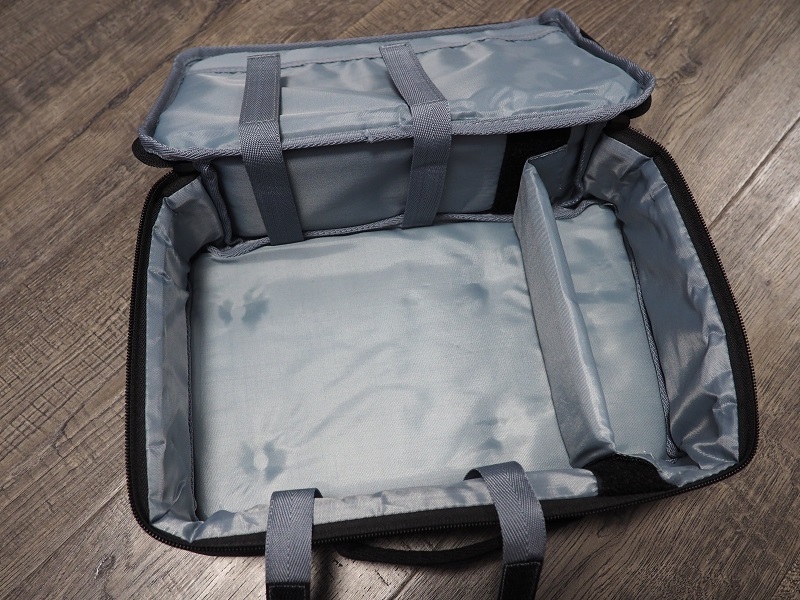 The projector itself is secured with straps, and the material/stitching/zippers all were good quality on my review unit.
Hardware specs
"1080P Supported" resolution (native resolution is 720P)
4000 Lux brightness (lux is a measurement of brightness over an area, so this statistic is unfortunately meaningless since they don't specify the size of area measured)
Supports screens from 33″ to 200″, at a projection distance of 3.6 ft to 21.7 ft
Compatible with VGA, USB, SD, AV, and HDMI inputs
Built in speaker (not stereo)
Design and features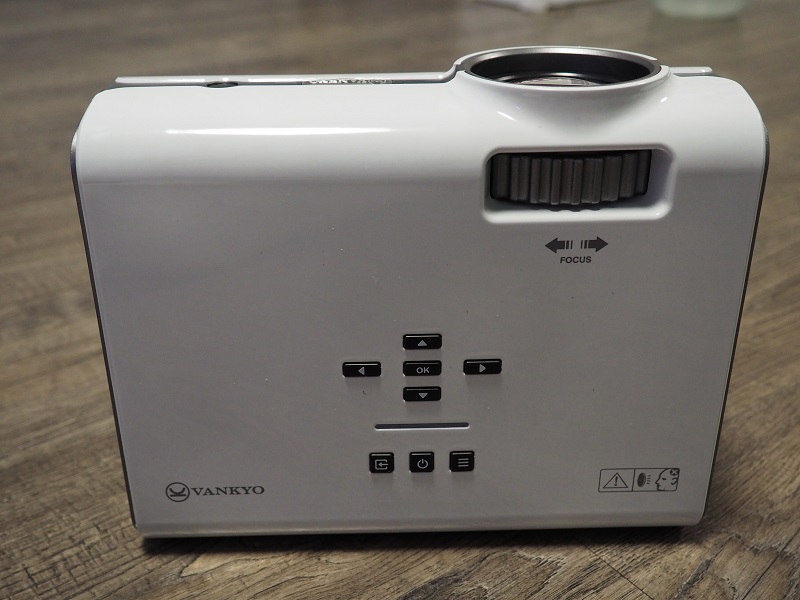 On the top we have the focus dial, controls, status LED light, and helpful "don't stare into the light or your brain will X" warning.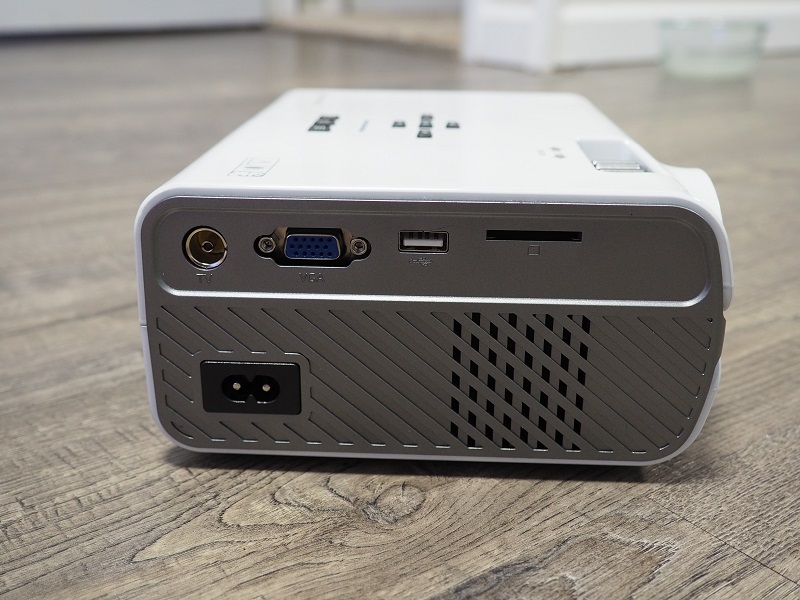 On the left side of the unit we have the AV/RCA input, VGA, USB, and SD card, as well as the power connection.  I was pleasantly surprised that the USB type A port can supply power to media units that accept USB power (like the Chromecast and Roku Premiere).  I couldn't find details on exact voltage/amperage for this port, so it may not work to supply power to all types of devices, but the ones I mentioned above worked great for hours with it.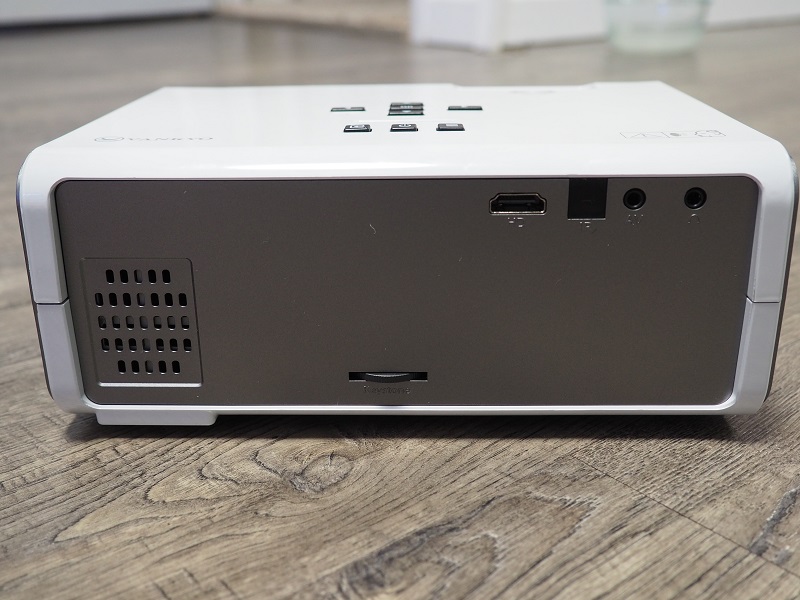 And on the back we have a standard HDMI port, the infrared remote sensor, audio in, audio out, and keystone adjustment.  I tested several devices with the HDMI input including Chromecast, Roku Premiere, and various laptops and all worked as expected.  The remote matches the button functionality on the top of the projector, and was detected easily from 30 feet behind and to the sides of the unit.  The keystone adjustment is good for scenarios where your projector is higher or lower than the screen, it compensates for the stretching effect you will see in that scenario.  It can adjust about 15 degrees above and below normal, which was enough for everything I threw at it (but might not be enough if ceiling mounted very high or projected from the floor).
Installation and setup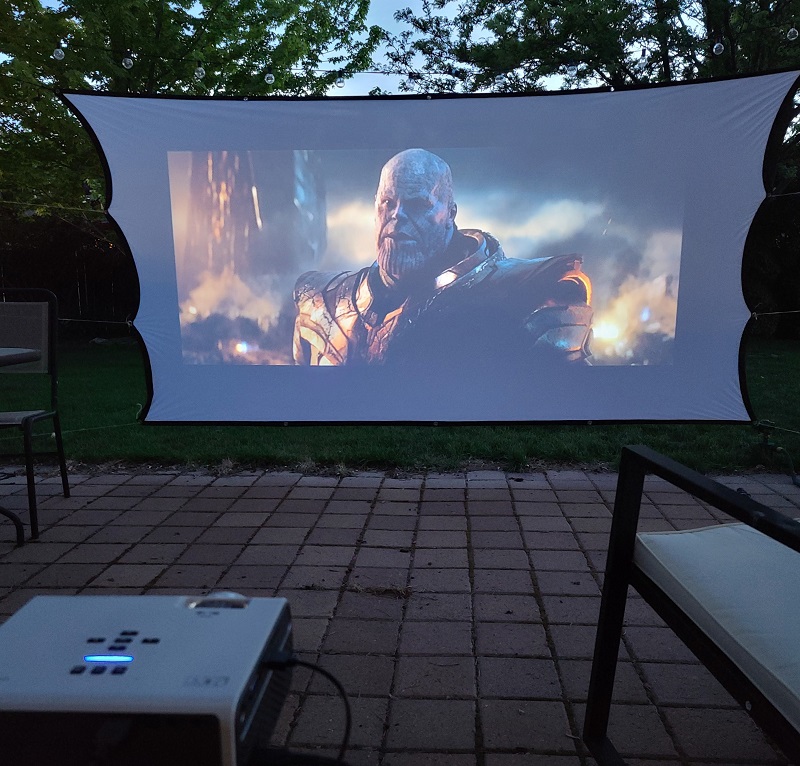 VANKYO kindly provided their 120 inch screen for testing (sold separately), which was easily strung up between posts for outdoor testing.  With any sunlight remaining, the picture was nearly impossible to see, but things improved once the sun set.  I tested with a Roku device, as well as laptops.  VANKYO advertises compatibility with smartphones and tablets if you have the correct cables (your-device-to-full-HDMI), but I didn't have any available to test with.  Setting up the projector was as simple as plugging things in, screwing in the tripod, then learning how to lock the tripod when the projector kept tipping slowly backwards (a bit of pressure towards the "lock" side of the adjust lever did the trick to lock it in place).  The included tripod felt like the weakest part of the set, it was difficult to get the projector perfectly centered on the screen and then locked: it would often tilt a few degrees as I tried to lock it.  Luckily, it's a standard camera tripod mount on the projector, so you could get a cheap camera tripod which would give you more control over height and position.  Once you have the projector in the correct position, you can adjust "keystone", which effectively stretches the picture to compensate for a high or low projector position.  Finally, you adjust the focus with the large focus wheel above the lens.  It was pretty easy to get the keystone and focus dialed in.
Performance and Usage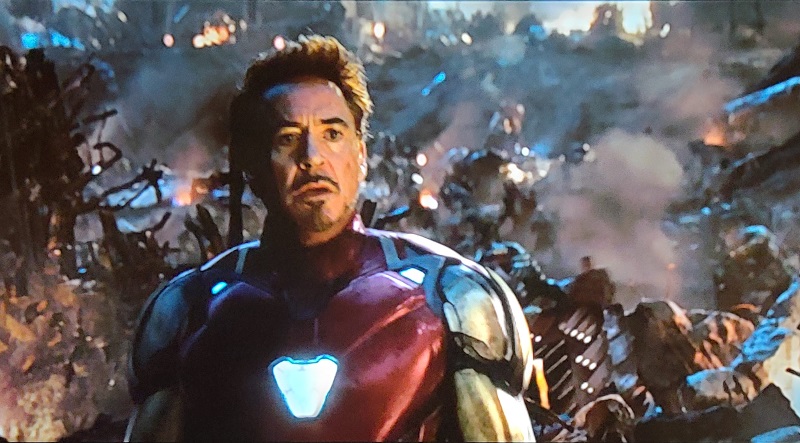 When it became dark, the picture looked very good.  I used about 100 inches of the 120 inch screen (to avoid some wrinkles on the edges, if you had a better screen you could definitely go larger).  Colors were vivid, and at a comfortable viewing distance the picture was just sharp enough for movies and games.  There were scenes where I felt like a real 1080P resolution would have helped, but for most of the testing period I didn't notice at all.  The "1080P supported" claim merely means that the projector will report to the source device that it supports 1080P.  However, if a full 1080P signal is sent then the projector itself downscales it to 720P, confirmed by my testing, I could see no difference at all in image quality between 720P and 1080P outputs.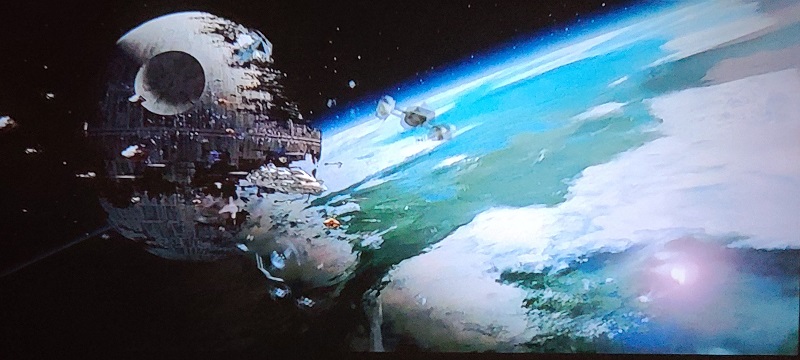 Dark scenes like the one pictured above looked fantastic as long as all other light sources are gone, but this is the nature of projectors in general – any stray light and blacks go to grey.  The Y Wing and TIE Interceptors look blurry in the shot above, but heavy action scenes with a lot of movement actually looked great.
I connected a gaming laptop via HDMI and played some Rocket League, which is a great benchmark for input lag.  With many streaming services and some TVs, it can feel very strange if the picture has a delay.  I'm fairly sensitive to this issue, but with this projector I could not feel any lag between my inputs and the screen at all.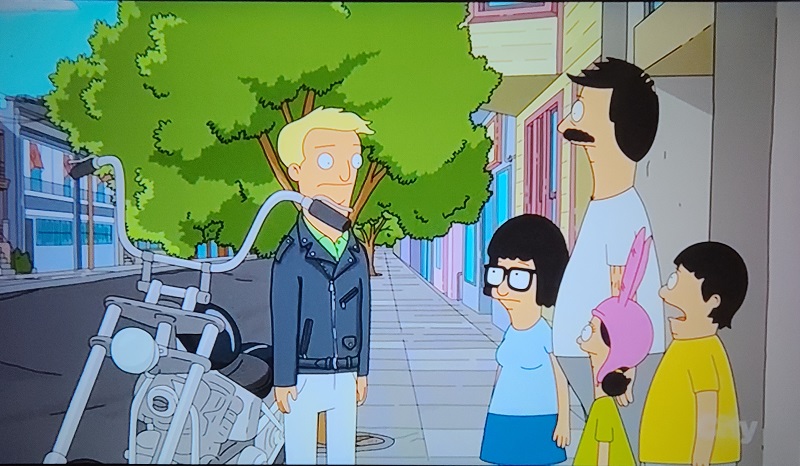 Colors were better than I expected, there are adjustments in the menu for color/hue/contrast/brightness but I found the defaults to be to my liking.  In all the test videos I tried out, things looked true-to-life, not over- or under-saturated.  The menu system was fine, no terrible English translations or strange menus to be found.  All of the expected controls and adjustments were easy to navigate with either the remote, or the buttons built onto the top of the projector itself.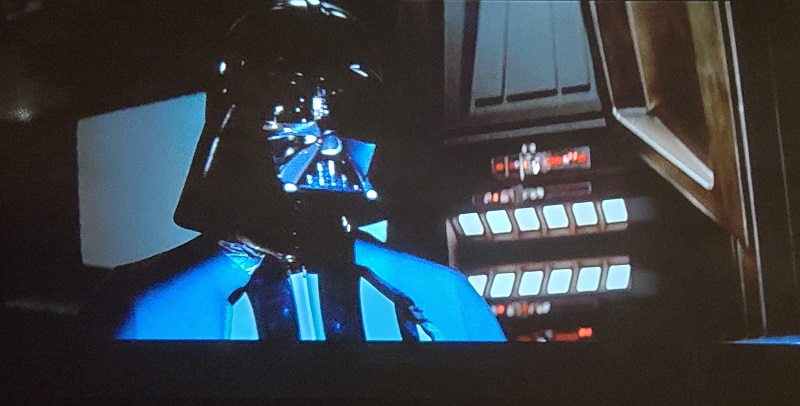 Even dark scenes performed well, I didn't feel like I was losing details when things became blacks and greys (though I didn't think to try the infamous Game of Thrones night battle from Season 8).
The built-in speaker is not great.  It can reach a decent volume, I could hear everything in a show or movie over the projector's fan noise (even outdoors), but it sounds tinny.  The lack of any bass and mono setup means I'll always be connecting a speaker to it when I use it (the 3.5 mm standard audio jack works perfectly for this).
What I like
Good picture performance for the price
Ease of use and setup
USB power delivery for devices like Roku/Amazon Fire Stick/Chromecast
What I'd change
The fan noise was fairly audible in quiet scenes
The built-in speaker is just loud enough to hear outdoors, but isn't great sound
"1080P Supported" marketing is annoying when the actual resolution of the projector is lower, but all the competing projectors at this price range claim the same thing.
The included tripod is nearly unusable.  I would either improve this or remove it and drop the price a bit.
Final thoughts
At this price point I was pleasantly surprised by the VANKYO Leisure 410 [2020 Upgraded] Mini Projector.  The overall image quality and performance were good for movies/tv/games and setup was fast and worked well with everything I threw at it (except text-based stuff).  If you're in the market for a cheaper projector that still has good quality, this might be perfect for you.
Price: $119.99
Where to buy: Amazon
Source: The sample for this review was provided by VANKYO.