We use affiliate links. If you buy something through the links on this page, we may earn a commission at no cost to you. Learn more.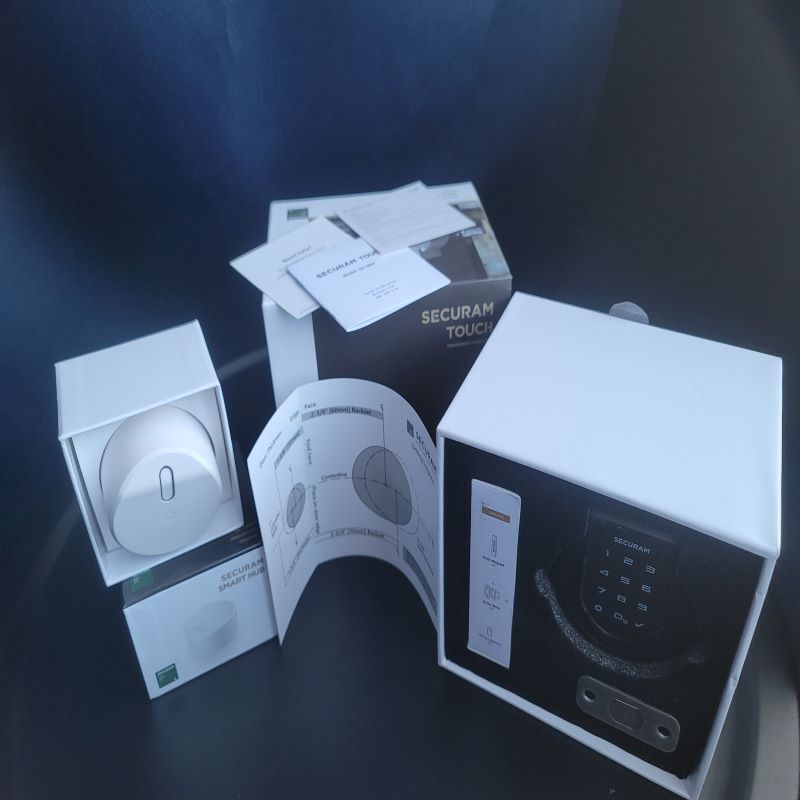 REVIEW – There's no denying most people have been spending a lot of time at home recently, so when I do get a chance to venture out I hate playing 10 minutes of  "Did I or didn't I?" trying to remember if I locked the door.  SECURAM Systems Inc. has released a smart deadbolt that totes the abilities to calm my anxieties. Or at least let me check and lock the door from my phone. 
What is it?
An electric, automated, and fingerprint-secured deadbolt lock by SECURAM Systems, Inc. Securam has progressed from secure locks on large interior safes to home security in this, the Securam Touch Smart Lock Deadbolt.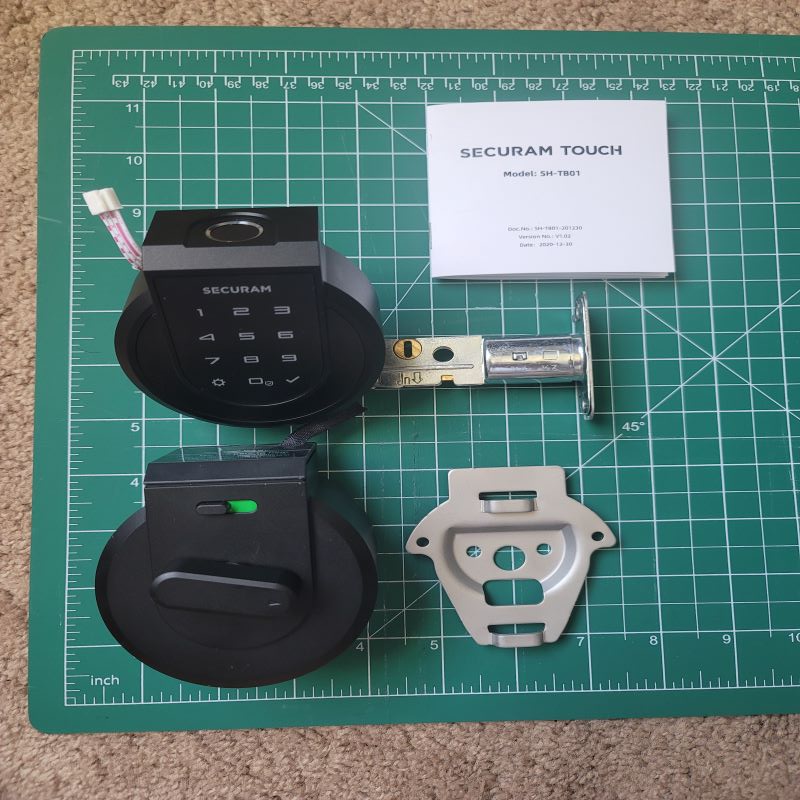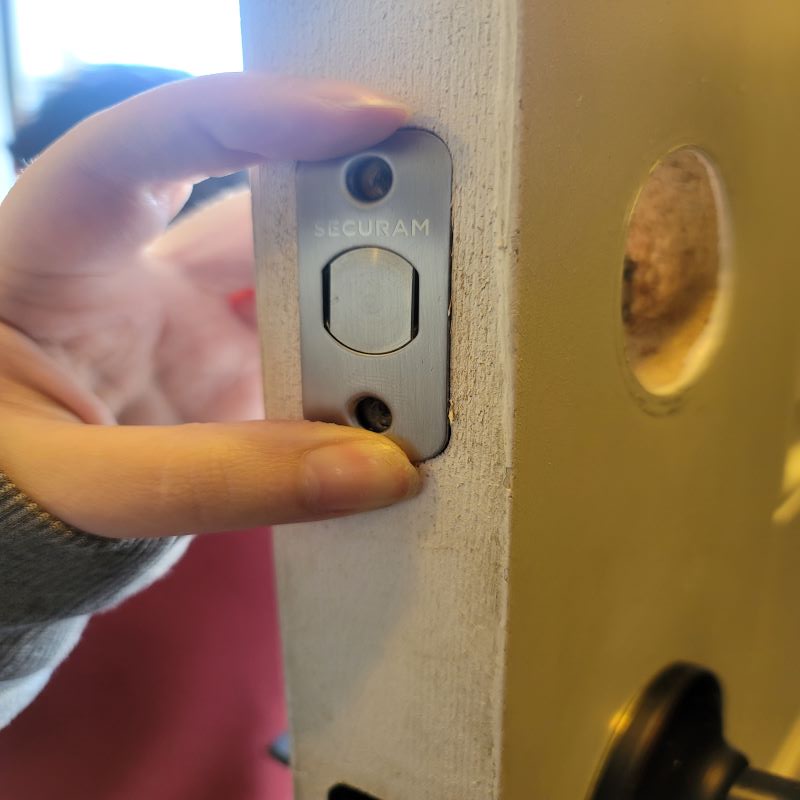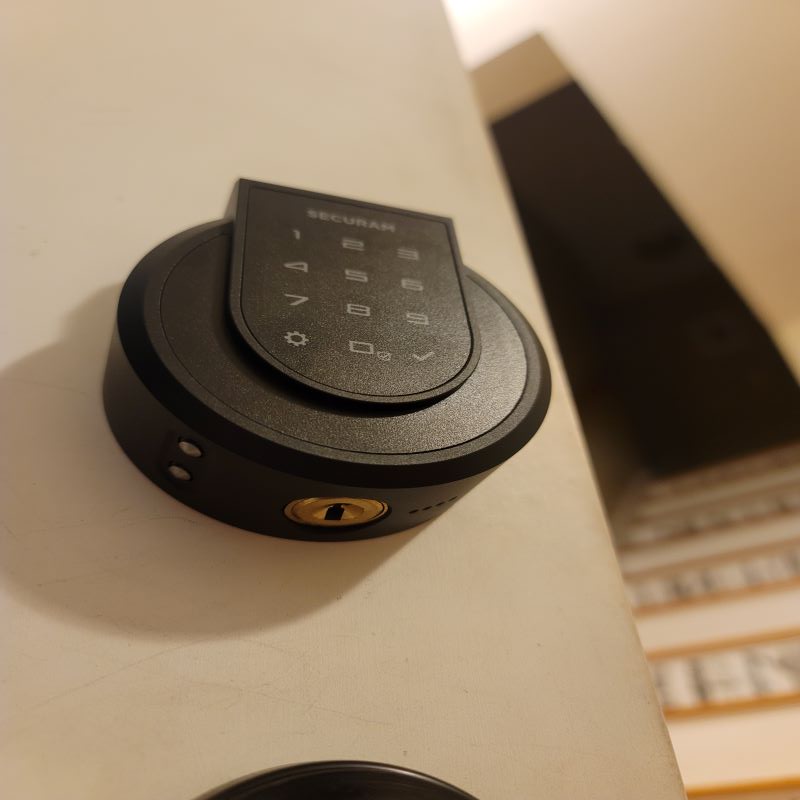 What's in the box?
1x Touchpad
1x Interior Assembly
1x Deadbolt
1x Door Magnet
2x Security Keys
1x Strip of Mounting Tape
1x Mounting Plate
2x Mounting Screws
2x CR123A Batteries

Sold separately but included for testing:
1x Smart Hub Kit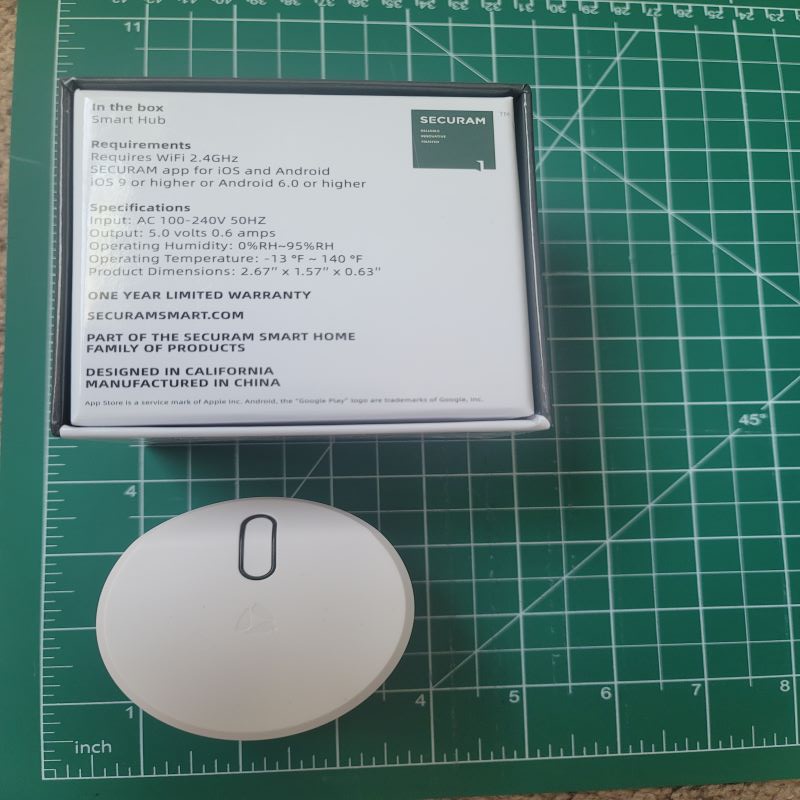 Hardware Specs
Name: Securam Touch Deadbolt Lock
Battery capacity: 2 CR123A batteries
Battery life: About 12 months
Weight of product body: 3.55 pounds
Gross weight:
Product size: Touchpad: 2.44" W x 3.19" L x 1.93" H,
Interior Assembly: 3.14" W x 3.52" L x 2.4" H
Design and Features
Securam Touch has substantial, metal hardware that feels very luxurious. The lock itself has a heft of 3.55 pounds and when mounted to the door properly feels like it had been carved into the door all along. In short, it is an attractive lock. The front facing touchpad has a smooth number pad that allows the owner to use their numerical code all day long and never wear off a number or give away the numbers in their code from fingerprints. Securam Touch also has a fingerprint sensor located at the top of the keypad where a user can log two different fingerprints; you never know which hand the groceries will be in! It also includes not one but two additional ways to securely unlock this deadbolt even if there is no power to the unit. The first is a physical, unique-looking security key that is inserted at the very bottom of the lock, neatly hidden away. The second is a 9-volt battery access place that will allow a user to "jump" the lock in case the batteries die; this will give the lock just enough power to allow a registered code to be entered to unlock the lock. The interior side of the lock has a switch to allow for visitor access or restrict it. This switch allows the homeowner turn off access to the home with a guest code with one quick slide to the right. Speaking of guest codes, you can have up to 30 different login codes; not to mention the ability to assign one-time use codes for housekeepers, dog walkers, etc. If you chose the lock and the smart hub, you will also be able to set up use with Alexa. This option allows the owner to place other Securam products on the hub for smart speaker integration. There is also the option to enable a door sensor that will tell the homeowner if the door is open or closed. Using this feature allows for an auto-lock sequence that will lock the deadbolt 5 seconds after the door is closed.
Installation and Setup
Installation is relatively easy. In the app, on both Android and iOS, you can find a step by step guide that will walk you through the entire installation. My partner and I were able to assemble the lock to our back door in under 20 minutes.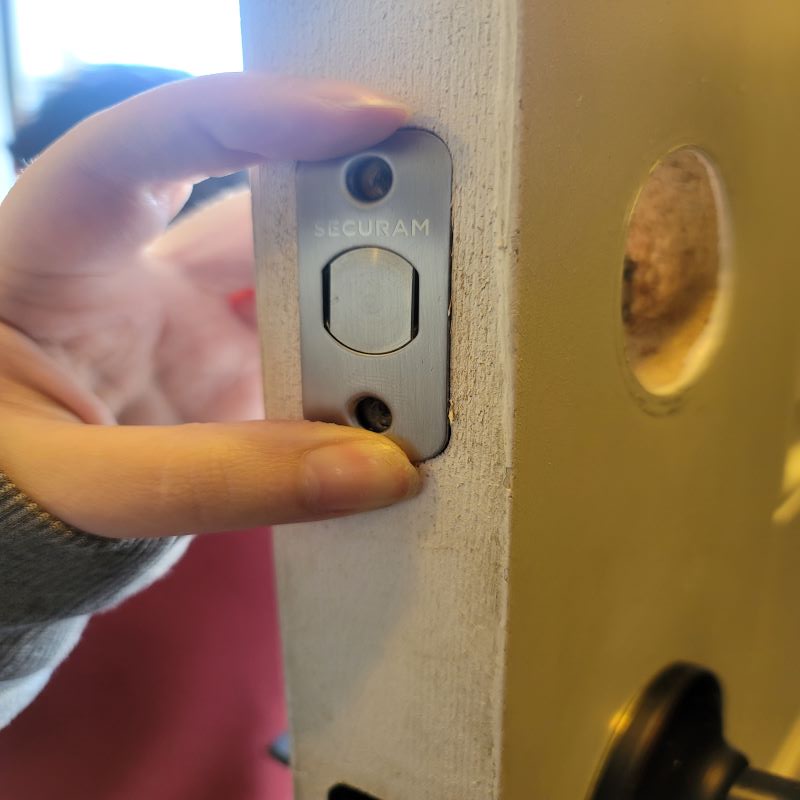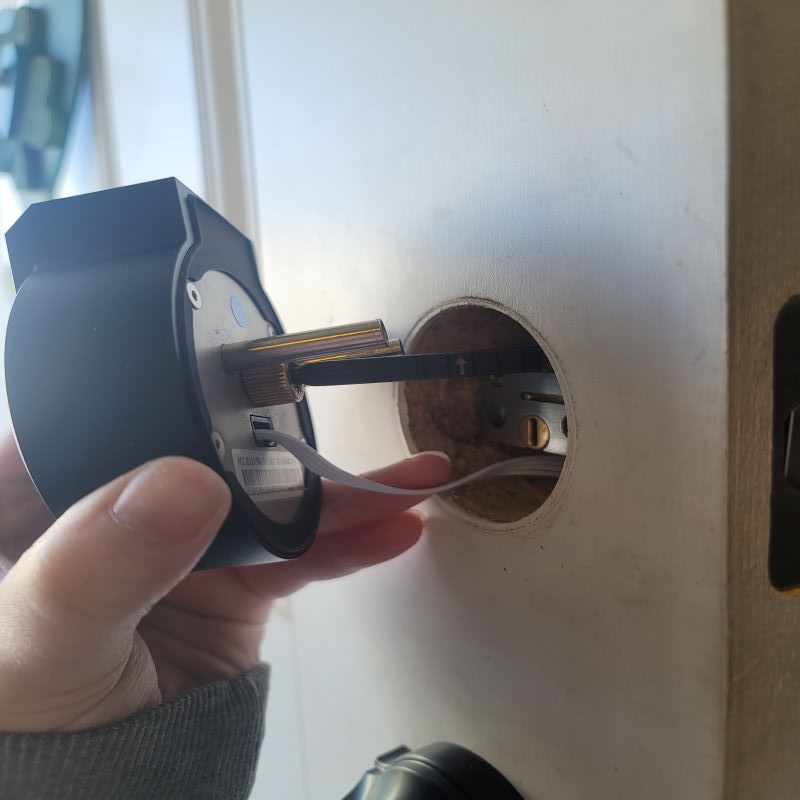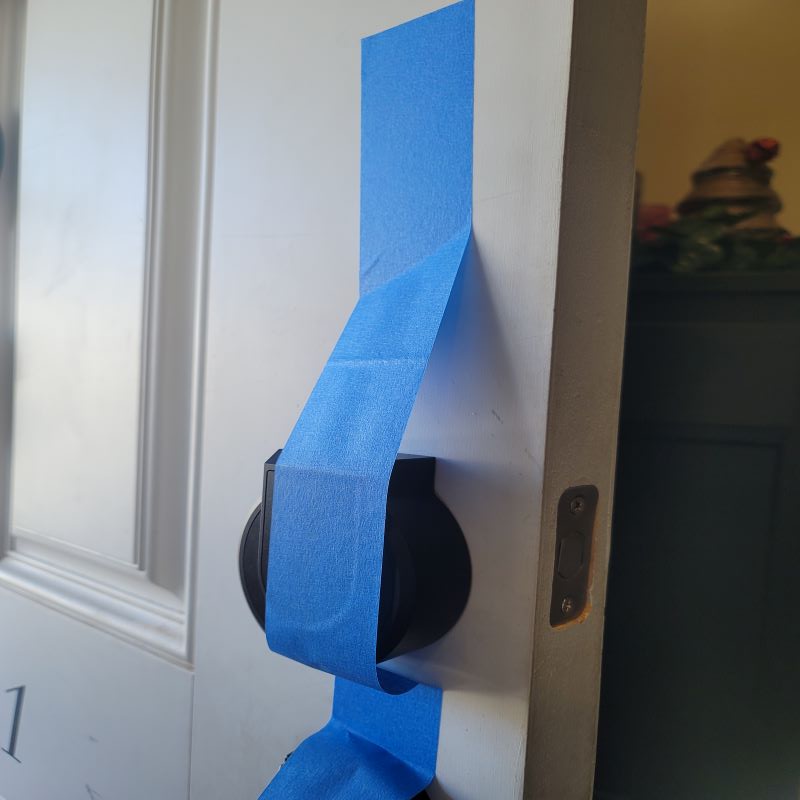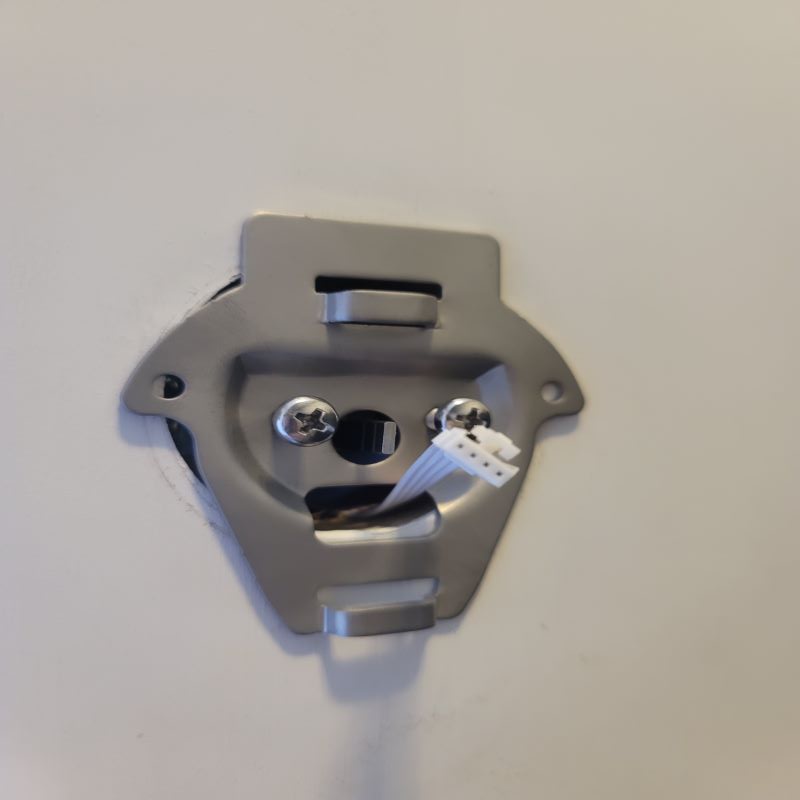 Here's where things got complicated. If you have the app installed and have already signed in, the recommendation is to add the smart hub first. This took three tries to pair with the app and I cannot for the life of me figure out why. However, once installed, the only added benefit was that it will now work with a smart device. Pairing the lock was much simpler and paired on the first attempt. The app then allows you to add people, create one-time codes, check the door sensor (if it's closed or open and only if you have that set up), turn off the voice commands on the lock, and get the options for push notifications.


What I like
Easy to install
Secure lock (as far as trying to open a door with force)
Straight forward prompts
Options to turn on voice or turn voice off
Factory Reset
Fingerprint less keypad
Restricted Guest switch
Amount of Users
What I'd change
Phone Application (App)
Winged sensor
Power "Restricted Guest" button
Fingerprint reset
Final Thoughts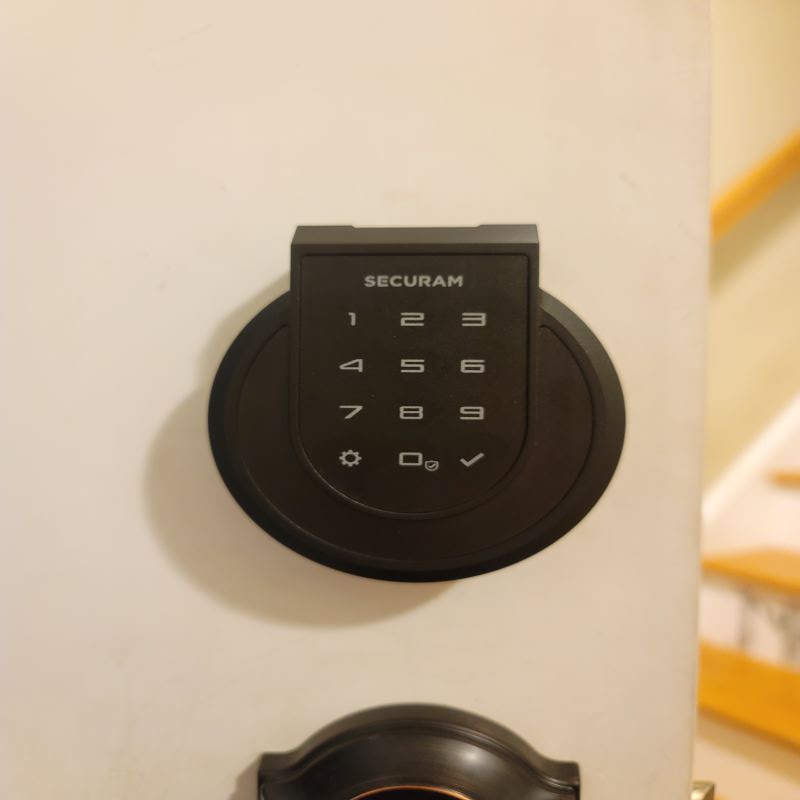 The lock is super solid and honestly could stand on its own without the Smart HUB or the app. It allows you to do pretty much everything you'd want to set up on the lock itself without even involving the app. The lock is secure even in the New England cold and the one-touch lock function is helpful when running a quick errand. Setup was a breeze and even working with a thicker weather stripping, it does a great job being secure. Using the no-guest switch is surprisingly helpful when you've given your in-laws their own code, but they show up unannounced and have every intention of letting themselves in as you just stepped in the shower. It's a physical switch, but I'll take it. I would also like a way to reset just a user's fingerprint no matter if they're an administrator, an owner, or just a guest because having to reset the whole lock to do it is inconvenient. The power comes from two unusual batteries; that might need to be revisited because the company states they'll last a year. As I view the battery status in the app, it seems like I'll be buying back-ups in 4 months, but we'll see. The door sensor is also an option that seems to be to be this lock's functional afterthought. A "wing" pokes out from the back of the lock to align with a very small magnet installed on your doorframe that will trigger a little note on the status of your door (open or closed) within the app.  In the app you're supposed to be able to enable something that will use this information on the door to "auto lock" but no matter how many saves, or times I tried to make this feature work, I couldn't. 
It needs to be said that the app is awful. I could probably write a novel on how much I do not like this app. It's glitchy, it requires the user to hit a physical save button while making changes like a Windows 98 Word document and it makes a simple set up more complicated without needing to be. While I was originally excited to pair this with my Alexa devices, it basically has one command. To lock the lock. The lock and has no ability to Unlock with voice command (I mean it defeats the purpose if a nefarious person could scream "Alexa, unlock door!" from outside and one of your devices hears it). I can see with additional home safety products added, the hub might eventually be useful, but for my uses, I could do without.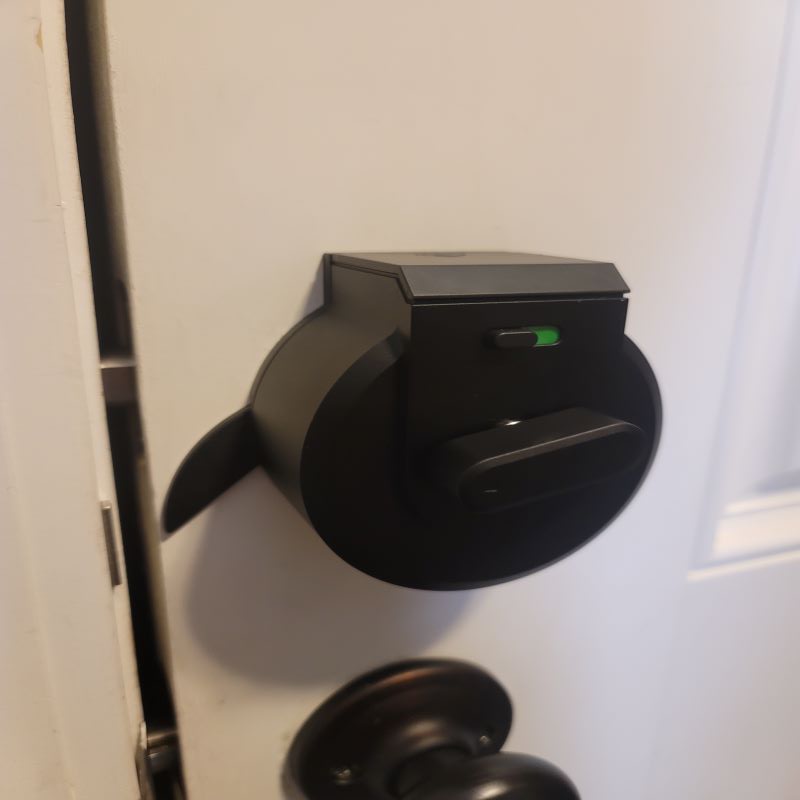 Price: 239.00 USD without Smart Hub Kit/ 289.00 with Smart Hub Kit
Where to buy: Amazon

Source: The sample for this review was provided by SECURAM Systems, Inc. For more info visit their site.