We use affiliate links. If you buy something through the links on this page, we may earn a commission at no cost to you. Learn more.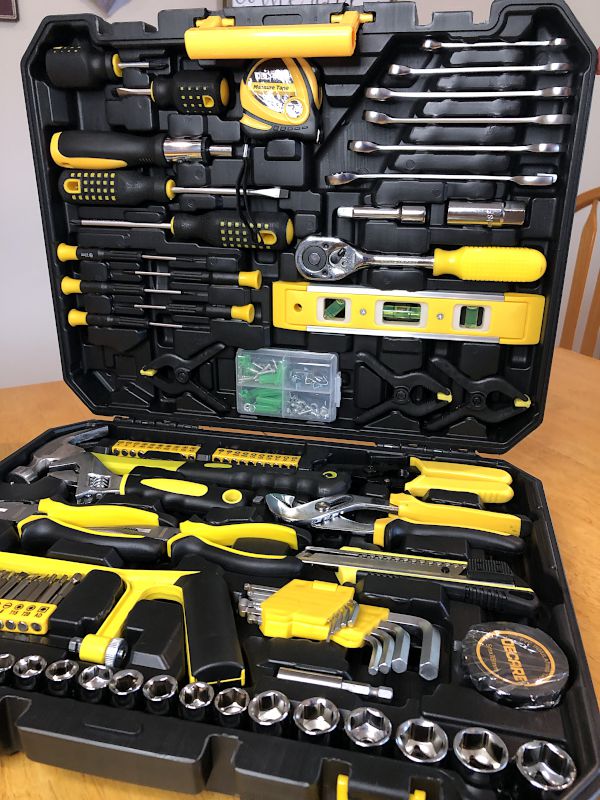 REVIEW – If you're going to do any work around your home or apartment, you're going to need some tools. Whether you're hanging pictures in the dining room, building some shelves in the garage, or working on a DIY project, there are some standard tools that will always come in handy, like a hammer, screwdrivers, and a tape measure.  For those who are just starting out in the adventure of having their own place, it would be nice to have an amazing set of high-quality tools from day one, but that's probably not very realistic, as good tools can be expensive.  Instead, it might just be smarter to buy a set that covers all the basics, and then buy better tools as necessary.  In this review, I'm looking at an entry-level tool set from DeCare.
What is it?
The DeCare tool set (model 168Y) is a collection of 168 various tools that all come together in one plastic case.  They include screwdrivers, a level, a tape measure, several pliers, and a variety of other tools.  DeCare is a Chinese company who sells toolsets on Amazon.
What's in the box?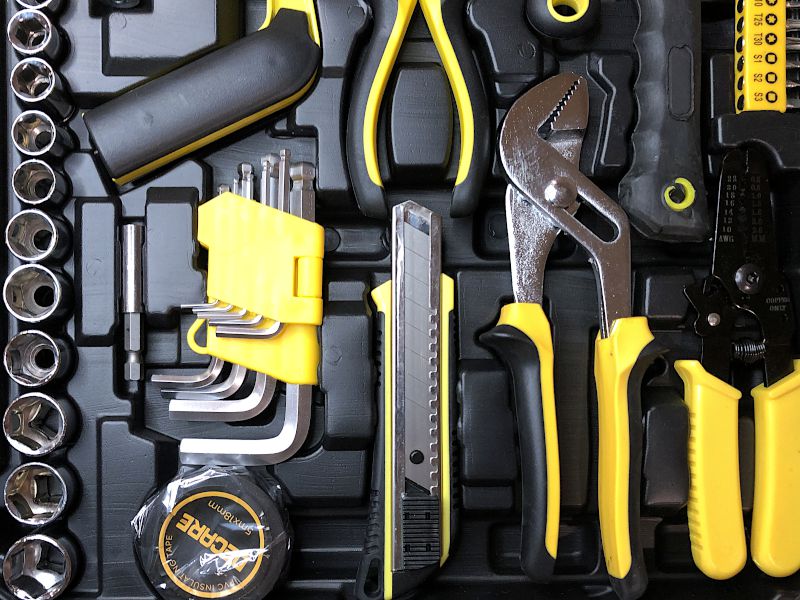 The case
168 tools and accessories
Hardware specs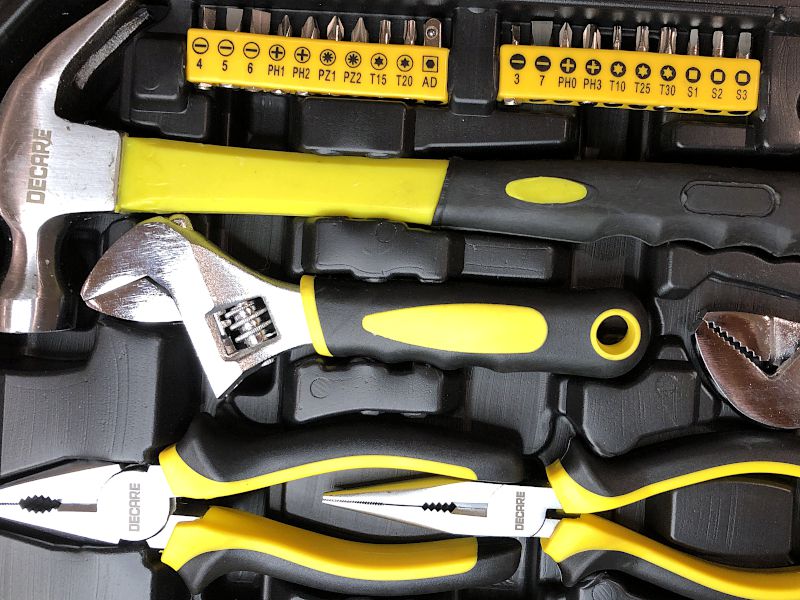 DeCare's Amazon page says that the tools are made from steel alloyed with nickel and iron.  Many of the handles are made of rubber, and there's a lot of cheap, yellow plastic.  The case is made from molded plastic and is approximately 18 x 14 inches.  The case with all the tools inside weighs twelve pounds.
Design and features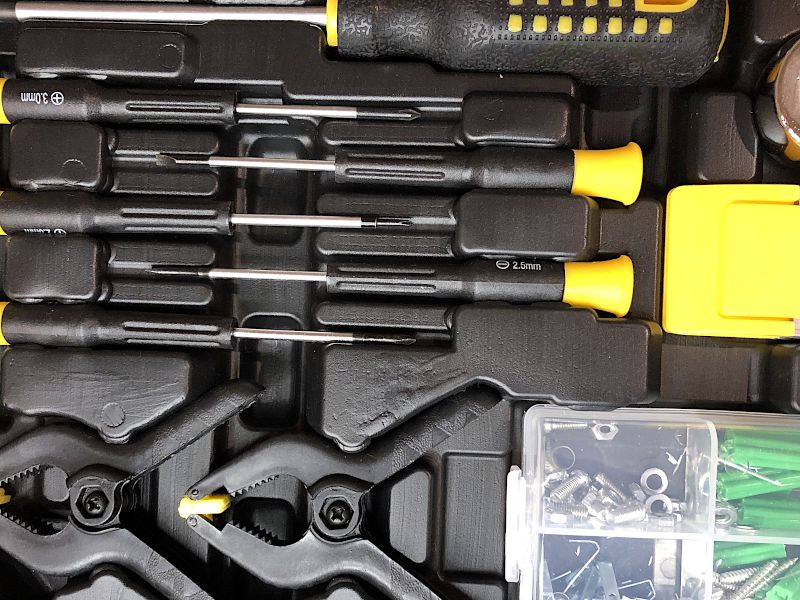 The plastic case is a matte black color with bright yellow highlights.  The tools are a colorful mix of steel, rubber handles, and bright yellow plastic.  It very much looks like a budget toolset.
Installation and setup
There's nothing to set up or install.  There's not even a manual.  I removed the tool set from the box, popped open the lid, and I was ready to go.
Performance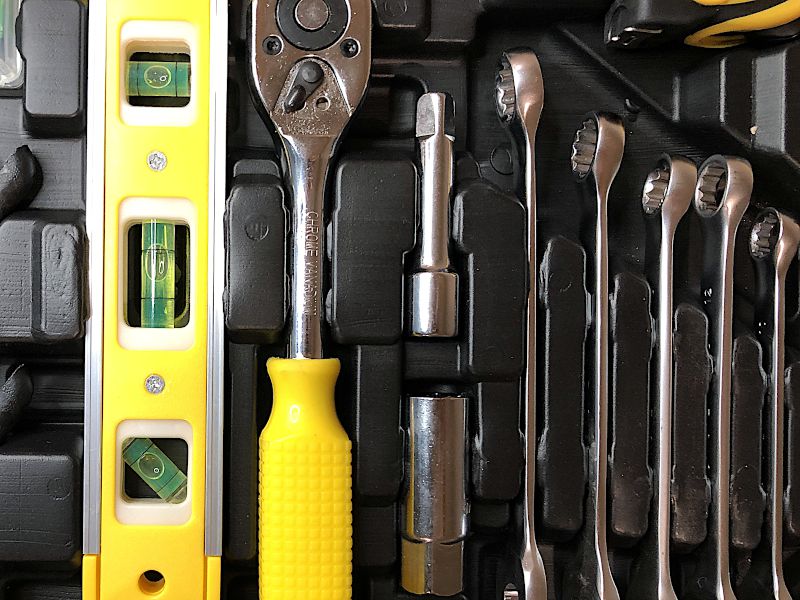 With so many different tools, it's not surprising that there's an uneven mix.  The pliers feel solid all the way through, and I think they would work well for heavy tasks.  The hammer, however, is terrible.  While the head is solid, it's connected to the handle with plastic and is not mounted evenly.  It feels like it would break pretty quickly if used for any serious work.  There's a wide variety of socket sizes from 19mm down to 4.5mm—though no SAE sizes are included—but the kit with screws and nails had so few options as to be nearly useless.
You can see all the different tools and what I think of them in this video:
The case that contains the tools is pretty solid and should hold up well; unfortunately, the front clasps are flimsy.  I've opened and closed this case less than ten times, and both of the clasps have already popped off.  I don't think it will be long before I'll need somewhere else to store these tools.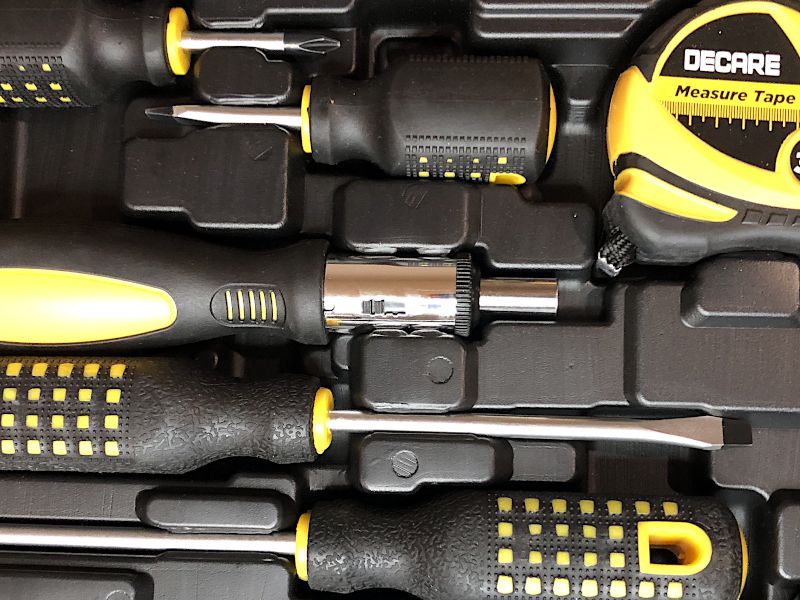 On their Amazon page, DeCare says, "This tool set is perfect for home repairs and DIY projects around the house. It is perfect for handyman, construction workers, mechanics, work shops etc."  That first sentence is true.  For small, light, occasional jobs around the house, these tools are adequate.  That second sentence is not true, as these tools are not strong enough, durable enough, or of sufficient quality to be used daily by professionals for real work.
Extra Features
I've looked around Amazon and the Internet, and I've been unable to find any way to contact DeCare.  If I have any problems with the tools, I won't have any way to get help or service a warranty, unless I'm able to contact them through Amazon.  If I were going to buy a tool set like this, I think it might be smarter for me to buy from an established brand or from a local store, just in case I had any problems.
What I like
Good variety of tools, everything necessary for a basic set
Most tools are decent quality
What I'd change
Replace the hammer, the level, and the clamps
Get a better selection in the screw and nail kit
Final thoughts
I really like the idea of what DeCare is trying to do with their tool set.  There are a number and variety of tools, almost everything necessary for basic tasks around the house.  They are all together in one convenient case, and the price for all this is very reasonable.  Unfortunately, DeCare made some compromises in the quality of some of their tools, and I would like to see some of the worst offenders like the hammer replaced, even if it drives up the cost.  I'm a bit nervous about buying a product that's only available online from an unknown company with no support presence.  If you don't mind a bit of risk, and you're willing to get a few lemons, DeCare's tool set is a great way to get started with your tool collection.  If you'd rather have something with a bit higher quality, or if you'd like to have better support, then you should probably pass.
UPDATE – When DeCare heard that I was less than impressed with some of their tools, they said that they might have sent me the wrong version of their tool set.  It sounds like they might have had an older version that should have been kept in the warehouse.  Whatever the reason, they sent me a new tool set.  I've compared all the tools, and I cannot discern any difference between the "old" set and the "new" one.  One piece of good news, however, is that the clasps on the "new" case seem to be a bit sturdier than the ones on the "old" case.  I've opened and closed them many times, and they haven't fallen off yet, so perhaps DeCare has made some improvements to their case.  Even so, this doesn't change my recommendations.
Price:  $74.99
Where to buy:  Amazon
Source: The sample for this review was provided by DeCare.