We use affiliate links. If you buy something through the links on this page, we may earn a commission at no cost to you. Learn more.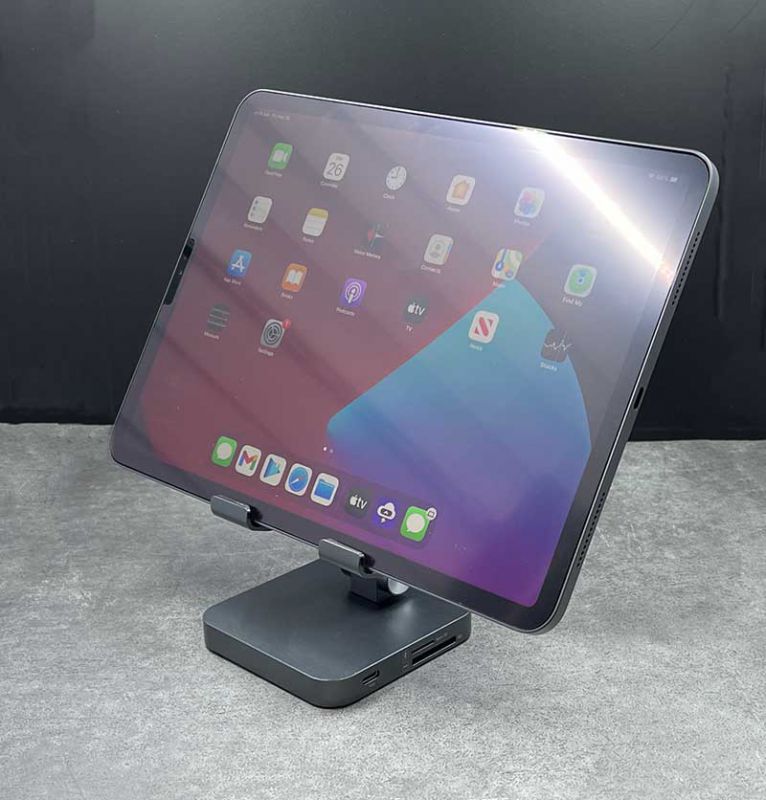 REVIEW – Phones and tablets are considerably more powerful than they were just a few short years ago. Now you can turn many phones and tablets into your main/only computer. But to make the experience as easy and comfortable as possible, you're going to need a hub. That's where the Foxdock USB-C hub is a worthy choice. Let's take a look.
What is it?
The Foxdock USB-C hub is an adjustable phone or tablet holder with a variety of expansion ports that will turn your Android or iPad OS device into a pseudo computer. You can even use it as a hub or stand for a laptop although I wouldn't recommend it as a laptop stand given its narrow base.
What's in the box?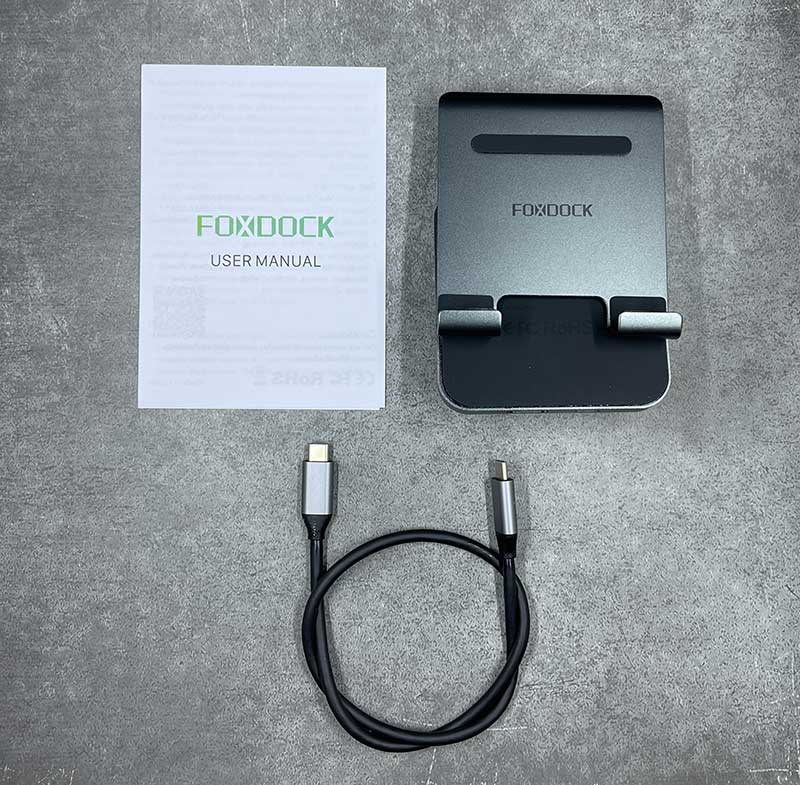 Foxdock
USB-C – USB-C cable
User Manual
Design and features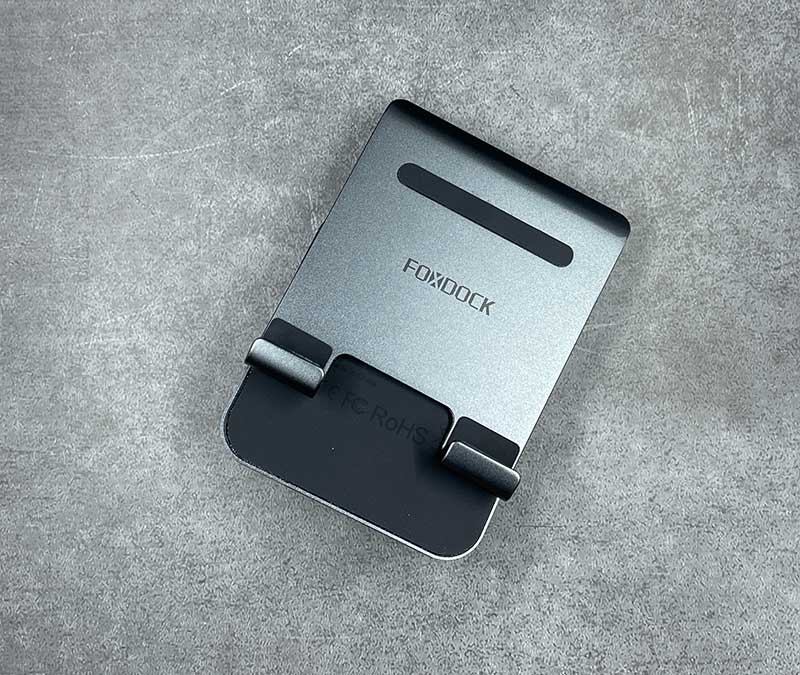 The Foxdock is made of anodized space gray aluminum with a protective black rubber-lined device cradle and base bottom.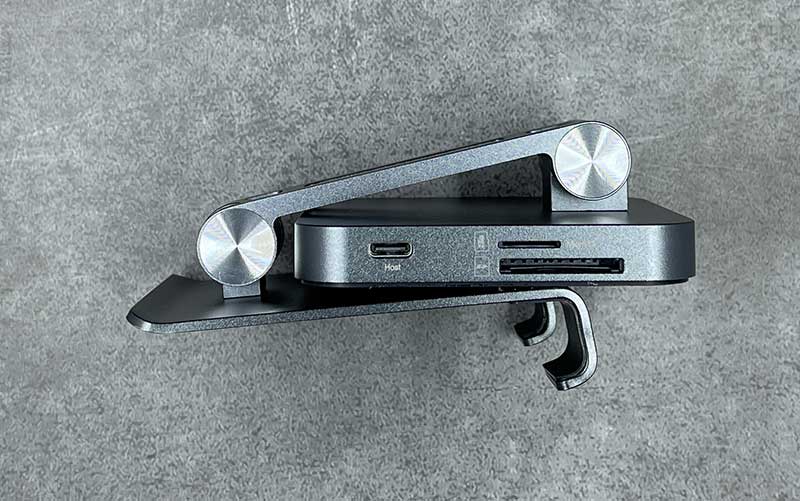 The dock folds up in a relatively compact form factor which makes it great for travel.
On the right side of the Foxdock, you'll find a USB-C host port along with a micro SD card slot and a full-sized SD card slot both of which can handle up to 1TB cards.
I find the location of the host port to be a little odd. I'd rather see that port on the back of the dock next to the other USB-C port just to make things look a little cleaner cable-wise.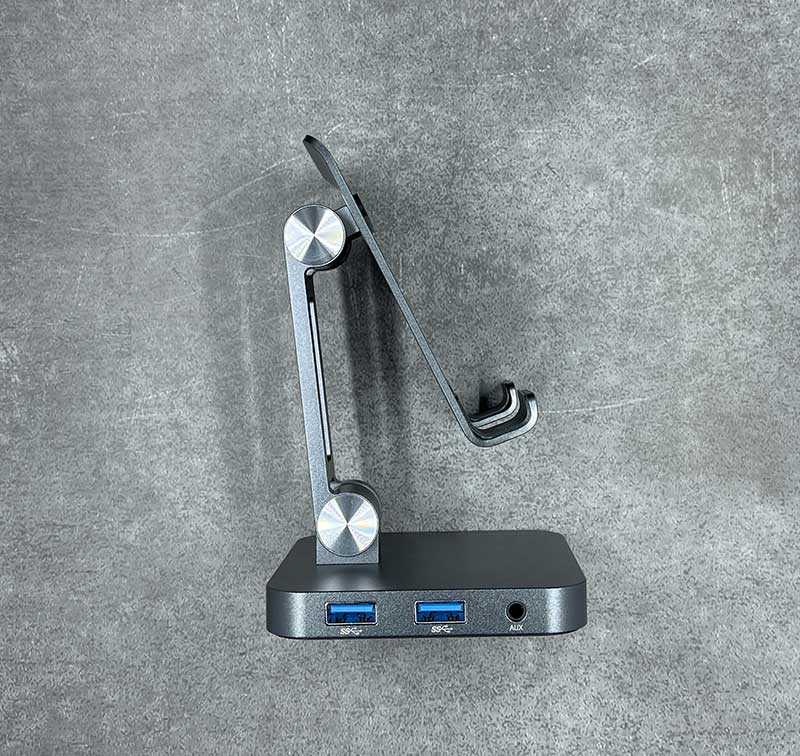 The opposite side of the dock has a 3.5mm audio jack and 2 USB 3.0 ports. Note that the USB 3.0 ports can be used to charge devices, but the ports are not fast charging so Foxdock does not recommend using time for that task. They are fine to use for external hard drives, mice, keyboards, etc.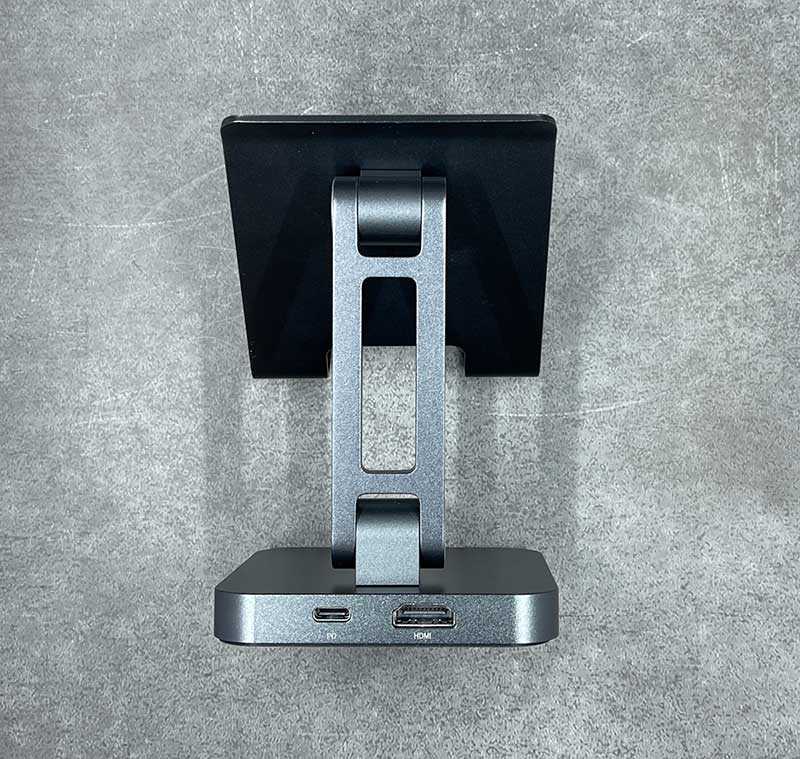 And on the back of the dock, you'll find another USB-C port – this one is a 100W PD (power delivery) port, and next to it is a full-sized 4K @30Hz HDMI port if you want to attach your phone, tablet, or laptop to a larger monitor.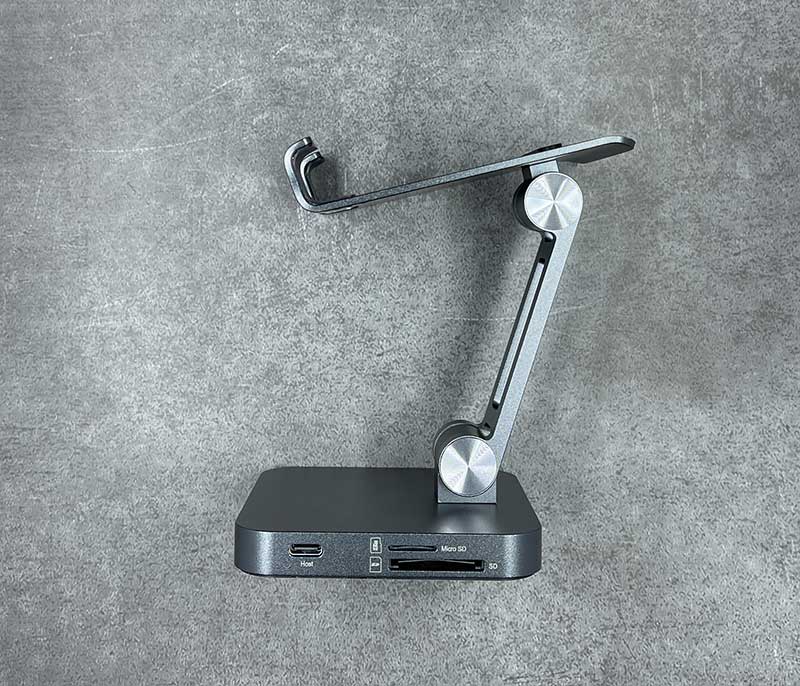 The Foxdock USB-C hub device holder features two hinges that allow for a wide range of viewing angles.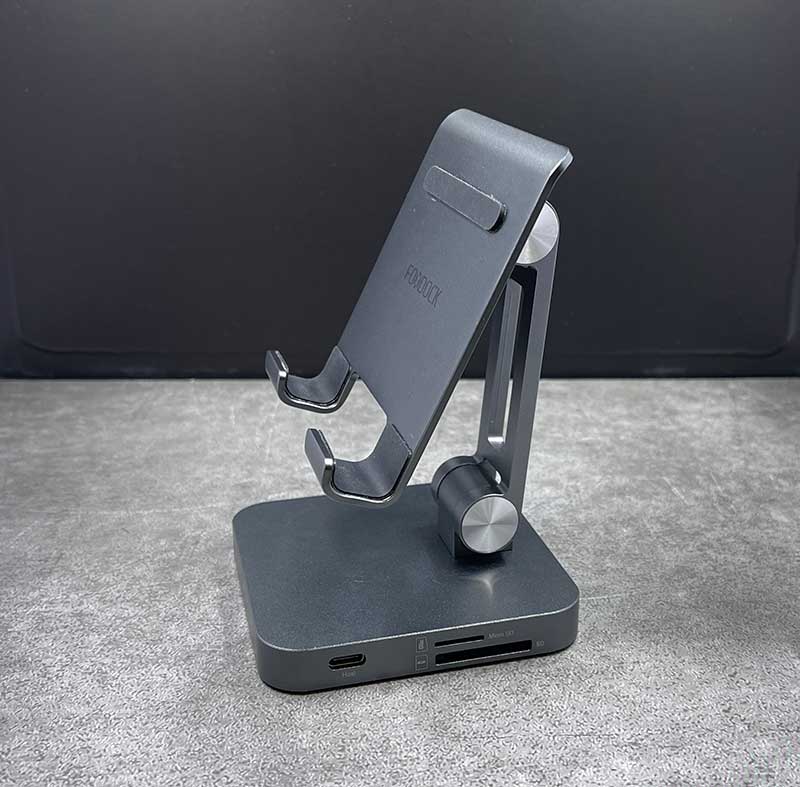 The construction of this accessory is quite nice. I like the industrial design aspect of it and the fact that the base is just heavy enough that it's not going to slide around on your desk.
Here it is with a Huawei P30 Pro smartphone in the dock in both portrait and landscape orientations. The Foxdock is even sturdy enough to hold an 11inch iPad Pro or a smaller laptop as long as you don't try typing on the laptop's keyboard while it's in the stand.
I tested all of the ports and card slots and found no problems with their functionality when connected to an Android device. I was able to use a wired keyboard and a wired mouse to control the phone and the phone also recognized SD cards in the built-in card readers. I was also able to connect the Huawei to my 49in Dell monitor using an HDMI cable and use the audio jack.
When I tested it with my 13in MacBook Pro M1, the dock charged the laptop and the HDMI connection worked with my Dell monitor along with the SD card readers. But the USB 3.0 ports were not recognized when I inserted USB flash drives or a wired mouse and the audio jack didn't work.
Then I tried the Foxdock with my iPhone and all I could do was use it to charge the phone. The iPhone did not recognize mice or keyboards plugged into the USB 3.0 ports, SD cards in the card readers, HDMI, or audio.
What I like
Well made
micro SD and regular SD card slots
2 USB 3.0 ports
Ability to adjust the display in various angles
What I'd change
Add wireless charging to the device holder
Add more device compatibility
Put the host port on the back of the dock instead of the side
Add fast charging capability to the 2 USB 3.0 ports
Final thoughts
I thought the Foxdock was going to be an awesome accessory, and it is IF you plan to use it with an Android device. If you think you're going to use the built-in ports with an iPhone or a MacBook, you'll be disappointed.
Price: $69.99
Where to buy: Amazon
Source: The sample for this review was provided by Foxdock.