We use affiliate links. If you buy something through the links on this page, we may earn a commission at no cost to you. Learn more.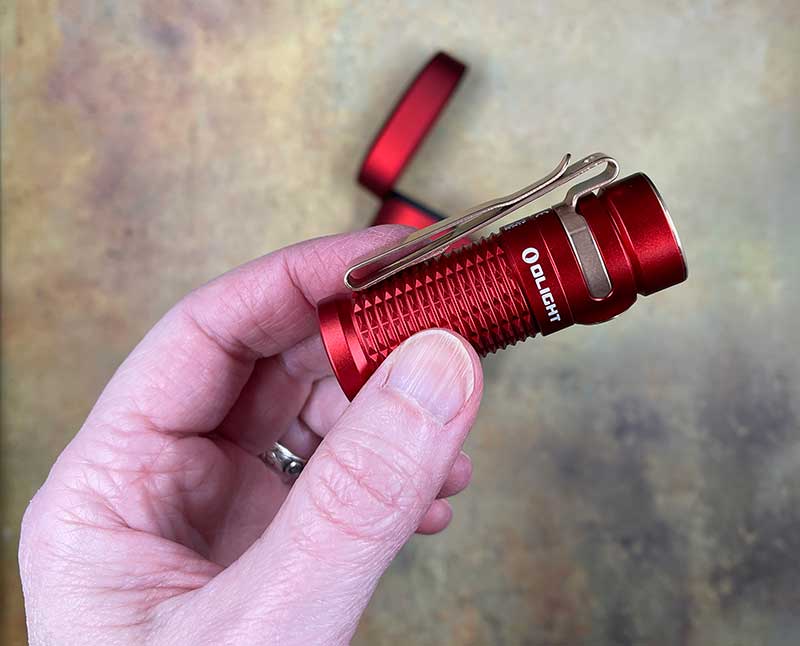 REVIEW – What is one thing that everyone needs in their EDC gear collection? A flashlight! Do you have a favorite EDC flashlight? Say goodbye to it, because you're going to be putting it in a drawer very soon. That's because Olight has just released their Baton 3 Premium Edition and it's something special. Let's take a closer look.
What is it?
The Olight Baton 3 is a small LED flashlight that comes with a specially designed wireless charging case that will recharge the flashlight up to 3.7 times without cables, power outlets, solar chargers, etc.
What's in the box?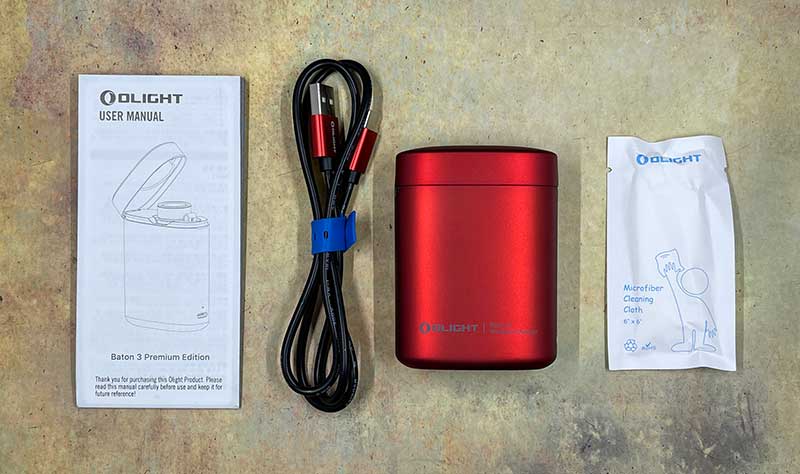 Olight Baton 3 flashlight
Wireless charger
USB charging cable
Microfiber cleaning cloth
User manual
Design and features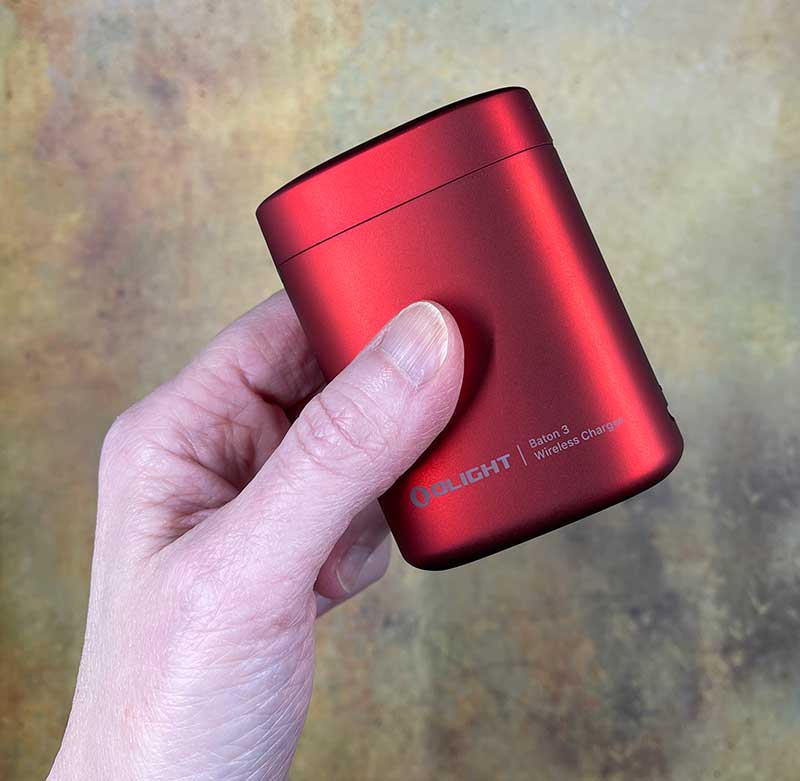 It might look like a tiny hip flask, but I assure you that it's better than that. This is the first (to my knowledge) wireless charging case for a flashlight.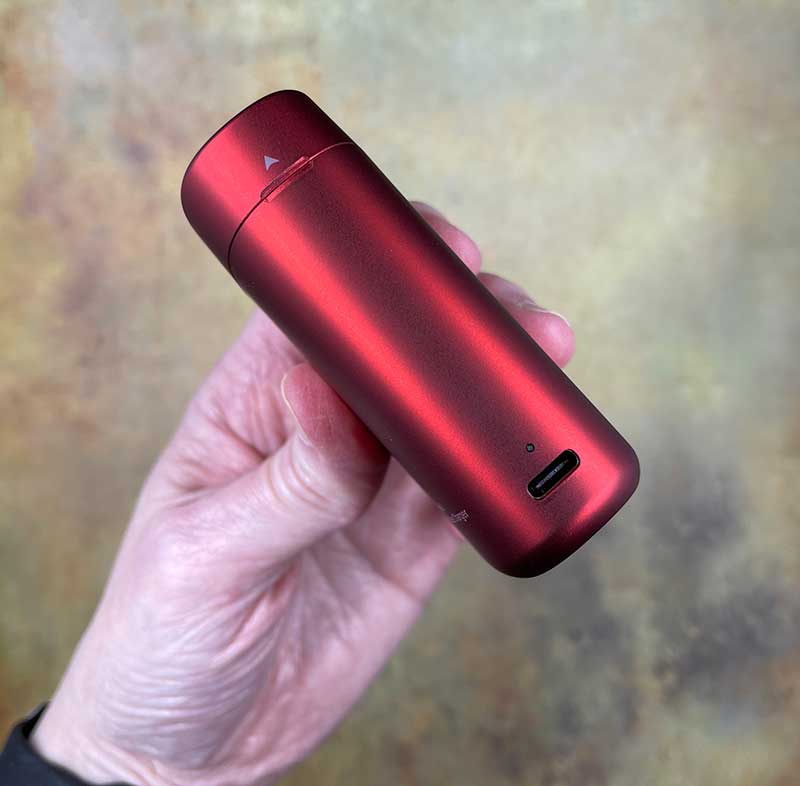 The case is a specially designed backup battery for the Baton 3. The case itself can be charged via a USB-C cable (one is included). Above the USB-C charging port is a charging status LED that will glow red while charging the charging case's battery and will turn green when charging has completed.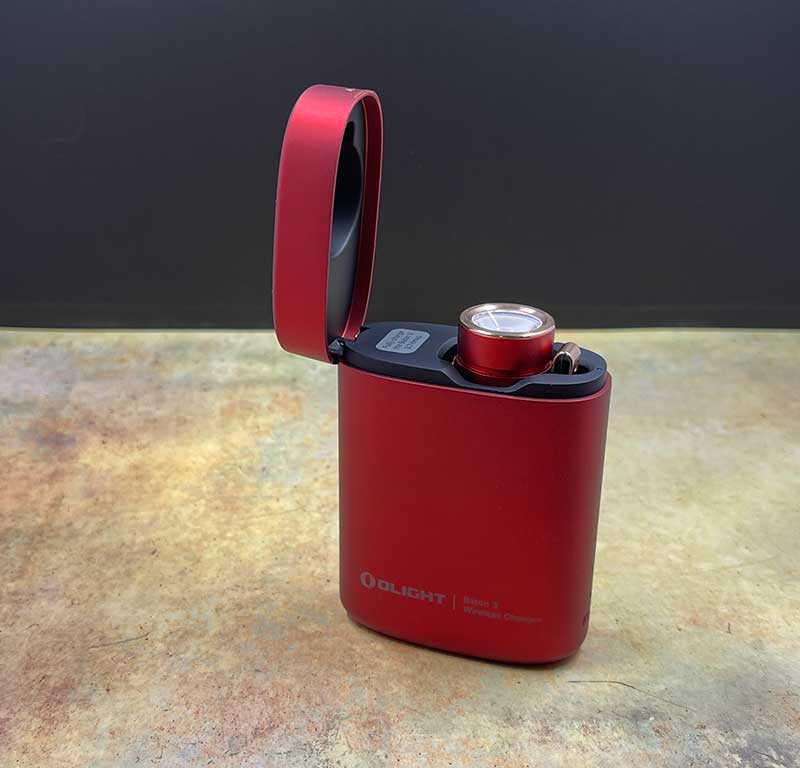 Flip open the top of the charging case and you will find a miniature EDC flashlight snuggled in its perfectly designed magnetic charging slot.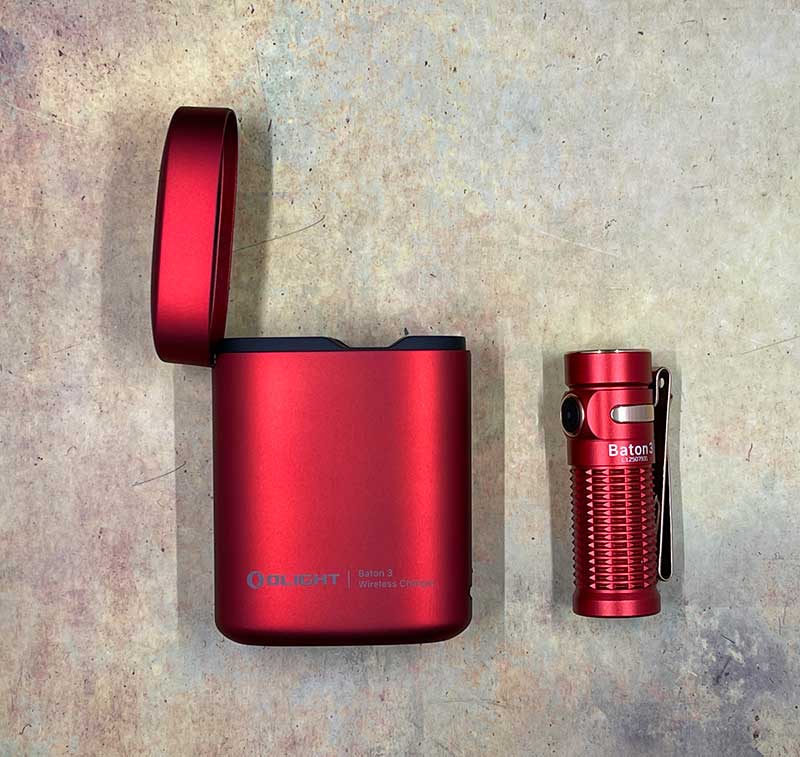 The charging case has a built-in 3500mAh battery which as mentioned earlier can recharge the Baton 3 up to 3.7 times. The flashlight itself features a 550mAh 3.7V IMR16340 rechargeable (and replaceable) battery. Note that this flashlight is not compatible with any other batteries.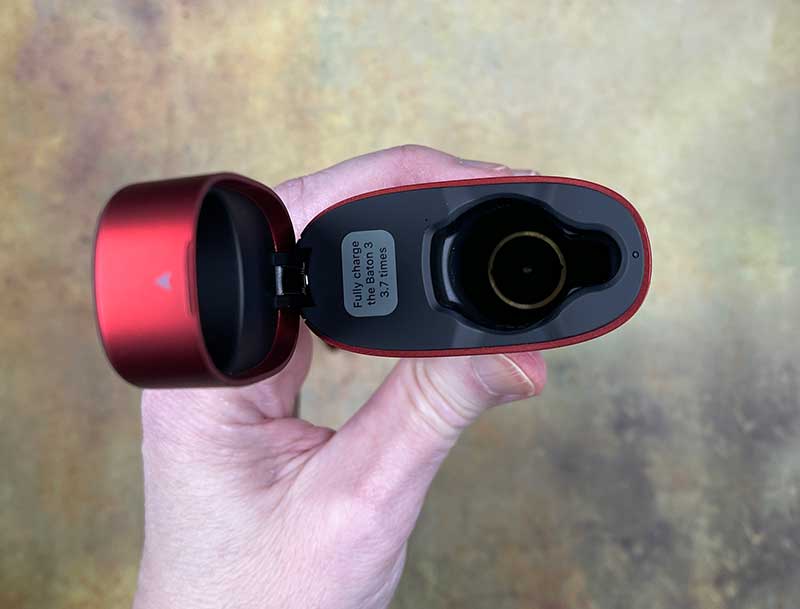 The bottom of the charging slot uses a magnet like the magnetic tail cap charging cables that come with the Olight Baton S2R or Olight Warrior Mini flashlights. In fact, you can use the same magnetic charger cable with the Baton 3 if you have other Olight Baton lights.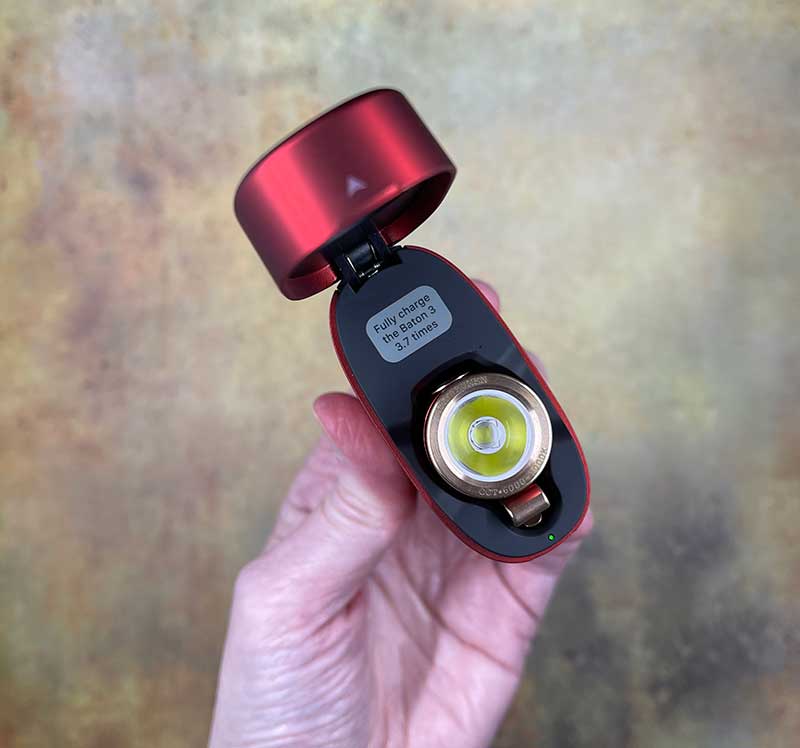 There's a tiny status LED inside the charging case that shows the flashlight's charging status. Green when fully charged, red while charging. FYI: the Baton 3 will completely recharge in 1hr.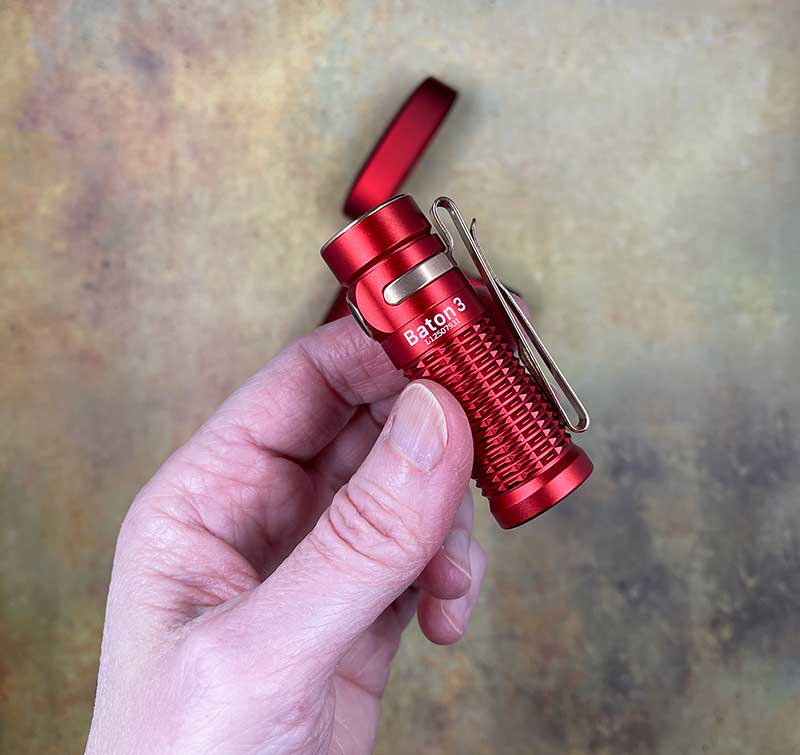 How freaking cool is this little guy?! At only 2.48 in (63mm) long, it may look like a toy, but it will put out a max of 1,200 lumens on full brightness (turbo mode).
The Baton 3 is available in red, blue, or black, and comes with a pocket/cap clip that you can remove if desired.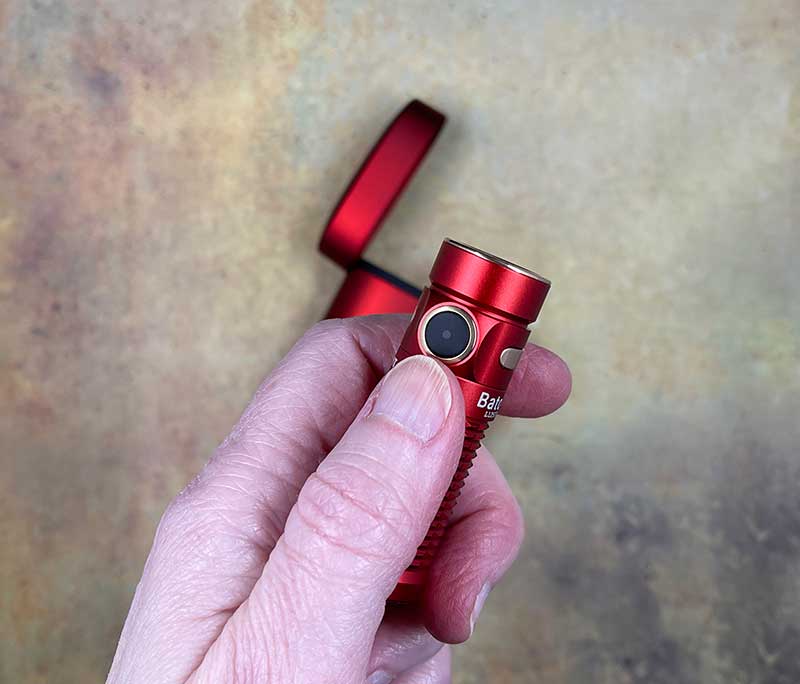 The power button is on the side of the light. This side switch has an LED under it that glows green while the light is powered on and will change to orange when the flashlight's charge goes down to 60%. It will then turn red when the charge drops to 10% and will flash red when the charge drops to 5%.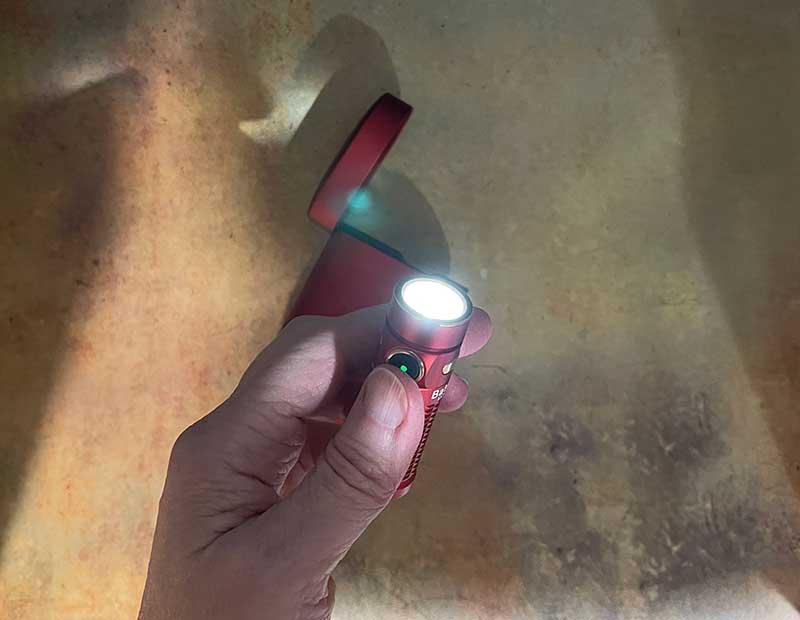 Although this light is small, I didn't have any problems holding and using it due to the nicely knurled grip.
Brightness levels
The Olight Baton 3 has 5 brightness levels/modes:
LEVEL 1 Turbo (1,200~300 lumens), 166 meters, 1.5 minutes+75 minutes,
LEVEL 2 High (300 lumens), 82 meters, 95 minutes
LEVEL 3 Medium (60 lumens) 38 meters, 7.5 hours
LEVEL 4 Low (12 lumens) 18 meters, 33 hours
LEVEL 5 Moon (0.5 lumens): 20 days
This flashlight also has a strobe feature but it doesn't have an SOS or beacon feature. Let's check out some pics of it in action. This is my basement living room at night with the lights off. You can see a few little blips of light which are from various electronics.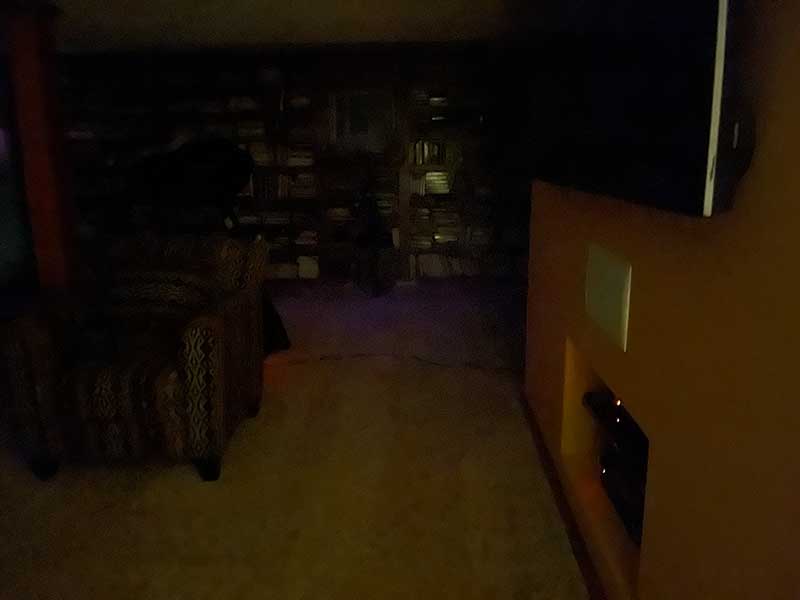 The image above shows the Baton 3 on moon brightness mode, which is the lowest level.
The pictures above show the brightness levels one after the other with the last picture showing the light in Turbo mode which is the brightest level.
What I like
Comes with a charging case
Small but mighty
5-year warranty
Replaceable battery
What I'd change
Add wireless charging capability to the charging case itself
Final thoughts
If you want to add a well-made small flashlight to your EDC collection, you can't go wrong with the Olight Baton 3 Premium Edition. By itself, the Baton 3 is a great light that is small in size but puts out a bright beam that is perfect indoors and outdoors. With the addition of the wireless charging case, you won't need to worry about finding an outlet when you're mobile because the charger will be with you where ever you go. The Olight Baton 3 has quickly become my favorite flashlight.
Flash sale 8:00 PM March 18th, 2021 – 11:59 PM March 19th EST
SAVE UP to 35% offVIP customers(Silver and above) will have early access to the Flash Sale starting at 11:59 PM March 14th.
Price: $99.95 regular price, but see flash sale info above
Where to buy: Olight
Source: The sample for this review was provided by Olight.