We use affiliate links. If you buy something through the links on this page, we may earn a commission at no cost to you. Learn more.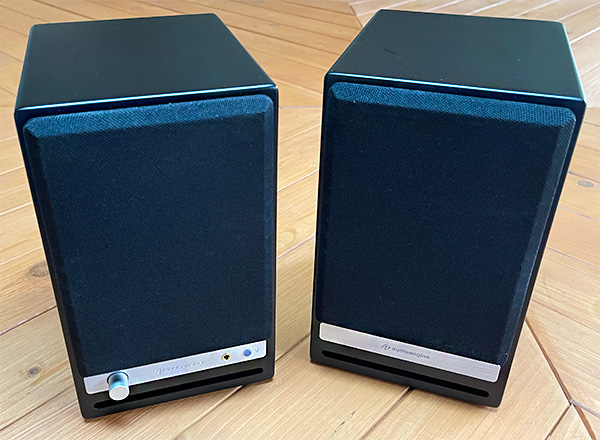 REVIEW – Four years ago (has it been 4 years?), I reviewed the Audioengine HD3 speakers. In that review, I said that the HD3 speakers were better than Audioengine's much more expensive HD6 speakers when placed on a computer desk. I noted that the Audioengie HD6 speakers were overkill for what is termed "near-field listening". Now, I may have to eat those words because Audioengine has just released the wireless HD4 Home Music System speakers. Notice a trend here? The HD4s can best be described as "Goldilocks" speakers—not too big and not too little. If the HD6 speakers are too expensive and the HD3s too small, are the HD4 speakers just right? 

What is it?
The Audioengine HD4 speakers (they call it the HD4 Home Music System) are new middle-sized powered speakers that fit between the small HD3 and much larger HD6 speakers—in both size and cost. They come in either walnut veneer or satin black finishes (what I'm reviewing). The HD4 speakers can be both wired via AUX, RCA, or USB inputs, or wireless using Bluetooth 5.0. Audio outputs include RCA to the secondary speaker and an extra RCA audio out to a subwoofer. There's also an AUX headphone port at the left speaker front. All of the controls and connections are housed in the left-powered speaker. 

Specs
Amplifier: Class AB
Power: 120 watts total peak power (60 watts peak per channel)
Speakers: 4″ aramid fiber woofers; 3/4″ silk dome tweeters
Inputs: 3.5 mm stereo mini-jack, USB, RCA L/R, Bluetooth
Outputs: RCA variable line-out, 3.5 mm mini-jack headphone
Internal digital audio converter
Bit depth: 24 bit
Sample Rate: 44.1/48 kHz
Bluetooth 5.0 – aptX HD, aptX, AAC, SBC
Bluetooth range: 100 ft
Micro-USB
Size: 9″ x 5.5″ x 6.5″
Weight: Left (active) – 7.2 lb; Right (passive) – 5.4 lb
Materials: 0.7″ thick MDF cabinets with real wood veneer

Design and features
After listening to the Audioengine HD4 speakers for the past few weeks, it occurred to me that Audioengine has made it harder to choose one of their speakers over another. As you can see from the photos, the Audioengine HD4 speakers look—and sound—more like a big brother to the HD3 speakers than a smaller version of the HD6. The HD6 speakers are still in a class of their own as Audioengine's biggest and baddest speakers. Don't get me wrong, that's not a knock against the HD4. It's just a roundabout way of saying that the HD4 speakers are more of a better version of the HD3 than they are a less refined HD6. Confused yet? Let's look at what makes the HD4 speakers worth considering.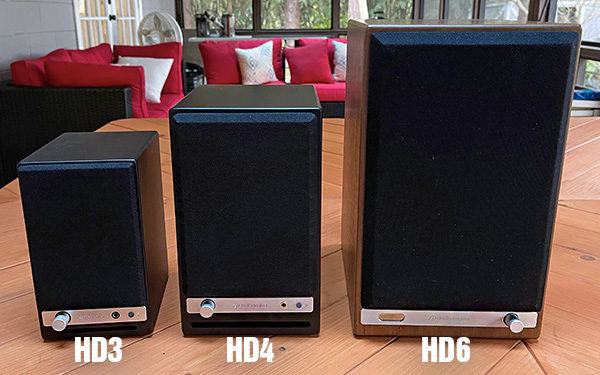 Note: Before deciding on what speaker to buy, think about how they will be used. Are they to be used as living room bookshelf speakers or will they sit on a computer desktop for gaming and music listening while working from home? Also, is music something that plays in the background of your daily life or do you actually sit down and listen to music? This is important because it can help determine what speakers are best for your lifestyle and can potentially save you some money.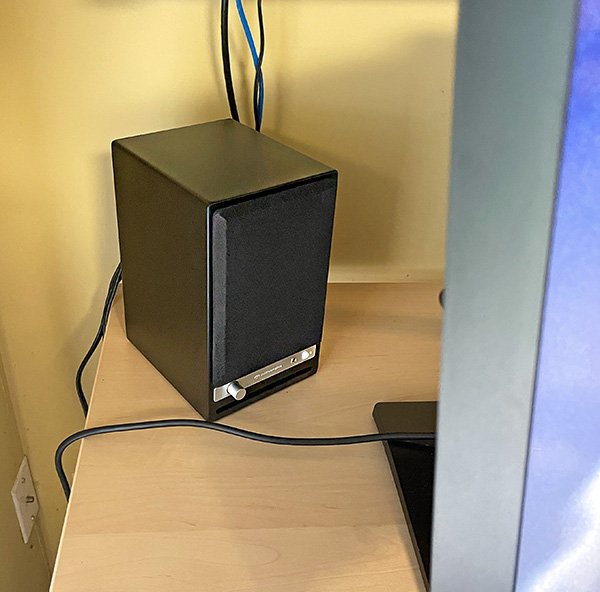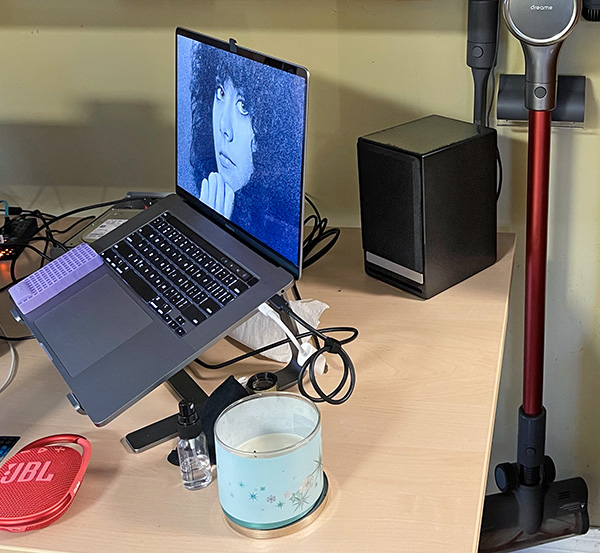 Some may think that Audioengine speakers are not designed to be used for "near-field listening", which translates to "not designed for a computer desktop". Phooey. The HD3 and HD4 speakers are perfect for close listening. They're even shielded, so they can play next to a monitor without causing interference. At only 9 inches high and 5 in. wide, the HD4 speakers can easily sit in each corner without crowding out everything else.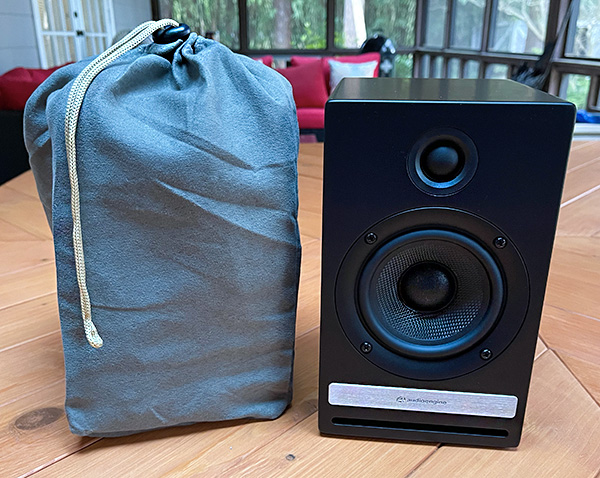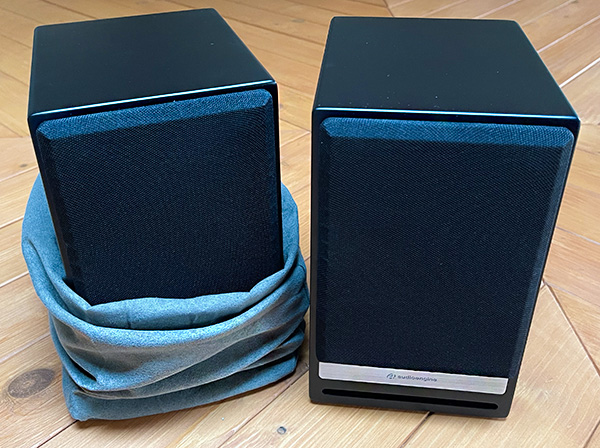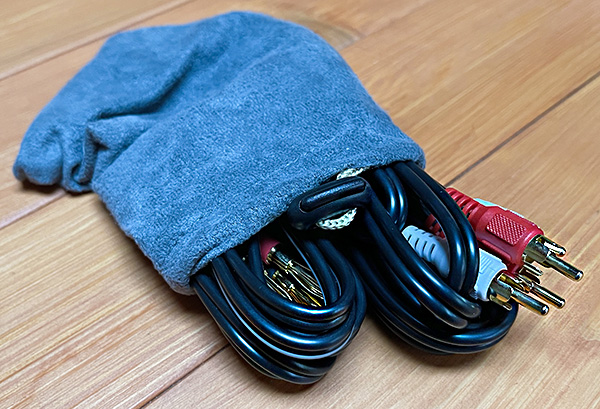 The HD4 speakers have all of Audioengine's trademarks—Silk tweeter, incredibly strong aramid fiber woofers, and solidly built cabinets. Also, each speaker (and cables) are wrapped in microfiber cloth pull-string pouches. These are sophisticated extras that set Audioengine apart from its competitors.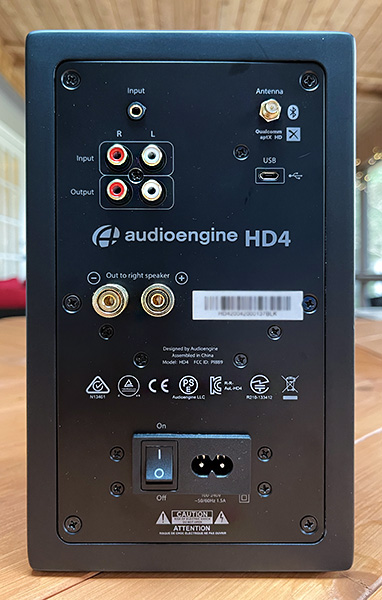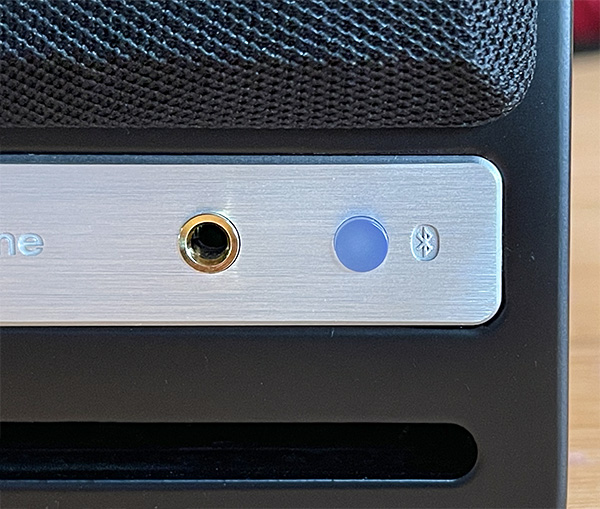 The left HD4 powered speaker contains all of the audio guts: Amplifier, Bluetooth antenna, input and output ports, digital audio converter (DAC), power, etc. The right passive speaker has no electronics and is driven by the powered speaker. Both speakers feature bass port slots allowing for extra air movement that improves bass response.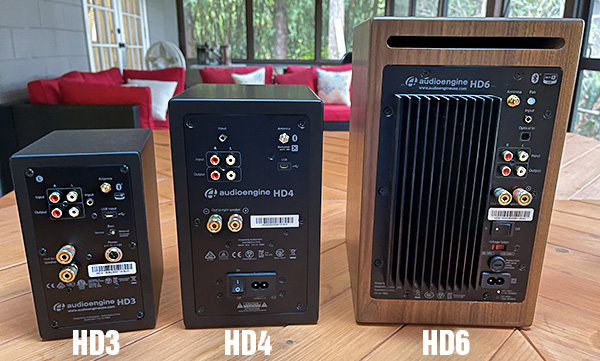 The rear of the HD4 is similar to the smaller HD3 with some notable differences. The power input of the HD4 is the more common "Figure 8" port as compared to the HD3's. Note that the smaller HD3 requires a supplied external power brick on its cable. The HD4's power comes from a Class AB amplifier. AB amp design is good for maximizing power efficiency with small power usage (Class A) while still being able to switch to larger power usage when needed (Class B).
The HD3 speaker comes with an interesting bass reducer switch. When activated, this toggle switch reduces bass, so an optional subwoofer can do all the heavy bass lifting. Unfortunately, the HD4 has no bass reducer switch. However, the HD4 speakers have audio-out RCA ports for connecting a sub. Since I have an under-the-desk subwoofer, I consider a sub-out port a necessity on any desktop speaker. While the HD4 speakers can put out a decent amount of bass on their own, having that extra subwoofer can (and does) make all the difference! Note that Audioengine makes a subwoofer that perfectly matches their speakers. I personally use a trusted older Polk Audio sub for my speakers.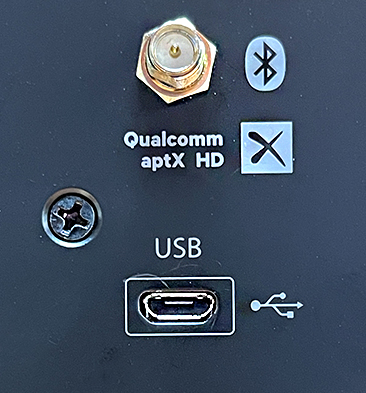 One feature of the HD4 speakers I like is a USB digital audio input port. This has two benefits: a wired digital connection (to a computer, for instance) provides the best possible audio. Plus, the digital connection bypasses the computer's inferior digital audio converter (DAC) in favor of Audioengine's superior high-resolution DAC. The downside is that Audioengine chose to use the outdated micro USB connection instead of the newer USC-C.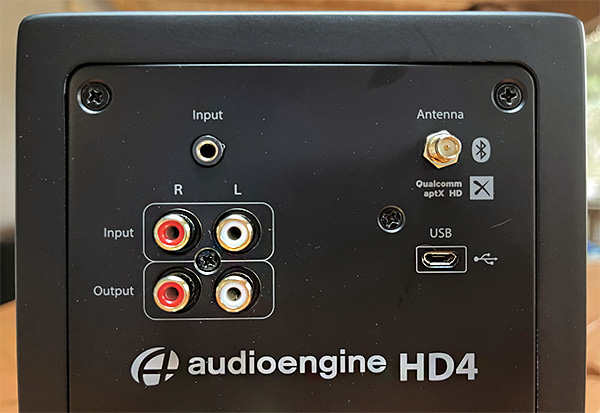 Along with digital, there are three other audio input options: analog RCA and AUX along with wireless Bluetooth. Audioengine uses Bluetooth 5.0 with aptX HD, aptX, AAC, and SBC codecs. All you need to know is that these codecs help make wireless Bluetooth sound indistinguishable from hard wiring. It's that good. Pairing is super simple. Just press the Bluetooth indicator button on the front of the left speaker and it's paired. Bluetooth range is an impressive 100 ft. This allows you to roam around a large room keeping a consistent Bluetooth signal with no dropouts.
Audioengine stuck with banana-plug speaker cables (provided) for the HD4 that are used on both the HD3 and HD6 speakers. Banana plugs provide a secure audio connection from the left powered to the right passive speaker and are far easier to use than twisted wire connections.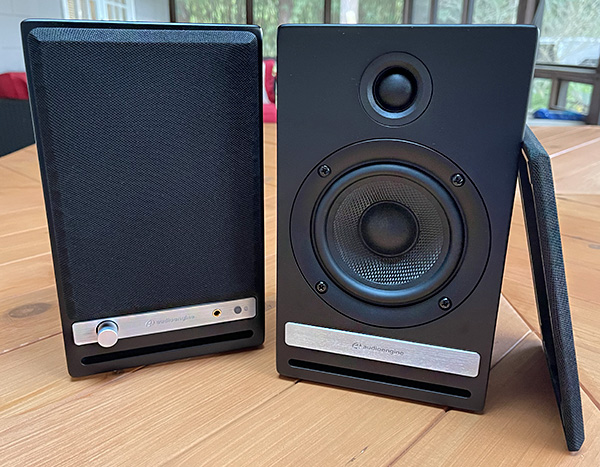 But what about sound? There are two things to keep in mind. The HD4 speakers sound bigger and better than the HD3 speakers, but not by a huge margin. Most of the HD4's improvements are from sheer physics. A more powerful amp coupled with larger speakers will provide better audio—all other things being equal. Music has a bit deeper sound with highs that don't sound harsh—no matter the volume. But it's in the mid-range frequencies that the HD4 speakers excel. If you're a fan of vocal music over hard rock, hip hop, or classical, these are the speakers to hear. No matter what music source I used—Bluetooth or digital USB—my music still sounded fun and lively. Sometimes—okay, often—I play music loud while I work in my home office (a working form home benefit) and the HD4 speakers provide the volume I want when I want it—with no unpleasantness creeping in. The audio is clean, but punchy when needed.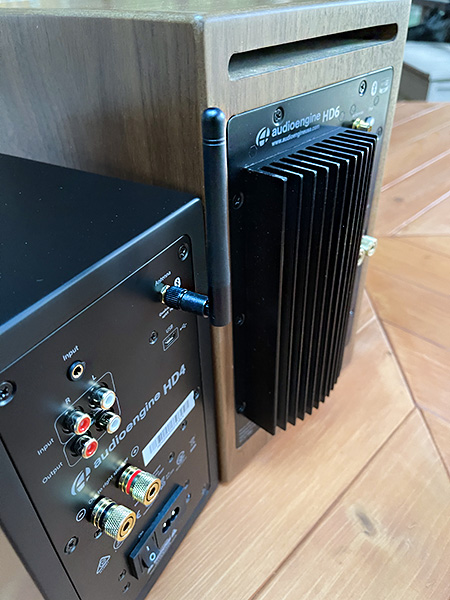 The HD4 speakers cost about a hundred bucks more than the HD3 speakers which is not surprising. The next step up is the HD6 speakers which are $250 more than the HD4 speakers—a huge leap. But then, the HD6 speakers are much bigger and way more powerful than the HD4 speakers. The HD6 amp even requires an external heatsink. 
It makes me wonder—could an HD5 speaker soon be in our future?

What I like
Right-sized for both desktop and bookshelf
Sound powerful for their size
Can connect to a subwoofer
Well built
USB digital input
Includes all the cables needed
What I'd change
Missing bass reducer switch

Final Thoughts
Since I've reviewed the HD3, HD6, and now the HD4 speakers, I have a fairly clear idea of how to categorize them. The HD3 speakers are great for desktop, bedroom, or studio apartment use where music is played in the background to working or reading. The HD6 speakers are meant for living room, large bedroom, or apartment living. The HD 6 speakers demand serious listening to appreciate all they have to offer. 
The Audioengine HD4 speakers can satisfy both background and concentrated listening. Their size is good for a medium-sized apartment or small living room. They are still on the small side yet powerful enough to make your music sound darn good. If your budget can afford them, I recommend the HD4 over the HD3 speakers. However, if the price is too steep, then consider the HD3 speakers. They can be easily enjoyed with no regrets—especially with a subwoofer.
Price: $449 US
Where to buy: Audioengineusa.com and Amazon
Source: The sample of this product was provided by Audioengine.