We use affiliate links. If you buy something through the links on this page, we may earn a commission at no cost to you. Learn more.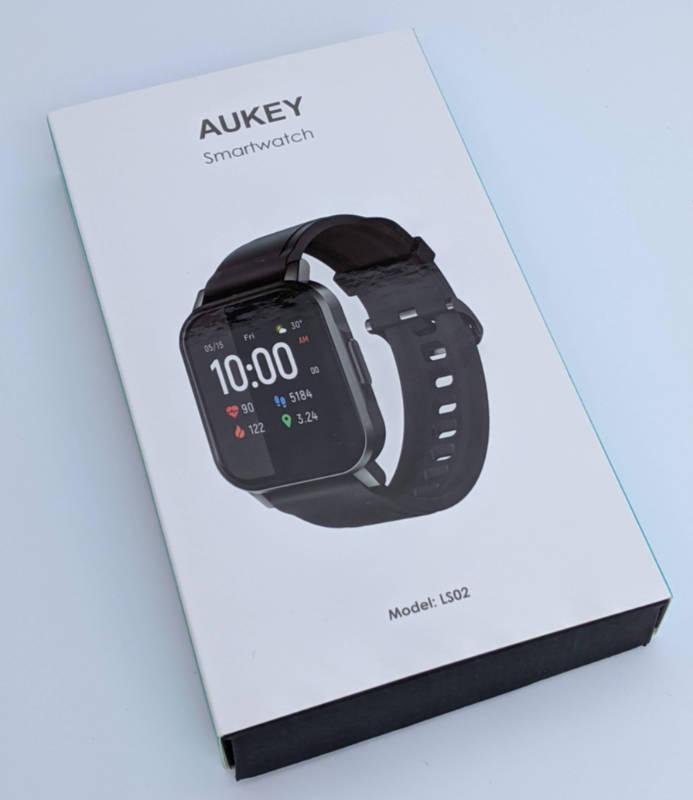 REVIEW:  The Aukey LS02 is a fitness watch with a list of exercise tracking features similar to more expensive models. But what are the trade-offs with this $40 tracker? If you're looking for a highly reliable, true smartwatch, you'll need to keep shopping. If time of day display, a countdown timer, and wake up alarm are the most important features to you, this may be your device. But don't stop reading here!  You may pick up some useful tips to help in your search as you venture into the very deep waters of fitness bands and smartwatches.  

What is it
The Aukey LS02 is a well-made smartwatch from a hardware perspective and has a number of features for its price point. The form factor is Apple Watch-esque but the similarities end exactly there.
The Aukey LS02 is remarkably like the Haylou LS02 watch. The model number was my first clue. The specs for both are identical. It is possible that Haylou makes the LS02 for Aukey.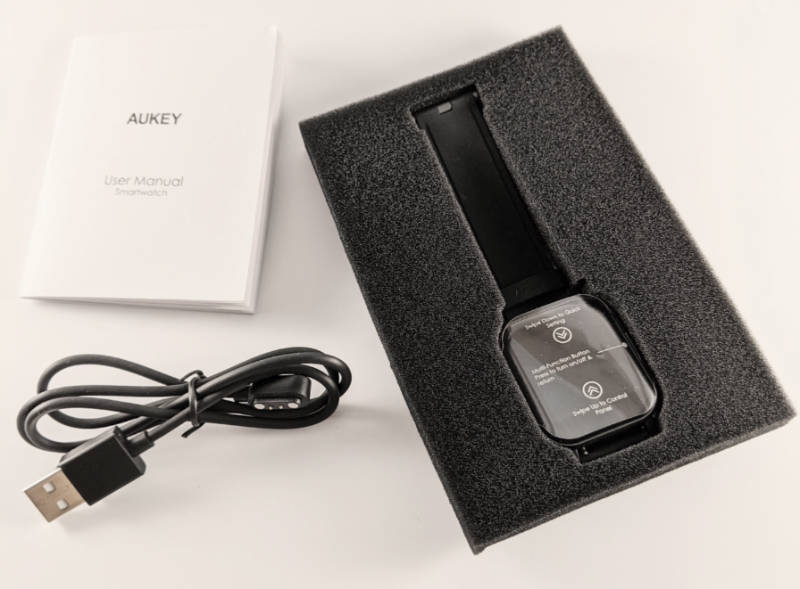 What's in the box
One LS02 watch with silicone band attached

Charging cable

Manual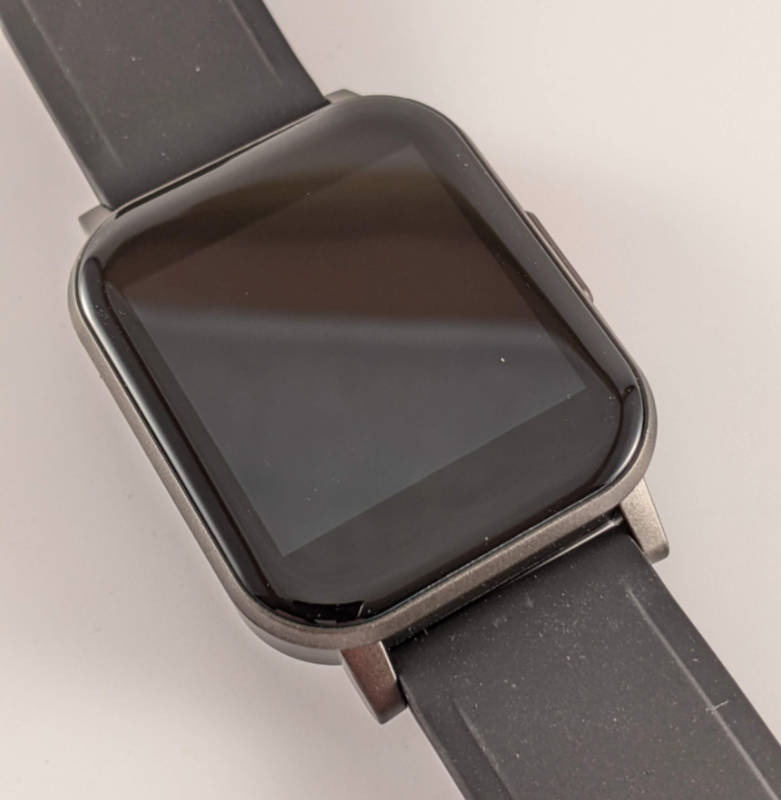 You'll note the dust magnet that silicone is, in these photos.
Hardware specs
Body: Metal case (sides and lugs), plastic back.

Height: 1.89"

Width: 1.42"

Thickness: 0.47"

Weight: 1.4 oz

Strap: 20mm easy release

Resolution:  320 x 320

Screen: Glass TFT LCD touch screen (thin film transistor).

Sensors: Optical heart rate green LED, accelerometer

Active screen area: 1" x 1"

Water resistance: IP68

Battery: 260 mAh, up to 20 day duration claimed

Temperature range: -4°F to 113°F

Phone compatibility: Android 4.4 / iOS 8.0 or higher

Data sync platform:  Aukey Fit app

Design and features
The Aukey LS02 is a dark gray, rectangular, fitness watch with glass touch screen, metal and plastic case, and long battery life. Weekly charging may be the most you'd need for this watch. Depending on your use patterns you might achieve a week or two between charges. Notifications, timers, alarms, heart rate set to always on, and screen-on time, will affect the battery life. 
The four watch faces that come installed cannot be customized or removed, and none can be added.  
While the Aukey Fit app shows 12 fitness activities the watch can track, you'll need to take your phone with you for tracking.  And tracking only means heart rate and/or steps. Then there are accuracy concerns.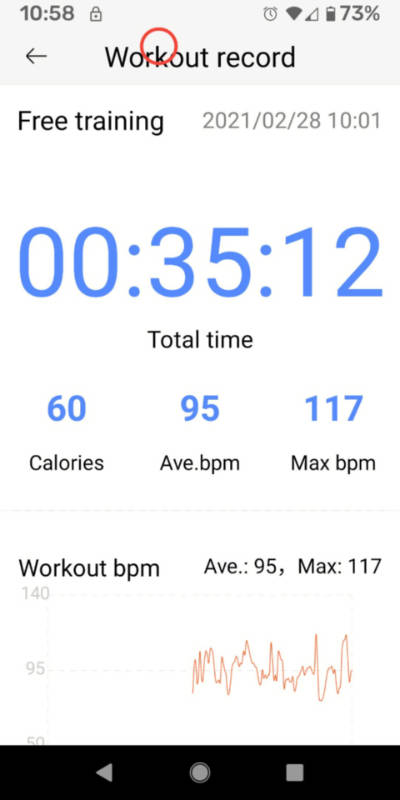 3 'sports' appear at the 'Sport' page of the phone app: Outdoor jogging, walking, and biking.  But the other 9 activities will track heart rate and step data when you activate a workout for one of them from the watch. Those are climbing, spinning, yoga, indoor running, integrated training, and gymnastics.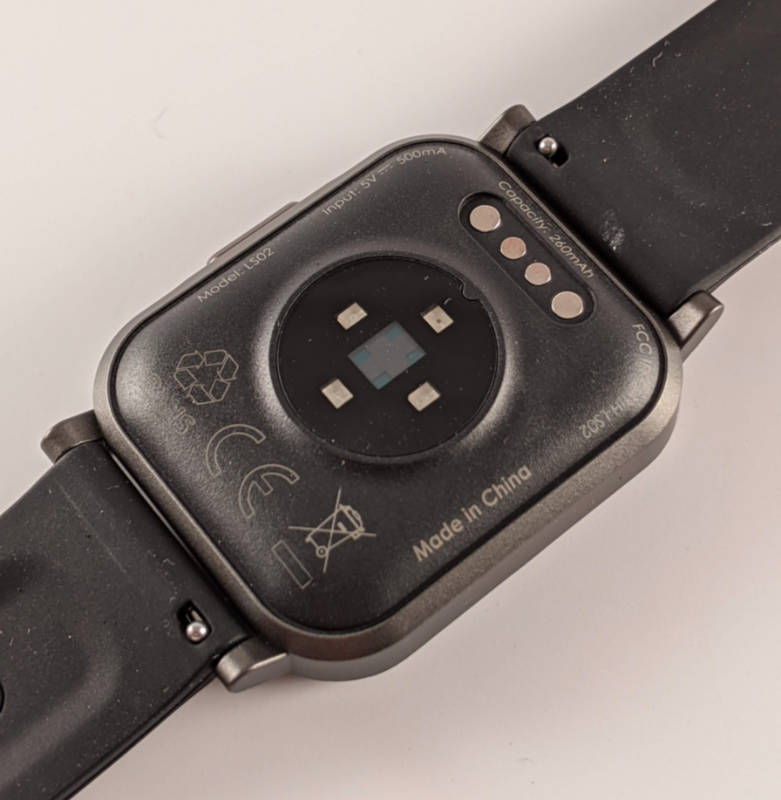 Installation and Setup
Instructions say to charge the watch for two hours at the first charge.  My watch came with 67% battery charge so I took it up to 100% plus 15 minutes and began using it.  

Install the Aukey Fit app to a cellphone

Turn on phone Bluetooth

Follow instructions on the phone and watch to pair the two.

Make desired settings in the phone app and on the watch.
Testing and observations
I have the Samsung Gear S3 Classic and Samsung Gear Fit 2 Pro. I had an Asus Zenwatch 2, a Garmin that was supposed to count weightlifting reps, other Garmins that were returned, a Pebble Watch, and I support two Fitbit Versa 2 smartwatches worn by family members.  The Aukey LS02 did not perform comparably to any of those watches, not even the original Pebble.  (A moment of nostalgic pause, if you please…)
BATTERY LIFE
I charged the LS02 to 100% when it arrived and recharged it 4 days later when it got to 17% and displayed a low battery warning.
On day one I turned on notifications for calls, texts, and WhatsApp. I used the daily wake up alarm, and set 5-8 timers a day.  I kept the watch set to turn on the screen with wrist movement and set the night mode to 'screen off' during sleep hours.  There is no 'always on' screen option.  
A 35 minute weights workout depleted the battery 3%, presumably due to the heart rate monitor being on for the workout duration.
STEP COUNTER
I did a half-mile walk wearing the LS02 on one arm, and a Samsung Gear Fit 2 Pro on the other. I was careful to make normal, unexaggerated arm movements throughout the walk.  I logged 866 steps on the LS02 and 1182 steps on the Fit 2 Pro. Wonder which was right? Since the Samsung was $157 (in 2018) and that manufacturer updates the watch and app software occasionally, I tend to trust the Samsung's accuracy.
I made a 100 step walk, counting carefully, and using normal arm movements. The two watches were very close in their counts.  The LS02 showed 102 steps and the Samsung showed 96 steps.  But I couldn't be sure when the Aukey was right and when it was miscounting.
HEART RATE DETECTION
I compared heart rates reported by the Aukey LS02 with the Samsung Gear Fit S2 Pro.  At first check, the watches showed counts within 1-2 beats per minute of each other. The LS02 also correlated to a manual check of my carotid pulse.  At other times the LS02 reported heart rates nearly double my actual pulse.  I had my wife wear the watch for a few minutes when she was at rest and still, and it reported well over her actual heart rate. 62 was her real BPM. The LS02 showed 114 BPM.
I did 100 jumping jacks then observed the reported heart rate on both devices.  At the end of the exercise the LS02 reported a 132 BPM rate, while the Samsung showed 130 BPM. A minute after stopping exercise and as my rate descended back towards normal, the two watches stayed within 1-2 beats of each other. I wish the heart rate monitor was accurate with each check. The variation rate makes it hard to trust this watch for heart rate tracking.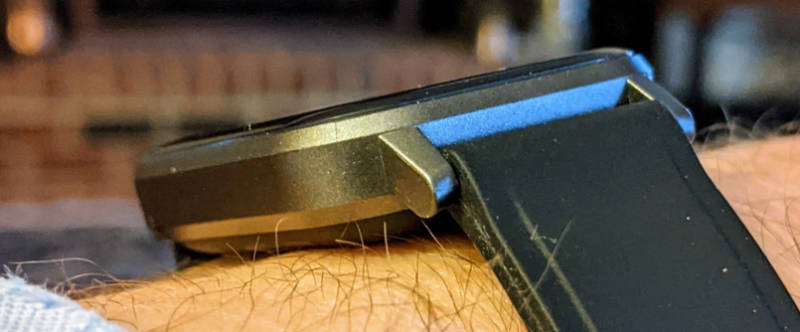 OPERATION
Notifications only come from certain unspecified texting apps, plus WhatsApp, Facebook, Facebook Messenger, Twitter, Skype, LinkedIn, Instagram, WeChat, and a few other apps I've never heard of.  Email notifications are not possible.
Watch alarms can only be set with the phone app.  When the alarm time is reached the watch vibrates 8 times.  Countdown timers can only be set on the watch.  When the countdown is reached, the watch vibrates three times. While this turned out to be adequate for me, I wish the number of vibrations was adjustable. 
The watch only has two screen modes, 'on by wrist-turn', or 'on by button push'. Given that the screen is usually off, this contributes to the long battery life.  Wrist turn mode worked well and was fairly reliable, usually taking only ½ second to light the screen when I turned my wrist to see the time.  Occasionally I had to 're-flip' my wrist, but ditto with my Samsung Gear Fit 2 Pro. 
DISAPPOINTMENTS
The Aukey Fit app is spartan in terms of functionality. And the number of required permissions is concerning. Android requires users to accept each permission an app requires on the first use of an app.  I accepted each for the sake of science but wasn't that comfortable doing so.
No fitness or smartwatch should require 'location on', full-time.  I might understand the requirement if the weather app really worked. 
After this review, I deleted the app and checked my phone's files. Aukey related files and folders were left on my phone that should have disappeared with deletion of the app.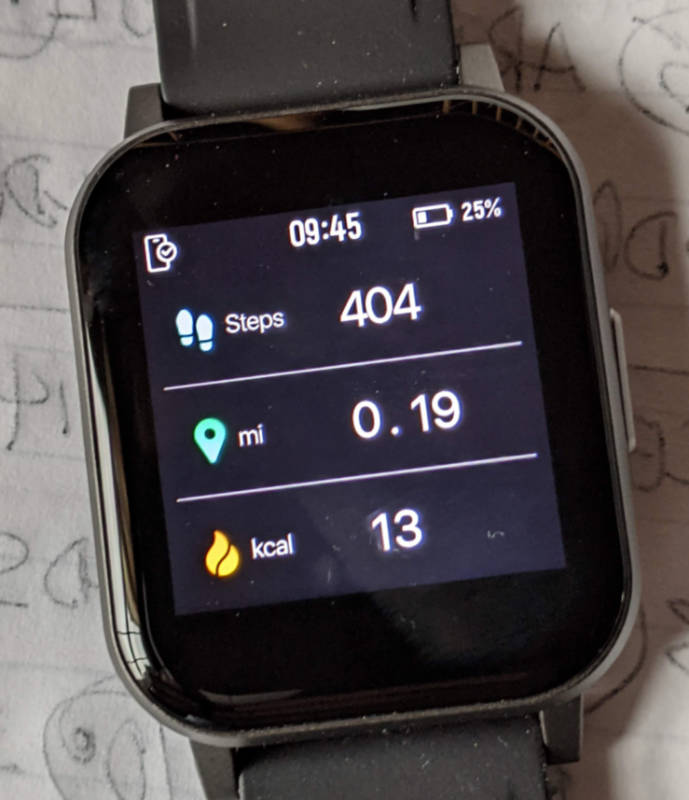 Disconnections of the watch from the Aukey Fit phone app happened daily, even if the phone and watch stayed in close proximity.  The watch does not notify when it disconnects from the phone app. 
A very tiny disconnect icon (an 'x' symbol where the check mark is located in the photo above) appears only on screens other than the home screen. An update to the Aukey Fit app came through the Google Play store on my second day with the watch which claimed to fix disconnection bugs. Disconnections still occurred after that update. 
The weather app on the LS02 seems an afterthought.  The watch indicated rain when it was only overcast.  At late night the watch weather screen often showed the sunlight symbol for current conditions. Temperatures were routinely 8-10 degrees off from our area's actual temperatures. A 20 mile radius from my town seldom has more than a 3 degree temperature variation. I found no way to force the phone app to refresh the weather data.  
Countdown timer setting often took too long due to the watch not responding to the small screen swipes necessary for setting the number of minutes to be counted down.  
SMS app compatibility is a mystery.  The watch would not notify/vibrate when a text message arrived via my preferred SMS app, Textra.  I switched to Google Messages and that app seemed to work with the watch.  I then tried the Pulse app and incoming texts did not cause the watch to vibrate.  I contacted Aukey to determine which SMS apps work with the watch. Aukey support will not communicate unless the inquiry contains a purchase order number (proof of purchase). 
I explained to Aukey support that this review was in process, and they replied that they would test SMS apps with the LS02 and report back to me.  I was surprised that I seemed to be the first person to make this inquiry.  I did not get further information from Aukey before submitting this review. Aukey should understand that uncertainty about SMS app compatibility makes this product much less attractive.  
Notification type size is small and the font is jagged and hard to read, so I found myself using the watch vibration simply as an alert to check my phone for the actual message.  
Exercise tracking requires the phone.  You'll need to take your phone with you during exercise if you want the watch and app to log your data.  Random days can drop out of your exercise history, so you'll need to log your results after each workout on a spreadsheet or paper, if your workout history is important to you.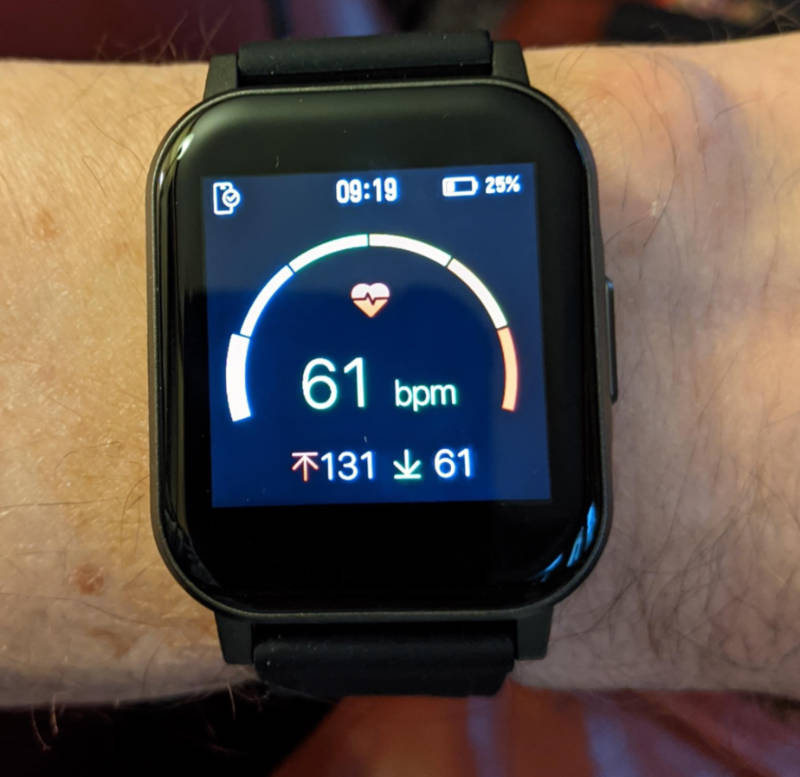 Heart rate readings from the LS02 were sometimes very accurate.  At other times it showed 50-55 BPM above my real pulse rate.  I could not trust the LS02 to display true heart rate figures.  
What I like
Several days of battery life. 

Shower, and sweat proof. Swimming is not listed as an approved use.

Looks better than many basic fitness watches and bands.

Good visibility in bright sunlight.

Good screen swipe response. 

Vibration is strong enough to wake me and to be felt during daytime notifications.

Time checking is as fast as more expensive watches that have the wrist turn feature.
What I'd change
Add more faces. Only one of the included faces was just 'ok' for me. 

Heart rate count needs accuracy correction.

Step count may need accuracy correction. (see Testing section)

The watch should vibrate with any notification that comes to the phone. 

Aukey should clearly state what texting apps work with the LS02.

Describe Night mode/Do not disturb mode in the manual.  

Fix connectivity. Reliable watch-to-app connectivity is a must with this brand since the watch and app have to operate together. 

A clear, visible icon should appear on the home screen when the watch and phone app lose their connection, and it shouldn't happen often.

Setting a timer requires too many repeated swipes.

The weather app needs to refresh more often.

Aukey does not sell replacement charging cables for the LS02.

Delete the breathing exercise function. It just takes up space and its utility is dubious.
Final thoughts
I had high hopes for the Aukey LS02 fitness watch but that nagging list of disappointments kept growing. This is not really a smartwatch even by loose definition. The LS02 will be a worthy purchase only if you need a good looking watch that shows accurate time and serves as a wake-up alarm and count down timer.
Price: $39.99
Where to buy: Amazon
Source: The sample for this review was provided by Aukey.