We use affiliate links. If you buy something through the links on this page, we may earn a commission at no cost to you. Learn more.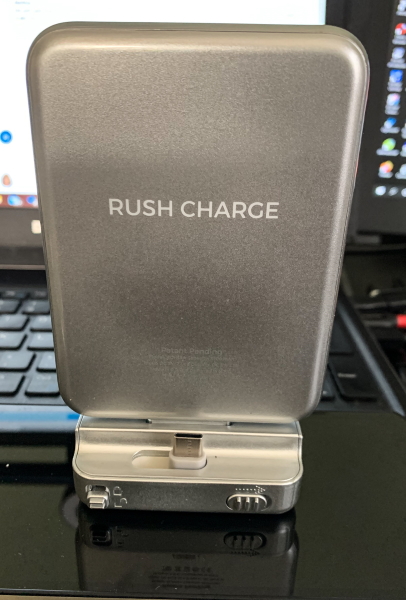 REVIEW – Each day I walk around with 3 smartphones, with each having a specific use/purpose. My Android phone is heavily used and I often find myself away from home and in need of a charge. There are numerous portable batteries available for such a purpose, so I often look for something that is multi-purpose to get the best bang for that buck. Let's see if the Rush Charge Hinge 4500mAh Portable Battery Bank and Phone Stand is a good choice.
What is it?
The Rush Charge Hinge Portable Battery Phone Stand offers a compact and portable charging solution for Android Smartphones. It features pass-through technology, along with the RC Hinge and a built-in battery.
What's in the box?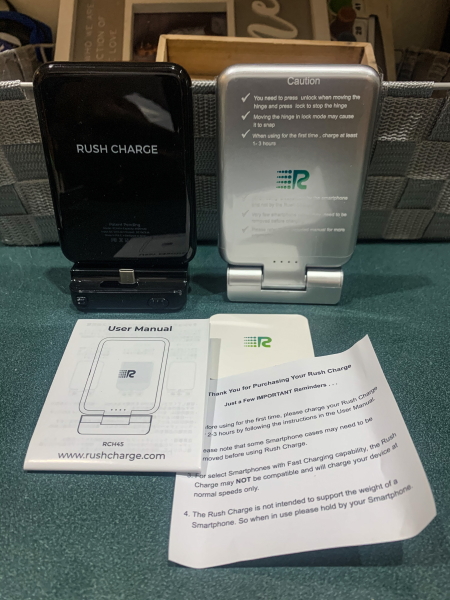 1 x Rush Charge Hinge Portable Battery Phone Stand
1 x User Manual
Design and features
Features
RC HINGE – RC45: One of the most compact and sleek portable chargers. Rechargeable lithium-ion battery. Holds up to 36+ hrs of charge. Comes pre-charged.
HINGE FUNCTIONALITY: A charging phone stand with a multi-angle locking mechanism.
PASS-THROUGH TECHNOLOGY: Simultaneously charge your device and portable battery power bank.
SMART LED DISPLAY: Accurately keep track of remaining power and charging status. Contains auto-shutoff to prolong battery life.
COMPATIBILITY: Rush Bank is the most convenient, quick-charging solution compatible with Android, Samsung, Bluetooth Headphones / Speaker, iPad, Tablet, and more.
RUSH CHARGE ADVANTAGE: 1 4500mAh RCHinge, 1 User Manual, 24/7 customer support, and 60-day Limited Manufacturer's Warranty.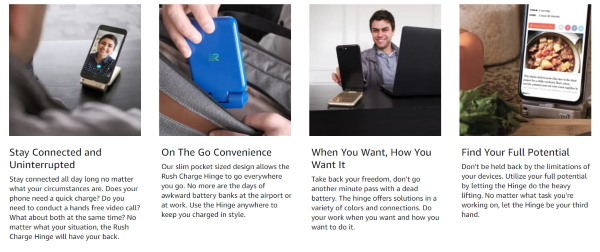 Specifications
Connection USB-C – Compatible With: All Android/Samsung USB-C Phones
Battery Size 4,500mAh Polymer Lithium Highspeed Battery
Output Speed 5v / 2.1A
Size 3.54 in X 2.36in X 0.24in – 2.62 oz
On one side of the Rush Charge, there is the charge indicator LED, and on the other side, there is the USC-C jack that can be retracted and 2 buttons on the front to lock/release the USB-C jack and lock/release the angle of the stand.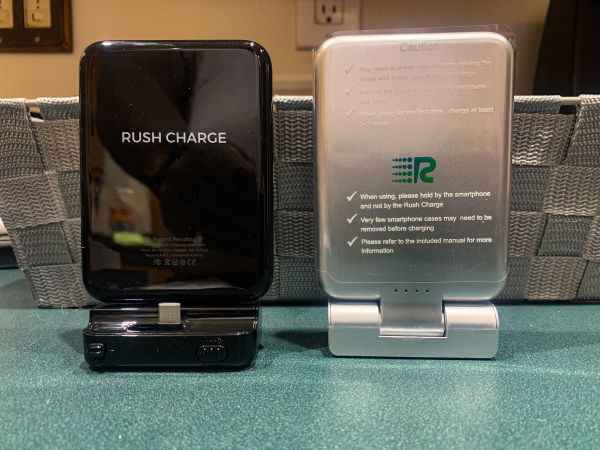 On the right side of the device, there is a USB-C female jack that is used to charge the device.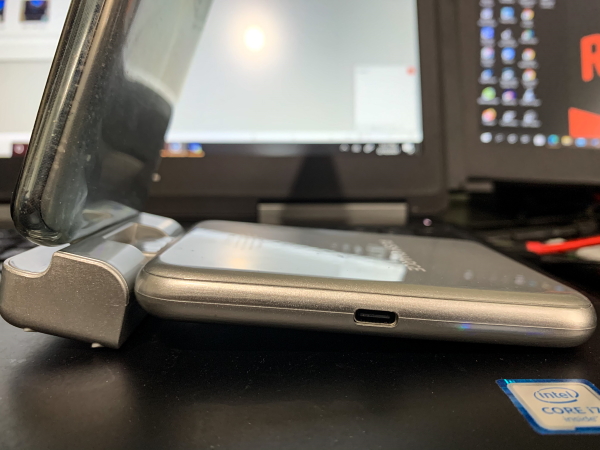 Performance
The first thing to do is to charge the device. There are blue LEDs that indicate the charge level.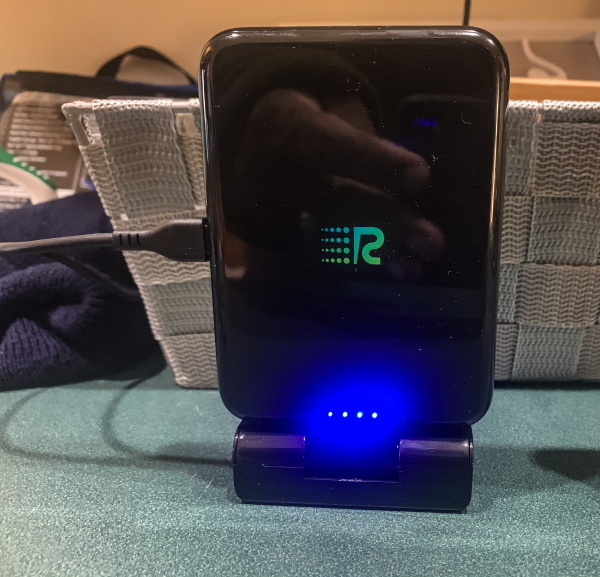 You can move the stand into a position that allows the phone to be plugged in and charging while viewable.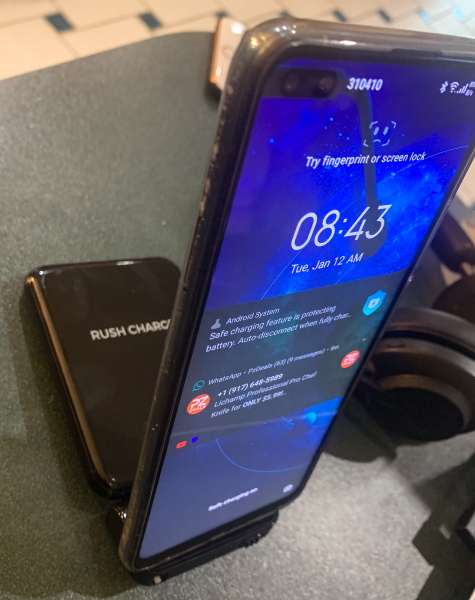 The first time I used the lock button for the stand on the black version, it popped out and flew across the room and was lost forever. See the photo below.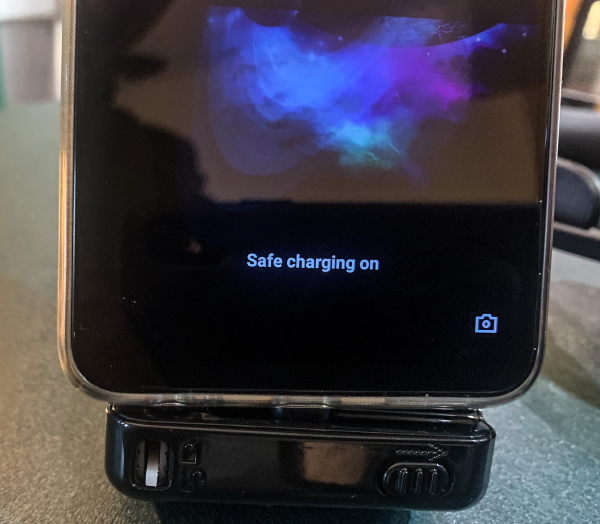 This device is very portable and would work well for many phones. I tested with 2 relatively large Android phones, and both were very hard to get to stay upright. Also, the second phone has a built-in case and could not be plugged into the stand. If you have a smartphone that can easily stand upright on this device, it would be good for viewing and online calls all while being charged.
What I like
The built-in battery
The pop up/retractable USB-C jack
What I'd change
The quality control
A more stable base to handle larger phones
Final thoughts
When I first received the Rush Charge Hinge 4500mAh Portable Battery Bank and Phone Stand device I was eager to use it. I have a few Android phones to use and I chose the Infinix Zero 8 Smartphone and the Doogee S96 Pro. Both of these relatively large phones present a challenge of the Rush Stand and easily tip over. Also, the Doogee has a built-in case and just cannot connect to the USB-C jack. The use of these types of devices is usually subject to personal preference, and while this device may work well for some, it is not for me. Also, the cost seems somewhat high.
Price: $49.99
Where to buy: Amazon
Source: The sample for this review was provided by Rush.