We use affiliate links. If you buy something through the links on this page, we may earn a commission at no cost to you. Learn more.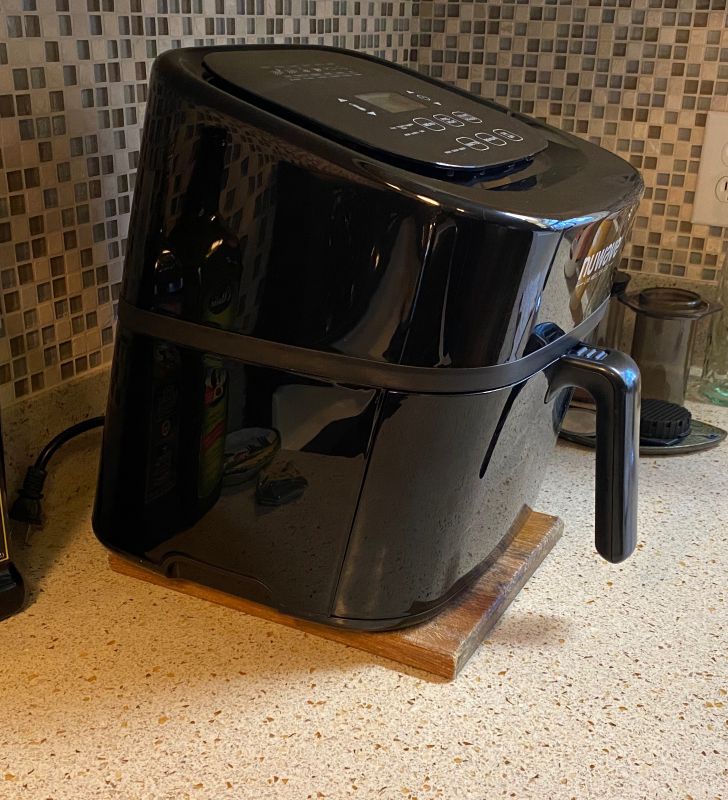 REVIEW – Pandemic cooking is a thing. Other than bread baking, I think the most articles I have seen have mentioned air fryers. I tried one in the before times but returned it due to its size and the noise. But recently, an opportunity was presented to the Gadgeteer Squad to test the Nuwave Brio 6-Quart Air Fryer, and I thought I'd give it another shot. Here's what happened.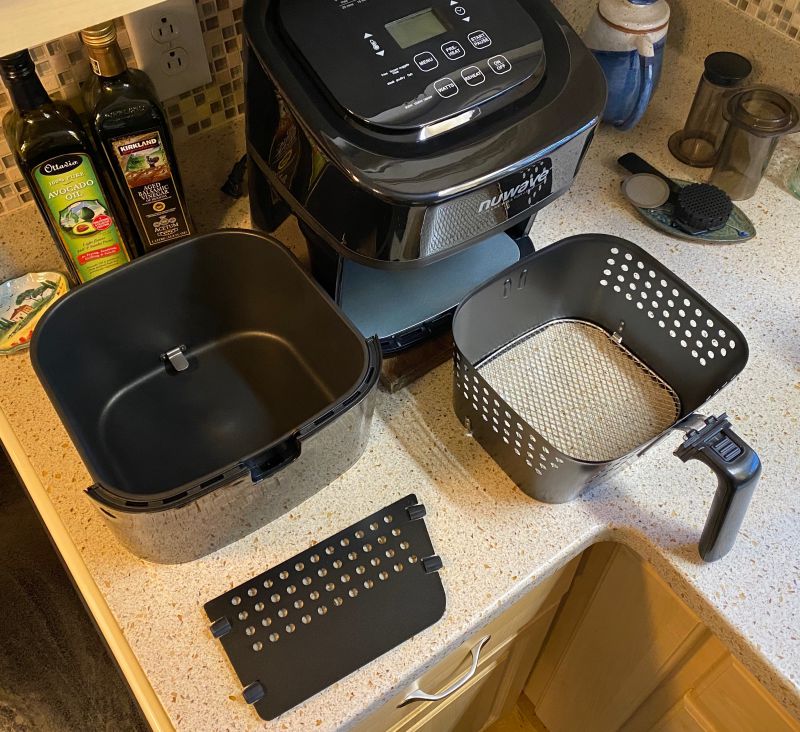 What is it?
This is a six-quart air fryer, with a non-stick basket and fully programable controls.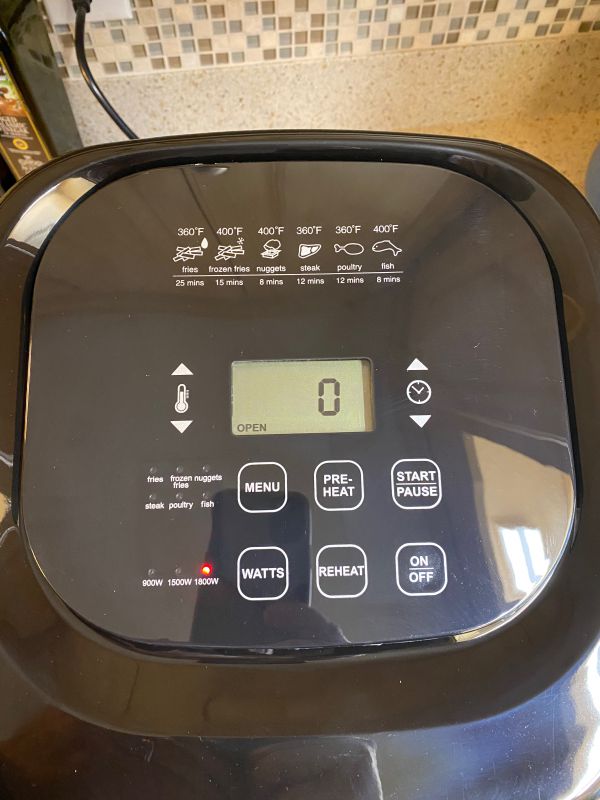 What's in the box?
The Fryer controller
The Outer basket
The Inner basket, with grill insert
Divider for basket
Recipe book and other paperwork
Hardware specs
(from company website)
CONSISTENT COOKING TEMPERATURE –The NuWave Brio makes sure that the temperature you set is the temperature you get by checking the temperature inside the unit 120 times per second. Other air fryers can shut off as much as 20-40 times per hour, leading to a deviation from the targeted temperature by as much as 40°F.
EVEN HEATING – The NuWave Brio's unique cooking chamber ensures that the super-heated air generated by the Brio circulates around your food, cooking it from all sides at the same time. This is facilitated by the patented Fry Pan Basket design with its stainless steel meshed basket net and holes in the basket walls to ensure the hot air cooks your food from every direction.
ADVANCED FEATURES – The NuWave Brio has a vast temperature range between 100°F and 400°F, adjustable in 5°F increments with the simple press of a button. It features Reheat and Preheat buttons as well as a menu of 6 popular dishes preprogrammed into the unit for added convenience.
CONVENIENT – The 6-quart Brio is the perfect size for cooking two pounds of fries or a 3.5-pound chicken, making it the perfect choice for couples, small families or anyone that wants to enjoy healthier fried food made quick and easy. And only the 6-quart Brio features a handy removable divider insert for the Fry Pan Basket.
SAFER FRYING – Unlike other air fryers, the NuWave Brio has built-in safety features which ensures that the Brio automatically and immediately shuts off when the basket is removed. And the Brio won't start cooking again until the basket is securely replaced.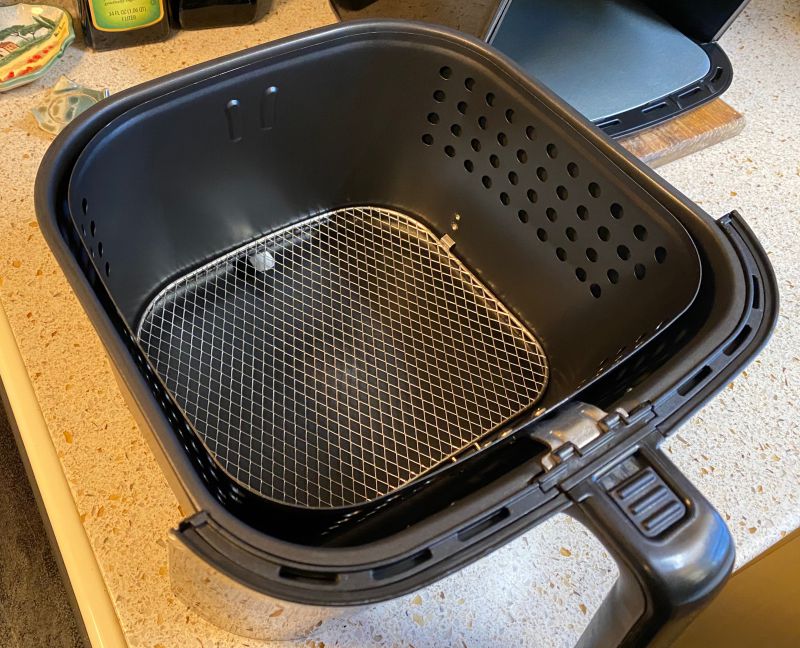 Design and features
The Brio 6-quart air fryer is huge. It dominates the corner of my kitchen countertop easily. But it is effective and useful, so it stays there. I even moved the coffee maker and Vitamix to give it this spot.
The design of an air fryer is this: just like an oil fryer, there is a basket that contains the food being cooked, and a surrounding space where the heating medium is allowed to circulate around that food. In the case of a deep fryer, that would be a vat of hot oil. In the case of an air fryer, it is a sealed space for circulating super-heated air. This makes for a lower caloric content in the foods being prepared, as well as the ease of not having a few quarts of hot oil to store or dispose of.
The inner parts of the Brio are all non-stick – except the basket grill bottom. While this pops out for "easy cleaning", it is neither non-stick nor easy to clean. The wire mesh is not round, but somewhat angled. This makes for a cleaning problem: everything you try to scrub it with gets shredded. (Think cleaning a cheese grater, but the blades are angled both ways, instead of just one!) Virtually everything you cook needs to sit on this grillwork, so you clean it every time. After several uses, I put the grill in the dishwasher with the basket parts, and it came out mostly clean. A few "Klingons" needed to be released with a toothpick, and it was good to go!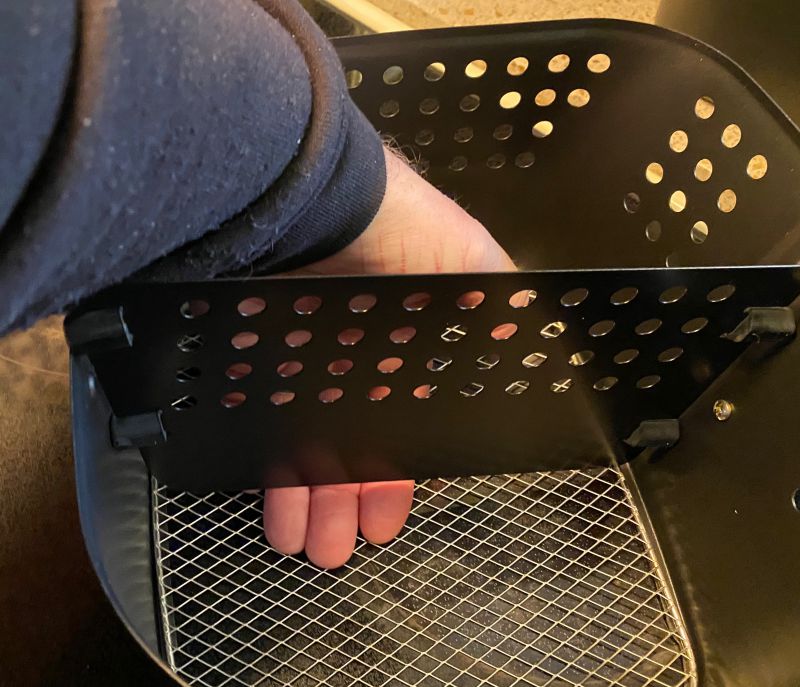 The divider was a no-go. It would not fit down to the grill mesh, so if you want to cook two different items at the same time, you may as well mix them up together! I've not tried a mixed ingredient recipe, but am interested in doing so. I've cooked chicken several times, and also one of the cookbook recipes for Cajan shrimp – truly a delight! Just last night, I cooked a sirloin steak, and it turned out quick nicely!
If you search on YouTube for Air Fryer, there are around 20 bazillion videos that give you ideas on how to cook with your air fryer. I made an egg toast (suggested by Aaron and Claire – "Time to taste: Claire!")
I'm sure I'll be using this for a good while, since it is fast, easy to clean, and doesn't add a lot of calories to your food. (Claire Lower at Skillet just posted about cooking ginger in the air fryer, and called it a "turbo roaster." Much better name, but I think that ship has sailed!)
What I like
Very quiet
Outside remains cool
Dishwasher safe basket
What I'd change
Mesh grill is extremely difficult to clean
Divider does not fit into basket
Pan is wonky to insert into the main unit
Final thoughts
I love this device. Make no mistake, I am fully sold on the concept of air frying, and this unit in particular. But there are a few gotchas. Cleaning the basket bottom is a pain. It shreds any cleaning agent you use: SOS pad, copper scrubby, Scotch Brite pad, dish cloth, all of them. Each time I clean it, I wind up using a wooden toothpick and cleaning each angle of the wire mesh individually. The texture of the wires that make up this piece of the unit are almost impossible to scrub clean, and it's the piece that needs cleaning after every use.
While this is a pain, the results of cooking with the Brio are phenomenal. I've used it for things I'd never have imagined cooking as easily and quickly as this unit is able to work. The 6-quart size means I can prepare a good amount of food for a family, without having to run it multiple times, and thus, everyone's food arrives at the same time.
The other issue is mainly just a mental thing: when you insert the basket into the heating control unit, the outer basket hangs down lower than the inner basket. You just need to push it up, but if you have heat-sensitive countertops, it could cause an issue. Neither of these is a deal-breaker, but both are a small stone in your shoe.
Price: $99.99
Where to buy: Amazon
Source: The sample of this product was provided by NuWave Brio.