We use affiliate links. If you buy something through the links on this page, we may earn a commission at no cost to you. Learn more.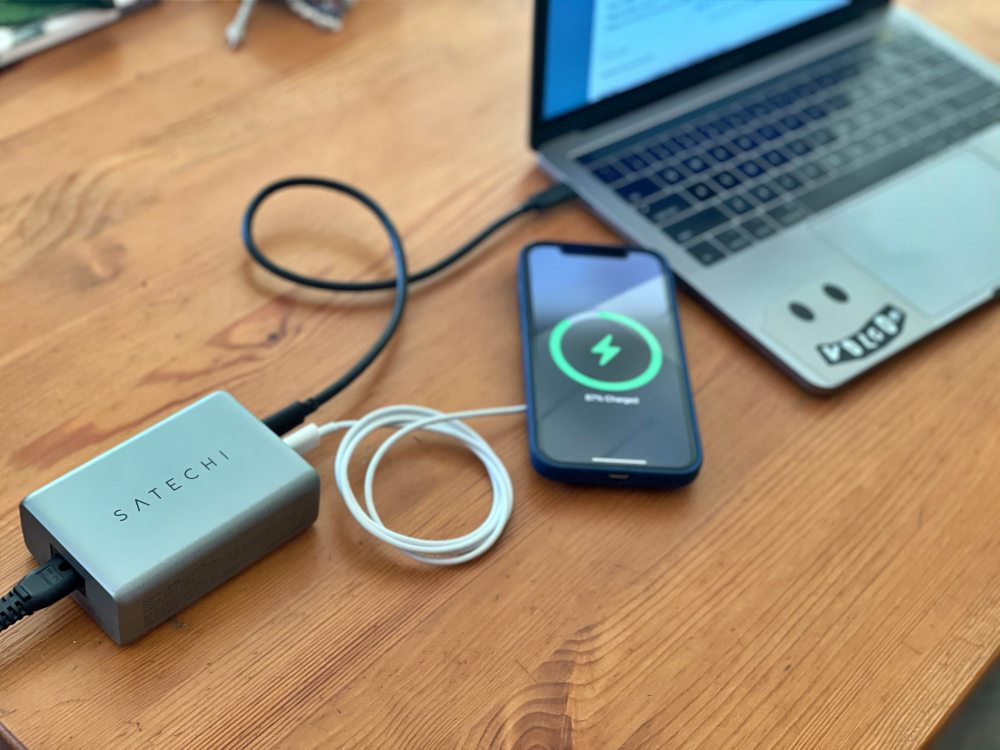 REVIEW – Laptop chargers can be annoying. They're usually larger than you'd like and if not they are either proprietary or have a single USB-C cable or port for your laptop. What if I told you it doesn't have to be that way? That's Satechi's approach with their 100w USB-C PD Compact GaN Charger. Sound interesting? Read on.
What is it?
Satechi's 100w USB-C PD Compact GaN Charger is a solid, dense wall charger with 3 USB ports and a 3′ power cable that puts the charger up on the table close to the devices you want to charge.
What's in the box?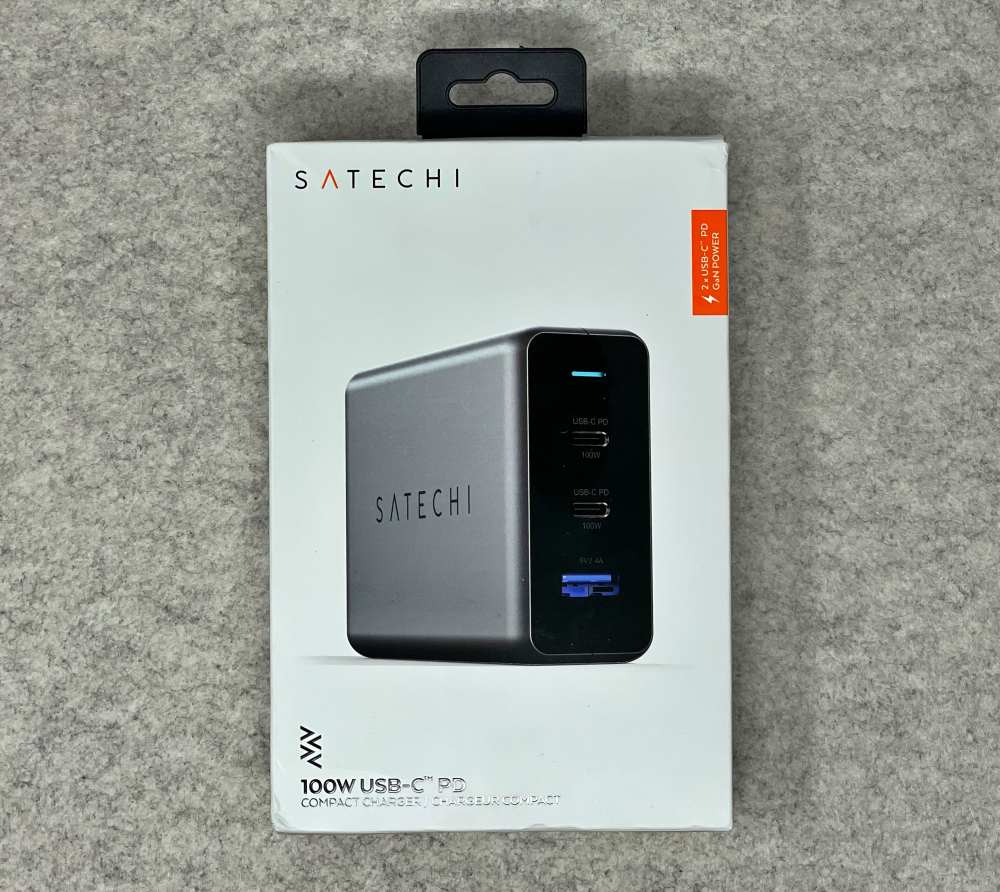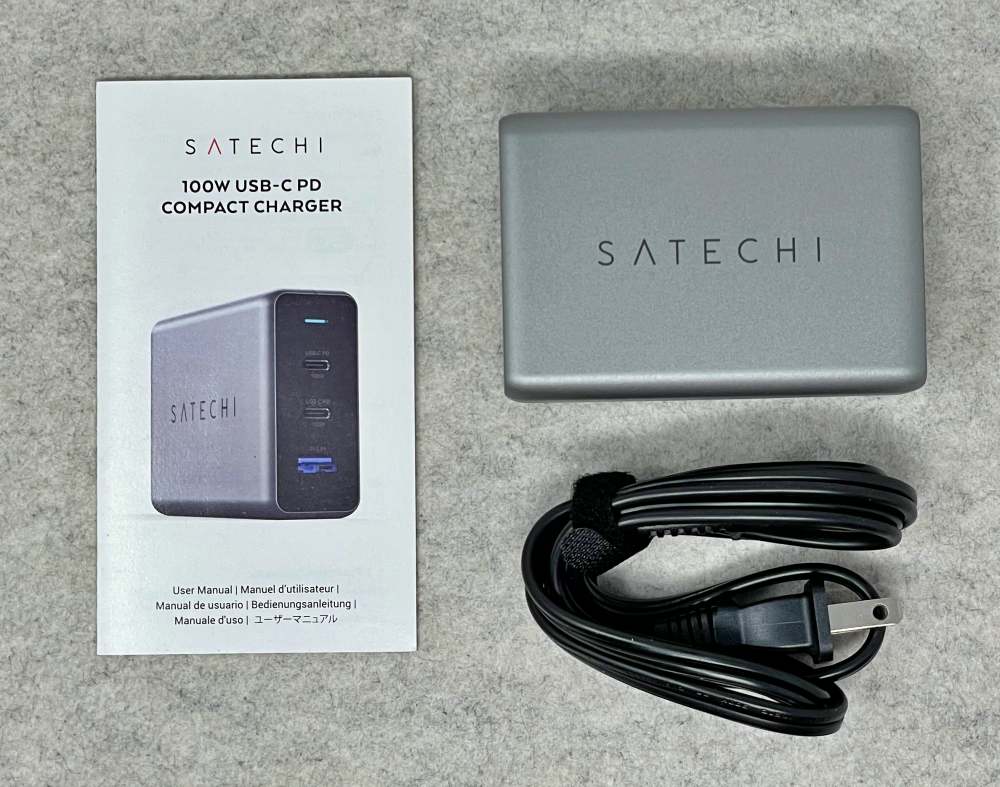 100w Wall Charger
Power Cord
User Manual
Hardware specs
Compatibility:
USB-C or USB-A powered devices
Ports:
1 x USB-C PD connected – up to 100W
2 x USB-C PD connected – up to 60W/30W
1 x USB-C PD + 1 x USB-A connected – up to 100W/12W
2 x USB-C PD + 1 x USB-A connected – up to 60W/30W/12W
Power Input:
Wall Charger with US-style plug | Voltage: 100V-240V
Dimensions:
3.75 x 2.5 x 1.25 inches, 11.2 oz
Design and features
The most notable design element is that it provides distance from the wall and sits up on the table reducing the length of the individual device cables that you need to run. The exterior casing is a dark grey aluminum with a black front panel.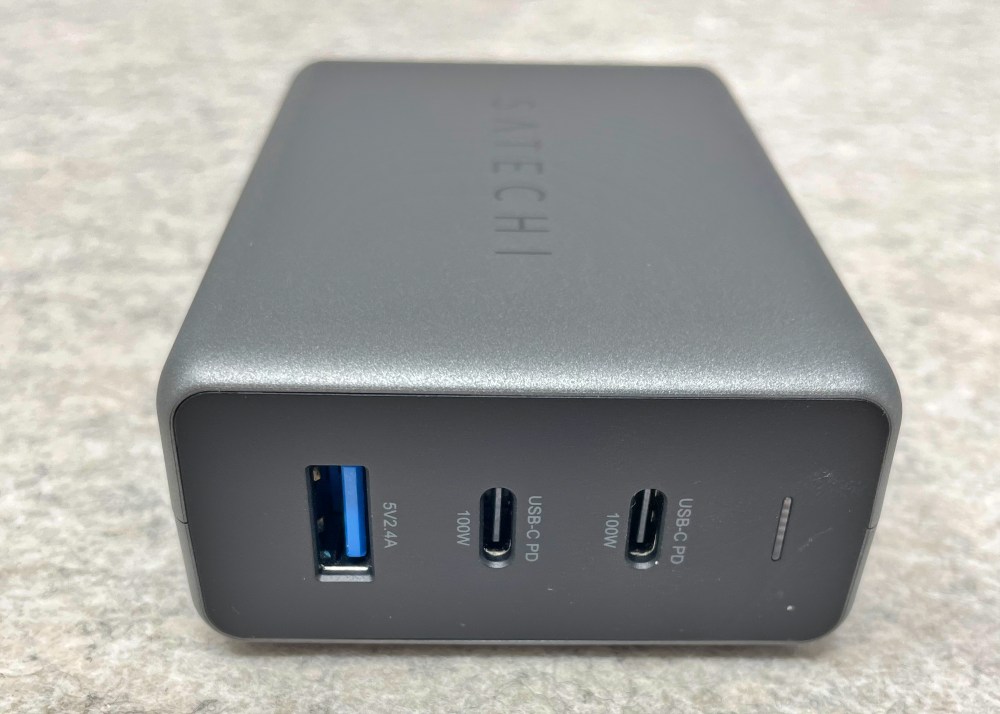 On the front there is one USB-A and two USB-C PD ports along with an LED indicator.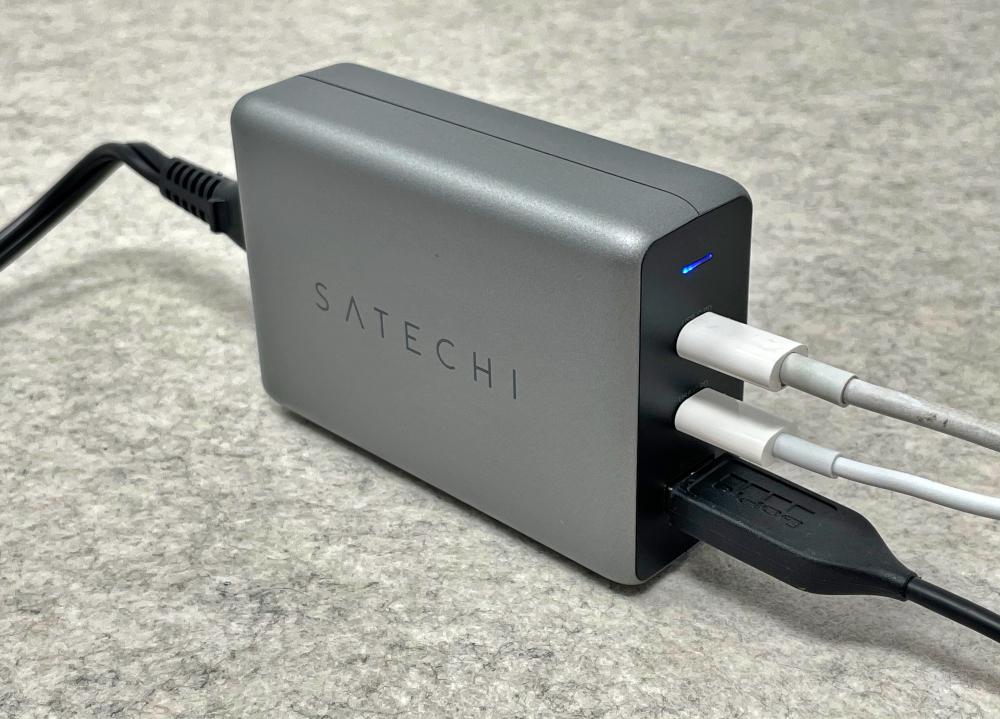 The charger is capable of providing up to 102w total output that gets divided among the 3 ports depending on what devices and how many are connected.
The wall power connects at the back and the four rubber feet keep it from sliding around and also protect your furniture.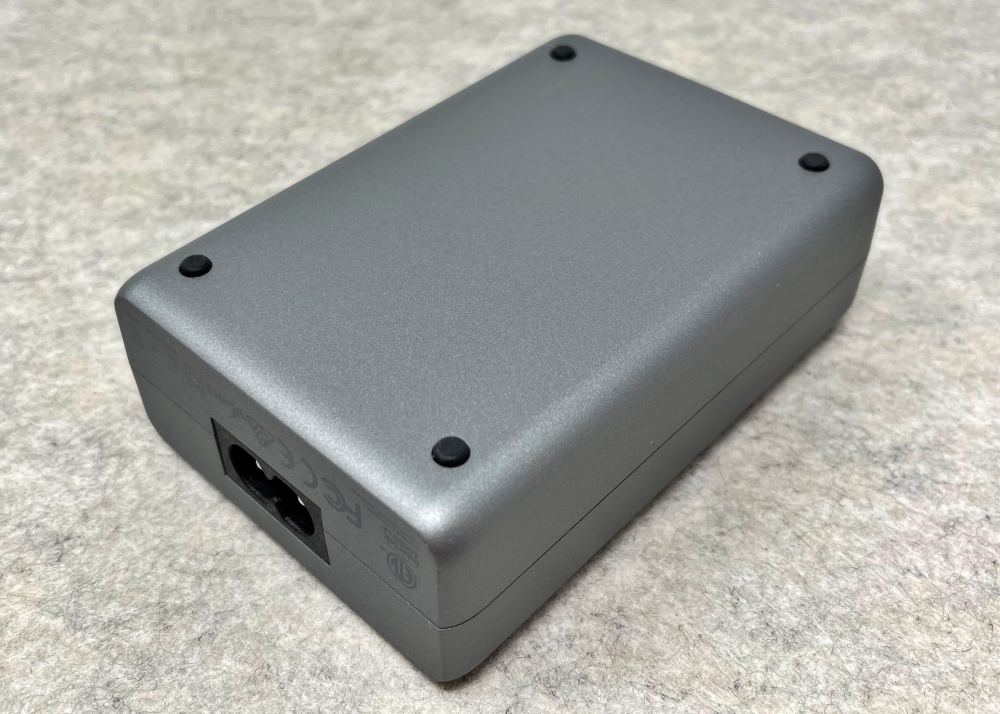 A detailed list of charging abilities is printed directly on the side of the unit.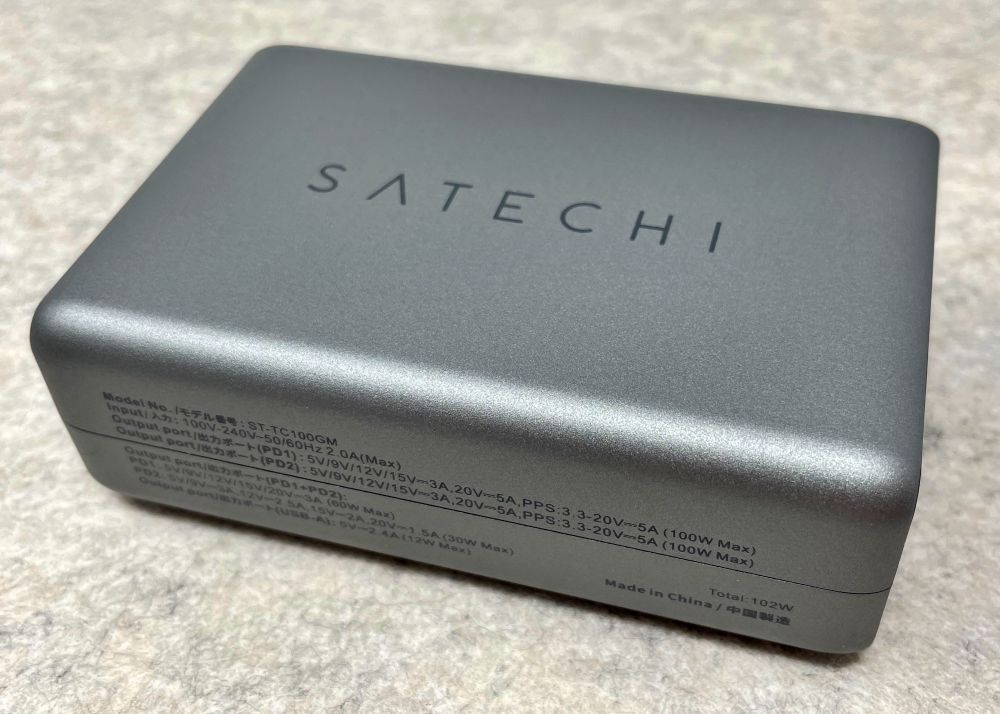 And all the certifications are on the backside.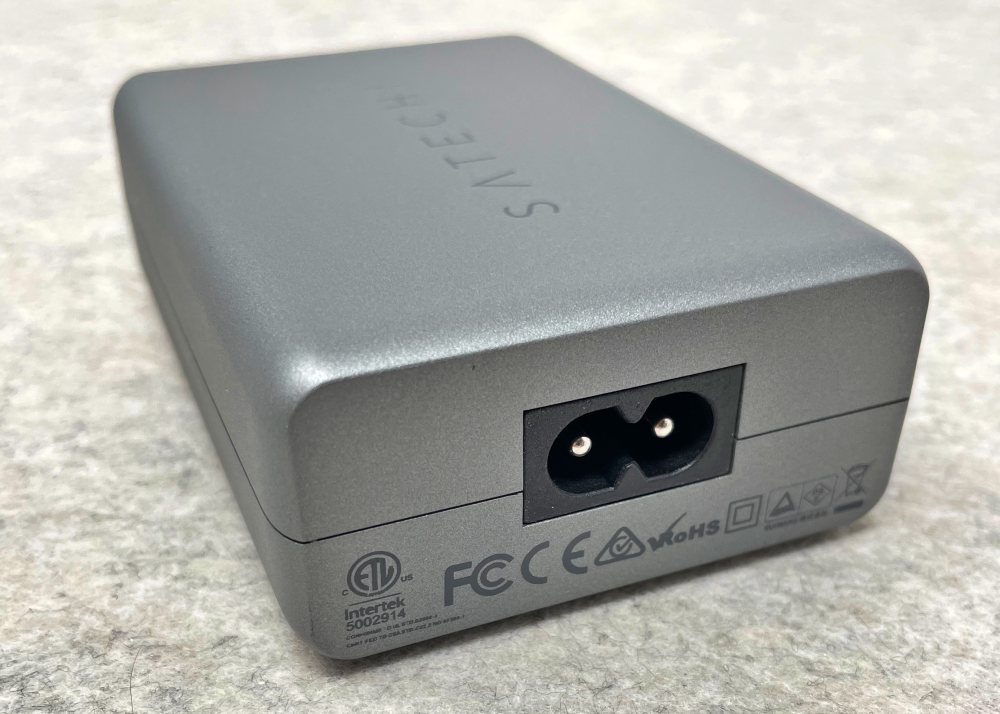 Setup
Connect the power cord to the charger and then plug into a wall outlet. The blue LED will light up when power is present. Now connect any devices you want to charge (up to three), with the appropriate USB-C or USB-A cable.
Performance
I really like it when products just work. This charger fits that bill. It uses GaN technology (Gallium nitride) which replaces silicon, requires fewer components and allows for smaller devices overall.
As I mentioned earlier, this charger feels like it was meant to be up on the table instead of down at your feet or hanging in the wall. The 3′ power cable is long enough and it's a standard two prong electronics cable that's inexpensive to replace should you needed a longer one. Once on the table you have three ports to work with; one USB-A and two USB-C PD ports.
The two USB-C PD ports independently provide up to 100w. If you use both simultaneously, one provides up to 60w and the second, half that at 30w. That makes it perfect for powering a MacBook Pro 13″ and an iPad Pro at the same time.
The USB-A port provides up to 12w regardless of what other ports are in use, so go ahead and add your iPhone as well.
One thing to note, the charger does get pretty warm during use. Aluminum obviously conducts heat well and that's a good thing here as the shell pulls heat to the outside of the unit where it can dissipate faster. When you're done charging you will want to let it cool down slightly before burying it in the bottom of your bag.
I've been running this for a solid couple of weeks using an ever changing mix of 1st and 3rd party cables. There have been no issues to report and charging times seem fast, especially when considering I'm not using the laptop to charge things, nor am I using additional USB wall adapters.
What I like
Reliable power in a small form factor
1 USB-A and 2 USB-C PD ports
Clean, space gray aesthetics
What I'd change
Final thoughts
This is a great single-power-supply solution for USB-C PD laptops and up to two other devices. It hits a sweet spot for anyone running something like a MacBook Pro 13″ which pulls about 60w. That allows the charger to provide full power to an iPad and iPhone simultaneously. Should you have a more power hungry laptop, this will still push up to 100w and charge you at full speed if it's the only thing connected.
Price: $79.99
Where to buy: Satechi and look for it to show up on Amazon
Source: The sample of this product was provided by Satechi