We use affiliate links. If you buy something through the links on this page, we may earn a commission at no cost to you. Learn more.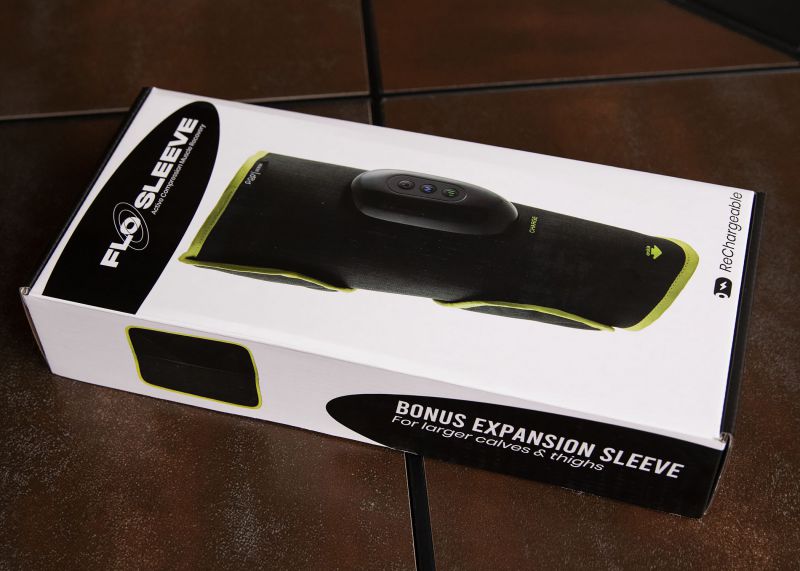 REVIEW – People often ask me, "Hey big fella, do you workout?" Of course I modestly respond, "Yes little dude, I do. I work out a lot." One of the side effects of all this working out is muscle soreness. When Pop Design offered their FloSleeve device for review, my legs both agreed that this would be worth investigating.
What is it?
The FloSleeve bills itself as a device that uses active compression to aid in muscle recovery — primarily for use on the legs.
What's in the box?
FloSleeve
Bonus Expansion Sleeve
USB Charging Cable
Design and features
When the Pop Design FloSleeve turned up on my doorstep, I knew what day it was. Yes, that's right, it was LEG DAY. I knew I had to thrash my legs so I could test this little recovery device. I pulled on some shorts (no photo of my bare legs is forthcoming, so just relax), t-shirt, tennis shoes and down to my homemade basement gym.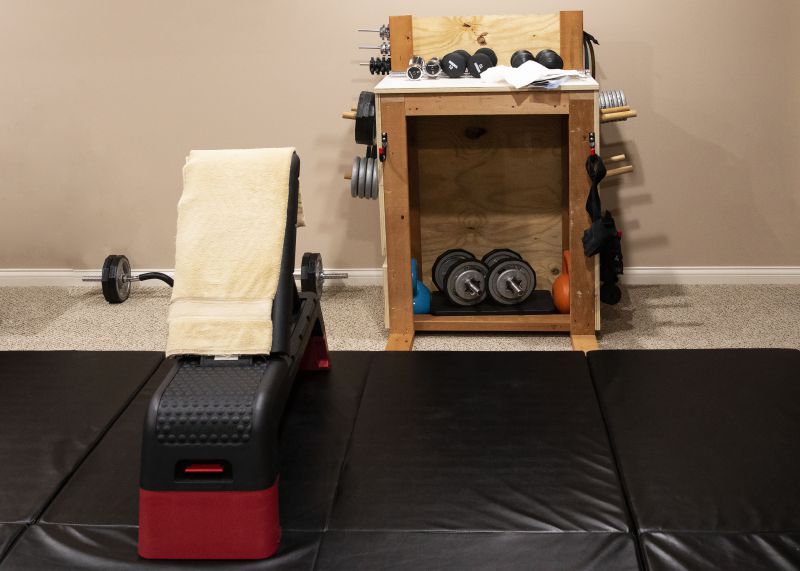 Covid has really messed up my old routine of visiting the local Planet Fitness four times a week, but I am not complaining. I feel fortunate to have scraped together enough gear to get in a decent workout. I am also lucky to have a job — one that does not require me to go out into harm's way every day.
After a pretty aggressive leg session, I opened the box and checked out the contents.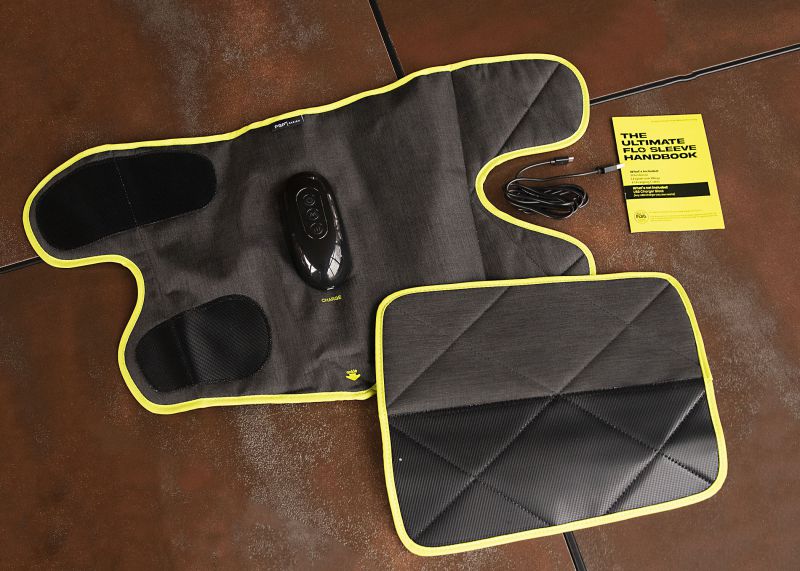 The first thing I discover is that I am 3.5 hours away from relief. That is how long it is going to take for the initial charge. While we are on the subject, the FloSleeve is a rechargeable device. It comes with a micro USB charging cord, but no power block. You just plug the cord into a minimum 5V 1.0A power supply and the port clearly marked on the FloSleeve.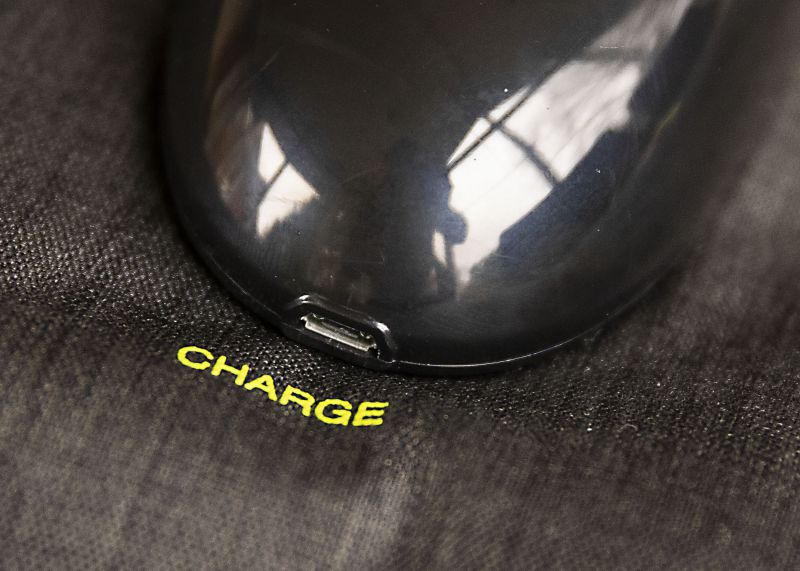 According to the manual, a full charge should get you through fifteen, fifteen minute treatments or almost 4 hours. After using the FloSleeve for three weeks I can confirm this is a pretty good estimate.
The FloSleeve seems very well put together. The nylon material is almost too stiff initially. It took several uses to get the material to relax enough to easily wrap it around my leg. Pop Design has made some good decisions as far as the construction materials and I would expect the FloSleeve to last for a long time.
Here is the FloSleeve with the included bonus expansion sleeve.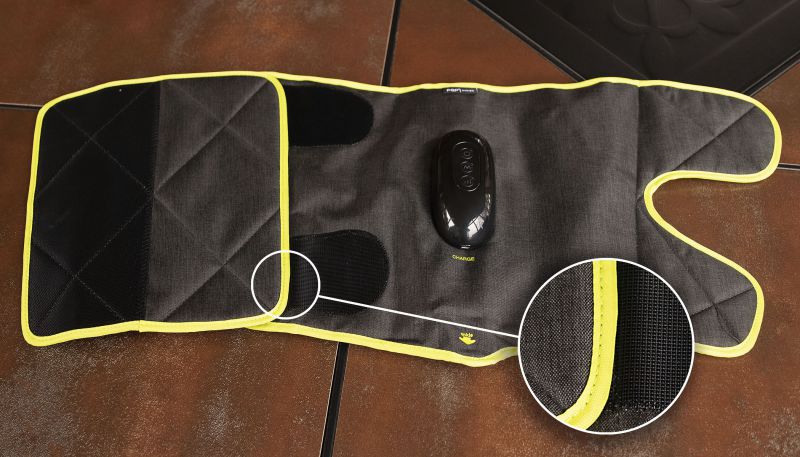 Note the well-stitched border edging. Again, the FloSleeve seems to be built to last.
The first full page of the FloSleeve handbook and a bit of the second are devoted to conditions that would preclude the use of the device. Most of them are pretty obvious (open wound, during pregnancy, etc.) The device should not be used by children — although a specific age is not mentioned. I am not going to type out the entire list here in this review, but if you have any kind of leg or vein problem I would recommend contacting Pop Design here. Alternatively, you could email them here: [email protected]. I looked over their website and determined they do not offer user manuals or much detailed information online. They should make the handbook available online if for no other reason than to let people access the health warnings before making a purchase. It is also a good idea for those who might lose the manual.
I might or might not be the kind of person who occasionally loses a manual.
Don't judge me.
The first time I strapped the FloSleeve on my calf I found the recommended location of the control panel housing to be a little bit annoying. I am assuming the designers set it up this way because the same housing contains the control buttons and the air pump that expands and contracts the air bladders inside the FloSleeve.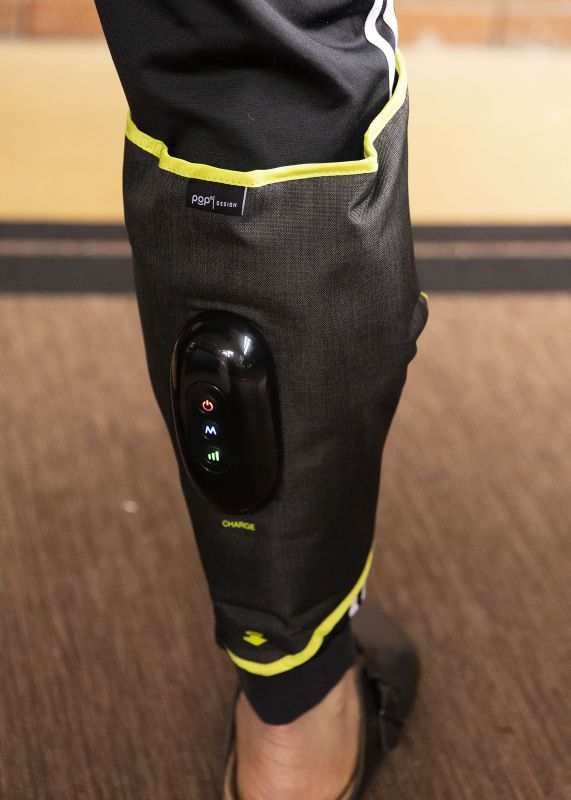 Some of you may be flexible enough to bend around and read the panel. I don't think I was ever that flexible and well north of 50 years I certainly can't do it now. After some experimentation, I ended up making my settings before I strapped on the device and then turning it off. After strapping it on I only needed to hit the power switch to get my fifteen minute session started. Please note — I am standing with the device strapped on in the photo above for photo purposes only. Pop Design recommends elevating your leg to the same level as your heart either by lying down or propping your foot up when seated. They do not recommend using the FloSleeve while sitting with your feet on the floor or while walking around. I made good use of the recliner located adjacent to my improvised workout area in my basement.
Back to the awkward (at least for me) positioning of the control panel. To be fair, there are only three buttons on the device, so after using it for a while I was able to shuffle through modes and intensity levels by feel.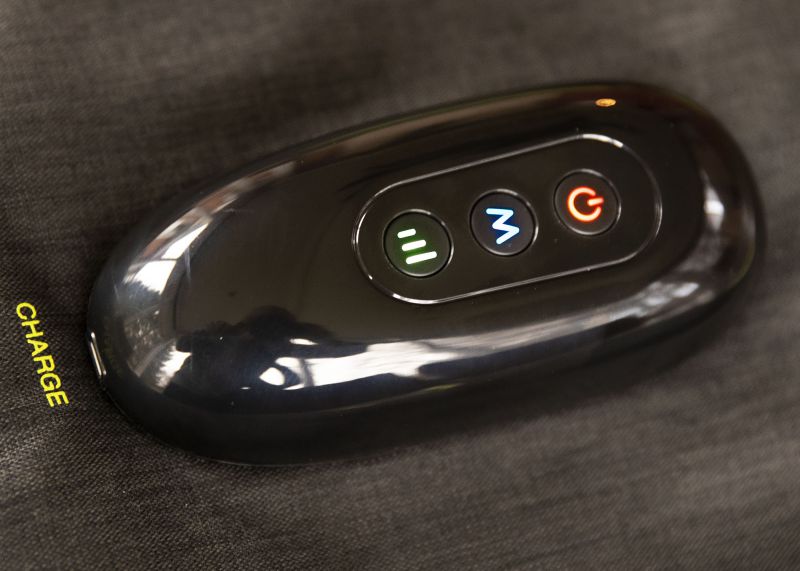 The top button (right side in the photo above) is the power button and it glows red when the FloSleeve is powered on. The indicator on this button also serves as a charging indicator — flashing through red/blue/green until settling on solid green when fully charged.
The second button cycles the device through the three available Flo Modes:
Sports Massage Recovery Mode (Blue) — Ankle compression and release 8 times, then calf compression and release 8 times, then alternating between ankle and calf for the remainder of the fifteen minutes.
Full Compression Mode (Green) — Ankle and calf compression at the same time with release in-between.
Half and Half Compression Mode (Red) — Ankle compression and release 6 times followed by calf compression and release 6 time, then repeat.
The third button controls the intensity of the compression:
Low (Gray)
Medium (Green)
High (Red)
Pop Design recommends initially using low intensity and ramp it up when you feel comfortable. After three weeks I have not yet made it past the medium setting.
Basically what the FloSleeve is trying to do is move excess blood up and out of the lower extremities to aid in recovery after workouts. After running the device on the calf you can move it up the thigh area to move the blood farther up the body.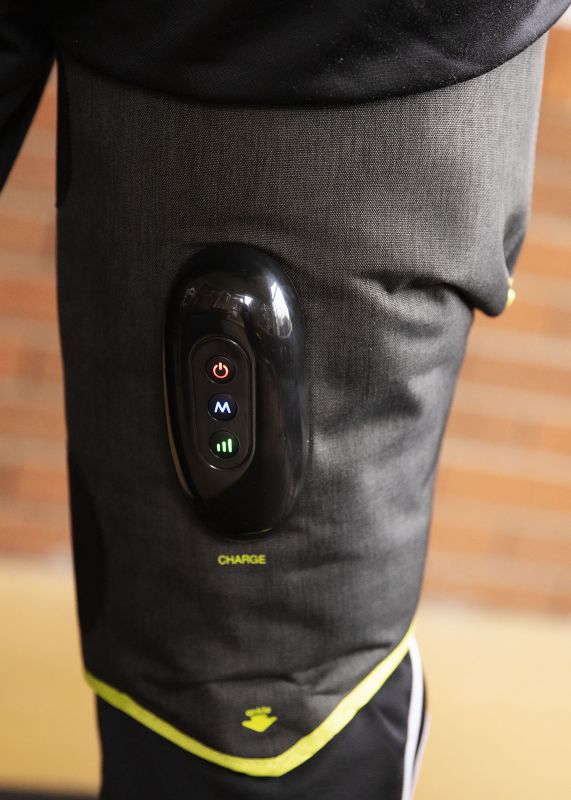 Again, it is not recommended that you stand when using the FloSleeve. After a workout I would typically run it for 15 minutes on one calf, followed by another session on the thigh on the same leg. Then I would repeat on the other leg. Full disclosure — I would be icing the opposite knee while treating a leg with the FloSleeve.
Because old and creaky knees.
What I like
Relatively inexpensive.
Sturdy design and materials.
Effectively massages the legs and aids in recovery from exercise.
What I'd change
Move controls to the front.
Offer whole leg option to decrease treatment time.
Final thoughts
Overall I came away from my testing of the FloSleeve feeling like it did make a significant improvement in recovery from leg workouts and hiking. At around $100, it is an economical choice when compared to the much more expensive offerings from NormaTec which would cost you well over a thousand dollars.
I plan to order another sleeve so that I can treat both legs at the same time. You get a significant discount on Pop Design's webstore if you purchase two FloSleeve's at the same time.
Price: $99.99
Where to buy: Pop Design and Amazon
Source: The sample of this product was provided by Pop Design.