We use affiliate links. If you buy something through the links on this page, we may earn a commission at no cost to you. Learn more.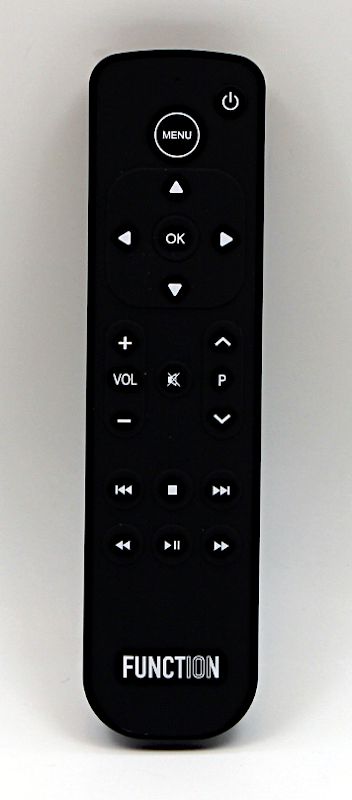 REVIEW – I've used Apple TVs for several years, and I really like them.  The hardware is high quality, and the software is easy to use.  There's one thing about the Apple TV, however, that I really don't like:  The remote.  It's so minimalistic that it's often a pain to use.  Entering text at a search bar is painfully slow, jumping forward or backward in a movie is unreliable, there's no mute button, and so on.  I'm testing Function101's replacement for the Apple TV, hoping that it will be an improvement.
What is it?
The Button Remote for Apple TV is a traditional remote control that can be used in place of or alongside Apple's remote.  It's an infrared (IR) remote that is also compatible with TV sets.  Function101 is an American company in Nevada whose motto is "created by Apple enthusiasts for Apple enthusiasts."
What's in the box?

1 x Remote
1 x pair of AAA batteries
1 x quick start card
Hardware specs
Buttons: 13
Remote Technology: Infrared
Support: Apple TV and Apple TV 4k
Dimension: 6.75 x 1.75 x 0.75 inches
Power: 2 AAA batteries
Design and features

Apple's remote is designed to look super thin and minimalistic; in contrast, Function101's remote is designed to look like a normal remote.  It made of black plastic and has all the buttons you would expect to find in a remote (like menu, play/pause, select, and volume up/down), including some that Apple managed to forget (like power, mute, and fast forward/rewind).  It's a very familiar design.
Installation and setup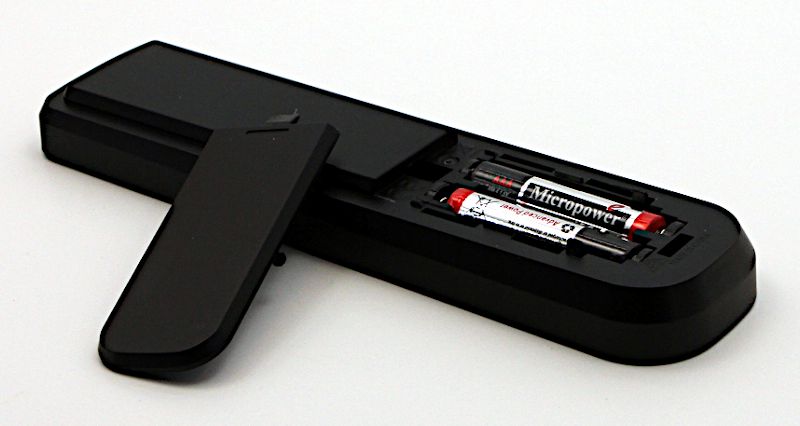 The remote runs on a pair of AAA batteries that Function101 includes.  I pulled out the little plastic piece that kept the batteries from wearing down, and it was ready to go.  Function101 did not include a manual; instead, they included a quick start guide the size of a business card that is printed in a font that is too small and fuzzy to read.  Thankfully, what you really need to know is online on their well-written support page.
The remote works with the AppleTV out of the box; I didn't have to do anything to make it work.  It did, however, require a small setup step to have it work with my TV.  Following the instructions on the support page, I soon had it working with my LG C9 TV, and since my TV knows how to talk with my Yamaha RX-V485 receiver via HDMI ARC, the volume buttons now control the volume of my stereo as well.  That's really nice.
The support page includes a detailed picture of the remote button functions, an explanatory video, and a set of frequently asked questions.
Performance

When I press the Power button once, it turns my TV/receiver and my Apple TV on at the same time; when I press it again, it turns them off.  That's convenient.  If, however, I want to just turn off the Apple TV, I have to press and hold the Power button, and if my TV/receiver was already on but not my Apple TV, then I have to press and hold the Menu button to turn on just the Apple TV.   (But pressing and holding the Menu button when the Apple TV is already on does something different.)  This leaves me scratching my head in bewilderment.  If the point of this remote is to make my life easier, do I really need to memorize when to press a button and when to long press it to get different functionality?  Why not just have one button turn the TV/receiver on and off and a different one turn the Apple TV on and off?  That's how my Blu-ray player does it, and it would be so much easier to remember.
The Menu button works much like its counterpart on the Apple TV remote, and for the most part, it's a back button.  The Navigation arrows are the best part of the remote in my opinion, as they are much more precise than the touch pad on the Apple TV remote.  When watching a show, the down arrow brings up the menu for adjusting subtitles and language.
There's a Mute button!  This is so convenient to have.
I'm a big fan of the forward and backward buttons on this remote.  The Skip buttons jump forward or backward 10 seconds at a time, and the Fast buttons scroll forward or backward continuously, either quickly or really quickly. These make it easy to jump ahead or rewind parts of a movie, and like the Navigation arrows, they are way more precise than using the touch pad on the Apple TV remote.
The remaining buttons, like the Stop and Play/Pause buttons work just like you would expect.
As far as I can tell, there's only one button that is on Apple's remote that is not on Function101's remote:  The Apple TV button.  This button instantly jumps you into Apple TV application, but as I never use it, preferring to use the native apps instead, this is not a big deal for me.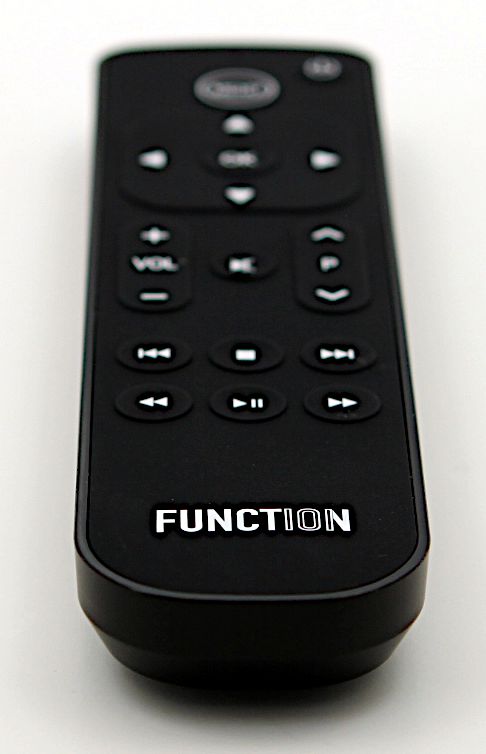 In general, Function101's online manual does a nice job of explaining things.  There are, however, two statements that it makes that are somewhere between unclear and confusing:
"This button [the Menu button] is used to activate hidden options of a page."
"The top arrow activates the channel carrousel (sic): They are sorted by category, and you will also find your favorite selection."  I don't know what a channel carousel is.
I sent help to their tech support ([email protected]), and one day later they replied:
"On the Menu, when you are using streaming apps, it can let you access features such as closed captions or other options depending on your favorite app."
"The UP and DOWN arrow can be used for the channel up and down when in a channel guide selection."
Although their message was polite, it didn't actually help me, as I could not figure out what I should be doing to activate these features.  Perhaps I have the wrong apps?  I think some specific examples could clarify things.
As I mentioned previously, the thing I hate the most Apple's remote is how painful it is to enter text, like when entering a Wi-Fi password or searching for a video on YouTube.  The Button Remote doesn't do much to help with this problem.  Sure, the Navigation arrows are more precise, but it's still a pain to select each letter one at a time.  I suppose I should hook up a Bluetooth keyboard for this problem.
Despite the minor issues that I have raised above, I really like this remote.  In our daily use, it has supplanted Apple's remote, and I don't see us going back to it.
Extra Features
One other item to note is that the Button Remote, because it's an IR remote instead of a Bluetooth remote, does no have any support for Siri.  There's no microphone.  Of course, a better way to solve that problem would be to buy a HomePod mini.
What I like
Simple and functional
Supplies buttons that Apple forgot
What I'd change
Clarify unclear statements in the manual
Add a TV power button to simplify on/off
Final thoughts
The remote that comes with the Apple TV is functional, but it's often a pain to use.  Function101's Button Remote addresses most of its shortcomings and adds several helpful features.  I like this remote, and I think it's definitely worth having for anyone who uses their Apple TV a lot.
Price: $29.95
Where to buy:  Function101's online store.
Source: The sample for this review was provided by Function101.