We use affiliate links. If you buy something through the links on this page, we may earn a commission at no cost to you. Learn more.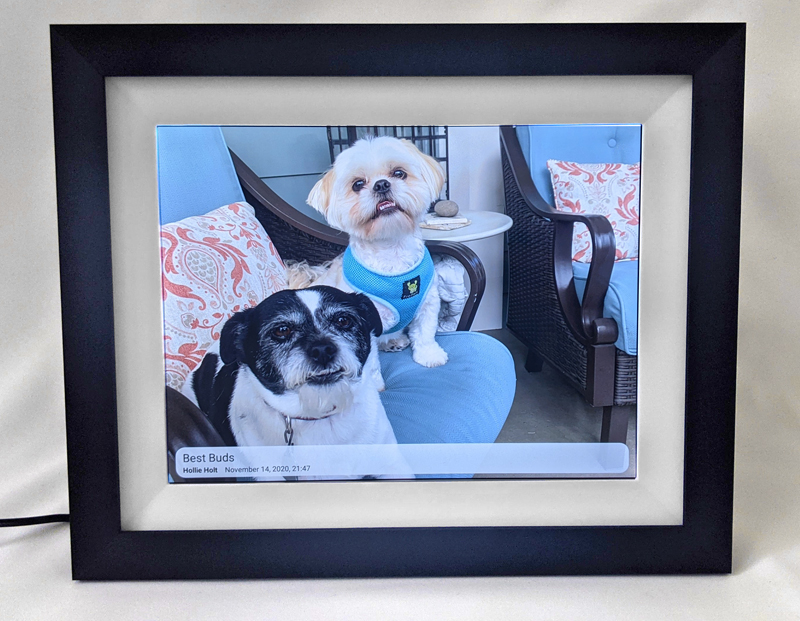 REVIEW – Many years ago I purchased some of the first digital photo frames that came to market.  They left a lot to be desired, but it was pretty cool to be able to load multiple digital photos to a frame and be able to swap them out when you wanted.  The quality wasn't that great, they were way too expensive, and giving them as gifts to my parents was far more trouble than it was worth considering all the troubleshooting that I had to do just to show them how to use the frames. Fast forward to today and the digital photo frame products have come a long way. The AEEZO digital frame is a case in point. So let's talk about why I love this gadget.
What is it?
A digital photo frame that has 16 GB of storage and a companion mobile app for loading pictures and videos remotely to the frame.
What's in the box?
Digital photo frame
Power supply
Kickstand
User manual
And here are the specifications:
9.7″ FHD touch screen
1.8 GHz quad-core CPU
2K resolution at 2048 x 1536
5G and 2.4G wifi support
4:3 screen ratio (landscape and portrait modes)
16GB internal storage
Micro SD slot for loading pictures (up to 128 GB)
Micro USB port for loading pictures
Weight: 2.86 lbs
Speakers on the back for hearing sound from video clips
Plastic kickstand that can be attached to back for landscape or portrait orientation
Wall-mountable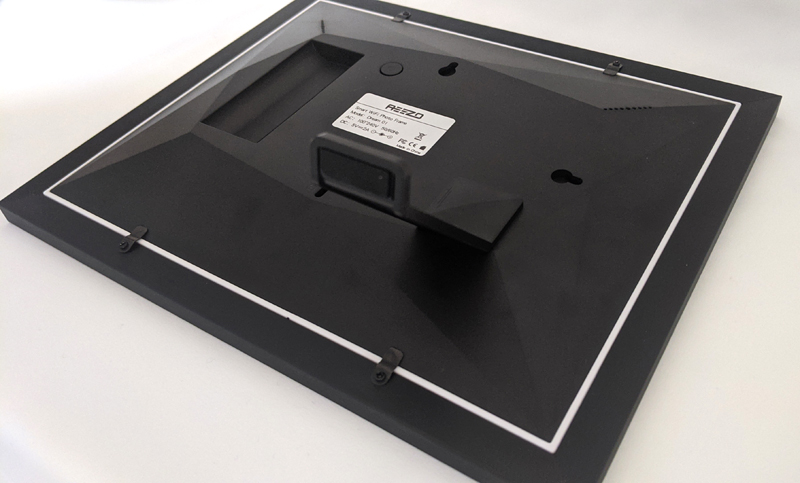 Features and performance
The first thing you'll notice is how attractive the AEEZO looks.  I got the black plastic version, and it looks at first glance like a frame that was created in a frame shop.  It has a black frame and a white matte on the inside, so it looks attractive enough to sit pretty much anywhere around your home.  The screen size I got is 9.7 inches, but a larger 10.1 inch frame is available, although the specs and screen size are a bit different.  If you click the link to Amazon below you can see the various colors and sizes available.  When you first set up the AEEZO you give it a name, so that you can easily keep track of multiple frames in the house (if you have multiple frames). You can also mount it to the wall if you want.
The screen looks gorgeous, and just like a regular picture frame with a printed picture, you can view the photos from just about any angle. If you turn the AEEZO from landscape to portrait orientation, the pictures simply change, so there is nothing you have to do inside the settings.  You just change the kickstand on the back from portrait to landscape orientation and you're done. The screen is a touch screen, so you can swipe back and forth on the pictures as you wish without having to wait for the slideshow to play through them.  There are many settings on this frame, which are accessed by tapping on the screen to see the pop-up menu, and then choosing "settings".  I won't go into every one, but I will mention the features most worth noting.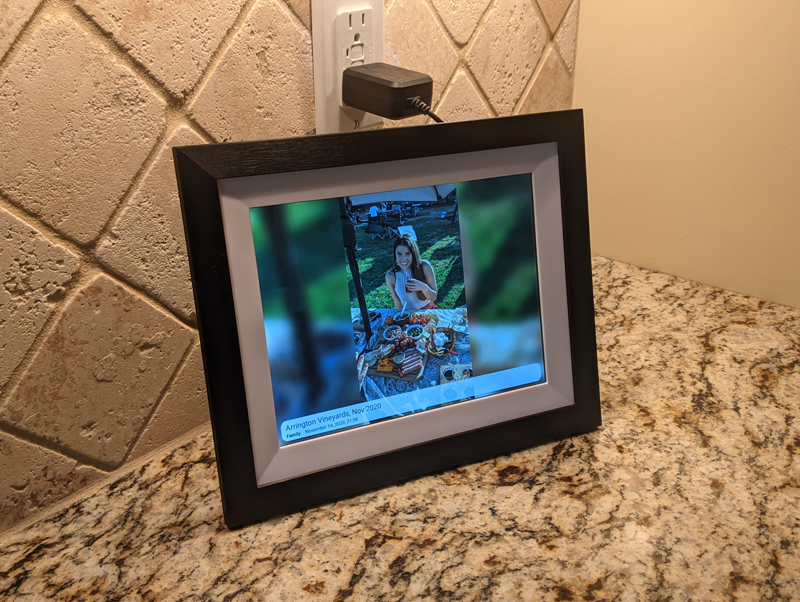 First of all, the main feature of the AEEZO that makes it worth the price in my opinion is being able to use the free smartphone app to send photos and videos to the frame. Some digital frames use email for loading pictures onto their frames, but that is pretty unsecure.  The AEEZO connects via to your 5GHz or 2.4GHz wifi network and the secure app is easy to use and snappy. I know that pretty much every digital frame now offers this, but the AEEZO worked flawlessly in that regard and the free Frameo smartphone app is simple and easy to use. To allow a friend or family member to remotely load pictures and videos onto the frame, you simply tap the screen, then tap the "Add friend" button.  A code appears on the screen and the person simply enters that code into their Frameo app and that's it! Then the person can use the app to send pictures and videos directly to the digital frame from anywhere!
There is a setting for how you want the pictures displayed on the frame.  As you know, when you are taking pictures with your phone sometimes you hold it upright, and sometimes you hold it sideways to get a wider picture. So as you can imagine, every picture sent from a phone might not fit the 4:3 aspect ratio perfectly. So you can set the AEEZO to display either "fit to frame" or "fill frame".  If you choose the latter, then the AEEZO will zoom in the picture (regardless of whether it is in portrait or landscape orientation) and you'll only see part of the picture.  I chose "fit to frame" so that the entire picture is displayed, and if there is still space on the sides of the picture that aren't used on the screen, the AEEZO shows an attractive 'blurred out' version of the picture along the edges.  Here is a picture of what I am talking about: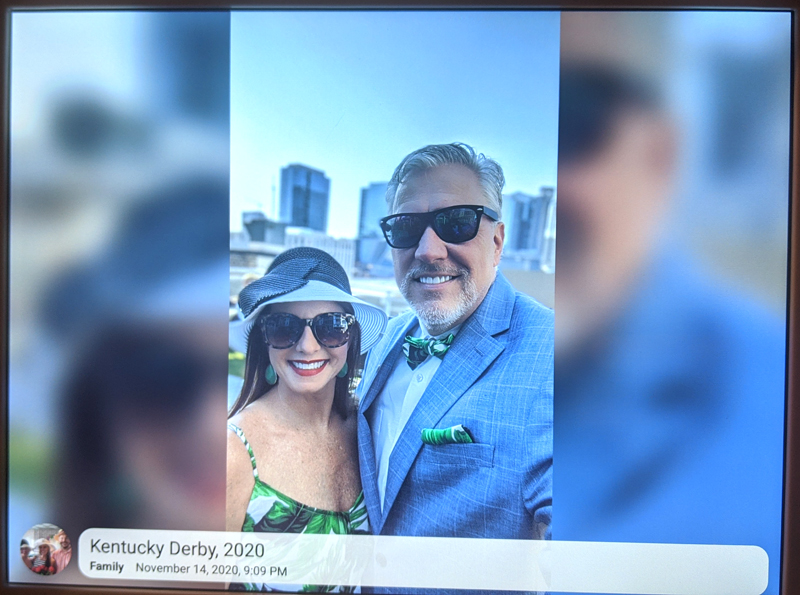 You can set the duration of the slideshow to show each photo from 10 seconds all the way up to 30 min each. The app allows the person uploading pictures to type captions on the pictures (see picture above for example), which is pretty cool if you want the viewer to know what the picture is all about.  You can also allow sound to play for video clips and set the volume for them.  If you get tired of seeing a picture you can simply tap it and choose "hide", or you can go into the settings and "Manage photos" to delete whatever you want. You can set what you want to be notified about, such as picture uploads or when a person is added to the list of 'friends'.  I like having the notification on the screen when a new picture is added because the viewer can simply glance at the screen and tell if there are new photos to see (see picture below for example).  And another great feature is being able to set a sleep timer for the screen to turn off and on at specific times, such as when you normally go to sleep and when you get up in the morning. Or you can simply press the power button on the back to turn it off!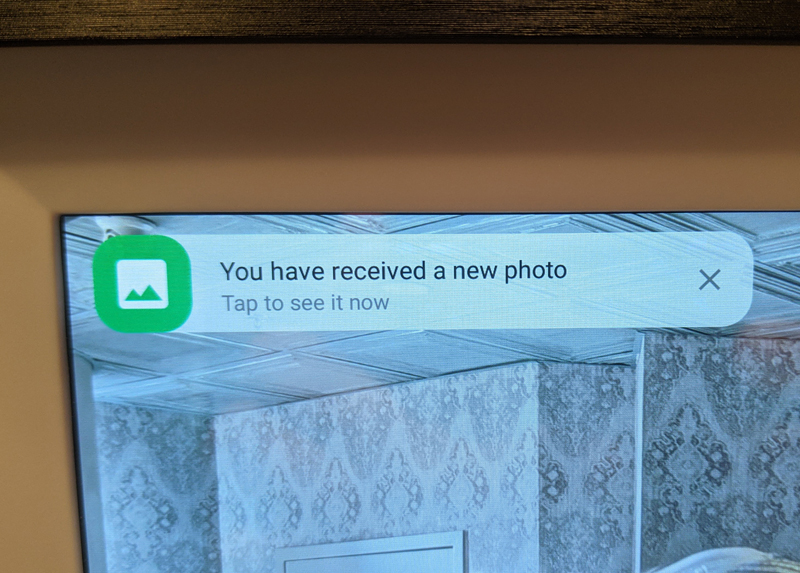 Loading pictures directly onto the frame, without using the Frameo smartphone app, happens in 1 of 2 ways.  You can either load a micro SD card with photos and insert it into the slot on the back, or you can plug in a micro USB cable that is attached to an external hard drive. You can't connect the AEEZO to your computer and load pictures that way.  And you also can't play the slideshow of pictures directly from a USB hard drive or the micro SD card. Both of those are simply used to load pictures onto the frame.  And one final thing to mention. When I first got the AEEZO, I removed the protective plastic film layer that was on the screen, as you do with just about any electronic device with a screen.  Then I noticed that the corners of the screen were a little 'bubbled up', as if something was wrong with the screen.  I reached out to AEEZO and they said that there were 2 layers of protective plastic on the screen. And sure enough, there was.  So I pulled the second layer off and sure enough, that was it. There was nothing in the box that would indicate there are 2 protective film layers, so I thought I would mention it here.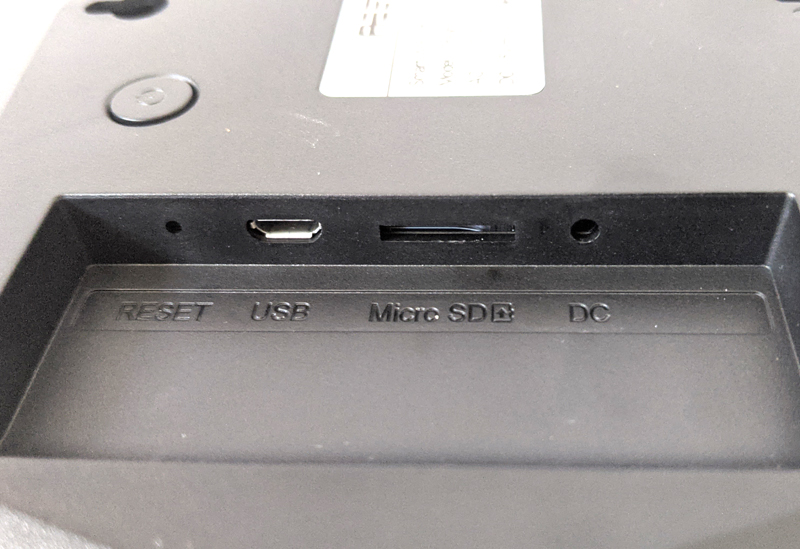 Overall I am very pleased with the AEEZO digital photo frame, but I should also mention some things that I would change. You must have the fame plugged in to use it, so there is no internal battery. It would be nice to be able to carry the Frameo over to the couch and sit down to look at the pictures.  Video clips are limited to 15 seconds or less, which I understand is to save on storage space, but I wish they could be a little longer. If you go up in price for other digital frames you'll get cloud storage, which I can see that some people would like, but all my photos on the frame came from my phone so this isn't that big of a deal to me. However, for some folks, it might be.  And I wish the speakers on the back of the frame were better quality.
What I like
Easy-to-use companion app for iOS and Android for loading pictures remotely
Large storage capacity
Can display pictures and videos
Beautiful screen
Sleep timer is great
What I would change
There's no cloud backup storage
Being able to have video clips longer than 15 seconds
Better quality speakers
An internal battery
Final thoughts
At this price point, I believe the AEEZO digital frame is a good buy and the majority of other digital frames in this price range don't offer quite a number of features like this one or this high screen resolution.  If you spend about $50-100 more you'll get the cloud storage, and maybe the ability to interface with Alexa/Google.  So this digital frame may not have every feature that you are looking for, so look hard at the feature set before pulling the trigger.  The AEEZO comes with free lifetime support and a 12-month warranty, so that's a big plus.  Overall I am very pleased with the product and will be giving this as a gift to a parent who lives alone and will enjoy seeing pictures and videos from her kids and grandkids without having to do anything.  In my opinion, that is the ideal use for this product and I think that it would be a great gift for that special someone in the family!
Price: $149.99
Where to buy: Buy here on Amazon
Source: The sample of this product was provided by AEEZO.