We use affiliate links. If you buy something through the links on this page, we may earn a commission at no cost to you. Learn more.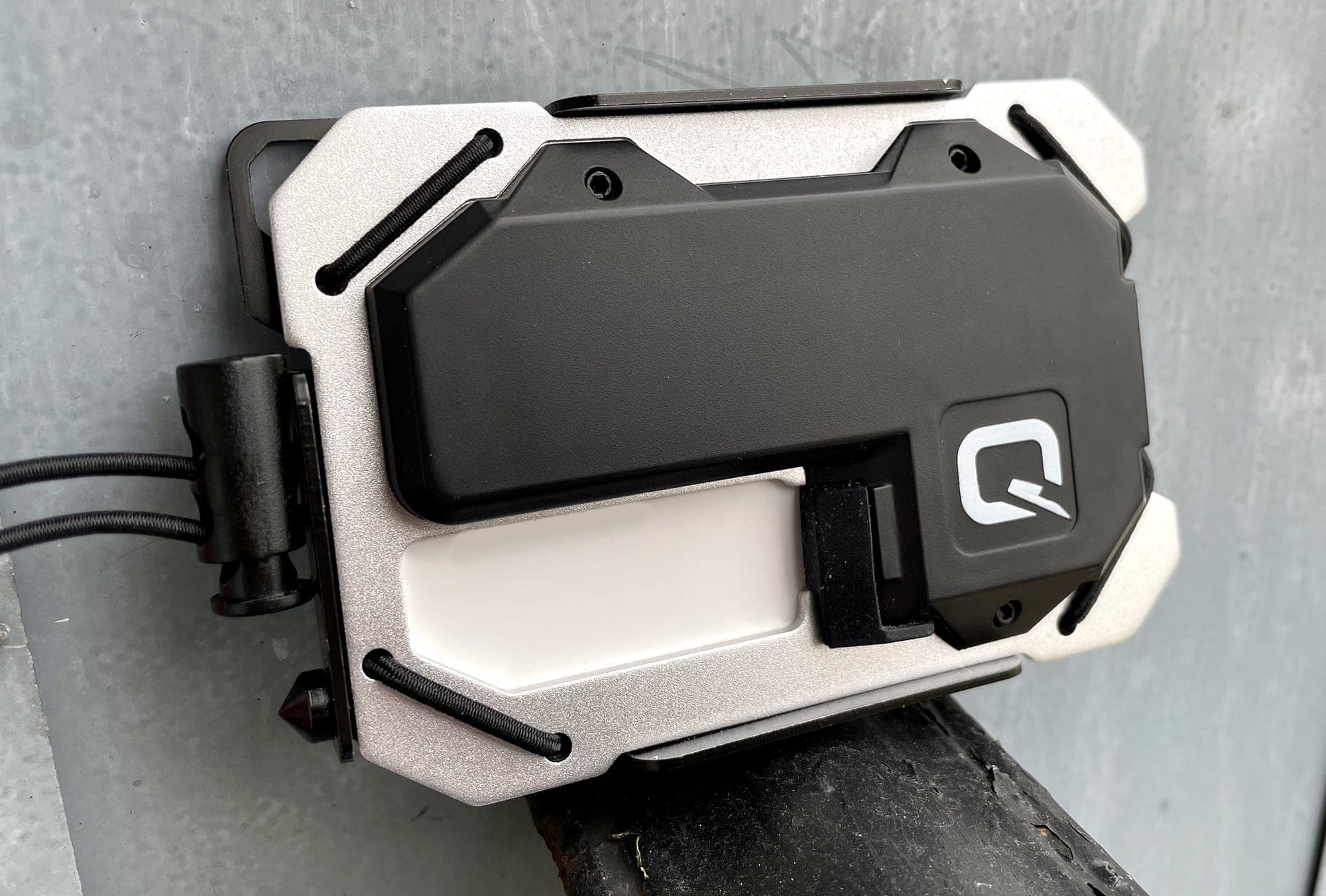 REVIEW – The term "tactical" (ambiguous as it may be) has been thrown around a lot in the past few years, applied to everything from pants to pocketknives. So why not wallets, too? Today, we're taking a look at the TAQ Wallet from Quiqlite.
What is it?
The TAQ Wallet is a self-proclaimed "WORLD'S ONLY" tactical wallet that offers a minimalist array of multi-tools that include a high-power USB-rechargeable LED flashlight, integrated bottle cap opener, flathead screwdriver, glass-breaking tip, and carabiner attachment site.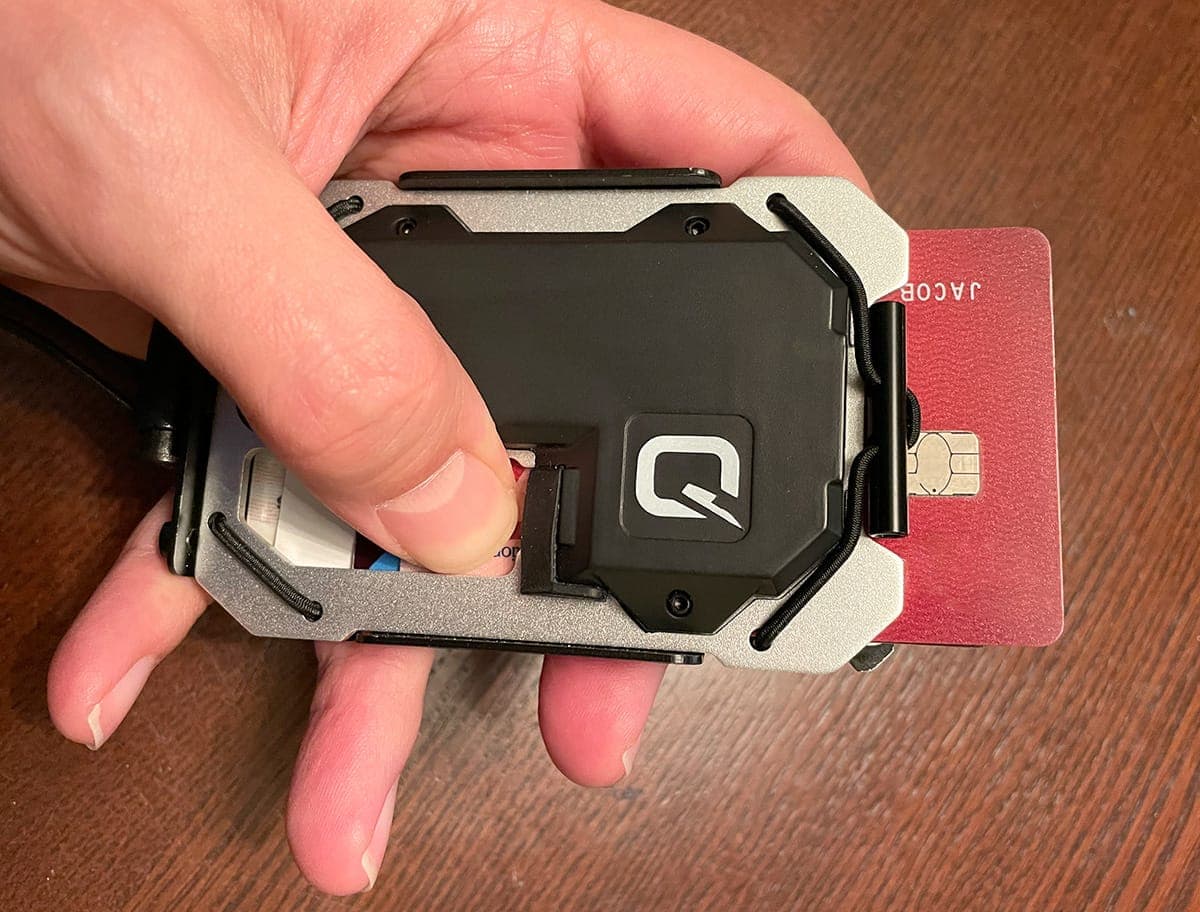 Hardware specs
Dual white Cree LEDs delivering from 75-150 Lumens
Micro USB charging for the 380 mAh battery

75 Lumens: Up to 3 hours
150 Lumens: Up to 1.5 hours
Safety Strobe: Up to 3 hours

Holds up to 8 credit cards
Dual reinforced RFID sides
Money clip with bottle opener
Double locking clasp
Adjustable cord with rope adjustment lock
Screwdriver
Glass breaking tip
IPX2 Weather Resistant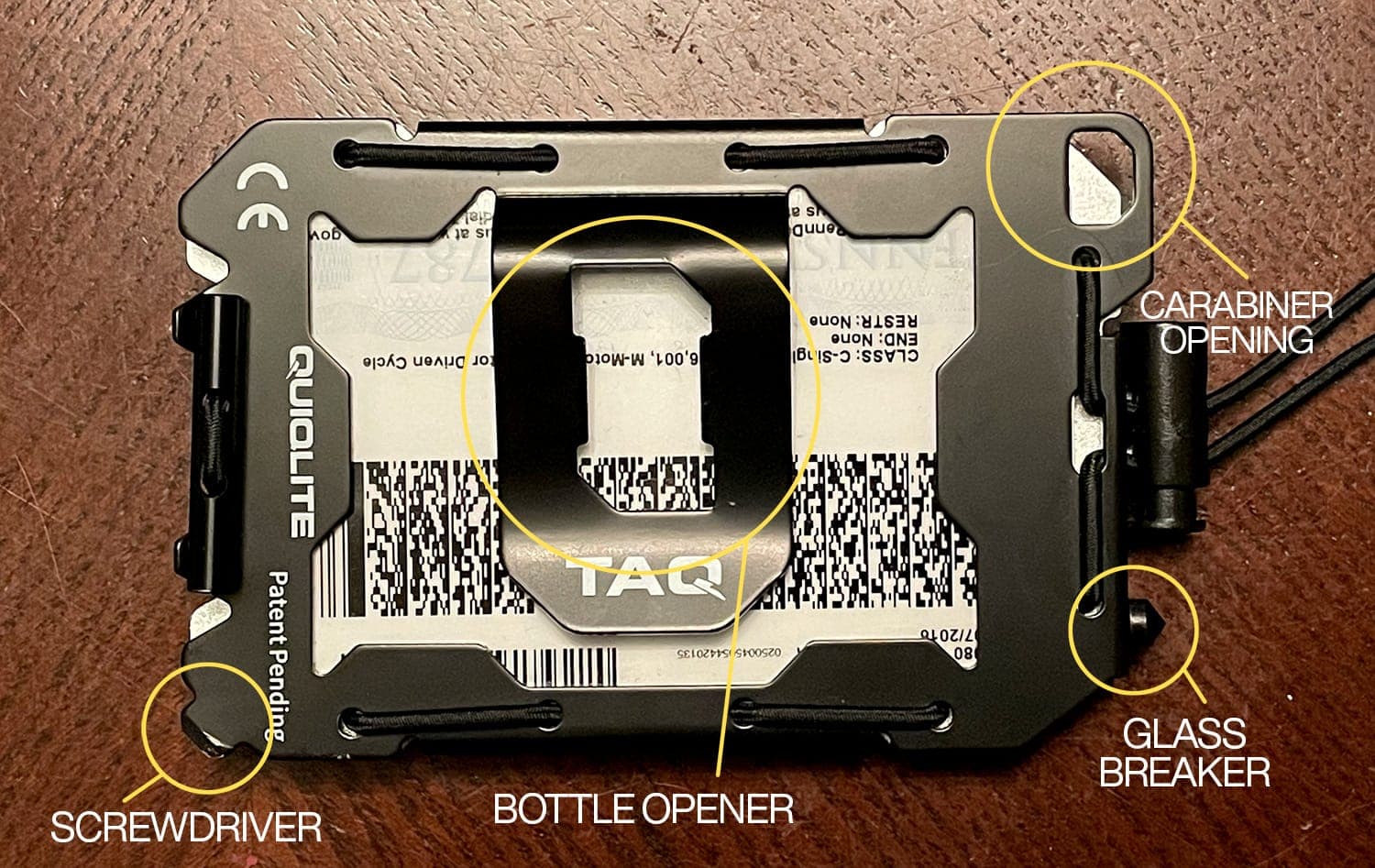 Design and features
At first glance, the Quiqlite TAQ Wallet indeed does look "tactical." It's two layers of precisely cut, aircraft grade aluminum and stainless steel laced together with elastic cord.
A flat LED flashlight is attached to the aluminum side of the wallet, comprised of a 380mah rechargeable battery and IPX2 weather resistant micro-USB port. The large "Q" emblem marks the on/off button for the flashlight.
The flashlight is quick and simple to use, and should provide enough light for most everyday needs, like lighting your way to your car in a dark lot or searching inside a bag or pack for an item. Very handy!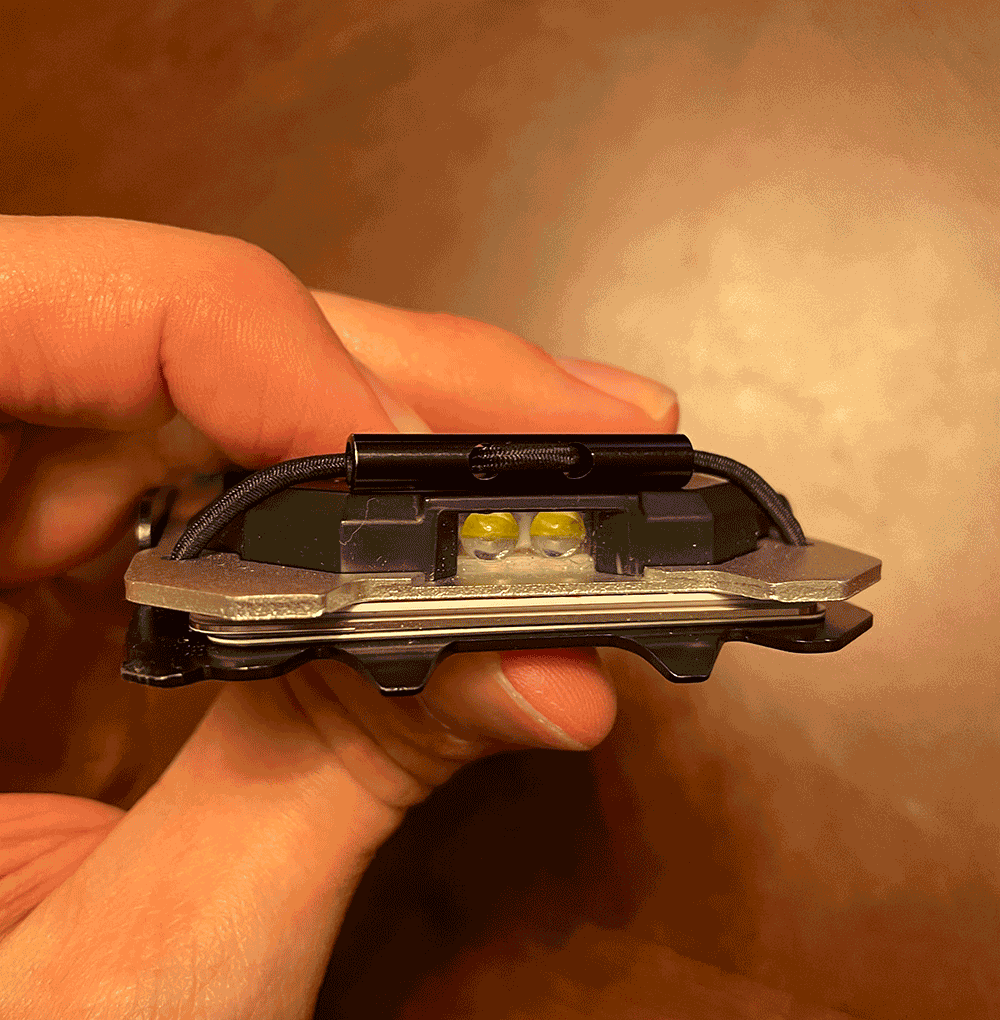 The two halves of the TAQ Wallet are laced together with an elastic nylon cord that sort of sandwiches your credit cards. When I first opened the wallet, it was fully expanded to the maximum carrying potential of 8 credit cards. Since there is only one area for holding the cards, along with a money clip on the non-flashlight side, I would certainly consider this a minimalistic wallet.
Holding the TAQ Wallet in your hand, it's cold and heavy. It looks cool, but it doesn't feel nice. There are many points and edges that dig into your hand. Similarly, it's pointy and unyielding in the pocket. It's definitely a front pocket or coat pocket type of EDC.
If it appears from the pictures that the edges of the metal sides look sharp, they are. Not enough to accidentally slice your fingers fishing around in your pockets, but let's just say you definitely don't want to stick this wallet in the same pocket as something else you wouldn't want getting scratched to hell.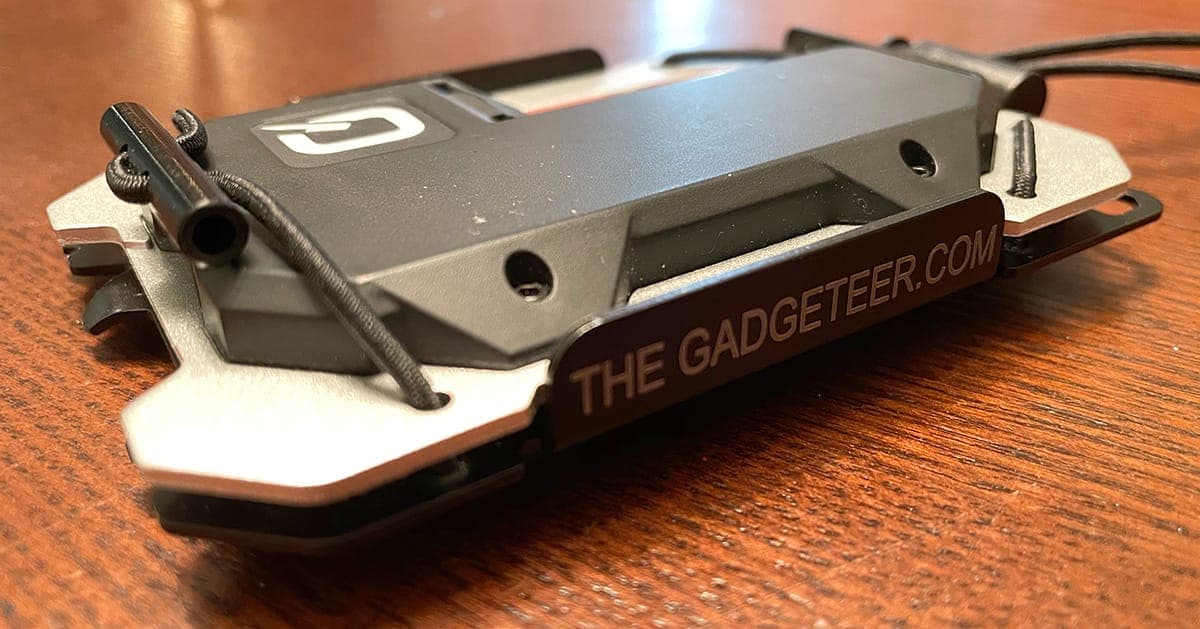 If you want to carry fewer than 8 cards, you're going to need to tighten the wallet by pulling the elastic cord, starting from the top of the wallet, where the cards can come out, down to the bottom, where the cord lock is. I usually carry between 3-4 cards with me, so I had to work the cord through each hole, sort of like lacing a pair of boots. I ended up with about 2″ of excess cord at the end of the wallet, which you really can't do much about.
On the side of the wallet where the cards come out, which I'm just going to call the "top," there is a plastic clasp that slides over two metal prongs and is held in place with the tension of the elastic cords. Very loosely, I should mention. I thought I had the cord laced pretty tightly so pulling the clasp in place would hold rather well, but it had come undone in my pocket every time I pulled the wallet out.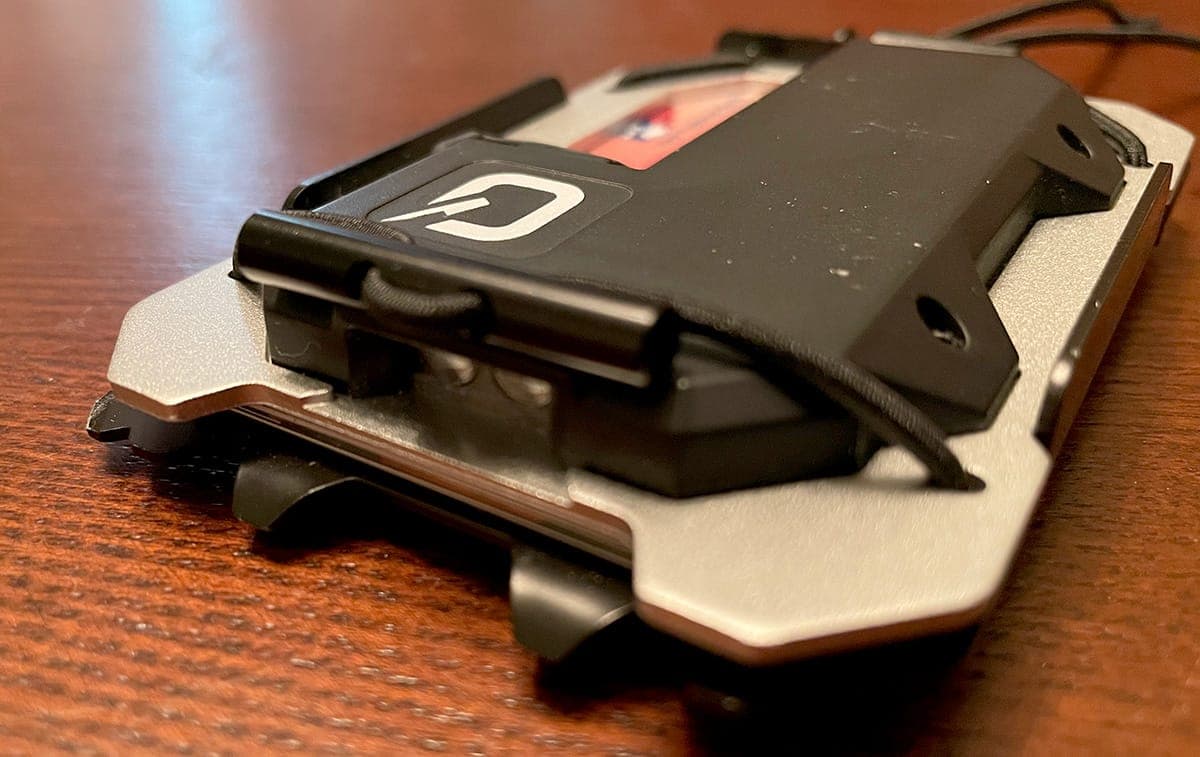 Not that my cards would have come out or anything, I just think the prongs that are supposed to hold the clasp are too shallow.
The tension between the two metal sides of the credit card sandwich is snug enough to keep the cards in place. In fact, it's actually not that easy to slide them out with just one thumb. Perhaps I had it laced a little too tight, or the friction between the cards was too much, because nearly every time I tried to thumb one card out, they would all shift out of the casing.
This was okay, to me. Once they're about halfway out of the wallet, it's easy enough to snag the card you wanted. It is however much more cumbersome than a regular wallet with discreet card slots.
Of all the features listed above, the flashlight is certainly the most useful. The bottle opener is a close second. I was able to get a beer bottle open in one go, so it's just to just have one available right there on your wallet.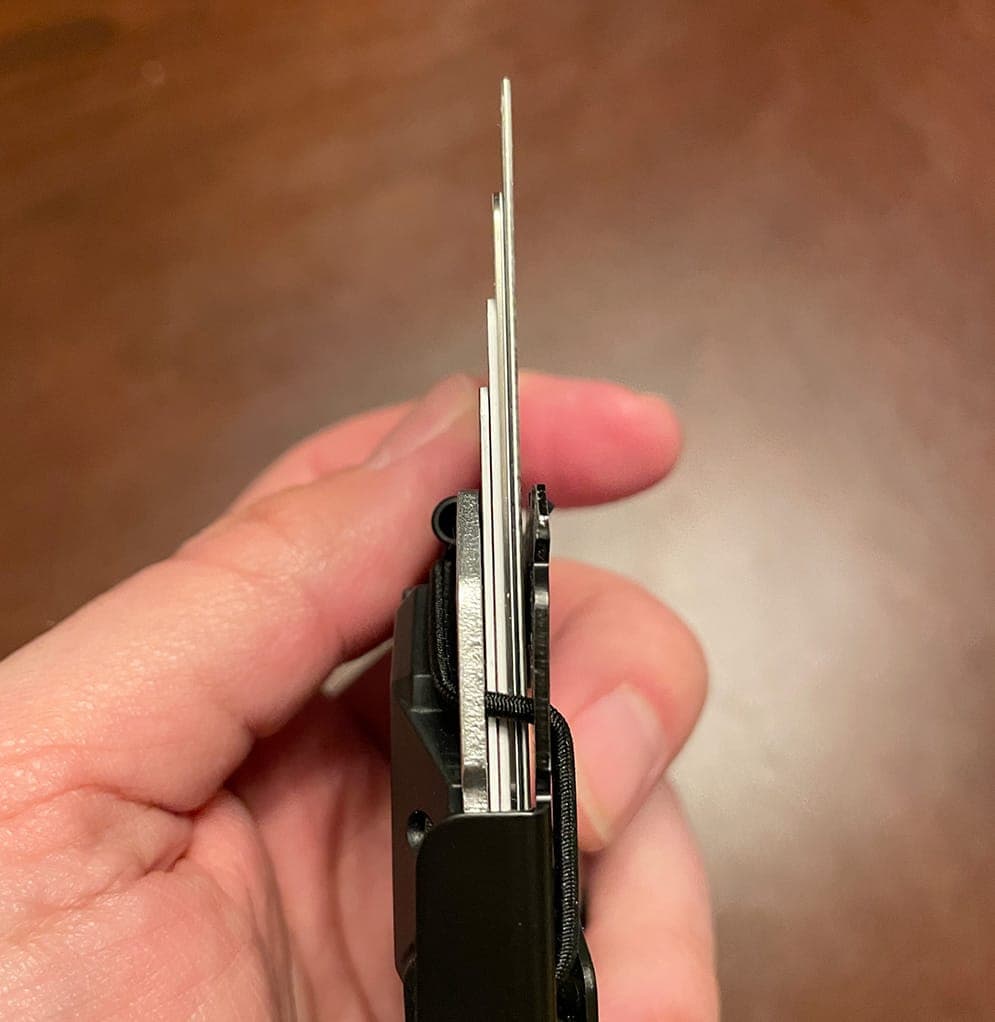 However, the other tools embedded on the TAQ Wallet feel like afterthoughts. The hole punched out for the carabiner attachment site is quite small, it feels like it would only fit one of those cheap, novelty-sized carabiners that you wouldn't want to trust all your credit cards to.
There's one flat-head screwdriver on one corner of the wallet, but you'd better be trying to screw something into a flat surface, because trying to fit a whole wallet-sized stack of metal into a tight area is impossible. You'd need at least an 8″ diameter of clearance around the screw. And it's not long enough to use as a prying tool, the leverage just isn't there. The one application I could try this out, just out of curiosity, was a terrible experience, having to hold that sharp wallet and lift and twist it a dozen times wasn't enjoyable.
Did it work? Sure. And I guess that counts for something. But you'd be much better off with a multitool, or heck, even a penny.
And lastly, there's a pointy cone bit of metal near the cord lock that can serve as an emergency glass breaker, for all the times you find yourself in a submerged and quickly-sinking car. Really, any corner of this wallet would work in that case. Especially since the cord lock is thicker than the glass breaker's length. Unless you pull it out of the way, first, you'd just be rapping the plastic cord lock against the glass.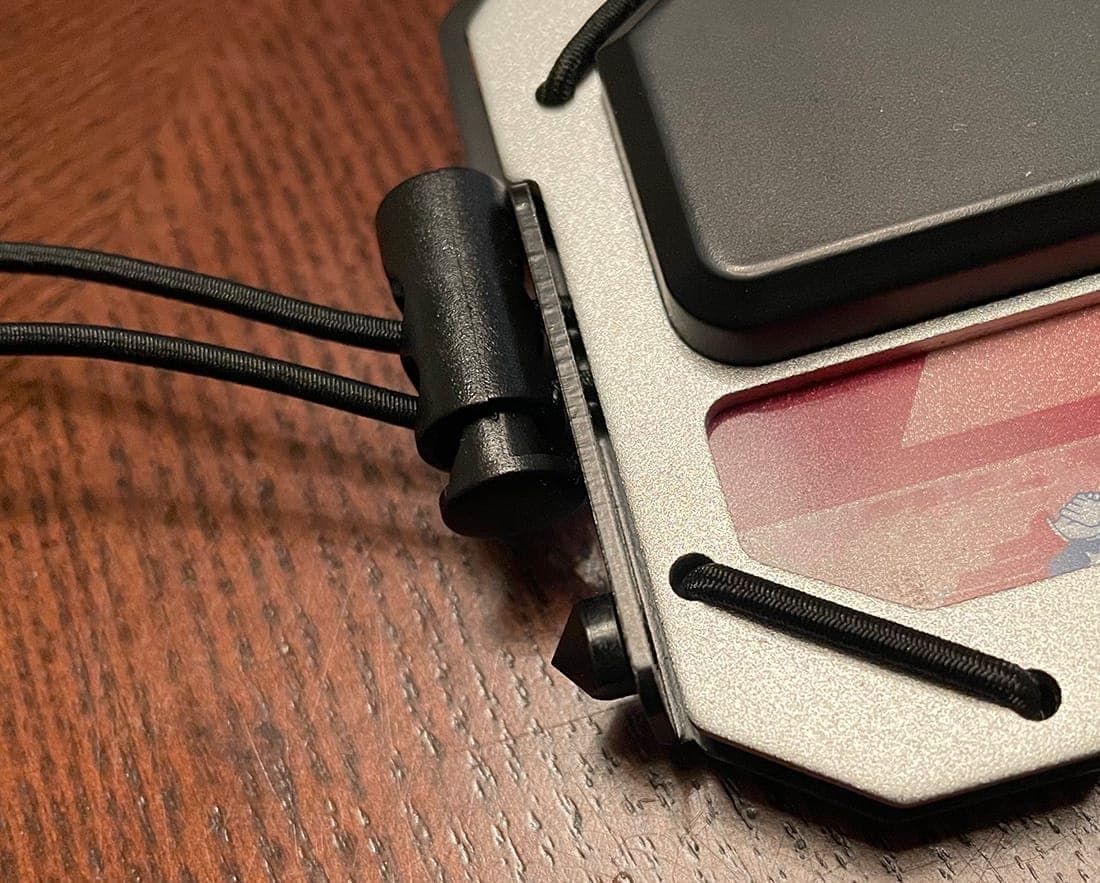 Ultimately, with the exception of the flashlight, many of the features seem half-baked and unnecessary.
It does seem quite durable. It's aluminum and steel, so that doesn't seem like an issue until you realize that the entire functionality hinges on the cord keeping the two sides tied together. I didn't use the wallet for long enough to know if this would eventually become an issue, but it's possible the elastic could wear out or eventually rip or fray.
Couple these issues with the $75 price tag, and it starts getting really hard to recommend this wallet over something more conventional. To me, the final nail in the coffin is that the best function of the TAQ Wallet, the flashlight, is also a function of another item you most certainly have on you at all times … your cell phone! Sadly, I'd have to say that unless you're really searching for something a SWAT member would pull out to pay for some shawarma, I'd give the TAQ Wallet a pass.
What I like
A rechargeable flashlight is handy
Nigh-indestructible
What needs to be improved
Cards can be difficult to remove singly
Other functions are almost useless
Sharp, rigid edges just don't feel nice in the hand
Final thoughts
While the TAQ Wallet does offer a number of useful multi-tool functions that a normal wallet would lack, most of them are hamstrung. Convergence in pocket multitools is usually a good thing, but for the asking price, you can get yourself a good, minimalist wallet and a small, bright LED flashlight or multitool for less money.
Price: $74.95
Where to buy: Quiqlite's website and Amazon
Source: The sample of this product was provided by Quiqlite.