The Gadgeteer is supported by readers like you! If you buy something through links on our site, we may earn an affiliate commission. Thank you! Learn more.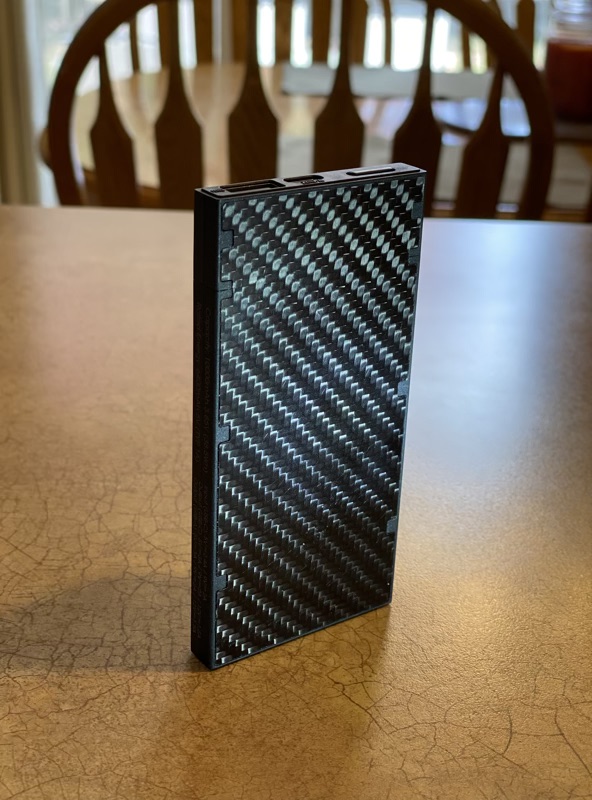 REVIEW – Portable battery chargers can be found just about anywhere and come in a variety of sizes, shapes, and capacity levels. What does it take to stand out in a field with so many options? Nitecore's answer to that comes in the form of the NB10000 Ultra Lightweight Energy Brick. 
What is it?
Nitecore's NB10000 is a small, compact, high-capacity portable charger that you can easily take just about anywhere you go. With a compact size that is smaller than most smartphones, and enough capacity to charge many of those phones a couple of times, it's an ideal traveling companion for those who need extra power on the go.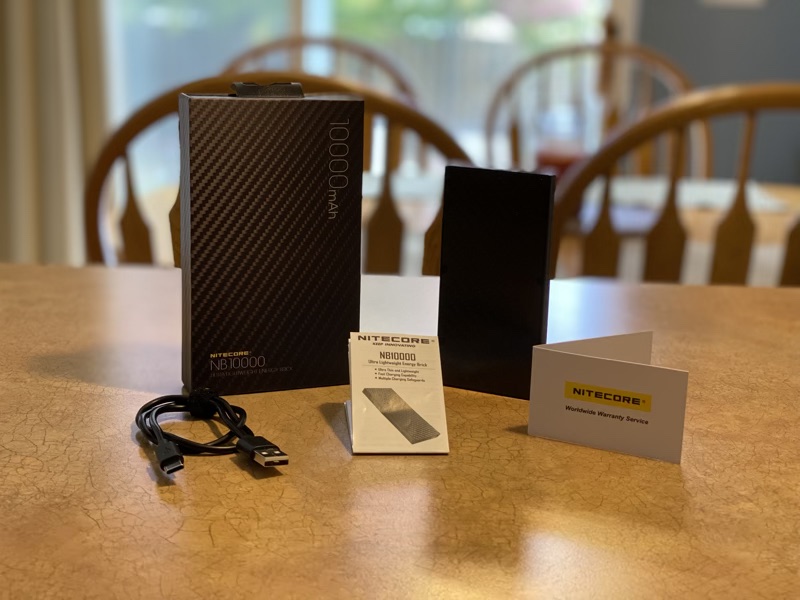 What's in the box?
NB10000 Ultra Lightweight Energy Bank
USB Charging Cable (USB-A to USB-C)
Instruction Pamphlet
Warranty Card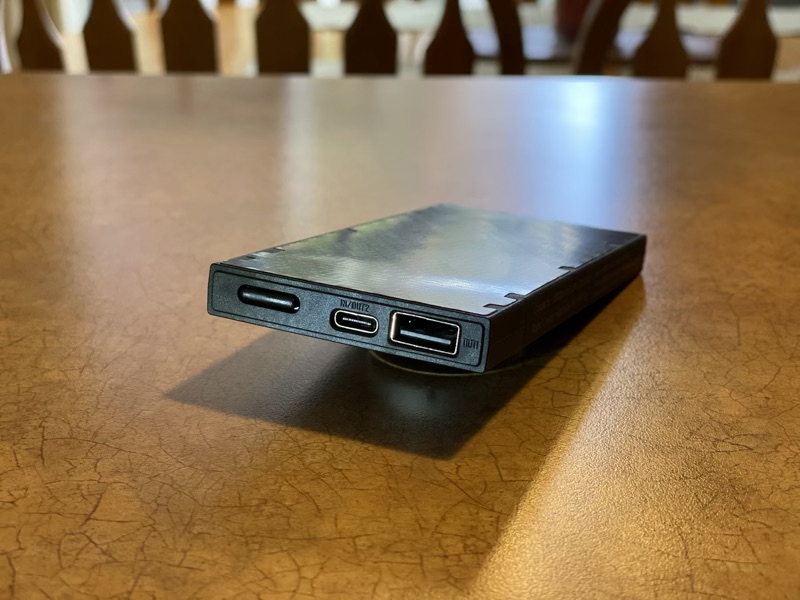 Hardware specs
Cell: Li-ion
Capacity: 10,000 mAh at 3.85V (38.5Wh)
Rated Energy: 6,400 mAh at 5V (TYP 1A)
Input: USB-C: 5V⎓2.4A / 9V⎓2A
Output: USB-C: 5V⎓3A / 9V⎓2A / 12V⎓1.5A; USB-A: 5V⎓3A / 9V⎓2A / 12V⎓1.5A
Dual Ports: 5V⎓3A (MAX)
Dimensions: 4.8" × 2.32" × 0.42" (121.9mm × 59mm × 10.6mm)
Weight: 5.29oz ±0.11oz (150g ±3g)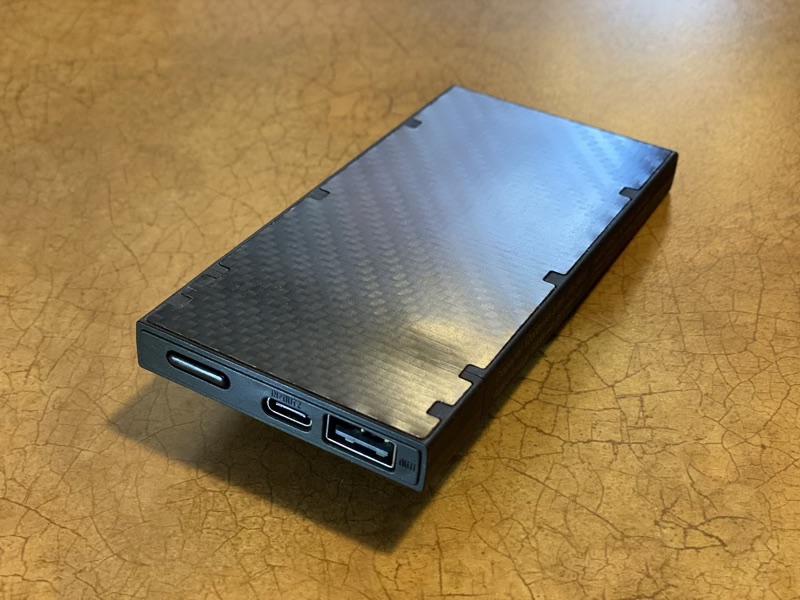 Design and features
The NB10000 is made with a carbon fiber reinforced polymer frame, which is often used in aerospace and automotive engineering. This allows the frame to achieve high strength while being lightweight, in addition to protecting the battery cell from drops and impacts. The top and bottom of the power bank are wrapped in carbon fiber sheets, providing further protection and stability, while also providing a neat 3D hologram-like finish that's fun to look at.
As mentioned earlier, this is a really small battery. Compared to my original 10,000 mAh battery from about 10 years ago, this device is much more pocketable and convenient to keep with me.
NB10000 has an IPX5 rating, meaning it has a bit of water resistance, but I don't plan on taking it into the shower with me any time soon. Still, knowing it's protected from the elements in case it starts raining before you get home from your walk or bike ride does provide some peace of mind.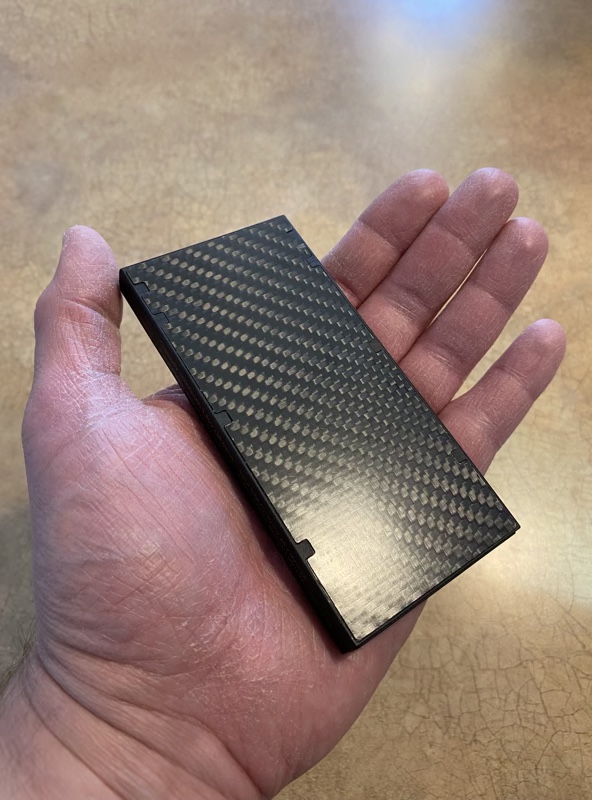 This power bank has three blue LEDs to indicate charge level at 100%, 70%, and 30%. I would have liked to see four or five LEDs just to give a little more accurate picture of the amount of charge, but that's not a deal breaker. I did find them a little hard to read, though. The LEDs are recessed in the power button, which makes it hard to see how many are lit up without picking it up and looking really closely. That makes it a little tricky to glance from across the room to see its status.
There is also a white LED in the power button which is used to indicate the low current mode. This mode is intended for charging smaller devices like Bluetooth headphones, wearable health monitors, and similar low-powered devices. Pressing and holding the Mode button for a couple of seconds turns on low current mode; pressing and holding it again turns it back off.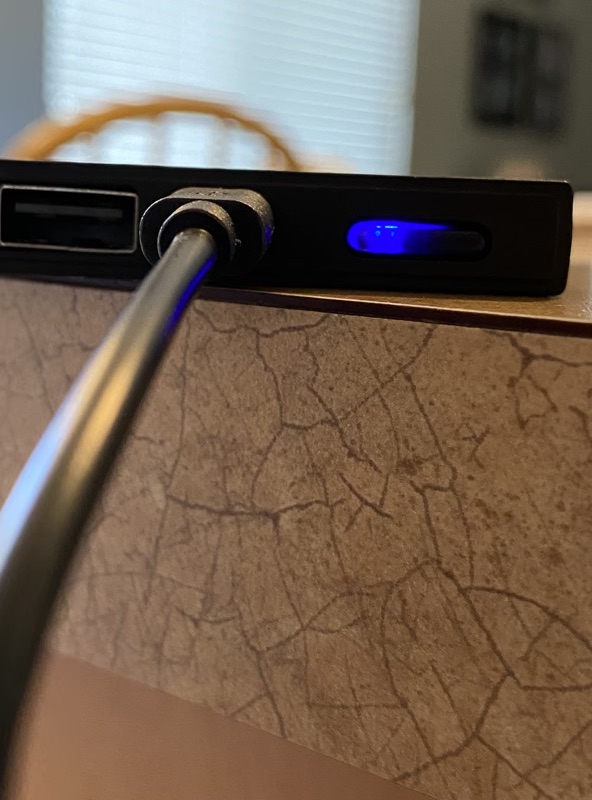 Installation and setup
The battery came out of the box with a full charge (or somewhere close – all three LEDs were lit up, indicating a charge between 70% and 100%). After doing some initial testing, it was able to charge my iPhone 11 Pro Max from 54% to 100% in just over an hour using the USB-C output and a USB-C to Lightning cable. It was able to charge my 2020 iPad Pro 11″ over USB-C from 1% to 80% in just over 2 hours before being completely depleted. Recharging the NB10000 with the included USB-A to USB-C cable and an original Apple 12W iPad charger took almost 5 hours. This could be sped up significantly by using a higher power charger, especially if it's USB-C and PD 2.0 or PD 3.0 compatible.
Most impressively to me, this power bank was able to put out enough current to slowly charge my MacBook Pro 16″ over USB-C. This wouldn't be very practical because, especially under any kind of load more than simple web browsing or email or office work, it would not be able to keep up with the battery drain of the MacBook itself, but it might be useful for someone with a MacBook Air, a 13″ MacBook Pro, or a similarly small Windows or Chrome OS laptop.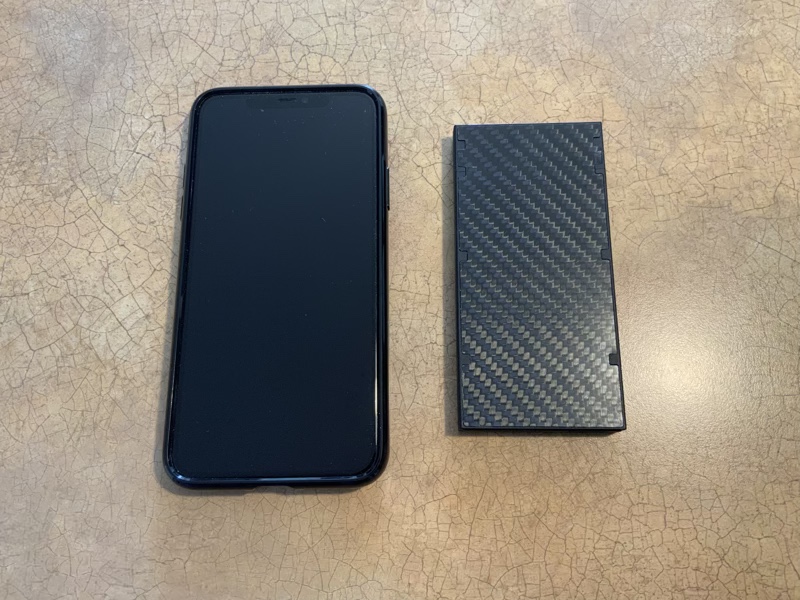 What I like
If you can't tell already, I really like the compact size and light weight of this battery. Its dimensions and weight are almost identical to the iPhone 4, which is pretty remarkable. The construction is high quality and the design and finish make it fun to look at and easy to use.
What I'd change
The power level LEDs hard to read. It would be nice if there were four or five LEDs instead of just three to give a little more accurate idea of the power level.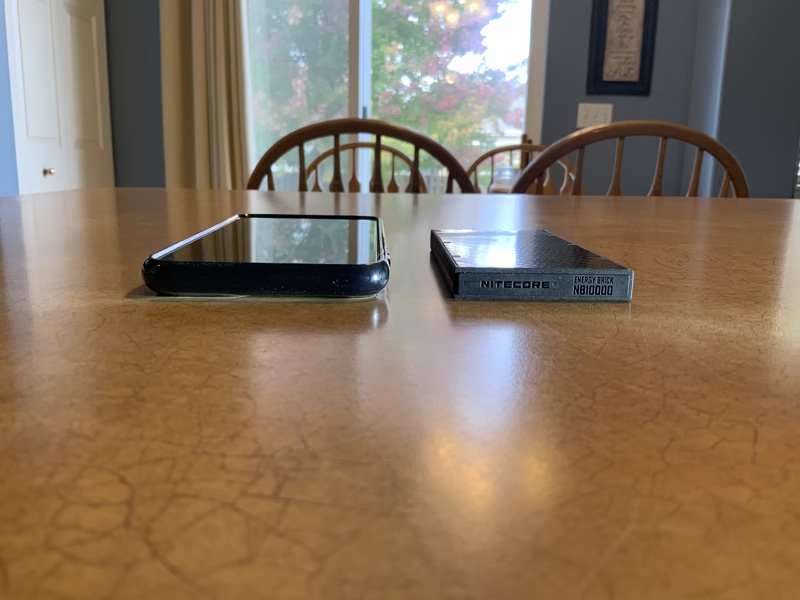 Final thoughts
Of all the power banks I've used over the years, the NB10000 has the best combination of capacity, size, and weight, making it an easy addition to my everyday carry backpack. I can imagine using this battery for many years to come. 
Price: $59.95
Where to buy: www.nitecore.com or Amazon
Source: The sample for this review was provided by Nitecore. For more information visit www.nitecore.com.
Support The Gadgeteer
:
The Gadgeteer is supported by readers like you! If you buy something through the links on our site, we may earn a small affiliate commission. Thank you! Learn more.