We use affiliate links. If you buy something through the links on this page, we may earn a commission at no cost to you. Learn more.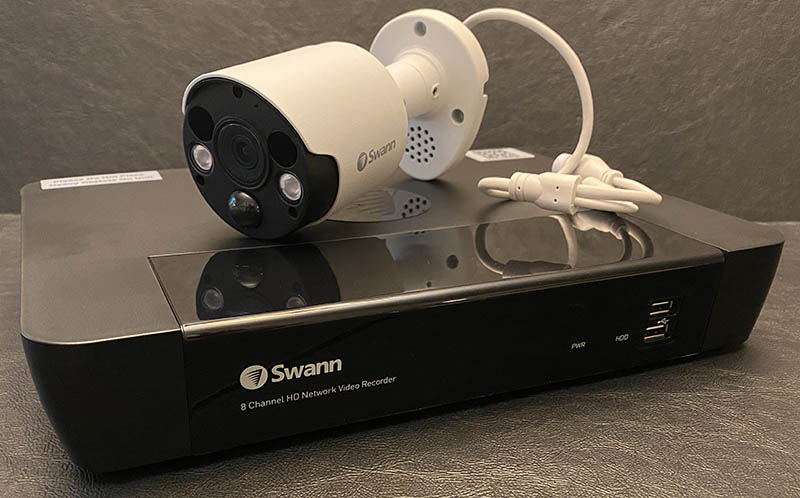 REVIEW – Back in 2016, I reviewed the Swann SWNVK-873004 3MP surveillance camera system that has stood guard over our home for nearly half a decade. At that time, this 8 channel, "Platinum Grade" 3MP PoE system with an internal hard drive and integrated smartphone app was pretty high tech and cutting edge. It was engineered for DIYers, to be able to install and manage a professional HD surveillance security system without the need for costly installers or monthly service fees. Well, jump forward almost 5 years and Swann has recently released a new flagship 4K descendant that will be taking the place of my old system. Let's see just how much it has evolved…
What is it?
The NVR-8580 is part of Swann's 4K PoE professional series of security systems. It is engineered to be a high end do-it-yourself (DIY) video surveillance system. This system has an 8 channel 4K (8 megapixels) network video recorder with a pre-installed 2TB HDD. This DIY kit includes 4 – PoE (power over ethernet) ultra HD weather-proof bullet cameras with LED & IR spotlights, IR sensor, visual/IR motion detection, night vision, microphone, speaker, and siren. Swann also includes ethernet cables, mouse, HDMI cable, and mounting hardware, everything you need (other than tools) to install this system yourself.
What's in the box?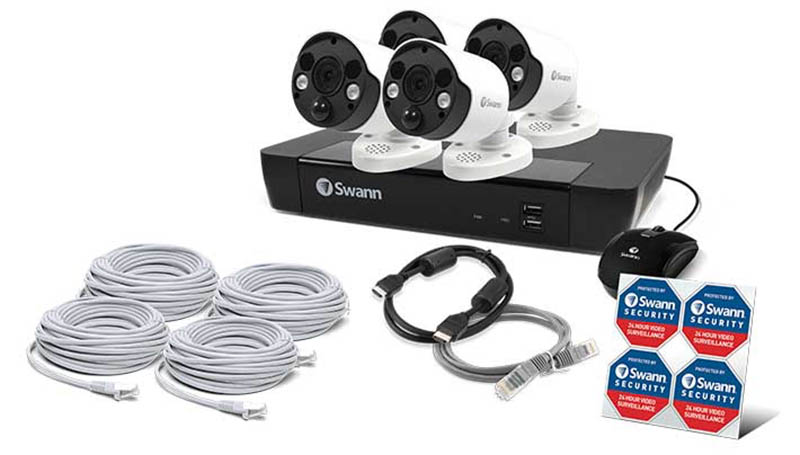 NVR-8580 8 Channel NVR with 2TB Hard Drive
4 x NHD-885MSFB 4K Bullet Spotlight IP Security Cameras
Cat5e Ethernet Cable x 5 (60ft/18m x 4 & 3ft/1m x 1)
HDMI Cable
Power Adapter
Mouse
Mounting Screws & Plugs
Quick Start Guide
Theft Deterrent Stickers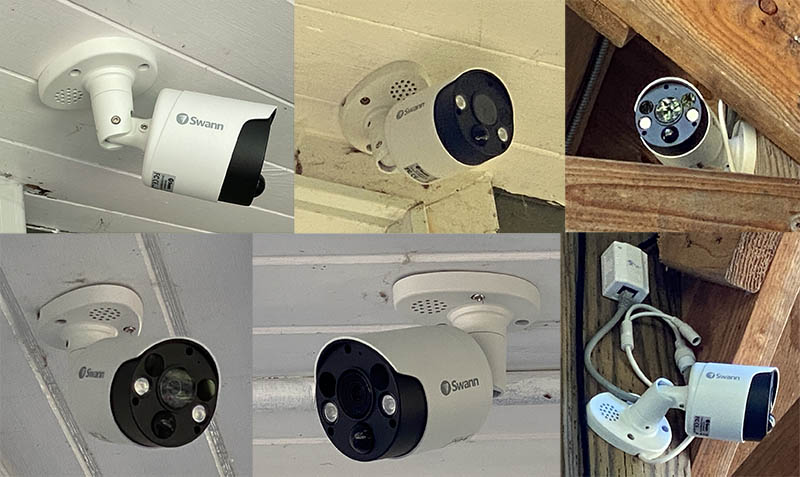 Installation
Like its predecessor, this modern day 4K security camera/surveillance system is designed to be simple (though not necessarily easy) to install, basically plug and play. Being PoE there is only one cable to run to each camera. Once you pull the Ethernet wires to the locations where you want to install the cameras, you simply connect the two and mount the cameras (but be aware, the mounting screws are [email protected] I highly recommend upgrading those).  The difficult part is deciding the best vantage points for each camera and then getting the wire to those locations. Originally that involved half a day crawling around our attic, drilling many holes throughout our house, and pulling Ethernet cable through both interior and exterior walls. But setting up the new NVR-8580 systems took all of 30 minutes, since all I had to do was unmount the old cameras, connect the new 4K Bullet Spotlight cameras to the Ethernet cables, then mount them back in place.
Swann includes four 60 foot Ethernet cables to connect the cameras to the NVR. Though when I originally ran the wires, I needed longer cables for two of my runs. For the far side of our house, I used a 100 foot cable from Amazon that worked well with length to spare. I also wanted to have a camera looking out from our detached garage towards our entry gate, so I dug a trench and ran nearly 200 feet of direct bury Ethernet cable…both the power and video signal haven't had any issues over the years. Setting up this latest system has gotten me motivated to add a few additional cameras around our property…sadly that is going to mean more trenching 😒
Hardware specs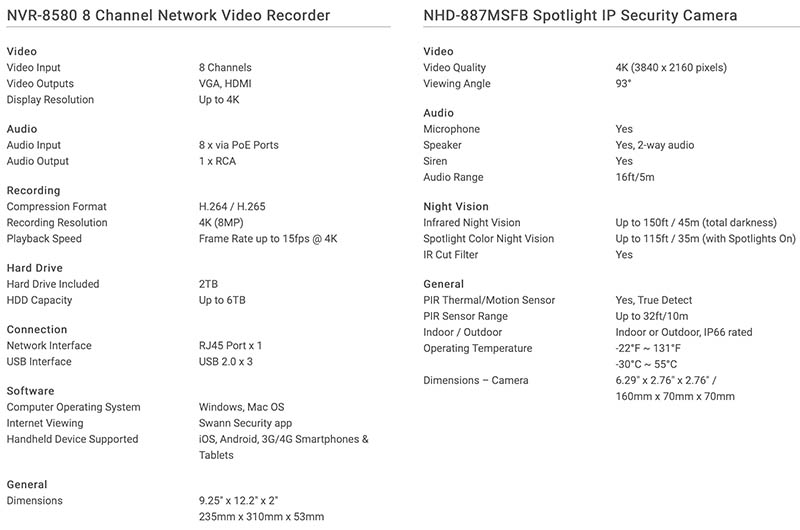 Design and features
NVR-8580 8 Channel NVR Controller:

The front of the NVR controller has status LEDs for power and hard drive activity. There are also two USB ports for connecting the mouse and/or a thumb drive or external hard drive for downloading/archiving recorded video. The hardware is well made and sized to fit nicely with the rest of your tech gear.

The back of the controller has the power port, ON/OFF switch, audio out, VGA & HDMI (for viewing live or recorded video), USB port, LAN port, and eight PoE Ethernet ports to connect the cameras. Setting up the NVR-8580 8 Channel NVR is pretty easy…if you can setup a computer and router, you can most likely get this NVR system up and running.
NHD-885MSFB 4K Bullet Spotlight IP Security Cameras: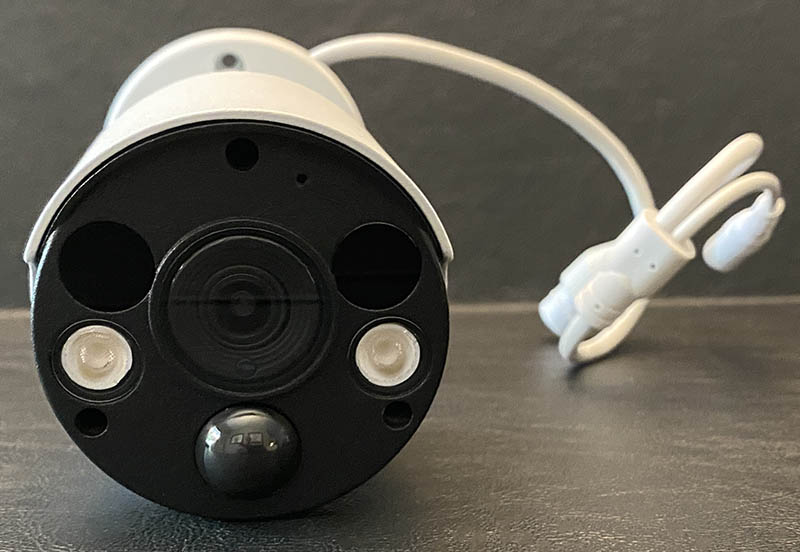 Along with having much higher 4K (3840 x 2160) resolution, these new bullet cameras have a multitude of upgrades and added features including: brighter LED and IR spotlights, better IR & color night vision, microphone, and speaker, facial recognition, enhanced motion and thermal detection, more compact form factor, etc.

Even though it is more compact than its predecessors, Swann packs more resolution and features into the NHD-885MSFB's smaller form factor. That said, the mount's' footprint is slightly larger to accommodate the speaker. The mount is adjustable in all three dimensions: side to side, up and down, and rotationally along the center axis. The camera is held in place by a handful of hex bolts that twist down to securely hold it in space. Compared to installing the wiring, screwing the cameras in place and getting them correctly angled was a breeze.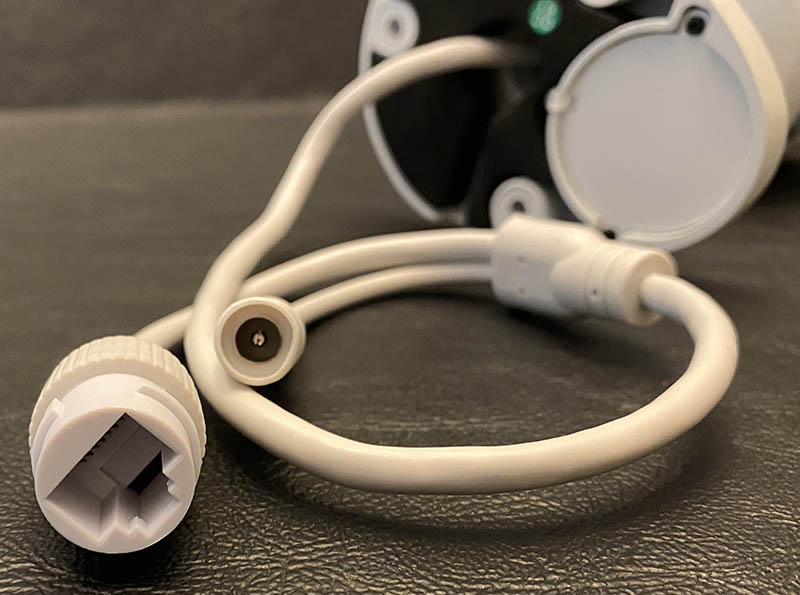 The cameras wiring pigtail includes an Ethernet jack and power plug. As mentioned above, the system is designed to power the cameras via the Ethernet cable/connection. But for whatever reason that does not work, the cameras have a separate input cable for power, though the power plugs (DC12V) are not included.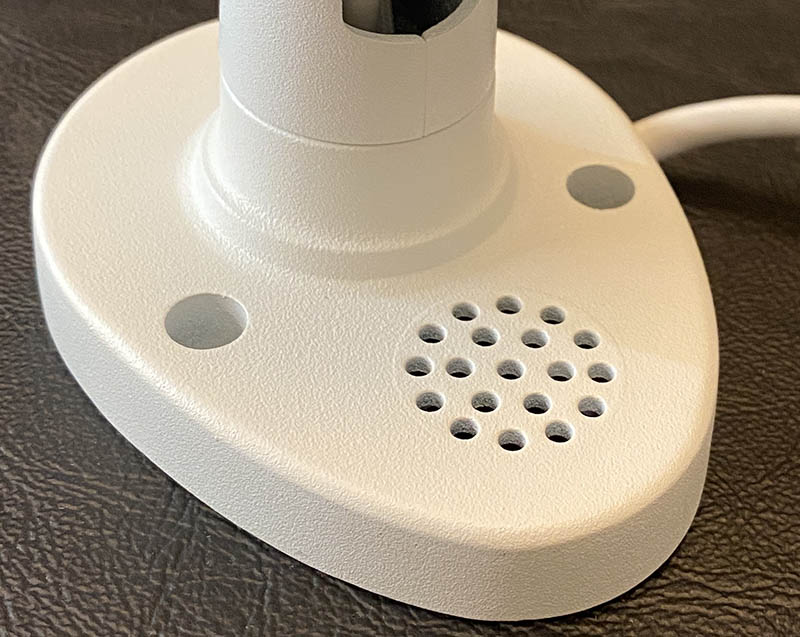 The camera's build quality is good, engineered to survive all types of weather 24/7/365, though under an eve or overhang would definitely be better than having them out in the open.
Setup
Swann DVR/NVR control software: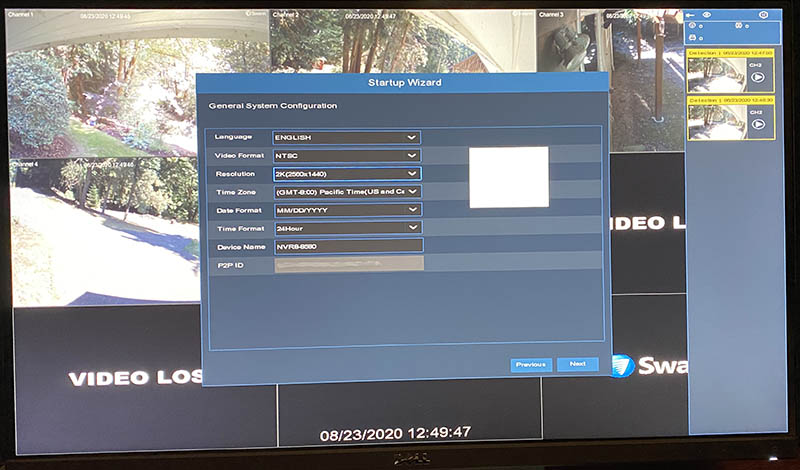 Swann's NVR setup wizard is straight forward enough as it leads you thru the basics of getting your system going. Though depending on how much of a perfectionist you are and your experience level doing this sort of thing…it might take you a bit of time/trial and error getting everything completely dialed in. I'm not saying you'll need to hire a tech intern to set up your NVR-8580 but I do have to remind those who have never done this before that this is a "professional grade" system with many features and nuances to how it can be configured. While I am definitely no expert, this is the fourth or fifth surveillance camera system I have installed and configured and I still needed to consult the Swann support page and YouTube a handful of times to figure out a few things. I'm not trying to scare any of you off cause I really like this DIY system and how capable and configurable it is. Bottom line is, the more time and effort you put into setting it up, the more you'll probably like the system overall.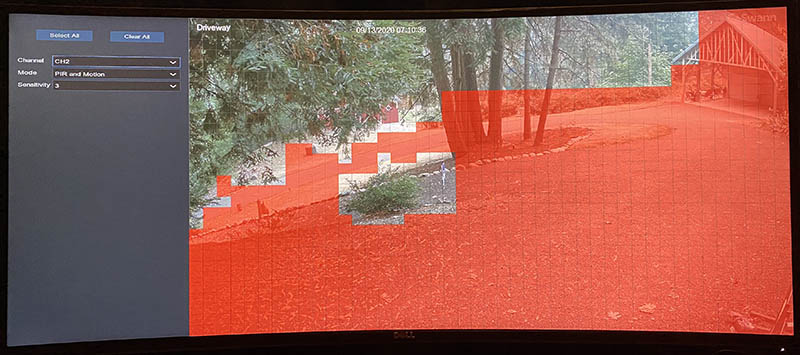 I am not going to walk you through the entire setup process cause that would go well beyond the scope of this review. Though I will mention getting the motion zones and settings tweaked just right is probably the most critical part; balancing awareness with being bothered by false alarms. Here you can see that I have removed those sections of the scene where the plants move in the wind. I've also enabled the software smart identification that uses infrared and shape recognition to hopefully reduce/eliminate false alarms. So far, that is working very well.
SwannView Link smart device app: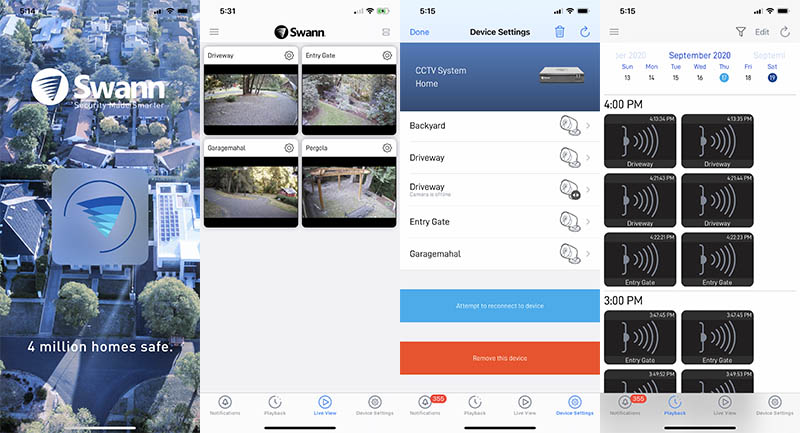 SwannView Link app is great for viewing while you're away and notifications but does not give you nearly the control over the system that the NVR control software or the HomeSafe computer application do. But I've found over the years, that I rarely if ever needed to fix a setting remotely with just my smartphone.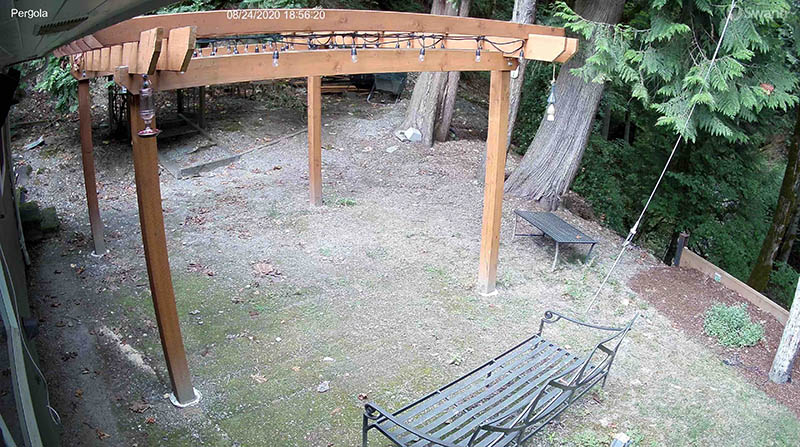 The SwannView app enables you to view the live camera stream, remotely record video, capture a pic in real time, thru the speaker, turn on the lights and siren, and receive alert notifications. Overall I have no complaints, the app is easy and intuitive to use…providing excellent video quality.
HomeSafe computer application: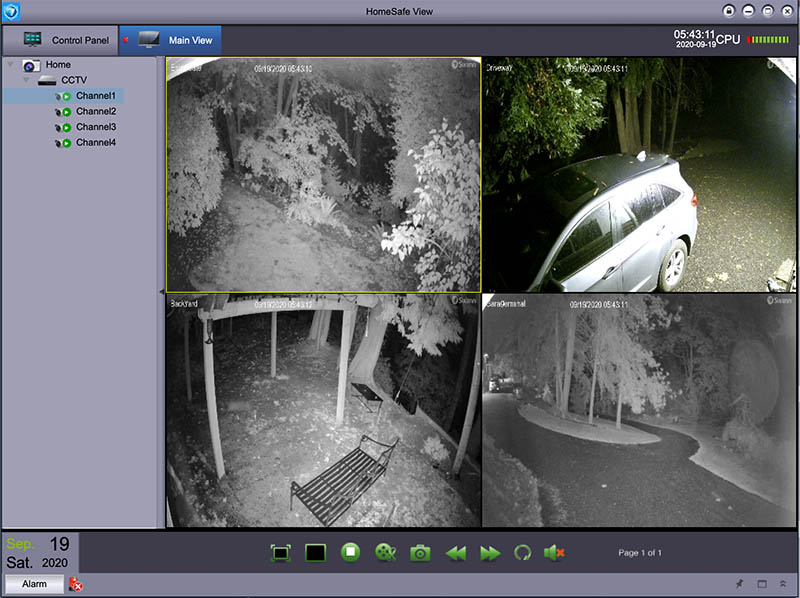 The HomeSafe application enables you to view and manage the surveillance system remotely via your computer. Impressively well actually. Not only are you able to view live and recorded footage…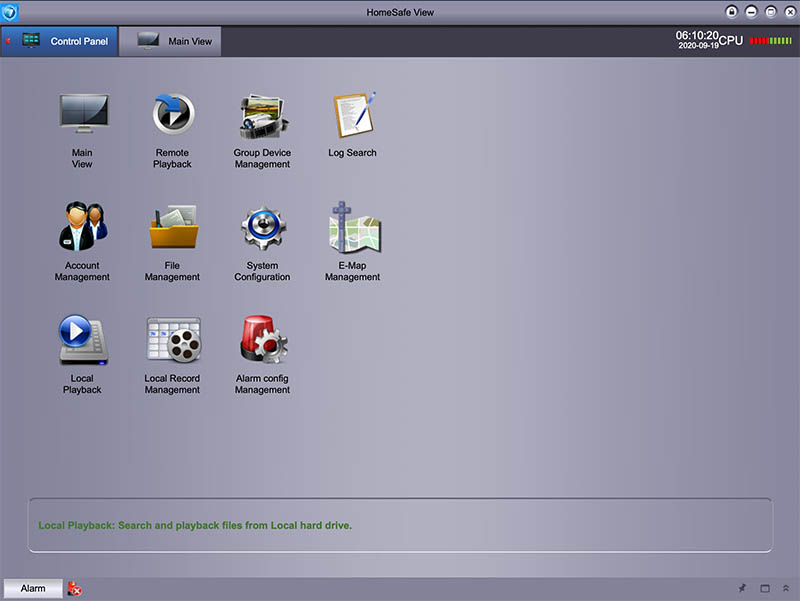 …but manage and reconfigure the entire system wirelessly from your computer.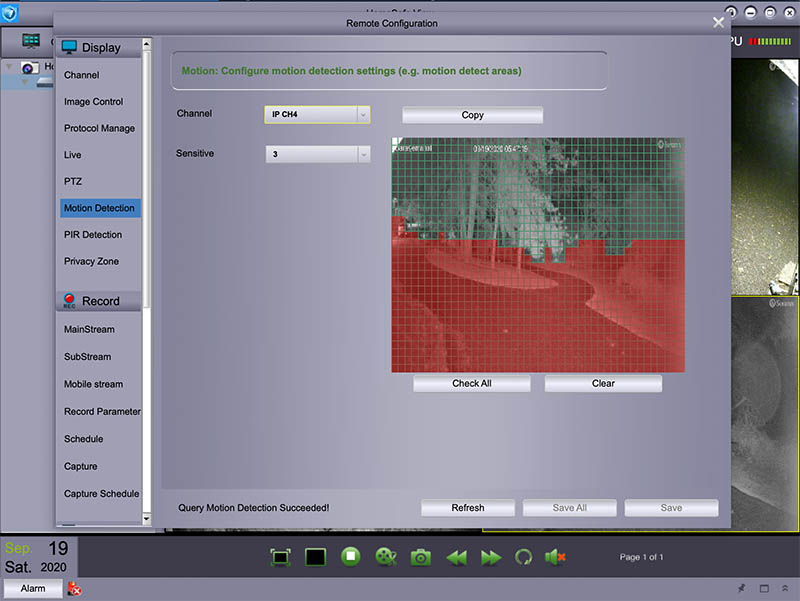 I find being able to do this with my feet up and computer on my lap over morning coffee much more convenient than over the NVR system tucked back in our office closet.
Performance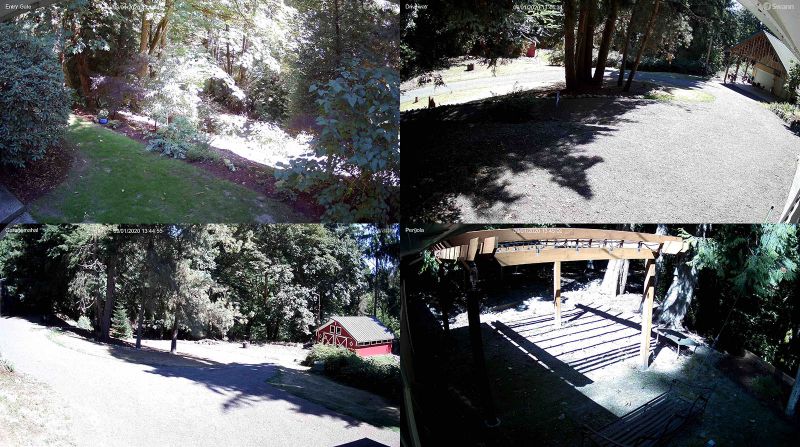 The performance of the NVR-8580 and all of its 4K glory is difficult to show in this review and the sample video in 1080p resolution of my YouTube channel sadly falls short of what I see on my iDevices and 4K monitor. What I can tell you is that, while our old 3MP Swann surveillance system provided good video, the resolution of their new 4K system is several quantum levels better.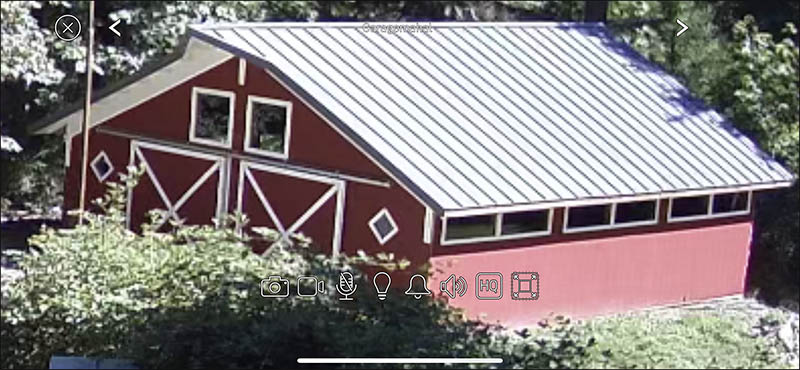 And as you can see here, you can zoom in and still have very good picture quality.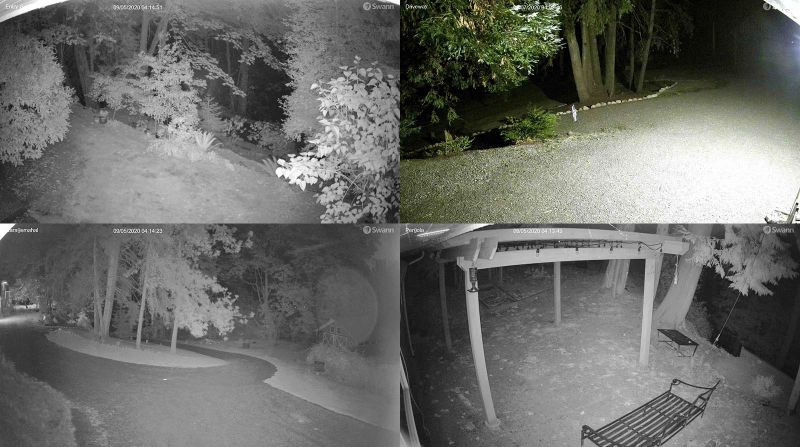 The low light and night video is excellent as well. The IR spotlights do a great job illuminating the pitch black scenes.
As I mentioned above, this sample video does not do justice showing off how clear and vivid the NVR-8580 footage is both day and night. Capturing a license plate or someone's face is no problem at all for this system. Downloading video to an external drive was also very easy and intuitive.
What I like
Excellent video quality
Do-it-yourself installation
Local and Dropbox storage
PoE provides constant power and connection in a single cable
Improved control software
Enhanced motion and thermal detection plus facial recognition
Well done smartphone app
What needs to be improved
Takes a bit of time and research to configure the system
The alarm and speaker could be louder
Full Disclosure: During the course of this review, one of the cameras started giving me trouble and more or less failed after a couple of weeks of use. I did a bunch of troubleshooting and after a relatively short discussion with Swann's customer support, they agree to swap out the camera for a replacement one. The camera and system as a whole has been running very well ever since.
Final thoughts
I find having a surveillance system a must living out in the middle of nowhere. The ability to see what's happening and receiving notifications when there is movement around our place definitely adds peace of mind…while at work, on work travel, or my wife is dragging me around on holiday. As I mentioned, I have installed and used other surveillance systems but none of them come close to Swann's latest DIY 4K system. The video quality and features of the NVR-8580 are some of the best I have experienced. The system is overall smarter and better at reducing/eliminating false alarms and compared to back in the day, all of the software interfaces have been improved as well. All that said, to truly get the most out of this professional grade system you do have to put some time and effort into getting the system tweaked just right but IMO it's well worth the effort.
Price: $749 (MSRP)
Where to buy: Swann and Amazon
Source: The sample of this product was provided by Swann.