We use affiliate links. If you buy something through the links on this page, we may earn a commission at no cost to you. Learn more.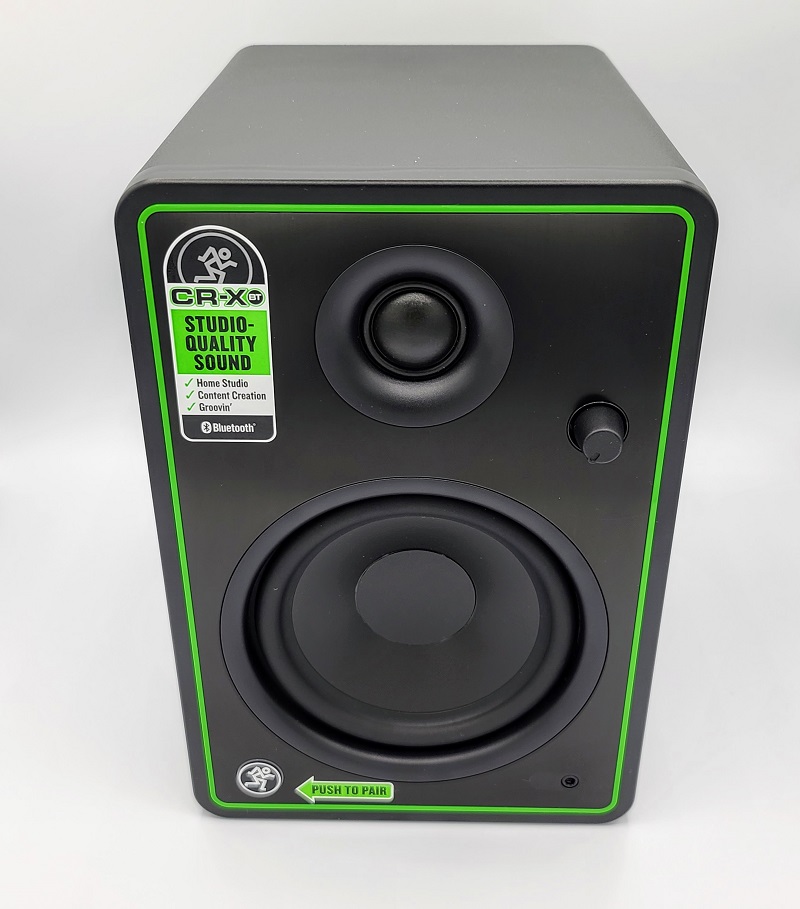 REVIEW – Speakers can vary wildly in terms of sound profiles and quality.  While I'm no audiophile (speaker snob), I do appreciate a nice set of monitors.  I've owned a ridiculous amount of different computer and studio speaker sets through the years (my partner would say I might have a problem with buying too many gadgets, but don't listen to her), and the sound and quality has definitely spanned the range from "is that music or a garbage disposal" to "wow, those sound pretty nice".  Let's see where the Mackie CR-X Creative Reference Multimedia monitors fall in that range, shall we?
What is it?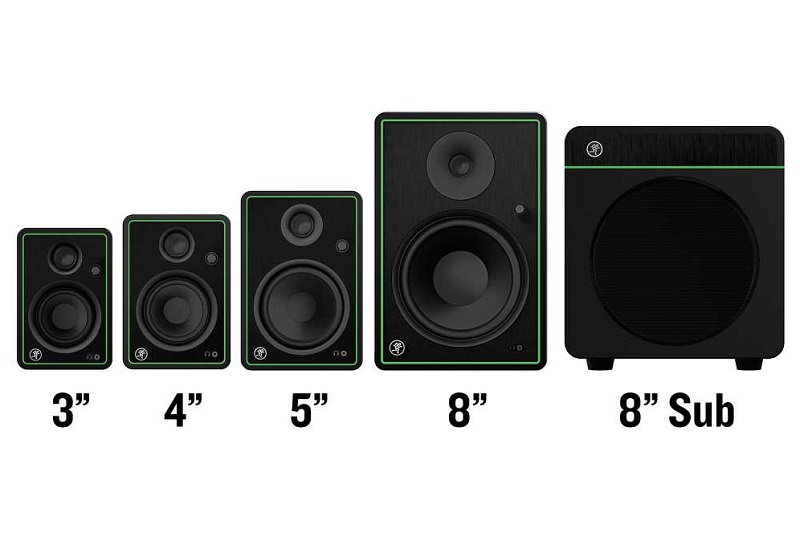 The Mackie CR-X Creative Reference Multimedia monitors are a series of speakers made by Mackie that purport to have studio-quality sound across the entire range of products.  I was sent the 5-inch-with-bluetooth model (CR5-XBT) so my review is specific to this middle-of-the-pack set, but I'd be pretty confident that most of my observations would apply to the other sizes as well.  The larger sizes will be able to pump out more bass with the larger cabinets, woofers, and wattage ratings, and the sets with the 8″ sub included even more so.  Higher range audio will be pretty consistent across the range since they appear to all use the same tweeters.
What's in the box?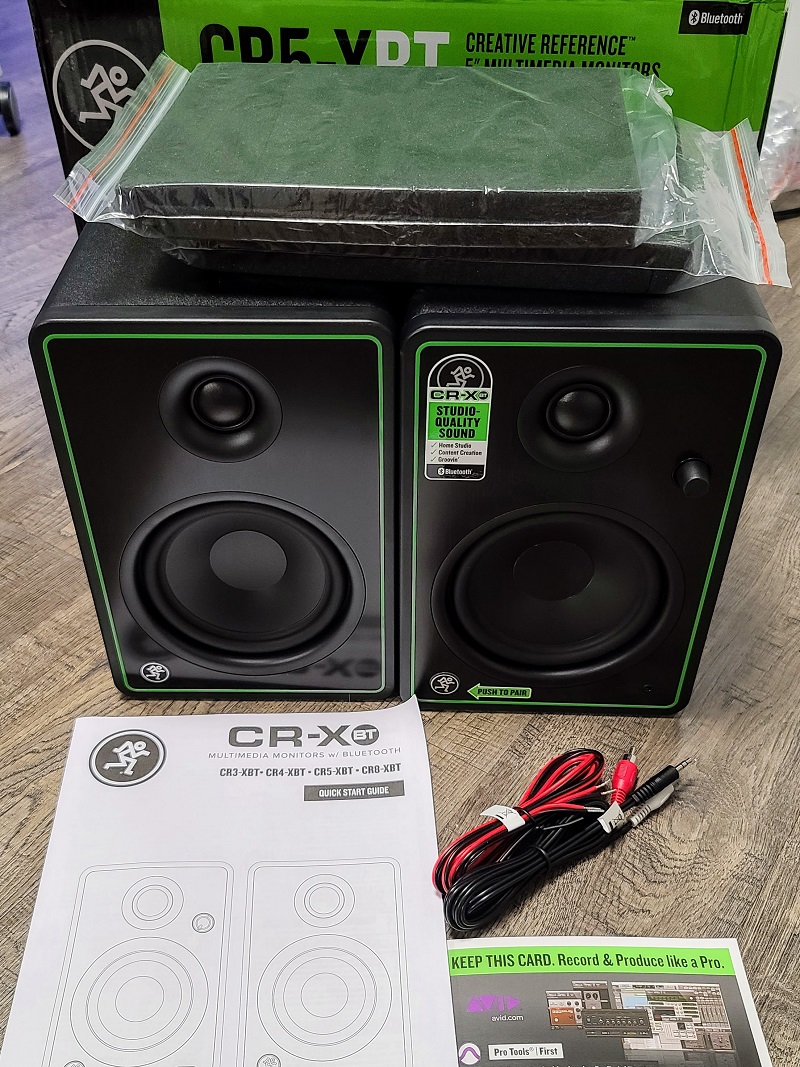 2 x Speakers
4 x sound isolation pads (foam pads specifically sized for the speakers to sit on and/or have padding on top)
Speaker cable (about 6 feet)
Code for Pro Tools (recording software)
Hardware specs
These specs are for the CR5-XBT model, they do change depending on the model (mostly woofer size and overall power rating)
Power: 80 watts
Inputs: 1/8″ (standard headphone), 1/4″, RCA, and Bluetooth
Outputs: Front 1/8″ headphone
Speakers: 5″ polypropylene-coated woofer and 3/4″ ferrofluid-cooled silk-dome tweeter
Weight: 14.9 lb / 5.8 kg
Dimensions: 10.2″ x 6.9″ x 9.3″
Design and features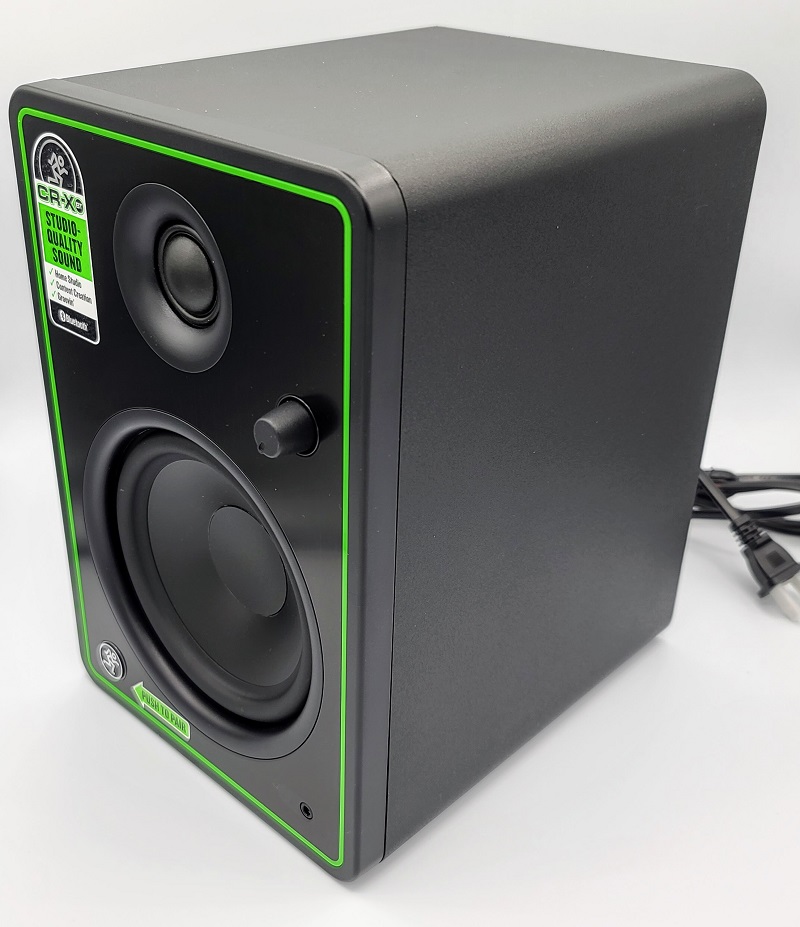 The Mackie CR-X Creative Reference Multimedia monitors have a distinctive green band around an otherwise-fairly-basic speaker configuration.  A volume/power knob is on one of the speakers, which also has a Bluetooth pairing button.  Helpful stickers point out this button, and remove easily leaving no residue. There is also a standard headphone jack (1/8″), if you plug a device into this it "automagically" mutes the monitors which is handy.   The woofer and tweeter are exposed with no cover, so you'll want to place these where you won't accidentally damage them.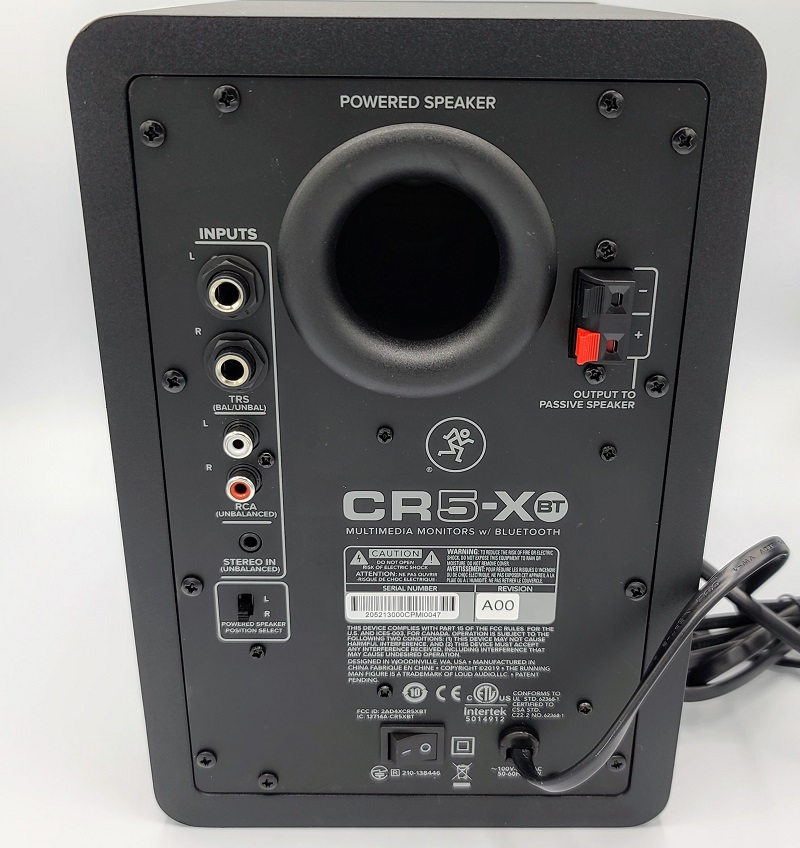 On the back of one of the monitors are the various inputs, a selector switch to set this speaker to the Left or Right channel, a power button, the power cord, and a speaker-wire connector output for the other speaker.  The inputs include 2 x 1/4″ jacks, RCA, and the 1/8″ standard headphone size jack.  I tested all of these, and they all worked great – no extra noise or hiss that wasn't present in any other devices with the same cables.
Installation and setup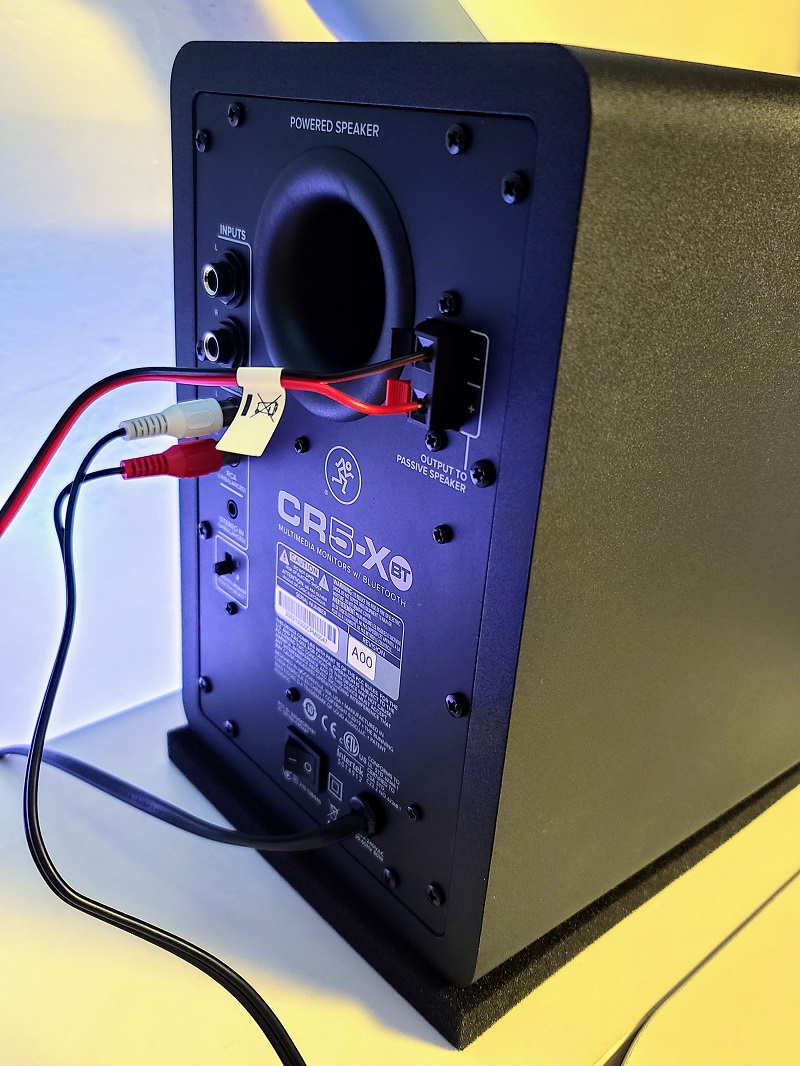 Setup was very easy, I think even people who have never installed speakers before would have no issues with it.  I ran an RCA-to-1/8″ cable from the Mackie CR-X Creative Reference Multimedia monitors which I could plug into my computer or other devices for testing.  I set the speaker to the Right channel and plugged in the speaker wire.  I then ran this speaker wire to the other speaker, which is identical except for the inputs and power cord (on the 2nd speaker, there is just the speaker-wire connection).  Once everything was hooked up, I flipped the power switch on the back and I was good to go.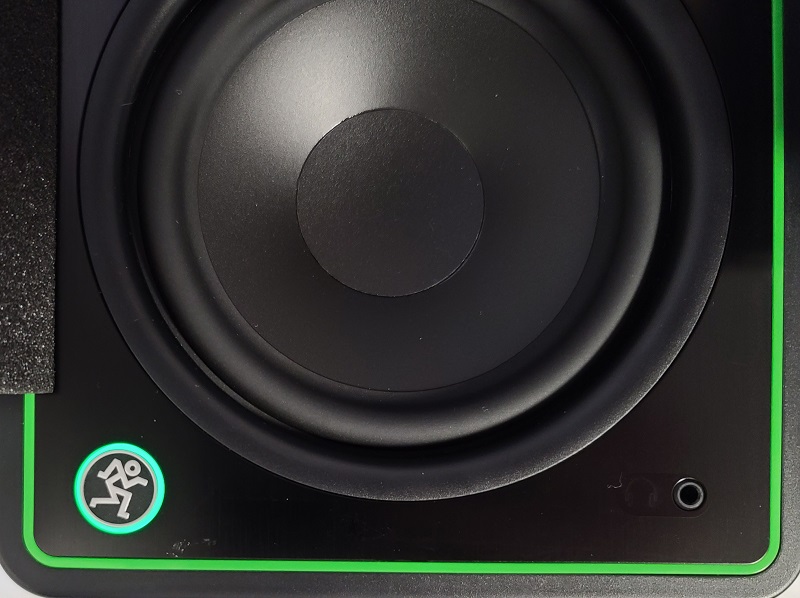 The little running man logo doubles as a Bluetooth connection/pairing button, and was easy to use.  I tested this with multiple devices (Android, iOS, and Windows devices).  Sound quality was excellent on all, with no noticeable issues in quality.
As I ran the Mackie CR-X Creative Reference Multimedia monitors through their paces, I was blown away by the audio fidelity.  My previous desktop computer speakers are decent Logitech ones, but the leap in quality and accuracy in these is quite noticeable.  If I'm not careful I could see myself being sucked into this audiophile world.
Music was crisp and clear, regardless of the input and genre.  I was able to pick out little noises I'd never heard before, like the brush of a wrist on guitar strings.  The actual musical parts also sounded good. The audio on these 5 inch models are not as bass heavy as most of my other sets of speakers have been, but this is to be expected on "studio monitor" type speakers, these are designed to accurately reproduce the sounds of instruments and vocals rather than blast bass.  If you do get in a bass-mood though, a simple equalizer change on your input device does result in room-rattling sound.
I had the Mackie CR-X Creative Reference Multimedia monitors connected to my primary computer for the majority of the review, which means I used them for quite a bit of gaming.  I was able to hear footsteps and sound details in games that I never heard with my previous set, the upgrade in audio quality was very apparent.  I also realized that by using a more natural sound profile, the game sounds were much more lifelike and highs and mids weren't as drowned out by the bass.  In competitive multiplayer shooters I felt like I had a bit of advantage where I hadn't before, getting the drop on people I could accurately hear and track down just based on footsteps.
As an amateur bassist and very-occasional guitar player, I also tried out the 1/4″ inputs with an acoustic-electric guitar and my old high-school-90's-punk-era bass guitar.  The bass guitar would be better suited for the 8 inch and/or subwoofer versions of the Mackie CR-X Creative Reference Multimedia monitors, but the acoustic-electric sounded great.  The audio was much amplified by the speaker (I would say speakers, but there are separate 1/4″ inputs for the left and right channels, so I was only able to use one speaker when playing).  As a fun side-note, all of the inputs are always working, there's no need to switch inputs for different uses.  You could be playing music from a record-player, while playing along on a guitar, singing w/ a professional microphone, and be getting text alerts beep from your Bluetooth-connected phone all simultaneously.  There are probably better use-cases than the one I just described, but you get the picture, it's quite a flexible system.  There were multiple times I connected my phone to play some music, forgot I had the active connection, and then about had a heart attack when a very-loud message beep would happen an hour later.
What I like
No need to switch inputs
Beautiful sound
What I'd change
Allow a single 1/4″ plug input to play from both speakers
Design could be polarizing – offer different colors or all-black
Final thoughts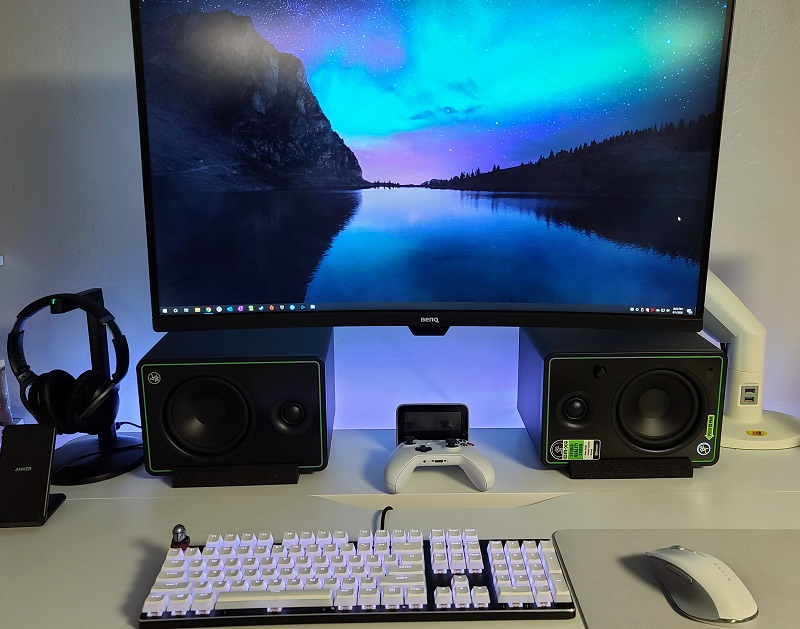 The Mackie CR-X Creative Reference Multimedia monitors have found a permanent place on my small desk (at least for now).  The 5 inch model is about the largest set of speakers I can cram in here before needing a bigger desk.  I thoroughly enjoyed my review period with these, I found myself listening to music much more than in previous weeks.  I had to think harder than usual for the "what I'd change" column in this review.
Price: $219
Where to buy: Amazon
Source: The sample for this review was provided by Mackie.