We use affiliate links. If you buy something through the links on this page, we may earn a commission at no cost to you. Learn more.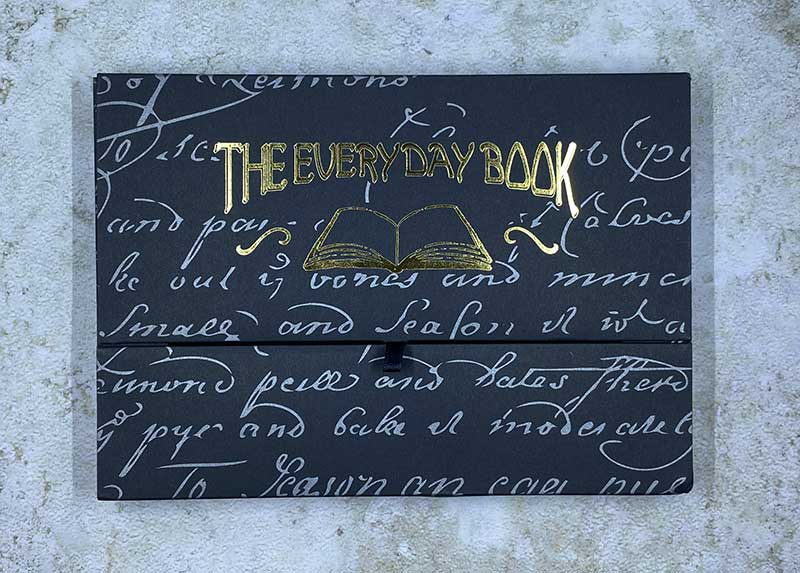 REVIEW – I love leather and I love notebooks. So when you combine them, I become interested. Galen Leather Co. recently contacted me to ask if I would like to review some of their products. I've already posted reviews of their Galen Leather Co. branded Kaweco Sport fountain pen, the Scrikss 419 fountain pen, and their 10-pen zippered case. Today I want to tell you about their leather bound Tomoe River notebook. Ready? Let's go.
What is it?
The leather bound Tomoe River notebook from Galen Leather Co. is a 200 page notebook that features Tomoe River paper and a leather cover.
Design and features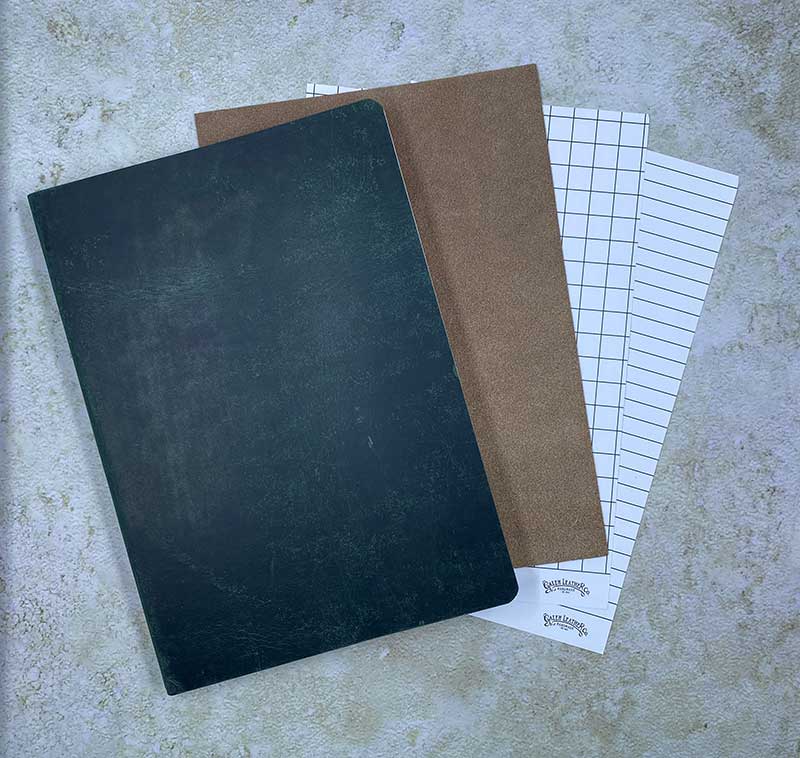 The notebook is available in B6, A5, and A6 sizes and your choice of two Vegetable tanned cow leather covers in either Crazy Horse Brown or Crazy Horse Forest Green. Included with each notebook is a leather blotter sheet along with grid and lined paper guides.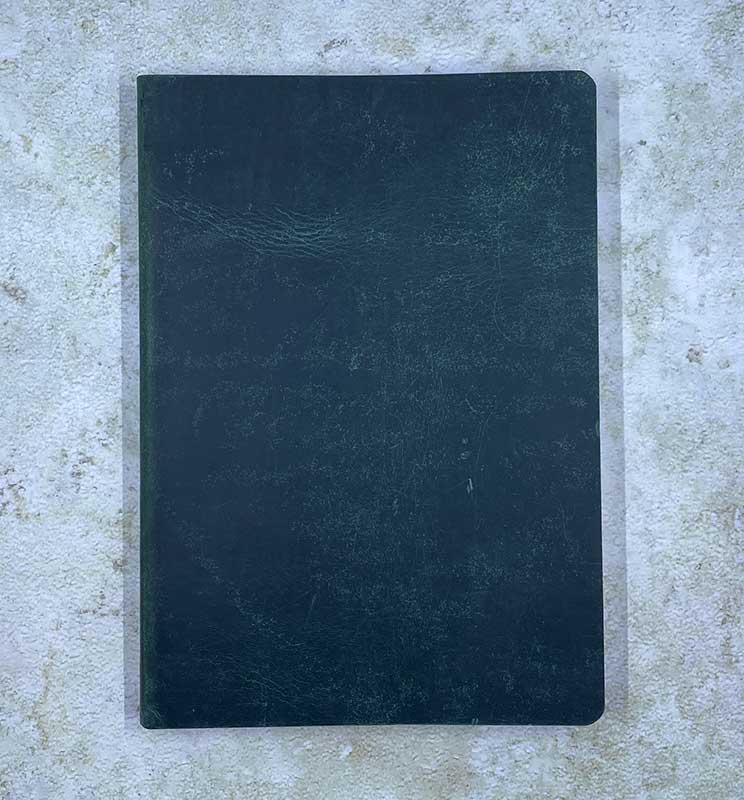 The 200 sheet (400 page) notebooks look and feel great in hand. The hand bound leather covers are soft and flexible. There's no branding on the front of the notebook…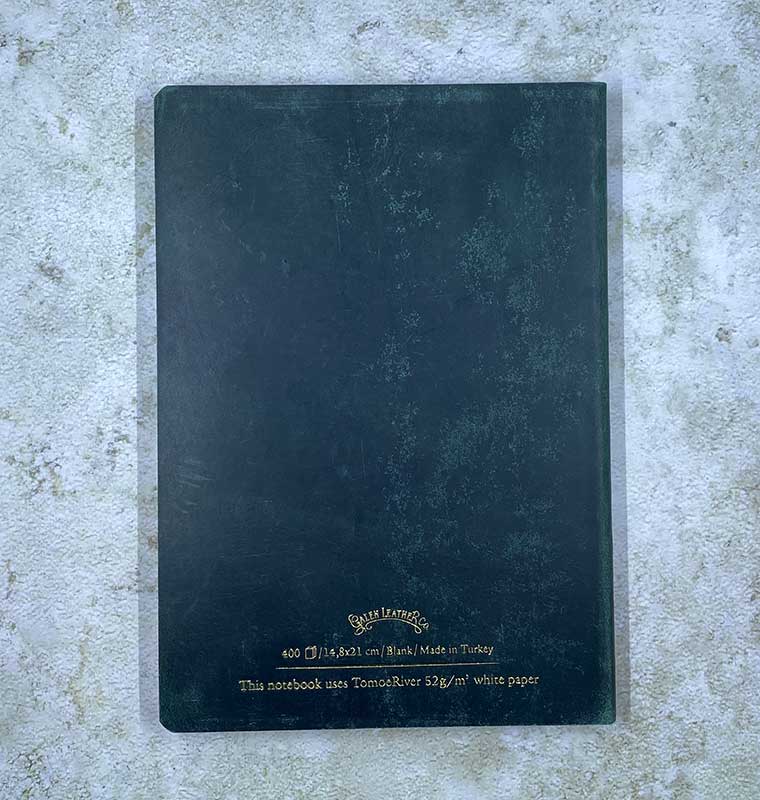 …But there's the Galen Leather Co. logo stamped in gold on the back cover along with some technical details. I am not sure why this info needs to be stamped into the cover. If it were up to me, I'd just put the company logo and leave the rest of the details off.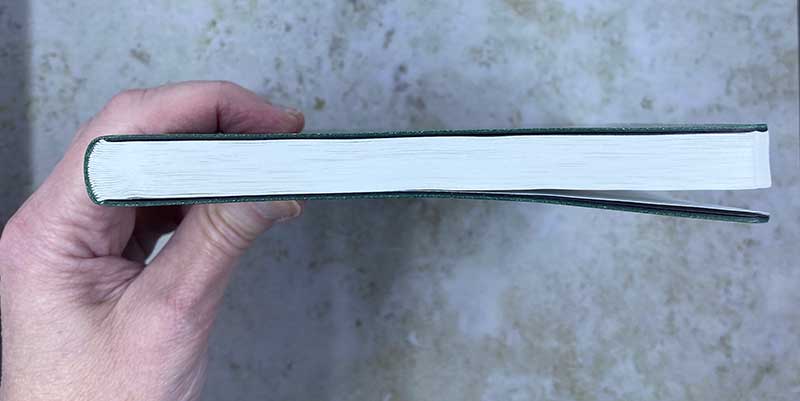 These notebooks are handbound in Turkey where Galen Leather Co. is located.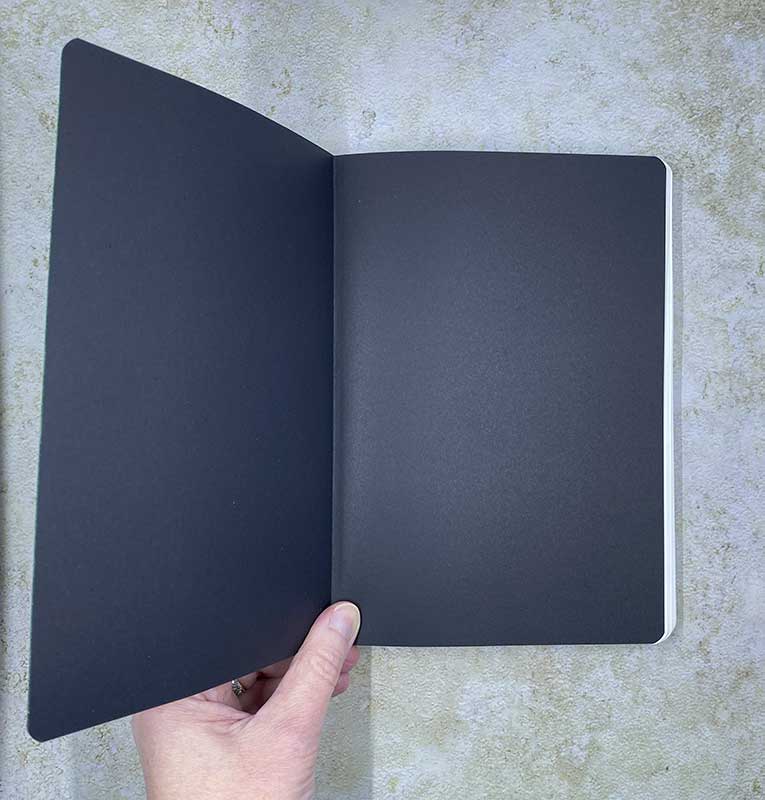 Inside the front and back covers are black endpapers. Note that this notebook does not have a pocket like many popular notebooks that are on the market. This doesn't bother me as I rarely remember those flat pockets are there and don't' use them.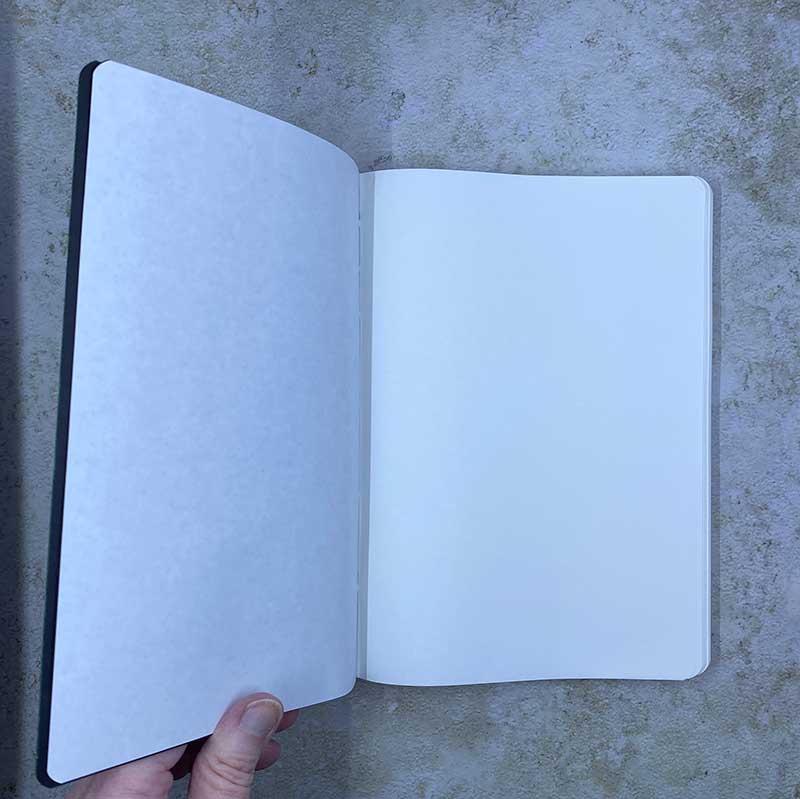 Galen uses Tomoe River 52 gsm paper for these notebooks. The Japanese made Tomoe River paper is very popular with fountain pen enthusiasts due to how thin and smooth it is. As far as color, the paper a bright off white.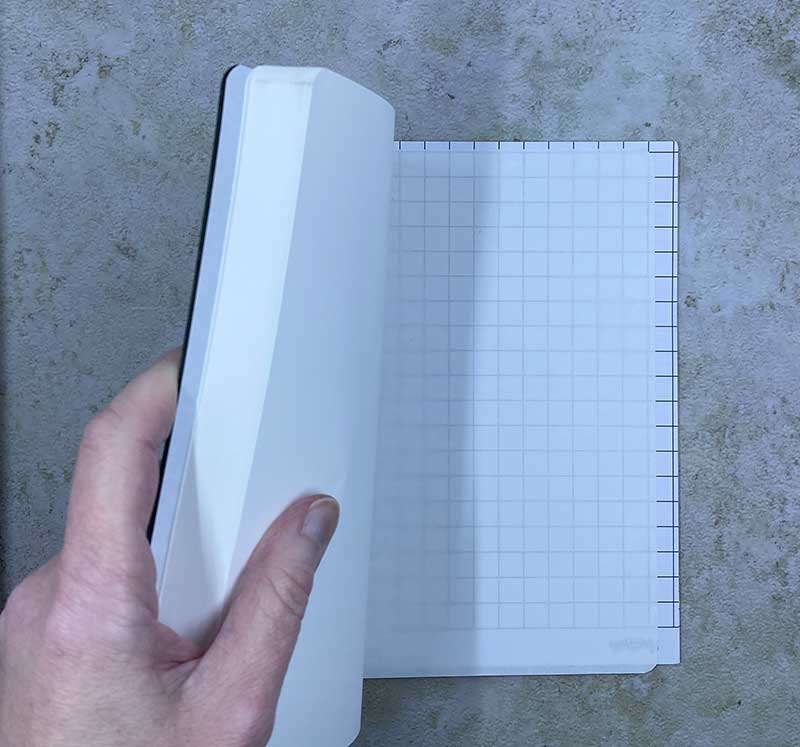 Because the paper is so thin, you can use one of the included guidelines pages to provide grids or lines as you write.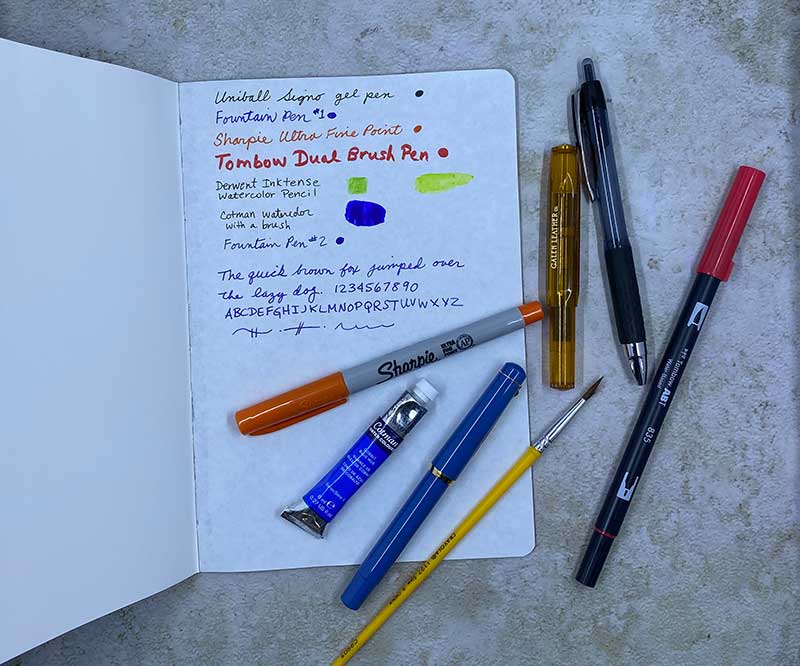 I tested the paper with several pens including two fountain pens from Galen (Kaweco Sport, and Scrikss 419), an ultra-fine point Sharpie, a Uniball Signo black gel pen, a Tombow dual brush marker, Derwent Inktense watercolor pencils, and some Winsor and Newton watercolors.
I will agree that the Tomoe River paper is smooth and enjoyable to write on with all the pens/media that I used. I didn't notice any feathering issues. I will say that the watercolors and even the fountain pen inks to some extent, took longer to dry than when used on other paper/notebooks.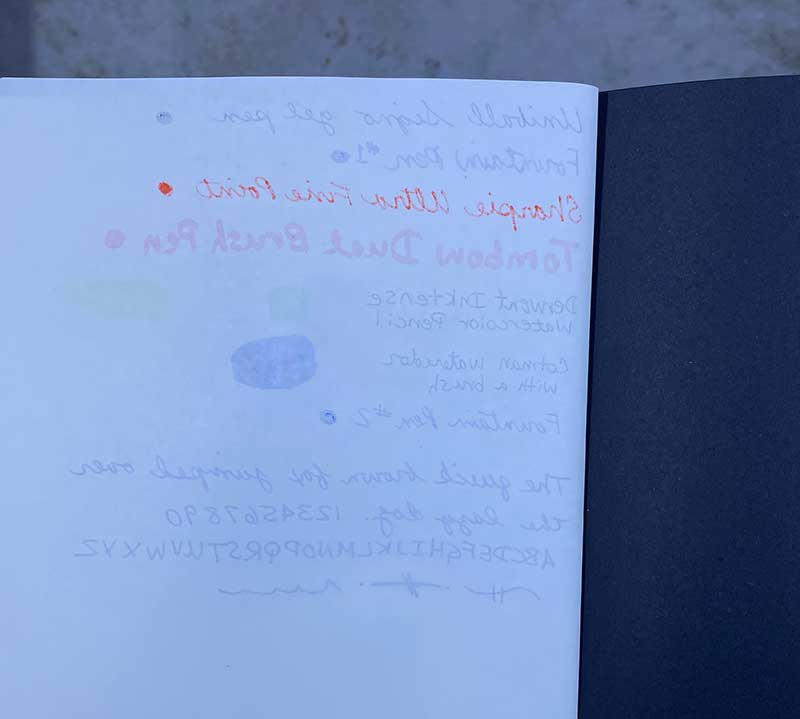 Turning the page to check for bleed-through showed that (unsurprisingly) the Sharpie marker bled through to the other side. The fountain pen ink also had a tiny bit of bleed through on the dots that I colored in but didn't bleed with regular writing.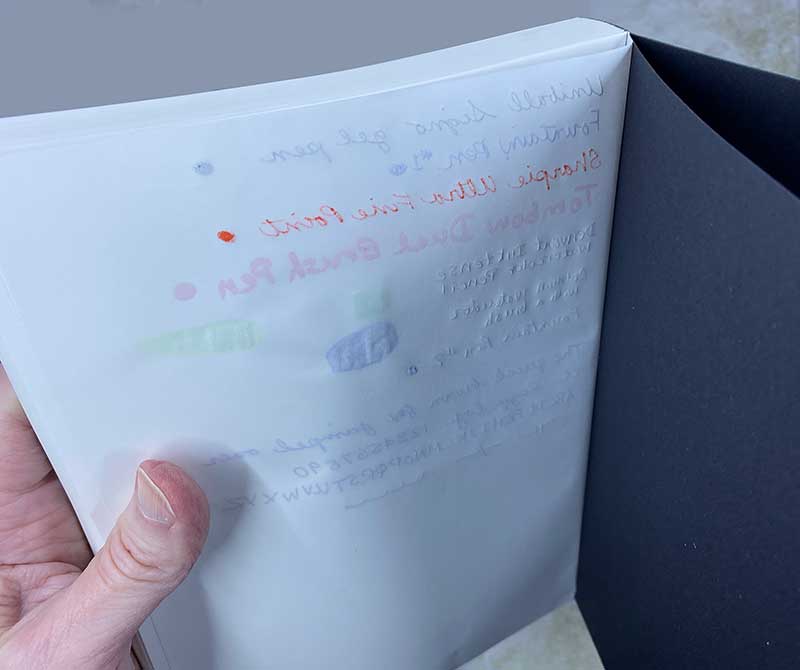 Here you can see the main reason why I personally do not care for Tomoe River paper. The thinness of the paper causes shadowing where the pressure from the writing shows up on the backside with a braille-like effect. Some people love that, so I'm not going to say it's a con because the people who love Tomoe River paper know about this "feature".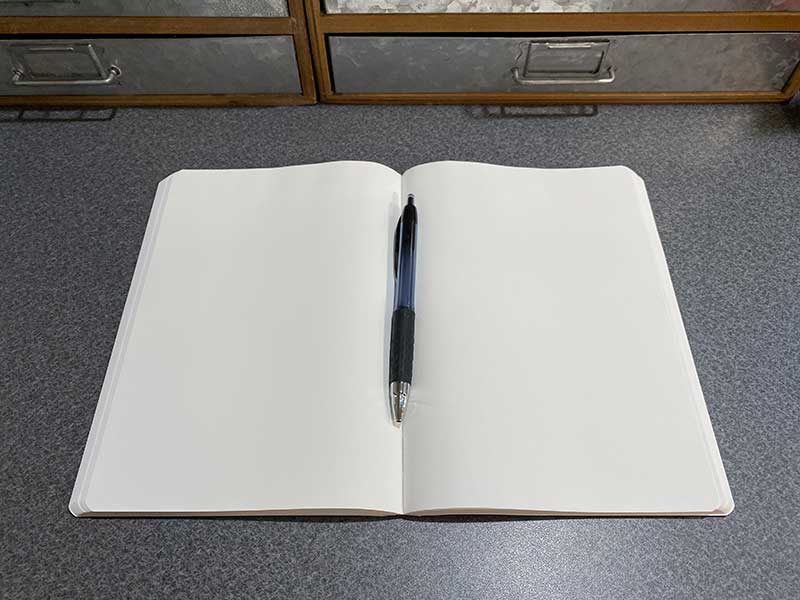 On the plus side (for me), the notebook lays flat beautifully with no worries that pages will flip open on their own.
What I like
Thin profile even though the notebook has 200 pages
The leather cover is beautiful
Lays flat when open
What I'd change
Remove tech specs from the back cover
Final thoughts
Fans of Tomoe River paper will love these Everyday leather bound notebooks from Galen Leather Co. They are wonderfully handbound, look great, and feel great in your hand. The pages are smooth, bright, and enjoyable to write and draw on. As long as you understand the attributes of Tomoe River paper and accept them, you will love this notebook.
Price: $24.00 – $36.00
Where to buy: Galen Leather Co.
Source: The sample for this review was provided by Galen Leather Co.