We use affiliate links. If you buy something through the links on this page, we may earn a commission at no cost to you. Learn more.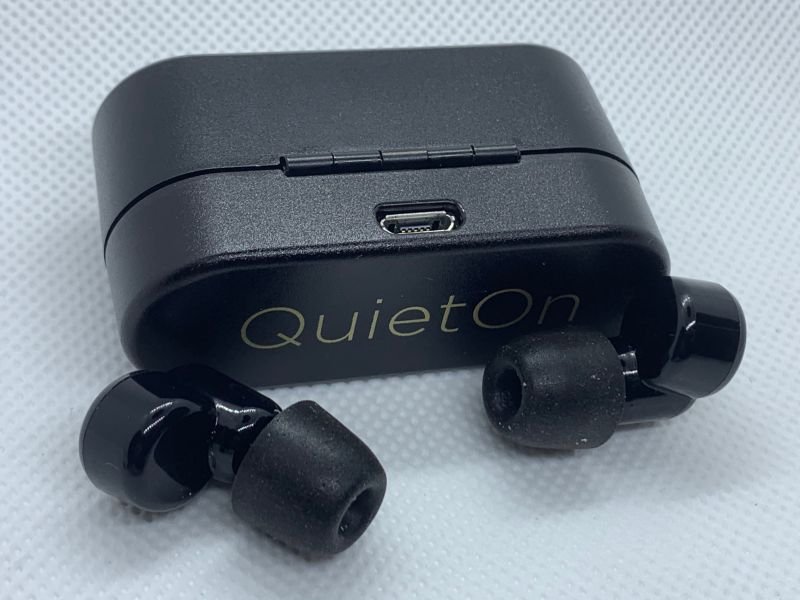 REVIEW – Designed to block the annoyance of your sleep-mate's snoring, QuietOn's Active Noise Cancelling earbuds aim to provide a deeper and more refreshing night's sleep. How might they measure up to the mighty snore and other nightmare potential auditory terrors? Let's find out…
What is it?
QuietOn earbuds are active electronic noise-canceling devices that reduce the volume of ambient sounds the wearer hears.
Hardware Specs:
Operating temperature range for the earpiece: -4°F to 122°F (-20°C to 50°C).
Storage temperature range (complete kit): -4°F to 122°F (-20°C to 50°C).
Charging temperature range: 32°F to 113°F (0°C to 45°C).
Weight with case: 37-grams, 1.3-ounces
Earbud Weight: about 2.8-grams each, 0.1 ounces
20-hour operating time per charge
1 hour recharge time
Up to 40db noise reduction
What's in the Box?
Noise-canceling earbuds and charging case
Micro-USB charging cable
Large, medium, and small foam ear tips
Instructions in multiple languages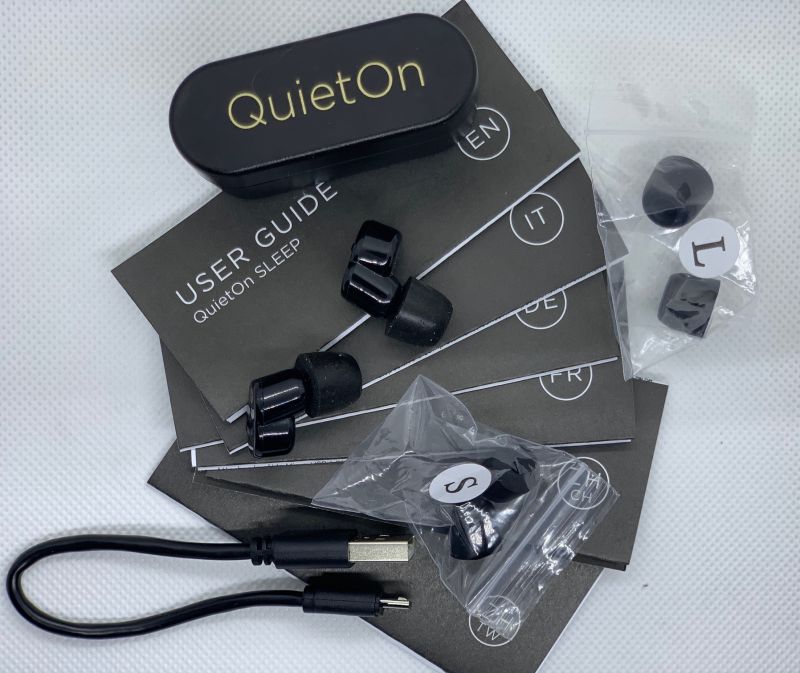 Design and Features:
QuietOn earbuds arrive in a tiny box.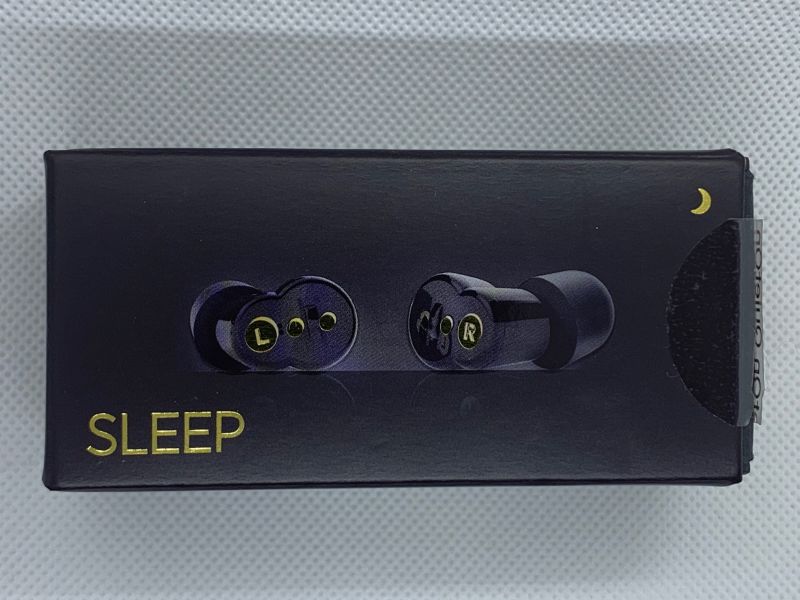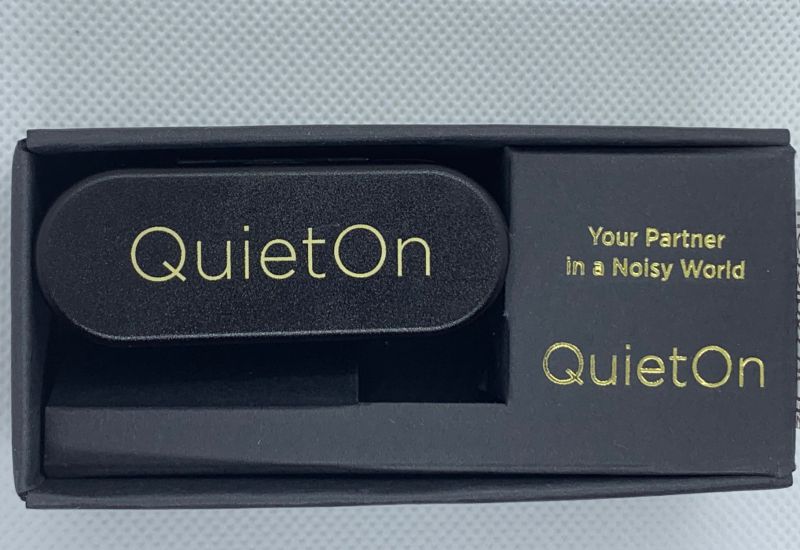 Included are three sets of ear-tips made of squishy memory-foam.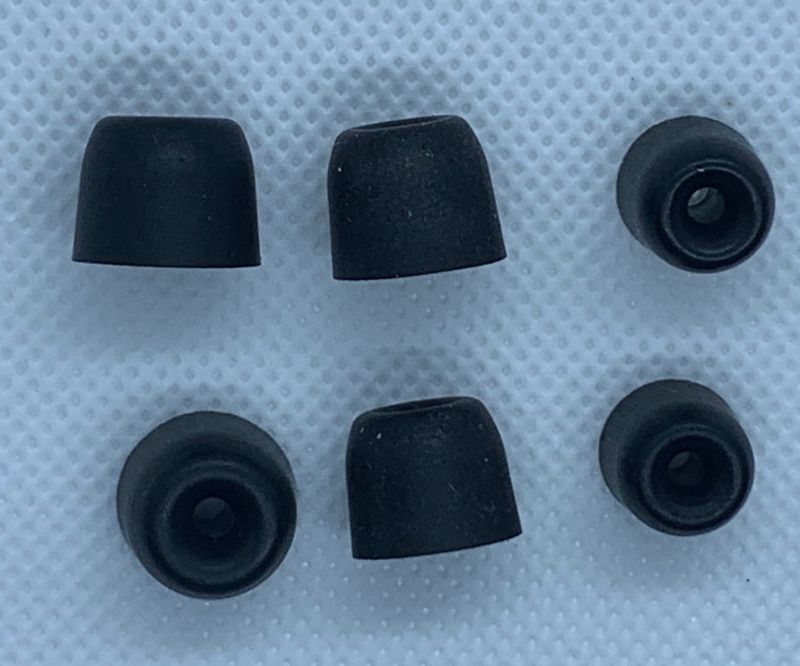 Also included is a Micro-USB charging cable.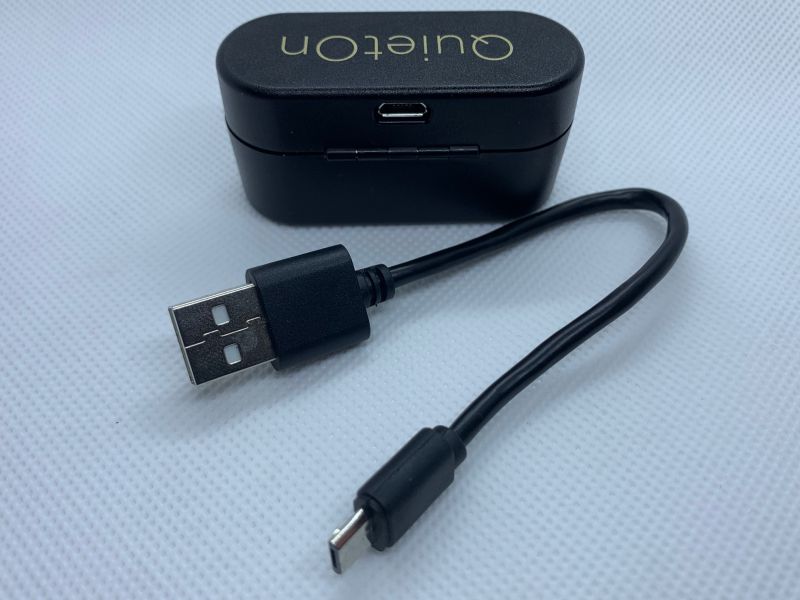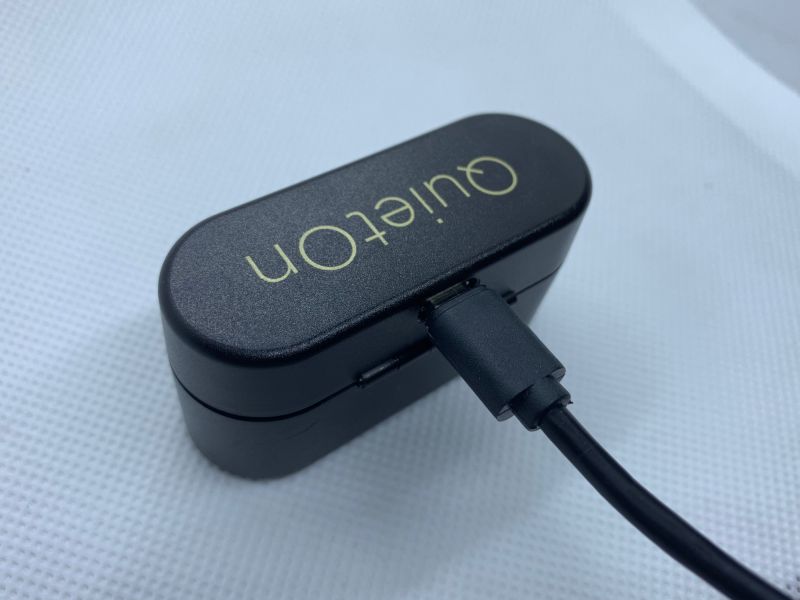 A power supply is not included, but any handy USB socket you have available will do the job, charging the case and earbuds in about an hour.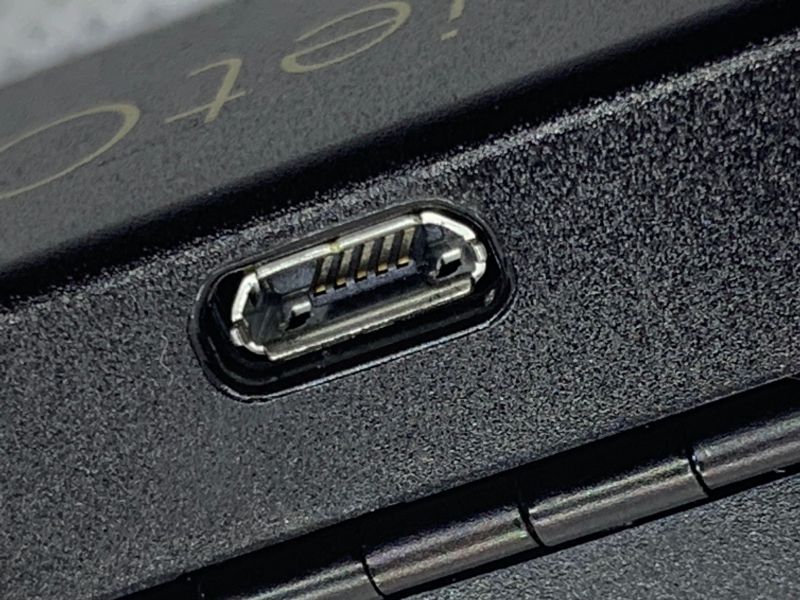 Stickers protect the battery contacts on the earbuds during transport from Finland.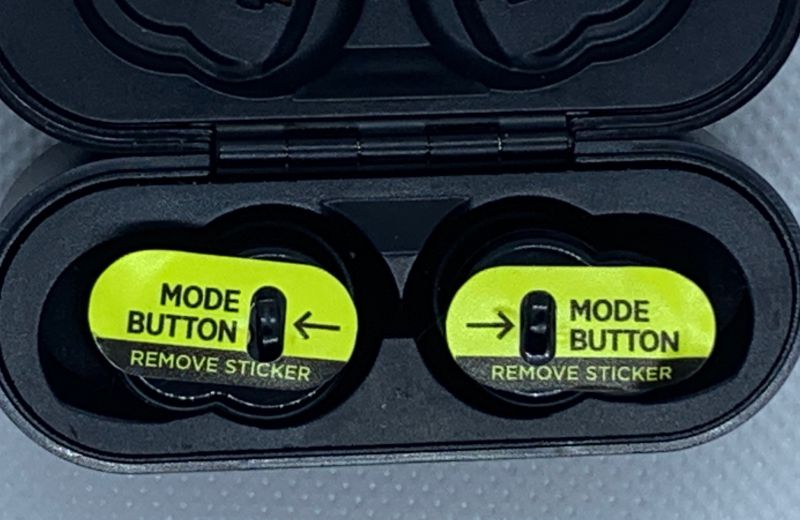 The case is tiny, about 2.36 x 0.96 inches (6 x 2.5cm).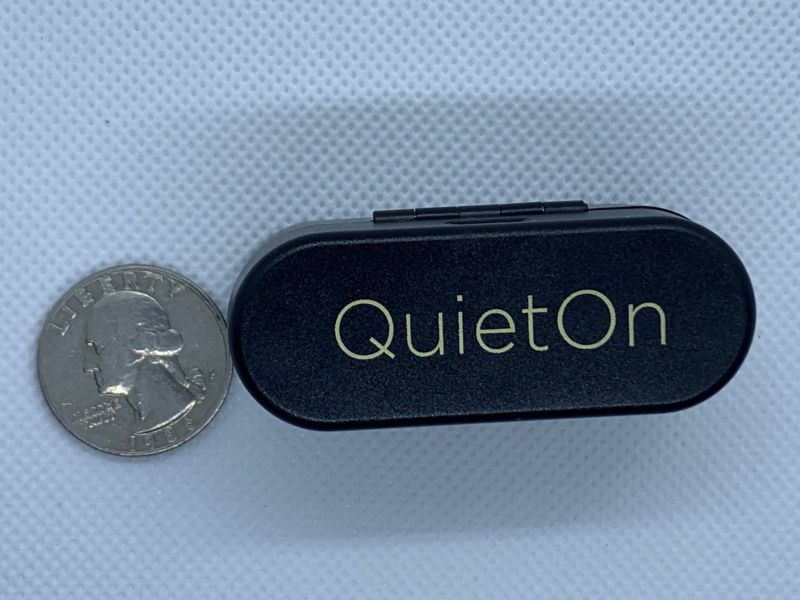 Inside the case are springy contacts that engage the charging pads on each earbud.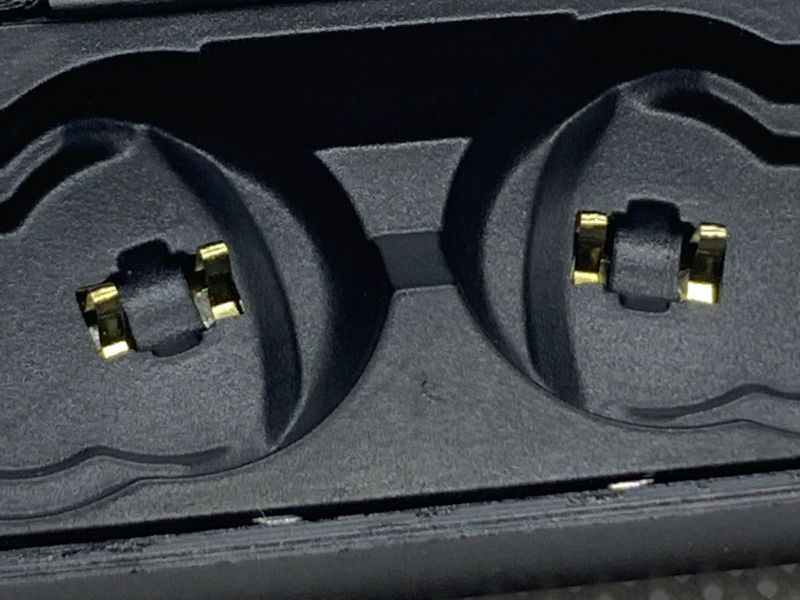 Bright blue LEDs illuminate to indicate charging is in progress.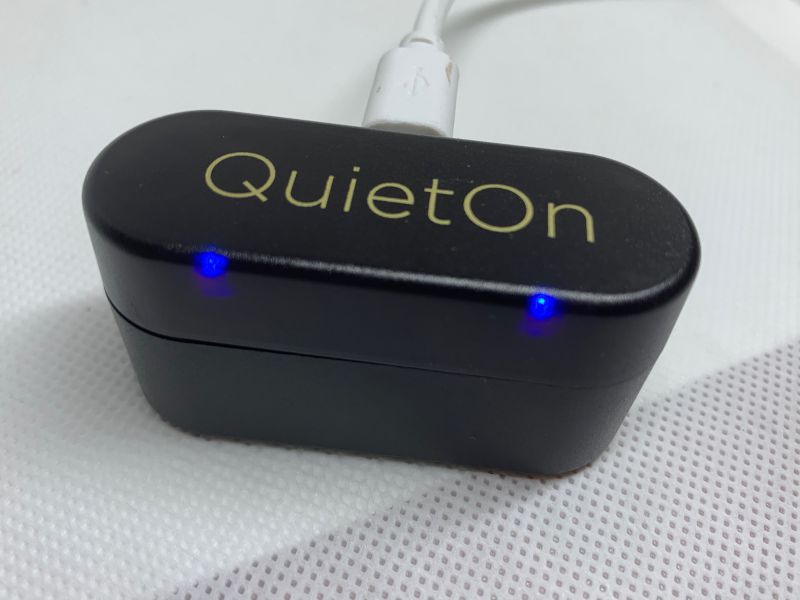 The earbuds are minuscule at about 0.72 x .5 x .83-inches (7.2 x 12.7 x 21.1mm) using my calipers. Earbuds are marked left and right.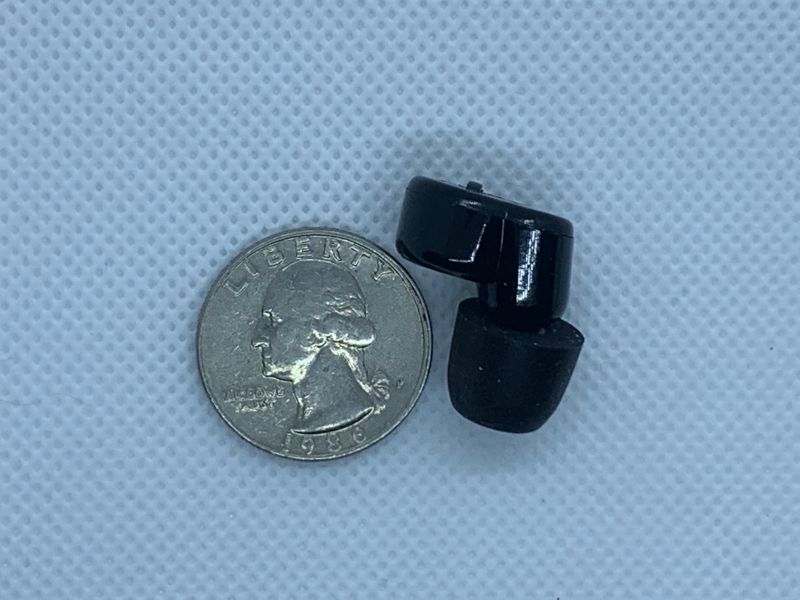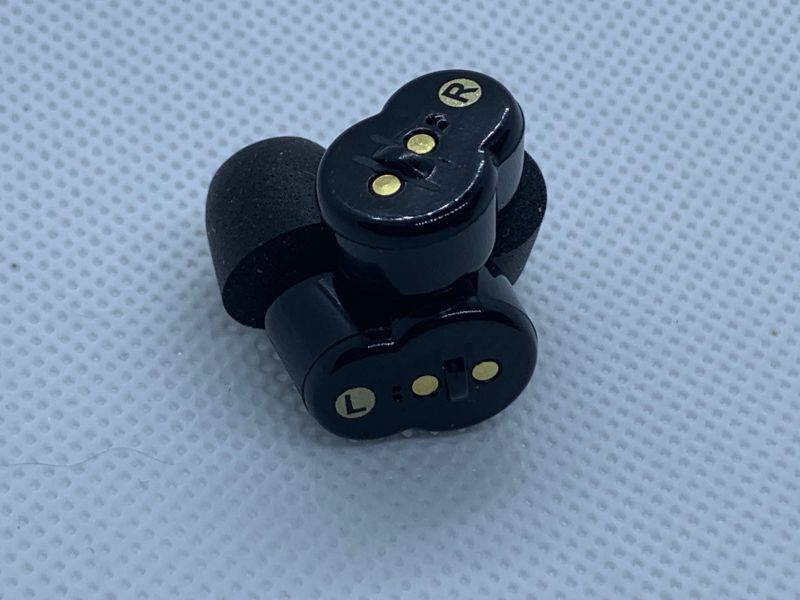 The technology that makes Active Noise Cancelling (ANC) products work is fascinating. Sounds are "heard" by a microphone. Then, circuitry produces audio of equal but opposite magnitude through the accompanying speaker. The sound and corresponding electronic signals effectively cancel each other out, reducing the volume of the ambient audio. Some sound bypasses the ANC through "sound leaks," bone conduction, and other factors, but the results are quite effective.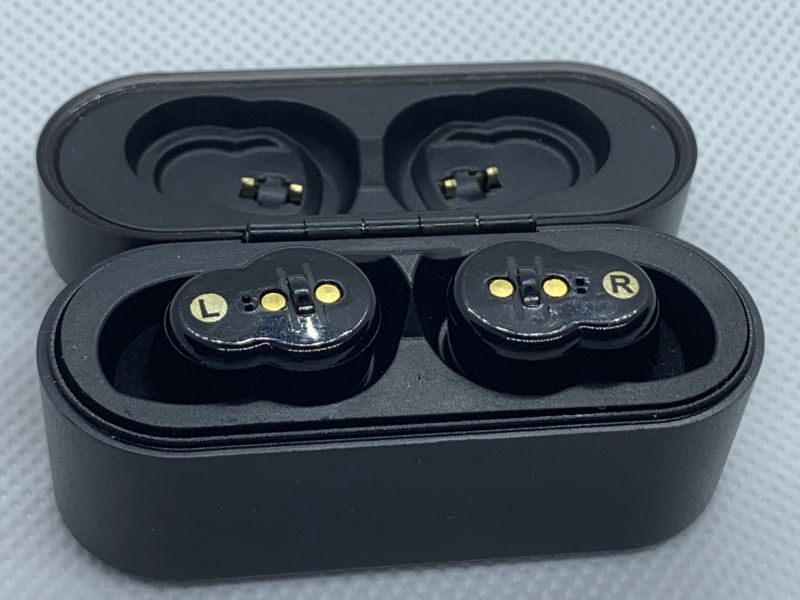 The earbuds are amazingly easy to operate. There are no volume controls, nothing needs to be paired, and there are no configurations except for installing the correct size ear-tips to fit your ear holes. Ear-tips change with a twist and are securely attached. The earbuds turn on as soon as they are removed from the charging case. Three pairs are included for comfort and sound isolation.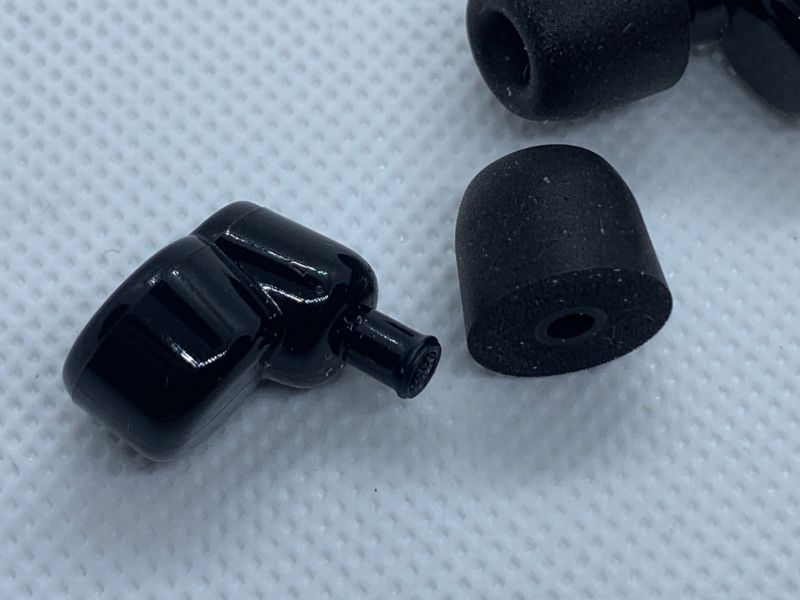 Adjacent to the "L" and "R" labels on each earbud are tiny microphone holes. Each earbud has a single, itty-bitty button between the charging contacts. The button's sole purpose is to toggle the earbuds between "hearing" and "silent" modes.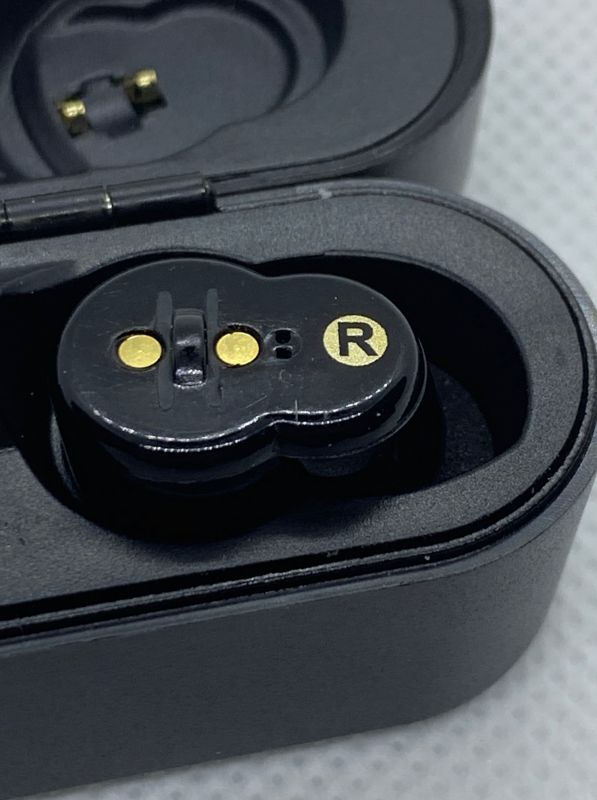 "Hearing" mode allows sound to pass through the microphones and into the wearer's ears, at similar levels to my normal hearing, but with one huge difference (read on, intrepid Gadgeteer…). I noticed a large difference in my spatial ability to determine the source and direction of sounds, but in a noisy environment, my hearing is more important to me than knowing precisely where a sound came from.
Without the QuietOn earbuds, I gave a kitchen skillet a healthy whack with a metal spatula, about 12-inches from my skull. The resulting gong was loud enough to cause auditory pain and a bit of ringing in my ears (I know, my doctor would scold me, but was for the sake of science, right?). With the earbuds in, I repeated the same test and there was an immediate, dramatic reduction in ear-ringing volume while performing the same vigorous clanging.
When clapping my hands next to my ears, I could hear the QuietOn's noise ANC momentarily reduce the volume of the racket. Next, I removed a smoke detector from my ceiling and pressed the test button (a task I dread because of the painful volume produced). I was completely shocked. For first the first time, I was able to perform this essential task without my ears buzzing afterward. Using the QuietOn earbuds, eardrum-shattering sounds were audible, but FAR reduced and always at comfortable levels. Of course, your mileage may vary and great care should be taken to protect your hearing above and beyond the protection that any noise-canceling device can provide.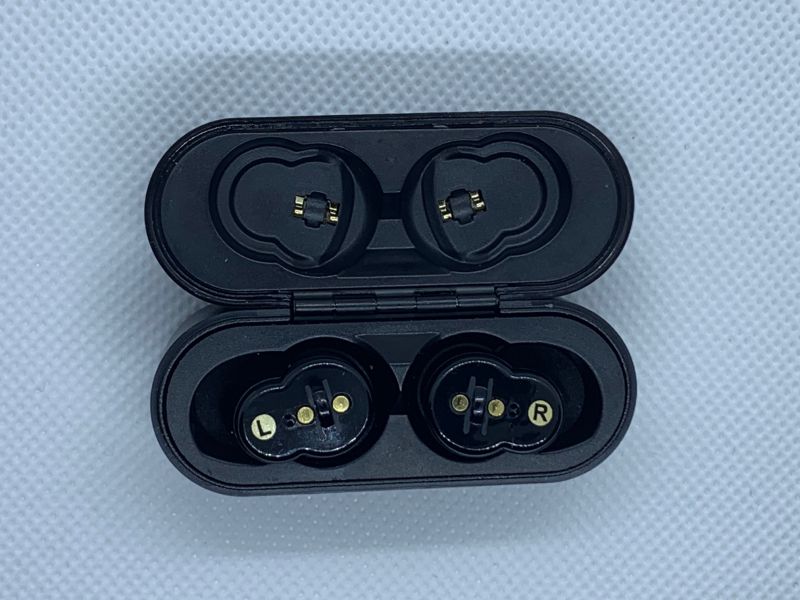 Moving on, a press of the earbud's buttons changed them to "silent" mode. The immediate reduction in volume was nothing short of stunning – it was like firmly jamming my index fingers into my ears, or fitting a set of foam hearing protectors as far as they would comfortably go.
I walked around my house testing the capabilities including a honking car horn in a closed garage, a running lawnmower, my home theater at crushing volumes, and a whistling tea kettle, all with impressive results.
Since QuietOn earbuds are marketed towards noise reduction for snoring, I wore them to bed. I'm currently alone in my home so I was not able to test them specifically for snoring, but I devised an experiment to help validate QuietOn's claims for blissful slumber.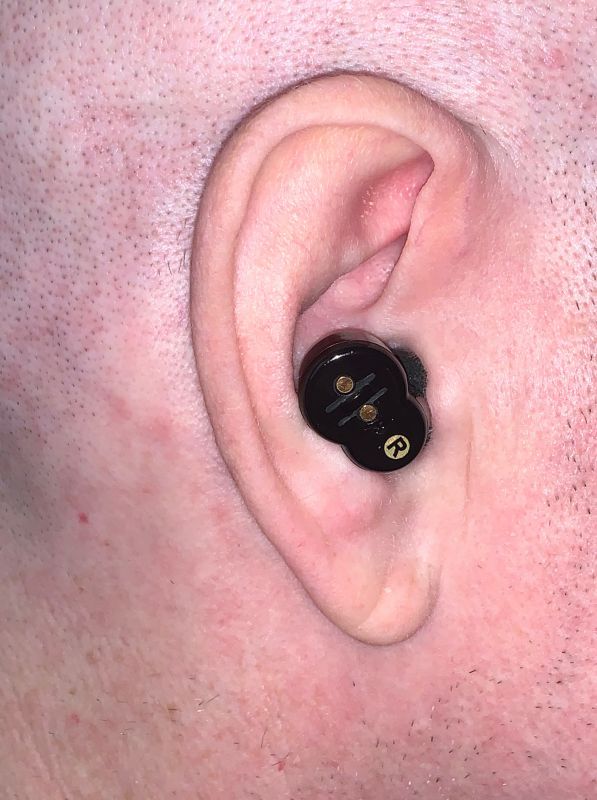 The earbuds are so tiny, so I was able to sleep comfortably on my side without them digging into my ears. I've tried this with many other products, so this was not an easy feat. The foam ear tips fit securely enough that I didn't dislodge them during the night, also a challenging task as I am a very turbulent sleeper. Battery life is an impressive 20 hours so one charge should be enough for two nights.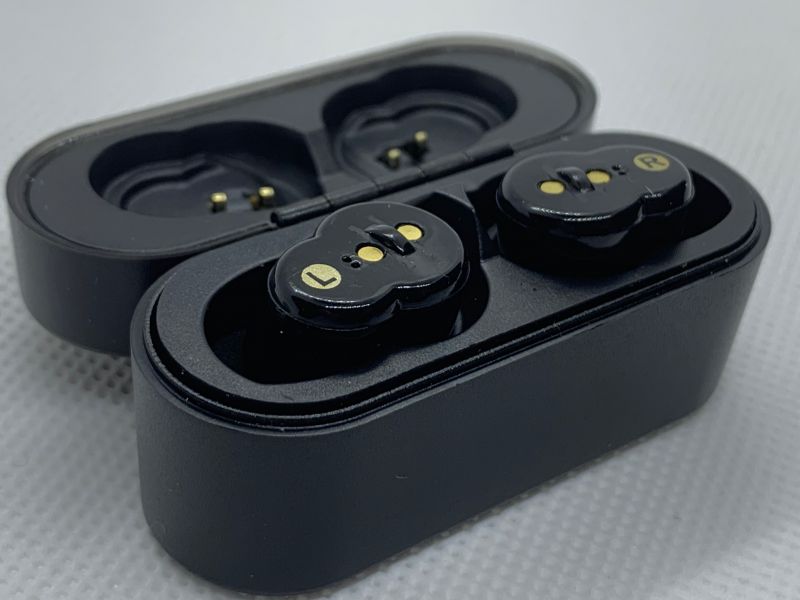 Leaving my bedroom door open, my Neato D7 Botvac was programmed to make a circuit around my house at 3:00 am with a "no-go" path that prevented it from bumping into objects that might bias my test.
I had already tried the earbuds with my Neato vacuum operating in the same room and literally could not hear it running, but would the noise cancellation be enough to keep me sleeping? The answer is a resounding yes. I was amazed that in the morning my Neato's app showed me my somnambulant friend's coverage map, but I was able to sleep through what normally would have had me scurrying. Wow, QuietOn, wow! I have no doubt these would work wonders for that chain-saw producing noise-maker you are sleeping next to J! Even more so if a CPAP is being used in your bedroom!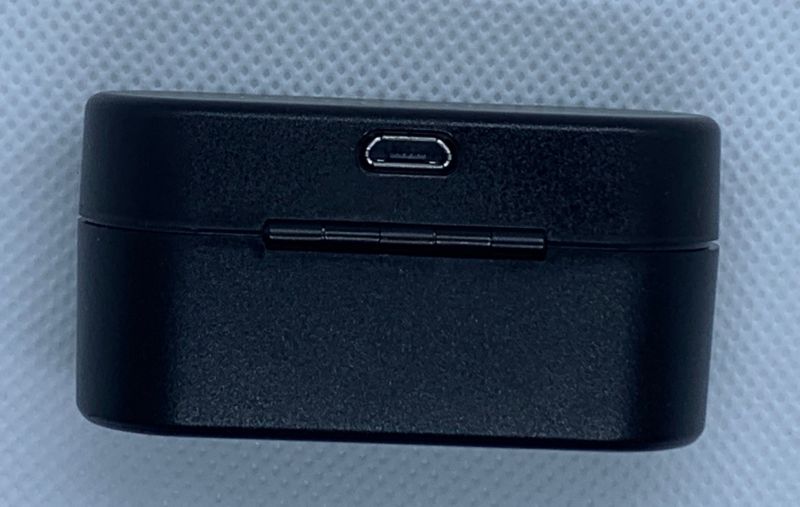 My only concern: would the noise-canceling capabilities be so pronounced that they would prevent the wearing from hearing a crying baby, important call, or alarm clock?  I think that's largely up to the wearer, but in any case, use caution and follow the directions.
What I Like:
Spectacular noise reduction
Very comfortable
What I Would Change:
Pricy
It would be amazing if Bluetooth capabilities could be added!
Final Thoughts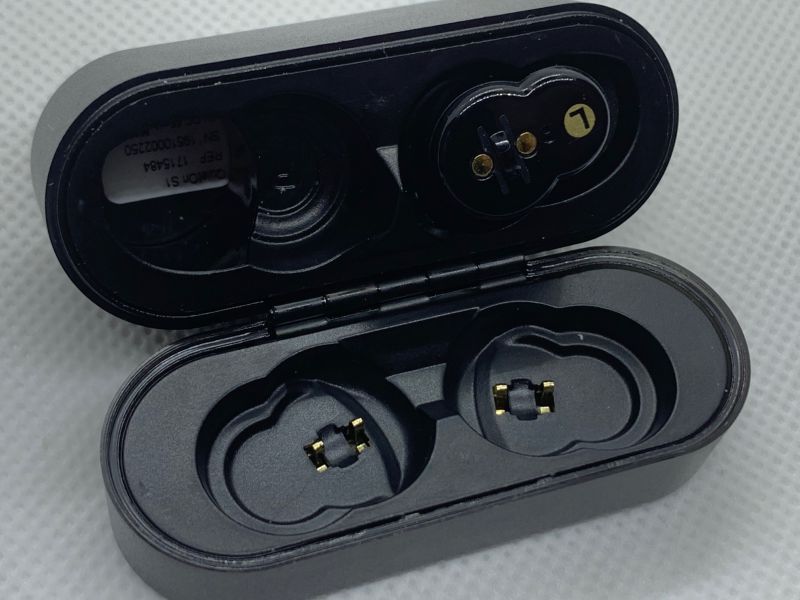 The performance of the QuietOn ANC earbuds is spectacular. I can't wait to use them on board an airplane! I wish I had a pair of these back in my factory automation days. I'm sure that they could have saved me a great many headaches brought on by hours of rumbling noise and I have no doubt that they will save many relationships from the cacophony of snoring!
Price: $199.95
Where to buy: QuietOn and Amazon
Source: The sample for this review was provided by QuietOn