We use affiliate links. If you buy something through the links on this page, we may earn a commission at no cost to you. Learn more.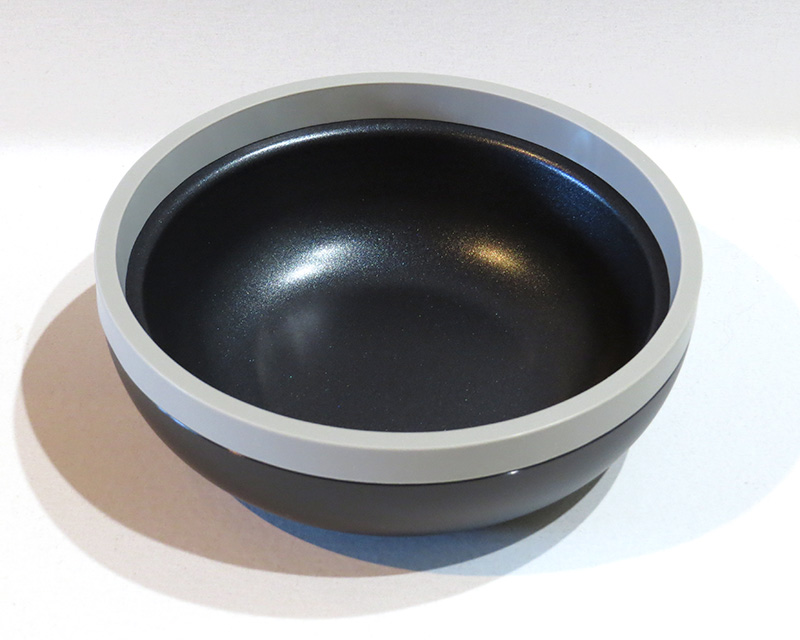 REVIEW – In this day and age, there are a lot of younger folks who live together as roommates. I'm one of them, with a nice live-in basement as my humble abode. It has everything that I need except a stove. I've wanted an induction cooktop for a while now, but I don't want to risk blowing the circuits. I saw the Bonbowl Cooktop and Bowl, with its low voltage and single serve size, and had to try it.
What is it?
The Bonbowl Cooktop and Bowl is an induction cooktop and bowl accessory that allows you to make single serve meals easily.
Hardware specs
Bowl Size – 18 oz (0.5 liter)
Cooktop Size – 8″ x 8″ x 2.5″
Cooking Power – 500W – 120V
Nonstick Coating
What's in the box?
Bonbowl Cooktop
Nonstick bowl
Reversible Lid (drain or seal)
Instructions
Mini Recipe Card

Design and features
The Bonbowl Cooktop is very simple, with a few buttons on the front and a single raised area to put the bowl itself. You can choose high, medium, or low heat, and then press start to get the cooktop going. This will set it to 10 minutes each time. If you want to set a timer, you can press the heat setting you want, then put in the time desired using the numbers on the cooktop. Most of the time, I would just choose high and press start, then stop it when I was done. Pressing stop twice will completely cancel everything.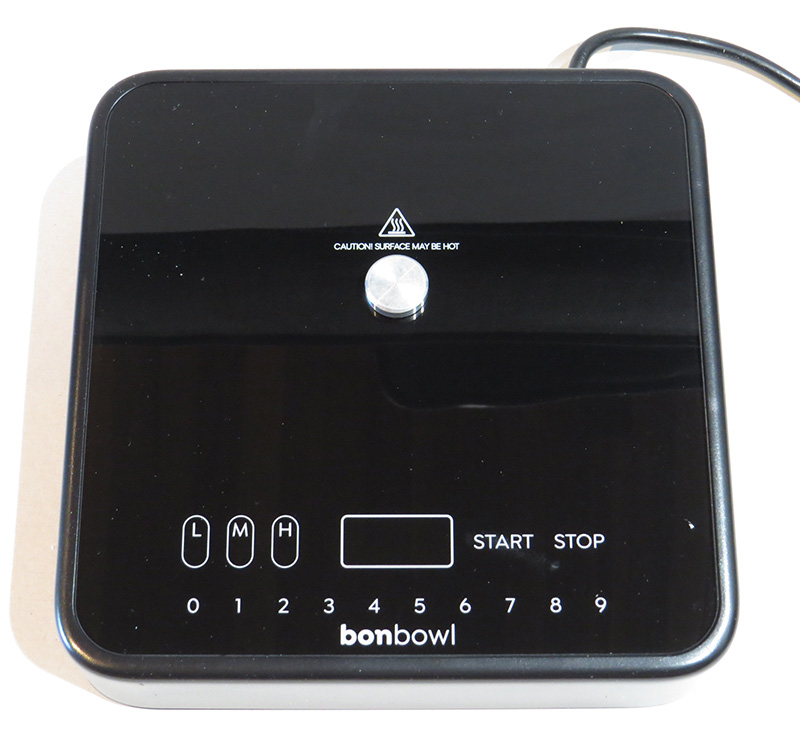 The bowl that comes with the cooktop is nonstick, which is nice. It has a small indentation on the bottom that matches the raised area on the cooktop. You just set the bowl on top and it is ready to cook. One thing I really liked about the bowl is that you can do all of your cooking in the bowl, take it off the heat, and place it on the table to use. It does not get hot on the outside!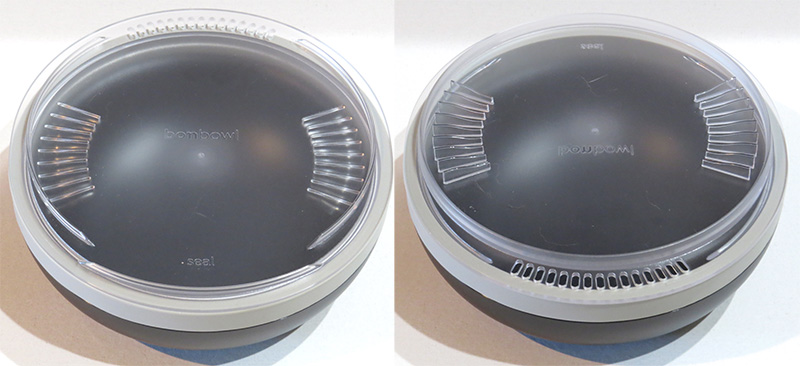 At first, I didn't realize the lid was useful, since I figured it was only for sealing, but when I looked closer I saw it was two sided; one for sealing, and one for draining. I tried it out with some simple noodles and it worked perfectly. I was so thrilled!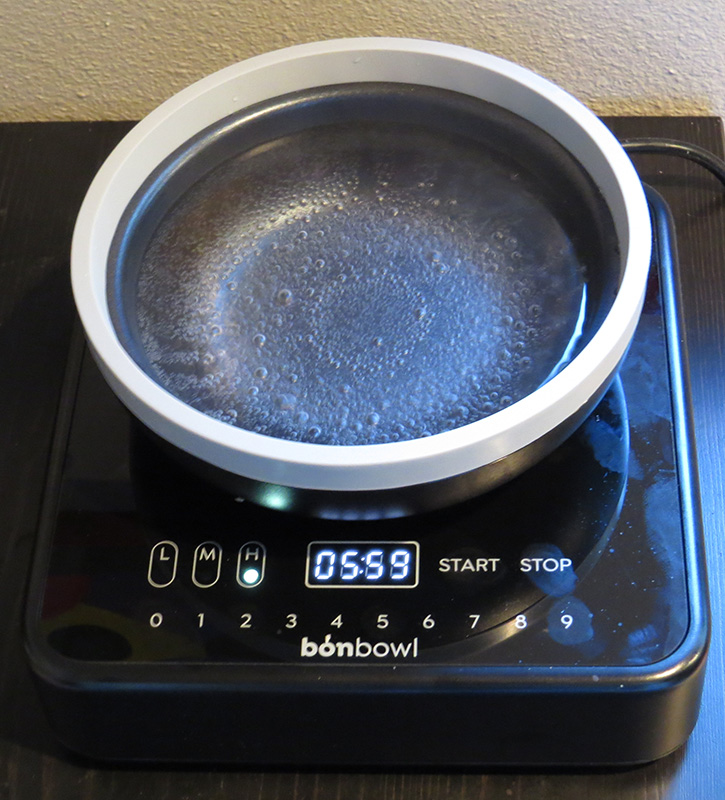 Since the Bonbowl is perfectly sized for ramen, I had to try out my favorite package of ramen as an initial test. The bowl was slightly too small to place the whole block of noodles without breaking it into a few pieces, but that was fine. All of the noodles cooked quickly and evenly. When the water would start boiling, it did not ever seem like it was going to boil over. Since I could eat it out of the bowl, cleanup was a breeze.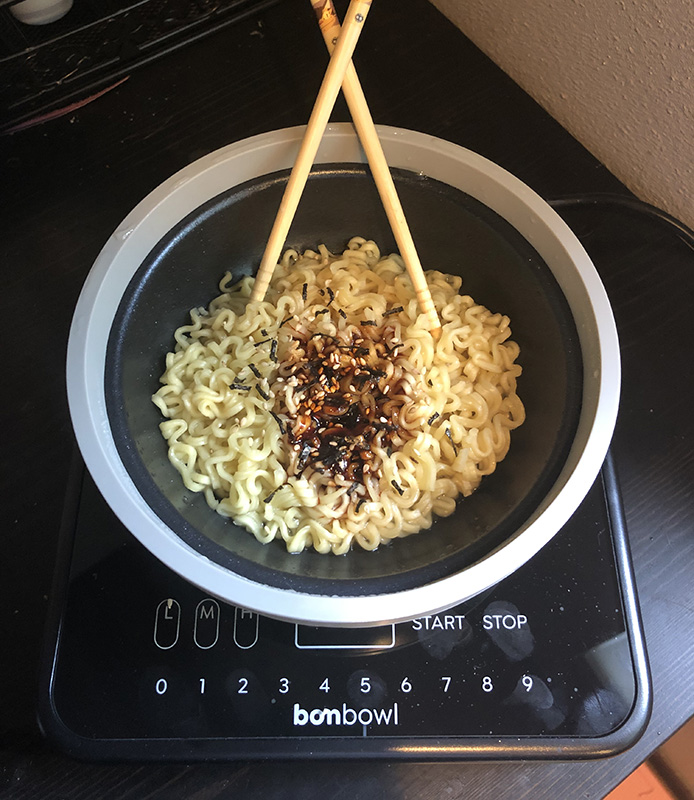 Next, I figured out I could drain noodles, so I tried a brand of ramen that needed to be drained before adding seasoning. Draining worked great, even with the thin noodles. They wanted to slip through a few of the notches, just like with most strainers, but not a single noodle escaped. Once again, it was easy to make and clean up was quick.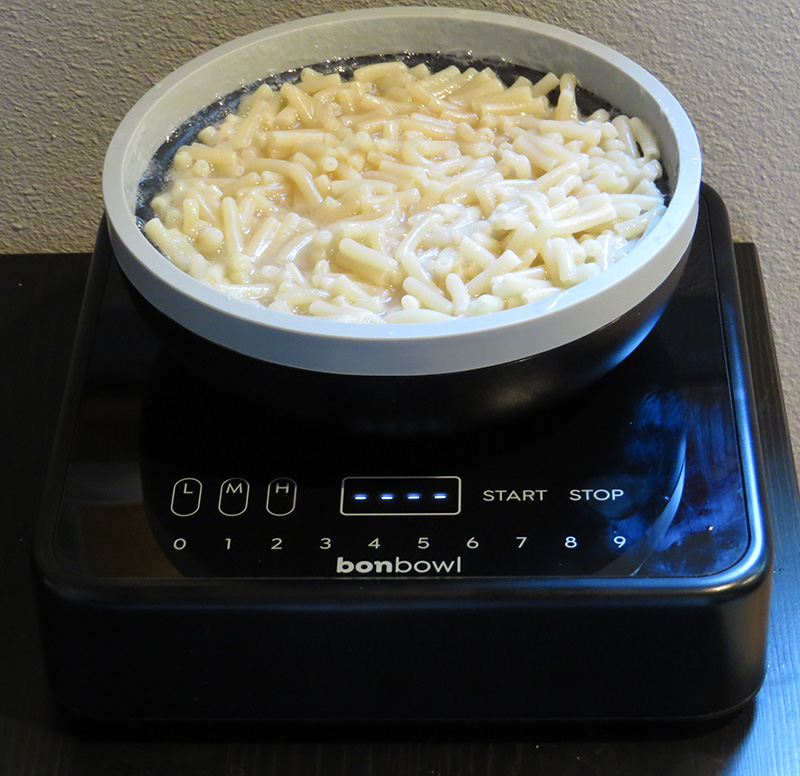 Ramen was simple enough, but one thing on their little recipe card they boast is that you can make boxed mac and cheese in the Bonbowl. I was skeptical since the bowl isn't terribly large, but I bought a box and tried the basic Kraft version. It was possible to make the mac and cheese, but it was difficult to stir everything together. It was VERY full.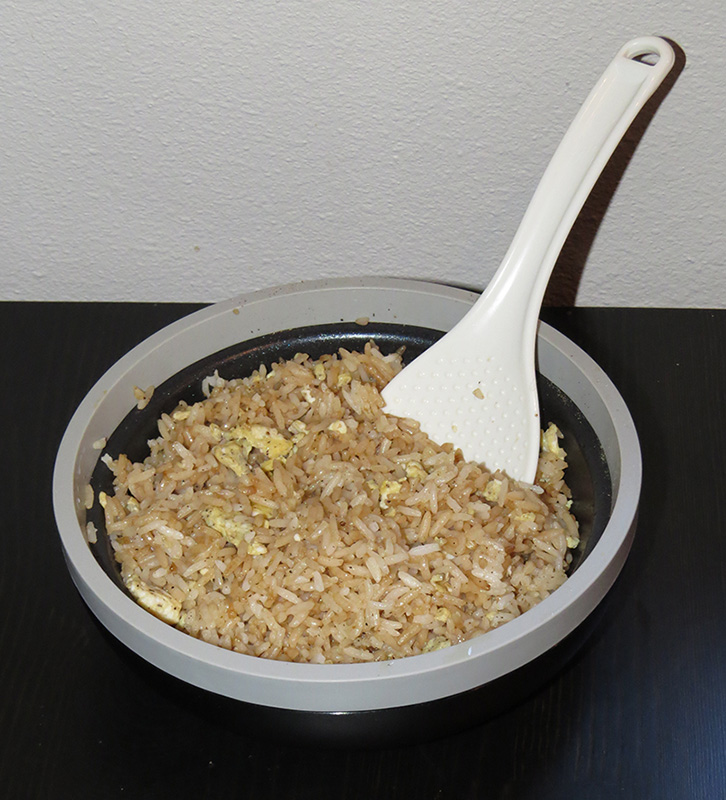 The recipe card also said you could make scrambled eggs, so I thought I would give it a big test. I love to make a simple fried rice recipe with scrambled egg, so I thought I would put it all together in the bowl. First off, the single egg scrambled in less than two minutes after putting it in the bowl. I removed the egg and placed the rice in the bowl instead. I added the rest of my ingredients, mixed it up, kept stirring it on high to get that 'fry' feeling, and then added the egg. While it didn't fry up as nice as if I used a skillet, it worked out surprisingly well and it was quicker than if I had used the stove. It definitely is a do-over.
I cooked some generic noodles in the Bonbowl as well. Once I cooked the noodles, I drained them and added the sauce I wanted, then warmed the sauce with the noodles. Once again, it was simple and easy. Measuring wasn't a problem either since I could cook only a single serving in the bowl.
What I like
Quick to heat
Easy to use and clean
Strainer built into the lid
What needs to be improved
Bowl could be a little bigger
Final thoughts
Overall, I felt the Bonbowl was perfect for my living situation. I am hoping they come out with a larger bowl in the future, but for now, I can easily make do. I am a lazy cook, and the Bonbowl allowed me to expand my food palette a little more due to its ease of use. While I wouldn't recommend it for a family, I would recommend it if you are a single person looking for something simple to cook with.
Price: $149
Where to buy: Bonbowl Website and Amazon
Source: The sample of this product was provided by Bonbowl