We use affiliate links. If you buy something through the links on this page, we may earn a commission at no cost to you. Learn more.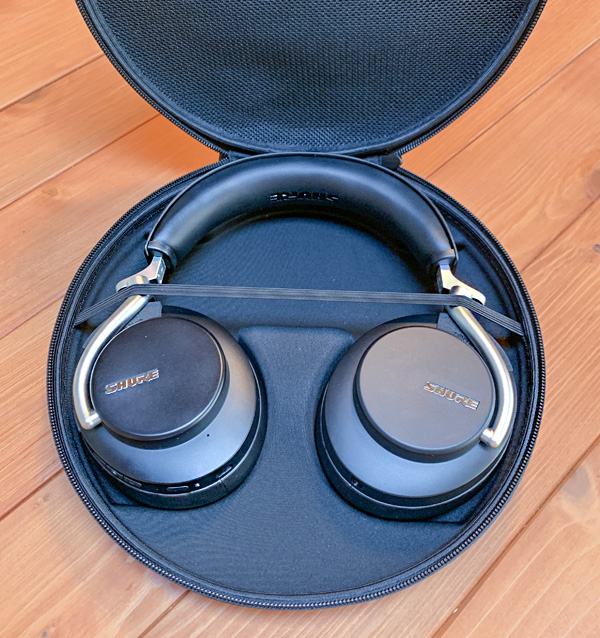 In late 2018, I was invited to the Shure headquarters for a demonstration of a new Bluetooth product (link here). Last month, Shure sent me the new Aonic 50 wireless to review. This headphone is geared for premium audio quality followed by the convenience—now almost requirement—of wireless along with active noise canceling (ANC). While not technically Shure's flagship headphone, does the Aonic 50 rank among other high-end wireless headphones?

What is it?
The Aonic 50 is Shure's new wireless headphone that includes adjustable active noise canceling (ANC) along with environment mode (more on that later in this review), the downloadable ShurePlus PLAY app, and a sturdy carrying case. The headphone comes in either brown or black.
Specs
Bluetooth 5.0
Bluetooth range: 30 ft.
Supported codecs: aptX HD, AAC, SBC, LDAC, Low latency audio
Headphone amp


Design and features
The first thing you notice about the Aonic 50 headphone is its round hat-box design. It's really unusual and kinda cool. The round box holds a round case, which is a less practical design. The case itself is excellent quality and protects the headphone well, but since the Aonic 50 doesn't fold, the case is large—10 inches in diameter! Ordinarily, this wouldn't be an issue, but if a headphone is wireless, that means it's meant to use while on the move—traveling, commuting, or taking to the office. Fitting this case into a backpack or messenger bag will be problematic at best. At least Shure has created a unique design in both the box and case.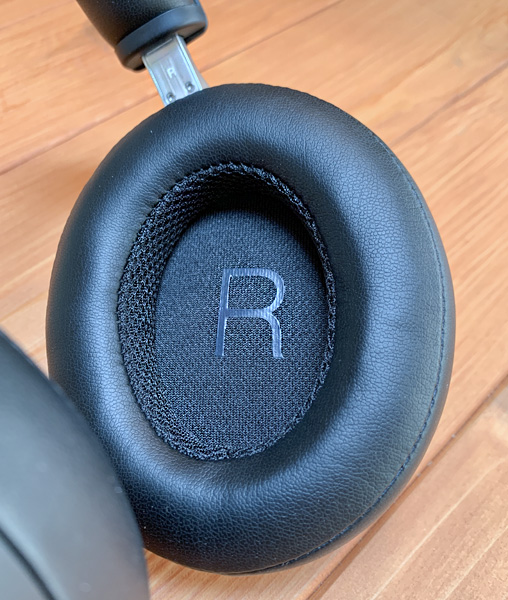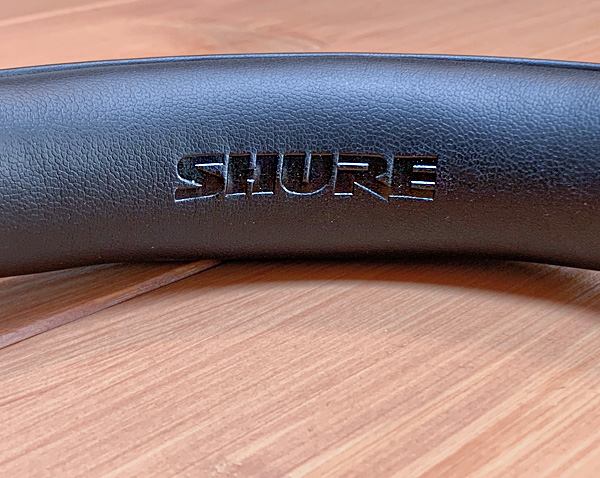 The headphone's design is less adventurous. It takes a lot to distinguish one headphone from another and the Aonic 50 is no exception. The design is understated if a bit dull. Don't get me wrong, they are business-like in appearance, so many will prefer the look. The headband and earpads are well padded and quite comfortable. The headphone I received is all black except for a brushed aluminum stem and headband frame that adds strength with a tasteful accent. Each ear pad swivels both left to right and up and down, so there's no reason not to find a comfortable position. Shure printed a large "L" and "R" inside the ear pads for dummies like me who consistently put headphones on backward. The letters are printed black on black cloth, so it's both subtle and easy to see. All this adds up to a headphone that exudes quality and feels solid for everyday use.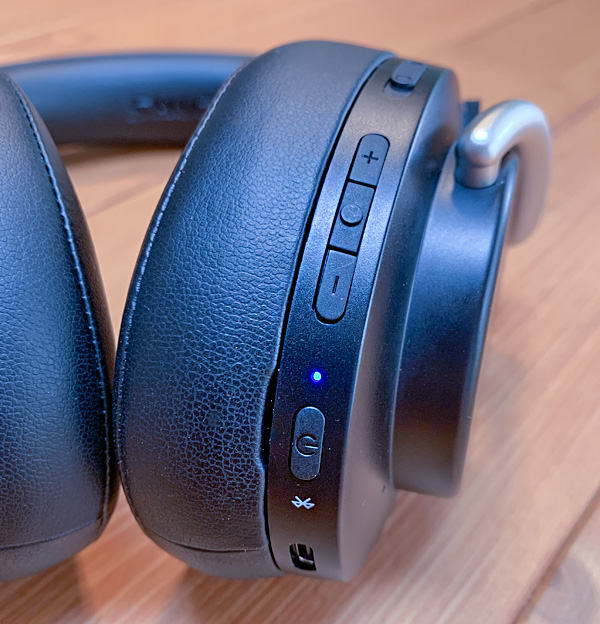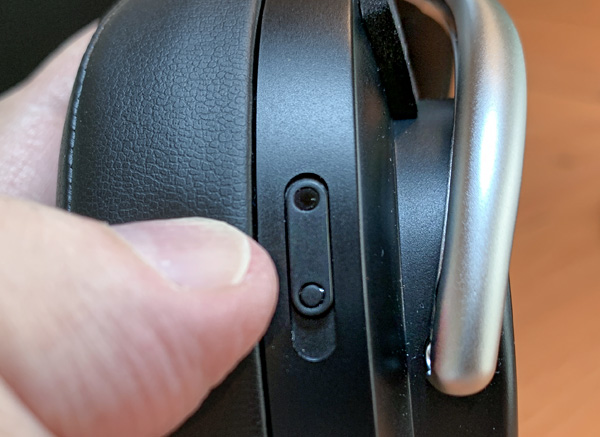 Once you press the on/off button, the Aonic 50 tries to pair using Bluetooth. My iPhone paired right away. However, once it's paired, it's not easy switching from one device to another. Since pairing requires pressing and holding the on/off button, I kept turning the headphone off when attempting to switch from my iPhone to iPad. I could only re-pair with another device after turning it back on. This won't be an issue if you don't routinely switch devices, but it is worth pointing out.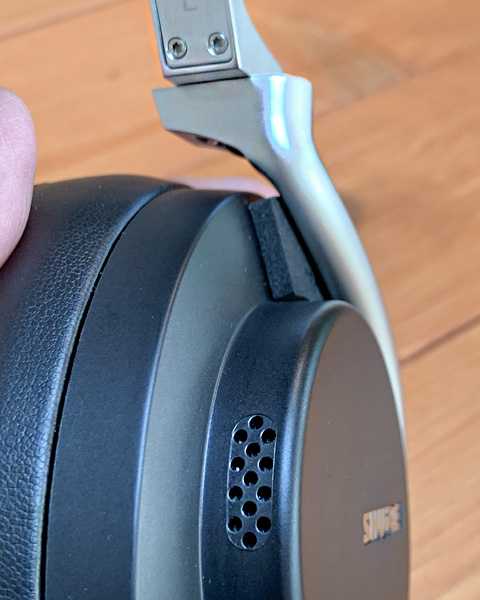 I like that the voice prompts are spoken and not those annoying blips and beeps that require a PhD to decipher.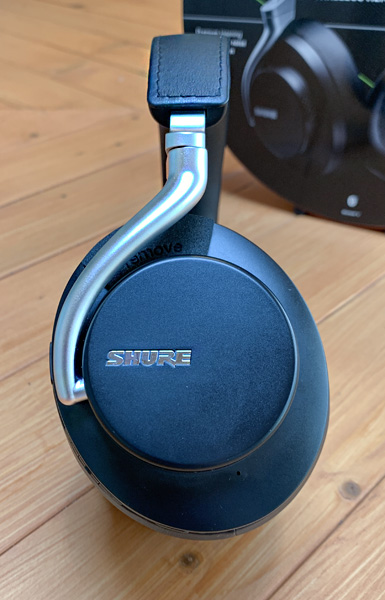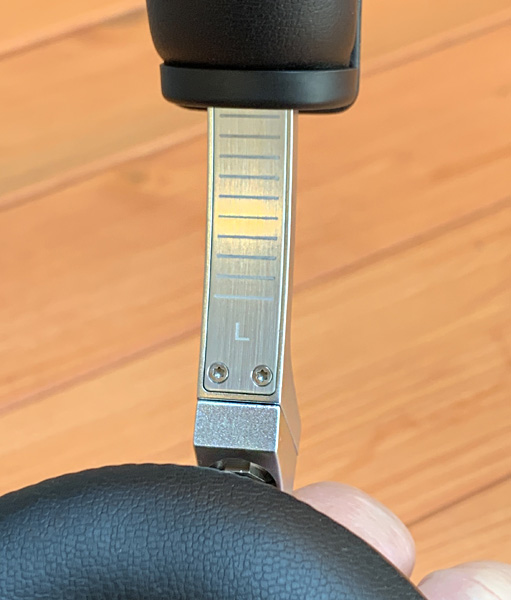 The Aonic 50's ergonomics are straightforward. There are no trendy track-pad like controls on the exterior of the ear pad. I appreciate Shure's more traditional tactile buttons. It's also easy to distinguish the buttons by feel. Once you become familiar with how the buttons feel, using them becomes second-nature.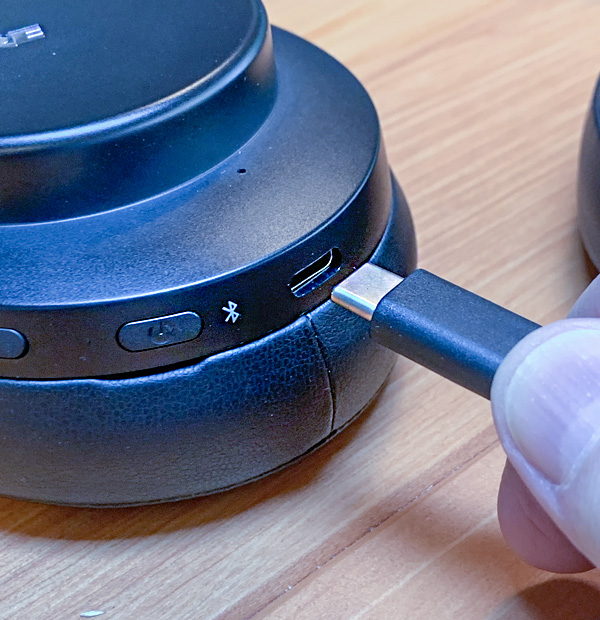 Shure has wisely adopted the faster and increasingly more common USB-C for charging. Micro USB will not be missed by me!
Note that Shure states that the USB-C charging cable is also good for high-end audio—except that's not entirely accurate. Yes, there's a USB-C cable, but it's USB-C to USB-A which is great for charging, but if I want to listen to high-end digital audio from a smartphone or iPad Pro that have USB-C ports, then the cable should be USB-C to USB-C—and it's not. Luckily, I had the correct cable for digital audio and am able to compare the digital sound quality of wired vs. wireless.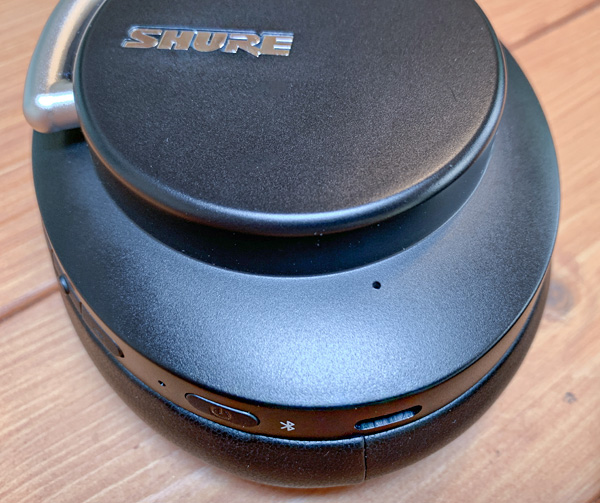 So how does it compare? It gets kinda complicated when you're dealing with wireless headphones such as the Aonic 50. Audio quality falls into three camps: Wireless (with ANC off), wireless (with ANC on), and wired. The best sound quality is wired, period. No wireless setup will sound as good as wired, regardless of the Bluetooth codec—not yet anyway. 
When wired through my USB-C to USB-C cable, music sounds rich and full with a slight emphasis on bass. This results in a relaxed audio experience that can be enjoyed for hours—owing as much to the Aonic 50's comfort as to the audio quality. Soundstage is wide (depending on the song, of course) and vocals are clear. Higher frequencies never border on too bright or harsh. As I said, bass is apparent, but never overpowering. My go-to bass test song, "Silent Shout" by The Knife doesn't exhibit any muddiness in the low end. Nice.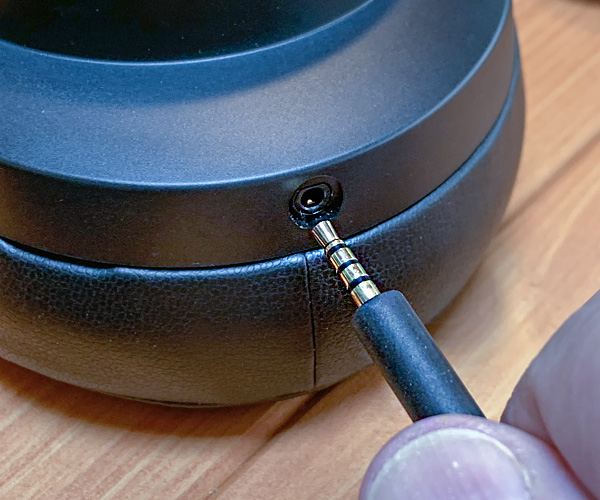 Note that the Aonic 50 also comes with a 3.5 mm to 2.5 mm mini-plug cable for home or high-end digital audio player listening. This provides an analog signal as opposed to the digital signal a USB-C cable provides.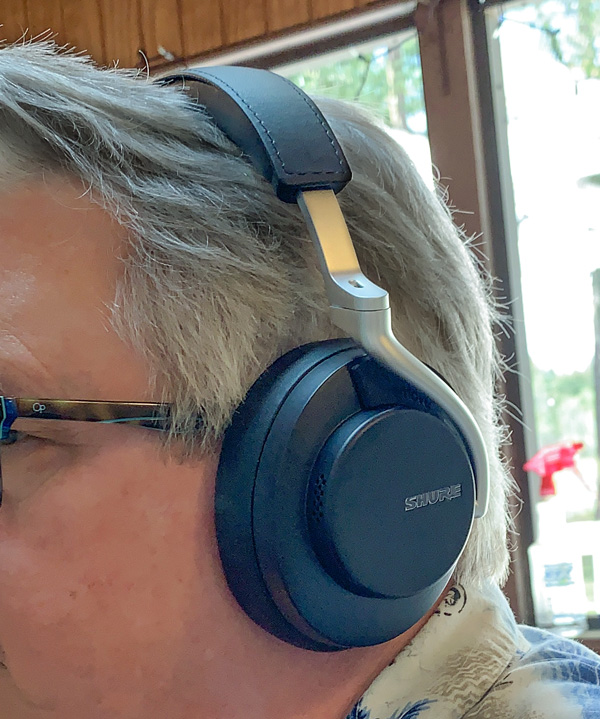 Wireless (ANC off) sounds closest to wired but has a slightly muffled quality that becomes more apparent if you continually switch back and forth between wired and wireless—which almost never happens. If wireless is used (and why else would you buy the Aonic 50?), then you'll be happy with the sound of your music.
Wireless (ANC on) also sounds quite nice—but still a little short of the audio quality of wired. Regardless, I prefer leaving ANC on because it clears up the muffled-sounding audio of ANC turned off. Bass is a bit more pronounced than wired, but Shure managed to keep the vocals clear and the higher frequencies tamed. So ANC can be used for longer listening periods with little to no listening fatigue. 
As good as wired and wireless sound, I have issues with the Environment setting. This setting allows surrounding noises to be heard using built-in microphones. This works wonders if you need to be aware of your "environment", but audio quality suffers. Vocals take os a robotic, mechanical quality. It's not horrible, but I noticed it right away and wouldn't want to listen to music for very long using this setting. But it's fine for spoken podcasts or audiobooks.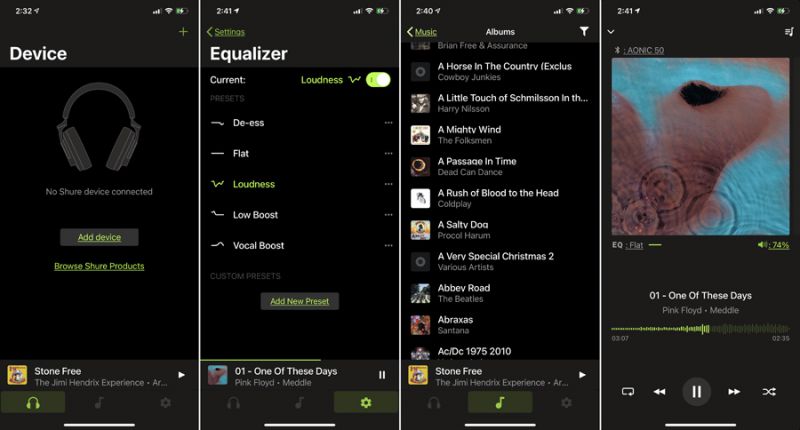 Shure has provided a free iOS/Android app to help customize listening, such as setting the built-in equalizer, doing firmware updates, and performing other software enhancements. Once you link the app to your music library, the app will play anything in Apple Music (iOS) and music stored in the Android universe (where I'm not a member). High-resolution music can also be played within the app on an iPhone—something that is not possible through Apple Music. Even so, as useful as the app is, I tend to stick with Apple Music or my Onkyo app for high-resolution music playing. Shure PLAY became yet another app to remember and use, so I will only use it for firmware upgrades or referring to the built-in manual.
What I like
Comfortable
Sound great
Sound even better when wired
ANC works well without negatively affecting the music
What I'd change
Expensive
Case is too large for commuting
Will not fold
Environment setting makes music sound artificial

Final Thoughts
The Shure Aonic 50 headphone is the latest wireless addition to their line of excellent earphones, headphones, and microphones. The Aonic 50 is expensive for commuting, but the price is in line with other great-sounding wireless headphones with ANC. it's well made, extremely comfortable, and sounds great—an audio trifecta.
 Price: $399 US
Where to buy: Amazon
Source: The sample of this product was provided by Shure.