We use affiliate links. If you buy something through the links on this page, we may earn a commission at no cost to you. Learn more.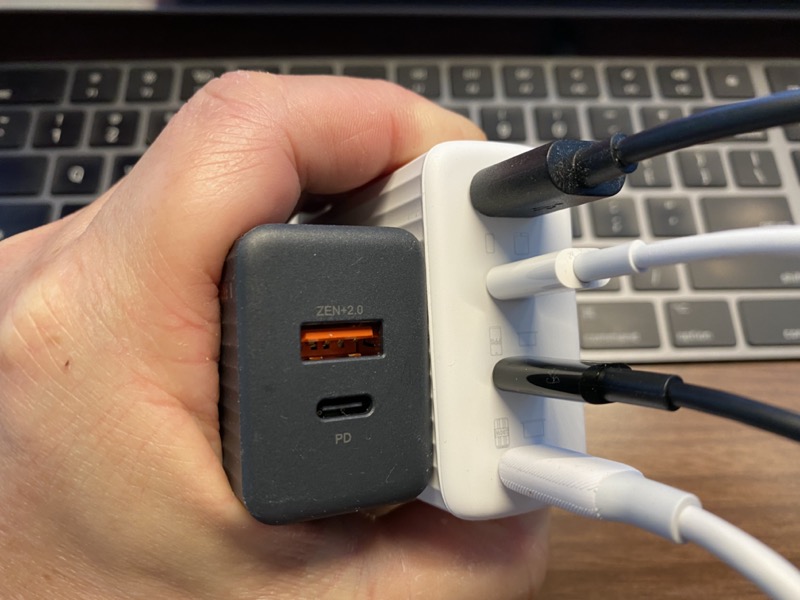 REVIEW – The charger battle in my home has heated up. I'm finally collecting more gadgets that accept USB-C plugs. However, I'm stuck with the tiny ones that come packed in the box. Zendure's SuperPort Gallium Nitride (GaN) chargers just might be my ticket to charging heaven.
What is it?
The Zendure SuperPort S2 is a compact USB-A and USB-C charger that's rated at 65W. It's 50% smaller than an Apple 61W laptop charger.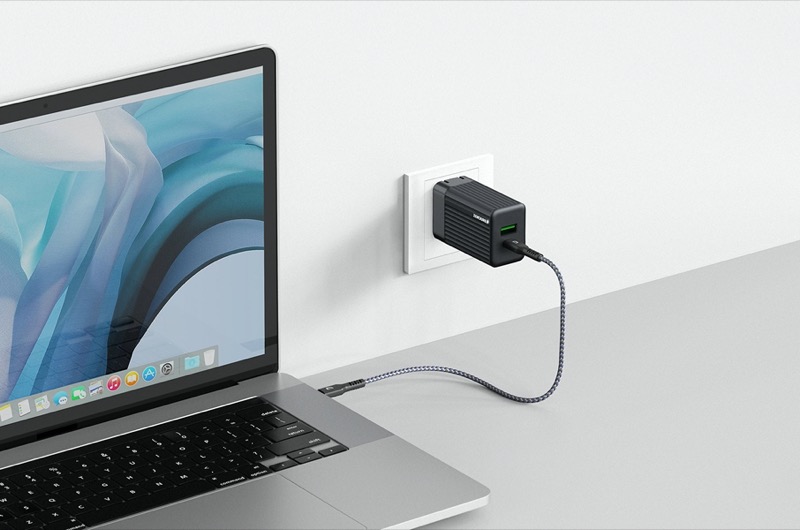 Next is the big brother to the S2: the appropriately named S4. This bruiser features 4 USB ports (3 of them USB-C) and a maximum of 100W power delivery. It is 30% smaller than an Apple 96W charger and has 3 more USB ports.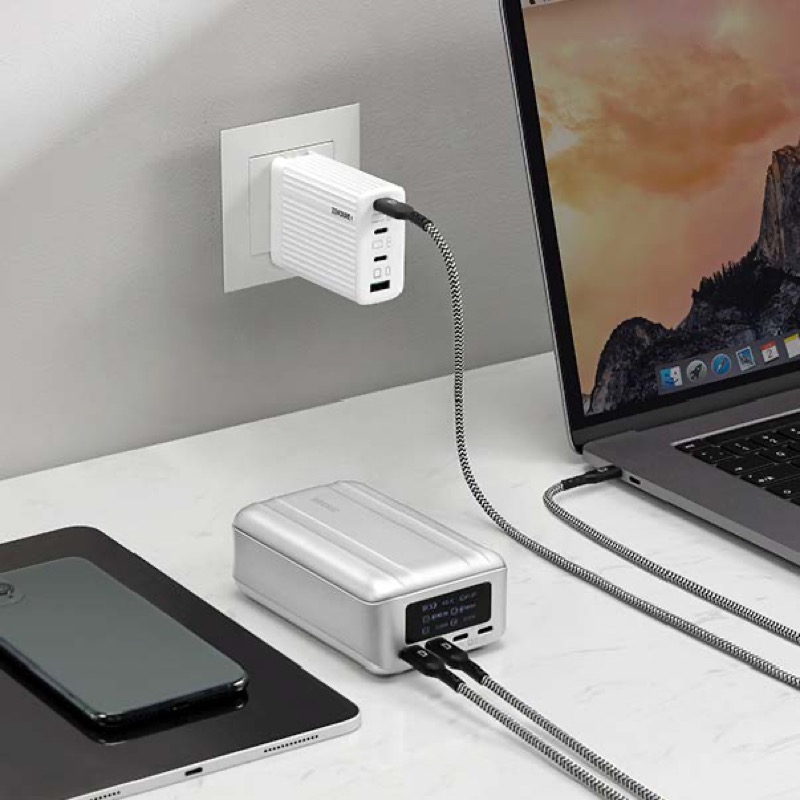 I was sent samples of each in plain packaging and a USB-C cord to test.
Hardware specs
The text on the back of the chargers is difficult to read unless you have great eyesight.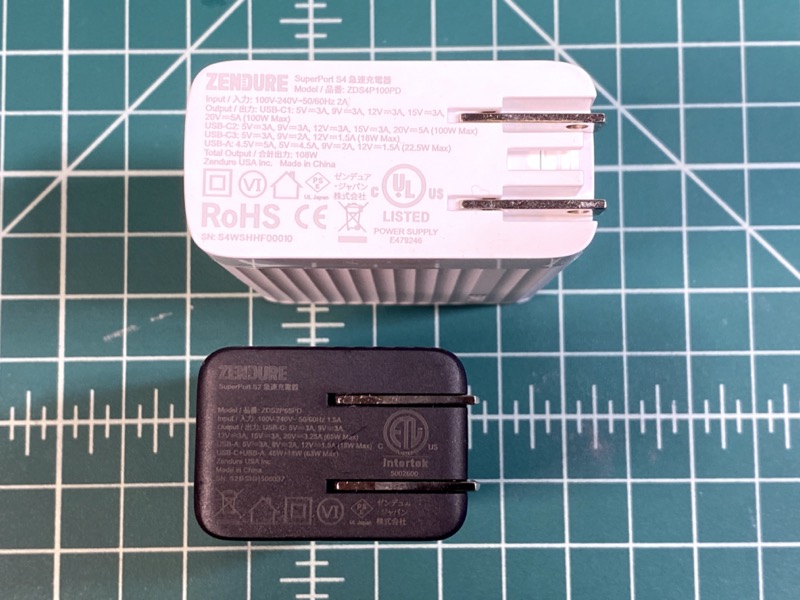 SuperPort S2
USB-C: 5V/3A, 9V/3A, 12V/2.5A, 15V/3A, 20V/3.25A, 65W Max
USB-A: 5V/2.4A, 5V/3A, 18W Max
Dimension: 2.6 x 1.6 x 1.1 (inch)/66mm x 41mm x 29mm
Edit: Zendure sent this chart to explain the S2's power distribution.

SuperPort S4
USB-C 1: 100W Max (PD 3.0)
USB-C 2: 100W Max (PD 3.0); 45W (PPS)
USB-C 3:  20W  Max (PD 3.0)
USB-A:     22.5W Max (QC 3.0/ SCP/ FCP)
Dimension: 2.4" x 3.05" x 1.1" (60 x 77.6 x 29mm)
This chart explains how the S4 divides power amongst its ports: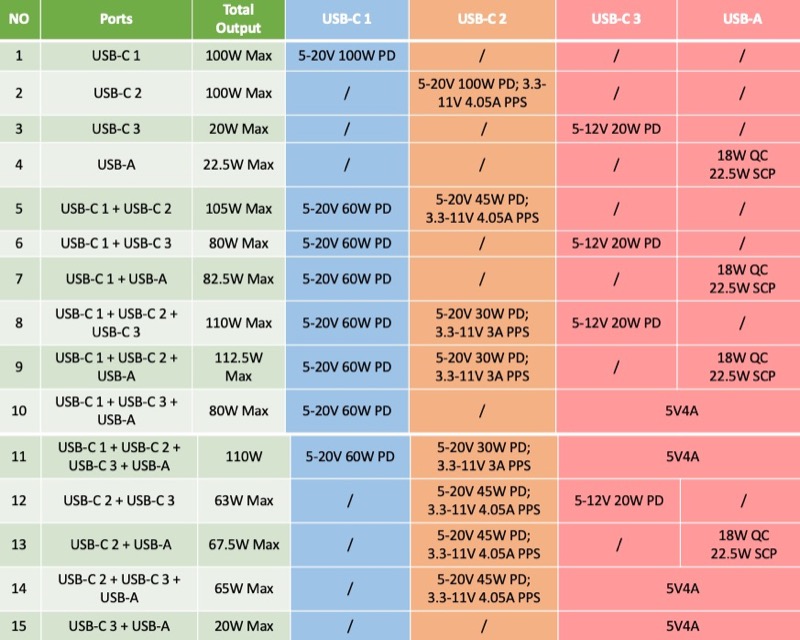 Design and features
Each charger comes with very small, hard to photograph labels.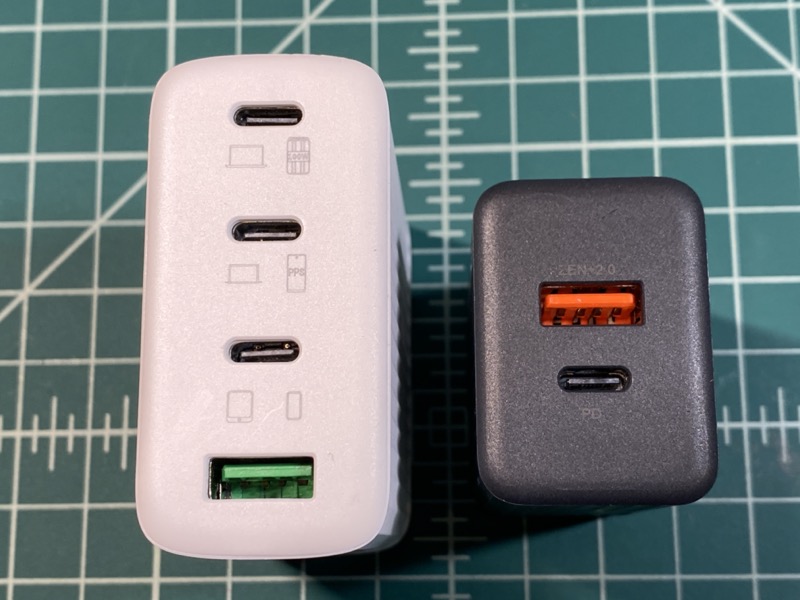 Both chargers have a handsome striped wavy texture on the side. I'm glad they kept that design consistent. Prongs fold in for travel.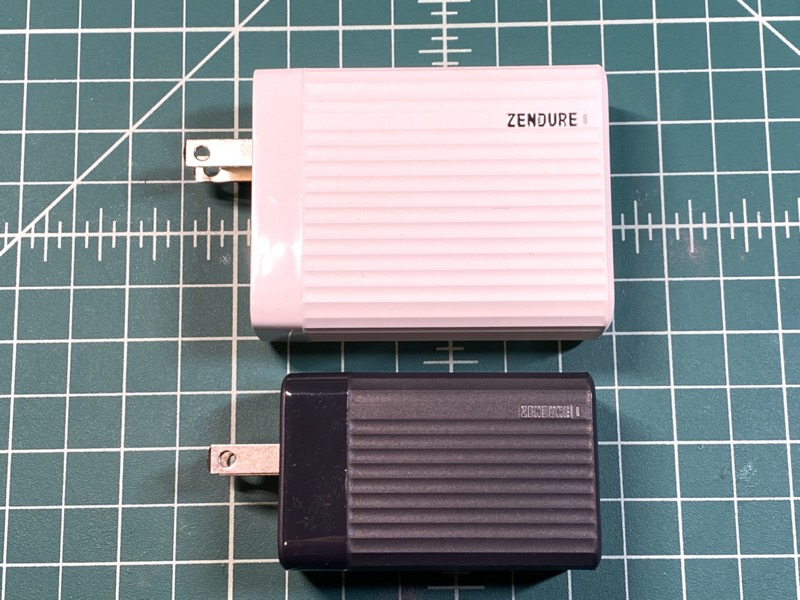 I almost missed it, but the tiny dot next to the ZENDURE logo lights up when powered up. They're not very bright and won't keep you awake at night.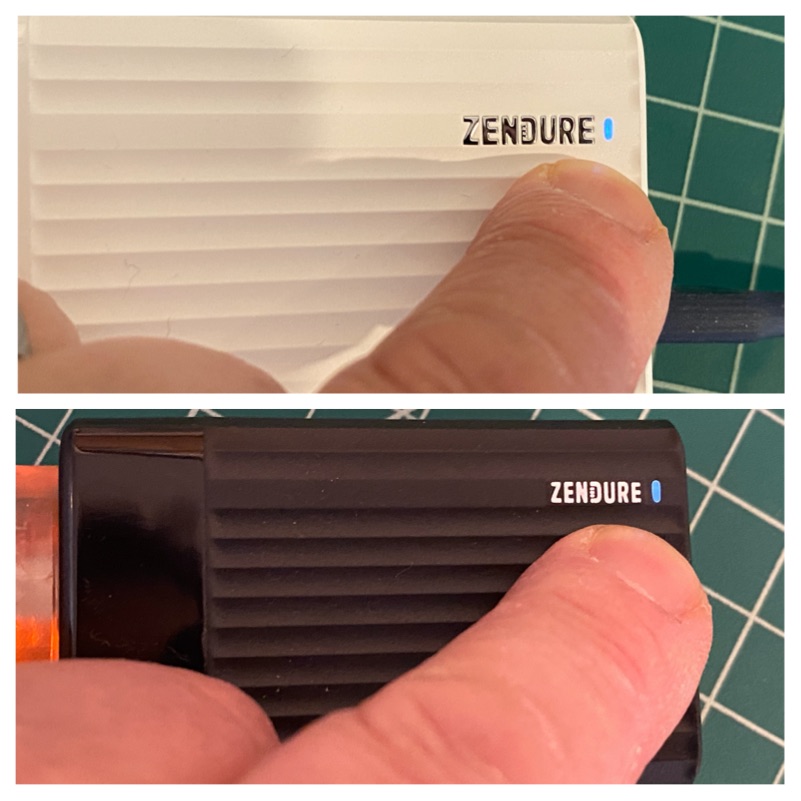 I don't have an Apple laptop charger, but I do have an Apple 18W charger that came with the iPad Pro. Yes, it's the smallest of the bunch but the S2 isn't that much bigger.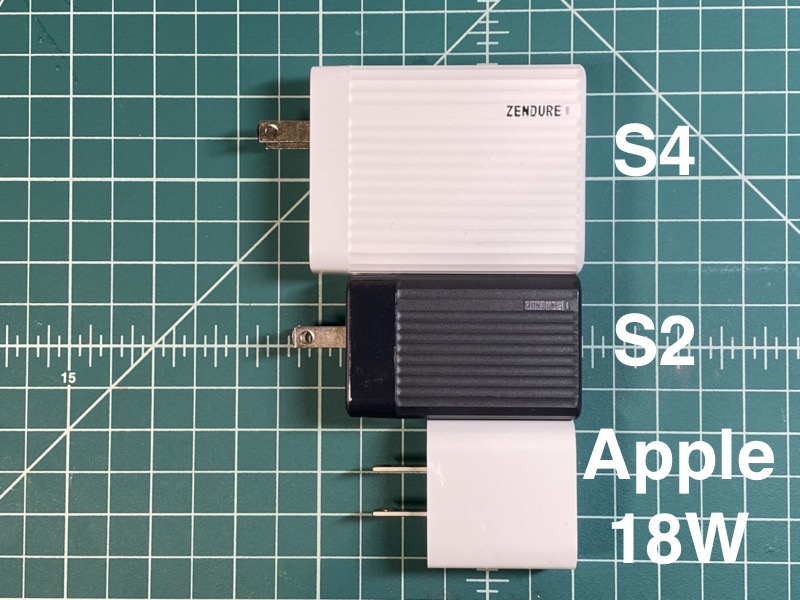 Each charger is about double the weight of the next smaller one.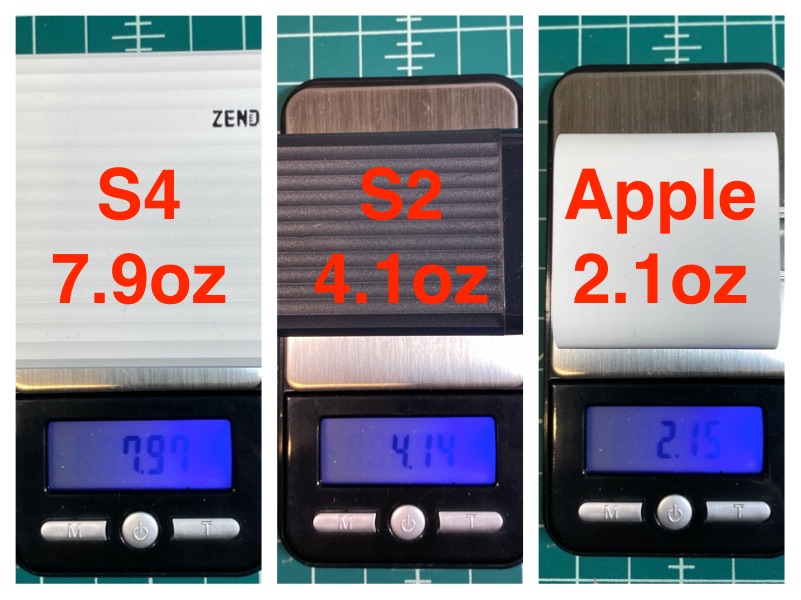 Setup
For testing, I used the dark blue USB-C cable Zendure sent me to charge up the SuperTank Pro.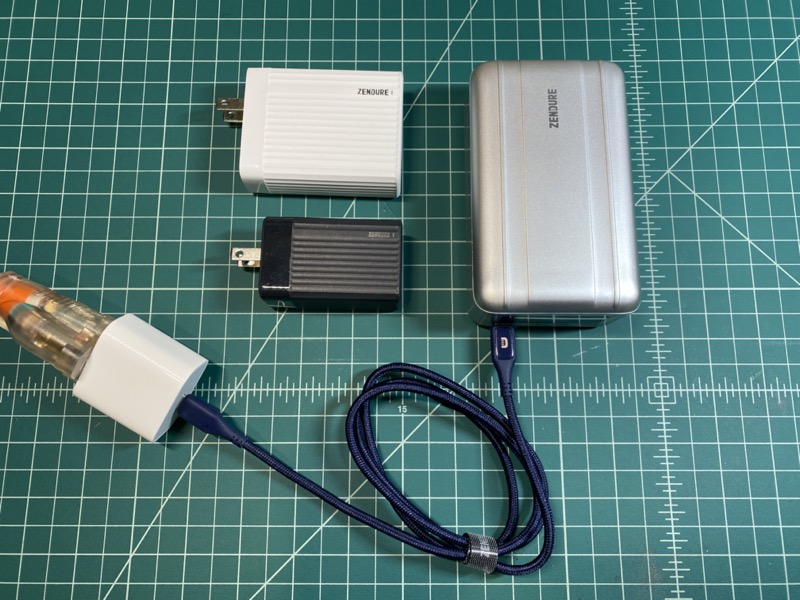 Performance
The tiny Apple 18W charger showed over 16W of power to the SuperTank Pro, and over 57W from the Zendure S2. This seemed about right.
However, I noticed the same 57W from the bigger S4, which is rated at 100W when just using one USB-C output. What was going on?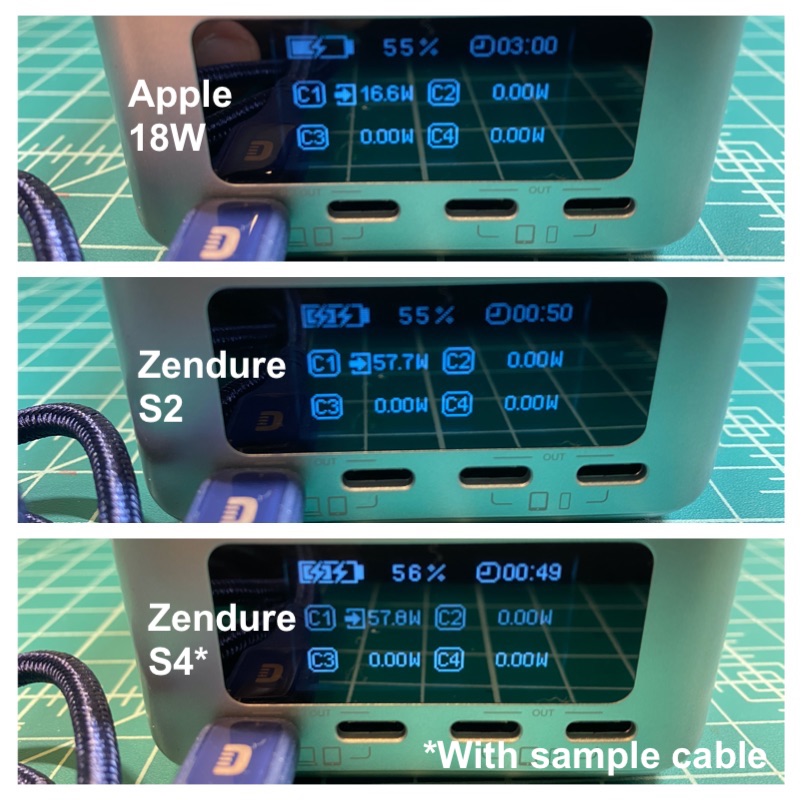 I don't know what the "freebie" cable Zendure sent me was rated for, so I pulled my Anker 100W USB-C cable and tried again. This time, I came much closer. The SuperTank Pro showed 98W of power delivery.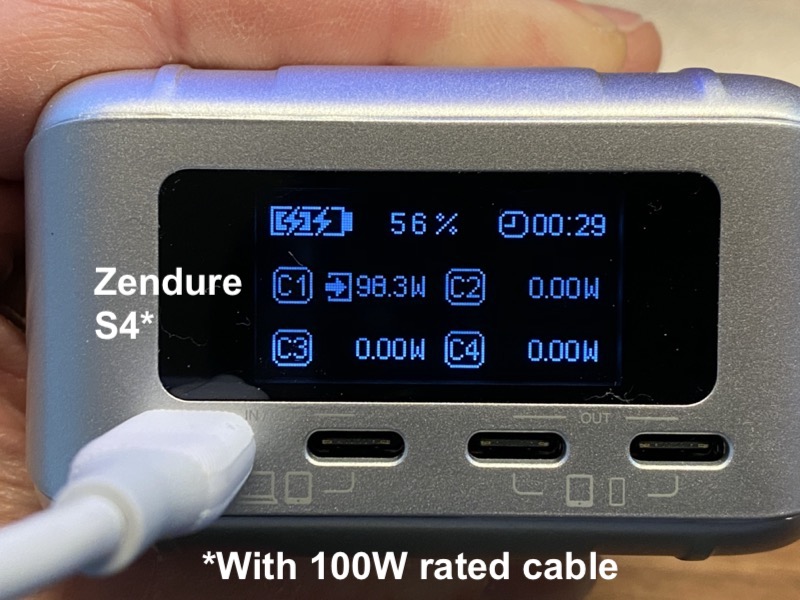 Update:
A few days later, I tried charging the SuperTank Pro with both the braided blue Zendure cable and the cable that came with the SuperTank Pro. Both charged just under 100W. Success! The SuperTank pro was at about 80% or more. I'm not sure what's going on, but check your cables anyway.
What I like
GaN technology packs a punch in a small package
What I'd change
Be sure to use the right cable if you want 100W output.
Final thoughts
I'm a convert. If I have to buy another charger, I'm definitely going with the new GaN chargers!
Price: S2: $39.99. S4: $69.99
Where to buy: Zendure S2 and the S4 is currently on Kickstarter
Source: The sample of this product was provided by Zendure.