We use affiliate links. If you buy something through the links on this page, we may earn a commission at no cost to you. Learn more.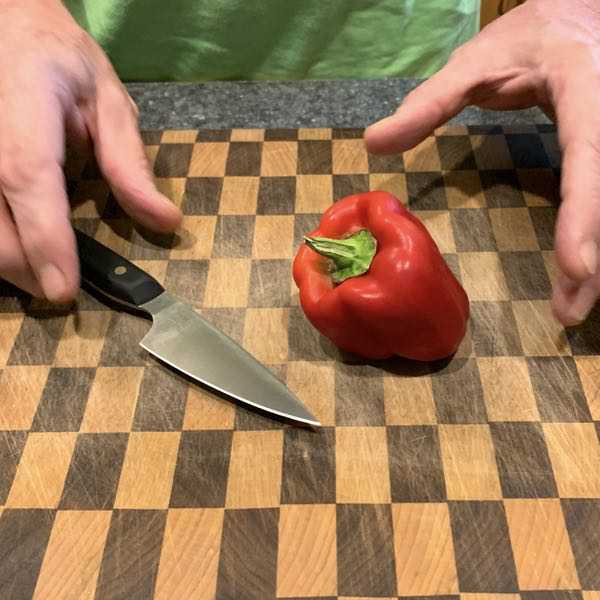 REVIEW – Friends, the last pepper from my summer garden is about to be sacrificed. We're testing Artisan Revere's new Paring Knife, a companion to their superb Chef's Knife that I reviewed last year. Oh sweet pepper… we barely knew ye. To the review!
What is it?
It's a paring knife hand made in the USA.
Hardware specs
Elmax 3rd-generation particle steel
Blade dimensions:

0.012" behind the edge
0.090" spine width distal taper
3.3" blade
1.1" tall at the heel
7.5" overall length

Richlite handle
15 degree 50/50 compound bevel
Design and features
Hand made in the USA, the Artisan Revere Paring Knife carries through all of the qualities we found in the Chef's Knife I reviewed last year. And that's a very good thing. Check out the clean, simple profile.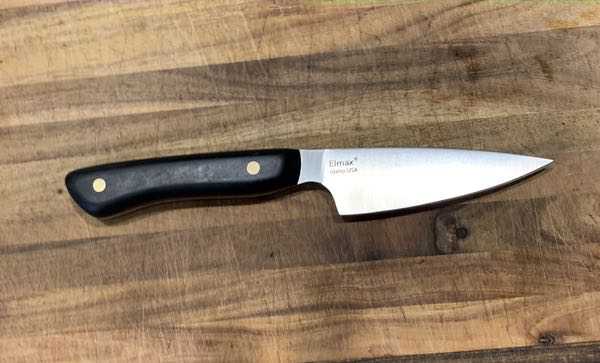 A knife is a knife, right? Not so fast, my friends. There's a lot of not-so-subtle design going on here that makes this knife special. Let's look at how it stacks up side-by-side against some of the other paring knives in my arsenal. Check out the difference in overall size, handle design, and blade shape.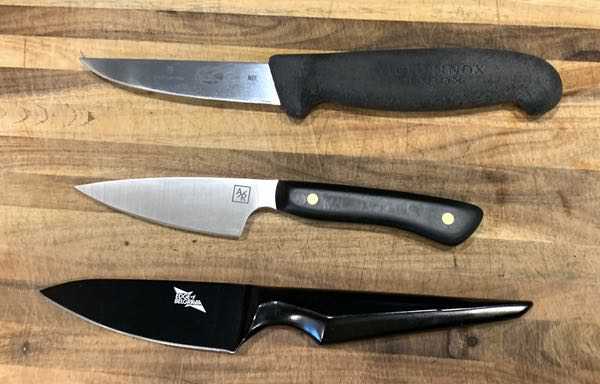 These details make for a knife that is all about control and precision cutting. See how that handle just kind of vanishes under my fingers when I grip it?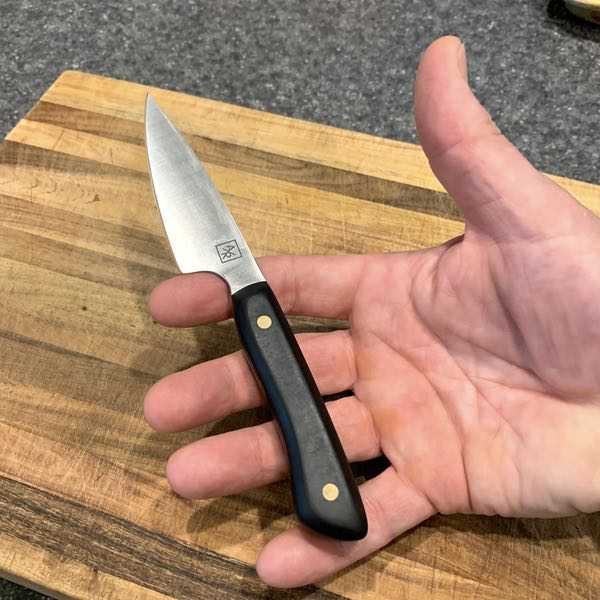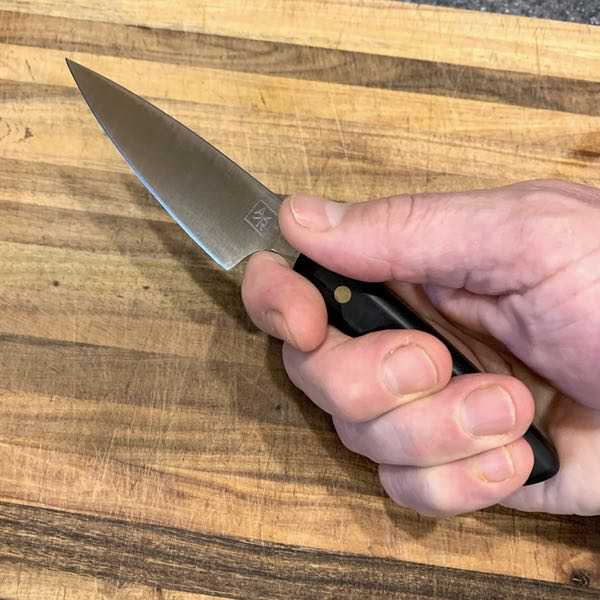 This puts all the focus on the business end of the knife. Combined that with the smaller blade design, and you get superb precision as you're working your way around smaller fruits and vegetables.
The bolster flows directly from the handle into the base of the knife with a pronounced curve. This gives your finger a sturdy grip point that adds to your control.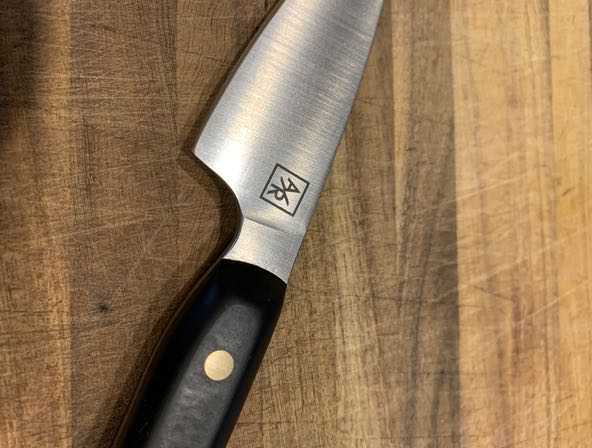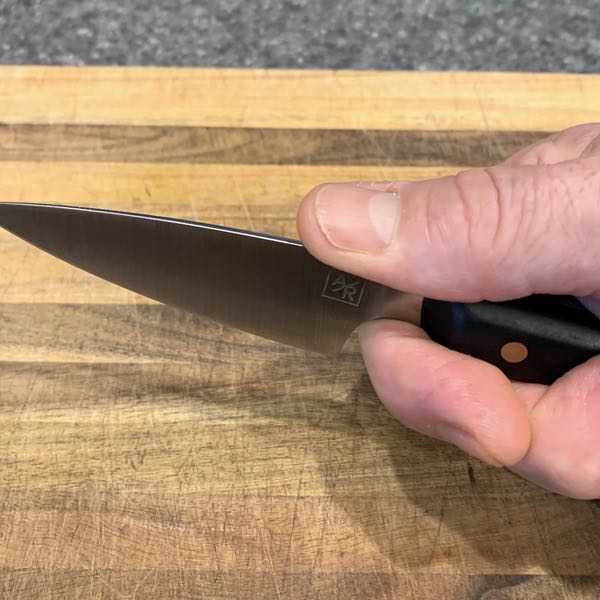 You can also use a pinch grip if you're doing fine slicing.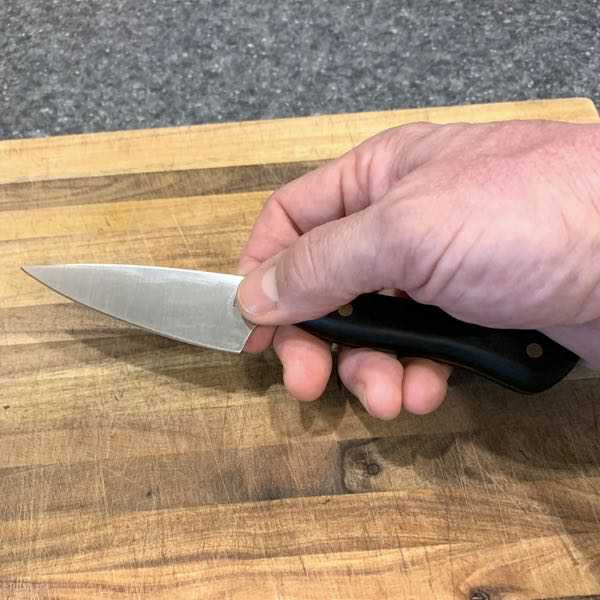 Here's a closeup of the backside of the knife. That rounded spine is great for both comfort and thumb control. The finishing detail is outstanding. You won't find any burrs or rough points in the handmade build, and the handle seam is lined to prevent moisture from getting between that and the blade.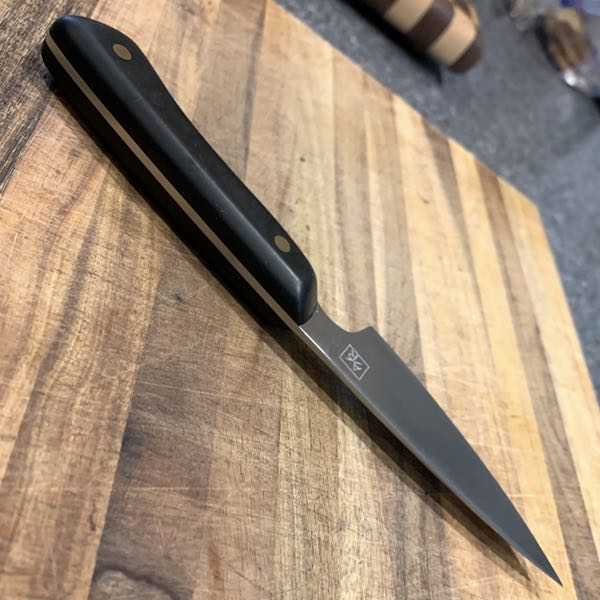 Artisan Revere uses a proprietary steel composition in their build that made to hold an edge for a long time. This thing is absurdly sharp out of the box… so much so that you'll want to be careful when you first start using it!

I also got the leather sheath in my test package, which I highly recommend if you won't have a magnet strip for storage. It's also handmade and provides a wonderfully tight fit for the blade. A worthy partner for a high-quality weapon, methinks.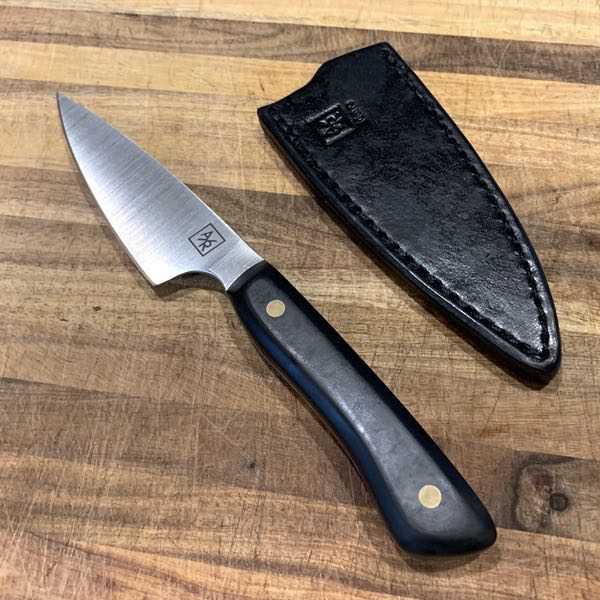 Like its big brother, the Artisan Revere Paring knife checks all the boxes for both design and build quality. Let's get into the kitchen and put it to work.
Performance
The whole point of adding a paring knife to your arsenal is to handle smaller, more intricate duties that your chef's knife can't handle well. The Artisan Revere Paring Knife delivers in spades when it comes to these functions. It's like wielding a surgeon's scalpel. Seriously. Let's go to work on that pepper.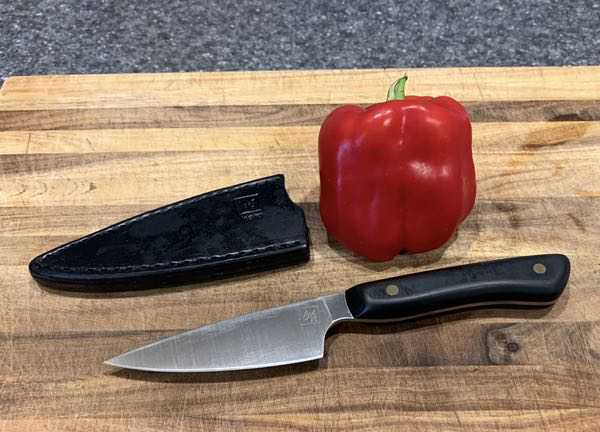 This cute little fellow is getting broken down to toss in with a side dish. He's tiny and oddly shaped, right? The Artisan Revere Paring Knife enables me to smoothly & precisely navigate the pepper top to separate it from the body. That slim profile comes in handy here, as I can get under that stem without hacking the body to bits.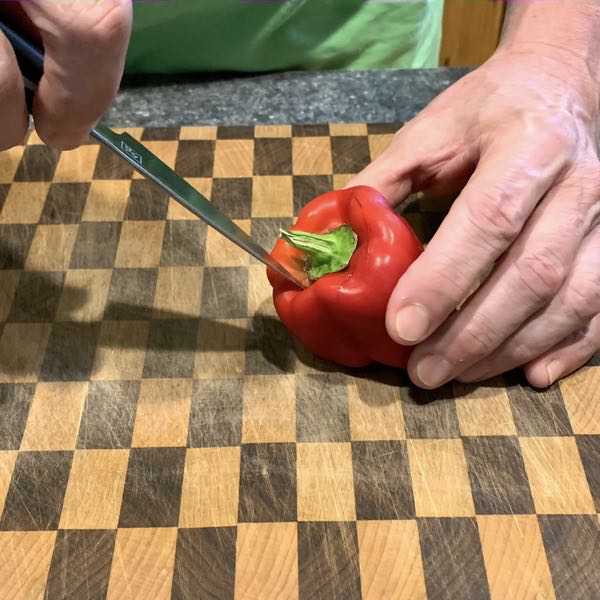 Here I've removed the stem and base, and now I'm trimming off some extras. The blade glides through the flesh like it's not there.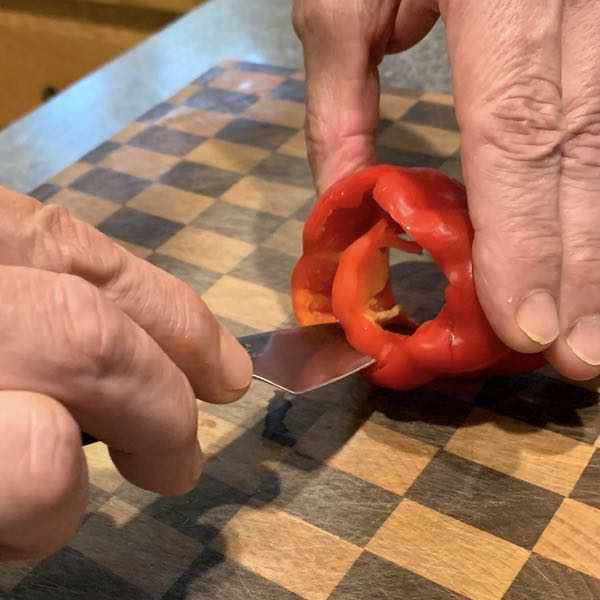 Here I've hollowed out that pepper without making a single cut into the sides of the fruit.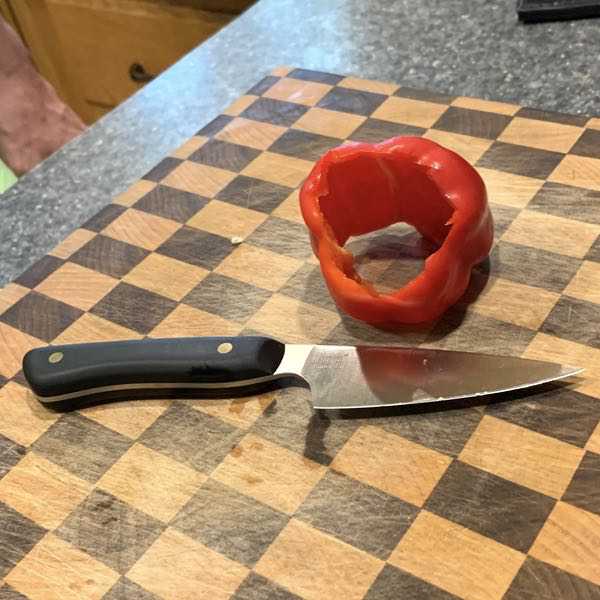 Now I'll break this baby down into consistent fine slices for the saute pan.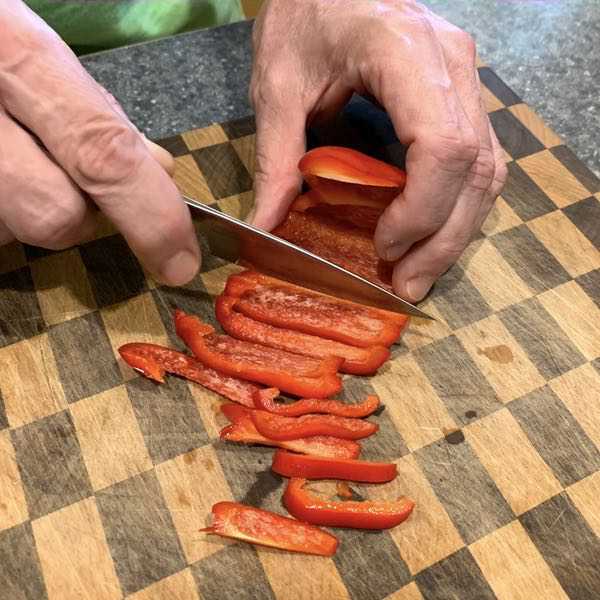 Here's the finished prep, along with some garlic and basil I'll toss into the dish. The knife just glides cleanly through all those little bits of produce.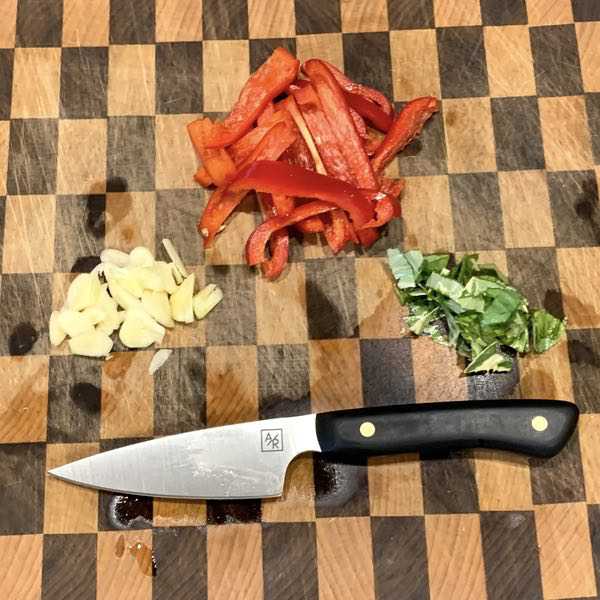 What about peeling and skinning? Here are some mango slices that I wanted to separate from their skins. That slim sharp blade allows me to slide right under the flesh of the fruit, leaving most of the fruit for consumption.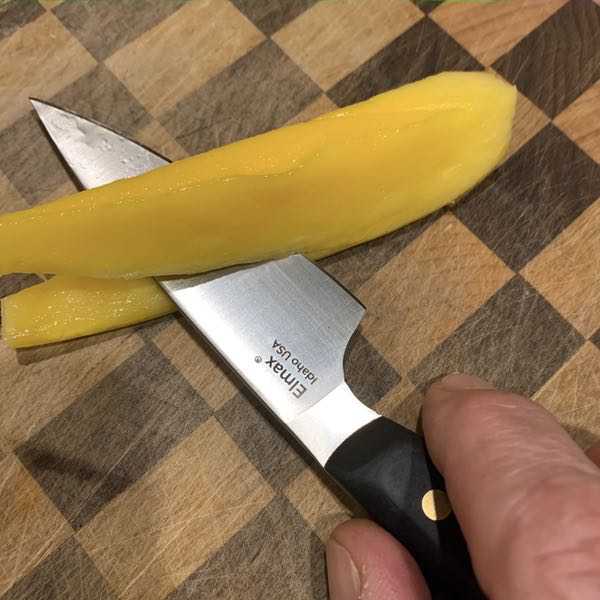 You'll get the same benefit if you're peeling apples or potatoes.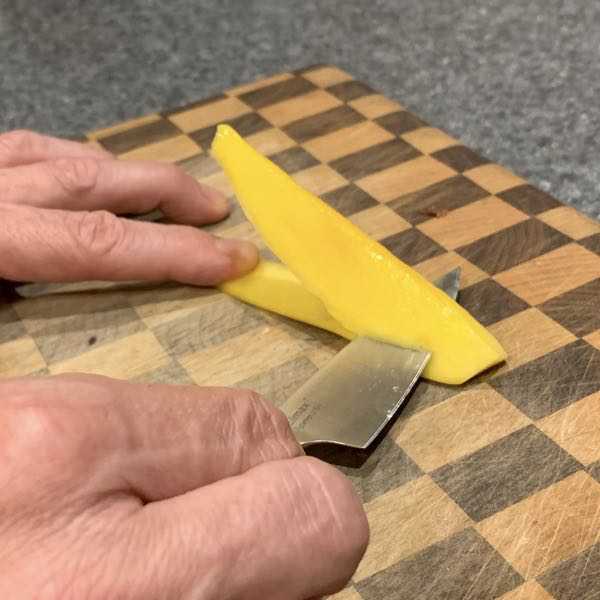 And how sharp is that blade? Here I'm slicing up a small Roma tomato from my garden. Check out those thin slices I'm pulling with little or no effort. You can also see from the slices on the board that there's no crushing of the fruit.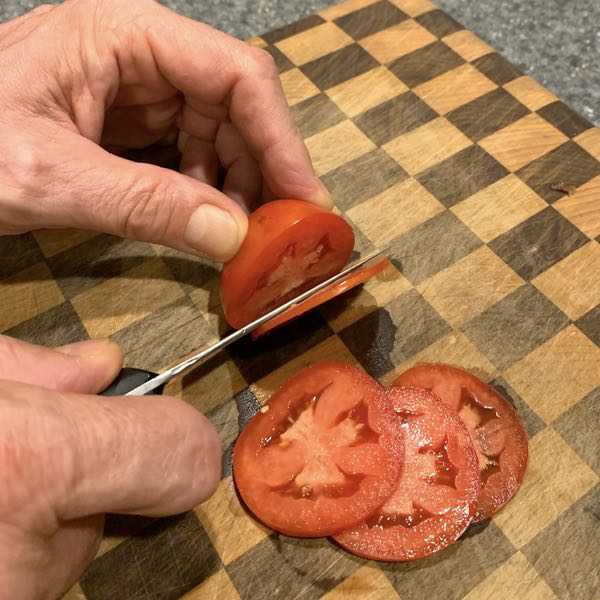 Speaking of surgery, I smoked some Baby Back ribs for Labor Day weekend. Anyone who smokes ribs on the regular knows the challenges with separating the silverskin from the meat. It's a pain without the right tool. Check out how easily I can slide that small blade under the membrane to get it loose…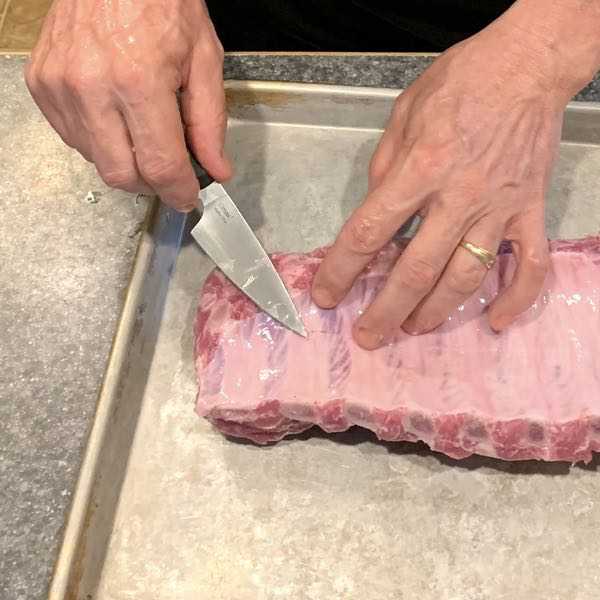 The small blade and super-sharp edge allow me to precisely trim off those fatty bits while leaving most of the meat on the bone.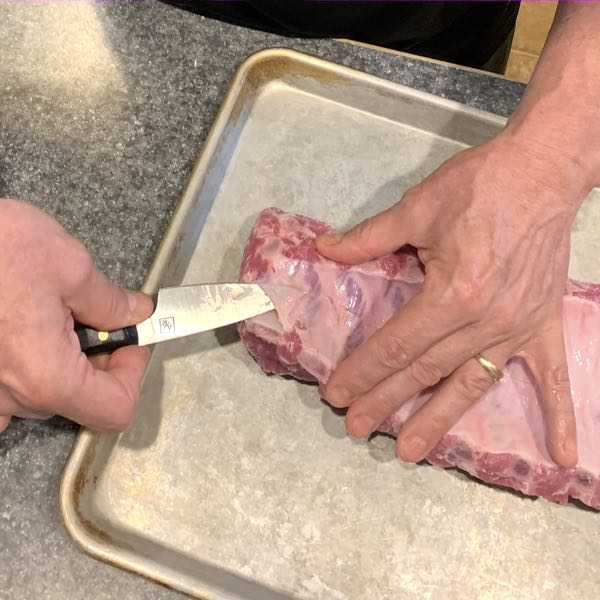 Cleanup and maintenance on the Artisan Revere Paring knife is a snap. You won't find any crevices or odd nubs where stuff can hide. I've used my Chef's Knife continuously since I got it without a speck of rust or discoloration, and all of that construction goodness is at play in here. Clean it after each use, towel and air-dry, and apply a bit of mineral oil periodically. That's all there is to it.
I will warn you: this knife is wicked sharp and  you'll want to be careful when you first start using it! My Chef's Knife has retained it's edge after a year of almost daily use, and I expect the same here. I touch it up periodically with a honing steel, and I'll use my sharpening stone on it if it starts to get a little dull, but I expect a lifetime of use out of this little monster.
What I like
Precise control for small intricate kitchen duties
Amazing edge that requires minimal upkeep
Easy to clean
Buy it for life quality
What needs to be improved
It's pricey, but you're getting a lifelong kitchen companion
Final thoughts
I fell in love with the Artisan Revere Chef's Knife last year, and this new blade brings all those great qualities to the Paring Knife form. It's not cheap, but I think it's worth the investment for a high-quality tool that you'll use every day. Considering that these knives are hand made by artisans in the USA, I would argue that it's a great buy. Once you have a good chef's knife and paring knife in your tool kit you really don't need anything else. This little fellow looks like it will last a lifetime.
Price: $195
Where to buy: Order it at the Artisan Revere web site.
Source: The sample of this product was provided by Artisan Revere.