We use affiliate links. If you buy something through the links on this page, we may earn a commission at no cost to you. Learn more.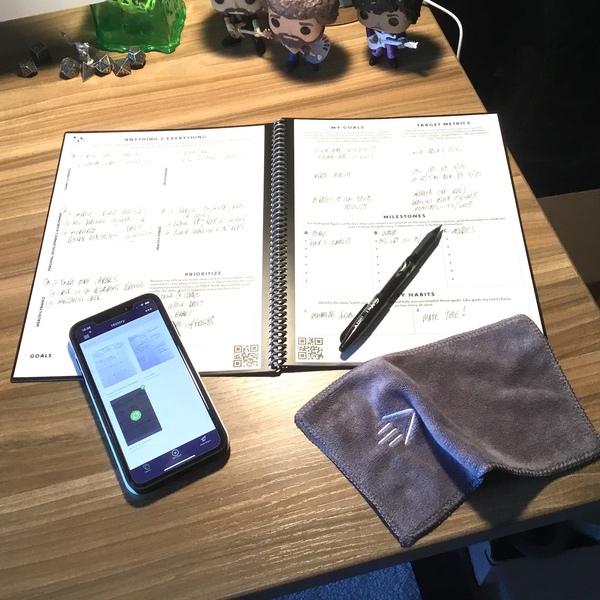 REVIEW – Get yourself together! I've reviewed the Rocketbook before, and I'm a big fan of the way it integrates traditional note taking with cloud-based document management and distribution. In this review I'm looking at a new product from the Rocketbook folks that leverages the Panda Planner system to help you manage both your personal and professional goals. Lots of good stuff to cover here. To the review!
What is it?
It's a motivational planner, coupled with Rocketbook's app that enables you to digitize, organize and distribute your work. The notebook is designed to be erasable and reusable (provided you use the Pilot FriXion pens), so that you don't need to keep refilling your notebook.
What's in the box?
Your kit comes with the notebook, a Pilot FriXion erasable pen, and an microfiber cloth for erasing your notes. The Rocketbook app is available on iOS and Android.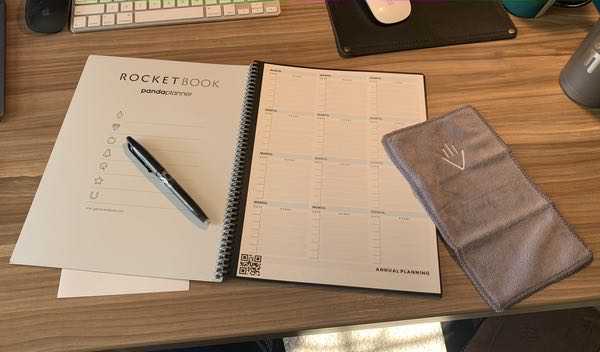 Design and features
This product is a special edition of the Rocketbook notebooks that we've reviewed before, coupled with Panda Planner's unique notebook design. This review will cover all aspects of the package, starting with the gear.
The Gear
The Rocketbook Panda Planner incorporates the re-usable elements that you'll find in the whole Rocketbook lineup. A heavy plastic cover & binding are designed to take continuous abuse without bending or tearing.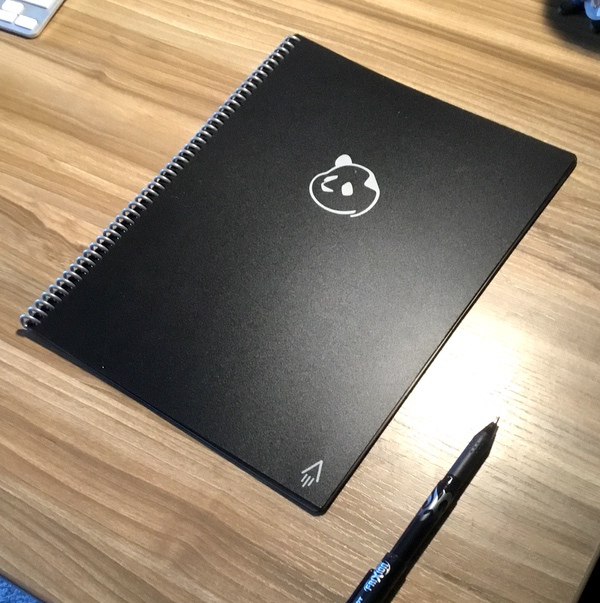 Your interior pages are made from a synthetic heavy-duty material that resembles paper stock, but is highly resistant to tearing. This particular  notebook has 16 double-sided pages that include sections for things like daily planning, weekly planning, monthly planning, and tracking your personal goals.
You'll also see pre-printed QR codes and icons at the bottom of the pages. We'll get to their use momentarily.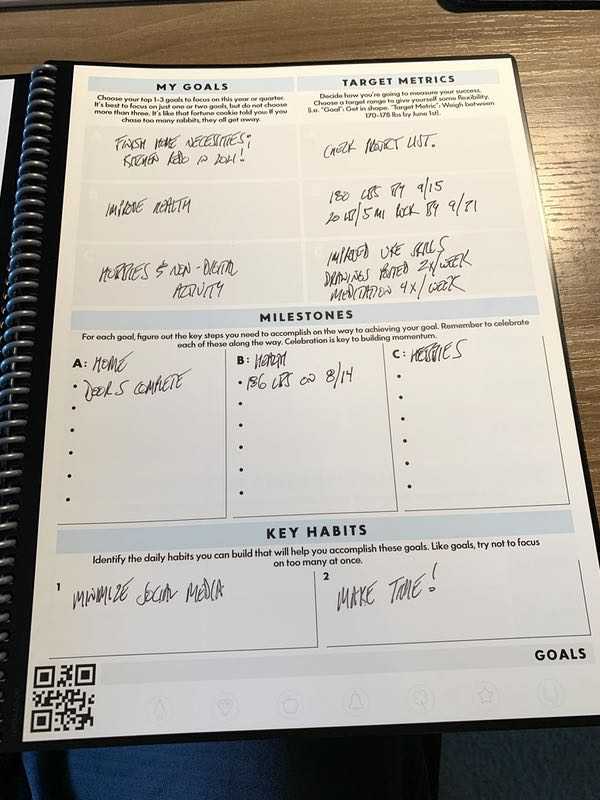 Your package comes with a Pilot FriXion pen. The pages of the Rocketbooks are designed specifically to work with the FriXion lineup of erasable pens and markers.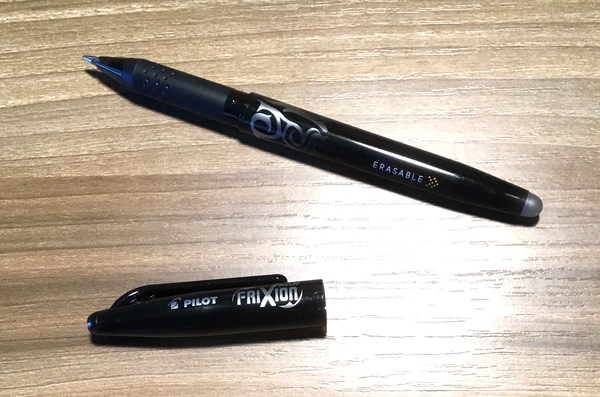 You'll also get a nice microfiber cloth. Dip this cloth in a bit of water…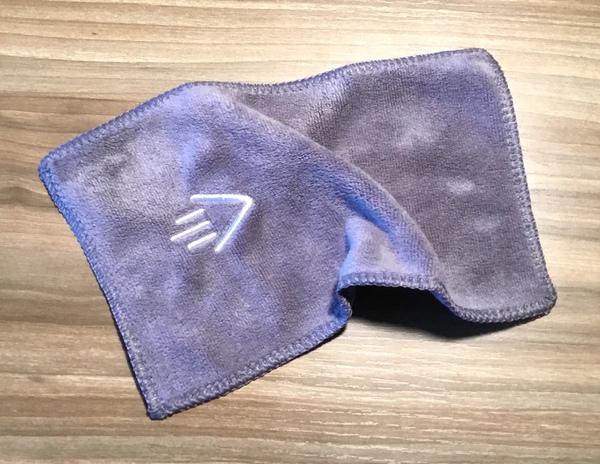 … and you're able to erase all of your previous notes in the notebook once you have digitized them.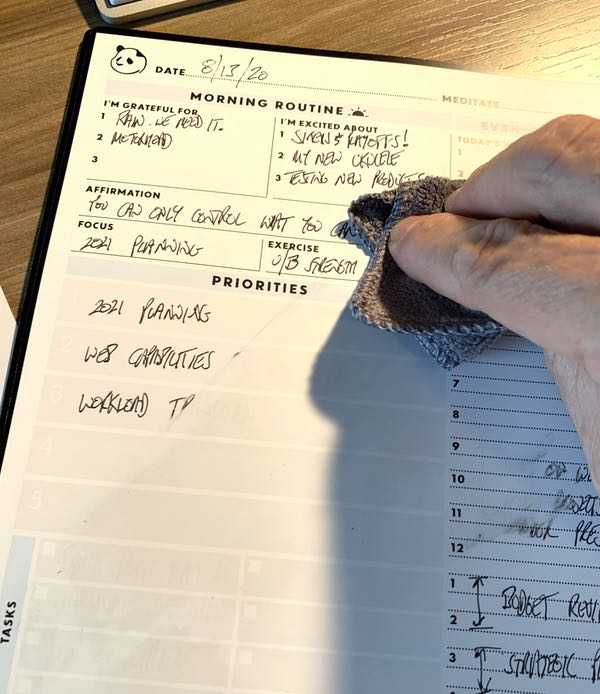 It's important to note that you can't just erase the page and start writing agin. You're going to want to make sure a page is completely dry before re-use.
Using the Rocketbook App
Rocketbook's killer feature is the ability to scan, organize, and distribute your notes from an app on your phone or tablet. You'll start with the completion of your notebook page, like I have here.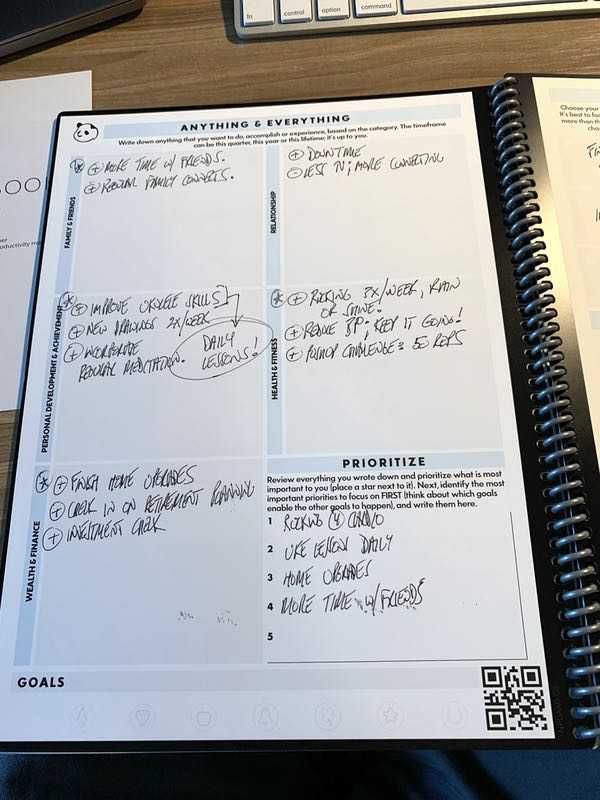 Fire up the app, and position your phone camera over the page. This is a screen shot of the app after I've opened it up and selected "new scan" to get started. It's looking for my notebook page…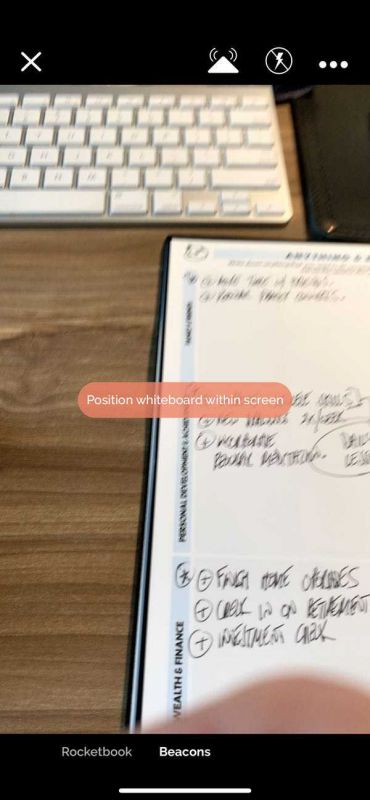 When it senses the QR code, it provides guides to help you position the page in place for scanning. Then the scan happens…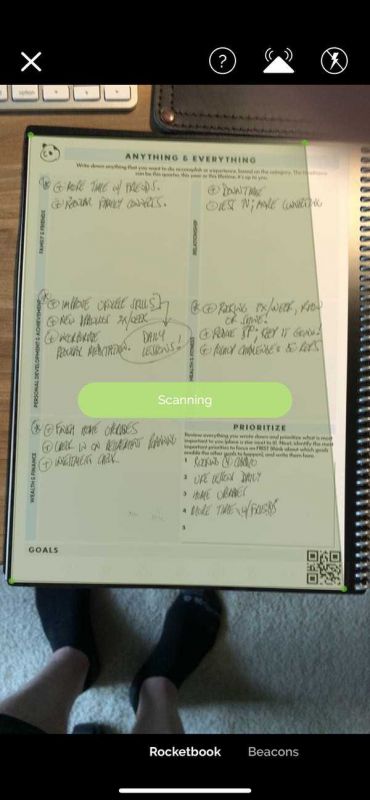 … and my page is now available in the Rocketbook app for distribution.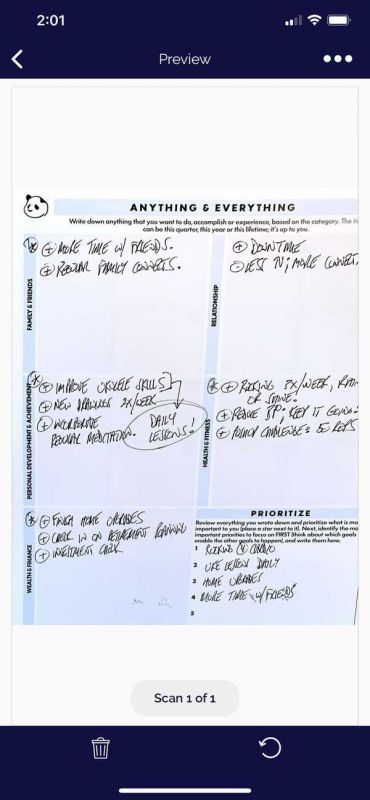 You can preset the destinations for your scanned materials. This is where those icons at the bottom of the page come in. You have six different icons at the bottom of the page, which you can program to send to different destinations. Simply mark a slash through the icon on the page with your pen, and the delivery will be queued up when you perform the scan.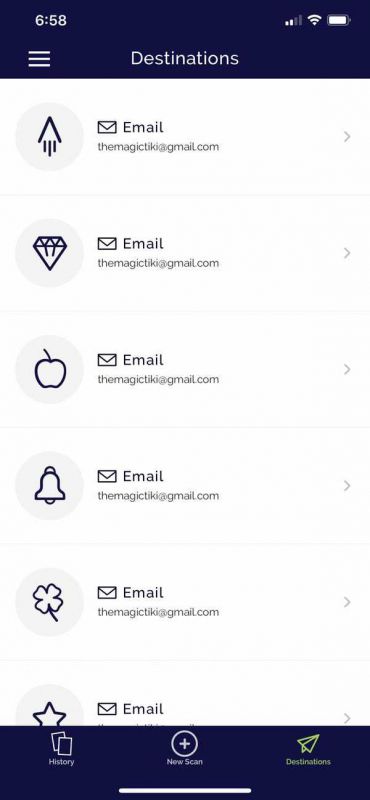 Tap an icon in the controls and you can set the preferences for that destination, as well as options for file type, bundle scanning, and OCR transcription.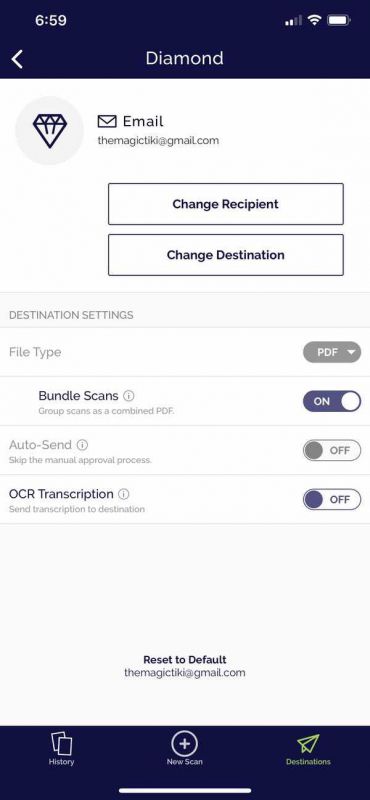 You can customize each icon to represent different e-mails or choose from your favorite cloud document management systems. You'll set the preferences for each option you intend to use.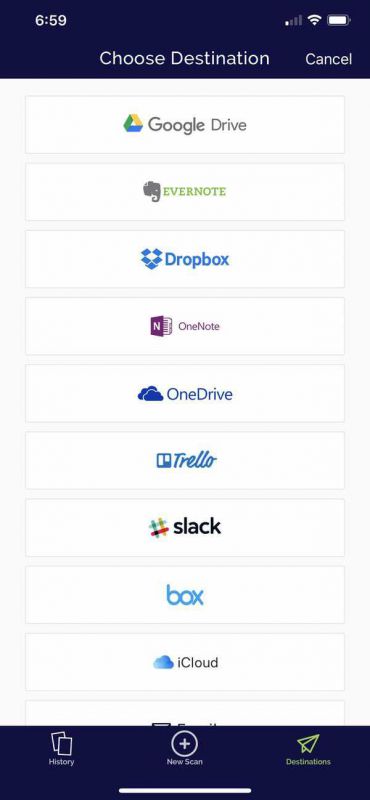 The document is also saved to your history. You can name each scan (which can include multiple documents) for easy sorting later.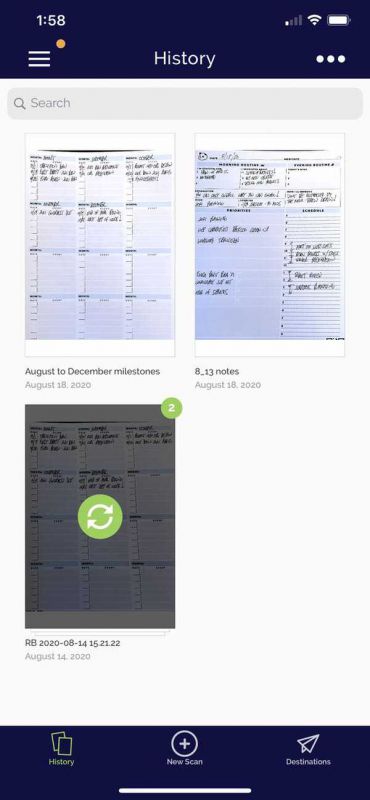 Rocketbook is beta-testing a Smart Lists feature that uses OCR to upload to do lists you write down in your notebook. This is currently available only in the iOS version of the app. I have not fully tested this yet.
The Panda Planner System
Rocketbook offers a number of different sizes and formats for their notebooks. This notebook leverages the Panda Planner system, which takes a holistic approach to managing your work and personal life.
Mike Leip, the creator of the Panda Planner, designed the Panda Planner following a series of  personal challenges that left him struggling to find positivity and focus (his story is quite inspiring, and you can read about it here). The Panda Planner system is all about improving your productivity by changing your mindset about approaching both personal and professional goals.
It starts with the big picture stuff. You'll take some time to think about your personal and professional objectives, and really putting some thought into how you will measure (and celebrate) successes.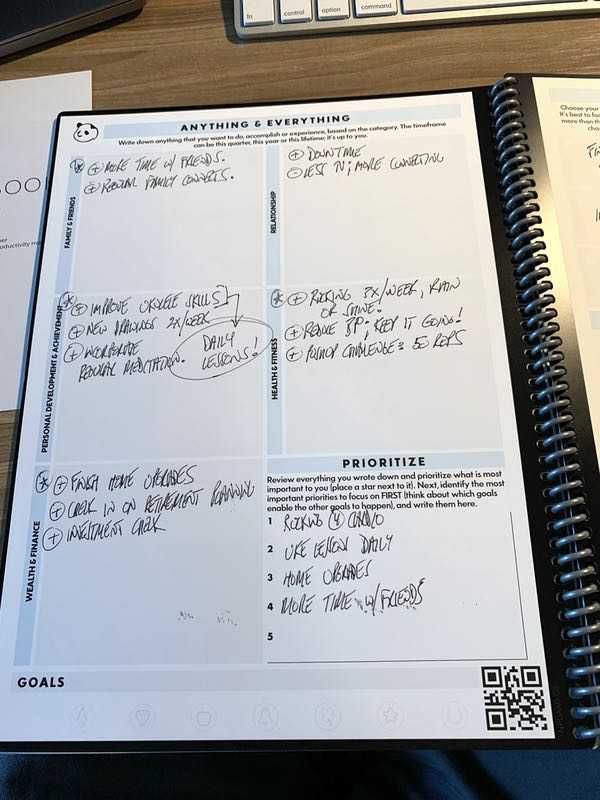 I'm showing the key goal pages here, but your notebook also includes additional worksheets that help you think through building roadmaps to acheive difficult goals, obstacle handling, and working through understanding the motivations behind your goals.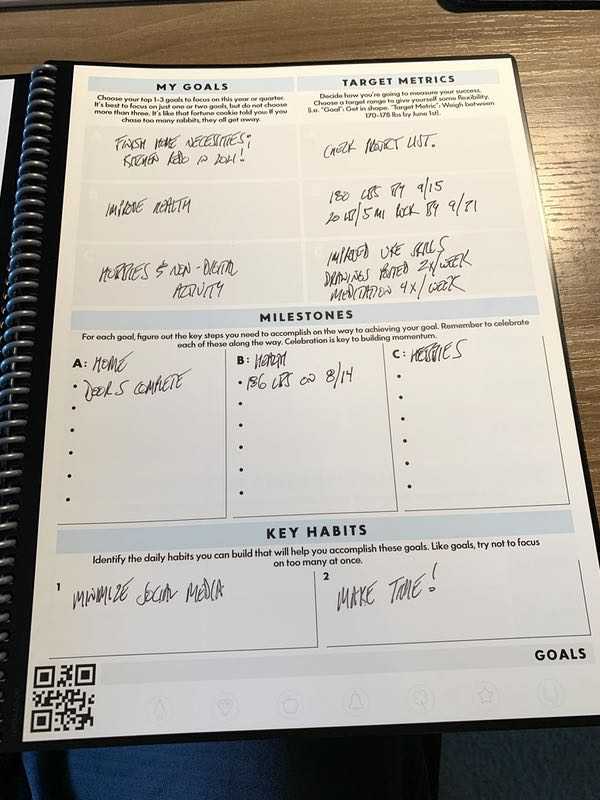 This translates into your daily notes, which are part organization and part personal journaling. It combines both work and non-work (like affirmations), pushing you to balance the professional and personal  goals in your thinking.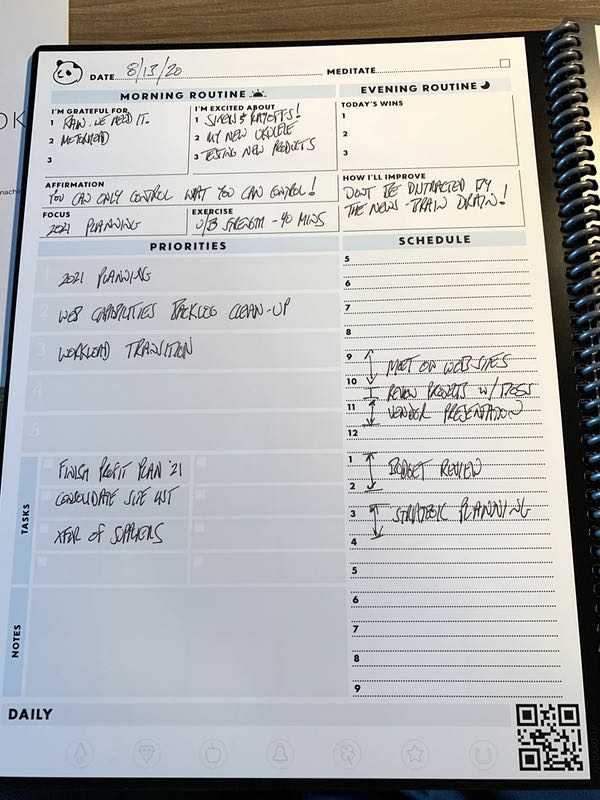 These daily activities ladder up to a weekly reflection on your accomplishments from the previous week, followed by goal-setting for the upcoming week (page not shown here). You'll also keep tabs on big events & milestones with a month-view calendar, which then ladders up to an annual planning view.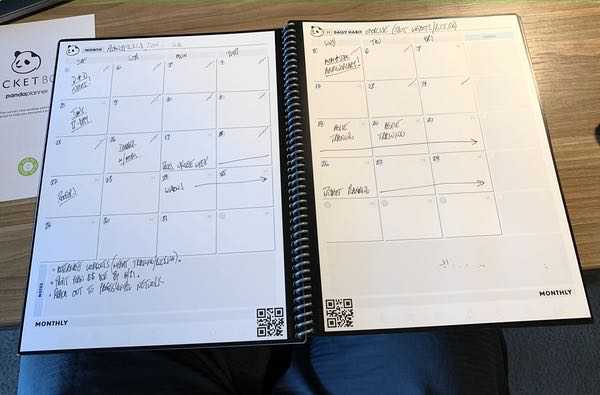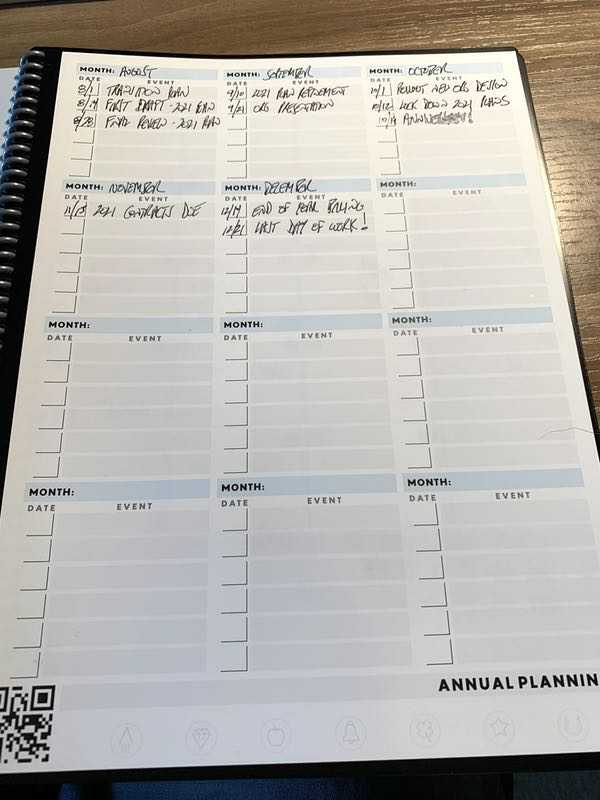 You'll find additional open lined and grid pages in the back of the notebook for doodling and more expansive note taking.
I'm summarizing here for purposes of brevity, but you get the idea. It's all about applying a system to identifying challenges, setting goals, and organizing them in a way that allows you to continue to measure your performance against personal and professional objectives.
Performance
The Rocketbook is a great solution for those of us who like traditional note taking but want the benefits of digital organization. You get the benefits of good ol' pen and paper, and the app interface makes it easy to digitize and organize your work. I especially like the ability to change formats and to distribute to both e-mail and cloud systems. Want to distribute notes to a workgroup? You got that. Want to e-mail specific notes to collaborators? You got that too. And if you just want a method to store your ongoing notes you can ditch the bookshelf full of notebooks. Just keep your re-usable notebook handy, and your archives sit in the cloud for whatever you need.
You could choose from a variety of notebook methods and styles that Rocketbook offers, but I'm particularly intrigued by the way the Panda Planner system forces you to spend some time focusing on yourself. It can be uncomfortable to delve into that level of self-reflection, but I often find myself losing track of personal development goals while sprinting to keep up with everyone else's demands. The trick to the Panda Planner method is that it forces you to keep personal wellness on the front burner so that it doesn't get lost in the madness with simple reminders to take care of your own needs as you go about your days.
I'm only just starting to scratch the surface of this method, but I can already see the value of this systematic approach to putting things in perspective.
What I like
The ability to optimize toolsets (one reusable notebook as opposed to endless reams of paper).
Simple, fluid app design enables you to easily create a portable (and shareable) digital record of your notes.
The Panda Planner method is an excellent tool for balancing personal and professional goals.
What needs to be improved
Note that the Rocketbook does require specific media (the FleXion pens) to do what it does.
Final thoughts
I'm already a fan of the Rocketbook concept from my previous review. The Panda Planner system is a new one to me, and I'm really enjoying it as a tool to keep personal and professional goals in perspective. It requires a bit of a change in mindset, but the results so far have been well worth it. We'll see how I track against some of my bigger personal goals in the coming months.
Price: $37.00
Where to buy: Rocketbook web site and Amazon
Source: The sample of this product was provided by Rocketbook.