We use affiliate links. If you buy something through the links on this page, we may earn a commission at no cost to you. Learn more.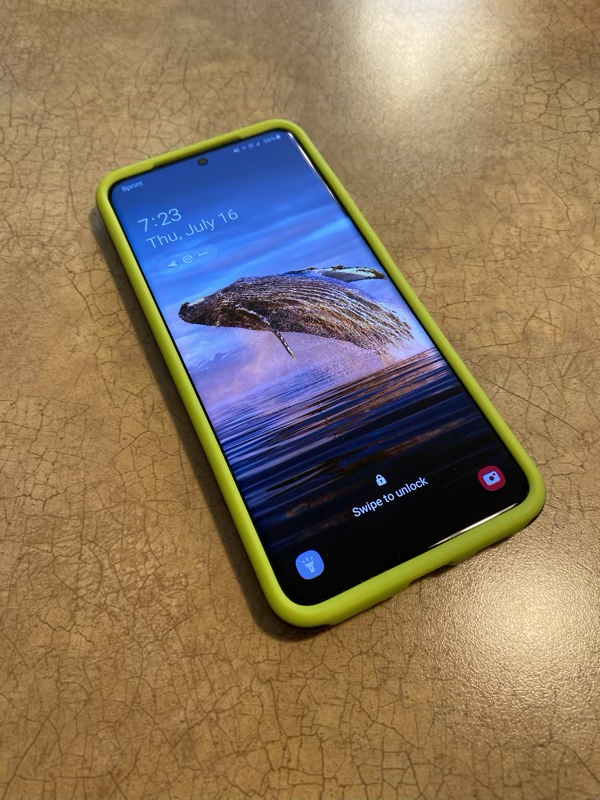 REVIEW – Do you use a case on your phone? I always have. I've dropped my phone way too many times to trust myself not to break them. If you use a Samsung Galaxy S20 phone I recommend checking out the Evutec AER-SPORT with AFIX+ Vent Mount.  There are versions for iPhones and a couple Motorola phones as well.
What is it?
Evutec's AER-SPORT is a phone case made of a variety of materials, including KARBON, Evutec's advanced composite blend of materials, which includes Aramid fibers, frequently used in aerospace and military applications, including body armor. This all adds up to what Evutec says is 10 foot drop protection. I'm not about to test that and risk damaging my device, but suffice it to say that this case feels solid on my phone and like it could easily handle any drops that might come its way.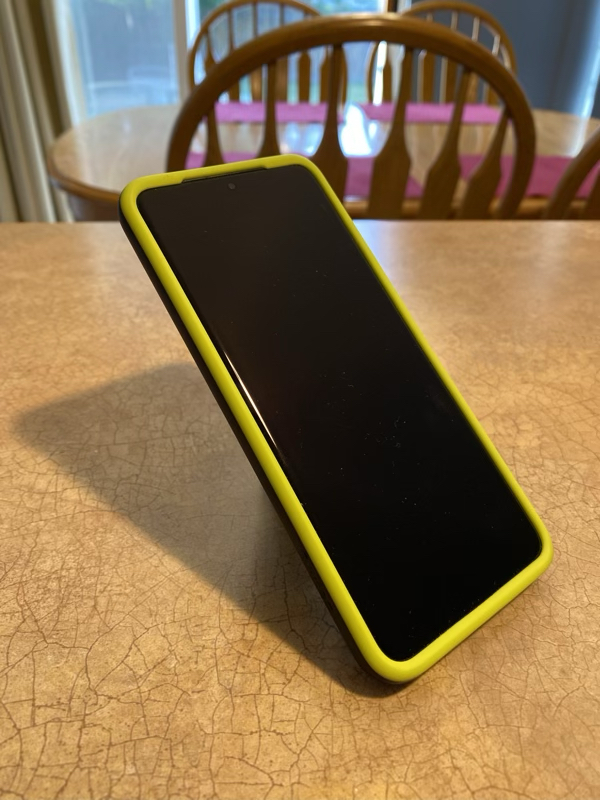 What's in the box?
Evutec AER-SPORT phone case

AFIX + Vent Mount

Vent Mount instruction sheet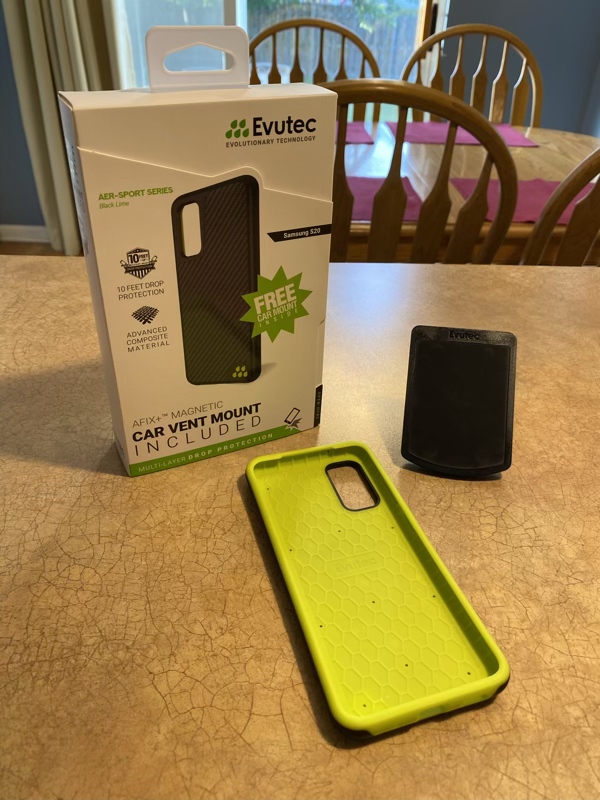 Hardware specs
EVUTOUCH – Advanced Soft Touch Coating

KARBON – Advanced Composite Material

EVUSOF+ – Advanced Drop Protection

Ultra Rigid Shell

AFIX+ – Car Vent Mount & Desk Stand

Built-In Metal Strips for Magnetic Car Vent Mount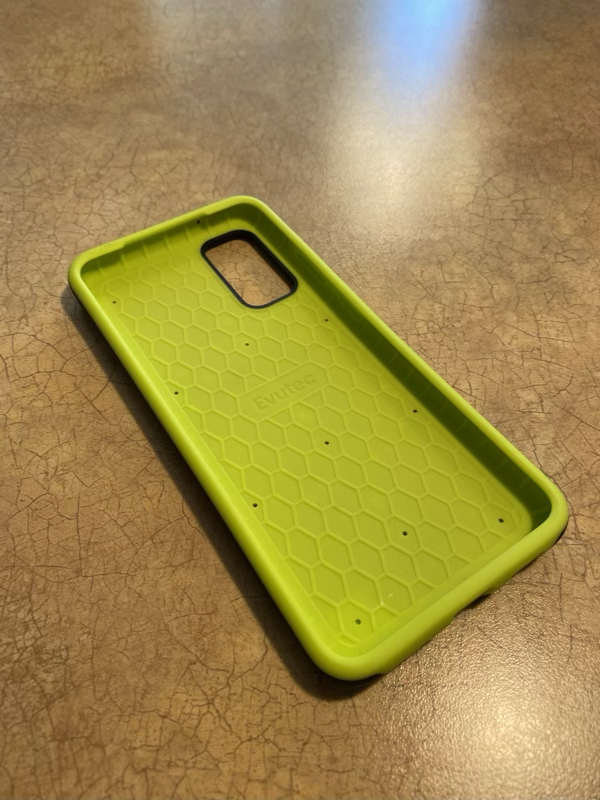 Design and features
AER-SPORT comes in a black and green color scheme. The back is slightly textured with the KARBON material, the rest is a soft-touch rubber, which provides grip but is not sticky and doesn't get caught when you try to insert or remove it from a pocket. It's thick enough to provide protection on the back around the cameras and is slightly raised around the screen, protecting the glass from breaking if it happens to fall face-down on a flat surface.
The vent mount clips to either a horizontal or vertical vent in your vehicle, allowing multiple placement options for the best viewing angle. The case has built-in metal strips that attract to the magnet inside the mount for easy mounting and removal. Thankfully these metal strips don't interfere with wireless charging, which is the case with many other magnetic car mounts available.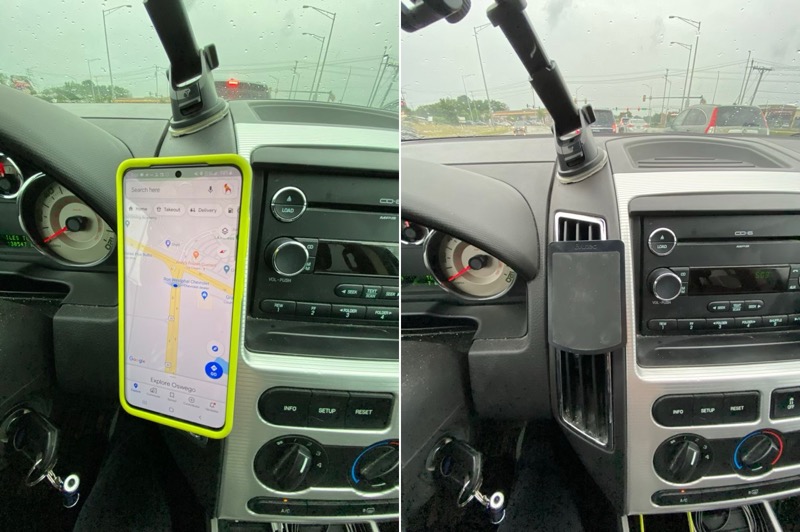 Installation and setup
Installation is as simple as any other typical phone case. Simply angle the phone into the case and press around all the edges to ensure it's fully enclosed. If you tend to remove your case a lot be careful because it's kind of hard to remove this one. I've done it several times and I always feel like I have to flex the phone a little bit to get it to come out of the case, which makes me concerned about potentially breaking the glass or warping the body of the phone. That hasn't happened yet, but I wouldn't want to be removing this case any more than necessary.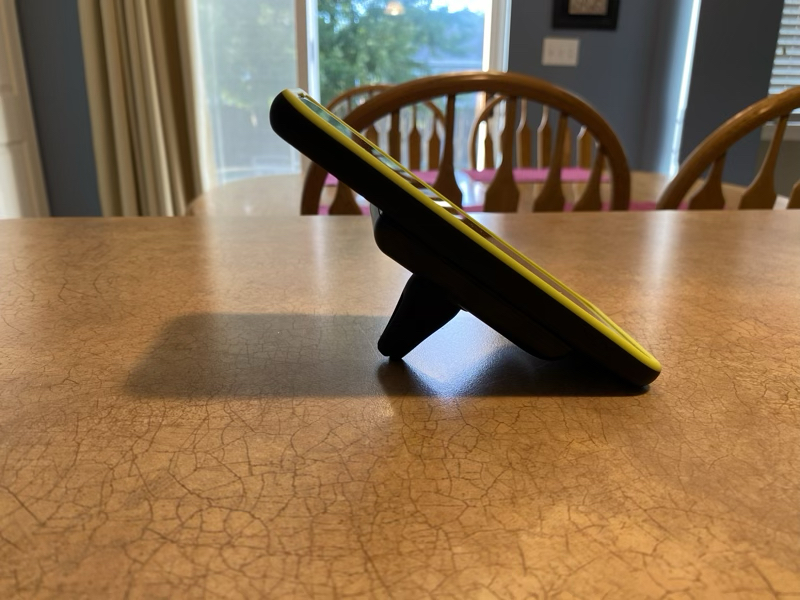 What I like
This case provides just enough texture to help me grip the phone but it isn't rubbery, so it slides in & out of your pocket easily.
I tend to stick with basic black phone cases, or clear ones to allow the natural look of the phone to show through, but I like this black & green color scheme; it provides a little bit of color and helps easily identify my phone.
I also like the fact that the vent mount is included. I typically use a different type of mount in my car, but the vent mount doubles as a desk stand as well, allowing for horizontal or vertical viewing of the content on your screen so you don't have to be holding it all the time.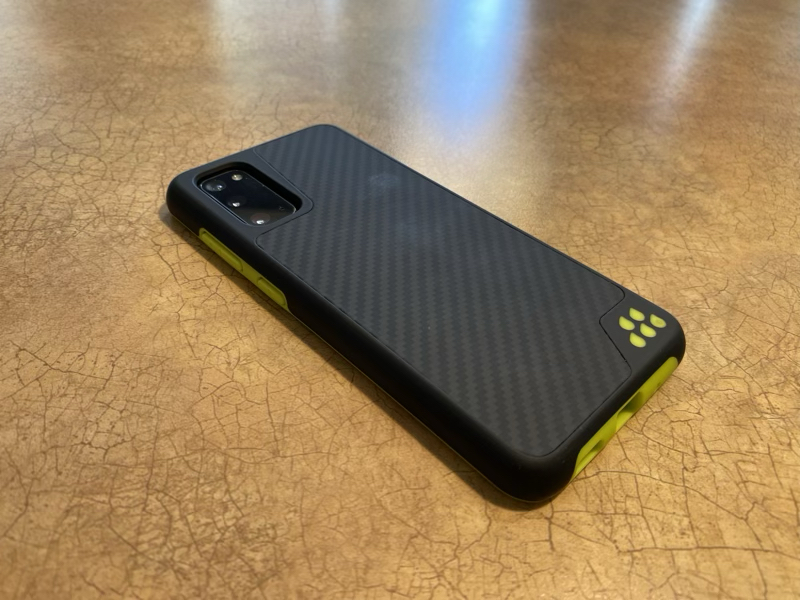 What I'd change
As mentioned I wish it was a little easier to remove my phone from this case. I haven't caused any damage but every time I take it out, I wonder if something is going to happen.
Final thoughts
If you like to have a case on your phone, and you want the extra drop protection that a case like this can provide, you can't go wrong with the AER-SPORT from Evutec.
I also received the Ballistic Nylon Case to review, but unfortunately, it was for a Galaxy S20 Ultra, so it didn't fit my phone. It doesn't provide the 10 foot drop protection of the AER-SPORT, but it does offer full side & back protection with a raised lip around the screen, and it feels like it would offer just as much protection from everyday bumps and drops from at least a few feet up. It is available in blue or black.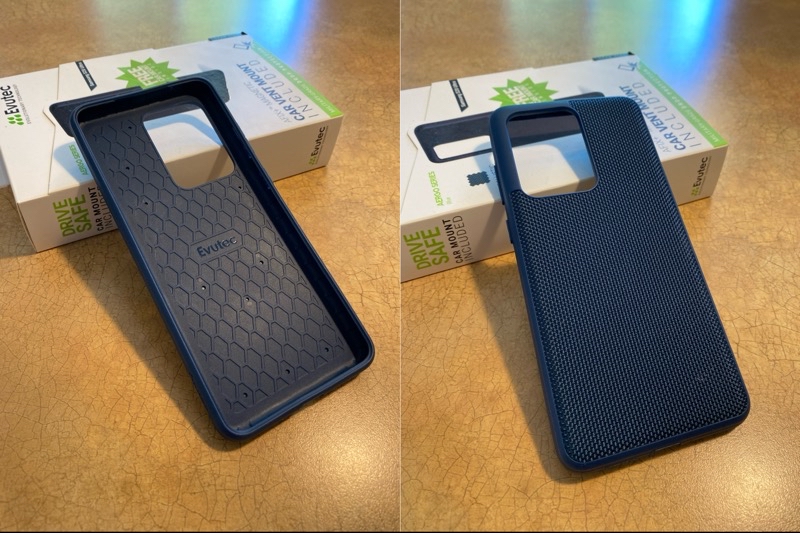 Price: AER-SPORT – $44.99; Ballistic Nylon Case – $29.99
Where to buy: www.evutec.com and Amazon (coupon: gadgeteer30 30% OFF (sales items not included))
Source: The sample for this review was provided by Evutec. For more information visit www.evutec.com.