We use affiliate links. If you buy something through the links on this page, we may earn a commission at no cost to you. Learn more.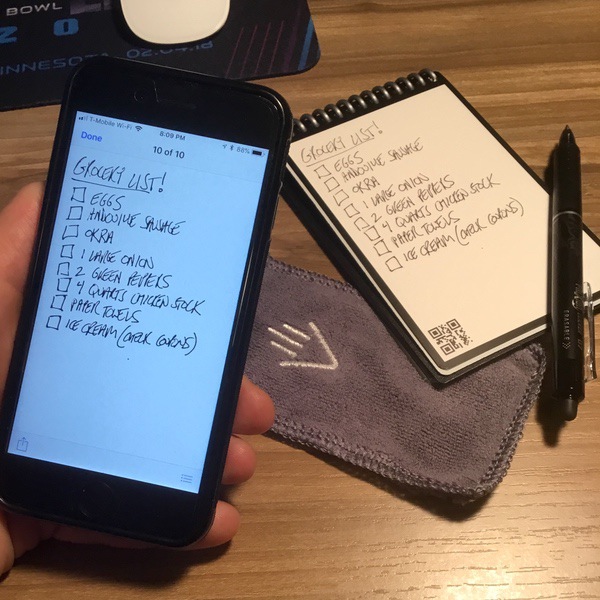 Note takers, rejoice! Now you can have your old-school notebook AND the convenience of digitizing your hand written brilliance… and you'll never have to kill another tree again. What sorcery is this? It's Rocketbook. Let's check it out!
What is it?
It's a pocket-sized erasable and reusable notebook that, when paired with the Rocketbook app, enables you to scan and upload your note pages to your favorite cloud services.
Hardware specs
3.5" by 4.6" notepad
Synthetic blend paper
Erasable and reusable
Pre-printed smart grid pattern on all pages
What's in the box?
The Rocketbook Everlast Mini Notebook is now available on Indiegogo in a variety of packages. My sample came with the notebook, a black FriXion pen, and a microfiber towel.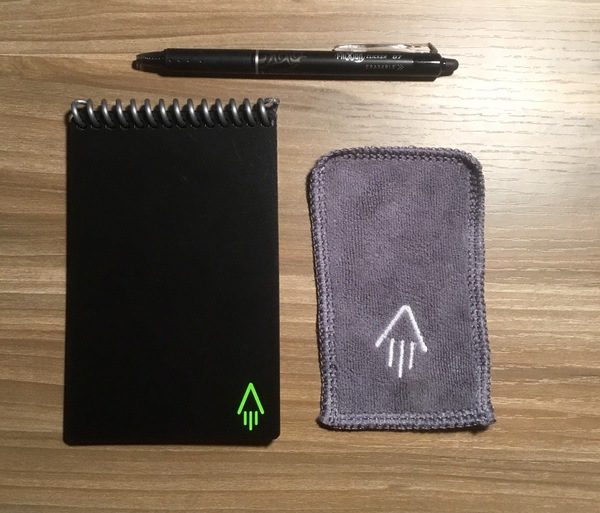 Design and features
The Rocketbook Everlast Mini looks and feels like a traditional paper notebook, but the pages are actually made from a synthetic blend that repels water and is very difficult to rip or tear (I know. I tried). Thick covers and a heavy plastic coil binding make this a deceptively tough little notepad. It's been kicking around as part of my daily kit for a month now with no signs of wear and tear other than a few random scratches.
Erasable pages
The key feature to the Rocketbook Everlast Mini is its erasability and re-use. Designed specifically for use with Pilot's FriXion pens, the ink bonds to the pages after about 15 seconds.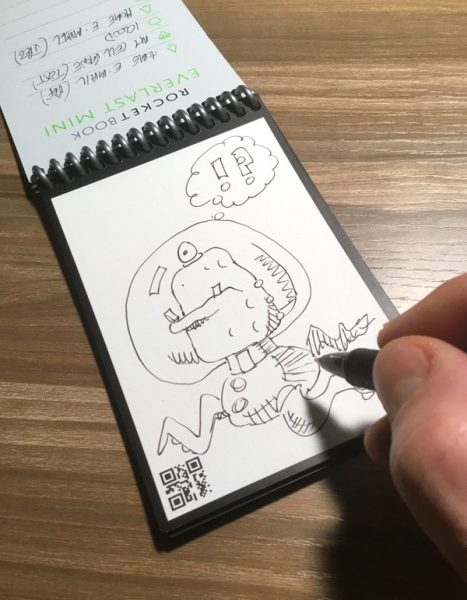 To erase, you add a bit of water and wipe down the page. Once it dries, you're good to add more notes. Theoretically, you could reuse the pages an infinite number of times. I did notice that a bit of residue can build up on the pages. A thorough scrub takes care of the worst of it. Since the notebook is waterproof, you could do this in the sink.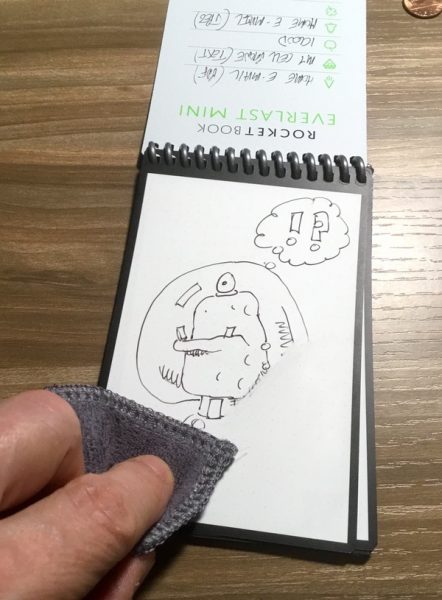 The notebook has 24 double-sided pages that give you plenty of room for notes, to-do lists, sketches and scribbles before needing to erase anything. I did see some ink bleed-through when using both sides because the pages are slightly transparent, so I'd probably just use one side at a time for my notes.
One note about the ink: when Rocketbook says 15 seconds to dry, they mean it. The FleXion ink smudges rather easily, so so you'll want to be patient before flipping the page. Something to keep in mind if you are trying to take rapid-fire notes.
Digitizing your notes
The Rocketbook Everlast Mini is designed for easy scan and upload of your pages using the Rocketbook smartphone app. Tap "new scan" to access your camera, and position your phone over the desired page. The app uses the pre-printed black frame & QR code on each page to align and scan your notes. Wave your camera over the page to position it for automatic scanning: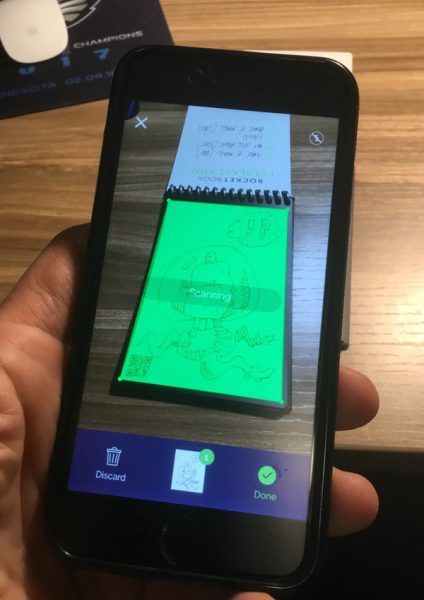 When completed, the scanned image is saved to the app. You can tweak the settings for scan quality, but I found it to do a great job right out of the box: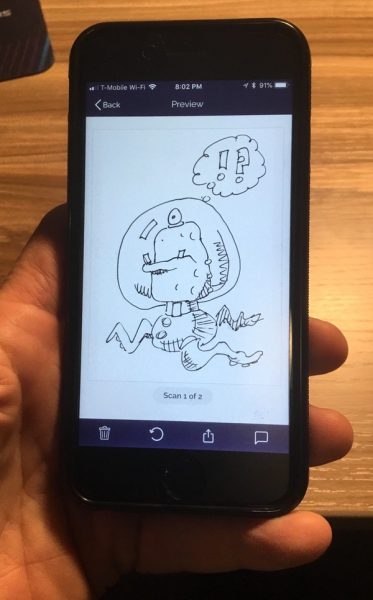 You can then send your page (or pages) to an e-mail address, an iOS message, or an assortment of cloud-based services like Google Drive, Evernote, or iCloud. The Rocketbook web site has a complete list of compatible services; add your login information to the setup and the app will store the info for future use.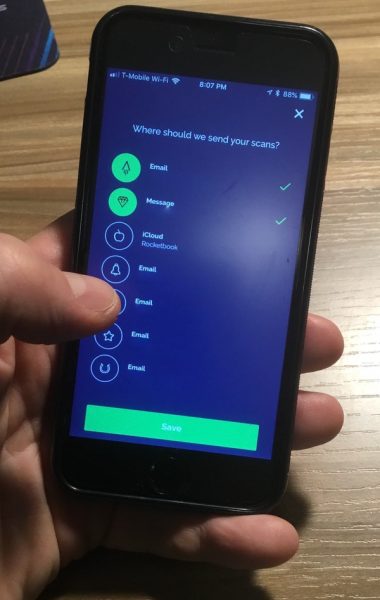 You can customize the file format for each destination as a JPEG or PDF. You can also set preferences for sending bundle scans or even make animated GIFs from a series of scans. I sent this scan to my Gmail account as a PDF: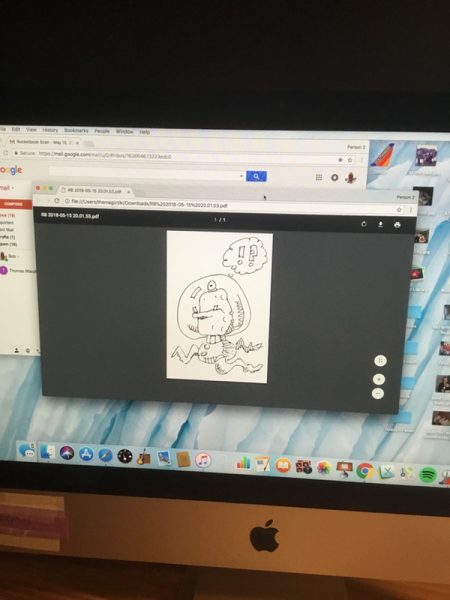 The Rocketbook app is set up with 8 different icons, one for each preset destination. You can use the cheat sheet on the inside cover to remember what your destinations and settings are: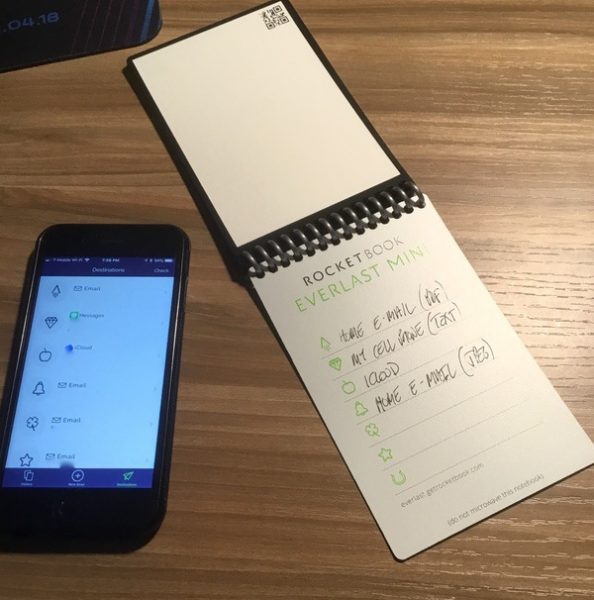 The best thing about the app is that it's an easy system to learn and use. The scan alignment feature saves fighting with your camera to get a clean shot of your notes, and you can send off your scans with a couple of quick taps. You can drop a day's worth of notes and have them scanned and shipped in a few minutes.
Performance notes & use cases
I see the Rocketbook Everlast Mini as a bridge for those of us who like old-school note taking but want the ability to digitize our work on demand. Yes, you could always just take pics with your smartphone camera from any old notebook… but the well-integrated Rocketbook app adds an extra level of convenience and usability that some might find more useful.
If you're a heavy note taker, however, you may find that the form factor here is not to your liking. The pocket-sized Everlast Mini really caters towards jotting down quick thoughts and scribbles, and the need to wait for the ink to dry does take away the speed factor. Rocketbook does make a full-sized version of this notebook that would cater to those taking extensive meeting notes, and the full-sized pages allow for a bit more time to let that ink dry before you have to flip your pages. If you like the idea of an erasable notebook but need more room to write you may want to consider the larger size. Check out the Rocketbook web site for more information.
What I like
Endlessly erasable format saves paper (and collecting old notebooks)
Durable design
Seamless integration with the Rocketbook app
Quick, easy ability to send your notes to multiple destinations
What needs to be improved
Waiting for the ink to dry may not work for you if you are taking rapid-fire notes
Final thoughts
The Rocketbook Everlast Mini Notebook is a clever piece of design that solves multiple problems for old school pen and ink note takers. The durable erasable pages can be used repeatedly. The app, while simple, is well-integrated with the notebook and has nice usability. It's also offered at a really nice starting price point ($16 for the starter kit) if you want to test one out yourself. Just consider your intended use to see if it might work for you.
Price: The Rocketbook Everlast Mini is currently being offered through an Indiegogo campaign starting at $16. This kit includes the notebook, a FleXion pen, the microfiber towel, and a pen holder that attaches to the notebook. Other options are also available. Shipping begins in July 2018.
Where to buy: Check out the Indiegogo page for more information.
Source: The sample of this product was provided by Rocketbook.