We use affiliate links. If you buy something through the links on this page, we may earn a commission at no cost to you. Learn more.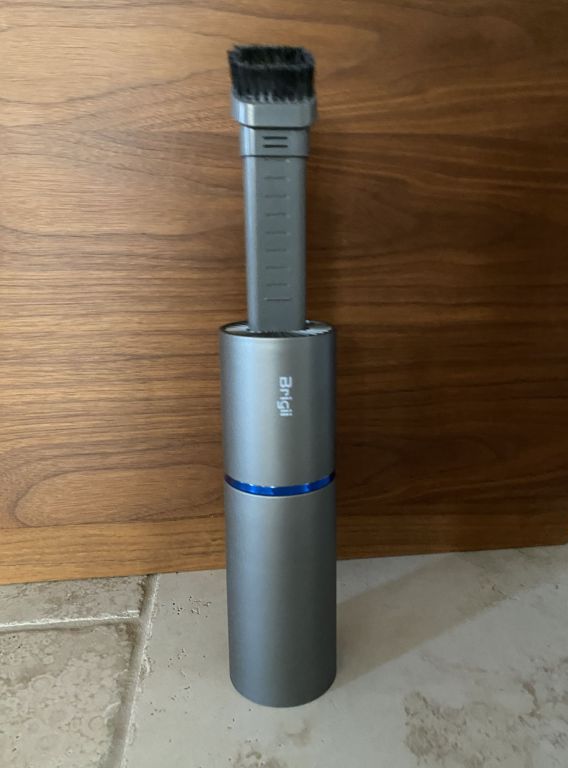 REVIEW – We have a new family member in our house!  After almost two years being dogless, we decided to adopt this time around and get a rescue dog.  In our case, a rescue puppy!  He is a terrier/chihuahua mix.  He is very different from our previous dogs which have all been shelties.  For one, he is only around six pounds and he has very short fur.   I am learning the joys of having a short furred dog, even a very small one.  I don't get the tumbling tumbleweeds of fur I used to get with our shelties, but I get small short fine bits of fur everywhere.  My home office furniture is dark, and I also have a dark workout mat on the floor.  Both items show the fur easily.  So when the chance came to review this Brigii Mini Vacuum I jumped on it.  Let's see how it handles the dog fur!
What is it?
The Brigii Y120 mini vacuum is exactly what it says.  It is a cordless (USB rechargeable) mini vacuum and blower.  One end sucks and the other end blows.  The supplied attachments can fit on either end.
What's in the box?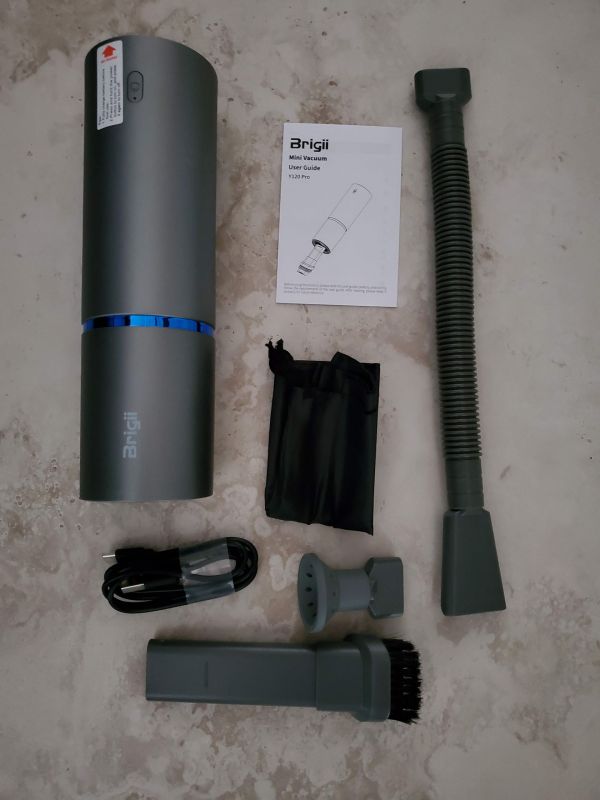 The mini vacuum – the filter is already installed and ready to go
One user manual
One long flexible extension attachment
One nylon storage bag
USB-C charging cord
hand pump blower tool
A single dual attachment that has a brush that can retract to provide a crevice nozzle
Hardware specs
Suction:4KPa

Running time: ≈15minutes

Lithium battery: 2500 mAh

Max power: 80W

Charging time: ≈4 hours(green light at full charging)

Dimensions: 2.6×2.6×8.5in

Net weight:1lb

washable HEPA filter
Design and features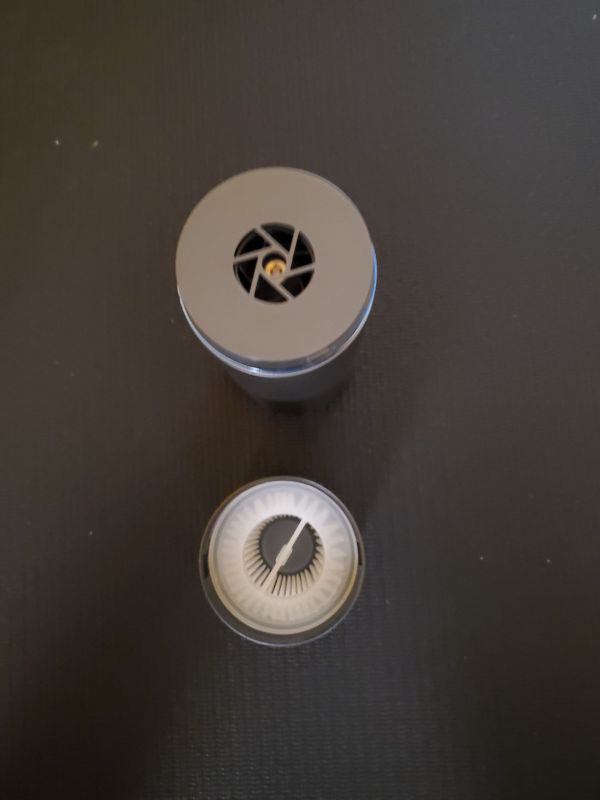 The vacuum/blower comes apart in two pieces.  The bottom part (top item on the picture) contains the motor and the port where the air will blow out.  The top part (bottom part on the picture) contains the air filter.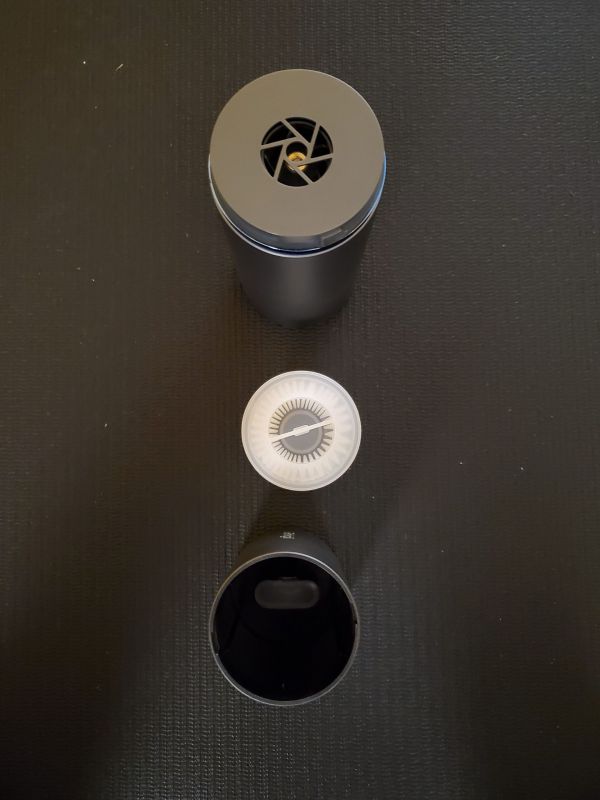 To remove the air filter you simply unlock the two halves of the machine and then pull out the filter from the top part as shown above.  I like to note that the filter is a HEPA filter and is advertised as completely washable.  I have not washed mine yet.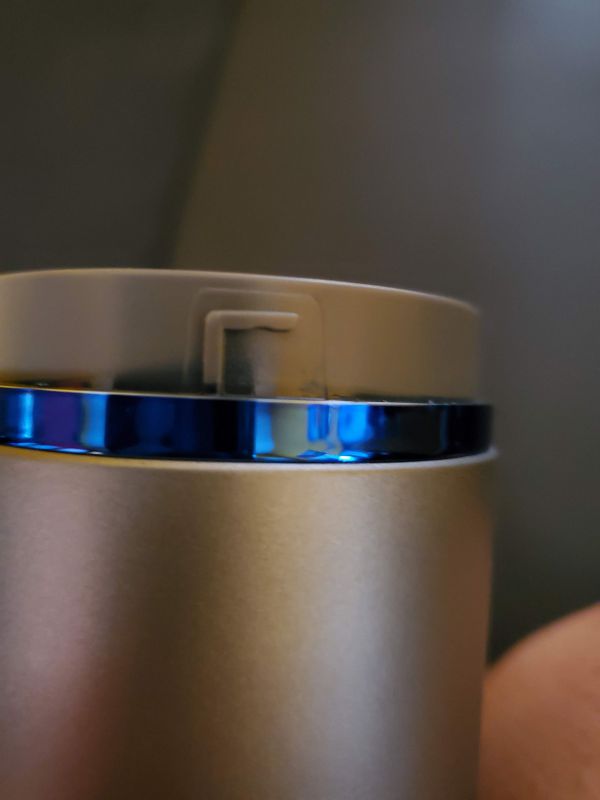 I took a picture of the motor half of the unit so you could see the locking mechanism that holds the two pieces together.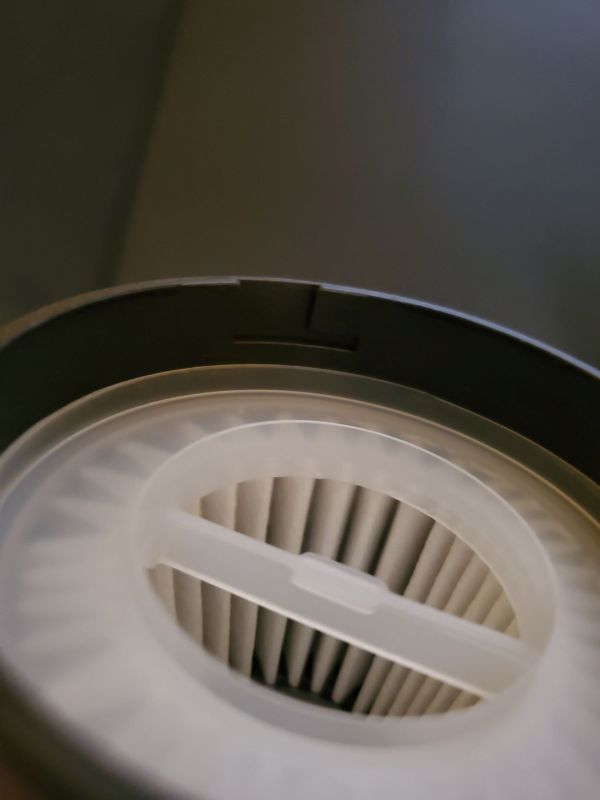 This is a picture of the top half that has the slock the locking tab goes into.  You can see the filter inserted into the top half.  It simply slides in.  It does not have any grooves it has to fit into.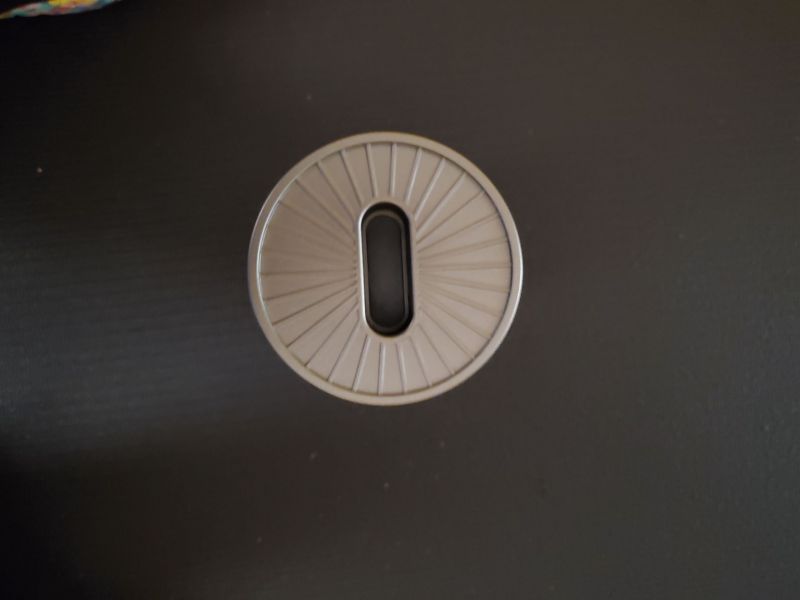 This is the picture of the top half of the vacuum.  This is the end that sucks.  The bottom half looks identical except you can see a small Phillips screw head in the middle.  There are no indicators to tell you which end is the blower and which end is the vacuum.  When you turn it on though, it is very easy to tell at that point.  The blowing end puts out a substantial amount of air and you can feel the suction from the opposite end.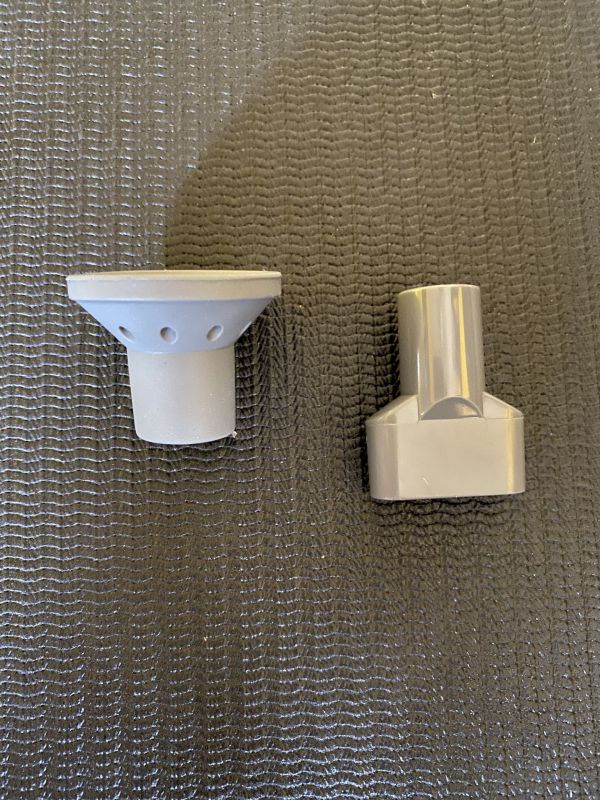 The picture above shows the tool that can be used on the blower end.  Without the wide upper end, the slim nozzle helps to focus the air blowing out.  It is not as strong as a can of air would be, but it did do an excellent job of blowing the dust and particles off of my keyboard.  I have not used the widespread end.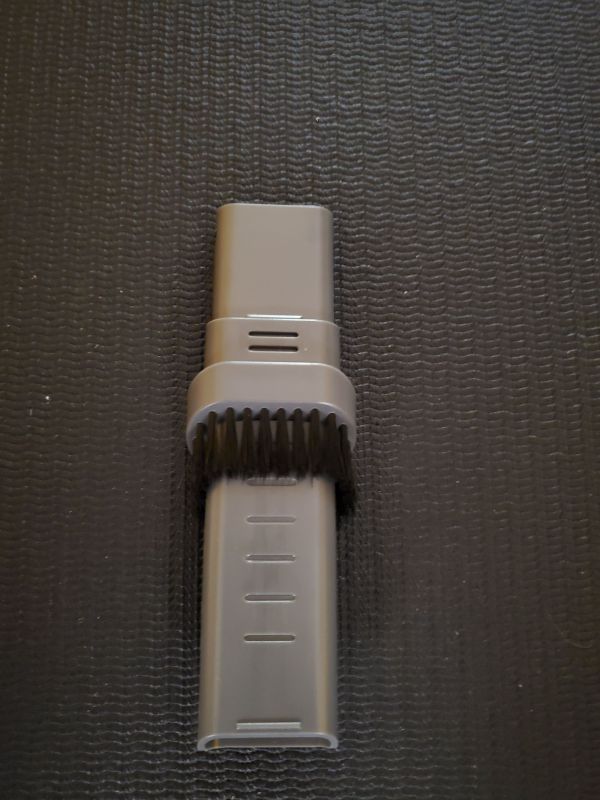 I took a picture of the main tool I keep on the vacuum.    I love this crevice tool because it has a nice soft brush on the end I can use to pick up dust and dog hair off my desk and keyboard.
Setup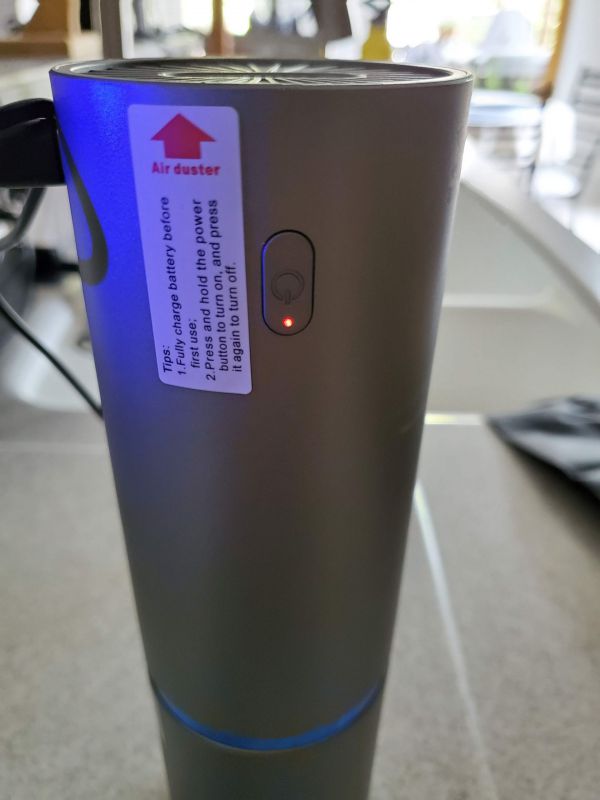 Setup was really easy.  I simply plugged the USB-C cable into the vacuum and put the USB cable into the side of my PC.  It took several hours to charge there, but my laptop does not put a lot of power out of its USB ports.  When I plugged it into a charger in an outlet it charged much faster.  While charging, it has an LED light on the power button that glows red.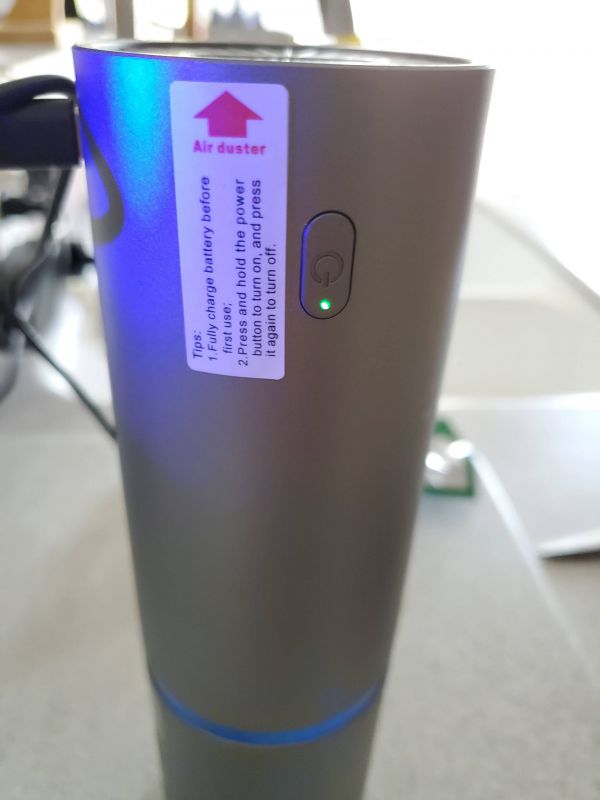 When it is fully charged, the LED turns green.  One note, on the Amazon website where these are sold, people mention the red light blinking.  It never blinked for me.  It stayed a solid red color.  I also want to note that the Amazon page shows a small tube coming out of the blower end of the device.  I do not have one of those attachments.
Performance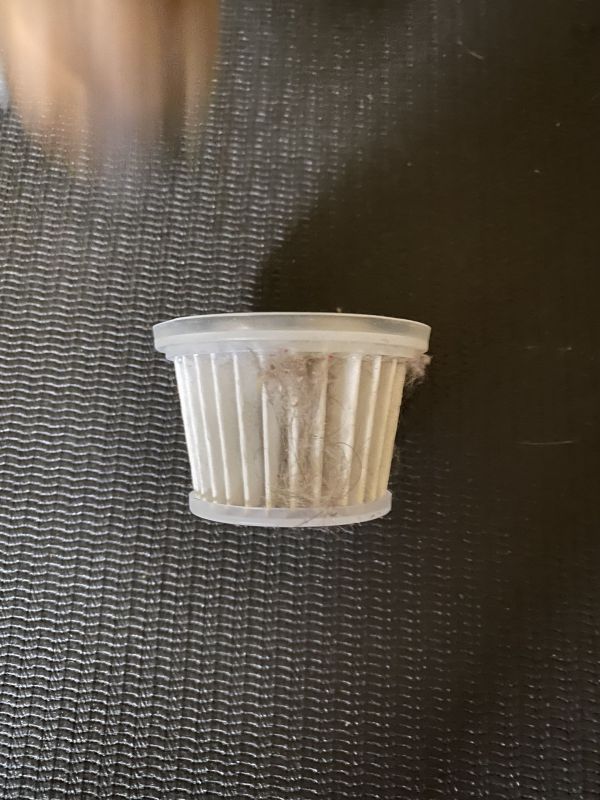 I really like the performance of this vacuum.  It is perfect for keeping my keyboard and desk area clean.  It also does a really good job of spot cleaning my exercise mat.  It picks up the small dog fur easily.  If we still had shelties I can imagine the filter would get clogged pretty easily.  The above picture shows the filter after about five, two-minute vacuum sessions around my office.  I saw where some folks talk about using this vacuum in their car.  I think it would be ok for something like that, and handy to have if you have children who tend to leave crumbs in the car, but I don't think it can beat the shop vacuum that I always use when cleaning my car.
It also holds its charge a long time.  I went a week without using it, and it still had plenty of power.    I used it probably 15 times doing quick pickups around my office before it needed a recharge.  Using it daily on my keyboard it easily lasted over a week.
What I like
Small and portable
cordless
holds a charge for a long time.
I love that the filter is washable.
What needs to be improved
It could use more suction power, but hey, I say that about almost any vacuum except my shop vac.
Final thoughts
If you are looking for a small hand held cordless vacuum for small tasks like keeping your desk area clean including your keyboard, I highly recommend this product.  It does the job and it does it at a great price.  Do not buy this thinking you will vacuum out your entire car that you have not cleaned all year.  However, for spot jobs when your kid finishes eating a bunch of crackers, this should do the job.  Note, when shopping for this item, be sure you get the Pro version.  There is another version that is around $5 cheaper but it also has a smaller battery and does not come with the flexible hose.
Price: $39.99
Where to buy: Amazon
Source: The sample of this product was provided by Brigii.