We use affiliate links. If you buy something through the links on this page, we may earn a commission at no cost to you. Learn more.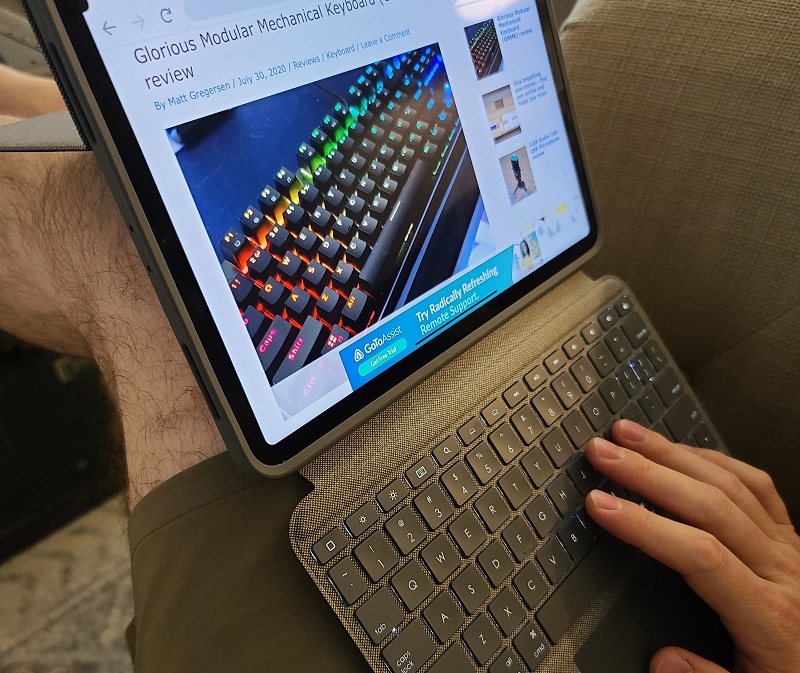 REVIEW – Since I bought my iPad Pro 11 inch last year, I have intended to use it as a laptop replacement while not at my desk.  I've tried various case/keyboard/mouse combinations, and all have been frustrating enough to not work for me.  The Apple Magic Keyboard for iPad seems perfect, but the high cost is prohibitive for an occasional-use device for me. Enter the Logitech Folio Touch for iPad Pro.  I've been using it the past few weeks, including for writing this review, and it's so handy it will be permanently affixed to my iPad going forward!
What is it?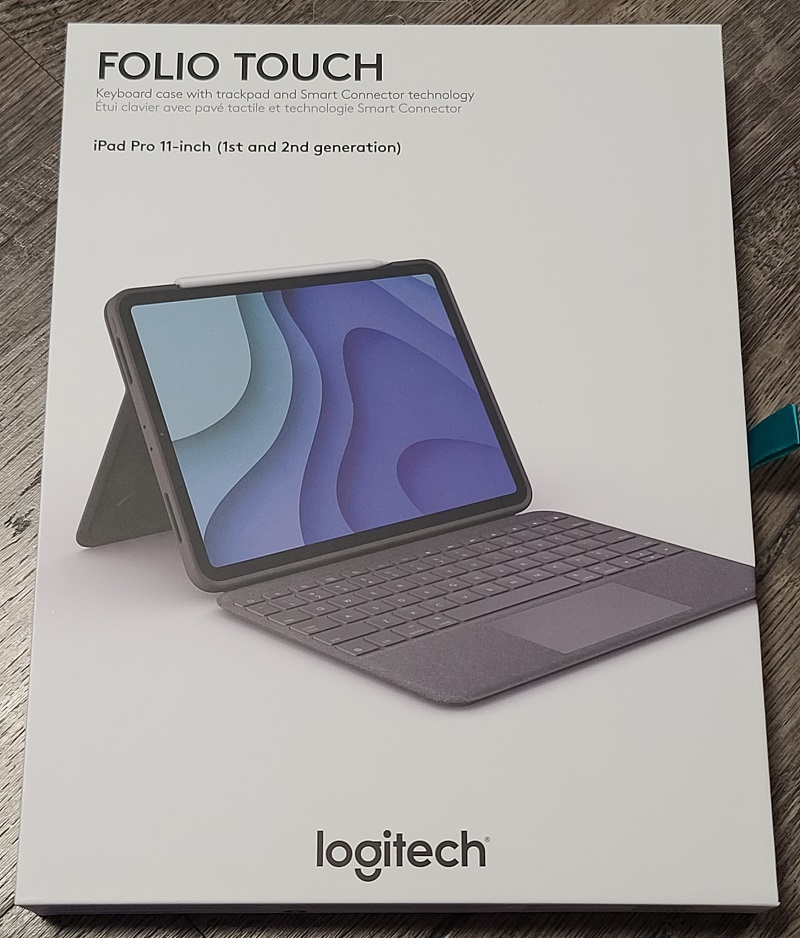 The Logitech Folio Touch for iPad Pro is a backlit keyboard and trackpad case for the iPad Pro 11.  It offers similar functionality to the Apple Magic Keyboard for iPad, but at about half the cost.
What's in the box?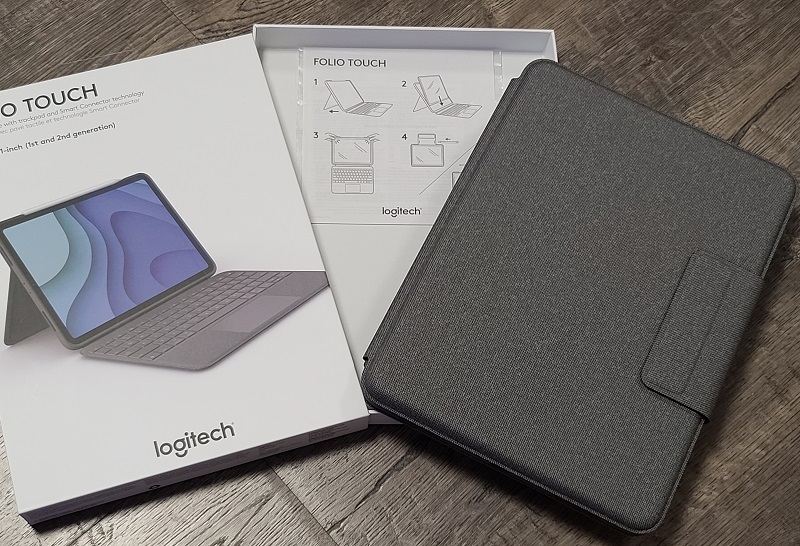 In the box is the Logitech Folio Touch for iPad Pro and a welcome/instruction manual.
Hardware specs
Height: 10.08 in (256 mm)
Width: 7.56 in (192 mm)
Depth: 0.83 in (21 mm)
Weight: 22.79 oz (646 g)
Compatible with: iPad Pro 11-inch 1st and 2nd generation
Automatic adjustable backlit keyboards (white only, 16 brightness levels)
Position modes: Type, View, Sketch, Read
Viewing Angles: 20-60°
Power and Connectivity: Powered and connected by iPad via the Smart Connector
Design and features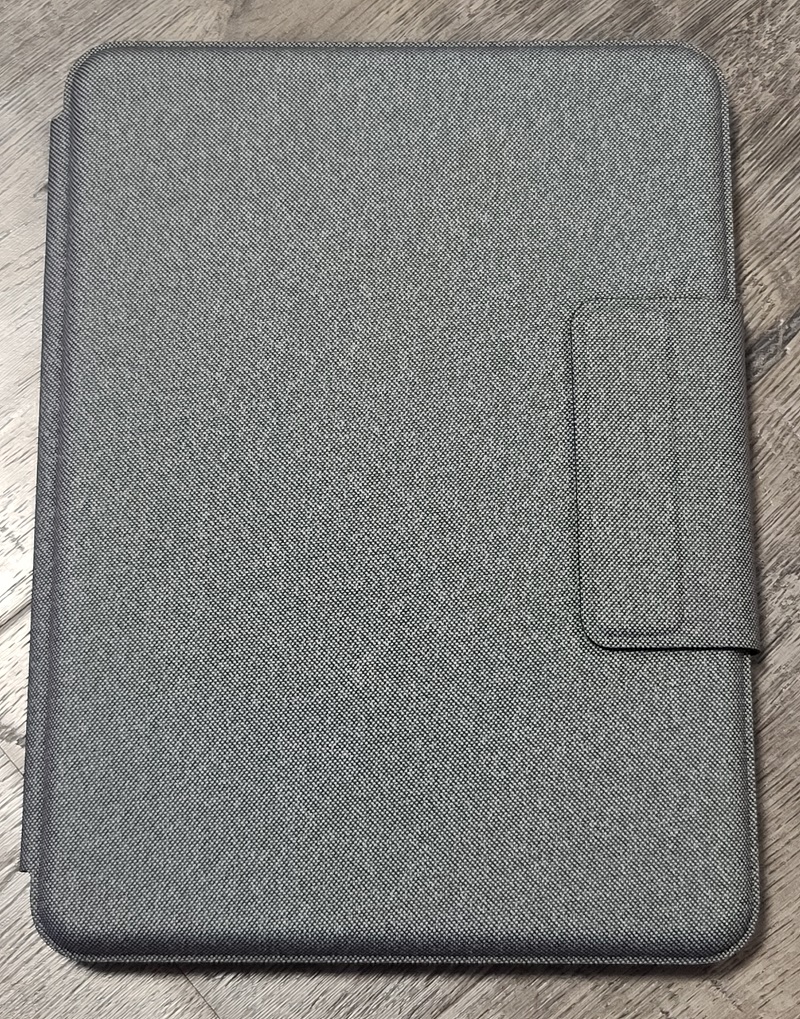 The Logitech Folio Touch has a fabric exterior (very similar to the Microsoft Surface tablet series keyboard cases), which is nice to the touch.  In my review period it didn't seem to pick up too much dirt, but that would be my biggest worry over time.  The magnetic clasp can be folded back out of the way while not in use, and attaches magnetically to the back side of the case so it's not flopping around.  It also doubles as a holder for a stylus like the Apple Pencil or the Logitech Crayon.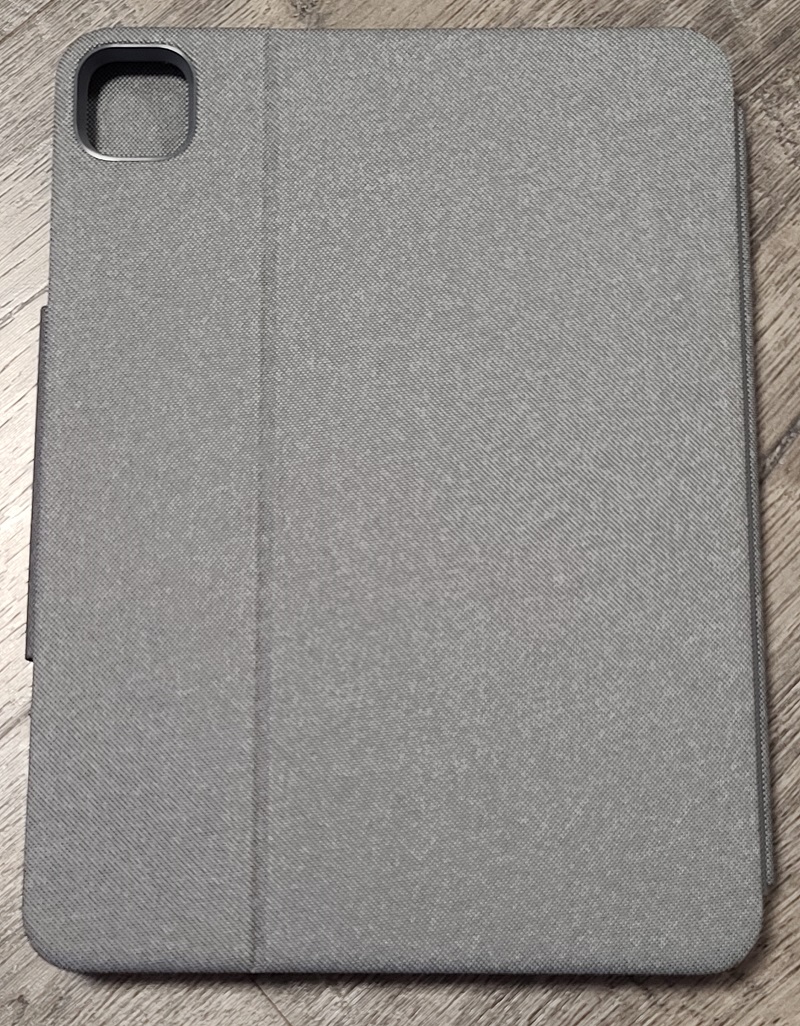 The camera cutout works perfectly for both the first and second generation iPad Pro 11 inch models.  The fit and finish was good all around, I couldn't find any defects on the fabric or burrs on the plastic.  The plastic parts do give a bit of a cheap feel to what would otherwise seem more of a premium device.  They're good quality plastic, but it does feel toy-like.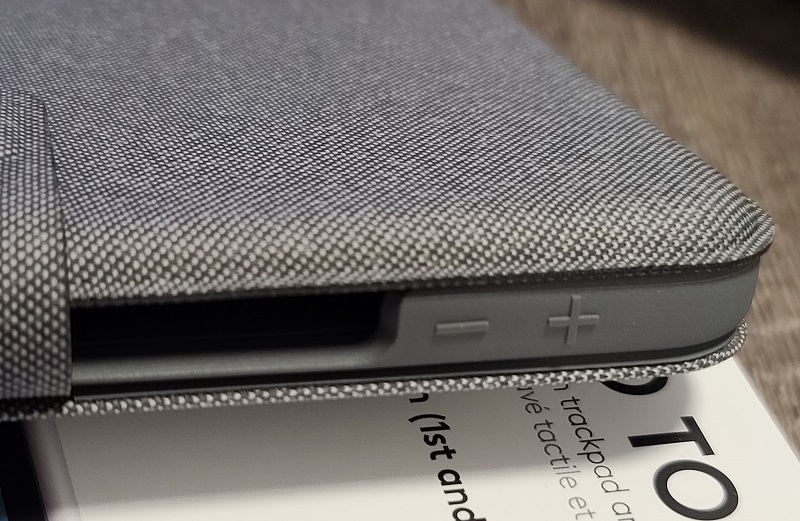 The volume buttons are easy to locate by touch (the power button is a bit harder to feel).  All feel like they are a bit harder to push than the native buttons on the iPad, but I quickly adjusted to giving it that tiny extra bit of pressure and it was a non-issue for me.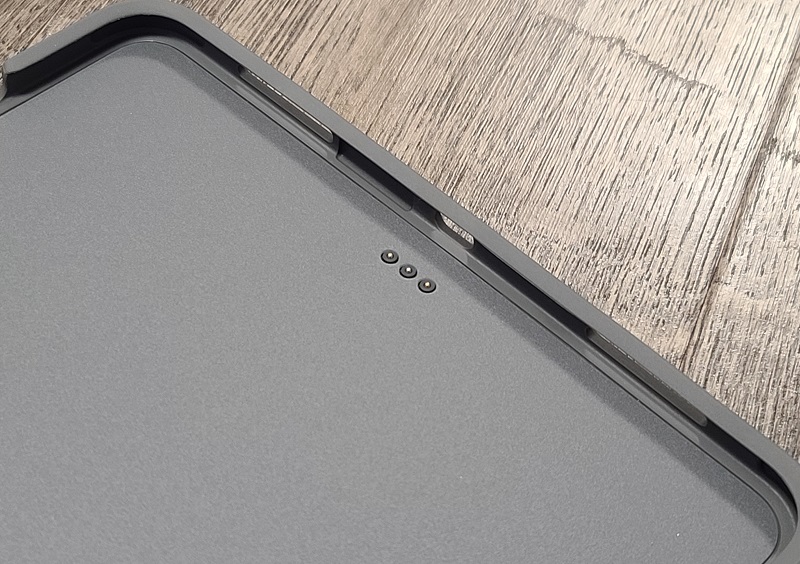 The smart connector pins deliver power to the keyboard and are the method of communication.  This is noticeably better than bluetooth based solutions that I've previously tried.  Not worrying about charging an extra device like a keyboard or having that charge fail while working is great.  The cutouts for the speakers and USB-C port were also excellent, I didn't have any issues with any of my USB cables (some cases are too thick and block some cables from connecting properly).
The iPad is easily pushed into this case, and is held quite securely once in.  To get it out, you have to peel away the soft rubbery plastic from a corner then pull it out.  I found the area by the camera to be the easiest, you can push a finger into the camera cutout to help push the iPad out.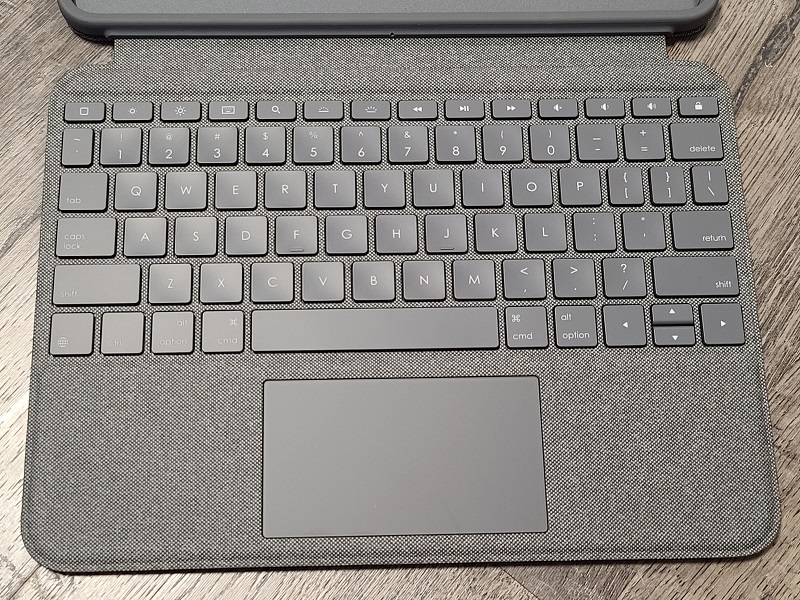 The keyboard itself is very similar to any Apple keyboard, with a few iPad-specific tweaks.  Judging from pictures, it's nearly identical to the Apple Magic Keyboard's layout, with the addition of a row of function keys (most of which I find very useful).   These function keys can adjust the iPad's brightness, the keyboard's brightness, media controls and volume, as well as a few other functions.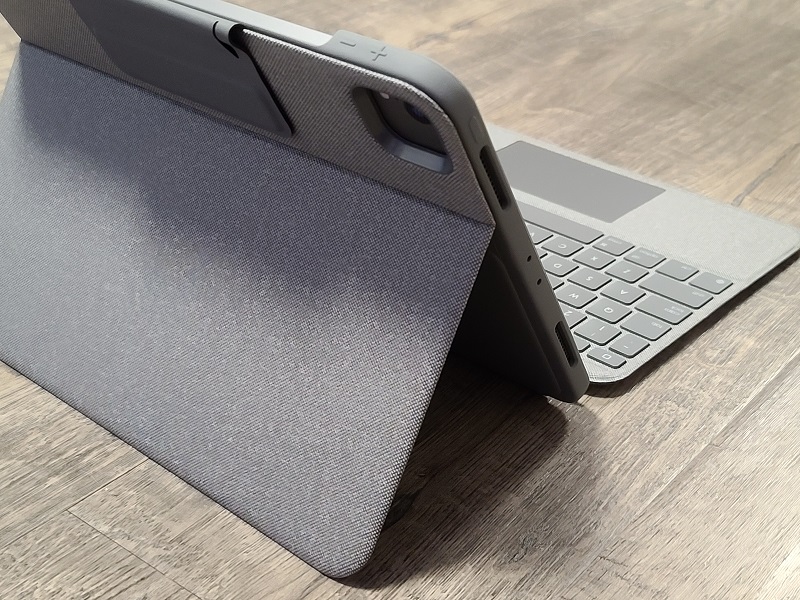 The kickstand on the Logitech Folio Touch is well-built and adjusts from nearly fully upright to nearly fully laid back.  I found it to be great for any work or entertainment scenario on a flat surface, but like the similarly designed Surface Pro series stands it could be less than ideal for couch use on my legs.  It generally worked fine, but the stand is where the weight of the iPad is carried, and often needed to be hanging over my knees to stay in place and balanced.  Overall, this worked well for me once I got used to it, but there were some positions that work with a laptop but won't work with the Logitech Folio Touch.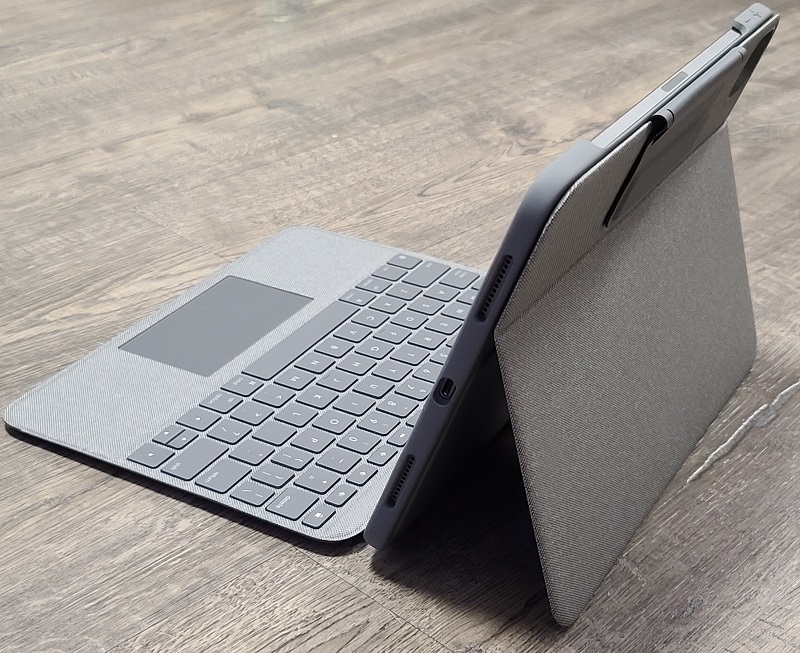 There is an open space on the top of the case where you can store/charge an Apple Pencil – they attach magnetically to the top of the iPad, so this is a nice touch.  If you charge/store the Pencil there, when you close the case, the magnetic clasp secures it which is very handy (I've had the Pencil come off in bags or backpacks more often than it's stayed in place on the iPad alone).
Installation and setup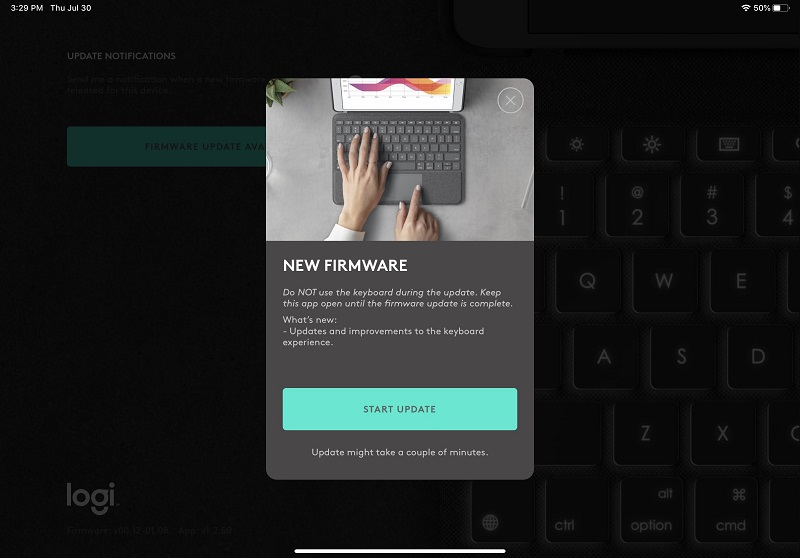 Setup for the Logitech Folio Touch was pretty simple.  First, I had to download the Logitech Control app from the App Store and insert my iPad into the Logitech Folio Touch device.  Upon opening the app, I was immediately prompted to update the firmware for the keyboard.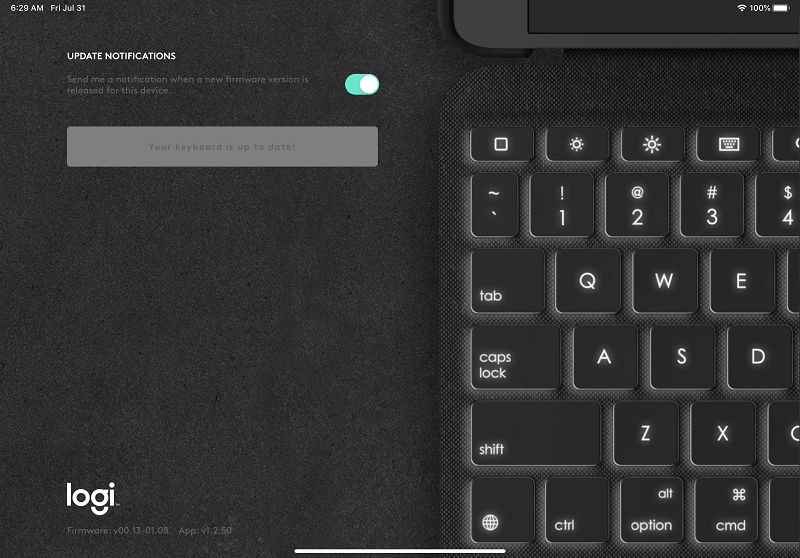 This update took only a minute or two, then I was able to start using the trackpad and keyboard.  Everything worked well out of the gate except for the keyboard backlighting, it turns out you have to be on iPad OS 13.6 to support this feature.  One iPad update later and everything was working as expected.  Trackpad control was very good, it felt native and intuitive, with no lag like on bluetooth mice I'd previously tested.
I didn't notice any significant difference to my daily battery use during the review period.  Given that most similar devices with built-in small batteries last for weeks, I'd bet the power drain is very minimal.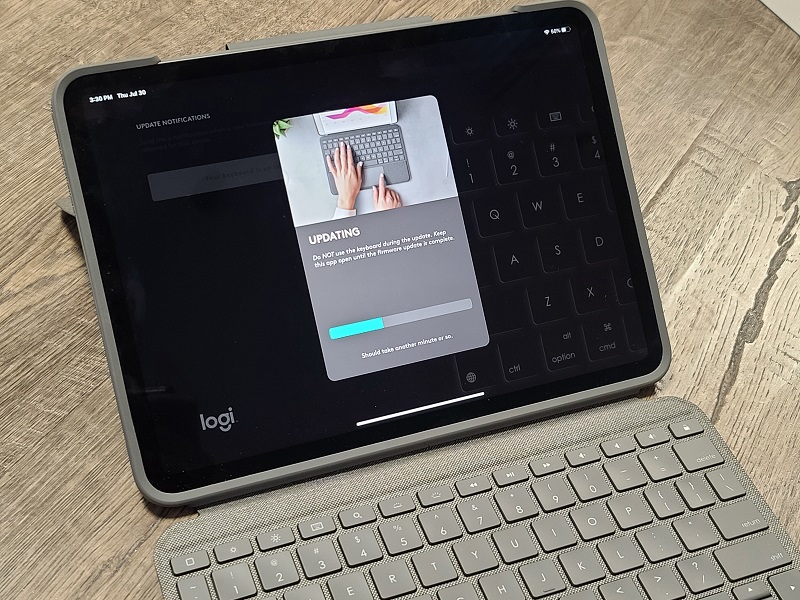 The keyboard itself has very shallow key travel (which is expected from a slim device/case), but I had no issues adjusting to typing on the keys.  They respond to light typing nicely (unlike my 2018 MacBook Pro, which you feel like you have to stab aggressively).  I typed most of this review on the Logitech Folio Touch and had no issues or complaints.  The function keys and the up/down arrow keys are tiny, but I had no problems using them when needed.  The keyboard deck is slightly recessed to avoid it touching the screen when closed.
The one minor annoyance I had was the top left key, which acts as a Home key.  This is in the location of the Escape key on a normal keyboard, and I often hit it while working to instinctively invoke a menu and was surprised every time to be yanked out of whatever I was working on and dropped back on my Home screen.  This was even worse when using remote desktop tools: I would forget I was on an iPad while controlling a Windows PC, and then hit Escape and get taken to the iPad Home screen.  Apparently I use Escape fairly often, but I'm learning to adjust to this Escape-less world and I'm able to get things done without it.  I hope that remote desktop tools can re-map this key in the future, but I have a feeling that Logitech has built the function key to always act as Home, not sure if 3rd party developers will be able to ever "fix" it.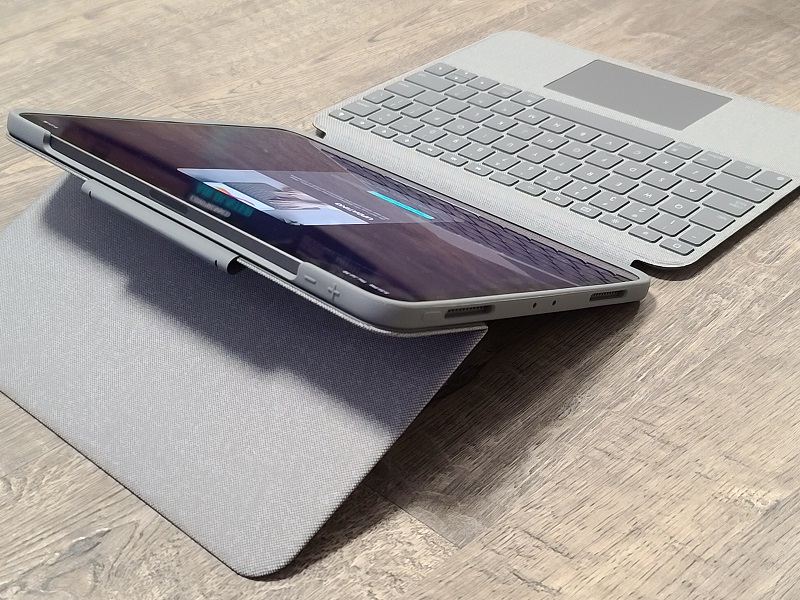 The Logitech Folio touch allows for other positions which basically involve folding the keyboard back partially (for watching media or using a stylus) or all the way (to simply use the iPad as a handheld ipad).  These all worked well, the keyboard and touchpad input reliably disables when folded back so you're not getting keypresses while moving or holding it in these positions.
The device doesn't add a lot of extra size or weight to the iPad.  I like that the case fully protects the iPad, but I'd also like a more minimalist version where it attached simply via magnets.  This may be wishful thinking, maybe the adjustable stand needs the solid wraparound case for leverage.  The iPad does feel about twice as thick with the case, but unlike other heavier cases (like the Brydge Pro) I didn't find myself removing it often for non-keyboard use.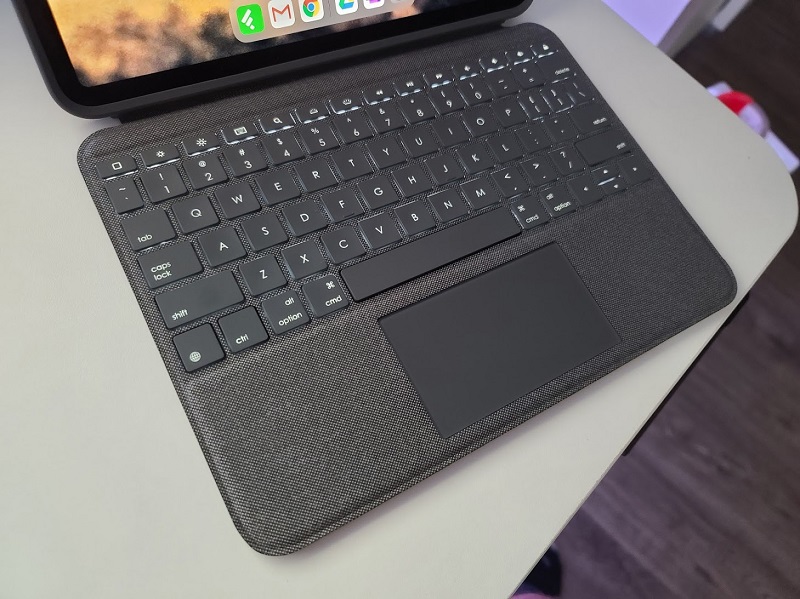 The backlighting on the keys is well done.  I found it to be evenly-lit and very adjustable (Logitech boasts 16 different levels of lighting).  In bright rooms, the keys are easily readable without the backlighting.  There are no RGB options here, only white.  The lack of backlighting is something that's turned me off to other various iPad keyboard options. I often use it on the couch while half-watching some rerun of Archer or Arrested Development, and even though I'm a fairly good typist it's always nice to be able to see the keys, especially when they have seldom-used function options.
The trackpad is good, with one slight complaint.  It is a good size, not as large as the most recent trackpads on Macbooks, but larger than expected for a small device.  I never felt cramped or out of room while using the trackpad.  Multi-touch gestures worked great every time.  The one slight issue I ran into is that the top-left corner of the trackpad can't be clicked.  I'm not sure if this is a design flaw or just my unit, and I only ran into it a few times, but it was strange when I did.  Every other part of the trackpad feels the same, with a solid click when pressed.  The top-left corner simply can't be pressed in at all.
What I like
Solid keyboard capabilities
Excellent trackpad
Versatile modes of use
Not a lot of bulk added
What I'd change
Trackpad top left corner unclickable
Attach via magnets instead of wraparound
Option to fully remove the magnetic clasp/stylus holder
Final thoughts
Overall, the Logitech Folio Touch is a great keyboard/trackpad case for the iPad Pro 11.  This device truly transformed my use of my iPad from a consumption-only device to a productive device.  The trade-offs (extra width and weight) to add a keyboard/trackpad/case/stand  are minimal.  The price makes it attractive as well, especially compared to Apple's offerings.  I heartily recommend the Logitech Folio Touch to anyone looking for a laptop-like experience with their iPad!
Price: $159.99
Where to buy: Logitech and Best Buy
Source: The sample for this review was provided by Logitech