We use affiliate links. If you buy something through the links on this page, we may earn a commission at no cost to you. Learn more.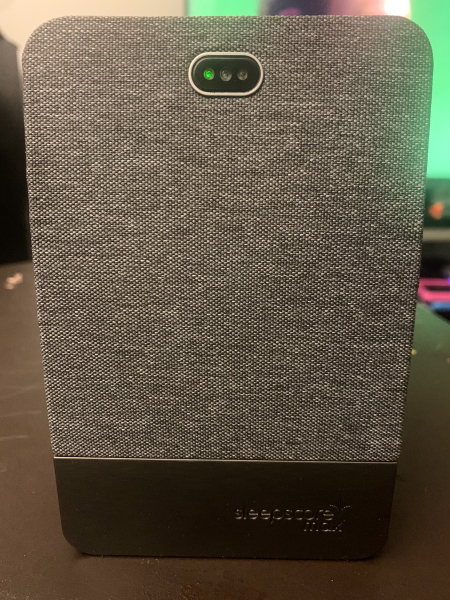 REVIEW – I have suffered from insomnia for so many years, that the feeling of just accepting it is quite normal. However, I am always looking for new ways to understand what the issues are when I am sleeping or attempting to sleep, and for suggestions on how to get better sleep. Enter the Sleepscore Max!!
What is it?
The SleepScore Max provides the most accurate sleep tracking next to clinical sleep measures, without the need to wear any trackers or devices. It provides science-backed advice and personalized sleep challenges to help you improve over time.
What's in the box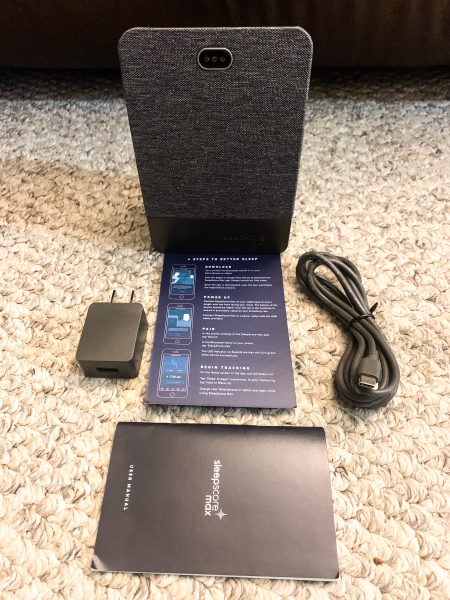 1 x Sleepscore Max
1 x USB Cable and AC Adapter
1 x User Manual and Directions Card
Design and features
Specifications
Input: 100-240VAC, 50/60Hz,0.15A
Output: 5VDC, 1A
Type: USB-Micro B
Current consumption (Max): 100mA (5V input)
Sensors: SleepScore By ResMed™ Sleep sensor, Temperature Sensor, Light Sensor
Weight (Max only): 0.55 pound (250g)
Dimensions: Height: 150mm, Width: 100mm, Depth: 55mm
Materials: Front cover – Fabric, Stand – Plastic, Back – Plastic, Base Front cover – Plastic
Bluetooth: Bluetooth 4.0
Features
SleepScore Max device comes with micro USB-B power cable and USB power supply
Every morning, the companion app allows you to view your sleep quality scores, personalized insights, and actionable advice
Compatible with iOS devices running iOS 10 and above, and Android devices running Android 6 marshmallow and above.
Features to help you fall and stay asleep
Smart alarm to wake you at the most optimal time in your sleep
Goal setting to keep you on track
Lifetime sleep history to see trends and improvement
On-demand Report for your Doctor
On the front of the device, there is a cover that feels like a cloth-like material. At the top of the front, there is an LED status indicator.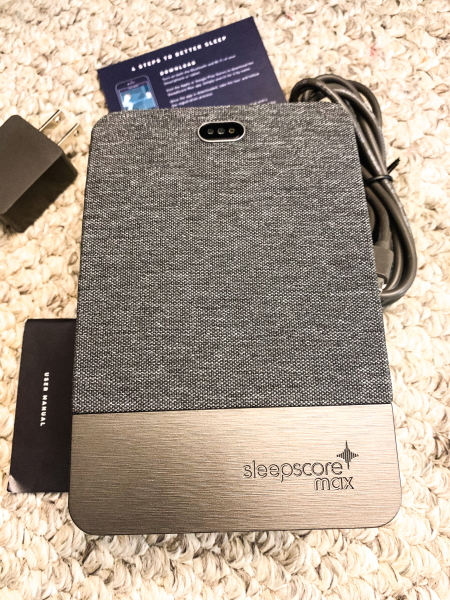 On the back of the device, there is the USB Power Port.

There are four holes at the bottom of the device, but I have not been able to ascertain what they are for but maybe they are sensors.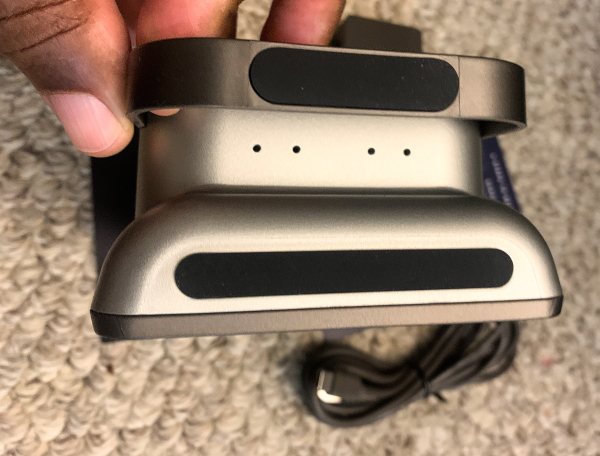 Performance
The first thing I did when I got the SleepScore Max was to follow the instructions and download the app making sure that both my Bluetooth and WiFi were turned on.
Important Note from Sleepscore:
Before you follow these set-up instructions, please ensure that
both the Bluetooth and Wi-Fi are enabled on your Smartphone.
Do not power up your SleepScore Max until instructed to do so.
Once you follow the directions via the app after you register, the pairing process is easy and much like most other devices that connect via Bluetooth. The placement of the device is very important: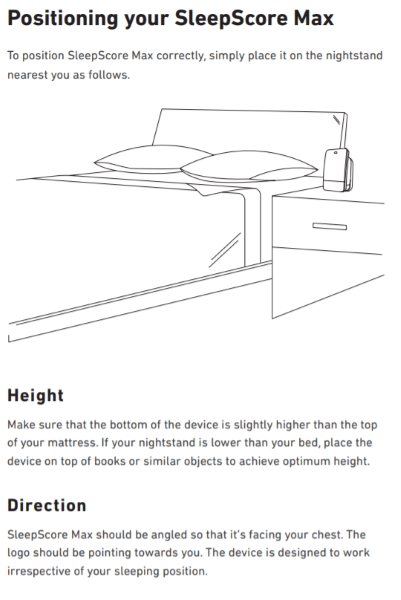 Once set up, you open the app and do the following: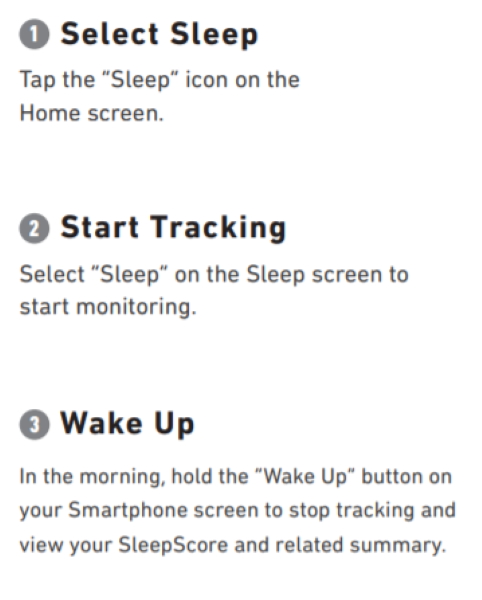 According to Sleepscore:
Sleep is divided into various stages: light, deep, and REM (Rapid
Eye Movement). A healthy combination of the three ensures a more
restful and restorative sleep.
Light sleep takes up the majority of your sleep time and is important
for the development of muscle memory. During this stage, your
breathing becomes more regular and shallow as you transition into
a deep sleep.
During deep sleep, many physical functions slow down, which is
necessary to revitalize both the body and the immune system. During this
stage, your breathing rate is slowest and the most regular.
Rapid Eye Movement or REM is the period of sleep in which you
dream the most. Eye movements are rapid and random, memories are
stored and the brain is regenerated. During this stage, your breathing
becomes more irregular as you process your dreams and your mind
recharges.
Screenshots from the app representing measurements:
The following is the sleep cycle screen and graph from the app. You can use your finger on the white circle to navigate through the cycle to see the stages of sleep that you experience for any specific night:
The Sleepscore Max allows you to track your sleep quality and provides tons of resources via the app and their website to help you with better practices in an effort to sleep better. I have had some nights of better sleep.
What I like
The design
The functionality
The information that the app provides
What I'd change
So far, nothing that I can think of
Final thoughts
The Sleepscore Max is a great device for tracking sleep habits and quality and the available resources allow you to try different approaches in the pursuit of better sleep. I have been able to study the information and I have been making progress. I am planning to post an update to this review if/when I am getting better and consistent sleep scores. I have tested many sleep-related devices and most have turned out to be gimmicks. However, I really like this device and have been using it non-stop. IMHO, well done!!
Price: $149.99
Where to buy: Sleepscore website and Amazon
Source: The sample for this review was provided by Sleepscore.