We use affiliate links. If you buy something through the links on this page, we may earn a commission at no cost to you. Learn more.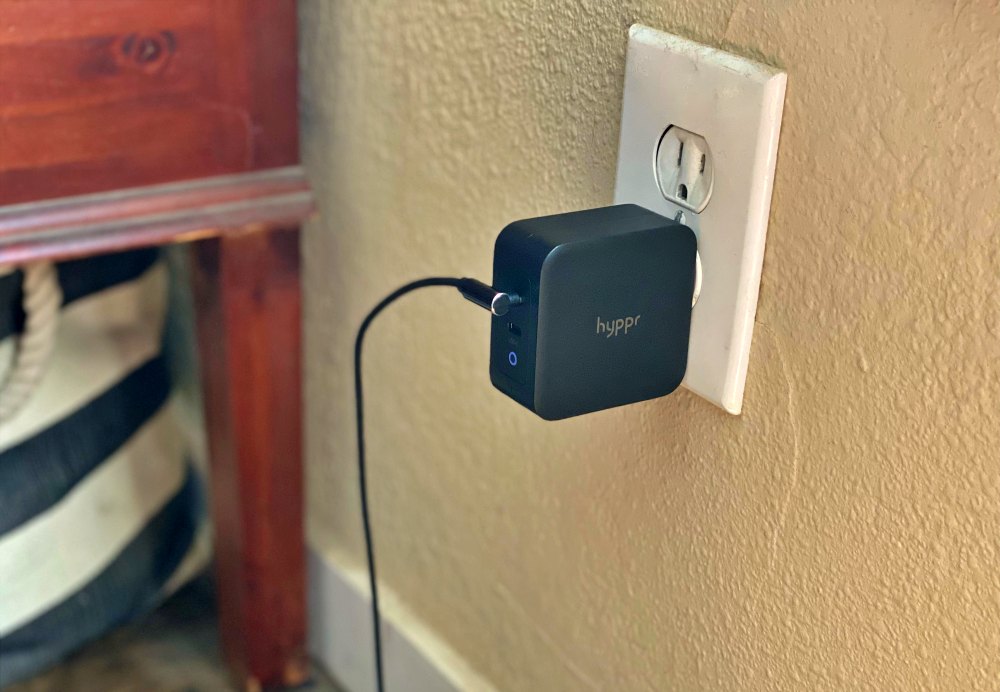 REVIEW – Why would you want to carry around the big charger that arrived in the box with your laptop when there's a smaller, lighter, faster option that has an extra port for charging something else? I don't know either. Let's look at the Hyppr Sonic 100w GaN charger and see if it stacks up to my hopes.
What is it?
The Sonic wall charger from Hyppr is a Gallium Nitride based charger with 2 USB-C ports, PD capability, foldable prongs and a small, lightweight form factor.
What's in the box?

Hyppr Sonic Wall Charger
User Guide
Thank you card
Hardware specs
Input: AC 100-240v | 50/60Hz | 2.5A max
Output: DC 5V, 9V, 12V, or 15V at 3A | 20V at 2.25A
Output: 100w max | 100w either port, or 45w if both in use (* see Performance for explanation)
Dimensions: 68 x 66 x 32mm | 197g
Warranty: 12 months | lifetime support
Design and features
The Sonic charger somewhat resembles most chargers, but almost perfectly square in height and depth. It sports the hyppr logo on both sides and all the certification markings on the bottom.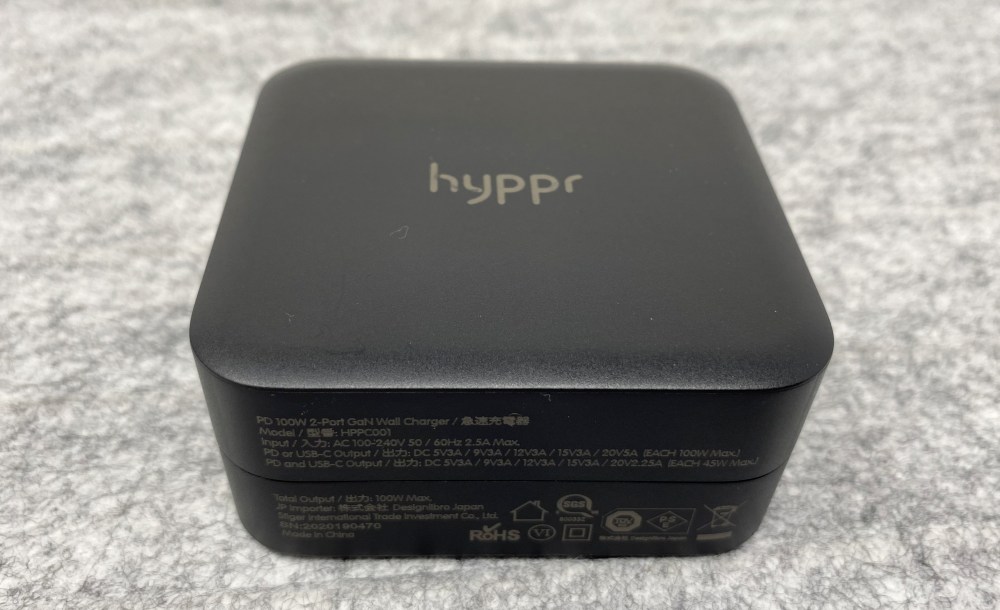 Small rounds on the edges give it a flatter feel while the width isn't much wider than the AC prongs that slightly peek above the corner they fold into.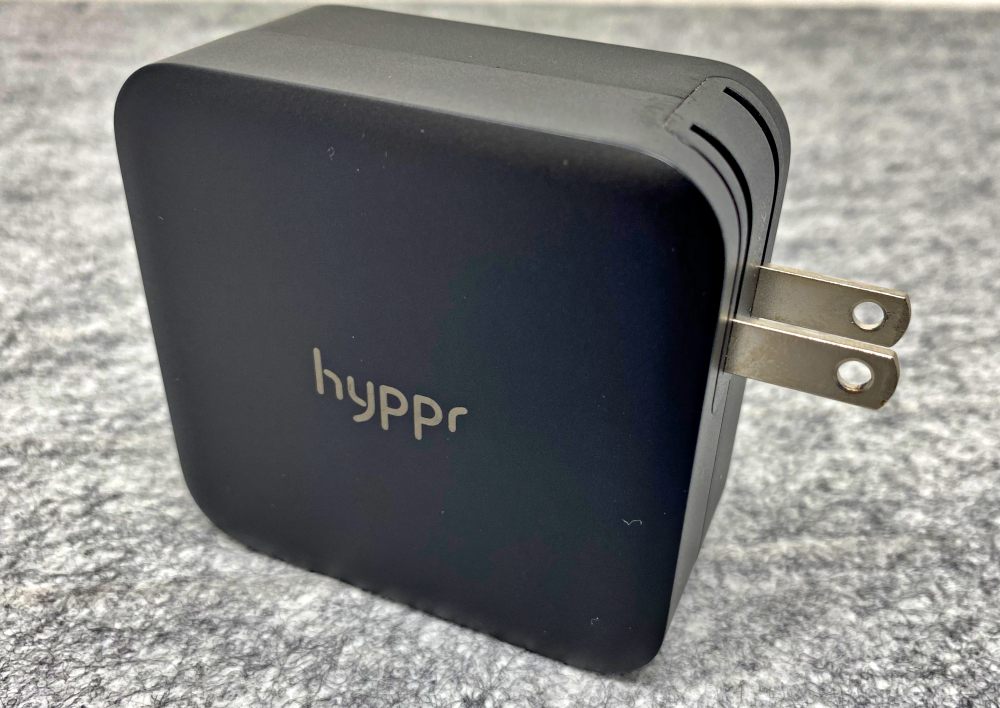 On the front there are two USB-C ports, the top of which has PD capabilities.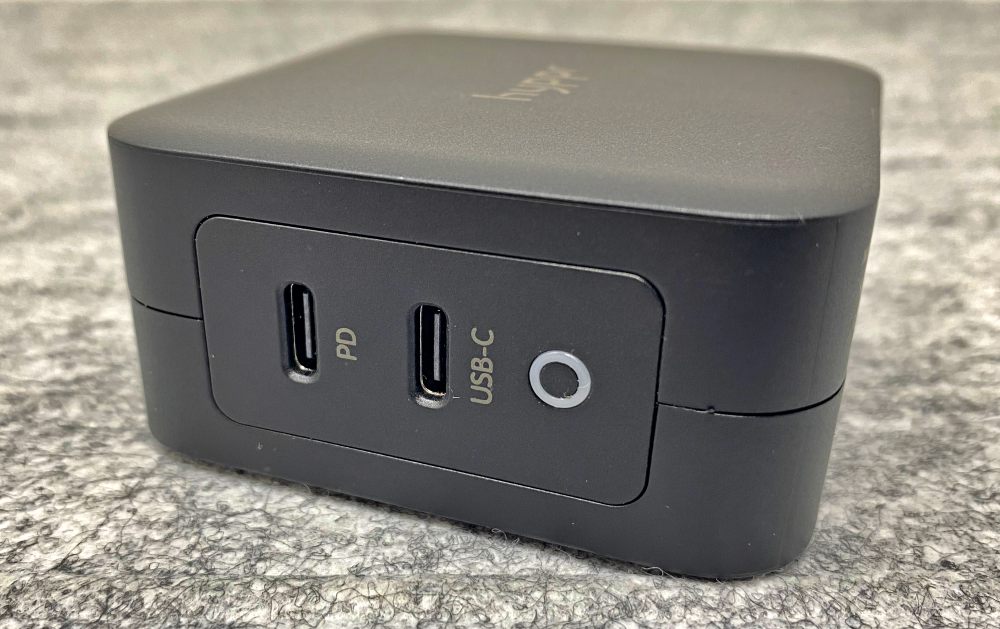 A single LED sits below the ports which glows a soft blue when charging or when first detecting power.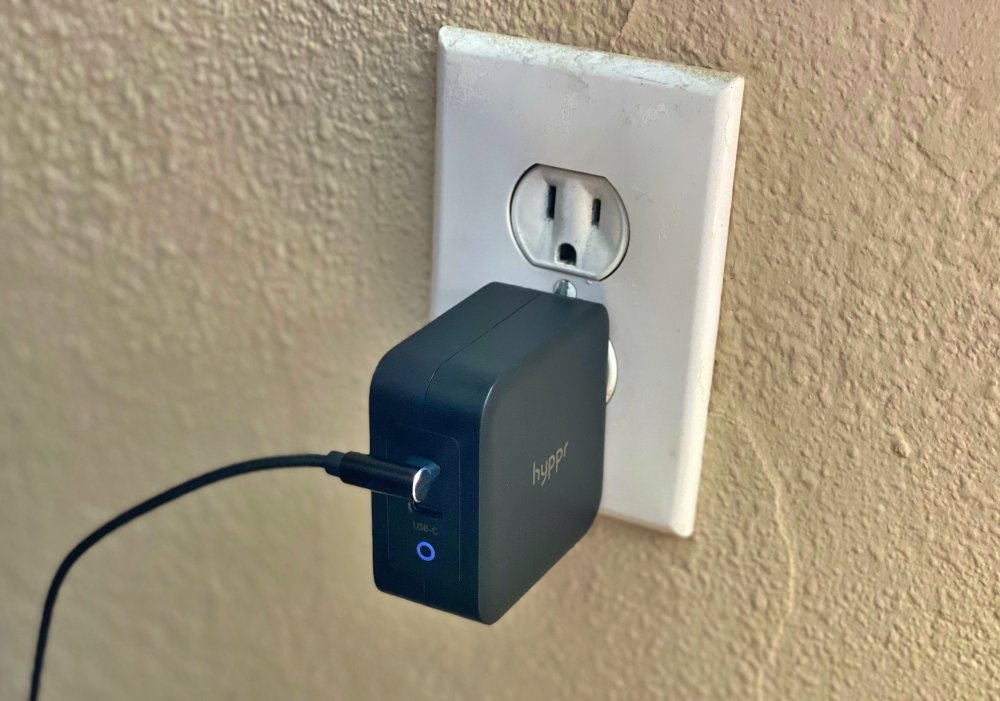 The finish is a light texture that feels good and you can pick either black or white should you have a preference.
Setup
With a 100w of power it's likely that powering a laptop will be a primary duty. All you'll need is to bring your own USB-C cable that works with your laptop, make the connections and plug it into the wall.
Either USB-C port puts out up to 100w so it shouldn't matter which you pick.
If you want to power a 2nd device, just supply that cable and make those connections. Just note that as soon as two devices are connected, each will receive a max of 45 watts so laptop charging will likely slow a little depending on your machine.
Performance
Wall chargers are pretty easy to take for granted. They just need to work and as long as they do that, you don't think about them much. Right now we're all just plugging in at our desks, but I'd like to dream a bit about getting out and going places. A smaller charger in the bag sure would be nice.
Here's the key features of the Sonic charger that stand out…
GaN composition: GaN stands for Gallium Nitride which is a semiconductor material that requires fewer components than silicon, can handle higher voltages and is more efficient meaning less heat loss.
Size: No one really wants to lug around the charger for their laptop. The stock ones that ship with your laptop range from acceptable to crazy large brick with unwieldy cables. The Hyppr Sonic feels downright petit even if it is a tiny bit thicker. Here's a pic of it between  61w and 87w Apple MacBook Pro chargers for reference.

Heat: The Hyppr was noticeably cooler to the touch than some other chargers I've used including the one that shipped with my MacBook Pro 13″. That's a good thing, especially if you're packing up and putting your charger right into a closed backpack.
2 USB-C ports: Power your laptop and a second device, or heck, even two laptops. (Both of those MacBook chargers above have a single USB-C port.)
Choose your own Cable: The benefit of non-tethered power blocks is you can pick your own cable. I really dig USB-C cables with 90º connectors, especially for active use on an iPad or laptop side to point the cable towards the rear.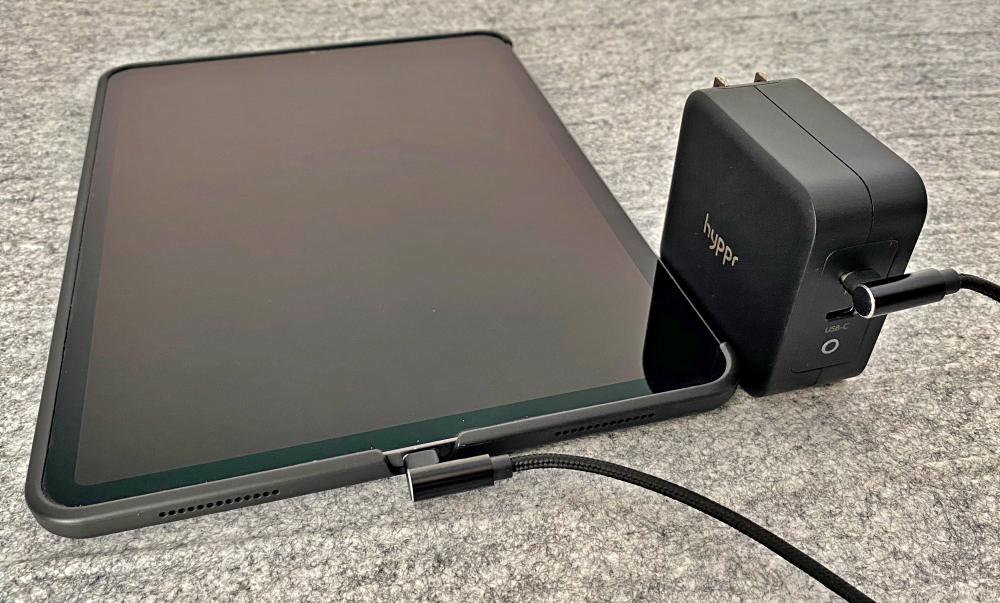 I really only pondered over one thing on the Sonic charger and that's why they bothered to label one port PD and the other USB-C when the output is the same for both according to their manual. In the end it doesn't matter. This thing works.
Update: Hyppr's spec states either USB-C port is capable of 100w max, but 45w if both are in use. I picked up a USB tester to be able to see the draw while in use. I was able to confirm that my Lenovo laptop was drawing 19.7v and between 2.25-2.4A. My MacBook Pro read 19.8v and between 0.95-2.9A averaging in the 1.6A area. The wattage range in these cases translates to 18.8w up to 57.42w. These tests read the same regardless of which port I used on the Hyppr Sonic.
When I connect a second device to a 2nd port on the Sonic (didn't matter which) the Lenovo showed the most obvious change . The 19.7V remained unchanged while the amperage dropped to exactly 2A and no longer fluctuated. That's 39.4w and pretty close to the 45w that Hyppr calls out when two devices are connected. The Macbook Pro amperage also dropped below 2A, but continued to fluctuate.
What does this really mean? If you have a power-hungry device that wants up to 100w then that's the only device you should connect to the Hyppr Sonic if you want it to charge at it's maximum speed. As soon as you connect a second device, the Sonic takes protective measures and limits the output to 45w max for each port.
What I like
Small size
Dual USB-C ports
Bullet 3
What I'd change
Final thoughts
I'm going to restate that first paragraph word for word here. "Why would you want to carry around the big charger that arrived in the box with your laptop when there's a smaller, lighter, faster option that has an extra port for charging something else? I don't know either." Leave your stock charger at your desk and put the Hyppr Sonic in your EDC kit. 'Nuff said.
Price: $39.99
Where to buy: Amazon
Source: The sample of this product was provided by Hyppr