We use affiliate links. If you buy something through the links on this page, we may earn a commission at no cost to you. Learn more.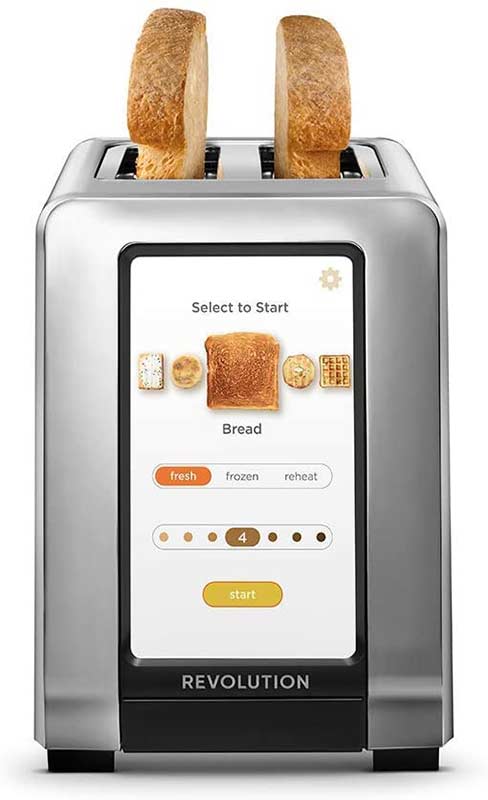 NEWS – During one of my daily gadget surf sessions, I happened to see this toaster on Amazon and it made me scratch my head and wonder why toasters are becoming kitchen status symbols. That's right, forget about having the latest and greatest smartphone Gadgeteers, a shiny new toaster is the device you need to make your friends jealous.
We've recently featured the IKICH Long Slot Toaster and the Wolf Gourmet 2 Slice Toaster. The IKICH is about $50 on Amazon and the Wolf Gourmet is a staggering $333 on Amazon. Wait, what?! Yep, it's true. And now there's another toaster in that same price range that I want to show you. It's the Revolution Cooking R180 smart toaster for $269 on Amazon. Why is it smart? It features the InstaGlo heating system which promises goes to full heat in only 2 seconds. It also has a touchscreen controller on the front that replaces old fashioned browning level knobs and doubles as a clock when the toaster is not in use.
But $270? Really? I just don't get it. I still have the same 4 slot toaster that I bought for my first house back in the late 80's! I bet I spent less than $20 for it.
The only way I would ever spend that kind of money on a so-called "smart" toaster is if it had a camera inside that would let me see the toasting in action because I never trust the settings on a toaster to be accurate.
What about you, does the Revolution Cooking R180 smart toaster trip your gadget trigger? If so, head over to Amazon and check it out. Don't forget to order some bagels while you're there too.