We use affiliate links. If you buy something through the links on this page, we may earn a commission at no cost to you. Learn more.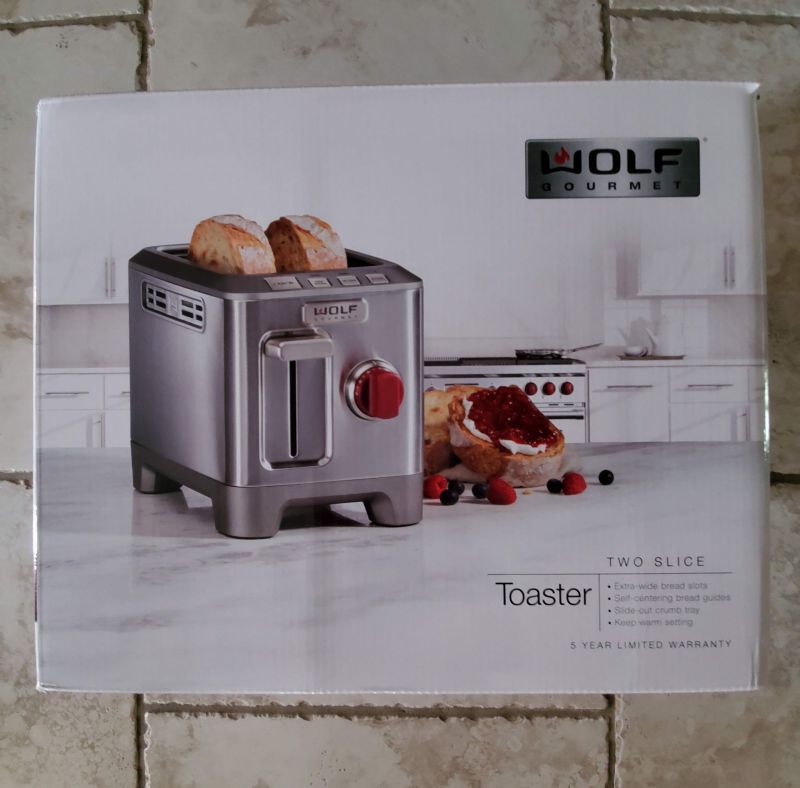 REVIEW – Pre-COVID, my breakfasts during the workweek usually consisted of a protein bar, drive through breakfast taco, or nothing at all.  Since I have been home, I have been trying to vary my breakfast habit and cook a bit more.  No, I am not on any kind of Keto diet as I don't think I could ever give up bread, but I do enjoy some scrambled eggs and a single slice of toast, or a bagel with light cream cheese.  So when the chance came to review the Wolf Gourmet 2 Slice Toaster I jumped at it thinking it would really step up my bagel and toast game.  Let's see how it did!
What is it?
The Wolf Gourmet 2 Slice Toaster is exactly what it says it is.  It is a two-slice maximum toaster.
What's in the box?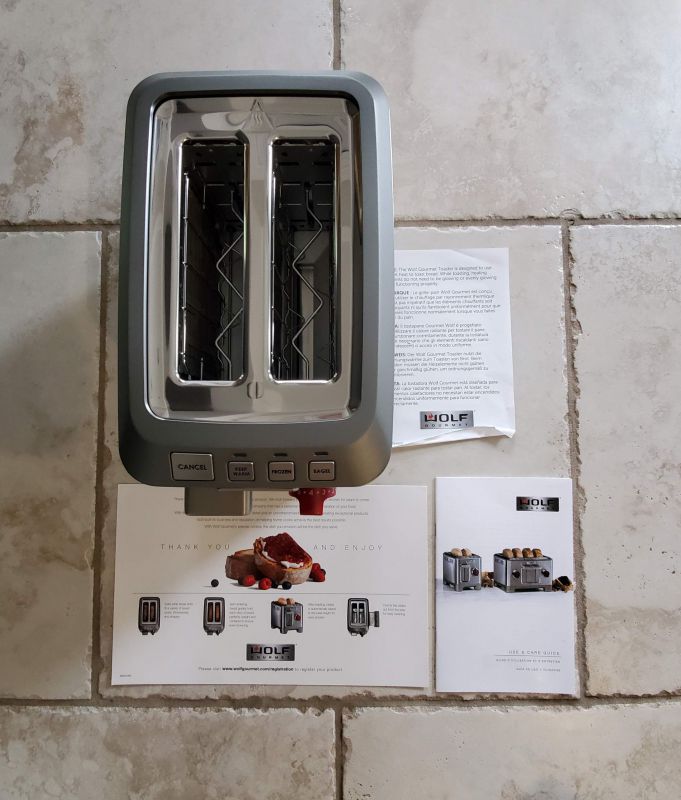 Two slice toaster
Small single piece of paper saying the toaster uses radiant heat and that while toasting, not all heating elements may be glowing.   More on this later.
A thank you card for purchasing the toaster
Owner's use and care guide
Hardware specs
Shade selector dial with seven settings allows for precise control of toast color from light to dark.  Settings are 1-7
Extra-wide slots accommodate a full variety of bread.
Self-centering bread guides toast thin or thick slices to ensure even browning.
After toasting, bread is automatically raised to the ideal height for access.
7″ x 12″ x 8 1/2″ high.
6.5 lb.
900W
Keep Warm setting runs for three minutes after toasting is complete.
Bagel setting toasts the inside and warms the outside.
Frozen setting for one-step toasting of frozen bread, waffles and French toast.
Bread lifters offer quiet operation.
Slide-out crumb tray for easy cleaning.
Stainless-steel and die-cast construction.
This product is intended for use in the United States and Canada and is built to United States electrical standards.
Made in China.
Design and features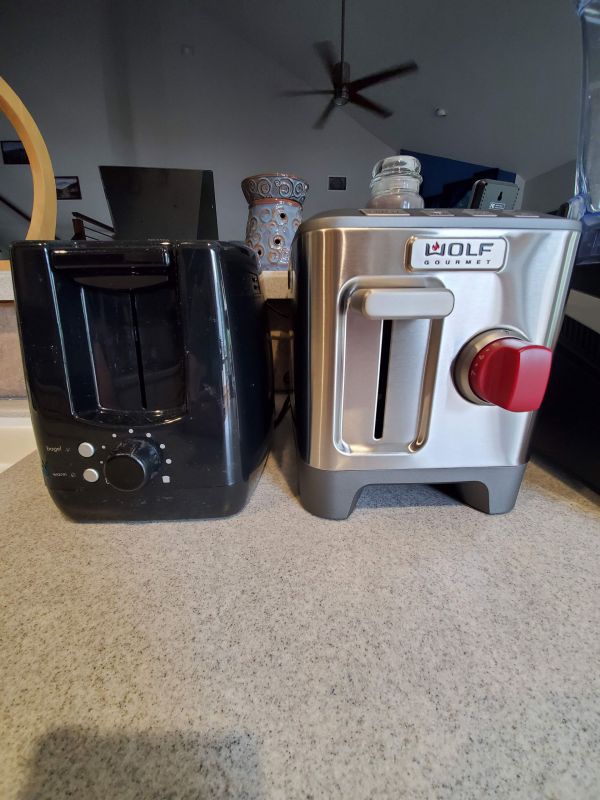 I wanted to start out this review by showing you a picture of the Wolf toaster next to our KitchenAid two-slice toaster.  Right away you can see the Wolf is a bigger appliance.  It really looks like it could be sitting in a commercial kitchen.  If your kitchen has a lot of stainless appliances, this toaster would fit right in.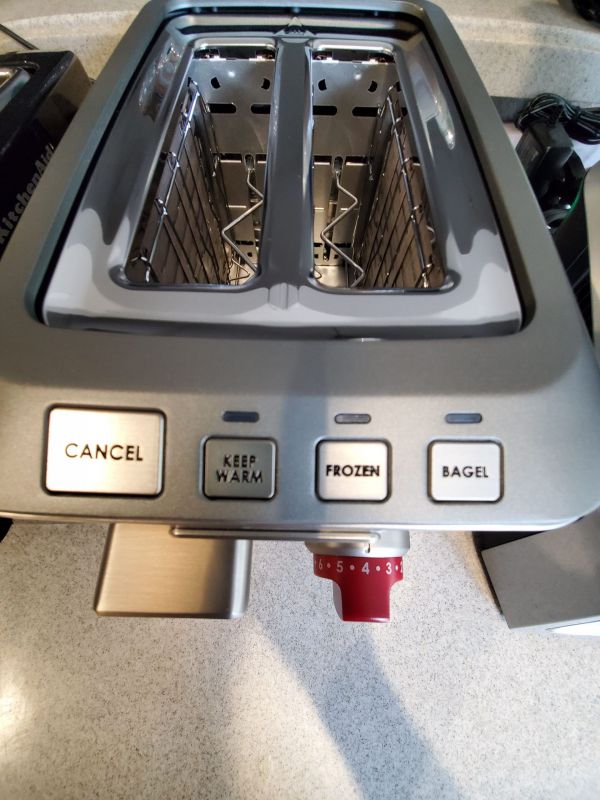 I took the picture above to show you the buttons on the top of the toaster along with a view of the bread slots.  The toaster is wider than my existing toaster.  That is because the toasting slots themselves are wider than my old toaster.  Bagels in my old toaster had to be forced down to get them to toast.  No matter what I put in this toaster, it all seemed to fit with no issues and slid down on its own when I pushed down the lever.
The first button on the left is the cancel button.  Pressing that, stops the toaster and ejects the bread to a level in which you can easily pull it from the toaster.  The keep warm button is a nice feature in that when it is pressed before or during toasting, it will continue to keep your bread warm even after the toasting is done.  I find that very handy if I am continuing to cook other things.  It beeps at you about every 15 seconds to remind you that you have something in the toaster.  The frozen button can also be selected at any time and tells the toaster you have put a frozen item in the toaster.  The last button for bagel tells the toaster to only turn on the inside facing heating elements.  This prevents the outside of the bagel from getting toasted.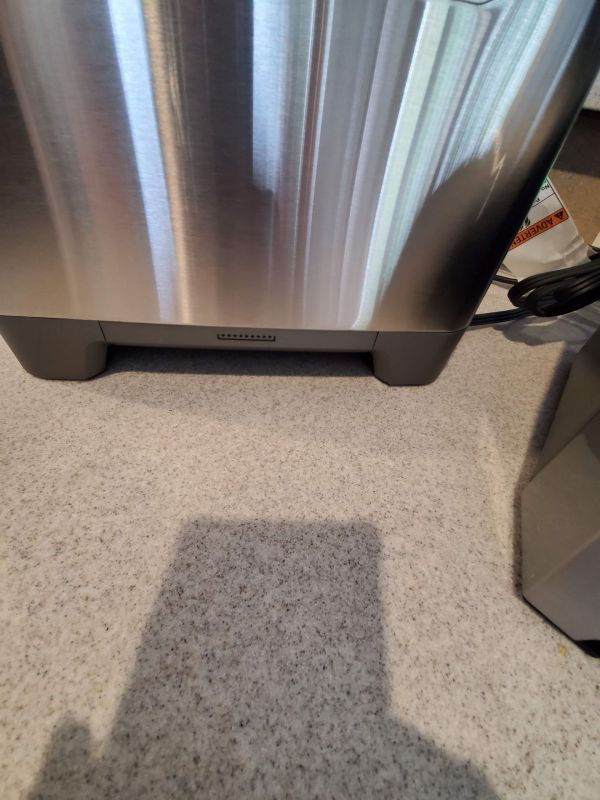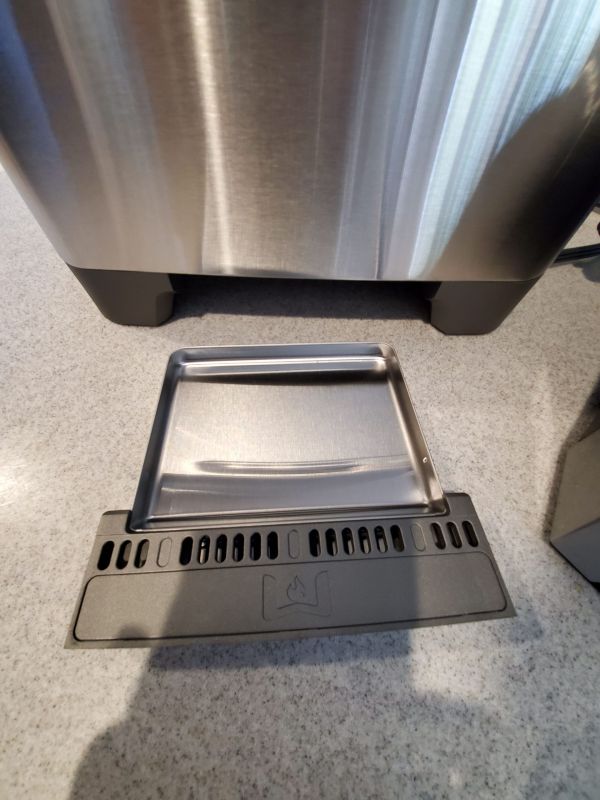 The picture above is showing the right side of the toaster as you face the front.  On the bottom right is the crumb tray.  It easily slips out and in to allow for cleaning out of the bread crumbs.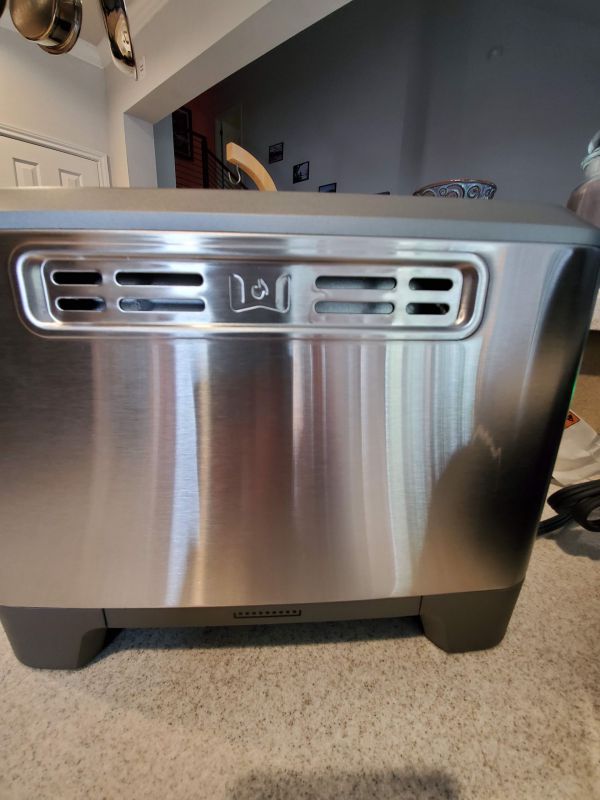 This picture is showing the air vents that are on the top of both the left and right sides of the toaster.  Hot air comes out, but not hot enough to damage anything sitting on the side of the toaster.  I had a blender to the right of the toaster and it was never impacted by the vent.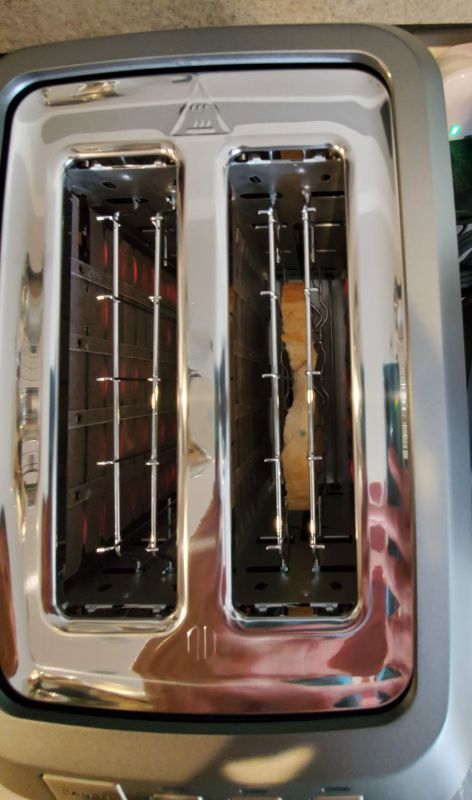 I took the picture above to show you have the bread slots squeeze in to hold slices of bread.  This picture has a very thin slice of sourdough bread and it does have it nicely centered within the toaster.
Performance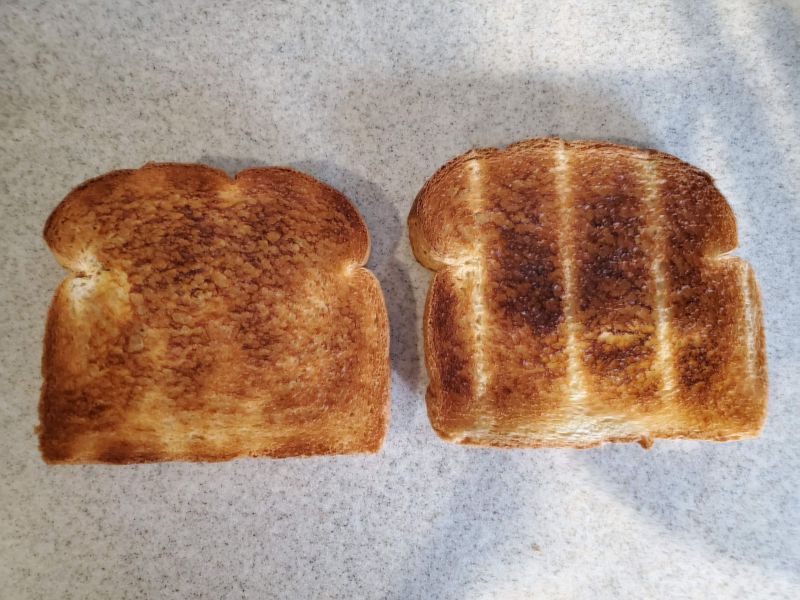 Now we come to the part of the review where I am a bit disappointed.   I will be the first to admit that due to the cost of this toaster, I expected the best-toasted bread ever!  What I got, however, left me wanting.  The first picture above is a regular piece of toast.  The toast on the left was toasted by our old toaster and the one on the right by the Wolf.  Reading the manual, it says I can use any value from 1-7.  I put it on 5 like my old toaster.  You can see that it did not toast as evenly as my old toaster.  You can also see where I had a couple of 'hot spots' on the bread.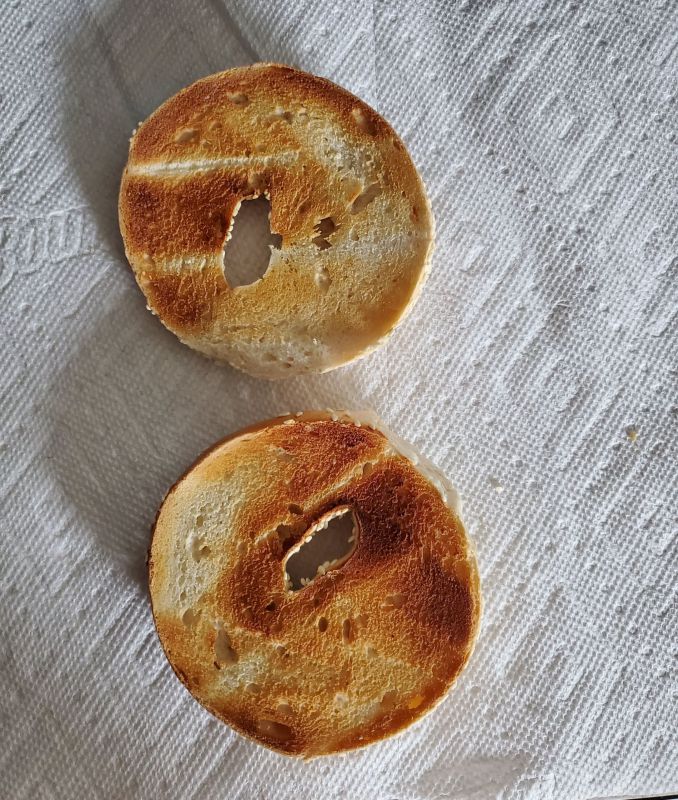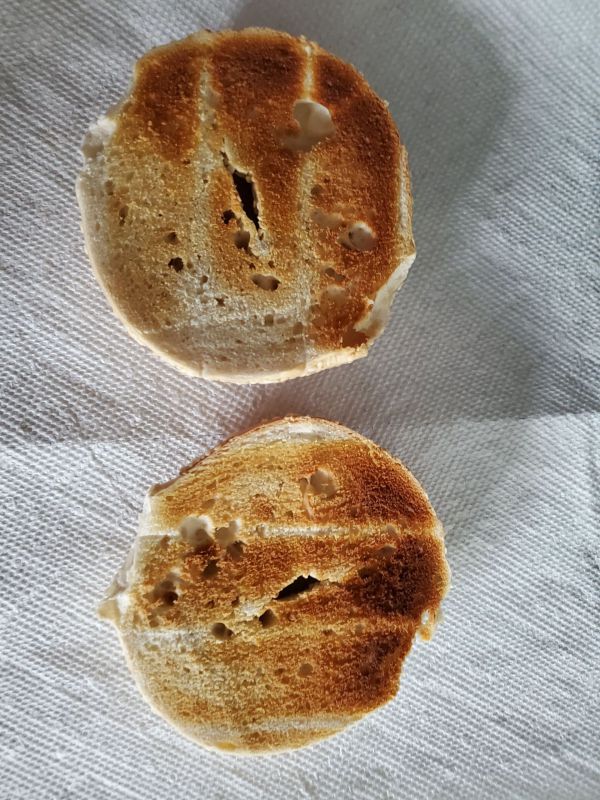 I decided to try some bagels next.   These pictures are of two different bagels after toasting.  The user manual mentions using settings 5-7 for bagels.  I found level 5 way too dark for my taste, and these pictures are with bagels at level 4.  You can see how unevenly they toasted.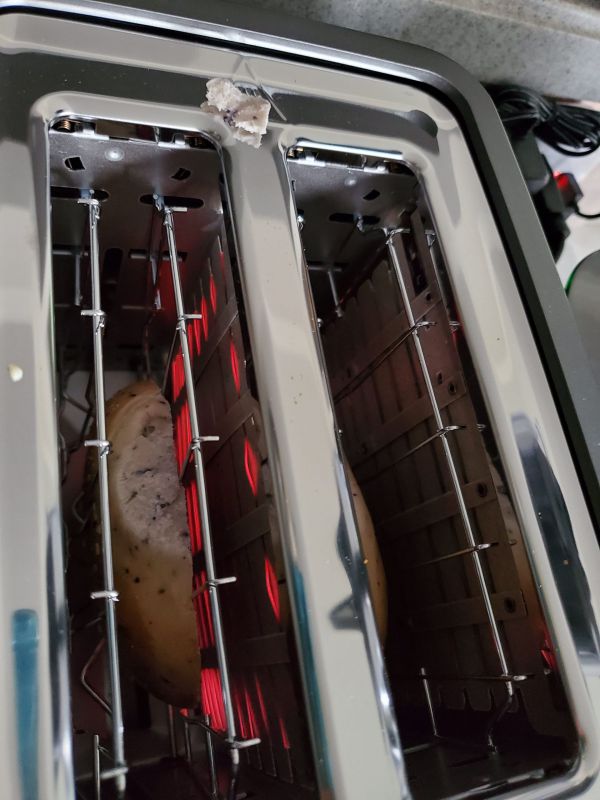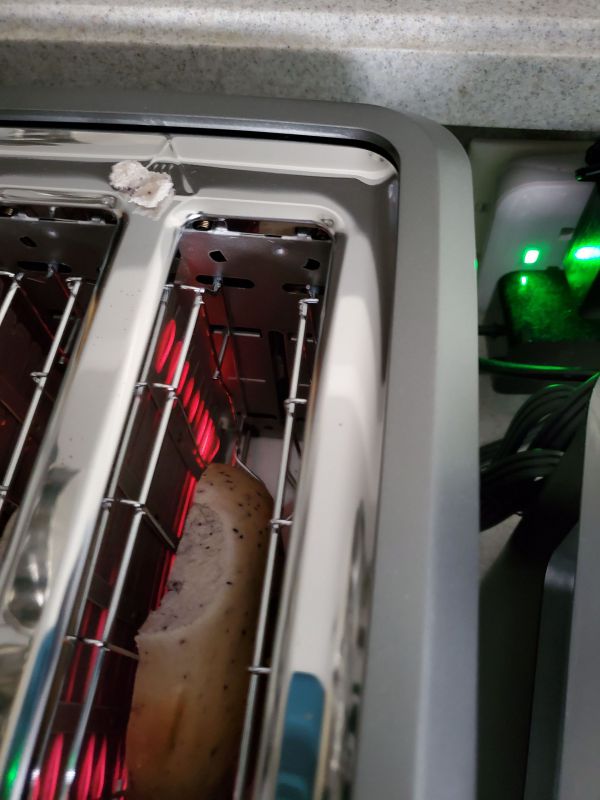 I took the above pictures to show you how the heating elements glow.  The bagel setting is on, so only the inside elements are heating which is how it is supposed to work.  If you notice on the right picture, the elements in the top and middle do not appear to be heating up.  Remember that small piece of paper in the 'what's in the box' section?  It says that is normal.  However, I did find that the spots where the heating elements are not glowing are where the bagel was less toasted.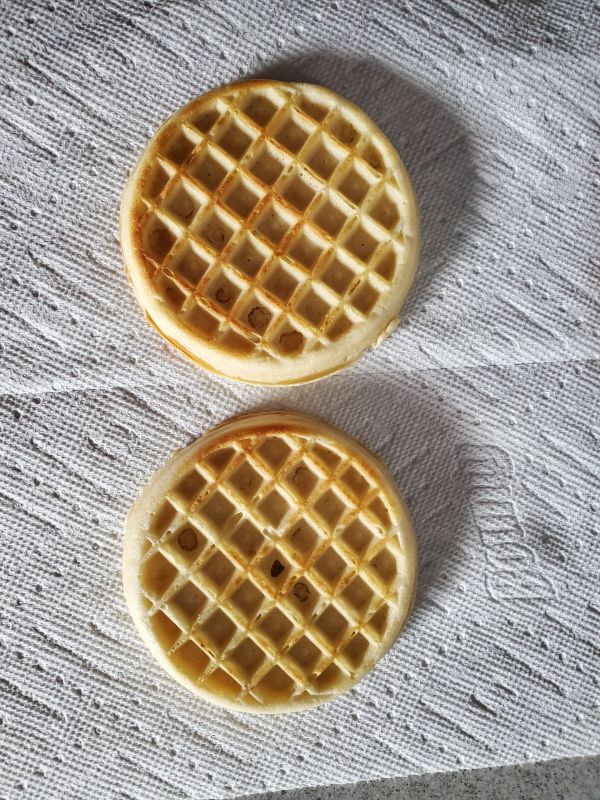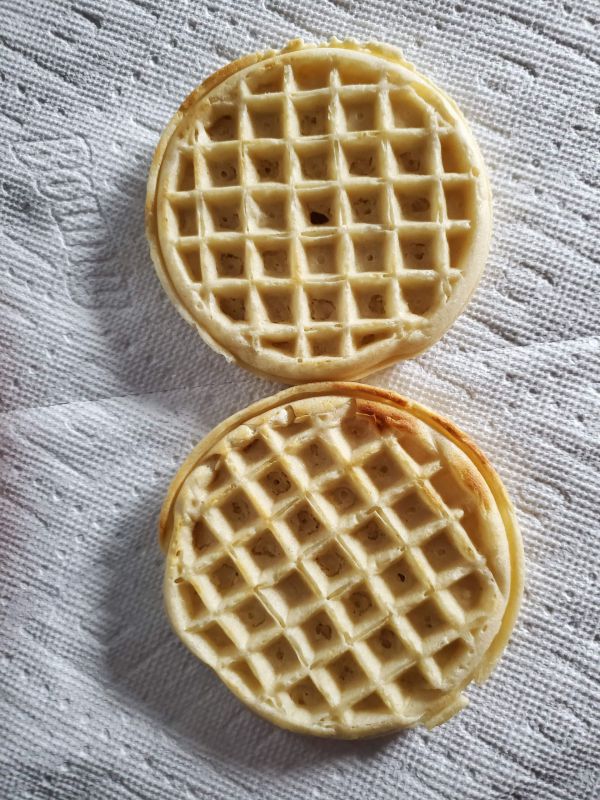 I tied the frozen setting with some frozen waffles of a popular well-known brand.   The first picture is one side and the second is the backside.  I had the frozen button lit and the bagel button was off.  Notice how one side was significantly toasted more than the other.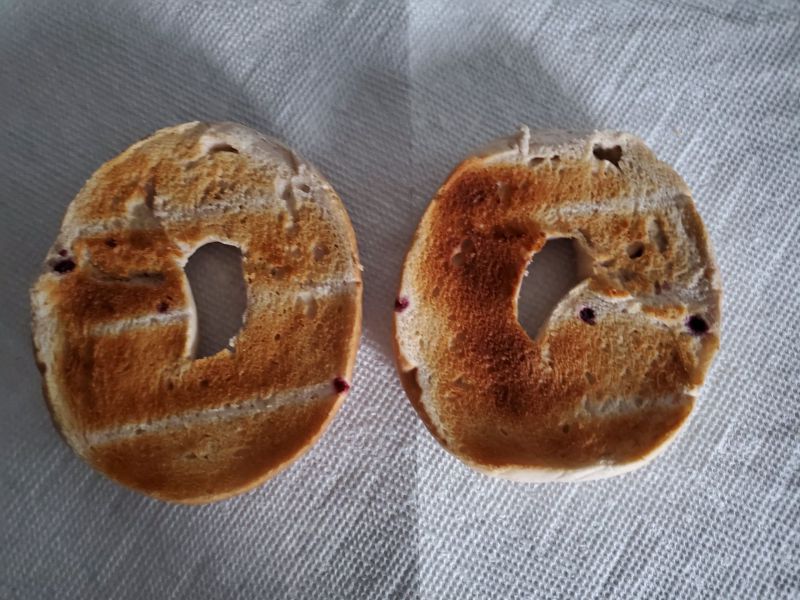 I am noticing over time that the toaster seems to be getting a bit more even in its toasting.  It may require a break-in period.  I would also like to note, that bagels are often uneven with some parts being wider and thicker than others.  That could have caused some of my uneven toastings.   I will be sure to update this review in about six months and let you know if it has been toasting more evenly.
What I like
I love how it brings the bread up to the proper level to be removed.  My old toaster would sometimes fail in that aspect.
It really is a gorgeous appliance
It has really wide slots to handle large pieces of bread.
The keep-warm and frozen features are pretty nice.
What needs to be improved
At least initially, the toaster does not seem to do even toasting.  There are some hot and cool spots on toast and bagels.
Really expensive for a toaster.
Final thoughts
If you are looking for an appliance that will make you look like you know what you are doing in the kitchen and have the money to do it, this is the toaster for you. (Think Porsche in your garage!)  However, if you are more practical and want a good toaster without breaking the bank, I think there may be better choices out there for you.  I honestly do not think I would spend my own money on this particular toaster.
Price: $299.95
Where to buy: Williams Sonoma and Amazon
Source: The sample of this product was provided by Subzero – Wolf