We use affiliate links. If you buy something through the links on this page, we may earn a commission at no cost to you. Learn more.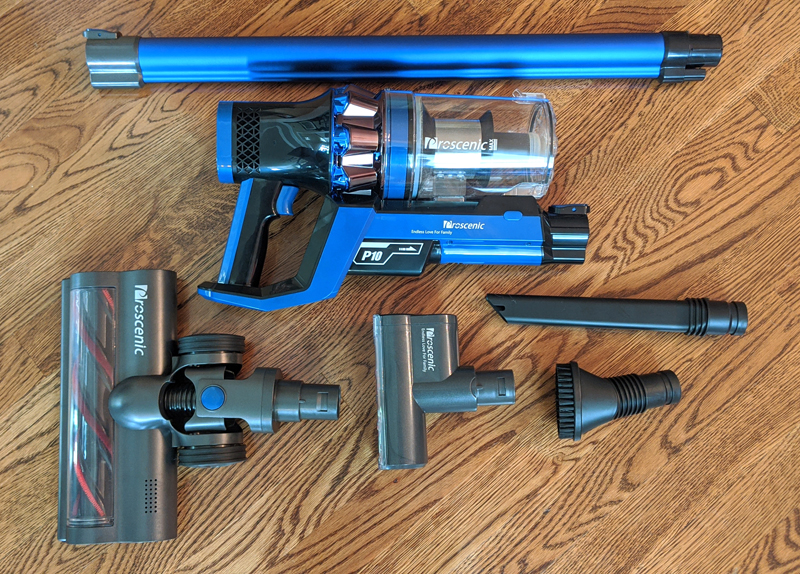 REVIEW – Our house, is a very very very fine house. (Sorry, great CSN&Y song. You can hear it in your head right now, am I right?)  Our house is also a very dusty house with a dog that sheds constantly.  So we go through vacuum bags regularly for our upright vacuum and we have to purchase a new hand-vac at least once a year because we wear them out by using them so much.  So the Proscenic P10 was attractive to me because it purported to be an all-in-one solution for both hand-vac and full-size vacuum.  We put it through the gauntlet and here is the review.
What is it?
A cordless vacuum that can be used as a hand-van or as an upright unit, depending on your need.  It comes with multiple attachments as a has a unique touchscreen interface to control it.

What's in the box?
1 Main body
1 Long tube
1 Floor brush head
1 Crevice Nozzle tool
1 Mini motorized tool
1 Round brush tool
1 Manual
1 Power Adapter
1 wall mount for charging
Here are some various configurations:





Hardware specs:
Product Dimensions:                     47 x 10 x 8.6 inches
Item Weight:                                     8 lbs total (main unit is 3 lbs)
LCD touch screen display:            check the battery level, error codes and suction modes, and adjust suction powers
Battery:                                                1 removable Lithium ion battery
Charging time:                                  4-6 hours
Runtime:                                             from 12 min to 40 min, depending on power mode
Dust container capacity:               22 oz.
Adjustable Power Modes:           Multiple suction modes to choose from, max mode: 22000 Pa, Lowest mode: 6500 Pa
4-Stage MSF Cyclone Filtration: metal pre-filter, cyclone separation, high-density sponge, High-efficiency HEPA, filter and capture 99% of the microscopic dust.
Warranty Description:                   12 month warranty for quality related problems.
Design and Features
So if you are vacuum connoisseurs like we are, you are pretty picky when it comes to picking a vacuum.  You look for certain things.  For example, it is pretty important to have an upright that has an attached tool for quickly sucking up stuff in a corner without having to run get the hand-vac.  You want it to be able to go under furniture pretty easily.  You also want to be able to empty the dust bin easily and quickly without much mess.  For hand-vacs you want them to have strong suction, be very light, and a wide enough mouth so you don't have to make too many passes to pick up whatever you are picking up.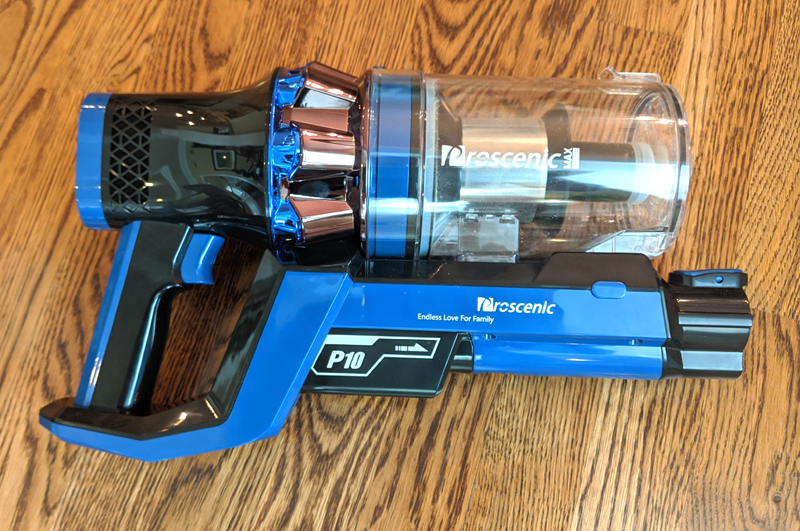 So when I look for all those things in the Proscenic P10, I am both pleased and disappointed at the same time.  So first let me address the P10 from the perspective of an upright vacuum.
The P10 is super easy to use.  It can almost lay entirely flay for getting under furniture.  It gets up into corners with ease. The trigger power button is just about the easiest power button I have ever used (more on that later).  The touchscreen controls are intuitive and cool. (never thought I'd use those words in a vacuum cleaner review!)  The main problem with using the P10 as an upright is that while the highest power mode seems excellent for using it on floors, it just doesn't have enough suction to really clean carpets/rugs sufficiently.  Every time we were done with the P10 and then went back over the same carpet/rug, we still vacuumed up just as much dirt, dust, and hair as we did with the P10. And the worst news is that on the highest power mode the P10 is stated to last up to 12 minutes, but we were lucky to get 10 minutes use.  And because there is no option to plug up the P10 and use it corded, it was impossible to clean our entire 2,500 sq ft house at one time.  You can get more use when you use a lower power setting for sure, but then you lose the suction power, which as I just stated, isn't as strong as it needs to be.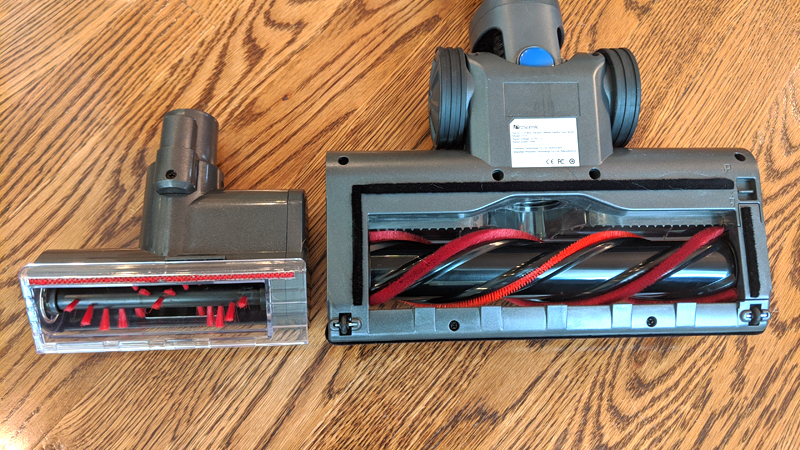 From the perspective of a hand-vac, the various attachment tools are easy to swap in and out for whatever situation you have… your furniture, your car, drapes (who vacuums drapes anyway?), etc.  But the power issue I mentioned above still remains.  It isn't as big an issue when the P10 is used as a hand-vac though, because you aren't going to vacuum an entire 2,500 sq ft house with a hand-vac.  Usually you only need to use it for a few minutes anyway.  The main issue with using it as a hand-vac though is the weight.  The main unit weighs about 3 lbs.  That doesn't sound like a lot, but if you are using it with one hand constantly, it can get heavy. In comparison, the Black and Decker hand-vac we have used the past year weighs about 2 lbs.  The more I use the P10 the more I have come to believe that providing the ability to use it as a hand-vac was an afterthought. They had to make the main unit as big as it is to get the power needed to make it operate as an upright. So it has a decent amount of power to use a hand-vac, but it weighs more than you would expect. And using it as an upright the weight is just perfect, but the power is an issue.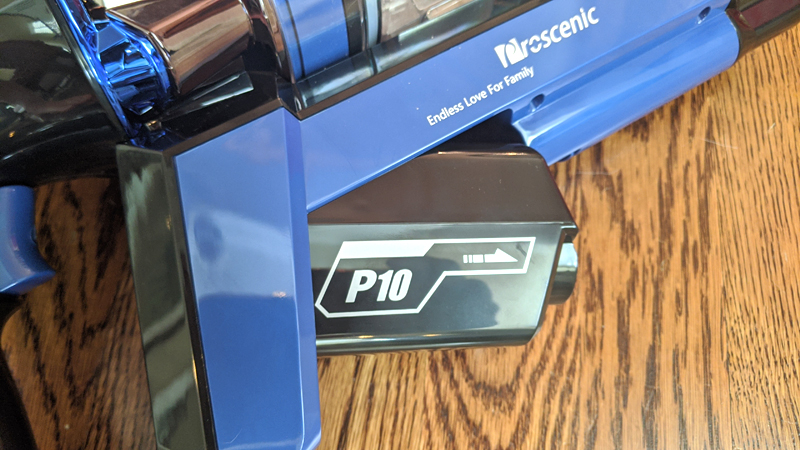 I should also mention 2 other things.  The dust bin is much bigger in size than you'll see on most hand-vacs.  And emptying it is also a breeze.  But if you take it apart to clean it you better pay attention to how the pieces go together.  I didn't do that and I had to consult the manual to figure out how to put it back together.  Finally, the trigger power button is, as I mentioned, incredibly easy to use.  Just grip it with your hand, pull the trigger with your index finger and you are in business.  But that is also the problem.  My wife didn't have an issue with this because she has small hands, but my hand is so large that I couldn't grip the P10 without my index finger on the trigger because my hand couldn't fit otherwise.  So I constantly accidentally turned the P10 off.  Annoying.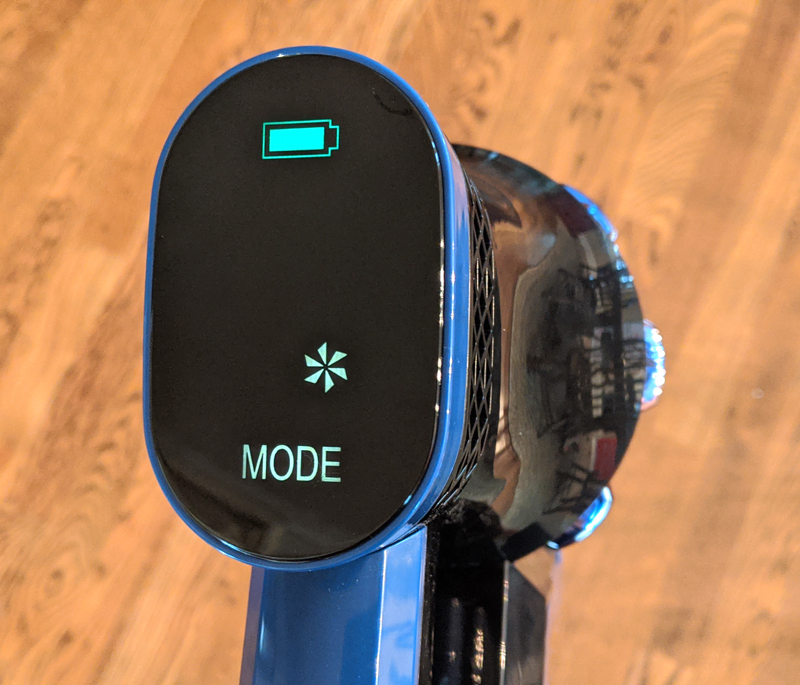 What I like:
Multiple attachments (carpet, furniture, automobile, etc)
4 modes of suction
Touchscreen controls are cool
Dust bin is easy to empty
What I'd change:
Battery life is not good but a bigger battery means more weight
The main unit is heavy for constant one-handed use
Trigger power button easy to accidentally press
Dust bin is a hassle to take apart/put back together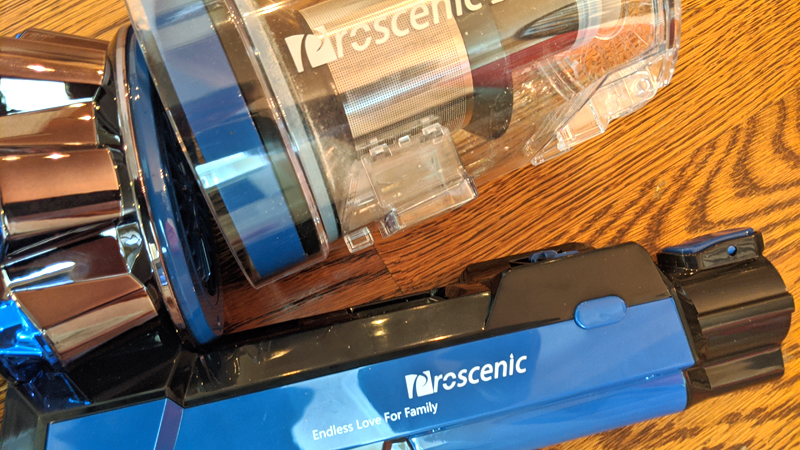 Final thoughts
So I wonder who would be the ideal person for a Proscenic P10?  I don't think you can bank on this vacuum being the one to clean your whole house because the battery life just isn't ready for prime time.  If you had a small apartment with mostly hardwood floors, maybe this would work for you.  If you had limited space and didn't have room for both a hand-vac and an upright vac, maybe this would work for you.  But at a price of $199.00 I just can't justify this for most people.  If this device was around the $100 mark, it would be a very good deal, but I don't see the price dropping that low.  For now, I don't think I can recommend this device but for a select group of folks who might match who I described above.
Price: $199.00
Where to buy: Proscenic website and Amazon
Source: The sample for this review was provided by Proscenic